These Pesto Sausage Flatbreads combine traditional basil pesto with sweet Italian sausage to make an easy appetizer that is simply delicious! These 5 ingredient flatbreads are quick to make and perfect for busy weeknight dinners!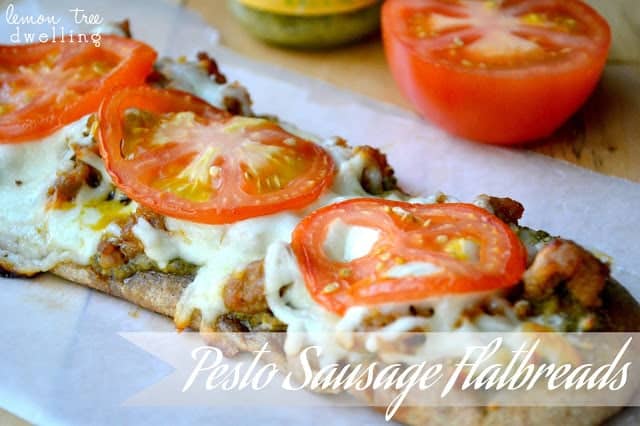 One of the perks of being a stay at home mom is that I get to make myself lunches like this. Warm, melty, delicious sandwiches…(really, the only kind of sandwiches worth eating…!) I started making a version of this a couple years ago, shortly after my life as a stay at home mom began. Lunchtime quickly became my refuge in the midst of crazy, chaotic days…and it felt important to make myself something delicious and satisfying – a reward for making it through another morning!
I would wait until after the kids were tucked away for naps, and I would make myself a grilled open face bagel sandwich with pesto and cheese. And on especially good (or bad…depending on how you look at it) days, I'd have some tomato soup to go with it.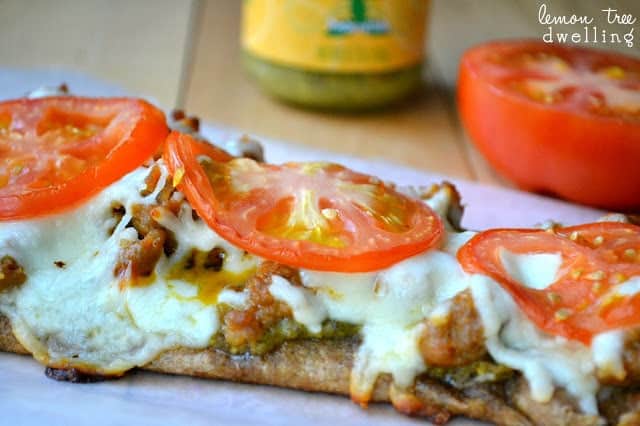 I never really thought about the fact that most people don't get to enjoy such tasty lunches (or I guess I just forgot)…until I had a friend over for lunch in the middle of her work day. She was AMAZED by the luxuriousness of it all and reminded me that her typical lunch was a Greek yogurt and an apple…eaten at her desk. When you put it that way, I guess a melted cheese bagel with pesto is luxurious!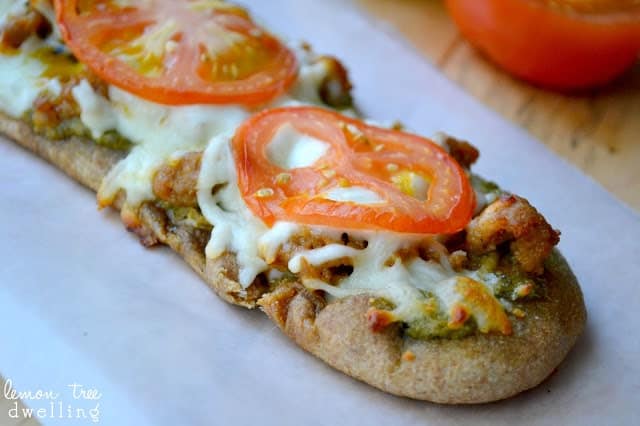 Pesto Sausage Flatbreads
These pesto sausage flatbreads have been my go-to lunch when friends stop by, on lazy weekend days, and anytime I need a little comfort. So when my family asked what was for dinner the other night….and I literally had NO IDEA….this sandwich came to mind…. And since I always try to have delicious ingredients on hand (even if I have no idea how I'm going to use them) I was in luck!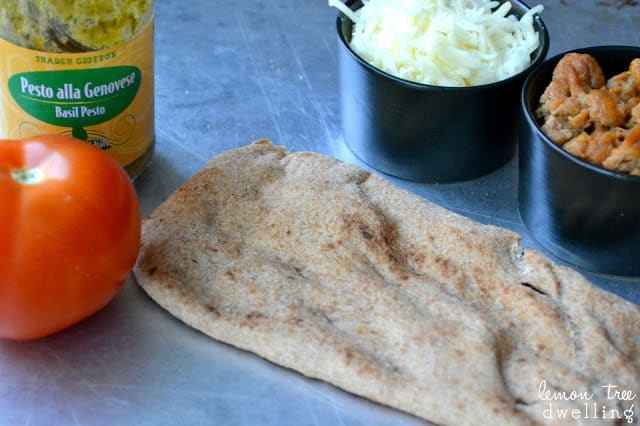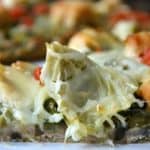 Pesto Sausage Flatbreads
Ingredients
1

package

6 ct Trader Joe's Whole Wheat Tandoori Naan (any flatbread will do)

1

package

19.5 oz Jennie-O Hot Italian Turkey Sausage, cooked

1

jar

6-8 oz basil pesto

1

package

8 oz shredded mozzarella cheese

2-3

fresh tomatoes

thinly sliced
Instructions
Preheat oven to 350 degrees

Place flatbreads on a large baking sheet. Divide toppings evenly among them. Each flatbread will be topped with approx. 2 Tbsp. pesto, 1/3 c. Italian sausage, 1/3 c. shredded cheese, and 3 tomato slices.

Heat in oven 10 minutes or until cheese is melted and edges are beginning to brown.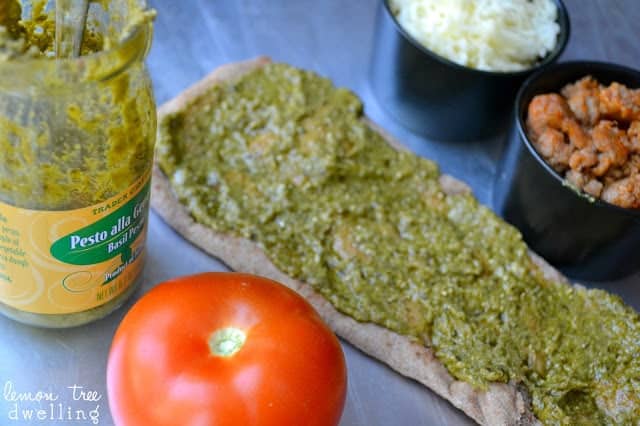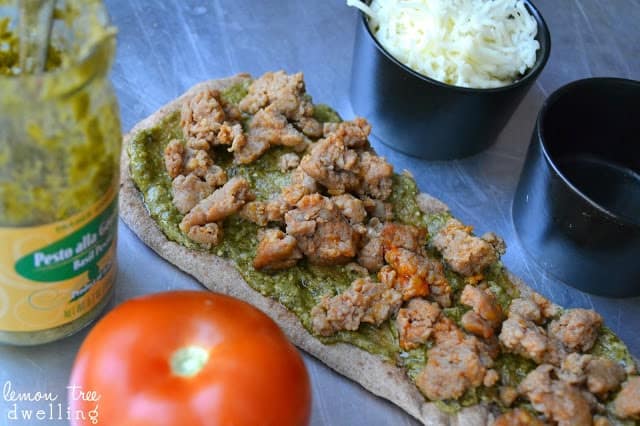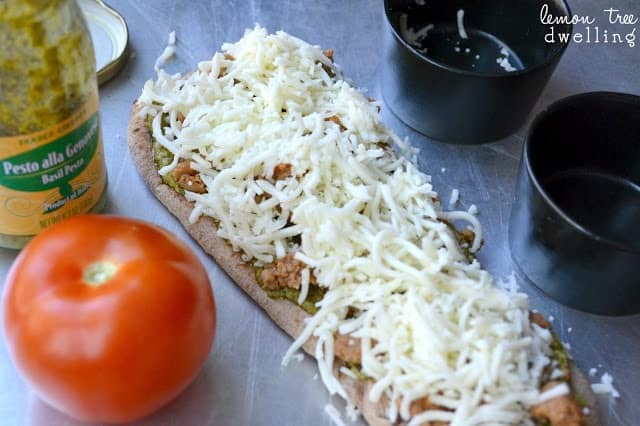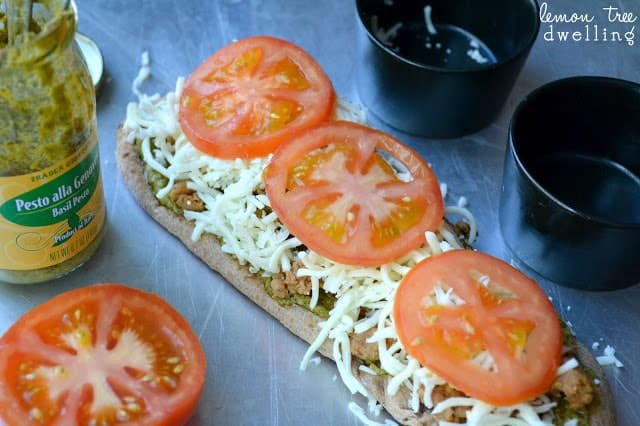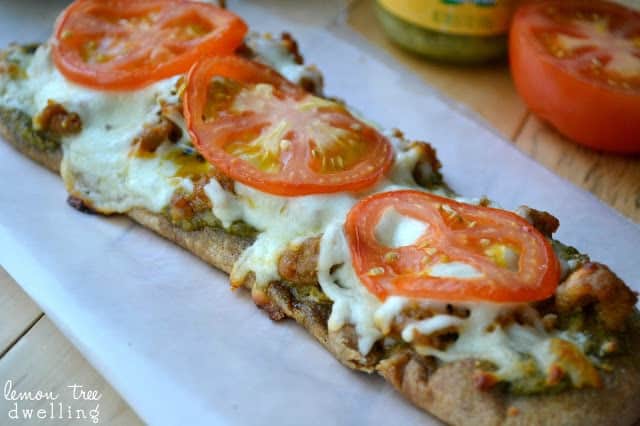 I have to admit….having this for dinner, with 3 crazy kids yelling and screaming and climbing under the table, felt a little less luxurious than I had imagined. That's why I had to have it again the next day. 🙂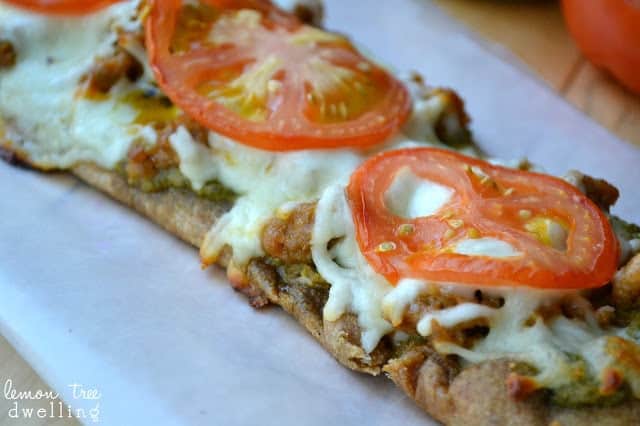 Looking for another delicious dinner idea? Check out my Chicken Spinach Artichoke Pizza!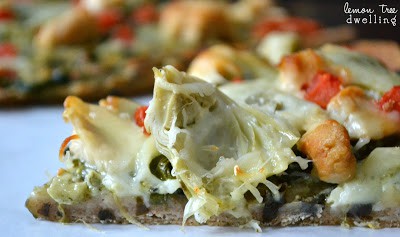 Be sure to follow me on Facebook for more great recipe ideas!