Bacon Blue Cheese Gnocchi will be your new comfort food! This quick and easy dinner has a rich and creamy blue cheese sauce that will transform your basic gnocchi from blah to wow! A simple dish for everyone.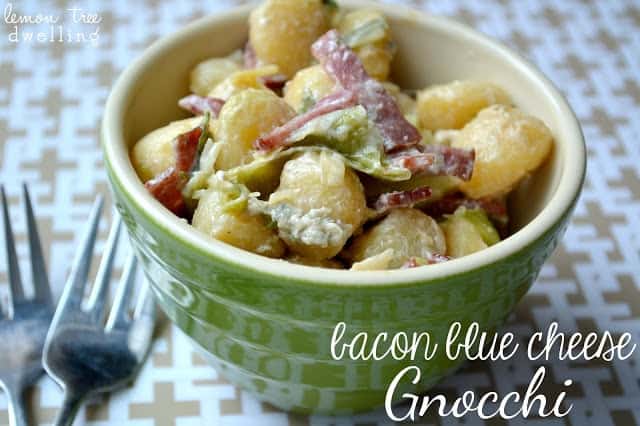 As with so many things in life, I blame this one on my sister Carrie. She is just two years older than I am, and, growing up, was always the first to introduce me to the good things in life – things like coffee, candles, New Kids On The Block, fancy note folding, McDonald's french fries, and…….gnocchi. Strange list, I know….but my love of all these things can clearly be traced back to her "big sister" influence on me. (To be clear, her influence on me extends far beyond this short list…also, for the record, I am no longer in love with NKOTB…..or fancy note folding, for that matter…..but I have to admit I am fascinated by the NKOTB reunion tour…!?)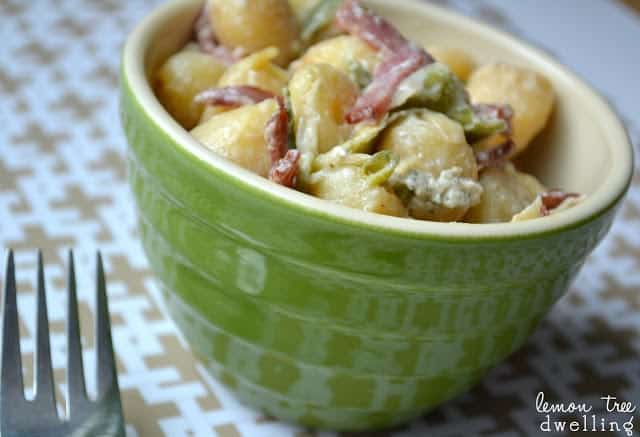 Bacon Blue Cheese Gnocchi – Comfort food
Anyway, some things have stood the test of time…..namely (coffee) and GNOCCHI! You may wonder how, exactly, an older sister incites a love of gnocchi? Easy. She works at an Italian restaurant, and her younger sister (me) thinks it's fun to visit her at work and order whatever she recommends! In this case, gnocchi with marinara sauce….aka the best thing my 14 year old lips had ever tasted!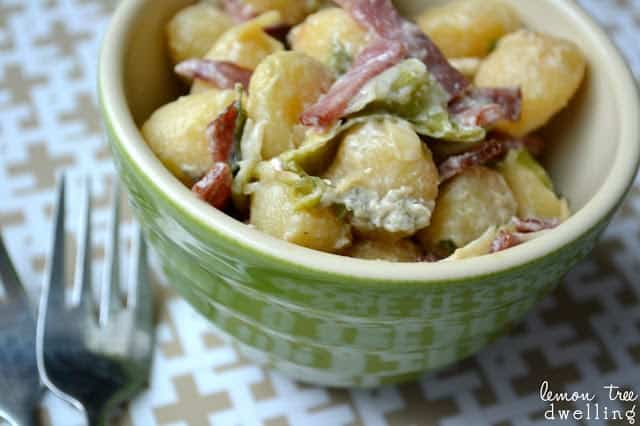 It made such an impression on me that, for years, gnocchi was all I wanted at Italian restaurants. And, for years, I didn't even bother to try it any other way! I actually had plans of making gnocchi with marinara sauce for my family this Valentine's Day, but when Jorden offered to get takeout I couldn't pass it up. And when I finally got around to making the gnocchi the other day, we had used the marinara sauce for something else! Time to get creative…..!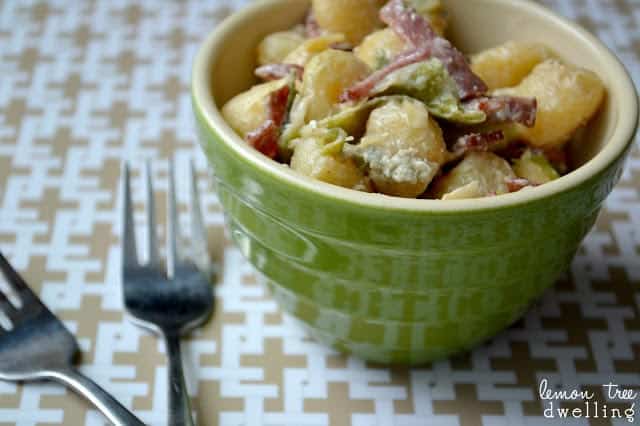 Bacon Blue Cheese Gnocchi – A twist on tradition
I started with a package of turkey bacon (hooray for having bacon on hand!) and knew I wanted to make a cheese sauce to go with it. I used a basic white sauce recipe and added blue cheese (although any kind of cheese would work.) It has a mild blue cheese flavor that can be adapted to your tastes. Then, since no meal is complete without at least one vegetable, I scoured our fridge (and freezer) to find just the right one. I saw the bag of sliced leeks in the freezer, had an aha! moment….and the rest is history 🙂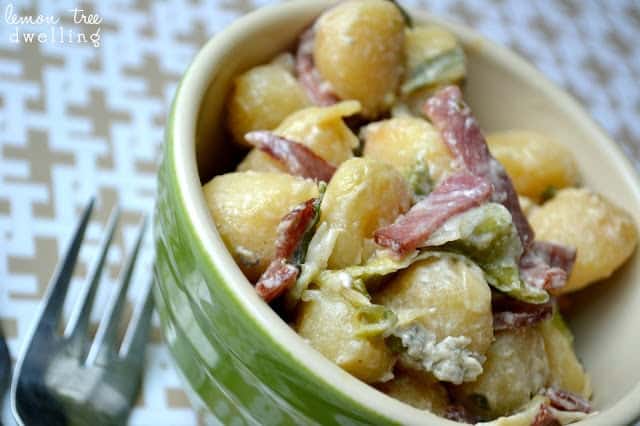 I ate two helpings for dinner that night and finished off the rest for lunch the next day. I couldn't get enough of it! Was it the bacon? The gnocchi? The blue cheese? I can't decide! What I can say, though, is it was delicious! I guess I know who I have to thank. 🙂
Bacon Blue Cheese Gnocchi Recipe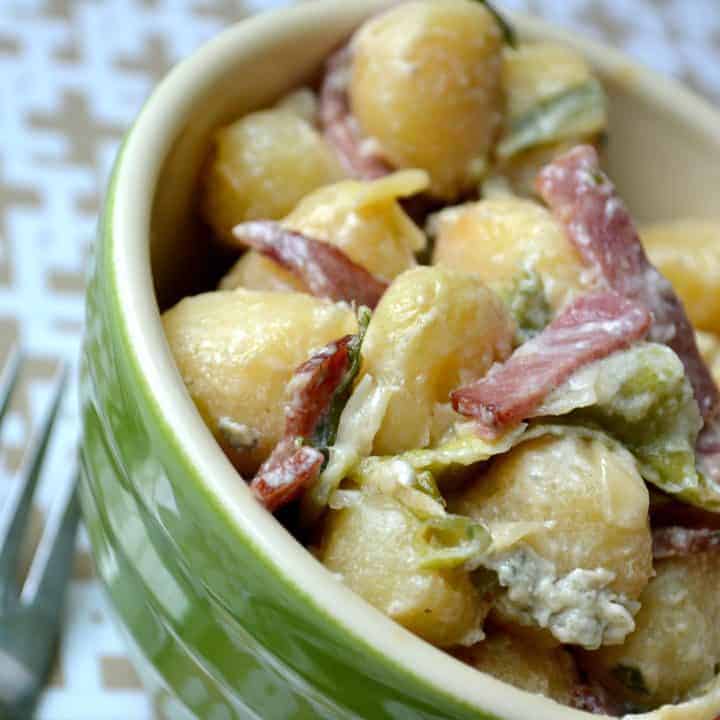 Bacon Blue Cheese Gnocchi
An easy weeknight meal with simple prep and a quick cook time.
Ingredients
2 18

oz.

packages potato gnocchi

Trader Joe's

1 12

oz.

package turkey bacon

1 16

oz.

bag frozen sliced leeks

Trader Joe's

Blue Cheese Sauce & extra blue cheese for serving

optional
Blue Cheese Sauce
1

Tbsp.

butter

1

Tbsp.

flour

Dash of pepper

3/4

cup

milk

1/4

cup

blue cheese* - to taste
Instructions
In a small saucepan, melt butter. Stir in flour, pepper, and milk. Cook and stir over medium heat until thickened and bubbly. Cook and stir 1 minute more. Add cheese to cooked sauce.
Recipe Notes
(*not a blue cheese fan? Substitute 1/2-3/4 cup of your favorite cheese!) (Recipe Source for sauce: Better Homes & Gardens Cook Book)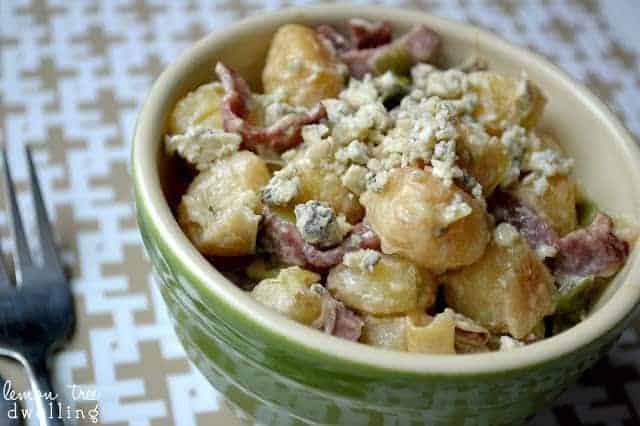 Enjoy!!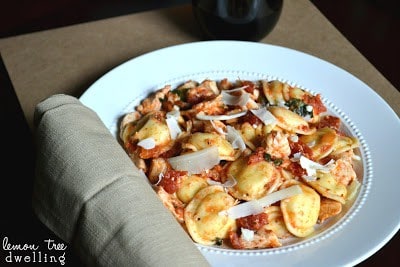 My friend Allyson at Domestic Superhero has an amazing Bacon Mac and Cheese Gnocchi you need to try!