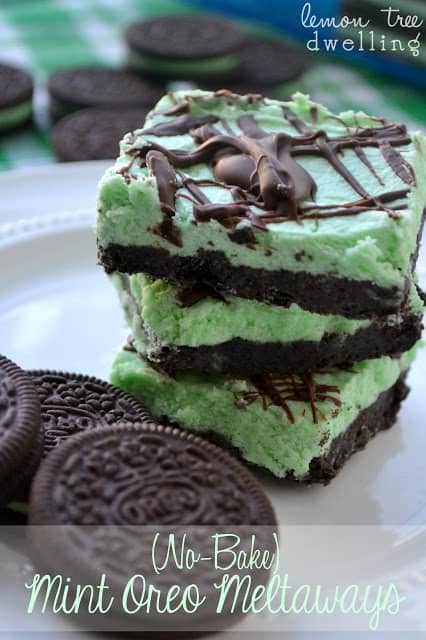 There is approximately one day of the year that I really get into minty desserts….and that day is St. Patrick's Day! It's almost impossible NOT to get into them at this time of year, seeing as how they are everywhere!! For a sweet tooth like me, it's hard to pass up any sweets craze, even one I'm not typically so crazy about. So…even though the last thing the world needs right now is ANOTHER mint chocolate dessert recipe…..my Irish blood just wouldn't let me resist!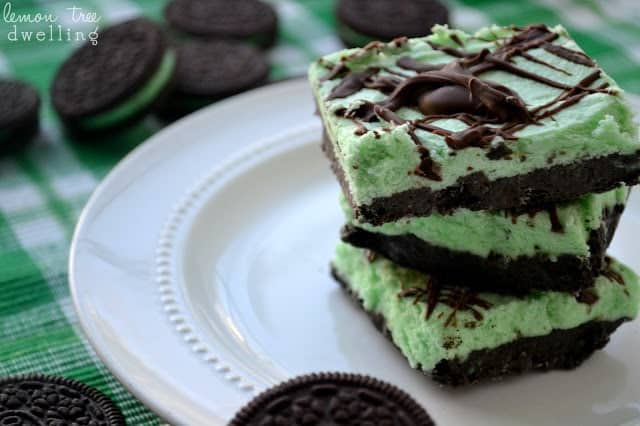 It's hard to decide what's best about these bars – the crunchy cookie crust, the melt-in-your-mouth creme de menthe topping, or the fact that you don't even have to mess around with baking them! My kids went gaga over the mint oreo crust, the neighbors said they tasted like mint chocolate chip ice cream, and as for me….let's just say I finally had to put them away (one sliver at a time still adds up…..)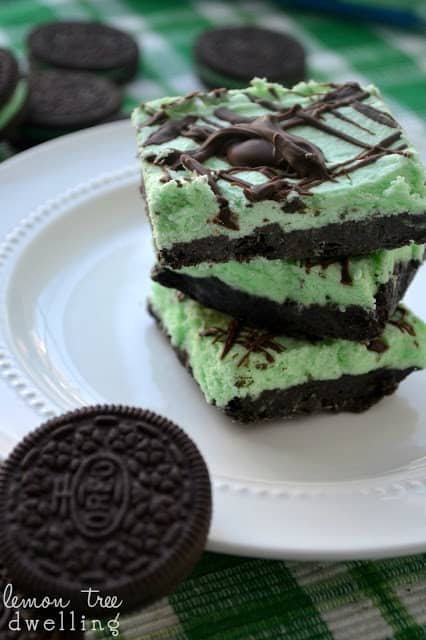 The good news? It only makes a 9×9 inch pan. So even if I sliver my way through the rest of them (not that I would, of course…..) it could be worse. Right??
I'll just keep telling myself that.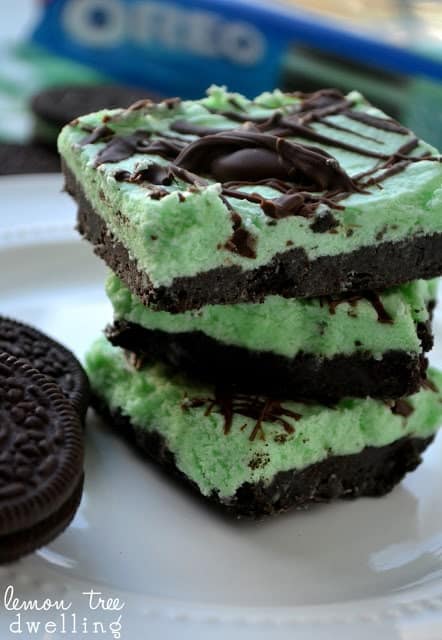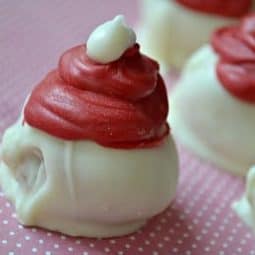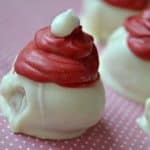 No-Bake Mint Oreo Meltaways
Ingredients
1 1/4

cups

finely crushed Cool Mint Oreos

approx. 15

2/3

cup

butter

softened to room temperature (do NOT melt butter!)

1 1/2

cups

powdered sugar

1

Tbsp

milk

4

Tbsp

creme de menthe flavored syrup

1/4

cup

chocolate chips

melted
Instructions
Combine cookie crumbs and 1/3 cup butter in medium bowl. Press onto bottom of ungreased 9x9 inch baking pan and refrigerate until firm.

Combine powdered sugar, remaining 1/3 cup butter, milk, and creme de menthe in mixing bowl.

Beat at medium speed until light and fluffy (should resemble frosting.) Spread over crust.

Drizzle melted chocolate over crust and refrigerate until firm, about 2 hours.

Cut into bars; store in refrigerator.

(adapted from The Great American Cookie Cookbook's Citrus Cream Bars recipe)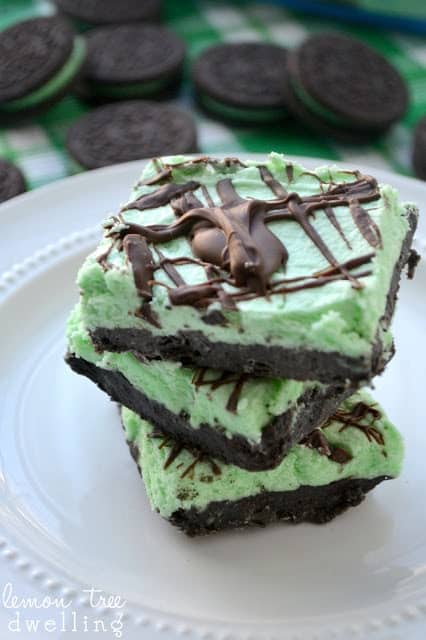 Looking for another delicious recipe using Oreos? Check out my White Chocolate Raspberry Oreo Truffles!