Pesto Caprese Gnocchi – a simple, delicious weeknight meal that comes together quickly and makes taste buds happy!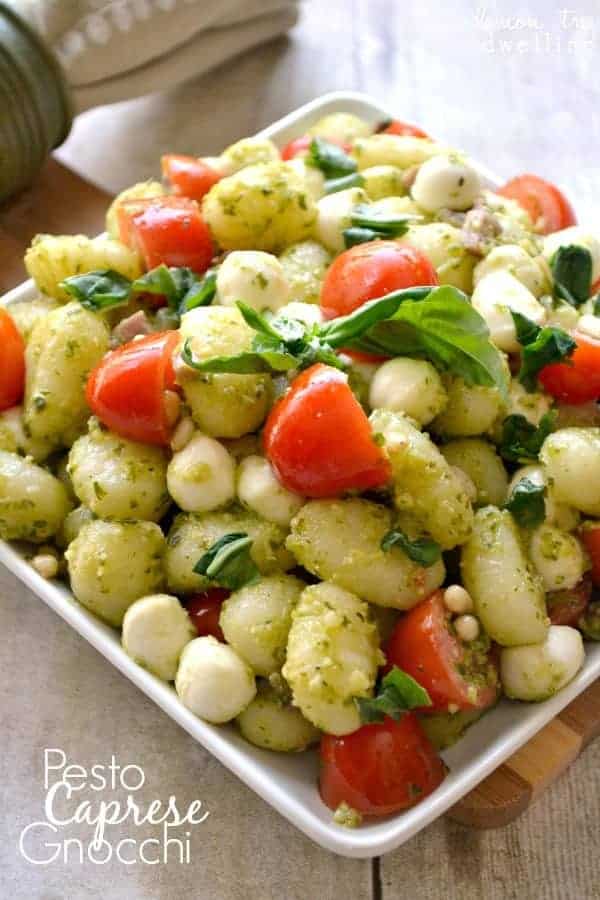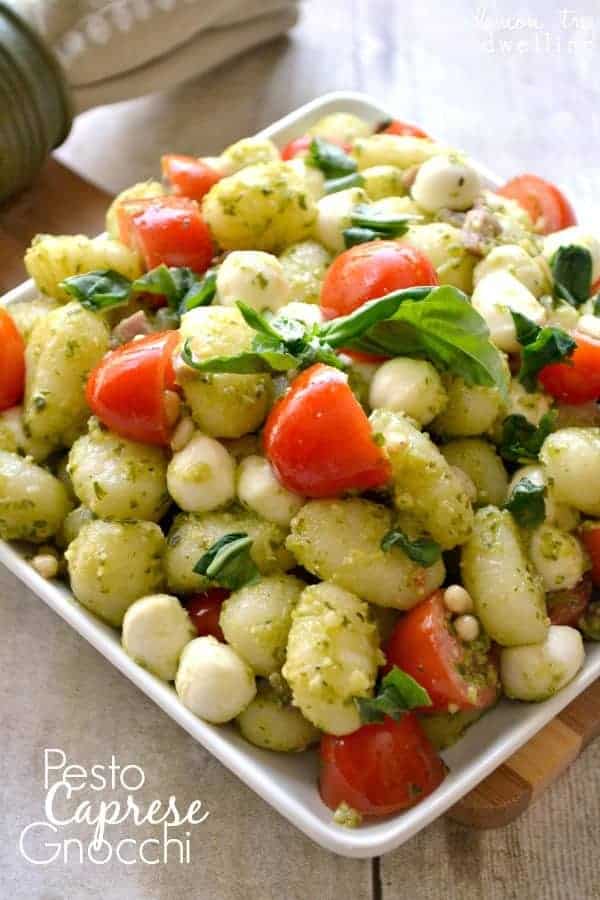 Happy Friday, my friends! Sorry to spring two caprese recipes on you in one week….but I promise they're both totally worth your time! Whereas Monday's pasta salad makes a great side dish for a picnic or get together, this gnocchi recipe is perfect for an end of summer or back to school dinner! Eat up!
It should come as no surprise to you that making dinner is NOT my favorite thing to do. Sure, I love to cook….and of course, I love my family….but sometimes, love is just not enough. Dinnertime at our Lemon Tree Dwelling is a perfect example.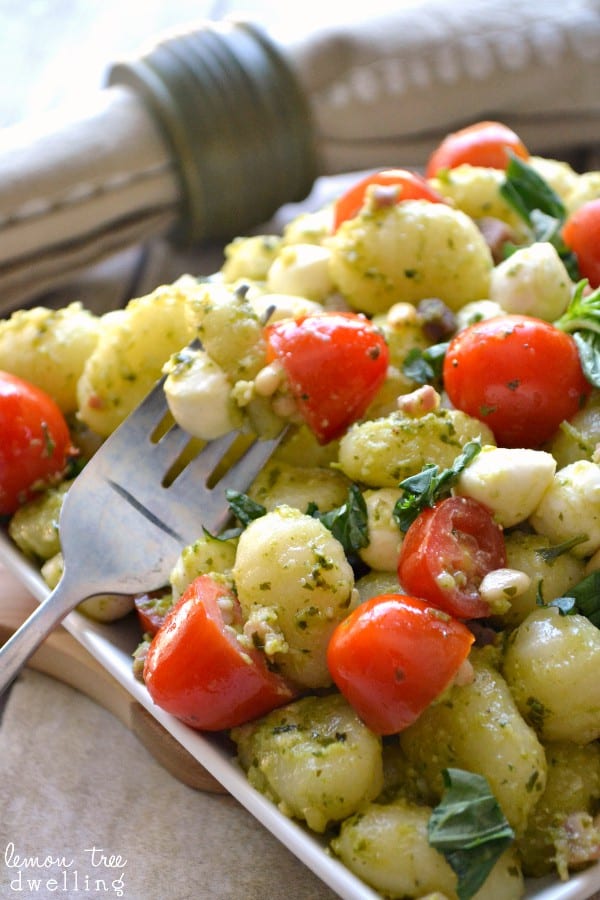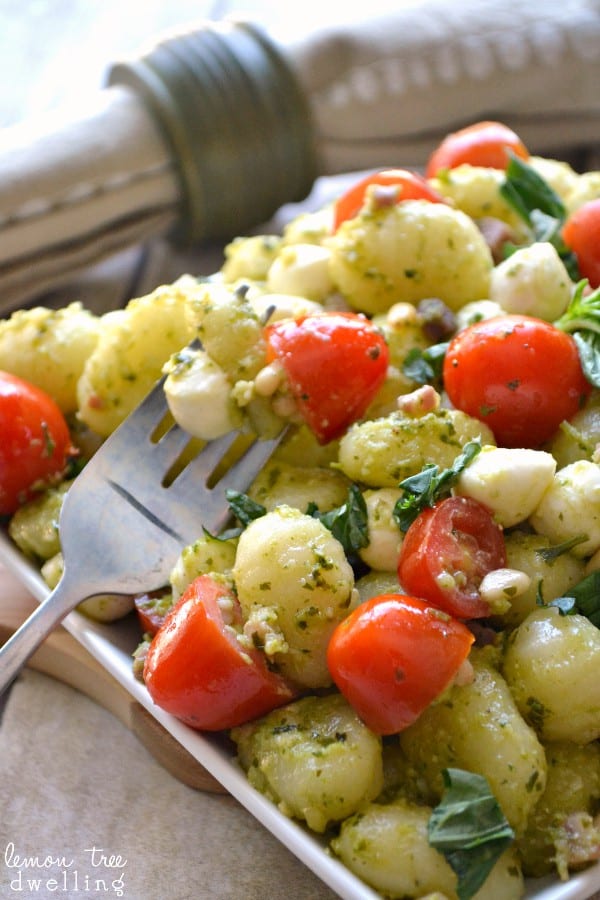 It would be one thing if I could just make the things I like to eat…..like soups and salads and sandwiches…..and make my family happy at the same time. But, believe it or not, the things that make me happy and the things that make them happy are not always the same. More often than not, they're vastly different…..!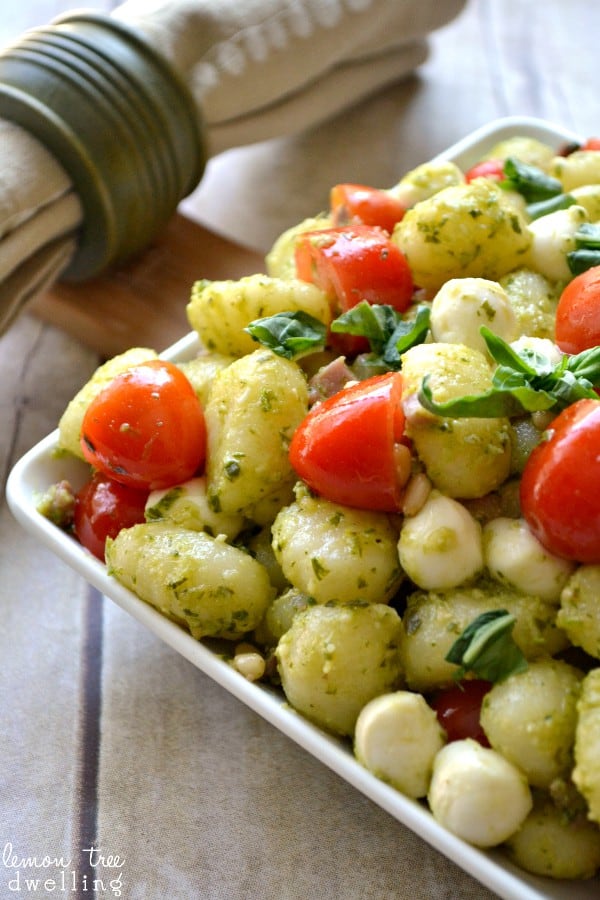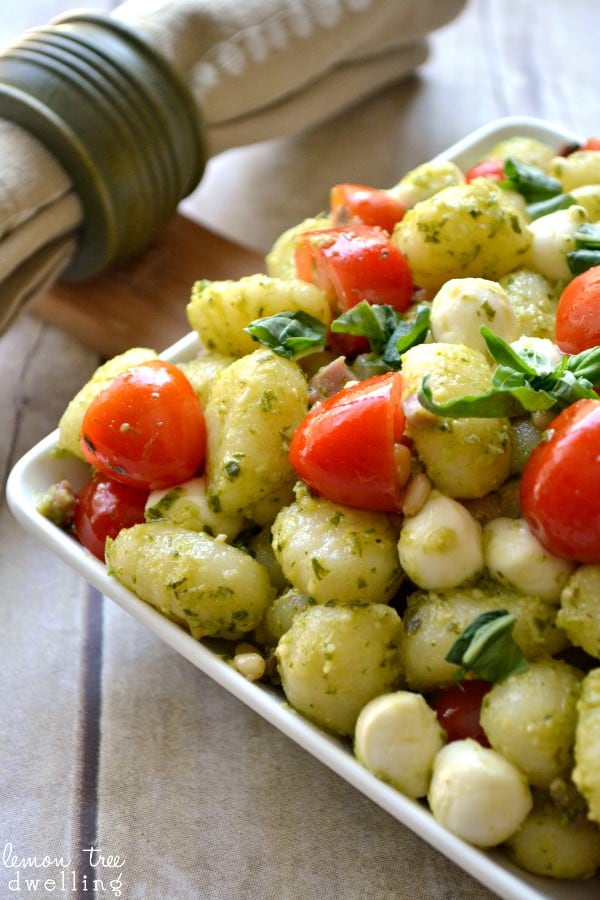 What fresh salads are to me, Topperstix are to them. Where I enjoy a good pesto cheese melt, they're more likely to ask for mac & cheese. And while chicken is the only meat this gal needs, my kids are somehow head over heels for burgers. And french fries. And Doritos. And Cheetos. They'd eat McDonald's every night if we let them. You get the picture. They don't always love the things I think they should!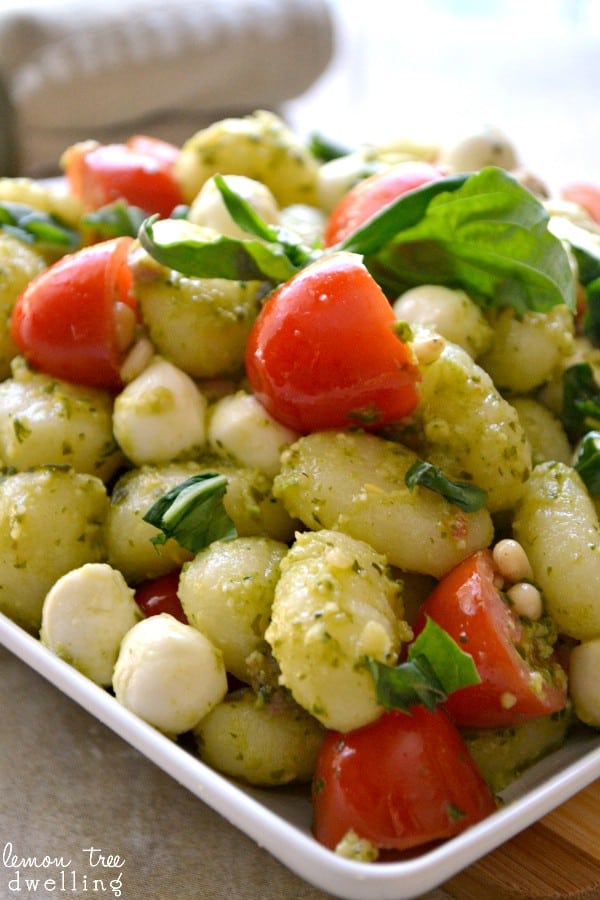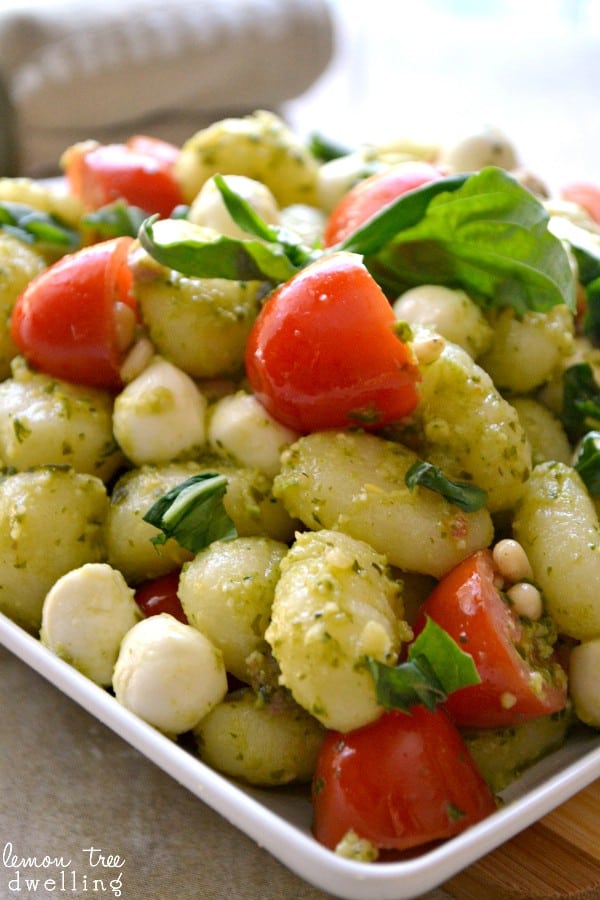 Every now and then, though, we meet in the middle. Every now and then a recipe comes around that makes everyone happy. Which makes me VERY happy! And do you know what makes me even happier? When it's easy enough that I can actually pull it off in the midst of homework and soccer schedules and piano practice and baths! Which is exactly the case with this gnocchi.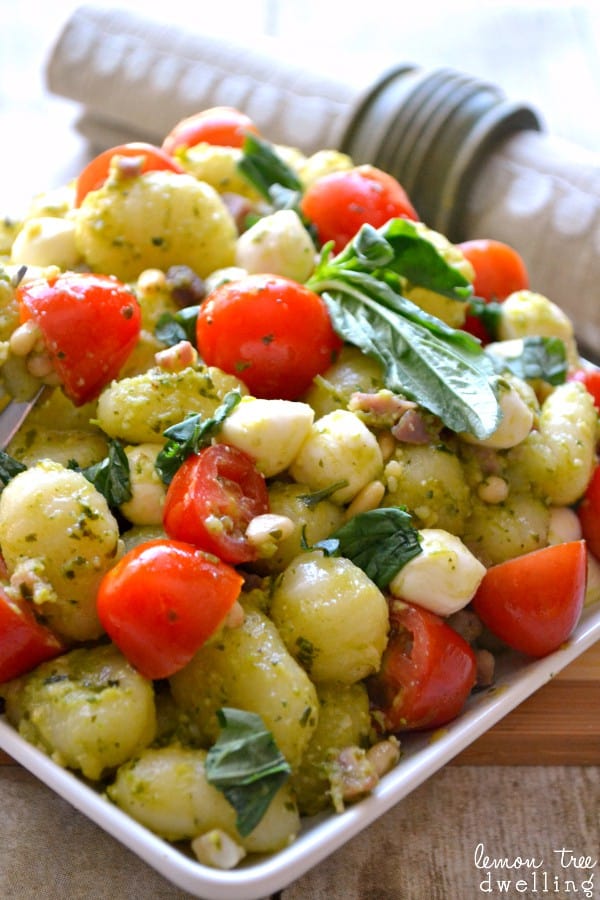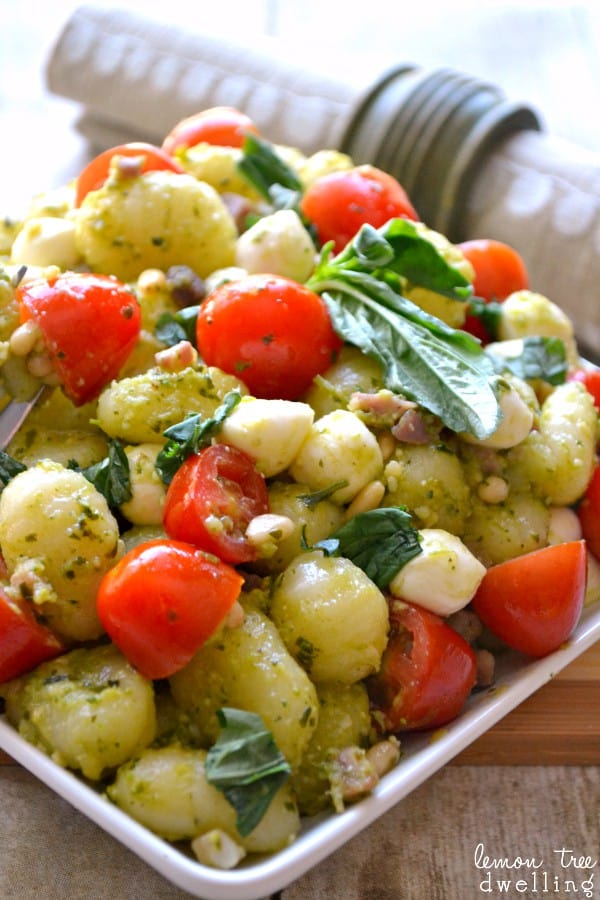 Whoever said you can't have it all?? Of course you can! Enjoy!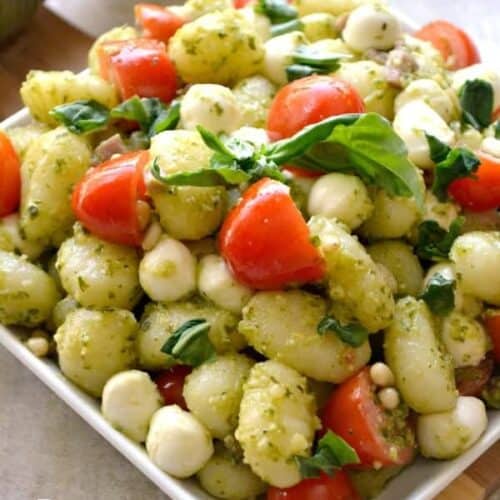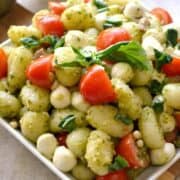 Pesto Caprese Gnocchi
Ingredients
2

packages

1 lb. each gnocchi

1

pint

grape tomatoes

halved

8

oz.

fresh mozzarella pearls

4

oz.

prosciutto

3/4

c.

pesto

1/4

c.

pine nuts
Instructions
Prepare gnocchi according to package instructions. Drain.

Combine cooked gnocchi with tomatoes, fresh mozzarella, prosciutto, pesto and pine nuts.

Serve hot, cold, or at room temperature.
Looking for caprese without the pesto?