Peanut Butter Cup Stuffed Snickerdoodles are a sweet treat that will please even your biggest critics. These delightful stuffed snickerdoodles are a fun and delicious combination….perfect for Christmas!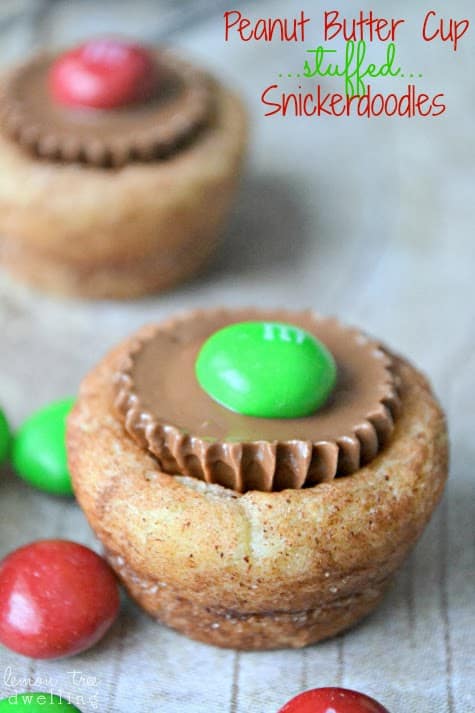 I have decided that I MUST be done with all Christmas shopping by the time the kids get home from school Friday. Since that will be just 5 days before Christmas (!) I definitely don't think I'm expecting too much of myself! I've been shopping steadily since sometime in November, but my problem is I'm way too much of a browser. Instead of going with a specific list written down on paper, I start collecting things, slowly, as I see them. Which means I overbuy in some areas, underbuy in other areas, and forget about some areas altogether!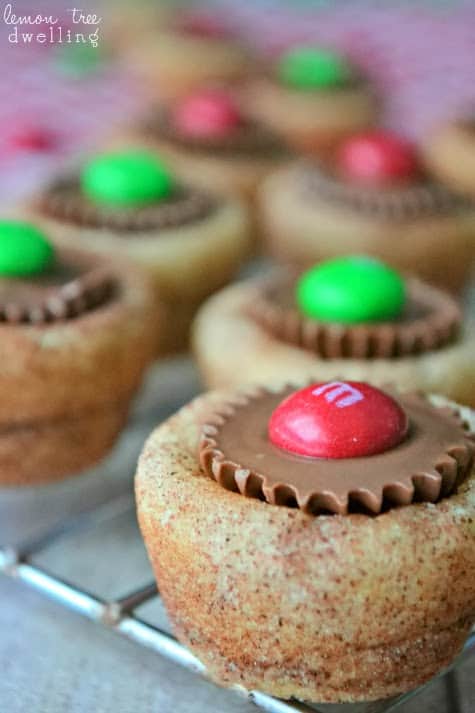 And then, right around this time every year, I start the task of sorting through the 800 bags of stuff sitting in my basement. I figure out what I have, what I still need, and what needs to go back to the store. And then Nora and I get serious. Yesterday's stop? TJ Maxx. We stopped in for one thing…..and then, as tends to happen, we thought of all the things we could look for. And boy, did we look!!
We went from one side of the store to the other and back again…..we hemmed and hawed over sweaters and scarves and sweatpants…..and Nora picked out at least 7 different toys to keep herself occupied.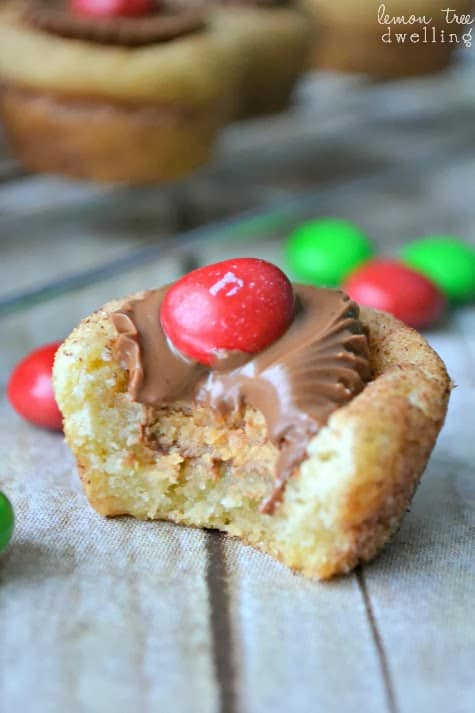 For the most part, she was really good! She sang and danced and played under clothing racks, and hardly complained at all! But as nap time drew nearer, and we were going on 2 HOURS of shopping, I started to get nervous. And, just to be safe, I decided to give her a sucker. Which made her VERY happy! Until she dropped it….just minutes later….on the floor of the store. Now, you may disagree with this, but my plan was to let her pick it up and keep sucking away. After all, it was my safeguard!
But before I could, a lady who had seen it fall alerted me to the fact that Nora was about to pick it up again, and was SURE I wouldn't want a dirty sucker in her mouth again. And then she proceeded to watch me as I took it away from Nora and dug through my purse for something else that might do the trick….and there was no escaping the fact that the sucker would end up in the garbage.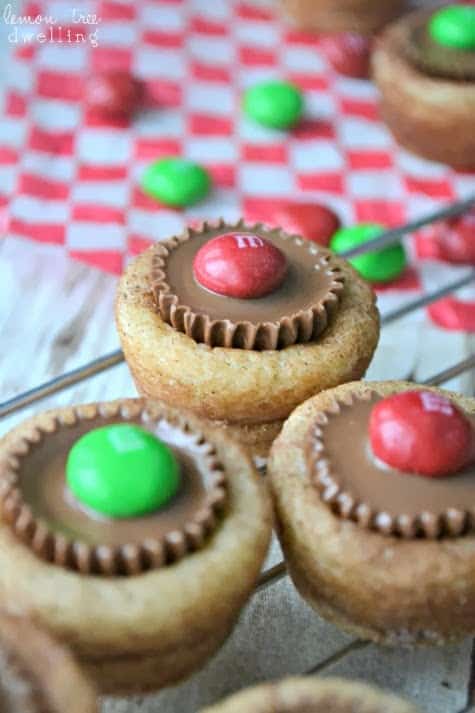 Peanut Butter Stuffed Snickerdoodles – a twist on a classic cookie
Needless to say, we left TJ Maxx shortly after the sucker incident. It was the straw that broke the camel's back for little Nora…..and I completely blame the lady! Seriously….if I want to let my kid suck on a dirty sucker, let me!!! Anyway, I still have a ton of last minute shopping to do, but when I came home I decided that what I REALLY needed was a tasty treat to take my mind off of what had happened. These Peanut Butter Cup Stuffed Snickerdoodles, based on a Snickerdoodle recipe given to me by my Aunt Mary, definitely did the trick.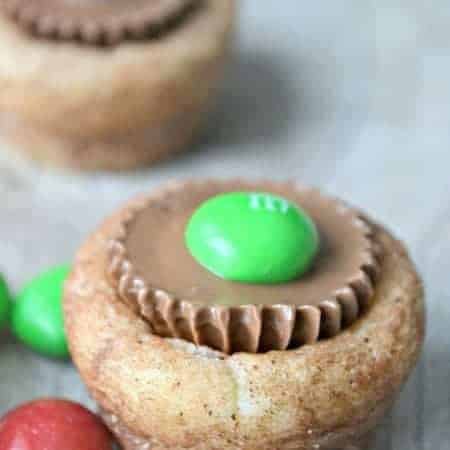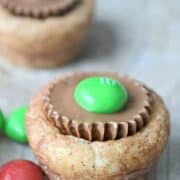 Peanut Butter Cup Stuffed Snickerdoodles
Ingredients
2 3/4

c.

flour

2

tsp.

cream of tartar

1

tsp.

baking soda

1/2

tsp.

salt

1

c.

butter

softened

1 1/2

c.

sugar

2

eggs

For Topping:

3

Tbsp.

sugar + 1 Tbsp. cinnamon

1

package miniature Reese's Peanut Butter Cups
Instructions
Mix flour, cream of tartar, baking soda and salt.

Cream butter, adding 1 1/2 c. sugar gradually.

Add beaten eggs to butter/sugar mixture. Mix well.

Gradually add dry ingredients.

Chill dough at least 1 hour.

Shape chilled dough into balls (approx. 1 inch)

Roll in cinnamon/sugar mixture and place in well-greased miniature muffin tins.

Bake at 350 degrees 10 minutes or until set in center.

Immediately press one peanut butter cup into each cookie; cool slightly in muffin tins before removing to wire rack.

When peanut butter cups are partially set but still gooey, top each with a red or green m&m (I used Gingerbread m&m's but any kind would work!)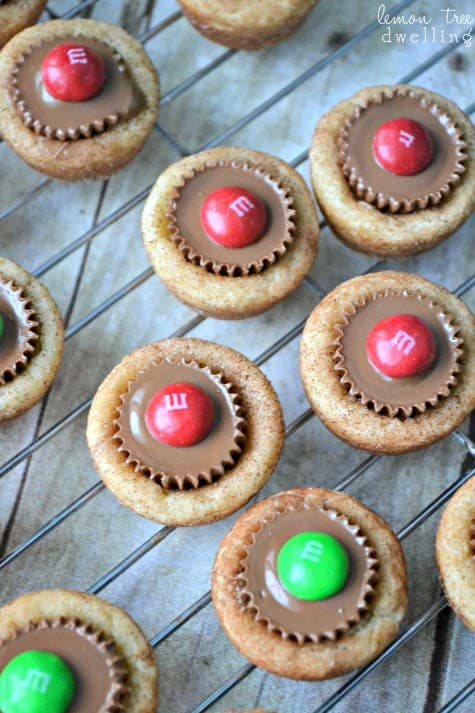 Enjoy!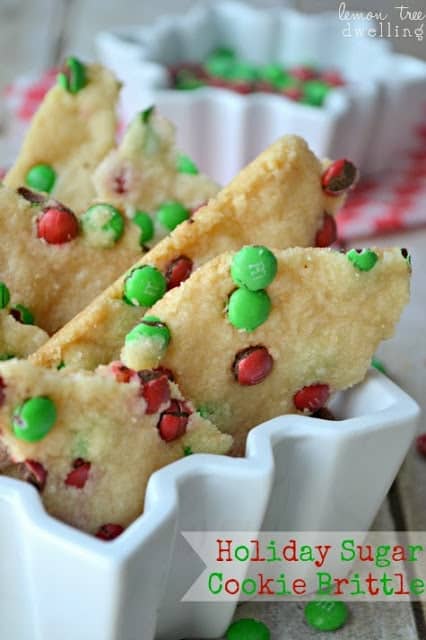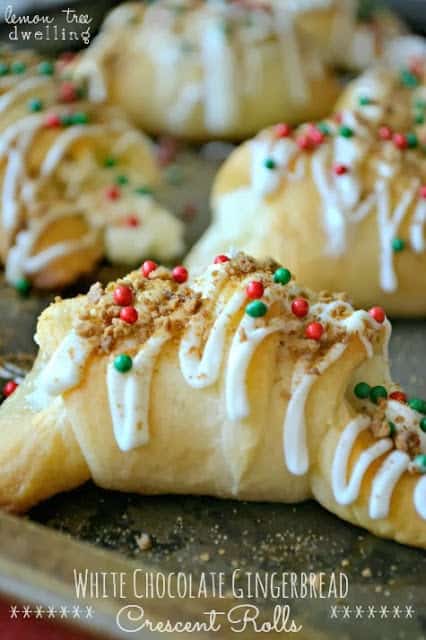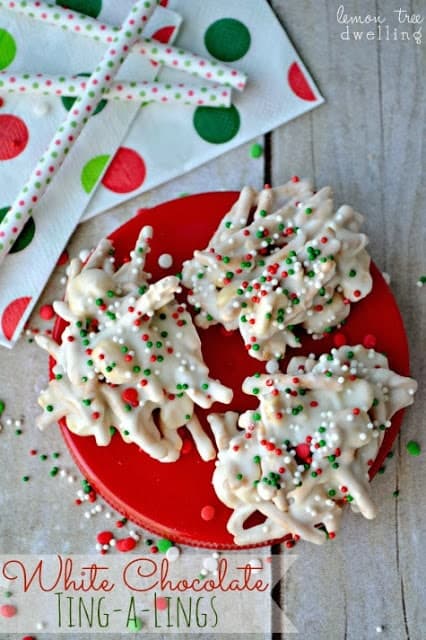 If you like peanut butter, you should try these
Soft Peanut Butter Cookies
from Genius Kitchen.