Parmesan Pesto Deviled Eggs are a easy and delicious protein snack or breakfast treat for Easter. These 5-ingredient deviled eggs are flavored with a touch of lemon and a big burst of flavor!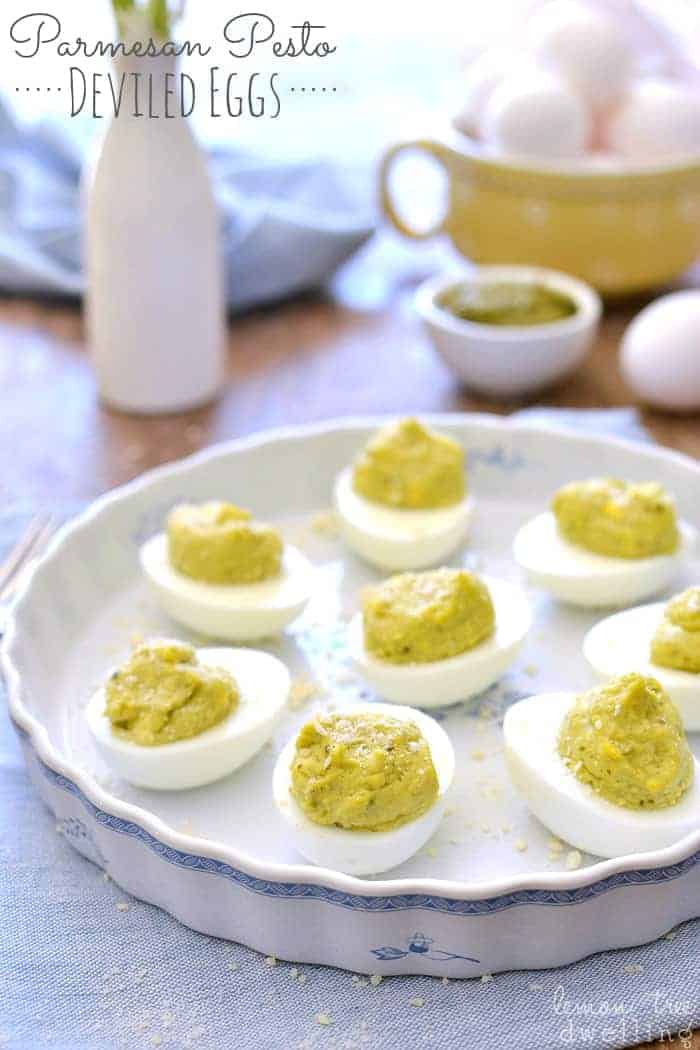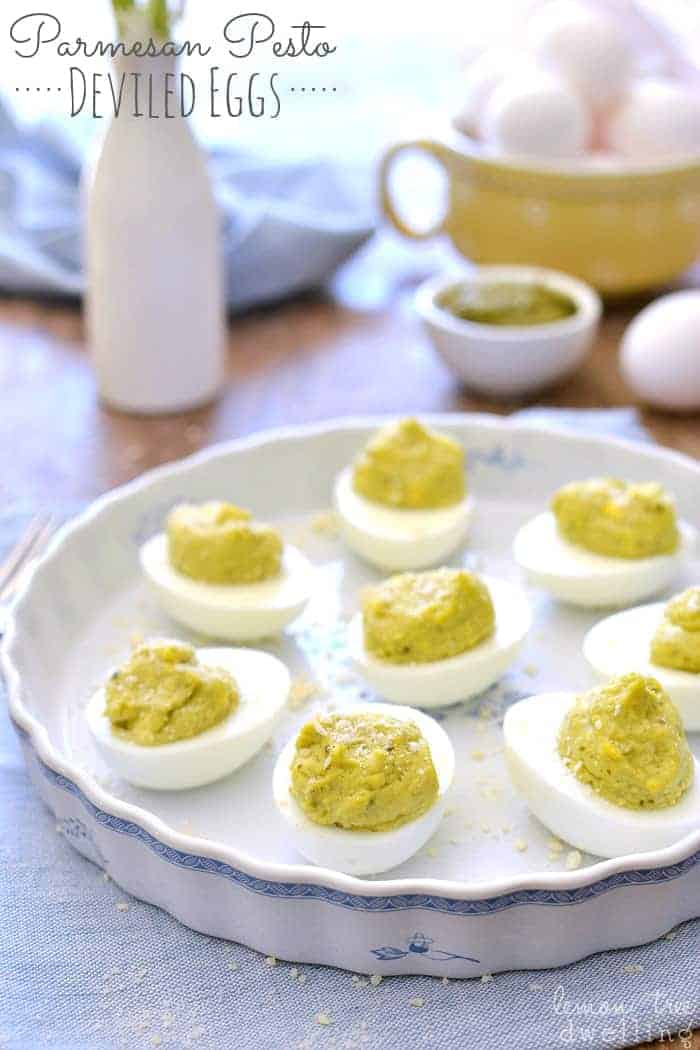 I will never forget when I was hosting our family's Christmas celebration and Fox 6 News showed up. No, it wasn't because anyone was getting out of line….and it wasn't because anything tragic happened….it was because they were doing a story on food safety and needed someone to interview! And I was it!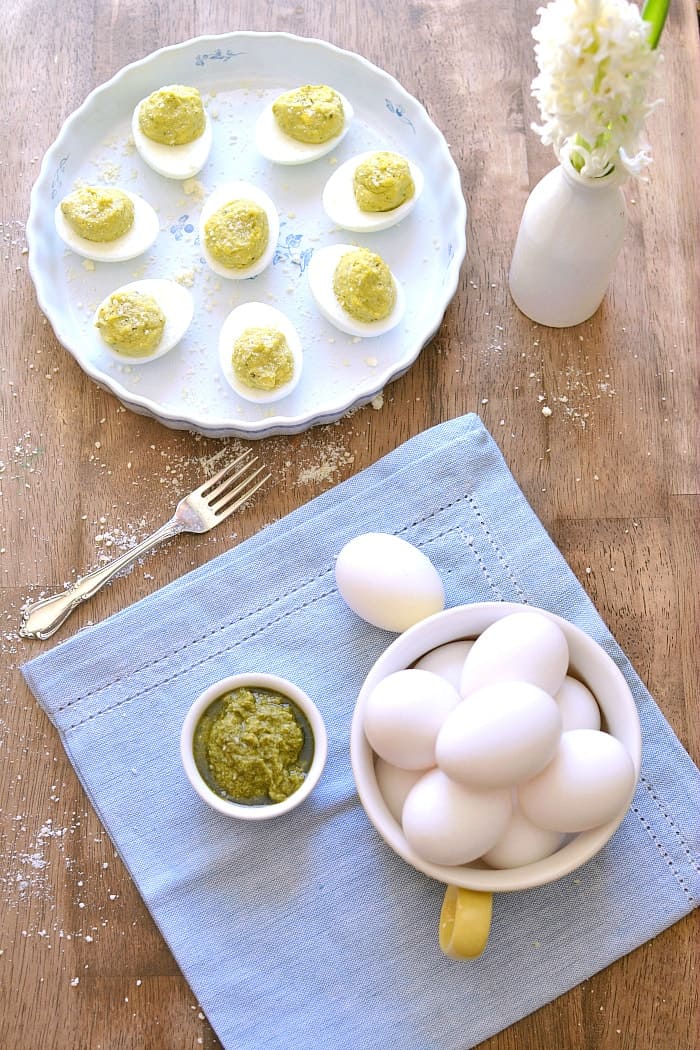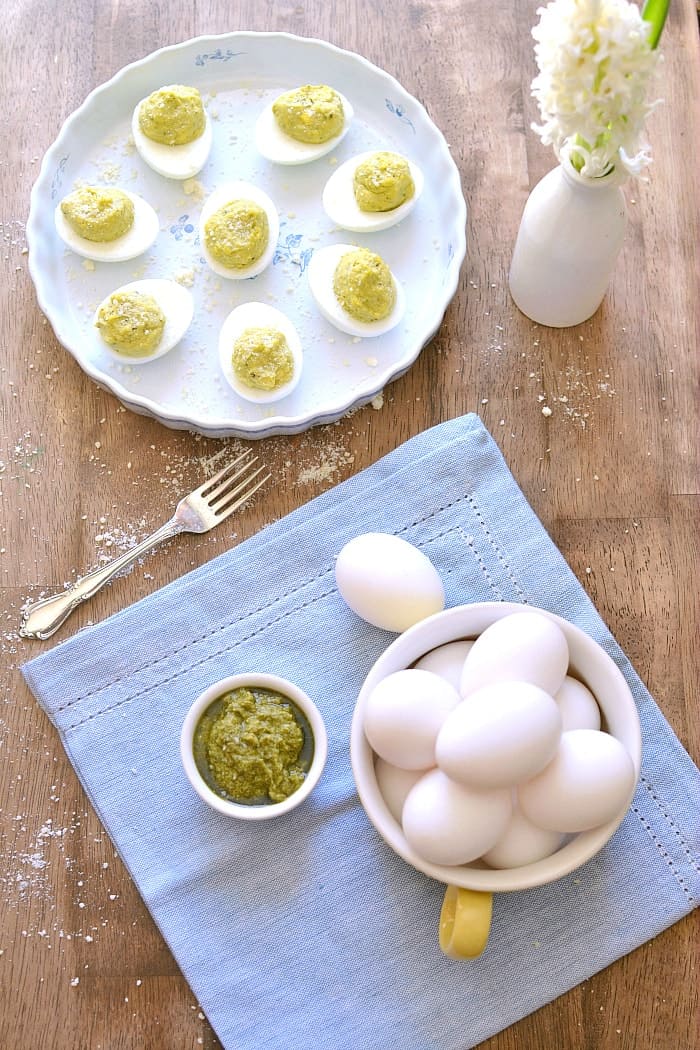 Okay, so clearly we had an "in". My brother-in-law's brother was a camera guy for the station, knew we were all getting together and that there would be food involved, and (I'm convinced) wanted to embarrass me on tv! We got a call asking if they could crash our party, and before I knew it, they were in my kitchen, asking me questions I had no idea how to answer, and video taping me standing next to our spread. I guess you could say it was a precursor to blogging…..in a very strange sort of way.
Parmesan Pesto Deviled Eggs – A delicious Easter breakfast
Anyway, after the interview was over, I opened up my fridge to find something. And the news anchor peeked in and actually commented on what was in there! "Capers? Pesto? Who has capers and pesto in their fridge!?" Uhhhhhh…..who DOESN'T have capers and pesto in their fridge? Especially pesto! Not only is it jam packed with flavor, it's so versatile and easy to incorporate into recipes. And it really does seem to make everything better!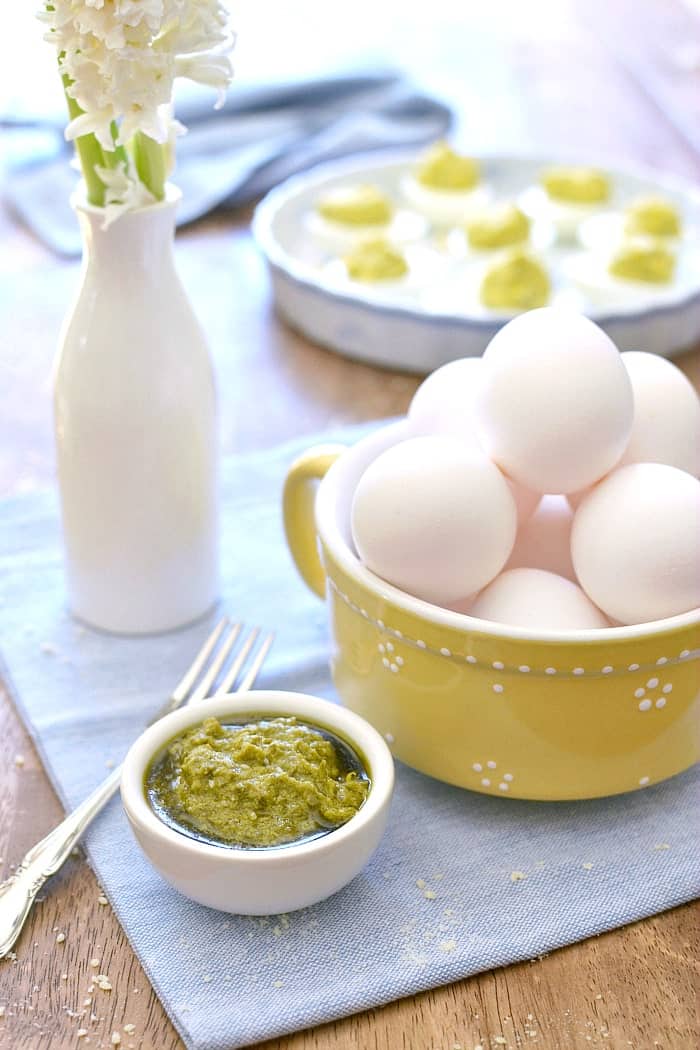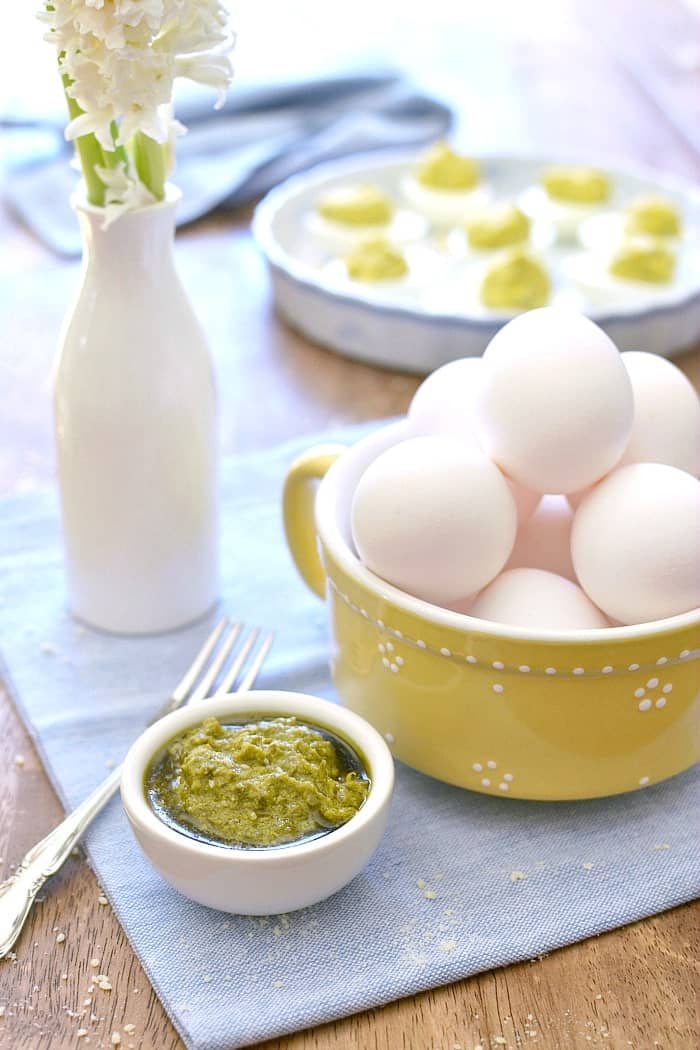 Like these deviled eggs. Between the mayo and the pesto and the lemon juice and the grated cheese, these little bites are so delicious you won't even have to worry about food safety and the 2 hour rule. Which makes everyone's life easier. You're welcome!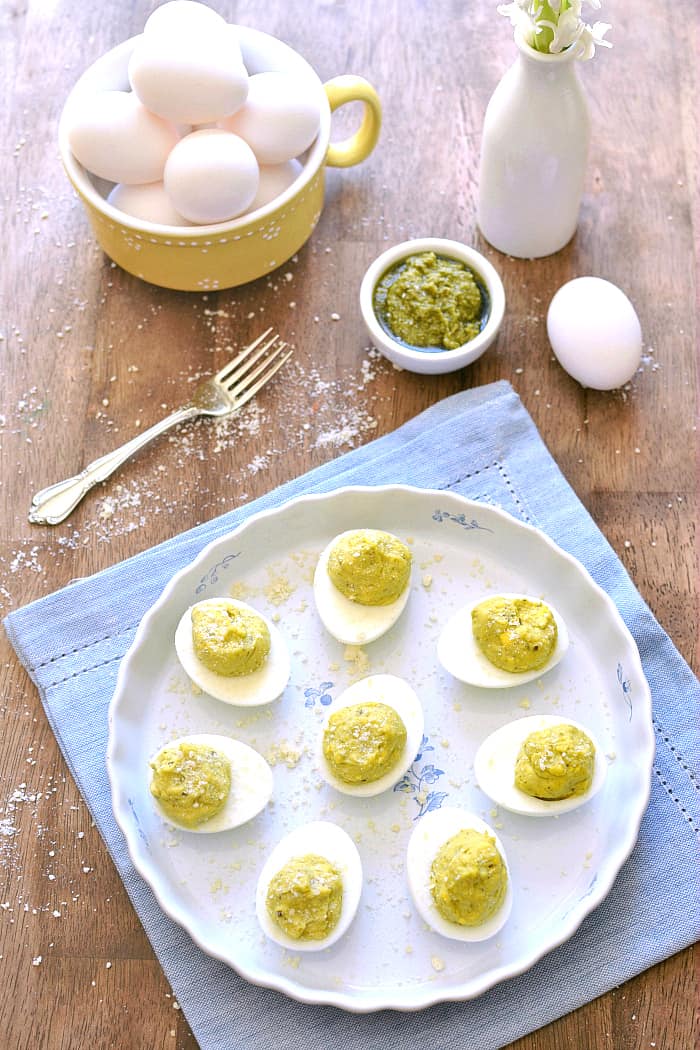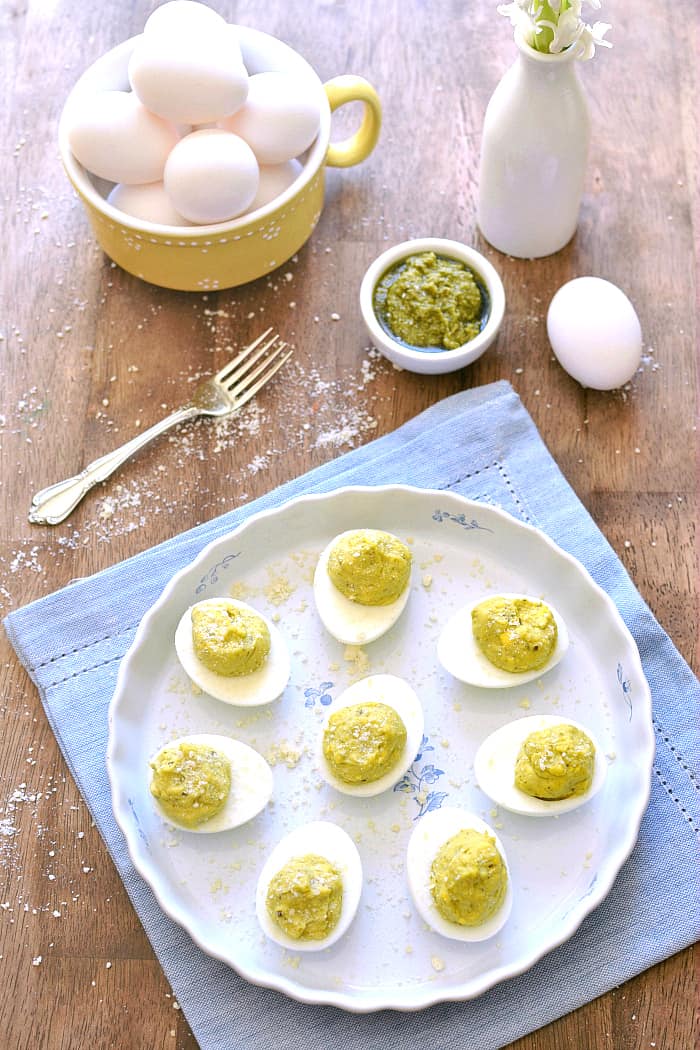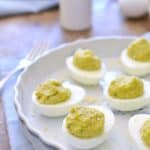 Parmesan Pesto Deviled Eggs
Ingredients
6

eggs

hard boiled

1/4

c.

mayonnaise

2

Tbsp.

prepared pesto

1

Tbsp.

grated Parmesan cheese

plus more for garnish

1/2

tsp.

lemon juice
Instructions
Crack and peel hard boiled eggs; cut in half lengthwise and remove yolk into small mixing bowl.

To egg yolks, add mayo, pesto, Parmesan, and lemon juice.

Mix well with a fork or a hand-held electric mixer to desired consistency.

Spoon filling into egg white halves and top with additional grated Parmesan.
Also be sure to check out my Skinny Sriracha Egg Salad!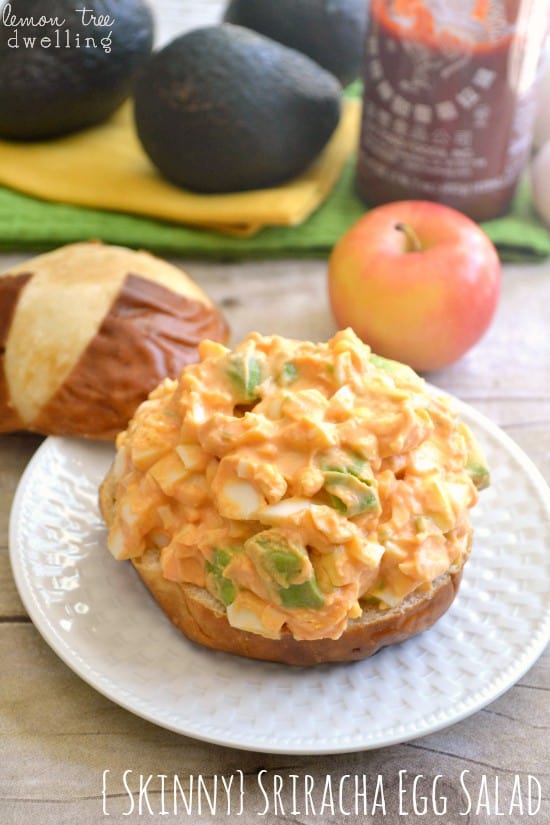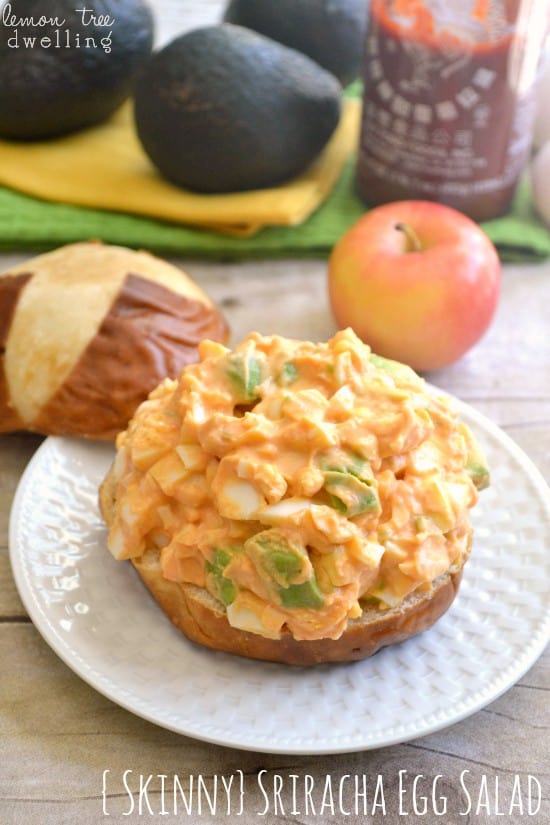 This Spring Vegetable Goat Cheese Frittata from Self Proclaimed Foodie is also a delicious egg dish that is perfect for Easter!