All the best of the s'mores you've loved since childhood…..with the delicious additions of cheesecake and Nutella! Who says you can't teach an old dog new tricks?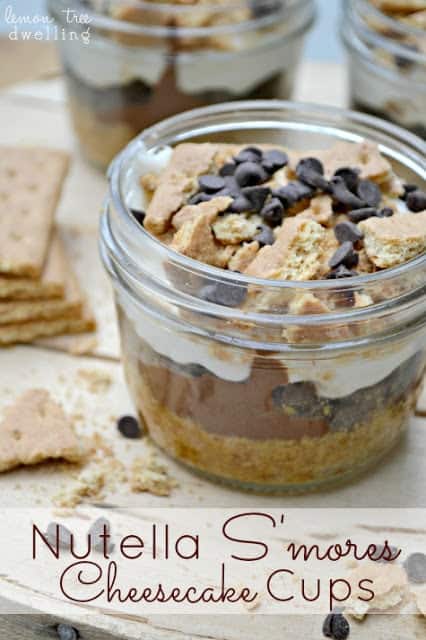 One of my only memories of camping as a child was when I was around 5 years old and my parents took our family of 6 on a camping trip around the state. Since I was so young, my memories are vague, but the 3 things I remember for sure are whistles, grapes, and Oreos. Whistles because that's what my parents got each of us for the trip….and grapes & Oreos because that's what got us through the night!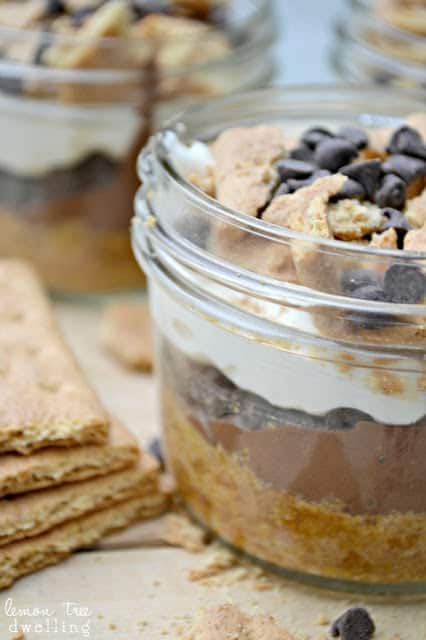 I'm not sure which night it was (the first? the last?) but one night of our trip was a rainy disaster. We had just gotten to the camp site when it started to rain, and the rain didn't stop until sometime the next morning. Somewhere in the chaos of pitching the tent and unloading the sleeping bags and finding buckets to catch the drips (our tent definitely had a few leaks)….my parents had the wherewithal to find food for their 4 now ravenous kids. Granted, the only food they were able to find was grapes, Oreos, and a pitcher of lemonade, but it was enough to get us through the night!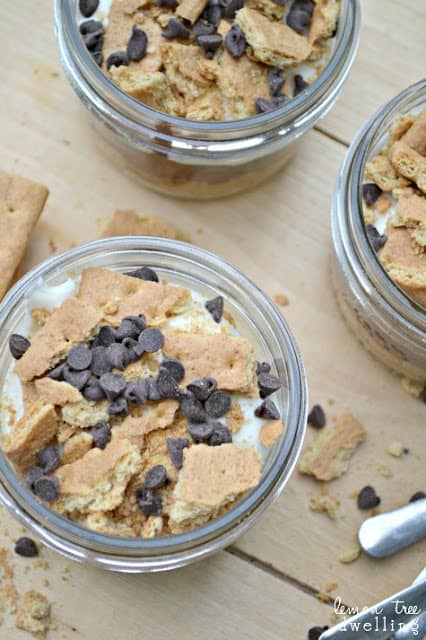 Maybe that night explains why one camping trip is all I remember taking. (After that, my parents said forget it!!) Too bad, because camping is so fun! Not that I've ever taken my kids camping…(hey, I'm not crazy!) But I have been camping since childhood, and I know that there's nothing better than sitting around a campfire late at night, talking, laughing, roasting marshmallows, and, of course, eating s'mores!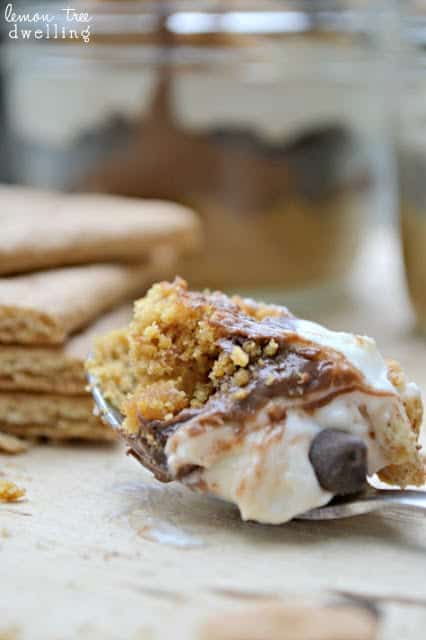 We've been tossing around the idea of a summer camping trip (someday)….but until we work up the nerve, I've decided to start making a different type of s'mores – s'mores in a jar! And not just s'mores, but Nutella cheesecake s'mores – the kind that make you forget about all the other s'mores you've ever had. Not that it's hard to do when your parents have never taken you camping….(sorry kids!) But not so sorry, because this is one delicious little treat, made purely out of guilt. So I guess what I really should be saying is, "You're welcome." (Did I hear a "thank you?")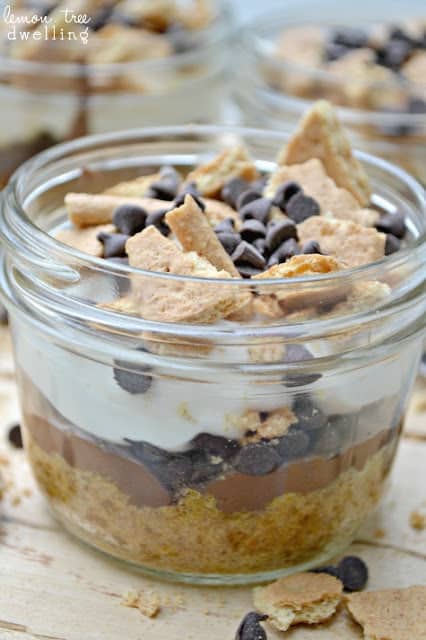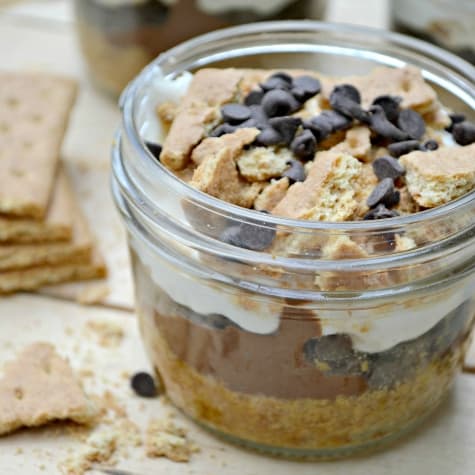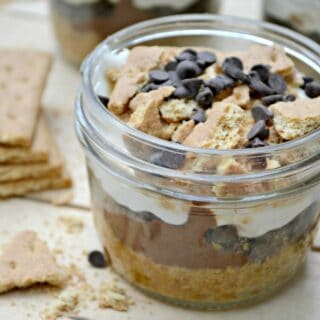 Nutella S'mores Cheesecake Cups
All the best of the s'mores you've loved since childhood.....with the delicious additions of cheesecake and Nutella!
Ingredients
1 1/8 cups graham cracker crumbs
6 Tablespoons butter, melted
1 1/8 cups Nutella
1/2 cup mini chocolate chips
12 ounces cream cheese
1 1/2 cups marshmallow fluff
1 teaspoon vanilla extract
3 graham crackers, broken in half
6 wide-mouth half pint mason jars
Instructions
Add 3 Tablespoons graham cracker crumbs and 1 Tablespoon butter to each mason jar. Microwave 30 seconds or until butter is melted; stir and press down to form the crust.
Top crust with 3 Tablespoons Nutella and 1 Tablespoon mini chocolate chips.
In a separate bowl, mix cream cheese, marshmallow fluff, and vanilla extract with a hand mixer 2 minutes. Divide evenly into mason jars, approx. 1/3 cup in each.
Top each jar with 1/2 graham cracker, broken in pieces, and leftover chocolate chips.
Nutrition Information:
Yield:

6
Serving Size:

1 grams
Amount Per Serving:
Unsaturated Fat:

0g