Just when you thought Root Beer Floats couldn't get any better – Root Beer Float Pops!
All the flavors of the floats you love, just better!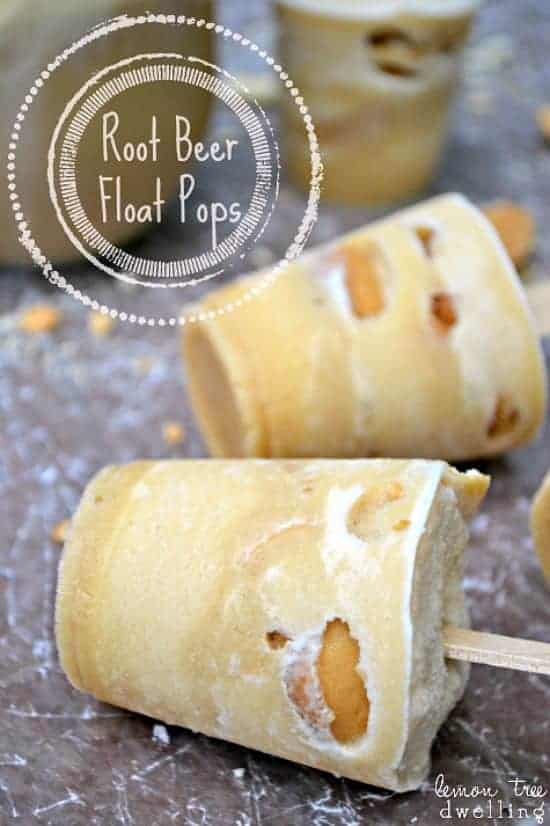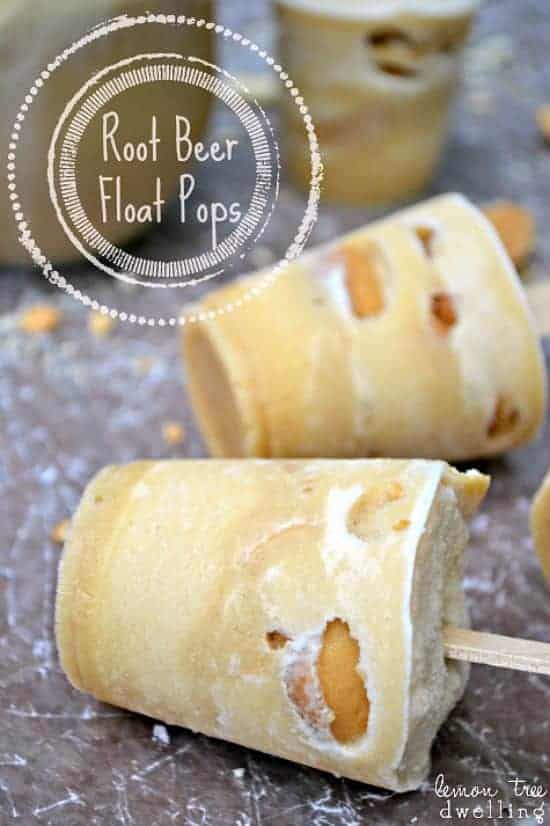 Happy Monday, everyone! I hope you are having a great start to your 4th of July week….ours is off to an oh so busy (but oh so fun) start! We celebrated Ellia's 7th birthday yesterday and are having a "pajama party" for her with some school friends tonight. She is so excited!! We spent the weekend getting ready – planning, shopping, cleaning, and, of course, making treats! I'm not sure how many of them we'll actually be able to use for the party (we've already made a pretty big dent in most of them)…but either way, I'm excited to share them with you! First up: these tasty Root Beer Float Pops!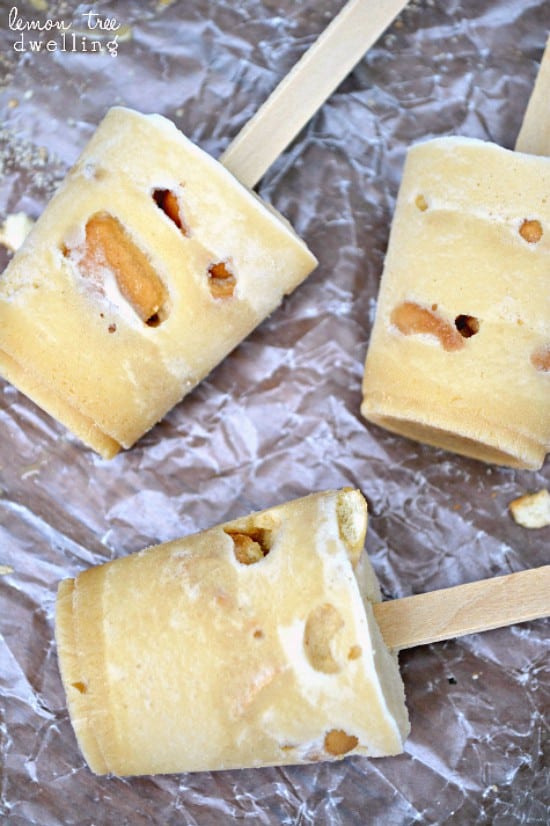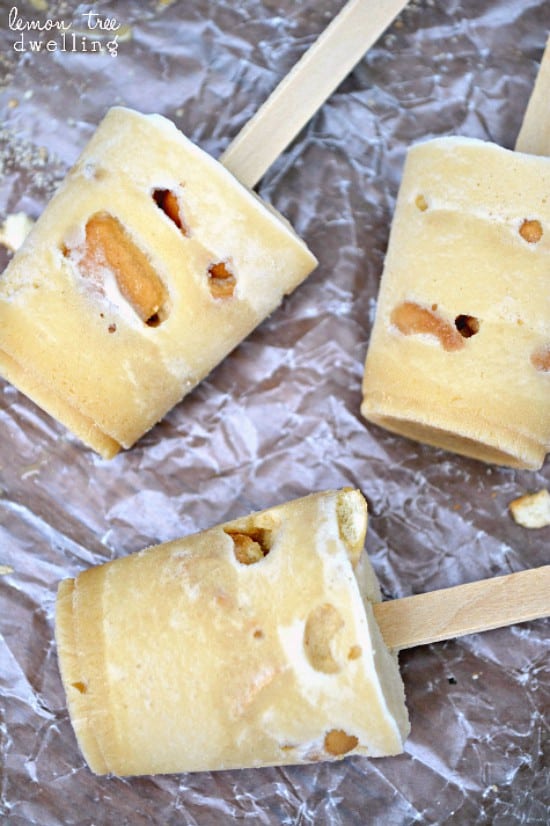 I LOVE root beer floats (who doesn't?) and I have great memories of having them with my family when I was growing up. Funny, though, I don't really make them very often! Maybe because I don't usually have root beer on hand, or because, as I confessed last week, I rarely have ice cream in the freezer!? Whatever the reason, it's about to change…now that we've all tasted these little pops and remembered just how delicious root beer floats really are!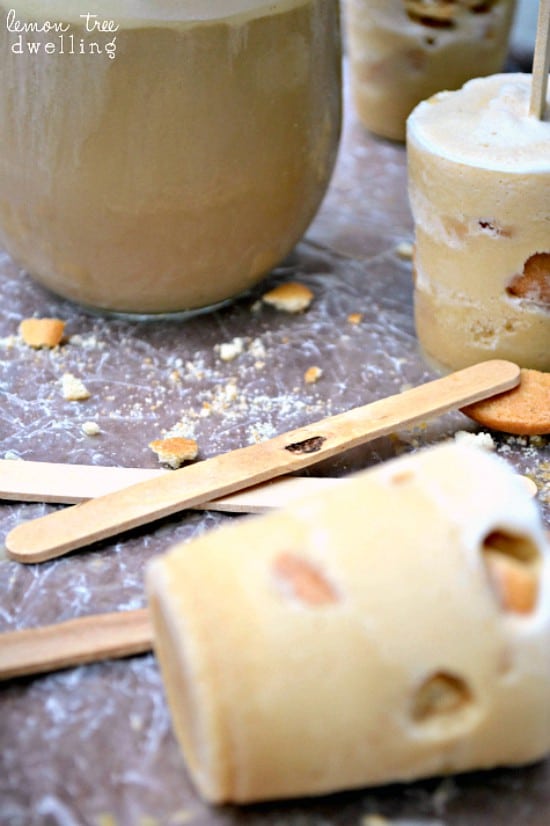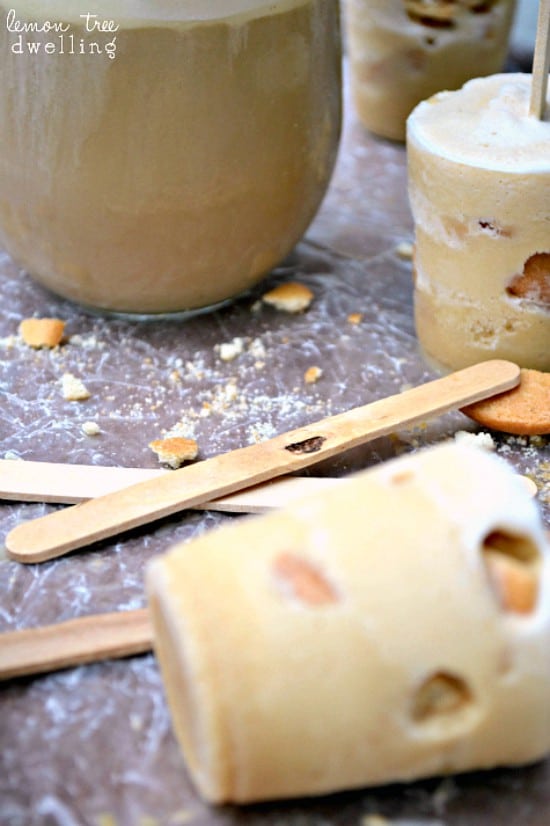 There is something about the sharpness of root beer mixed with the creaminess of vanilla ice cream – the two flavors go so well together, it's hard to imagine any way to make it better! But….since this is what I do….I decided to try! I took my favorite part of a float – the slushy stuff when the two flavors are completely melted together – and added a little bit of crunch. If you ask me, ice cream is ALWAYS better with a little bit of crunch! And what better way to add crunch than with vanilla wafers?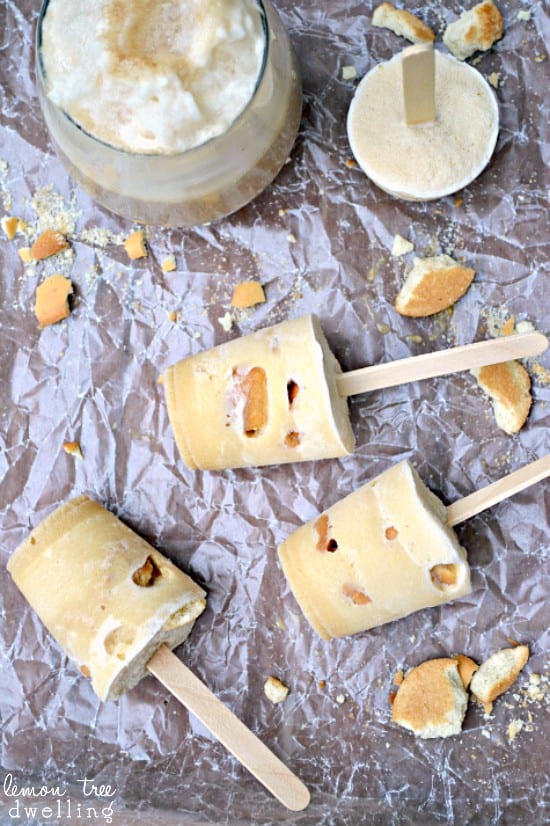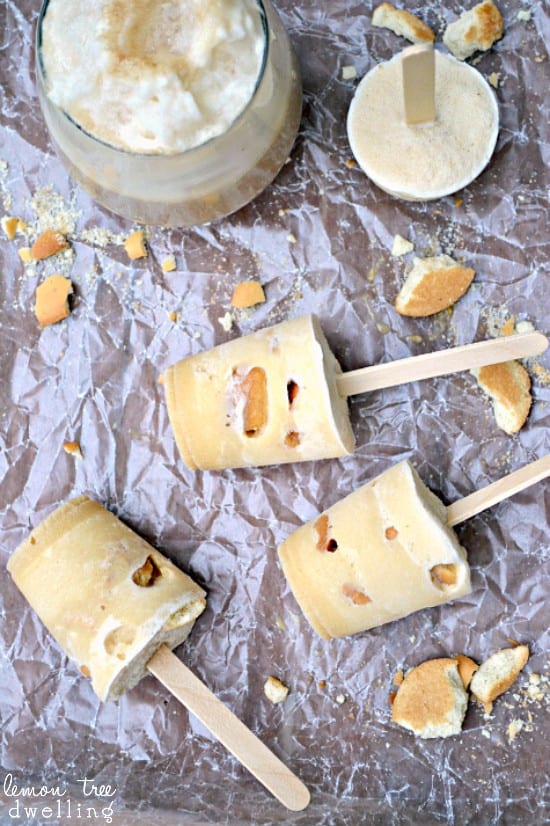 So….if you want to get technical (which I don't) these are not actually Root Beer Float Pops. They're Black Cow Pops….which is the name for a root beer float that's been blended. But to me, the name is irrelevant. Because these babies are delicious. Almost too good – like I made 8 of them and there is only 1 left good. A perfect birthday treat for Ellia….(along with all the other treats I made this week)…what can I say? I guess that's what birthdays are for!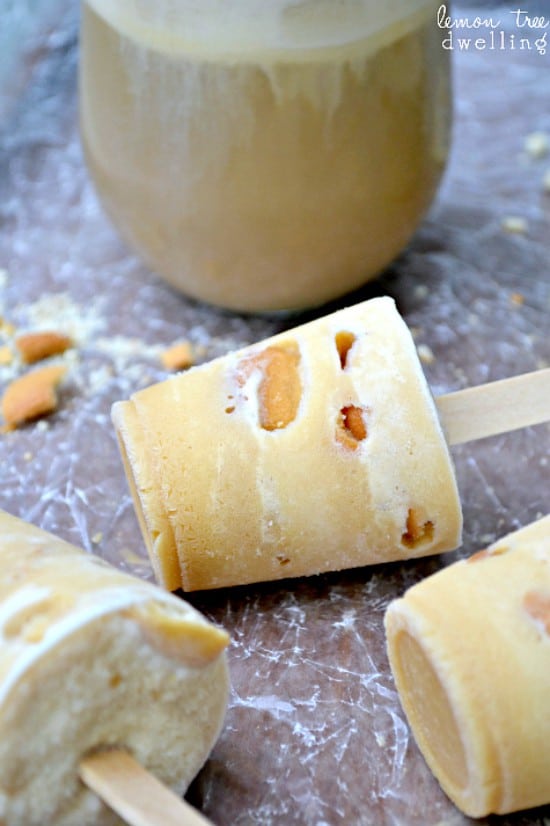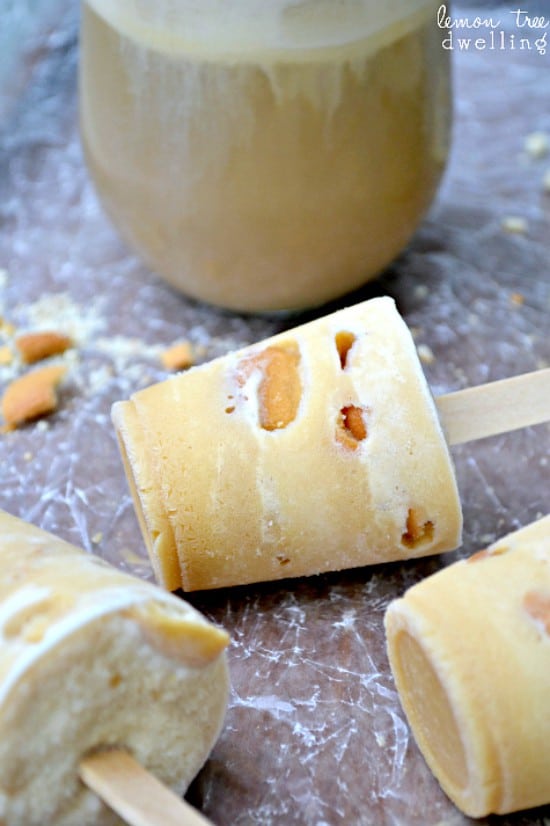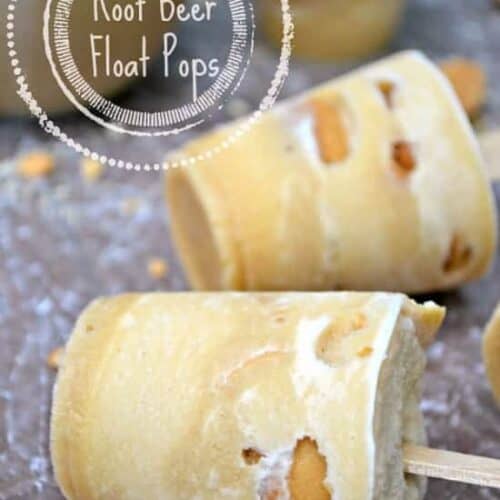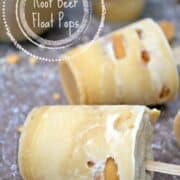 Root Beer Float Pops
Ingredients
1

c.

vanilla ice cream

3/4

c.

cold root beer

12

vanilla wafer cookies
Instructions
Mix ice cream and root beer until smooth.

Crumble cookies and stir into mixture.

Fill 8 small dixie cups (1/4 c. each)

Place a popsicle stick 3/4 of the way in each and freeze until solid.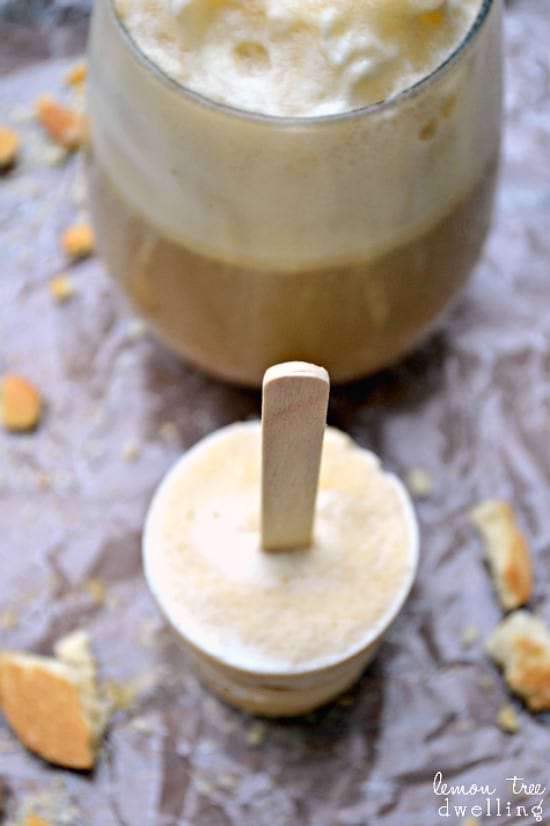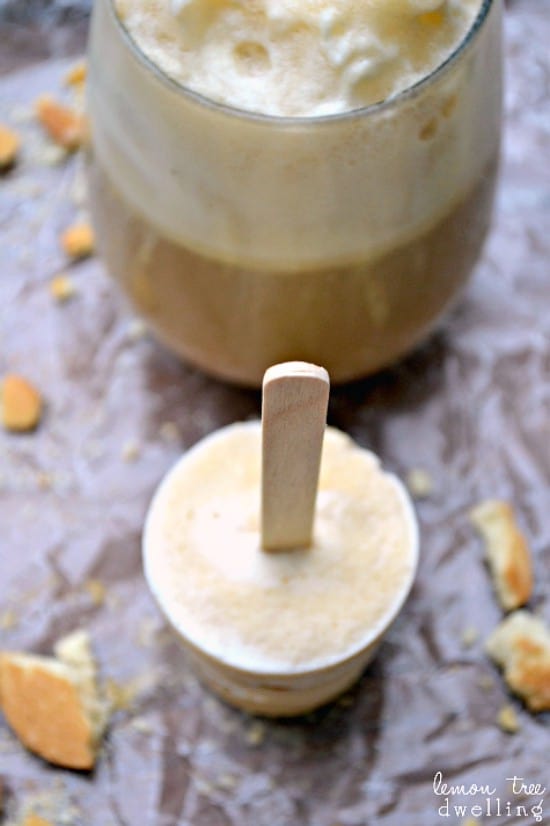 Enjoy!