No-Bake Cranberry Almond Joy Granola Bars – sweetened with cranberries, almonds, coconut, and chocolate chips. These bars are perfect for breakfast or snack, and easy to take (and eat) on the go!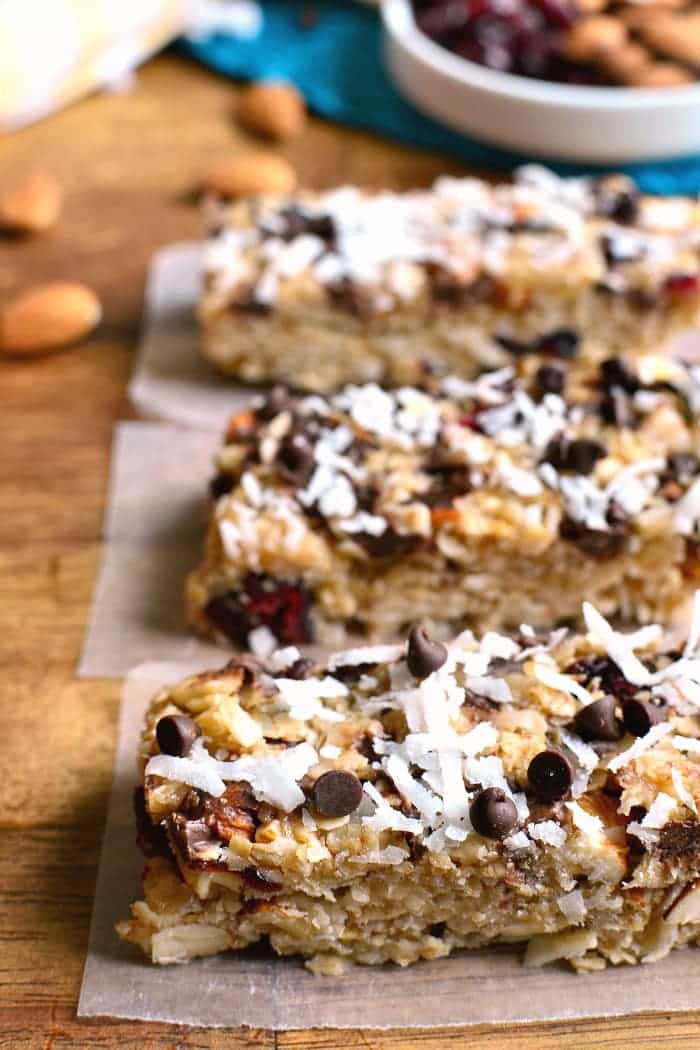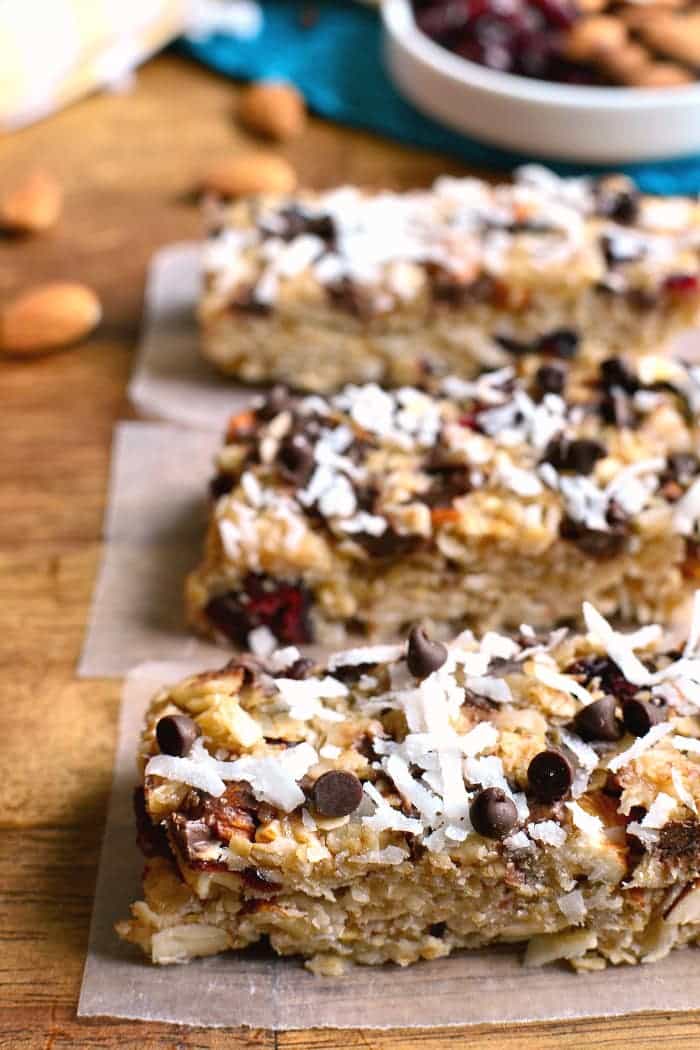 So. We have come to the realization that we are extra frugal. Read: cheap. Okay, not in all regards….but when it comes to our kids and their friends….you better believe it!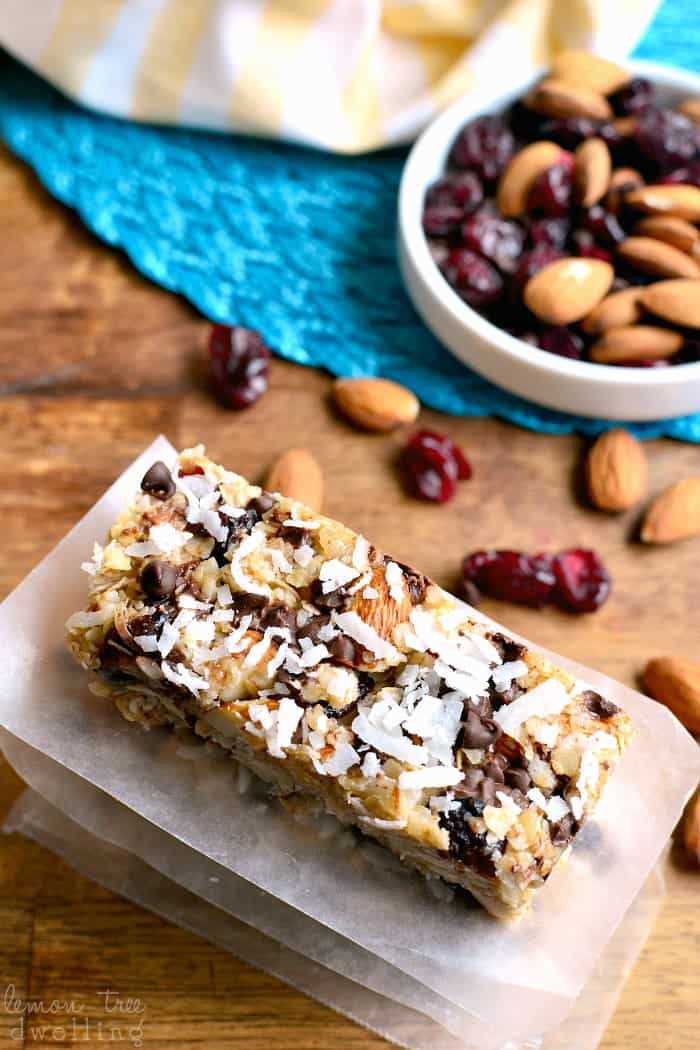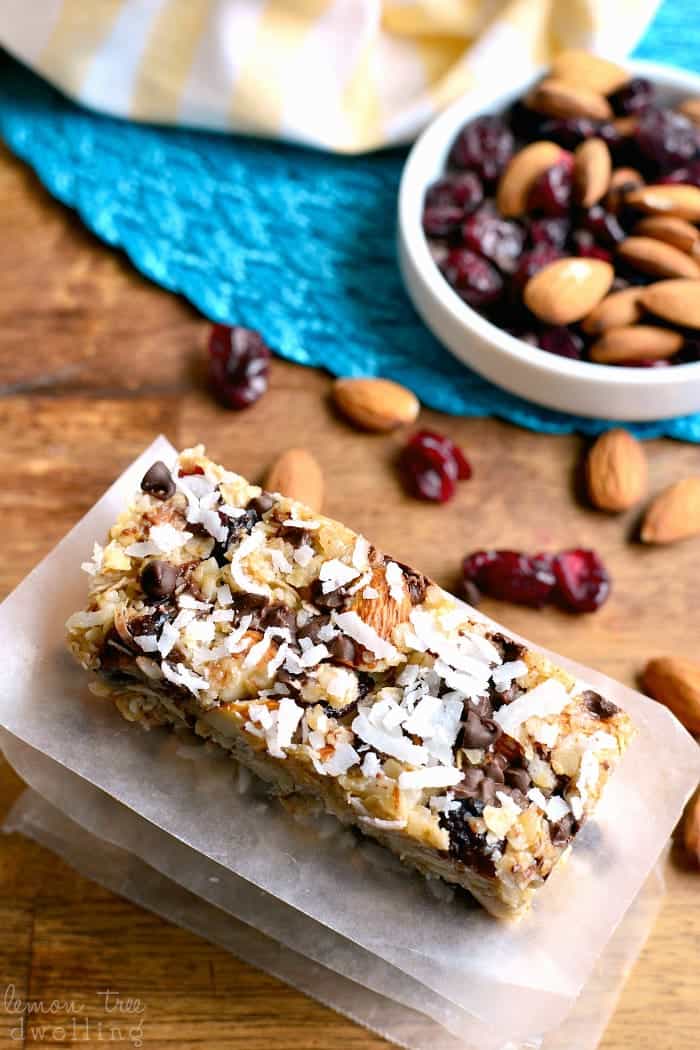 How do we know this? Well, it all has to do with the things our kids do when they're with their friends – dinners, movies, festivals, skating….. and the things they come home with! 9 times out of 10, when they come home from a friend's house, they bring something new home with them!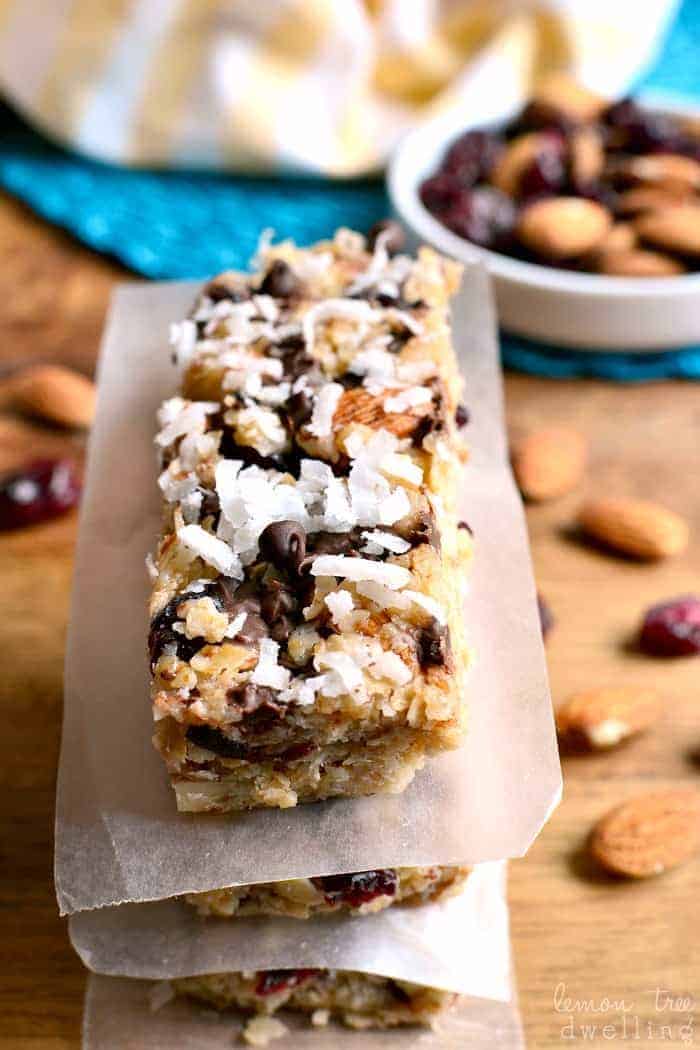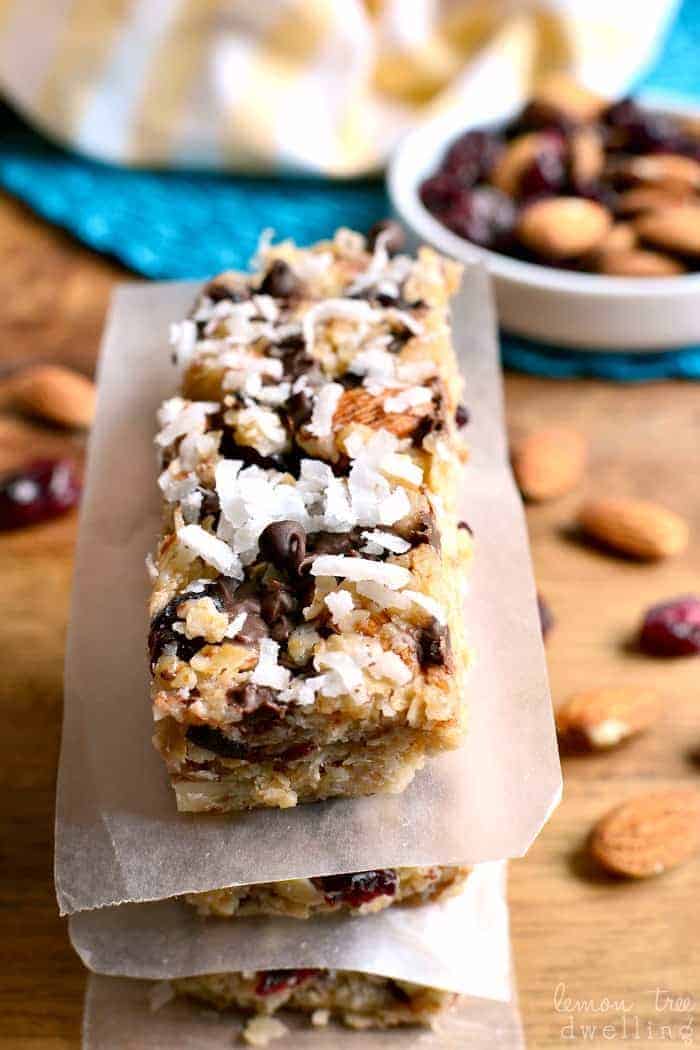 This is not how we operate. Don't get me wrong – we love our kids' friends and love having them over. But the craziest we get is renting a movie and ordering pizza…..! And maybe taking everyone out for ice cream. Maybe.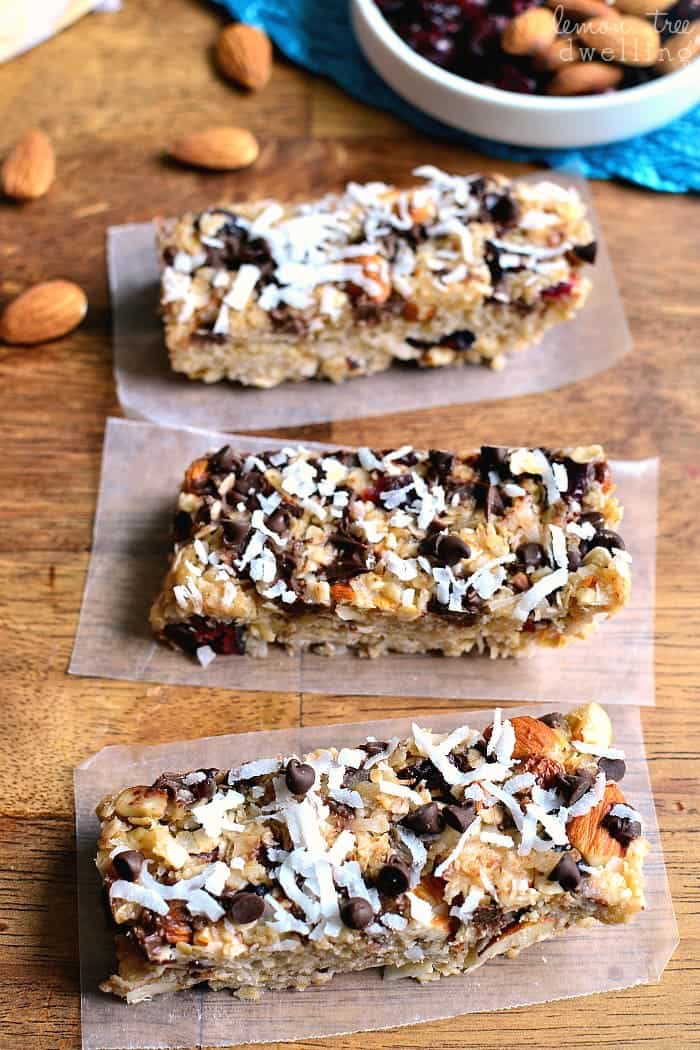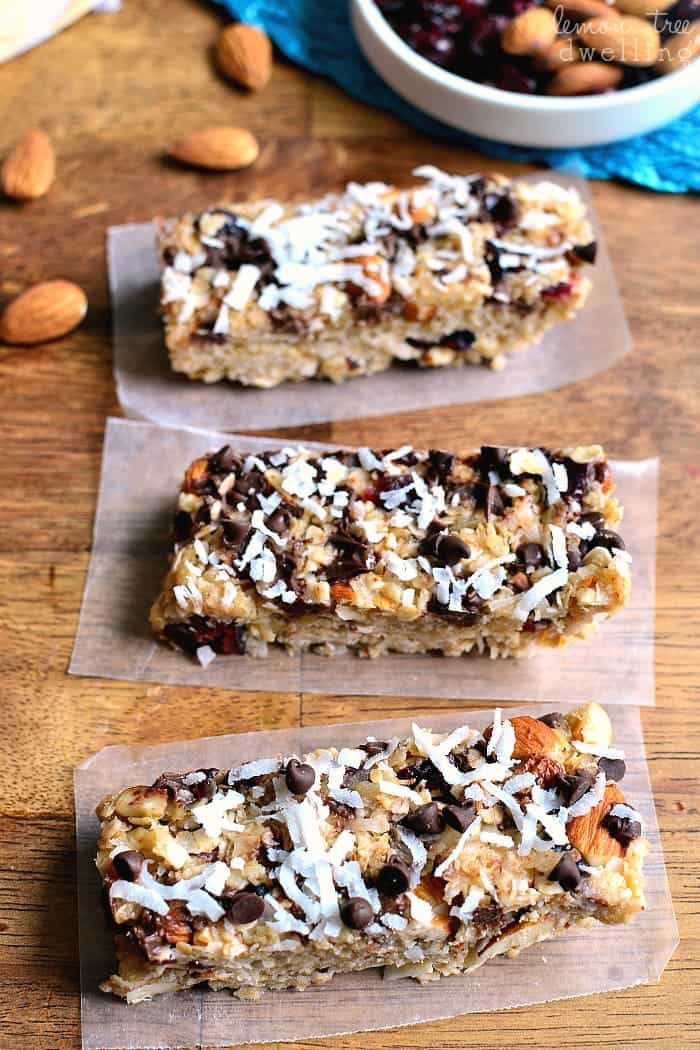 I'm not sure if it's because of our frugal nature or because we have younger siblings at home or because taking everyone somewhere would feel ever so slightly overwhelming….but whatever it is….we are apparently not on the same page as ALL the other parents.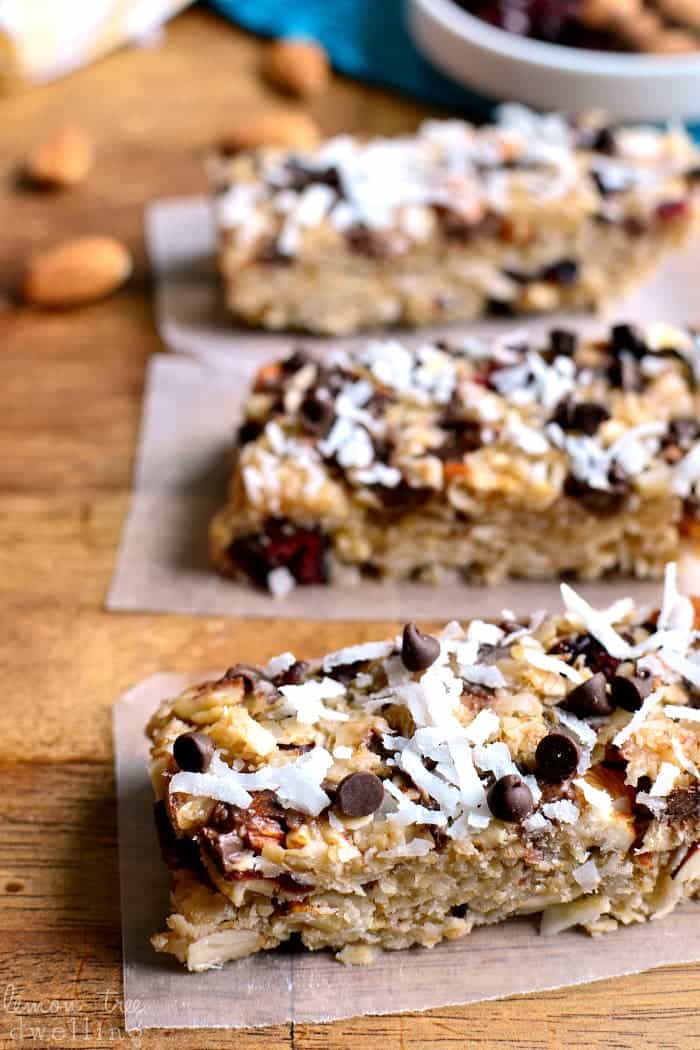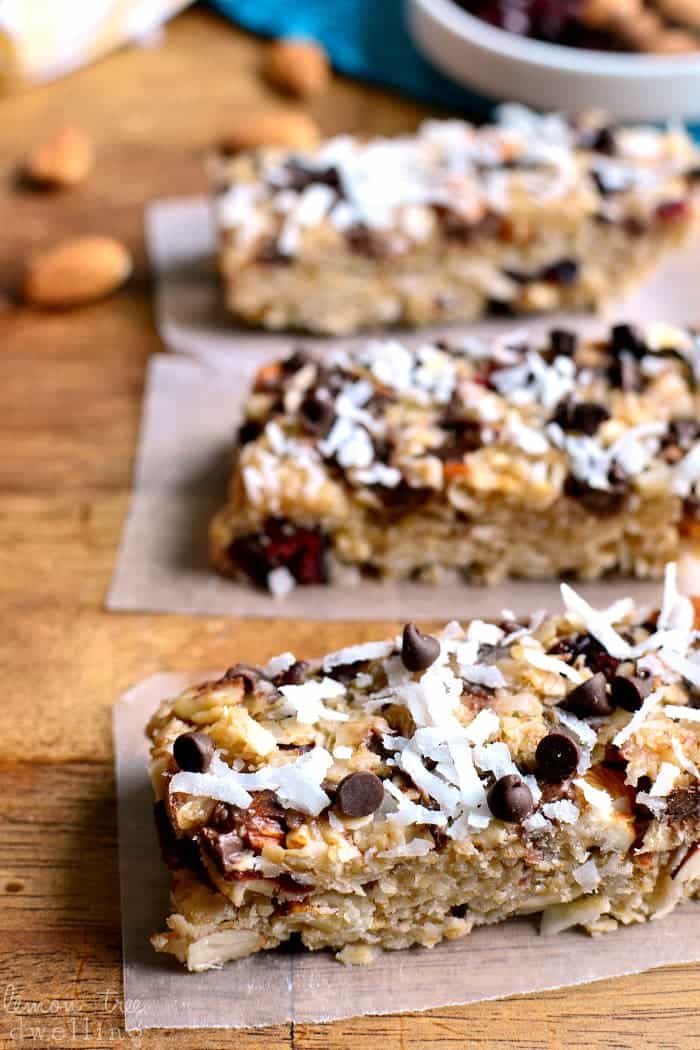 What we do offer? Homemade treats! And lots of them. And every now and then, the treats are easy enough that the girls and their friends can help make them! Like these Cranberry Almond Joy Granola Bars – loaded with almonds, oats, cranberries, chocolate chips, and oatmeal, and sweetened with brown sugar and honey. They're perfect for breakfast, snack, or even dessert….and so good they might even make our frugalness okay!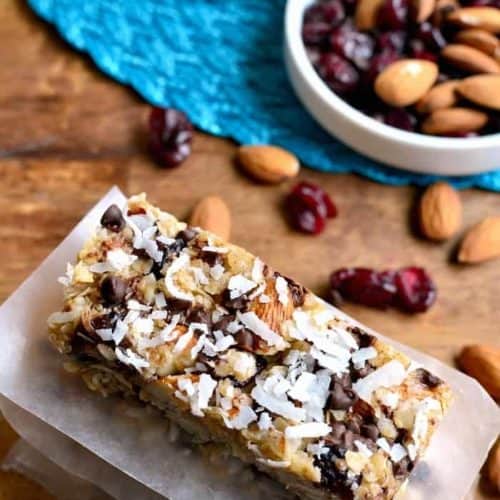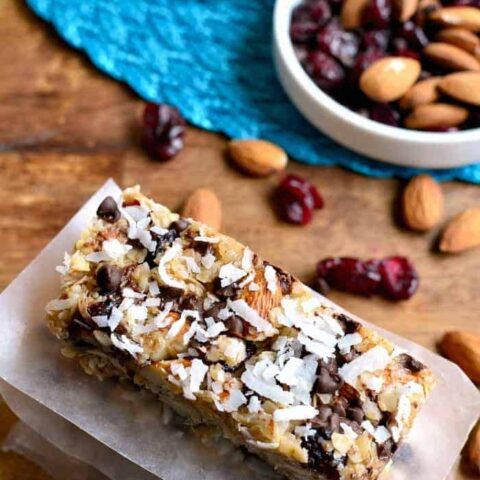 No-Bake Cranberry Almond Joy Granola Bars
Yield: 18 bars

Prep Time: 5 minutes

Total Time: 5 minutes
Ingredients
2 c. quick cooking oats
1 c. shredded coconut
1 c. raw almonds, coarsely chopped
1/2 c. dried cranberries
1/4 c. mini chocolate chips
1/2 c. coconut oil
1/4 c. brown sugar
1/4 c. honey
Instructions
Combine oats, coconut, almonds, and cranberries in a large mixing bowl.
In a medium saucepan, combine coconut oil, brown sugar, and honey. Heat over medium heat until bubbling; reduce heat and simmer 3 minutes, stirring.
Pour coconut oil mixture over oat mixture and stir until evenly coated.
Let cool slightly; spoon mixture into a lightly greased 8x11 inch baking pan (or pan of similar size).
Sprinkle with chocolate chips and additional coconut, if desired.
Use wax paper to press mixture firmly into pan. *It is important to pack the mixture as tightly as possible.
Refrigerate 1-2 hours or until firm; cut into bars.
Wrap individual bars in wax paper or serve immediately.
Store in refrigerator or at room temperature. *Note: Bars are most "firm" when stored in refrigerator.
Nutrition Information:
Yield: 18 Serving Size: 1 grams
Amount Per Serving: Calories: 194Total Fat: 12gSaturated Fat: 7gTrans Fat: 0gUnsaturated Fat: 4gCholesterol: 0mgSodium: 15mgCarbohydrates: 21gFiber: 3gSugar: 13gProtein: 3g