Perfectly grilled sourdough bread, loaded with Guiness-glazed mushrooms, vidalia onions, bacon, and Dubliner with Irish Stout. A grilled cheese sandwich that puts all other sandwiches to shame!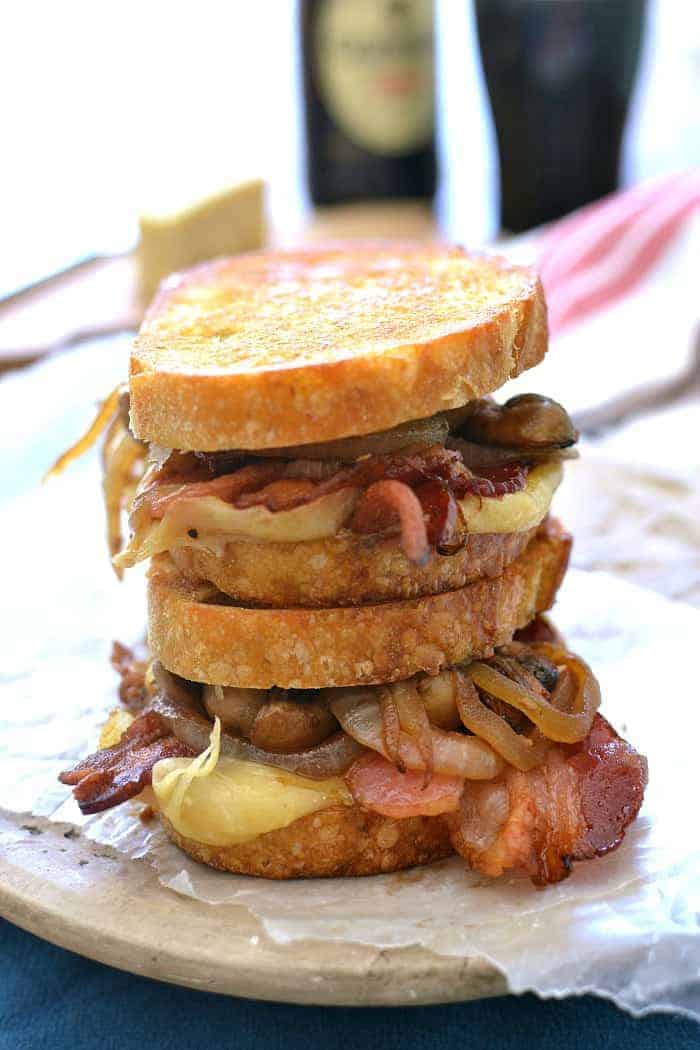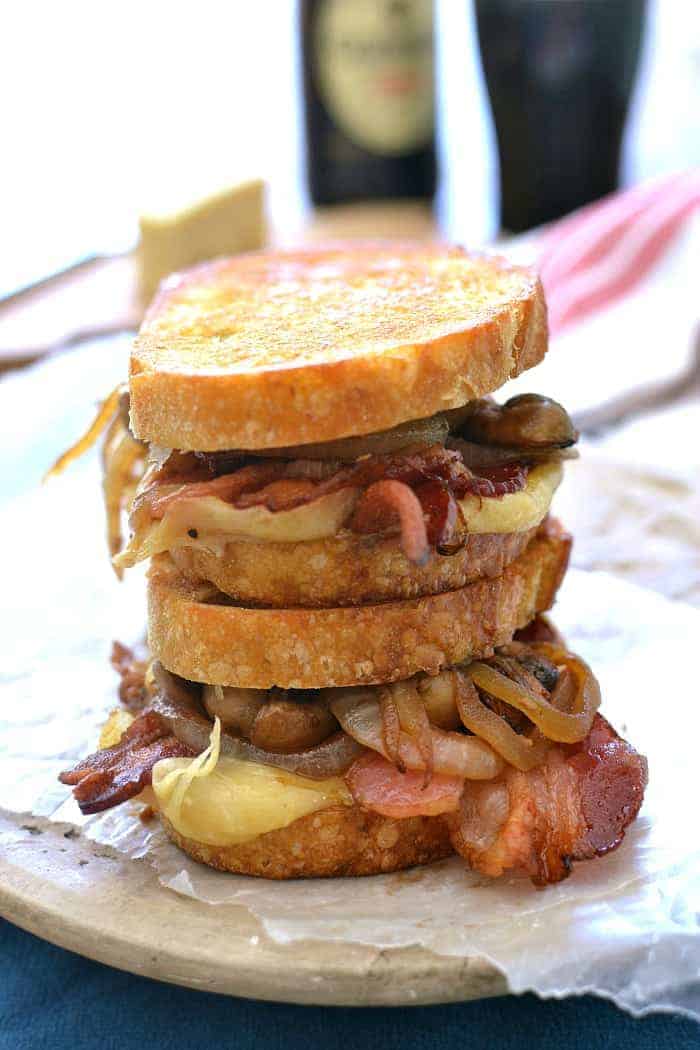 We've gone through a lot of phases around here. The accessories phase. The high pony phase. The too-small clothes phase. The mac & cheese phase. It seems like just when one phase is ending, another one is beginning….and something that seemed completely unimportant the day before is suddenly the ONLY thing that matters!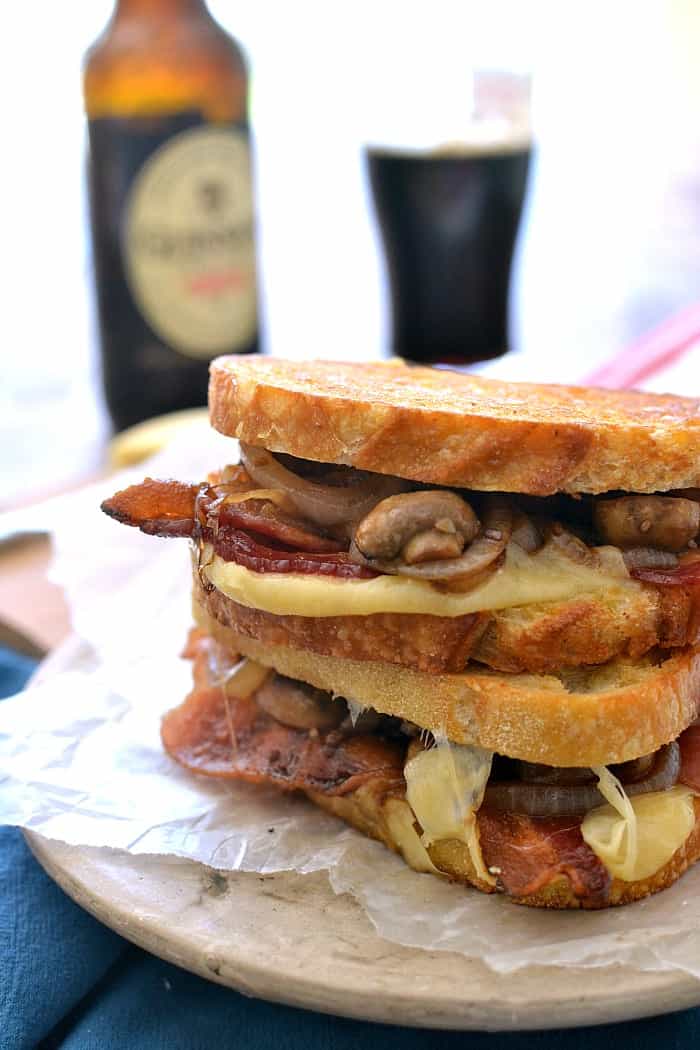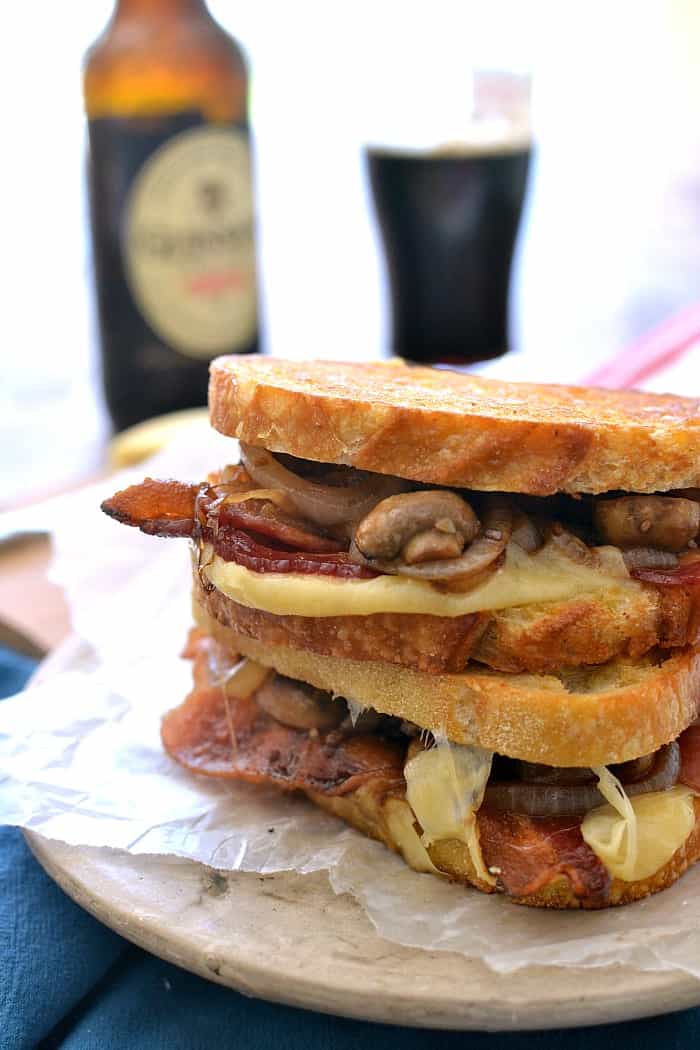 For the most part, our phases have been harmless. And actually humorous. The one we're in right now? The dress myself phase! Every morning Nora and I head to her closet, and she proceeds to pick out the most fabulous (crazy looking) outfit I've ever seen. One day is crazier than the next. In the past, it might have bothered me….but at this point in the game, I know it won't last long. So I embrace it! I might even encourage it. After all, she's developing her own sense of style, right?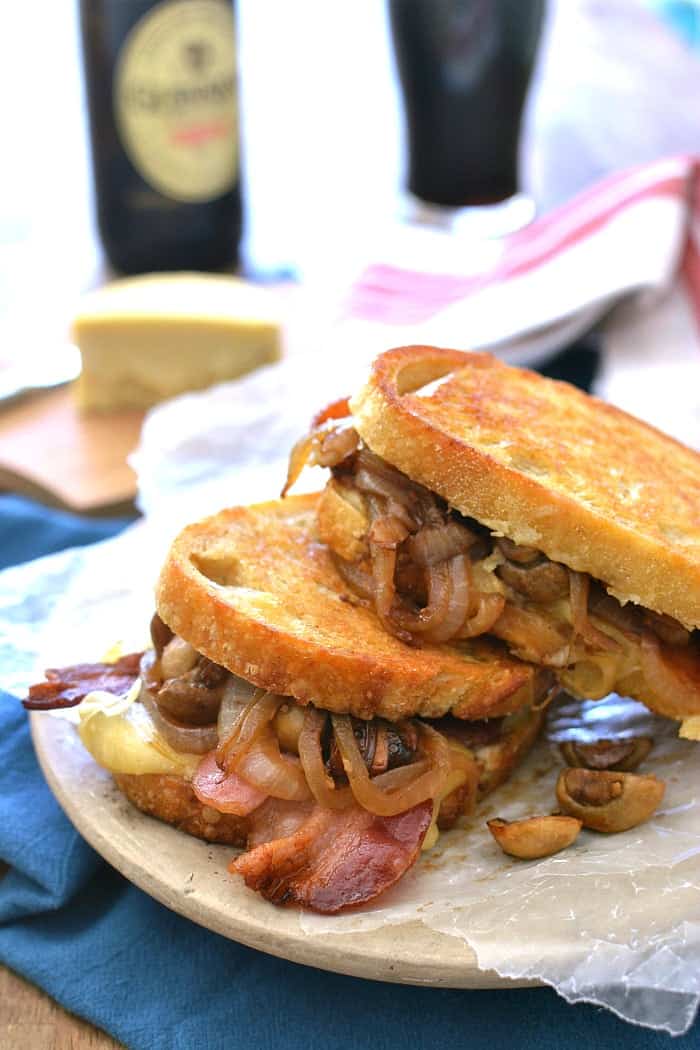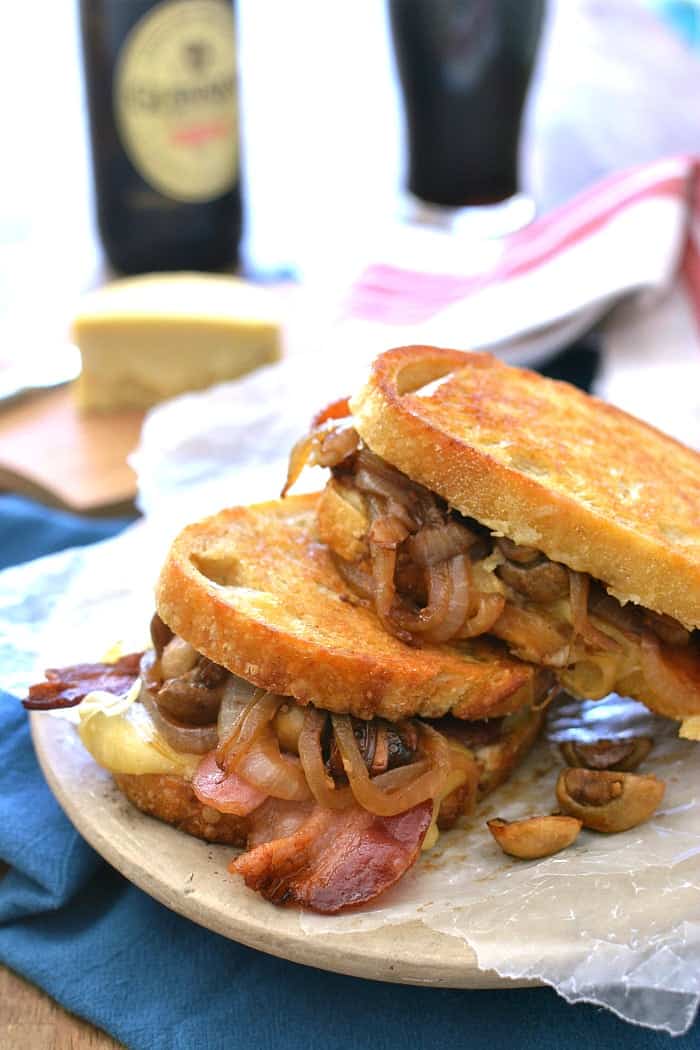 One of the strangest phases we ever experienced was the mushroom phase. It was a period in Greta's life, around the age of 3, where she LOVED mushrooms. She would beg for them when I was cleaning them, chopping them, adding them to recipes. "Greta – what do you like better – cookies or mushrooms??" MUSHROOMS!!!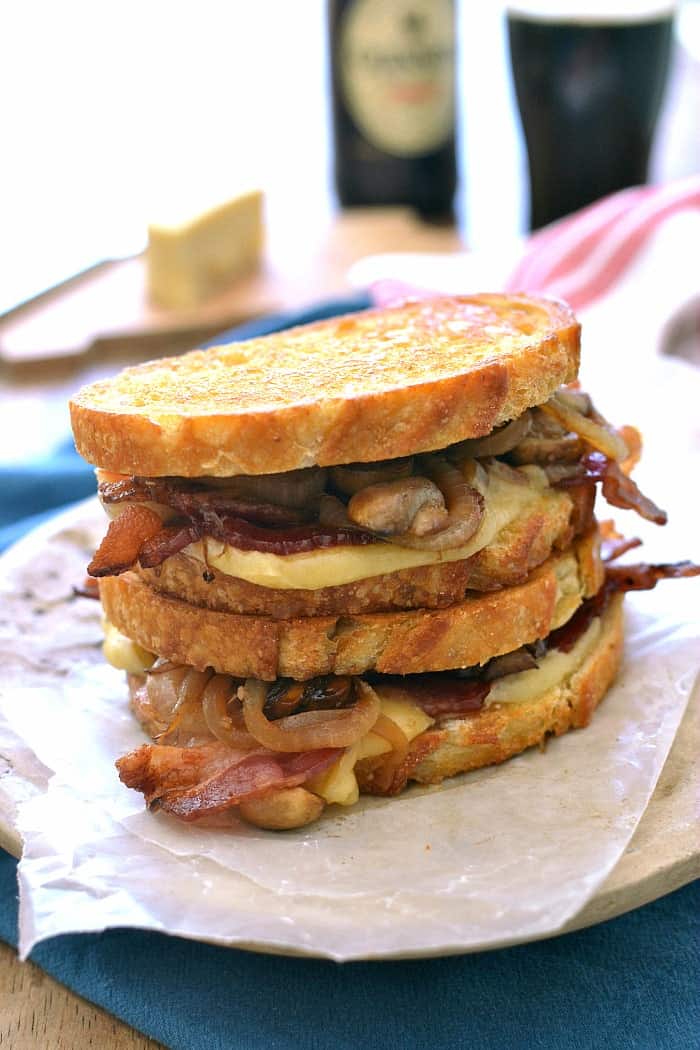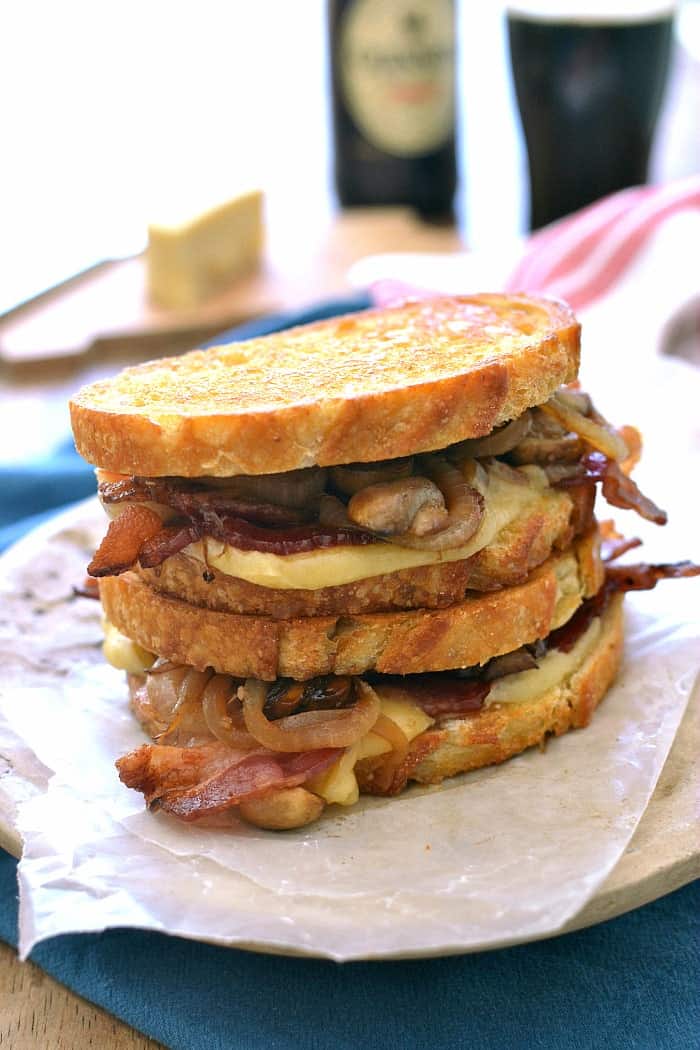 Well, not surprisingly, that phase didn't last long. These days, Greta is a normal kid who would take cookies over mushrooms any day. As for me? There's no question. I would take this Guinness-glazed mushroom, onion, bacon, and Dubliner sandwich EVERY day! Especially since the Dubliner is Irish Stout Dubliner. Double the stout. It's like a sandwich and a beer in one. But more delicious! For now, Greta can stick with the cookies. I'll eat her sandwich, too!!!!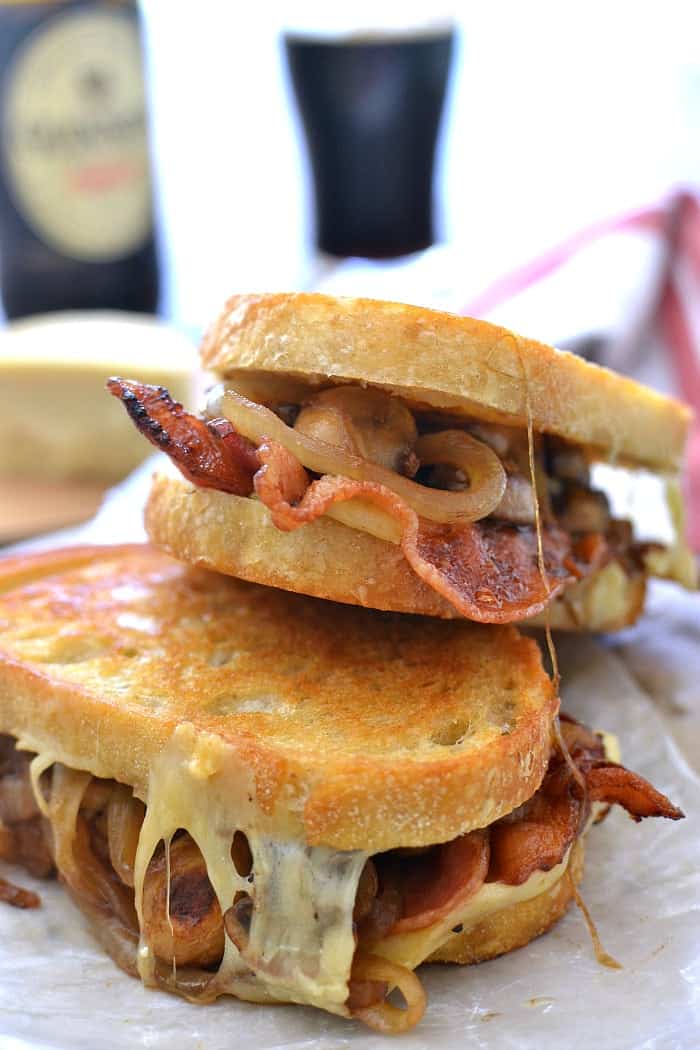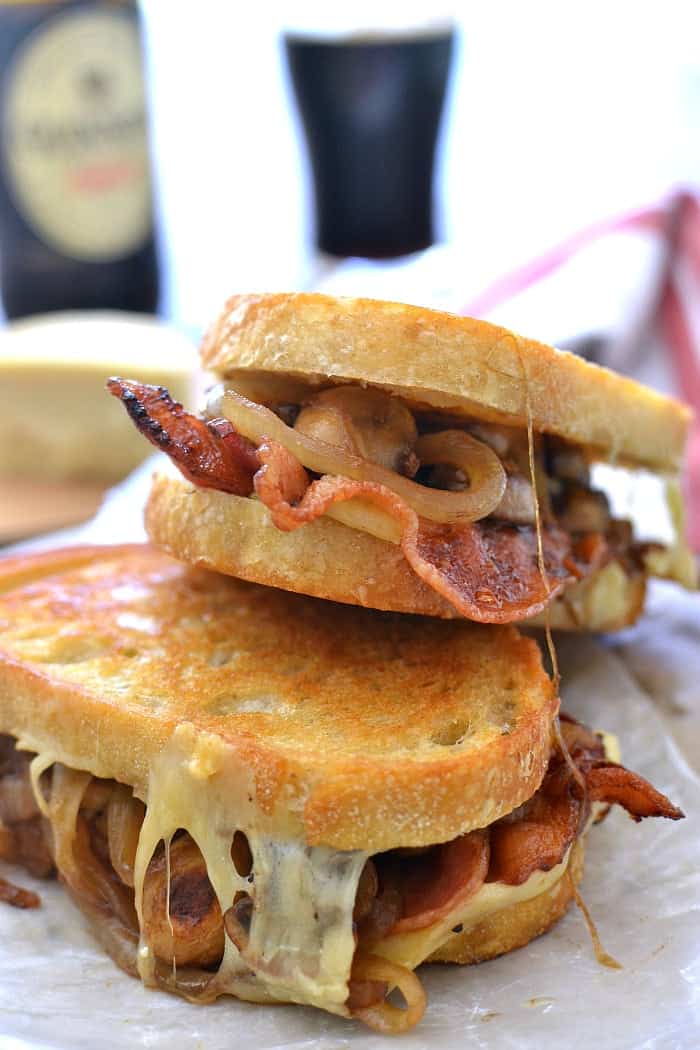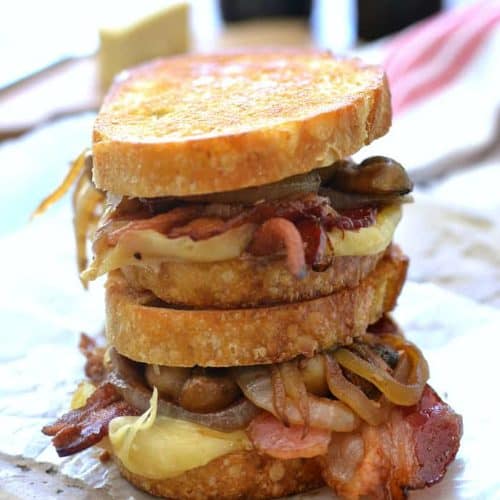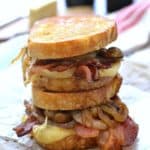 Mushroom Bacon Stout Grilled Cheese
Ingredients
1

Tbsp.

olive oil

6

oz.

button mushrooms

halved

1/2

vidalia onion

thinly sliced

2

cloves

garlic

minced

1/4

c.

Guinness

4

slices

sourdough bread

2

Tbsp.

Kerrygold butter

4

pieces

bacon

cooked

1/2

round of Dubliner with Irish Stout Cheese
Instructions
Heat olive oil in a small skillet over medium heat.

Add mushrooms, sliced onion, garlic, and Guinness; heat, stirring, until all liquid has been absorbed and vegetables become tender and caramelized.

In a separate skillet, melt 1 Tbsp. butter over medium-low heat.

Add 2 pieces bread and top with Dubliner cheese and bacon.

Grill until bread is golden brown; remove from skillet and add 1 Tbsp. butter.

Add remaining 2 pieces bread and divide mushroom mixture evenly between the two; top with previously grilled bread/cheese/bacon.

Grill until cheese is fully melted and both pieces of bread are golden brown.