Maple Bacon Wrapped Shrimp is one of my favorite holiday appetizers! It's quick and easy to make, packed with flavor, and sure to please a crowd!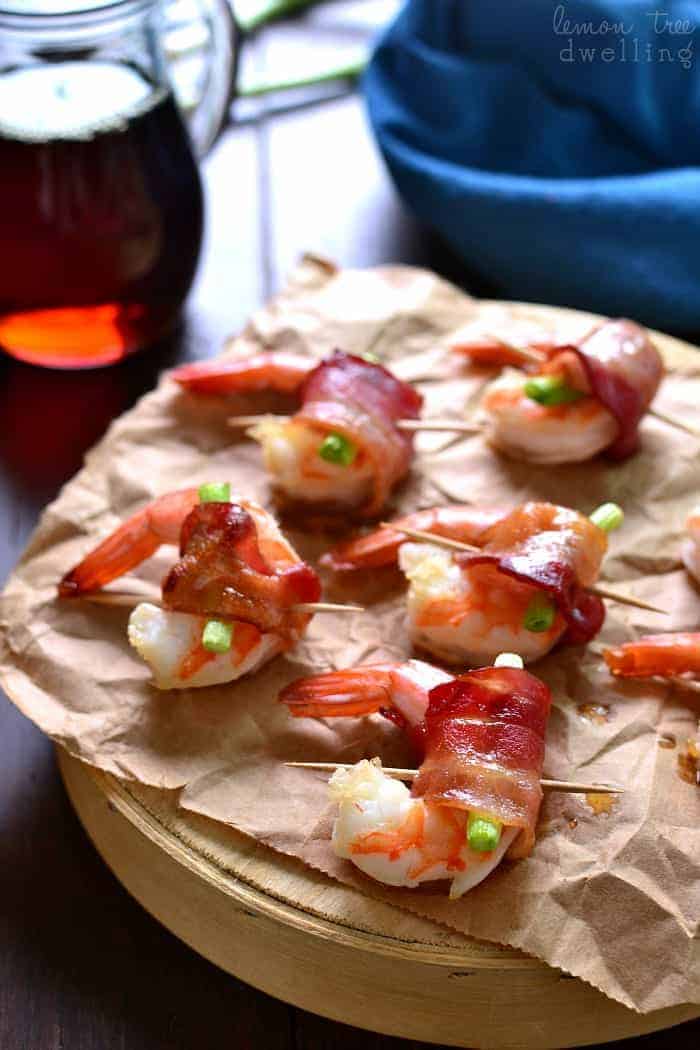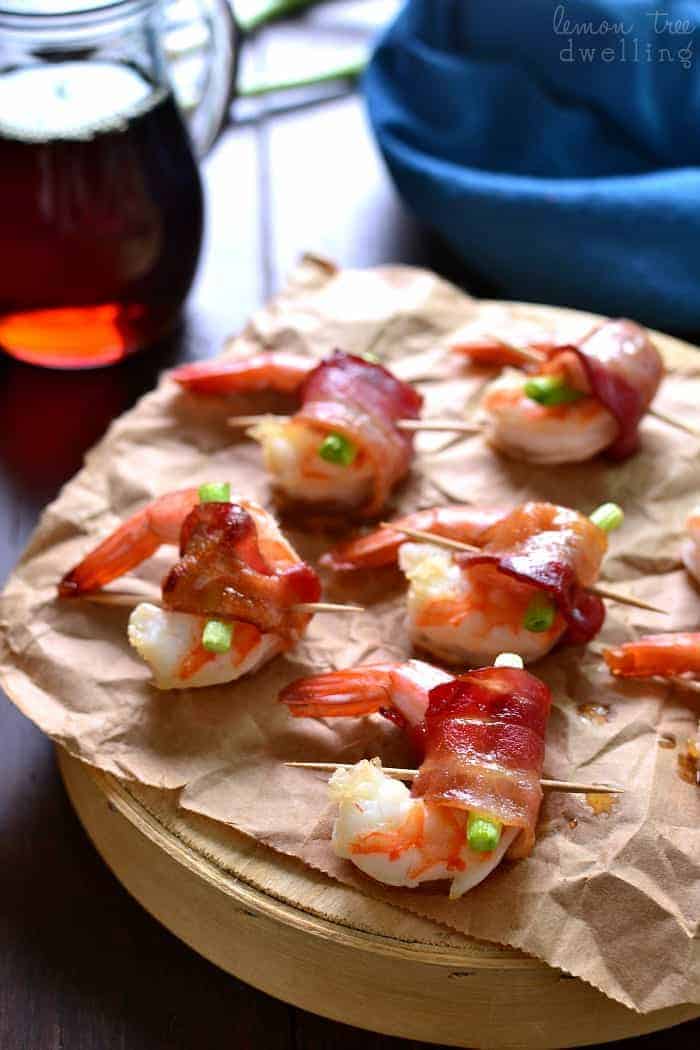 Christmas – it's three weeks away! And I need to get my head in the game. As in I (still) haven't started Christmas shopping. I wish I were joking. The only good news is that I feel like Christmas shopping will be easier this year. Because for the first time in a long time, I actually have fewer people to shop for! We made the big decision this Christmas to have all the cousins do a gift exchange instead of everyone buying for everyone's kids….and it honestly feels like such a huge relief!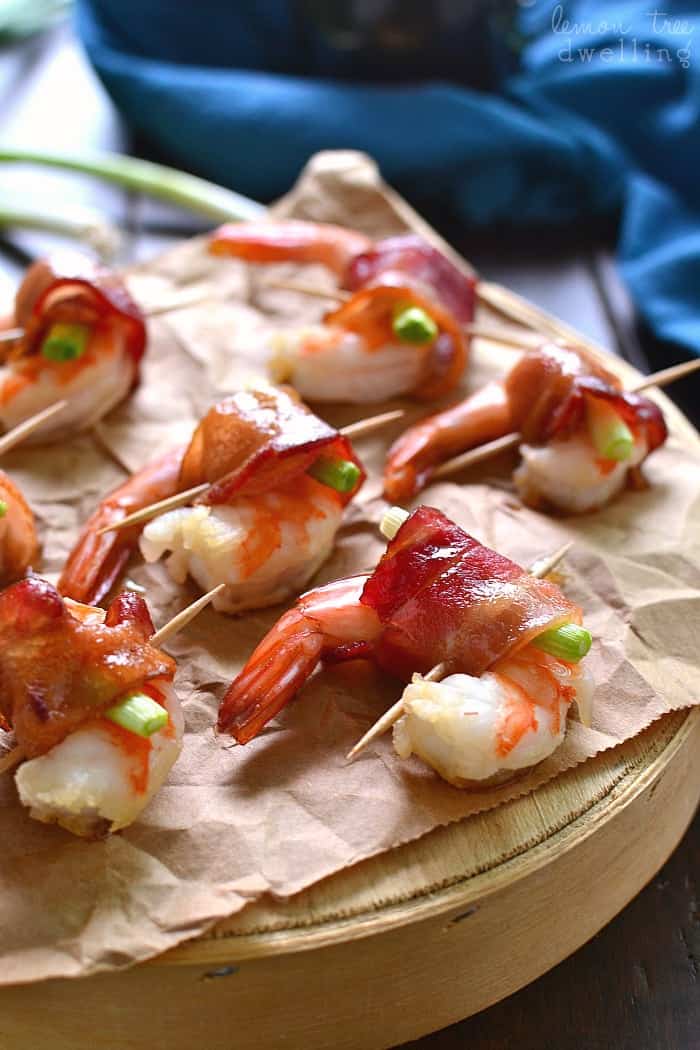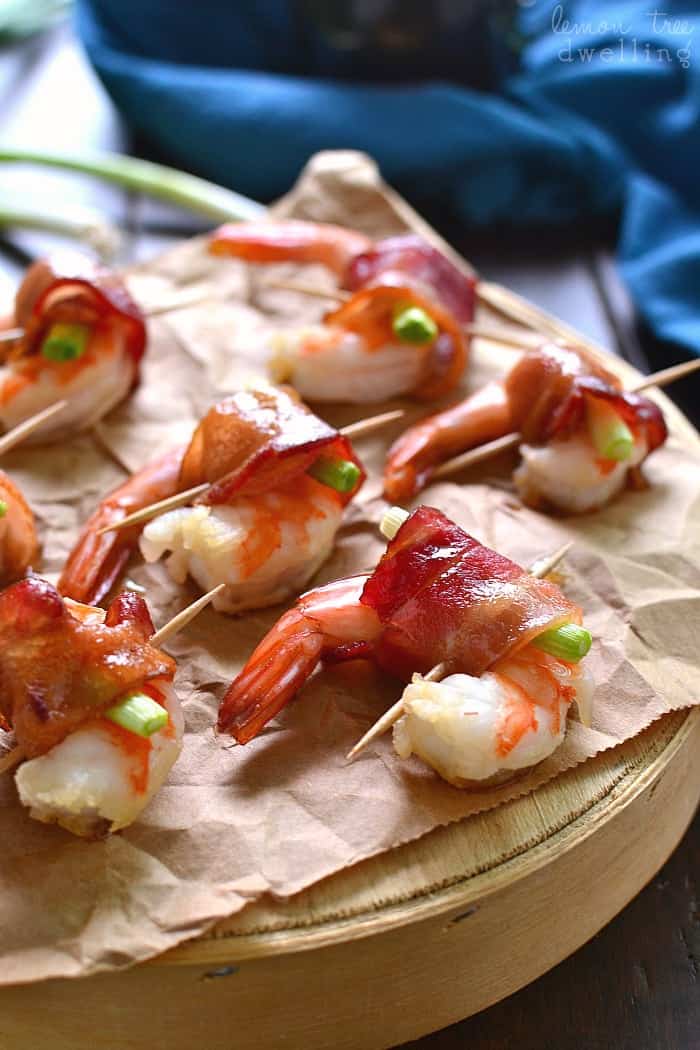 Not only will it make Christmas shopping easier, but it will make the whole Christmas experience so much more enjoyable. Our kids will appreciate their one gift from their cousin….probably more than they've appreciated tearing through one gift after another in years past. And the adults will appreciate a little more time to enjoy the day with less of the chaos and commotion that gift opening brings.
Maple Bacon Wrapped Shrimp
I've already been thinking about the fact that less time opening presents means more time for FOOD (don't tell me your mind didn't go there, too). I can't wait to share these Maple Bacon Wrapped Shrimp appetizers with everyone! Because who doesn't love shrimp (?) and with just 4 delicious ingredients, you really can't go wrong. I found everything I needed at Pick 'n Save, my favorite grocery store, and will definitely be heading back for more ingredients in just a few short weeks!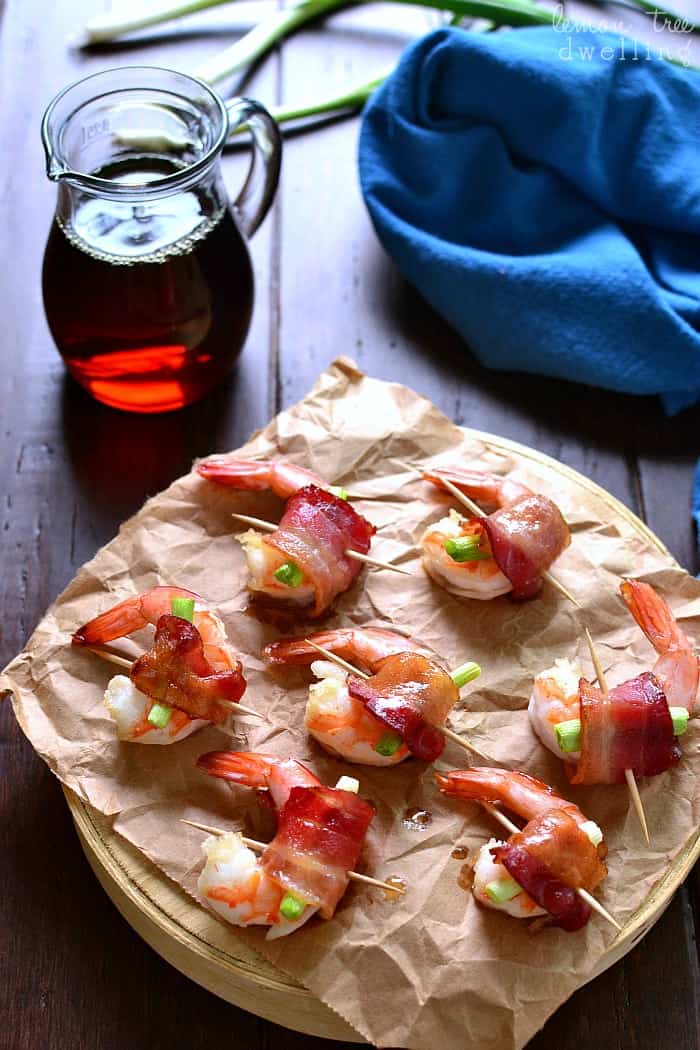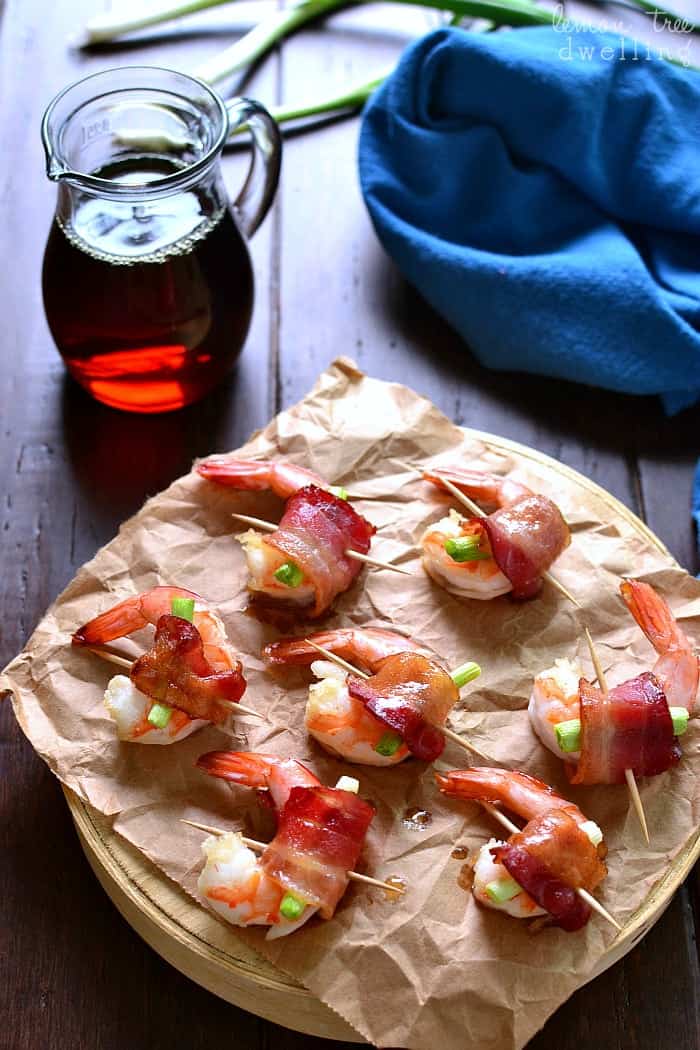 When you find an appetizer you love, you stick with it. And you guys, I think this is it! It's the perfect blend of savory and sweet, simple and elegant. Most importantly, it's absolutely delicious, exactly the way holiday appetizers should be. Because even though Christmas isn't all about food….food is definitely an important part of it. As are presents, within reason.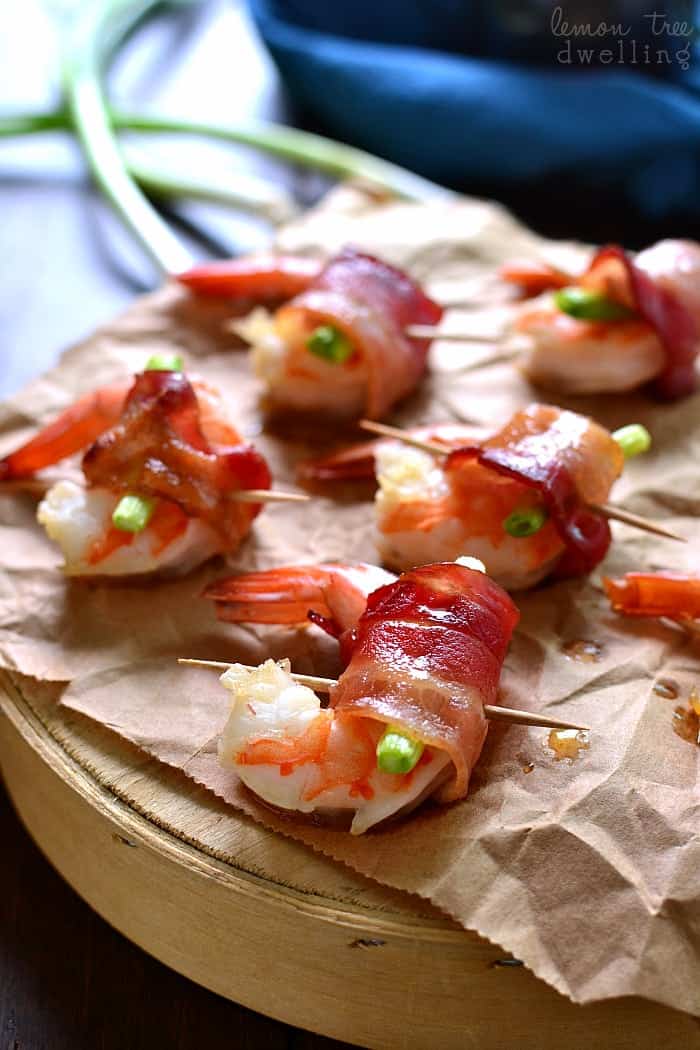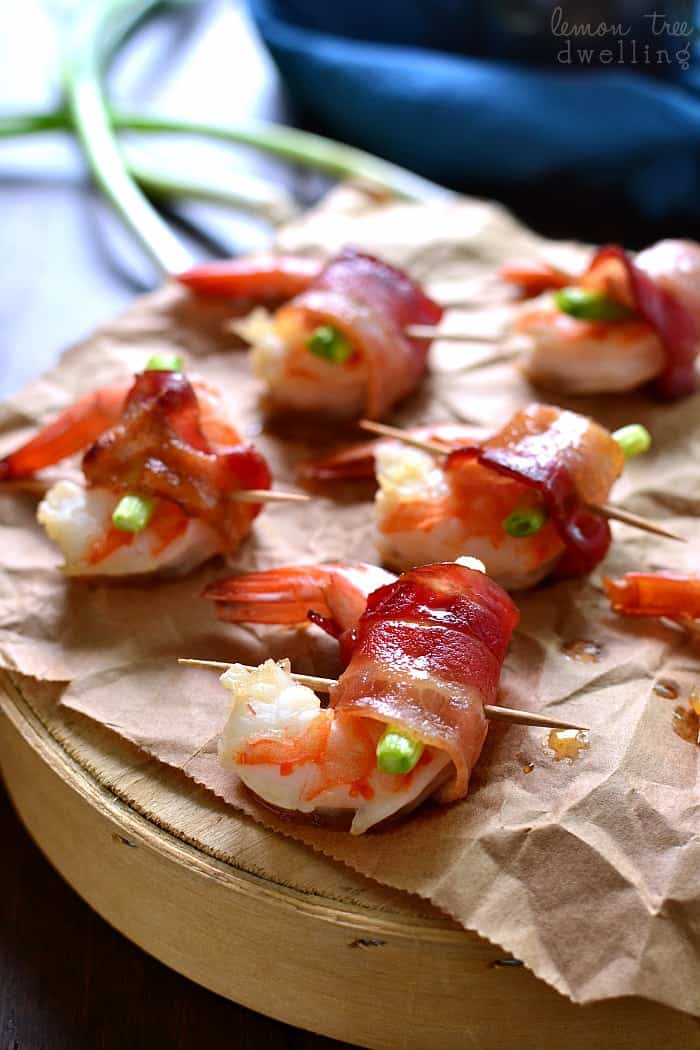 To find out more about Pick 'n Save, including holiday specials, you can visit their website or find them on Facebook, Twitter, or Pinterest!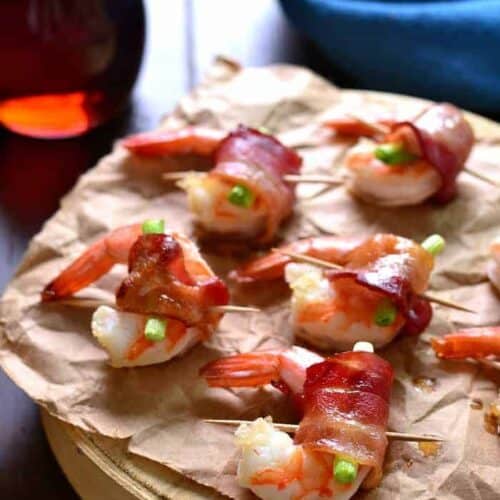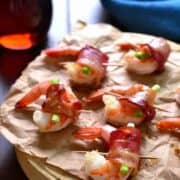 Maple Bacon Wrapped Shrimp
Maple Bacon Wrapped Shrimp is one of my favorite holiday appetizers! It's easy to make, packed with flavor, and sure to please a crowd!
Ingredients
1

lb.

Roundy's Fisherman's Reserve Cooked Large Shrimp

approx. 32 shrimp

16

pieces

Roundy's Regular Cut Bacon

10-12

green onions

dark green ends removed

2/3

c.

Roundy's Select Pure Maple Syrup
Instructions
Cook bacon in a 375 degree oven for 10-15 minutes, until cooked through but not crisp.

While bacon is cooking, cut onions into 1 1/2 inch segments (1 onion segment per shrimp).

Remove bacon from oven; cool slightly.

Increase oven temperature to 400 degrees.

Cut bacon in half; wrap each half around one shrimp and tuck a green onion segment inside.

Secure with a toothpick.

Place shrimp on baking sheet that has been lined with foil.

Drizzle with maple syrup and bake at 400 degrees for 10 minutes or until bacon is well done.

Remove from oven; drizzle with additional maple syrup as desired.
Want another shrimp recipe to try? My Shrimp Fajita Quinoa Bowls are a perfect meal for everyone.