This Lemon Raspberry Smoothie is the ultimate taste of spring!
It combines the delicious flavors of raspberry and lemon in an easy raspberry smoothie recipe that's perfect for breakfast, snack, or even a lighter dessert.
Made with yogurt, honey, fresh fruit, and Kemps Probiotic Milk, this 5-ingredient smoothie is bursting with flavor and ready in just minutes. If you love lemon and raspberry together, this is a must-try healthy smoothie recipe!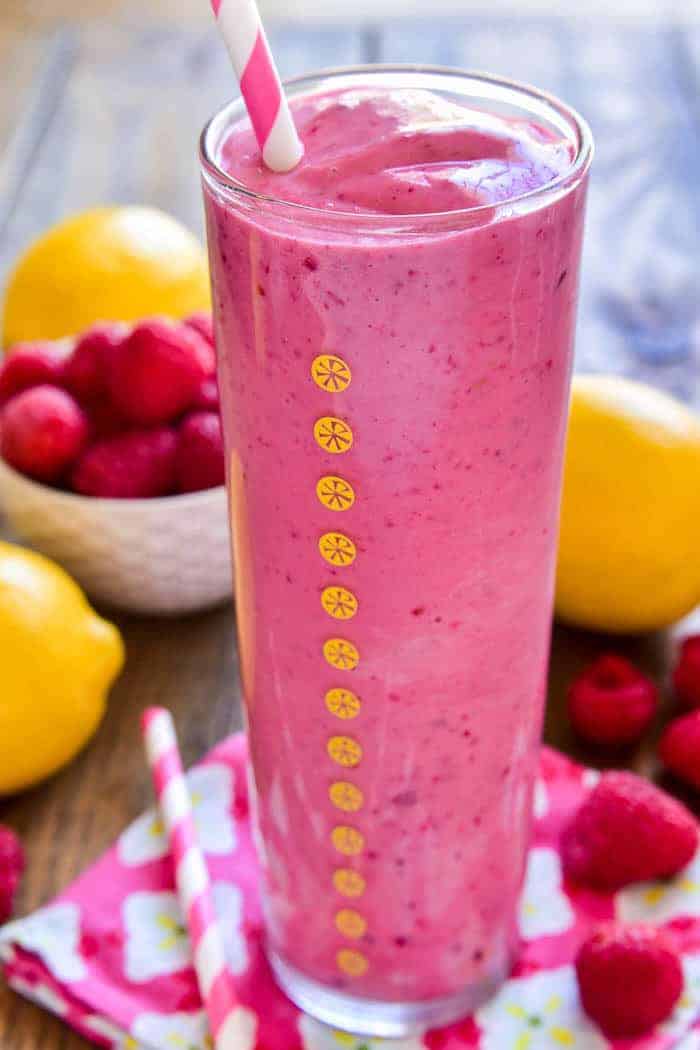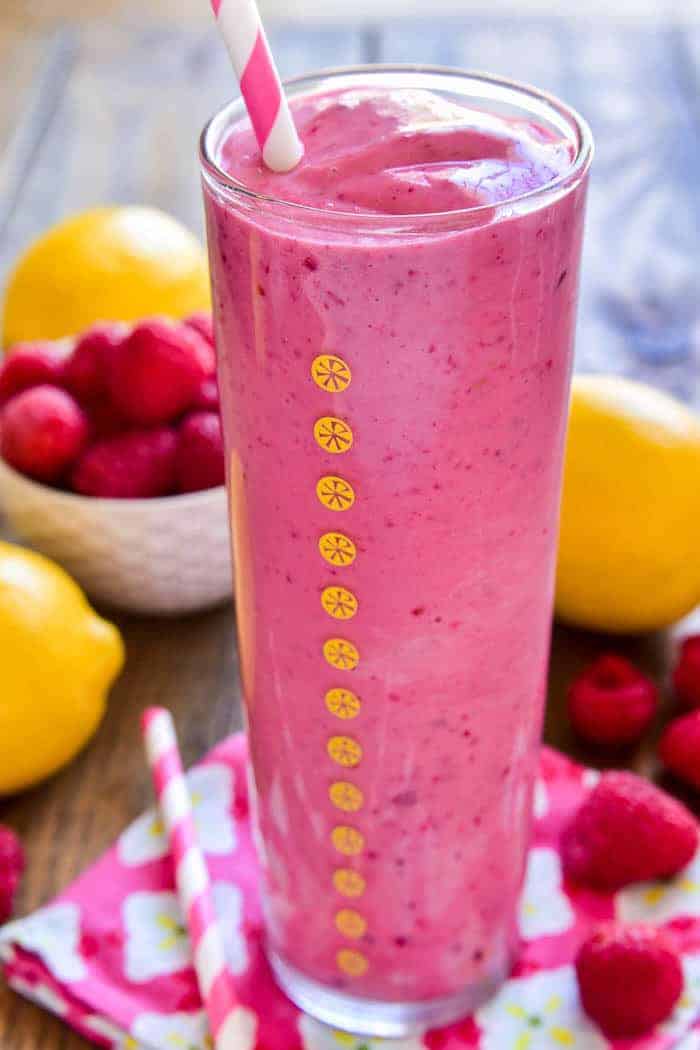 I partnered with Kemps to bring you this delicious recipe. Thank you for supporting the brands that make Lemon Tree Dwelling possible!
So. Are you as ready for spring as we are? Seriously…now that Daylight Savings Time has begun, and the days are a little longer, and the temperatures are a little warmer, it seems like all I can think about is spring!
And it's a good thing, I guess, since spring break is right around the corner. I need to mentally prepare myself for the kids having a week off of school….a week that I'm sure will be filled with play dates and sleepovers and, whether I'm ready for it or not, LOTS of time in the kitchen.
Because their new favorite thing to do when they have friends over? Is to be in the kitchen. Making up recipes. Not that I'm complaining….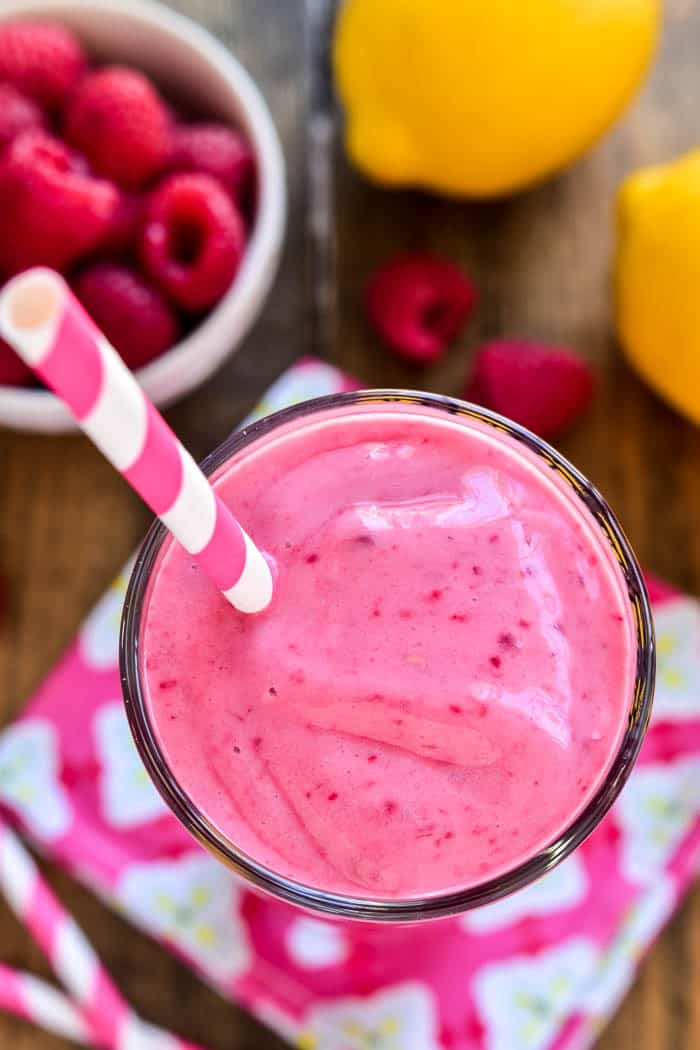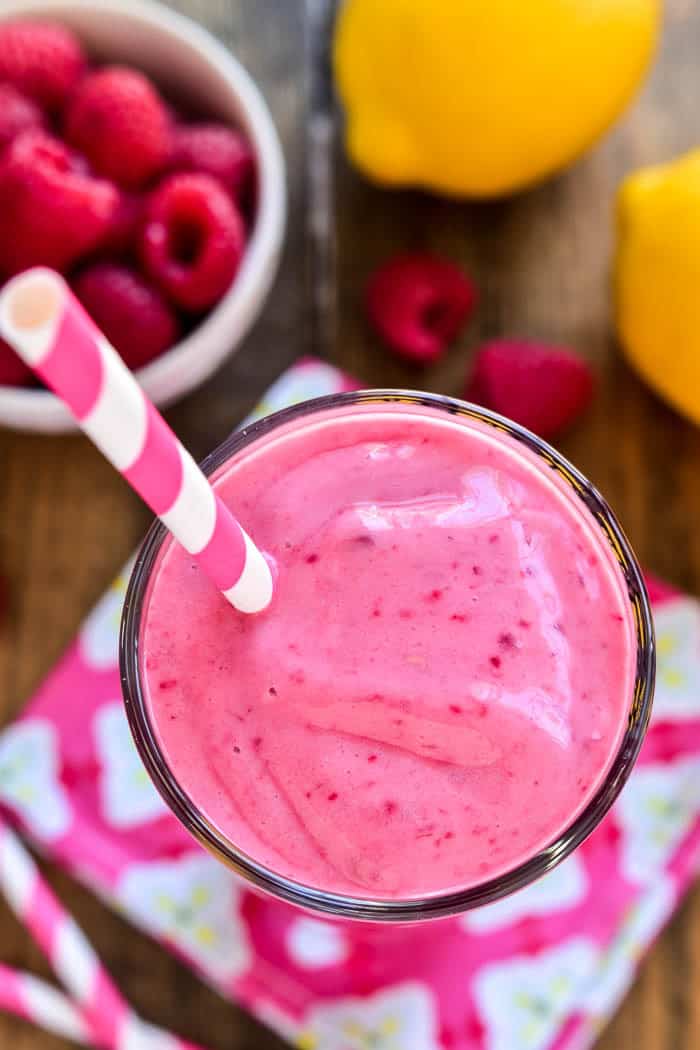 I mean, obviously they come by it honestly. Why wouldn't they want to make up recipes when they see me doing it every day? It's just….the mess. And the letting go. It's not easy to give them free reign of "my" space! Maybe what I need to do is give them the ingredients I want them to use. So not only are they entertained….but I can feel good about what they're making.
A good example of an ingredient I'd want them to use? This Kemps Probiotic Milk. I was recently introduced to it, and I must say I feel SO much better about my kids' kitchen creations starting with 2% or skim probiotic milk. Not only is it a local brand, produced fresh from family-owned farms and available at Pick 'n Save stores, but it contains probiotic cultures including both acidophilus and bifidus.
So in addition to the 9 essential nutrients, calcium, protein, and Vitamins A&D found in milk, this probiotic milk also supports healthy digestion!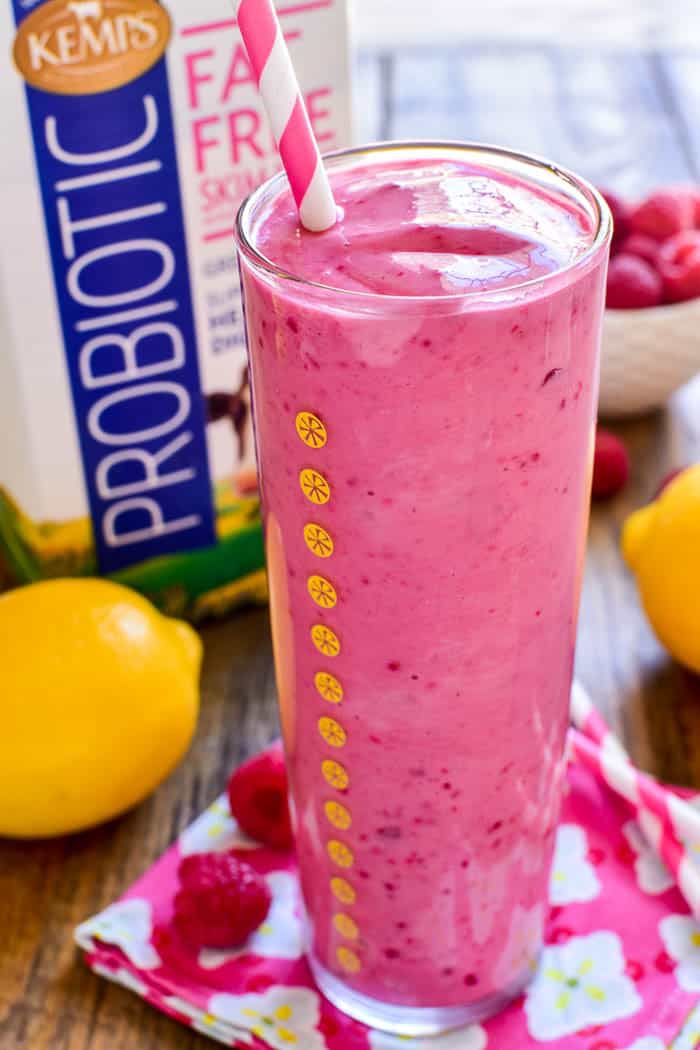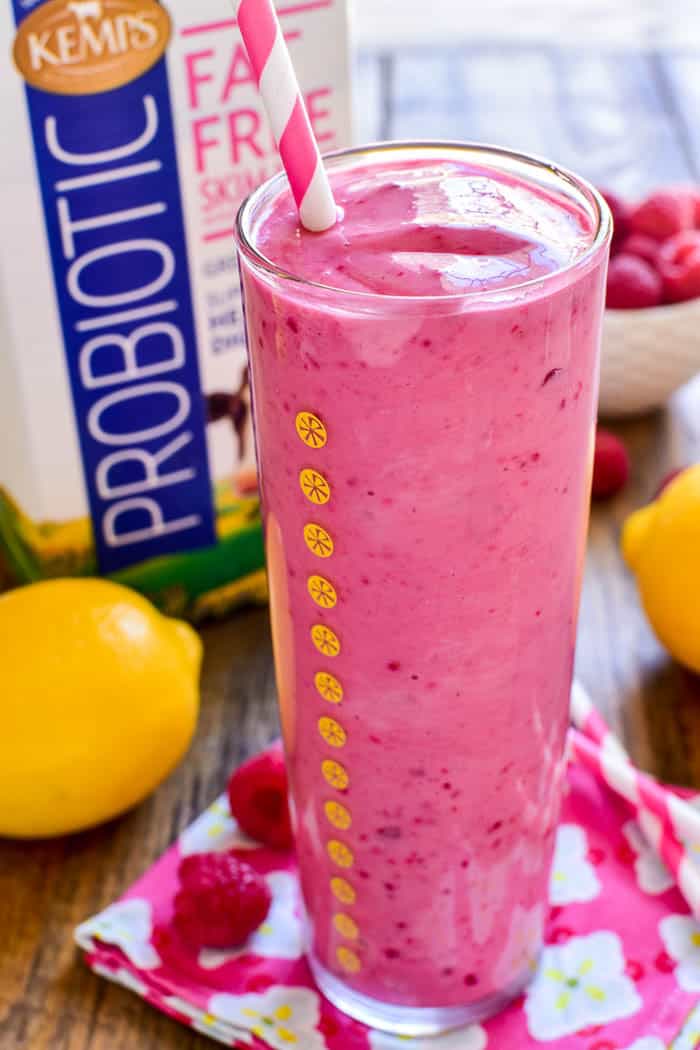 We've started drinking it regularly, and I used it the other day to make this Lemon Raspberry Smoothie (which, I must say, was all kinds of amazing). Made with lemon yogurt, Kemps Probiotic Milk, frozen red raspberries, fresh lemon juice, and just a touch of honey, this smoothie is sweet, zesty, and totally perfect for spring.
And if my kids wanted to make it every day over spring break? I'd be totally fine with that. Ha! Of course, they could always mix things up and go for a Blueberry Pie Smoothie or a Tropical Smoothie or a Banana Colada Smoothie. I'd be fine with any of them, really.
And my kids really do love smoothies. Our favorites are smoothie recipes with yogurt, but you can also make them without. The possibilities really are endless.
The question is…do we think my kids will be okay with just sticking to smoothies? (I hope so, because they're SO easy and relatively mess-free!)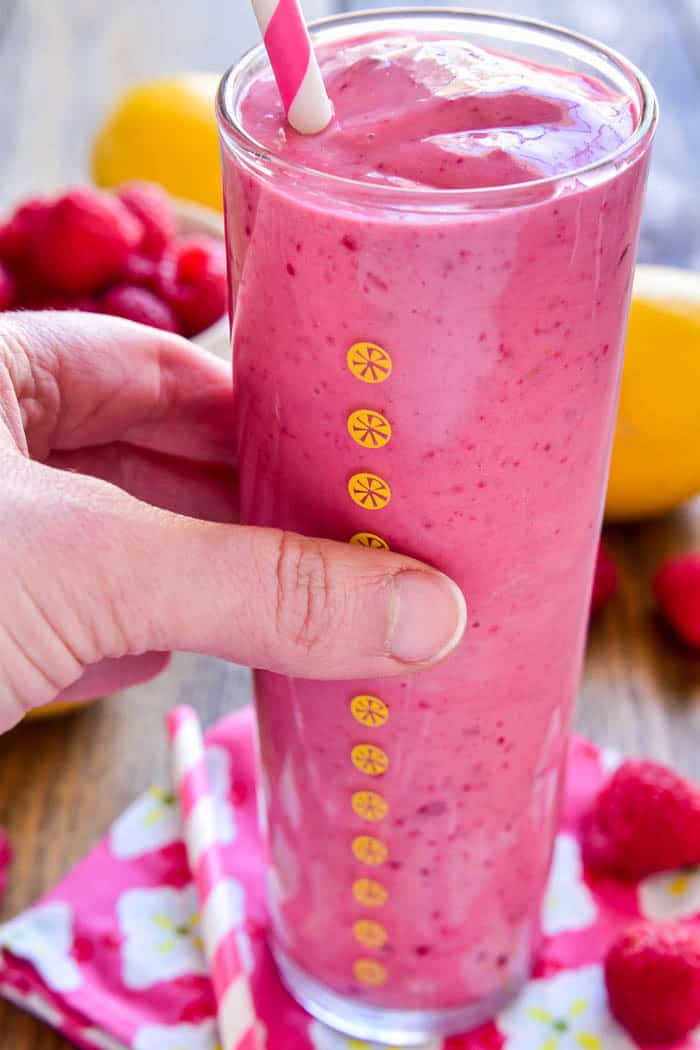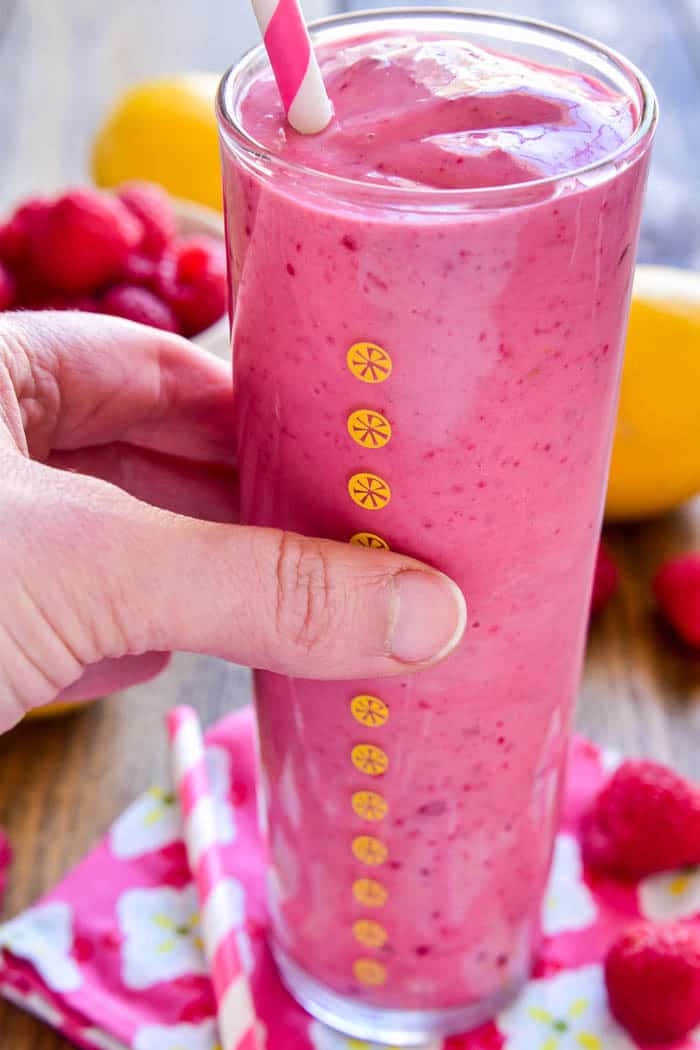 HOW DO YOU MAKE A SMOOTHIE?
Making a smoothie couldn't be easier. Start with a high-powered blender and add your ingredients in the following order:
Start with Kemps Probiotic Milk. *You can use any type of milk, fruit juice, coconut water, or even coffee (depending on what type of smoothie you are making).
Add fresh or frozen fruit, depending on what you have and what's in season. Some of our favorites include bananas, berries, mango, pineapple, peaches, and even avocado. Feel free to experiment with your favorites!
Thicken your smoothie with yogurt, peanut butter, oats, or even tofu. *Using frozen fruit will also thicken your smoothie.
Add some sweetness. This could include honey, maple syrup, agave nectar, or even a touch of sugar. *This may or may not be necessary based on the other ingredients you use, so I like to mix my smoothie and taste it before adding anything to sweeten it.
Give it a power boost! Add flaxseed, chia seeds, protein powder, wheat germ, or anything else that might give your smoothie a little nutritional boost.
*NOTE: When it comes to smoothies, it's all about preference and variety. Feel free to experiment with flavors and ingredients…there's no scientific formula!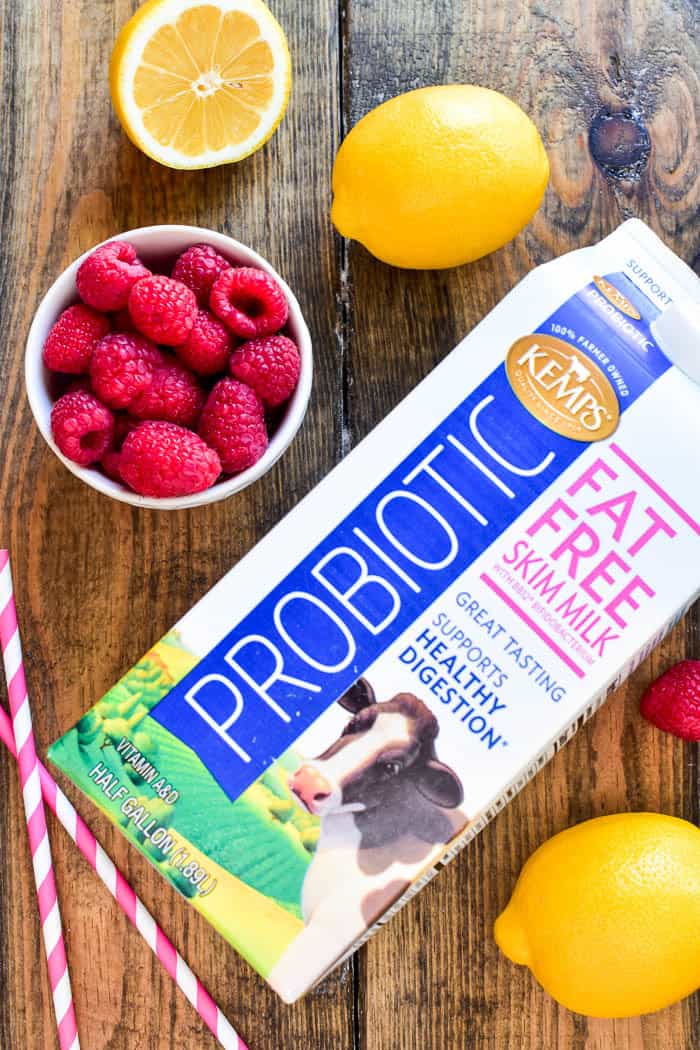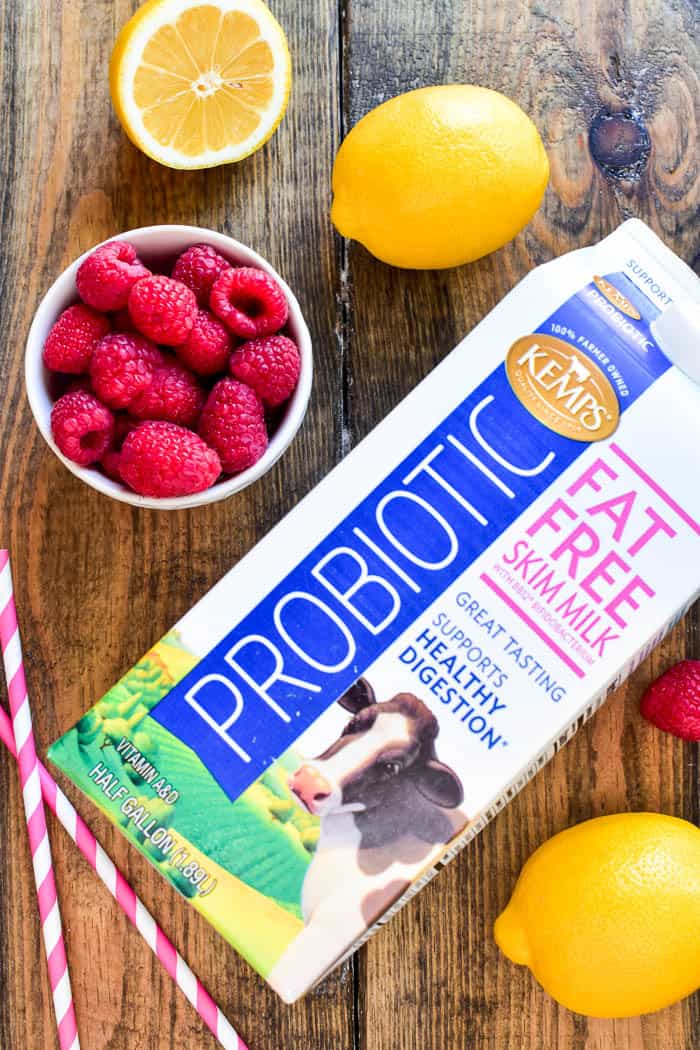 You can learn more about Kemps Probiotic Milk and other Kemps products by visiting their website, Facebook page, or Twitter.
And if you're looking for more yummy ways to use Kemps Milk, you'll love my Caprese Quiche, Buttermilk Ranch Dressing, Strawberry Shortcake Milkshake, and Frozen Death by Chocolate Pie!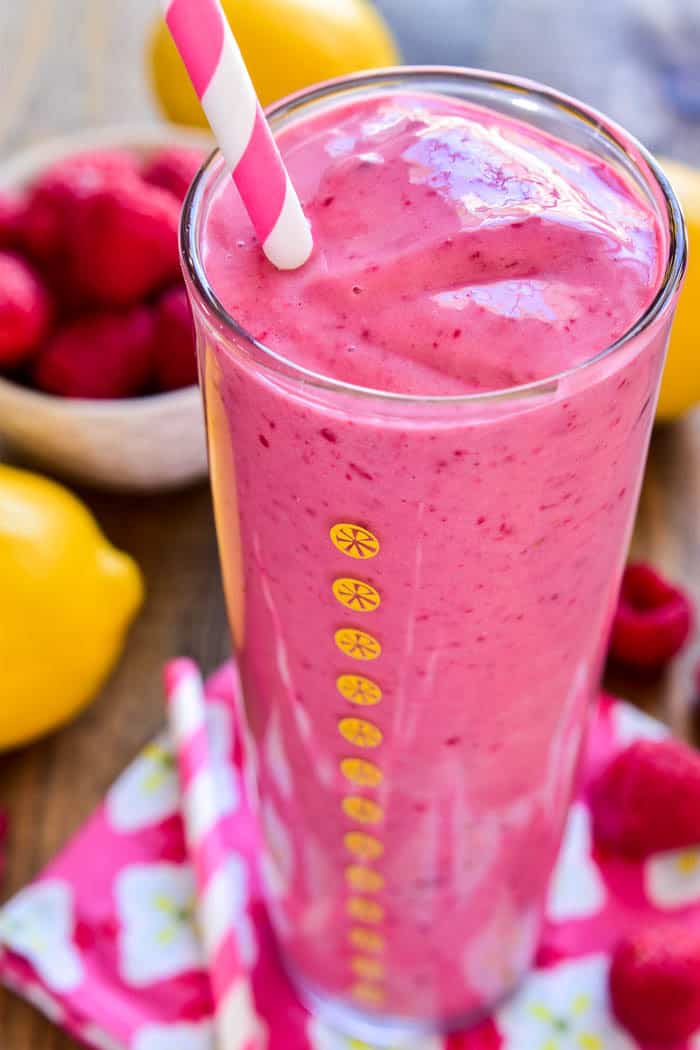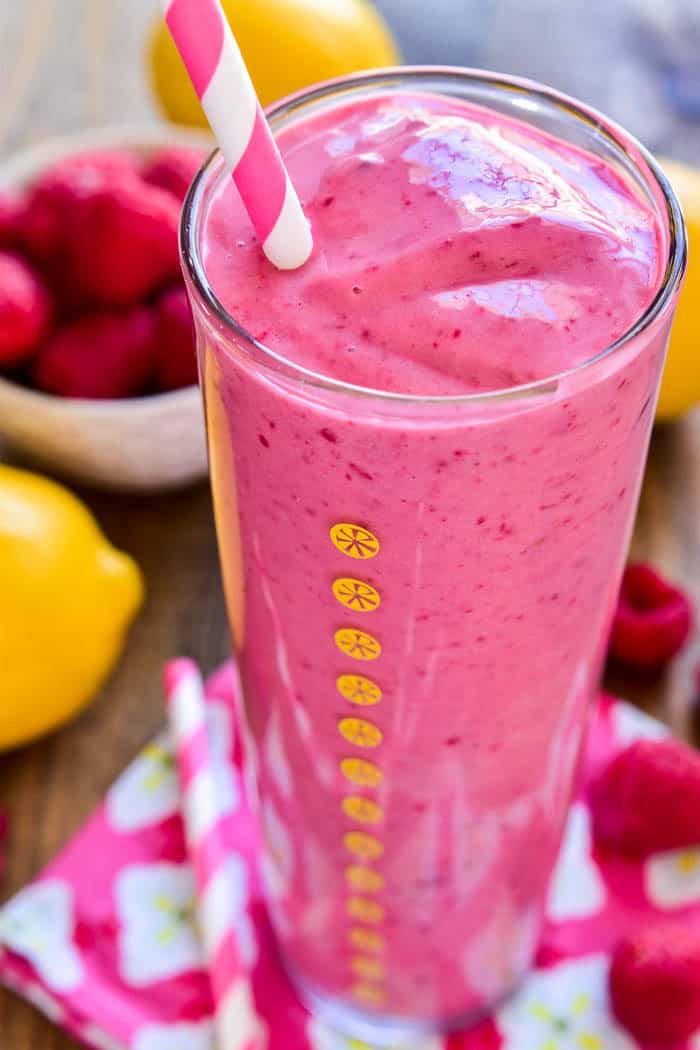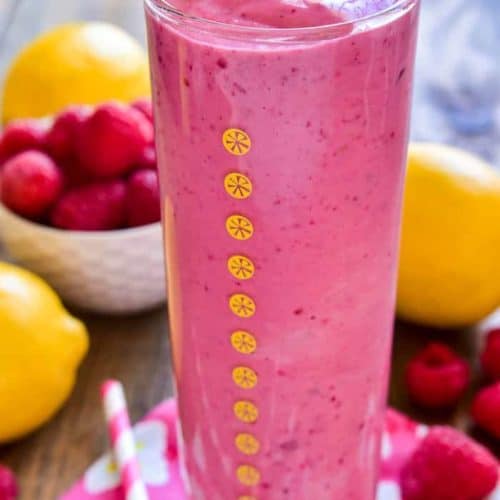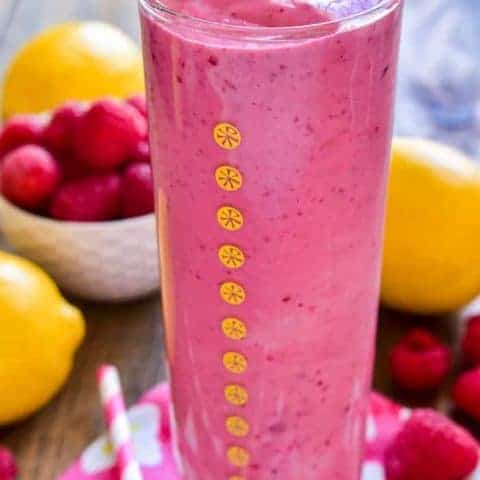 Lemon Raspberry Smoothie
This Lemon Raspberry Smoothie is the ultimate taste of spring! It combines the delicious flavors of raspberry and lemon in an easy smoothie recipe that's perfect for breakfast, snack, or even a lighter dessert.
Ingredients
1 cup Kemps Probiotic Milk
1 cup frozen raspberries
1/2 cup lemon yogurt
2 Tbsp. honey
1 Tbsp. lemon juice
1 tsp. lemon zest
Instructions
Combine all ingredients in a blender; blend until smooth.
Nutrition Information:
Yield: 2 Serving Size: 1
Amount Per Serving: Calories: 235Total Fat: 4gSaturated Fat: 2gTrans Fat: 0gUnsaturated Fat: 1gCholesterol: 13mgSodium: 97mgCarbohydrates: 46gFiber: 7gSugar: 32gProtein: 8g