Fresh kiwi and three types of berries on a bed of mixed greens, topped with creamy Gouda cheese, sweet honey butter croutons, and honey poppy seed dressing. The best of summer, on a plate!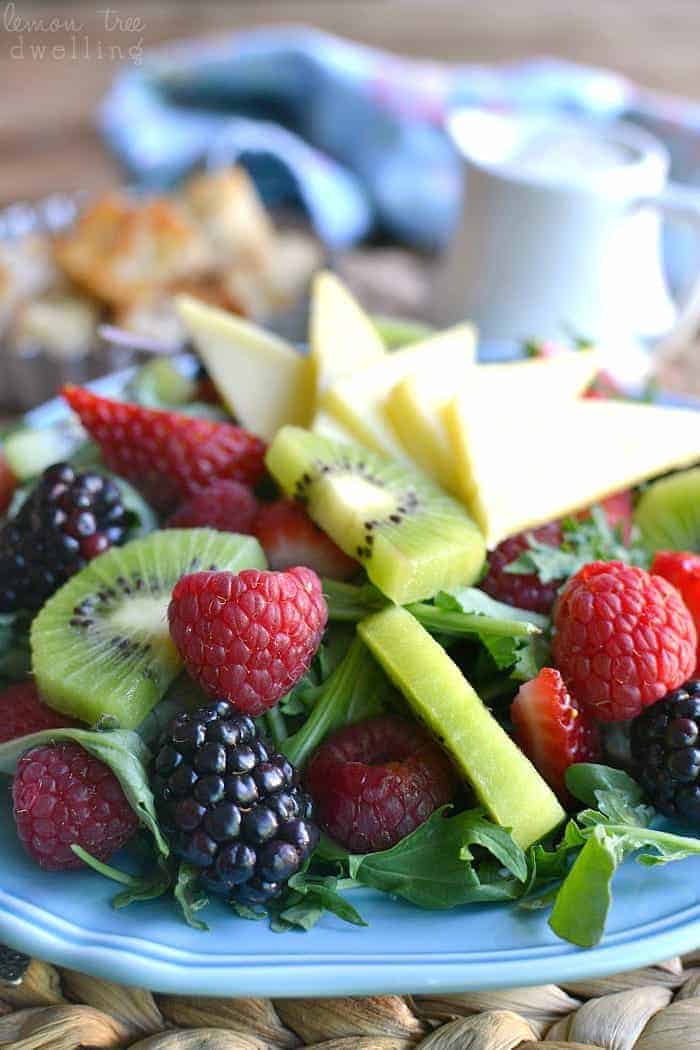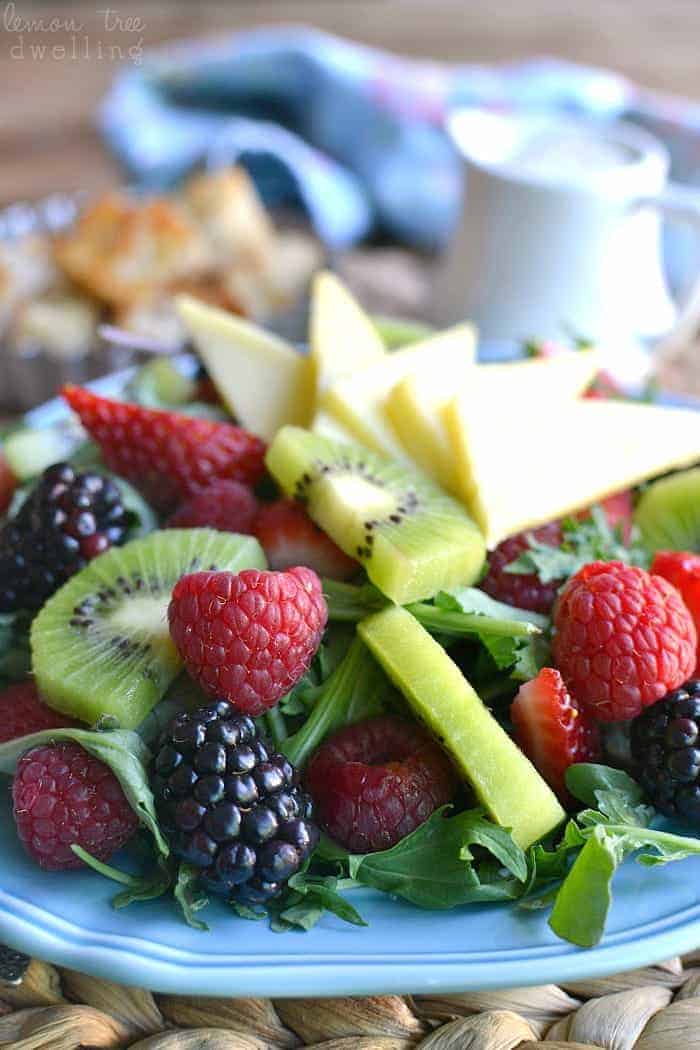 You guys, I had THE coolest experience yesterday. I got to attend an event at the Taste of Home headquarters, which just happens to be here in Milwaukee. They were celebrating the unveiling of their new and improved Simple & Delicious magazine, and I was somehow lucky enough to be part of it! In addition to meeting the editor-in-chief and the creative director and the lead food stylist for Taste of Home, I met so many other people who work with them in different ways. It was amazing to see all that goes into the production of a magazine…..especially a magazine that's all about delicious FOOD!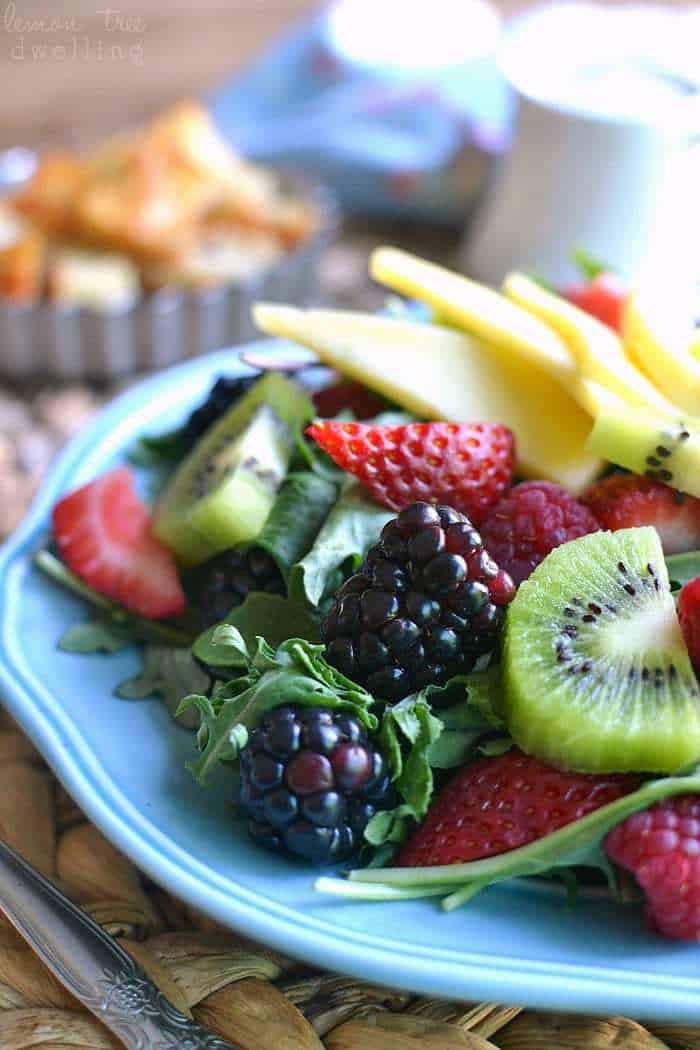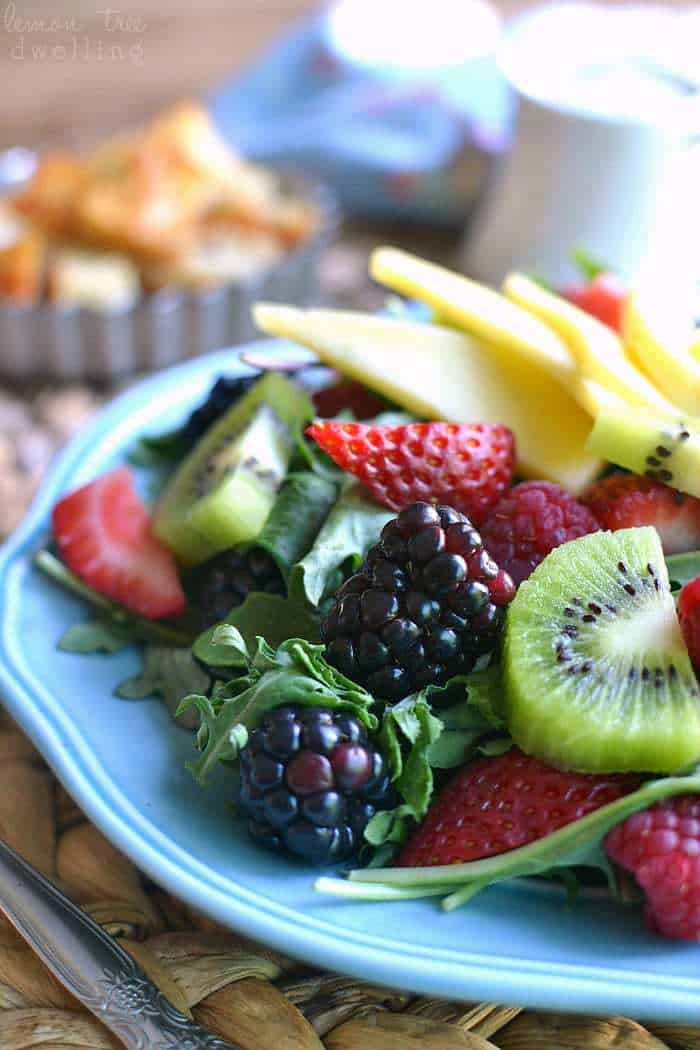 The event started with a cocktail reception, followed by some introductions, some taste testing, a recipe demonstration, and behind-the-scenes tours. It was all amazing, but at the end of the day, my favorite part by FAR was the tour! I got to see the test kitchen, the tasting room, the styling room, the prop room, and the gorgeous photo set-up. And let me tell you – by the end of it, my head was spinning and my eyes were green with envy!!!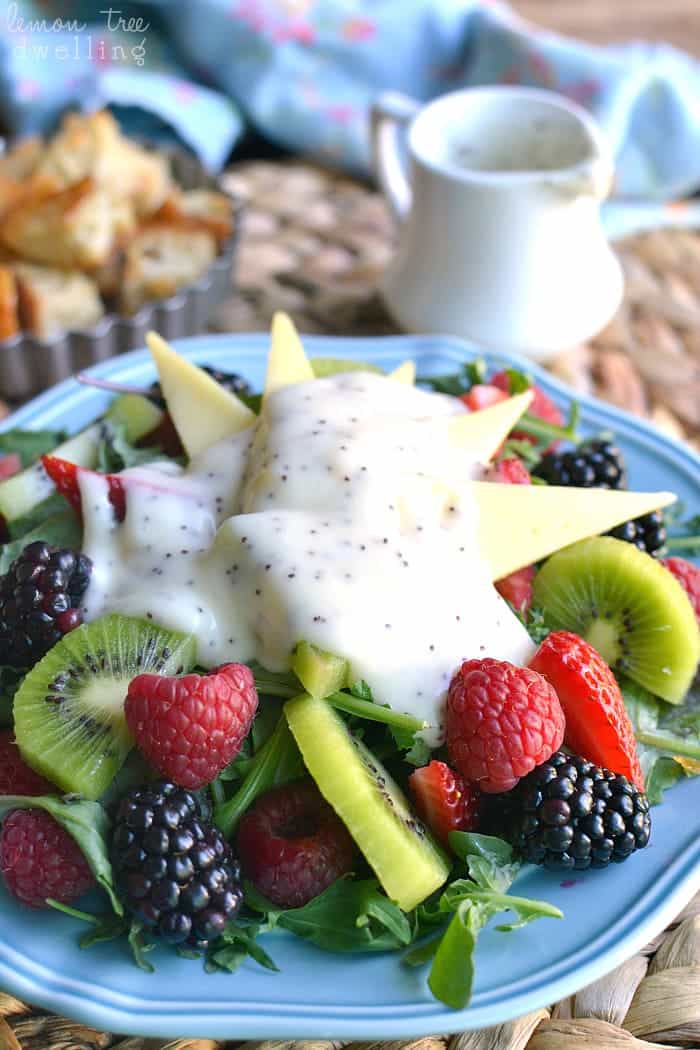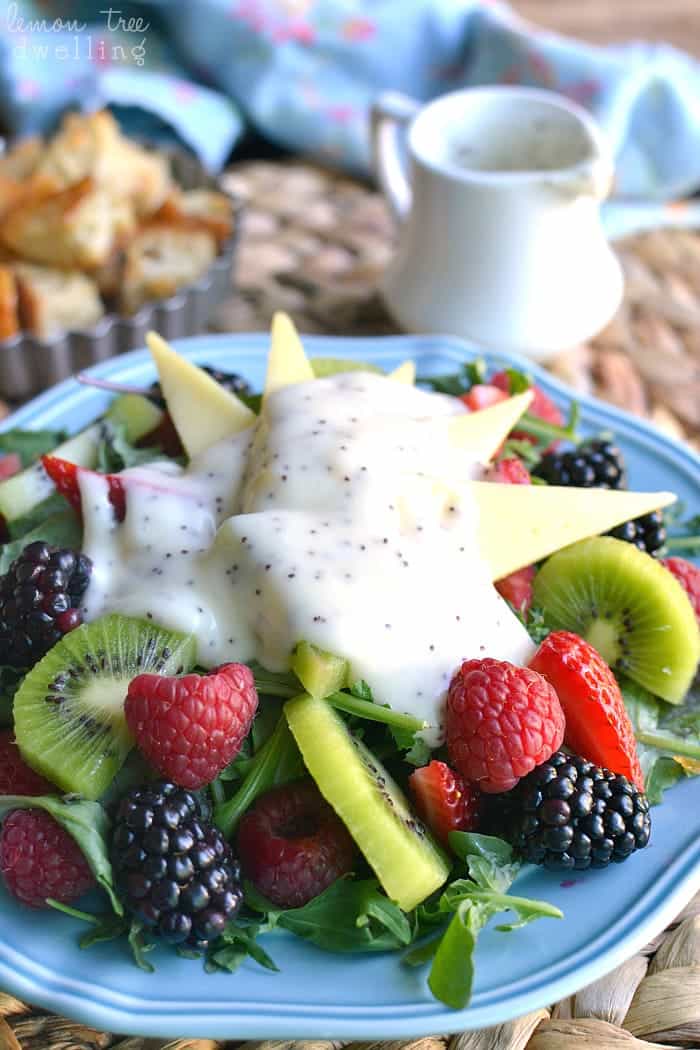 Obviously I know that Taste of Home is a magazine….and I'm a blogger….and there's a big difference. But if I could have just a fraction of their gorgeous props or table linens (which are all organized by color in drawers, by the way) I would be one happy camper! And don't even get me started on the photography space……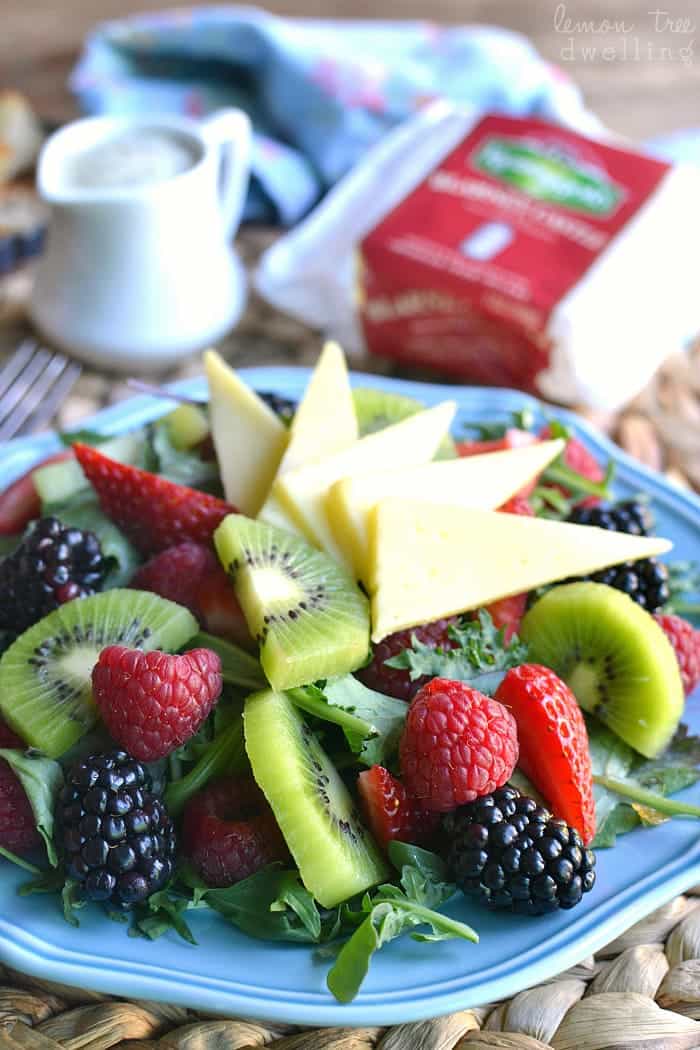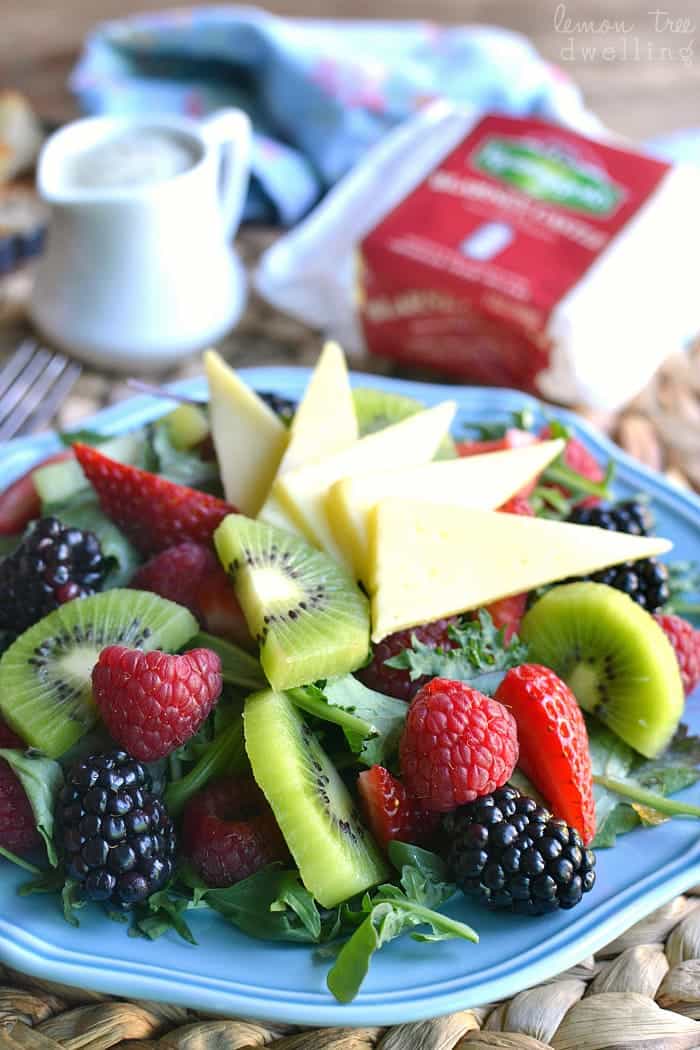 But. At the end of the day, it's really all about the food, isn't it? Making and sharing delicious food that people will love. Like this Kiwi Berry Salad. It's loaded with fresh berries, sliced kiwi, and creamy Kerrygold Gouda cheese, then topped with homemade honey-butter croutons and creamy honey poppy seed dressing. It's like summer on a plate…..simple & delicious…..and definitely a taste of home!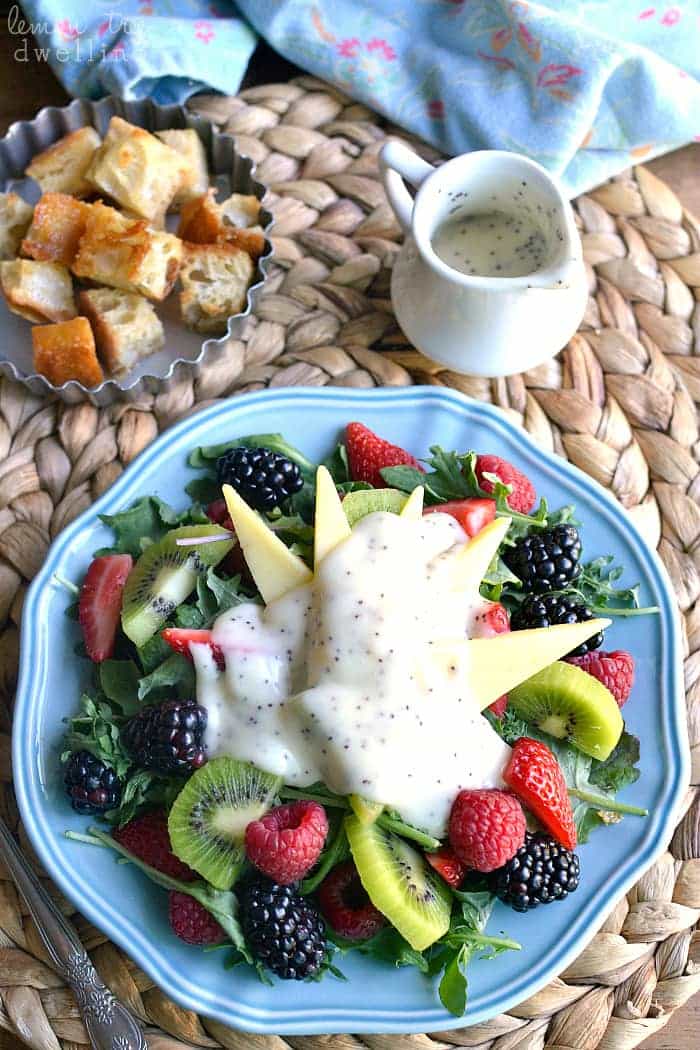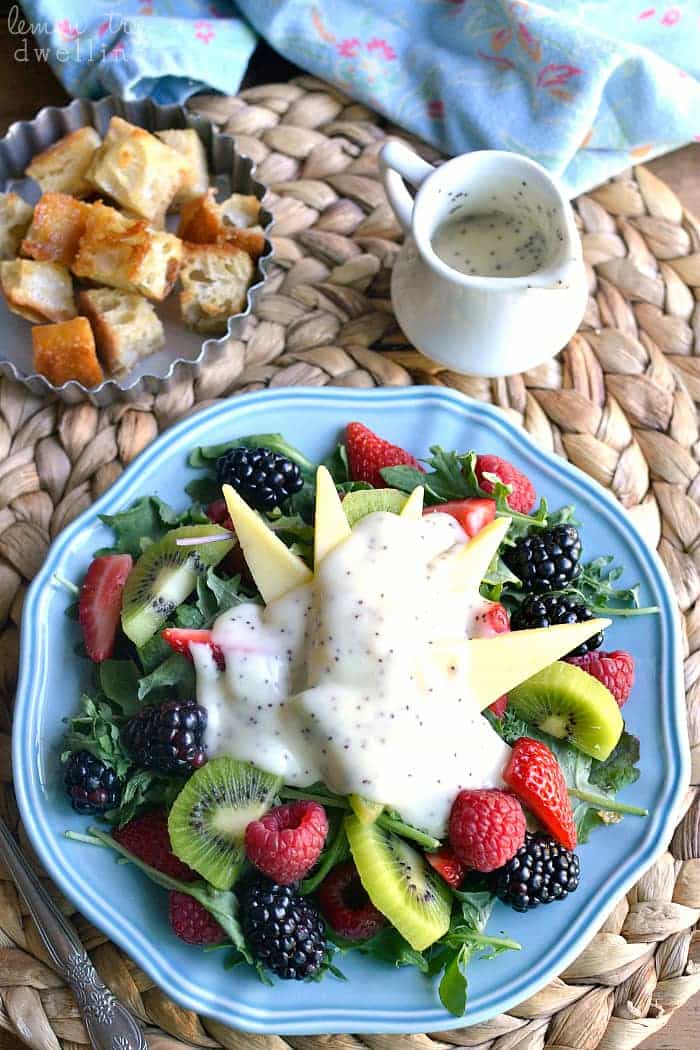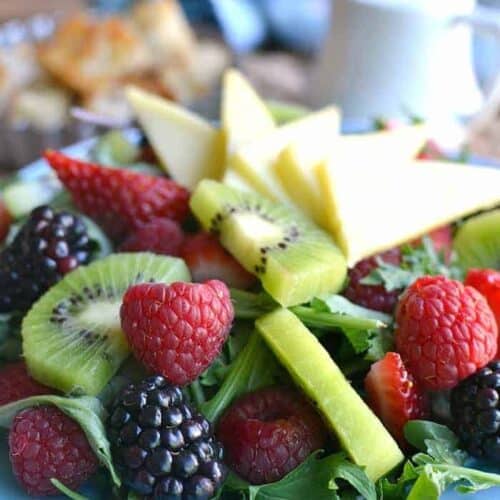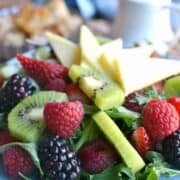 Kiwi Berry Salad
Ingredients
2

c.

mixed greens

1/4

c.

fresh raspberries

1/4

c.

fresh blackberries

1/4

c.

fresh sliced strawberries

3

slices

Kerrygold Gouda cheese

cut diagonally

For the croutons:

1

c.

cubed bread

I used a baguette

2

Tbsp.

melted butter

2

tsp.

honey

For the dressing:

⅓

c.

mayo

1

Tbsp.

+ ½ tsp. white wine vinegar

1

Tbsp.

honey

½

tsp.

poppy seeds
Instructions
Prepare croutons by combining melted butter and honey in a medium bowl.

Add cubed bread and toss to coat.

Bake on a rimmed baking sheet at 350 degrees for 10-12 minutes.

Prepare dressing by combining all ingredients in a small jar and shaking vigorously.

Assemble salad by topping mixed greens with berries and cheese; top with croutons and dressing.