Italian Stuffed Peppers are a delicious twist on a classic! Fresh bell peppers stuffed with Italian sausage, white rice, diced tomatoes, and mozzarella cheese, this recipe takes stuffed peppers to a whole new comfort level.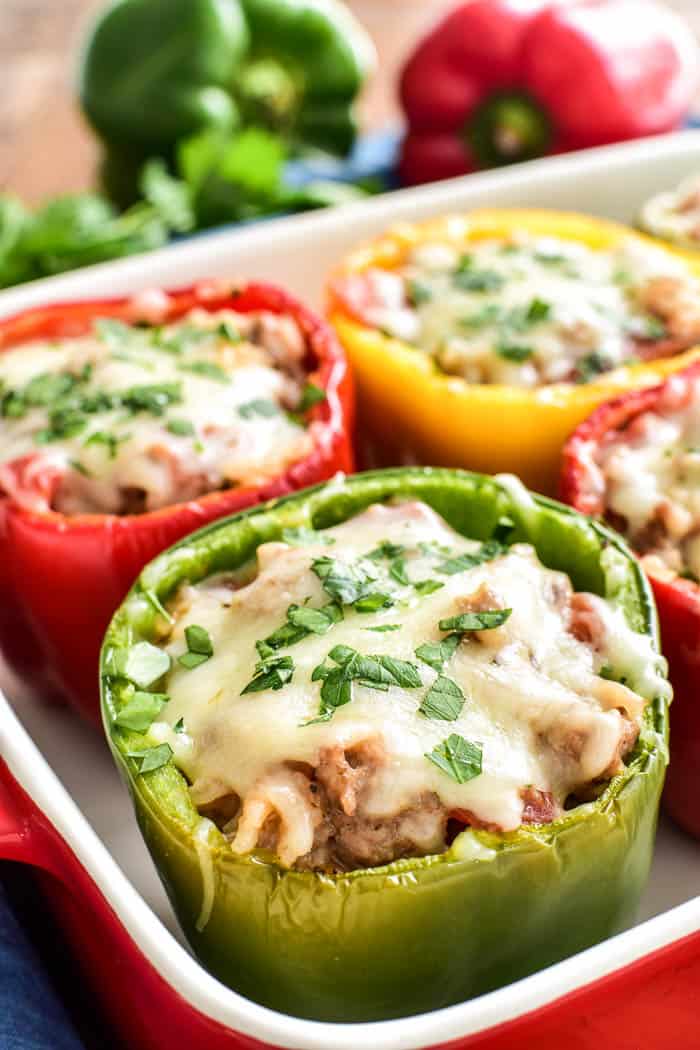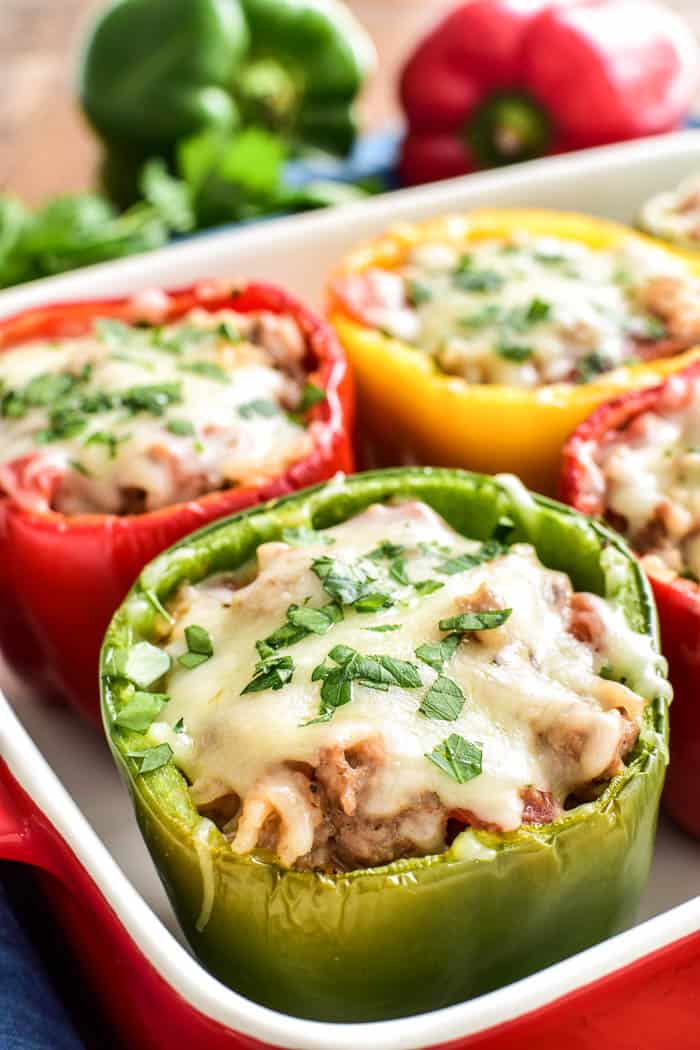 Stuffed Peppers are one of those foods I dreaded as a child but absolutely love as an adult. Funny how that works, isn't it? To be honest, there aren't many foods I can say that about. Because for the most part my taste buds have stayed the same.
No mac & cheese, tuna casserole, or peas for me, please. As a child OR an adult! But give me all the brussels sprouts, sweet potatoes, and white chocolate you can. And my childhood self would agree.
And then there are stuffed peppers. As a child, I had to force myself to choke them down. But as an adult?! I could eat them all the time! One of the things I love most about them is all the possibilities. And these Italian Stuffed Peppers might just be my favorite ones yet.
Between the Italian sausage and the fresh veggies and the mozzarella cheese, these peppers are packed with delicious flavor. Best of all, they're easy to make and perfect for prepping in advance. And the Italian twist is sure to be a flavor combo the whole family will love!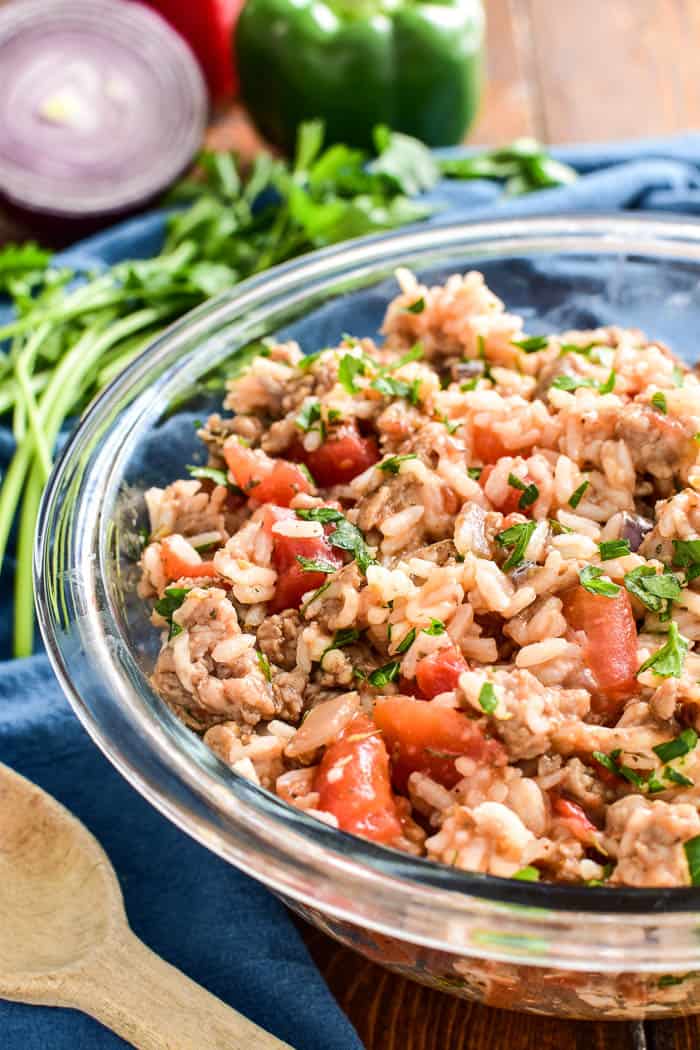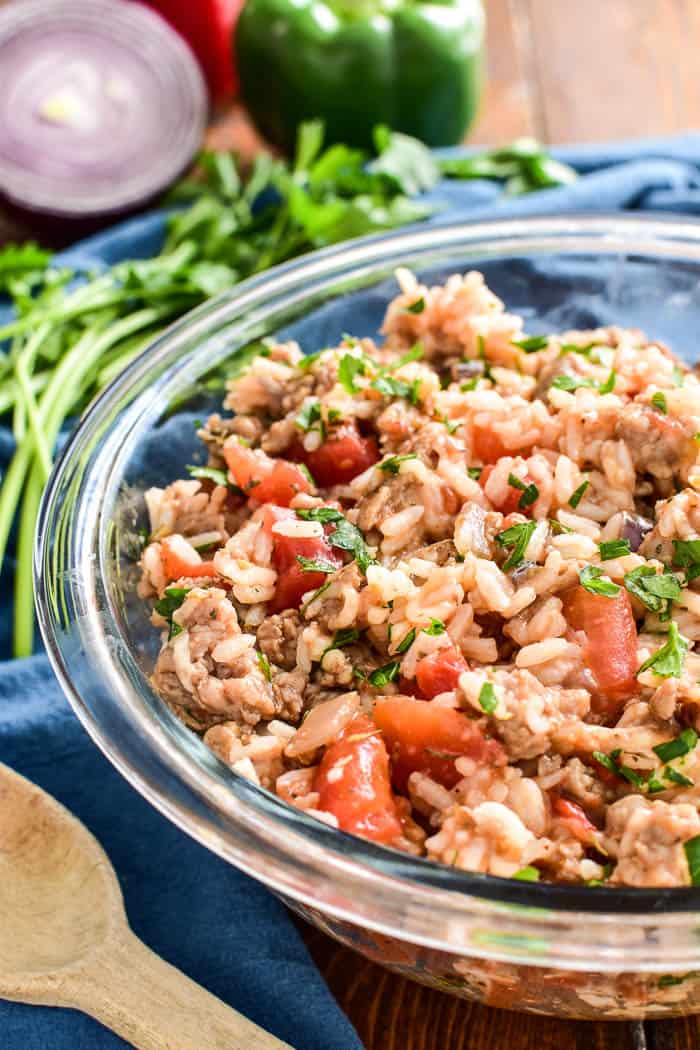 what you'll need for this recipe
Bell peppers – This recipe calls for 6 bell peppers. Any color pepper will work fine; however, it is important to note a few important differences:
red peppers are the sweetest, but their shape often makes it difficult to stand them up
yellow and orange peppers are slightly less sweet than red peppers
green peppers are the least expensive, least sweet, and tend to have more of a bitter quality than the other colors
White rice – As with traditional stuffed peppers, this recipe is stuffed with white rice. I decided to use 2 cups of cooked Arborio, which is a short grain white rice used in risotto. It has an especially creamy texture which is delicious in this recipe. For extra flavor, I cooked it in chicken broth instead of water.
Italian sausage – I added 1 pound of sweet Italian sausage to the rice mixture. Sweet Italian sausage is just like mild, with the addition of sweet basil. Feel free to substitute a mild or hot variety if you prefer.
Onion & garlic – For flavor I added 1/2 cup of diced onion and 2 cloves of fresh minced garlic. I used red onion, but you can use any type you have on hand.
Tomatoes – I added 1 (14 ounce) can of diced tomatoes. For extra flavor I used fire roasted garlic tomatoes. I also added 2 Tablespoons of tomato paste.
Mozzarella cheese – 2 cups of mozzarella cheese makes these peppers extra cheesy and delicious. I used 1 1/2 cups in the pepper mixture and reserved 1/2 cup to melt on top.
Italian parsley – Finally, a sprinkle of Italian parsley makes a delicious addition to the filling and works beautifully as a garnish for these stuffed peppers.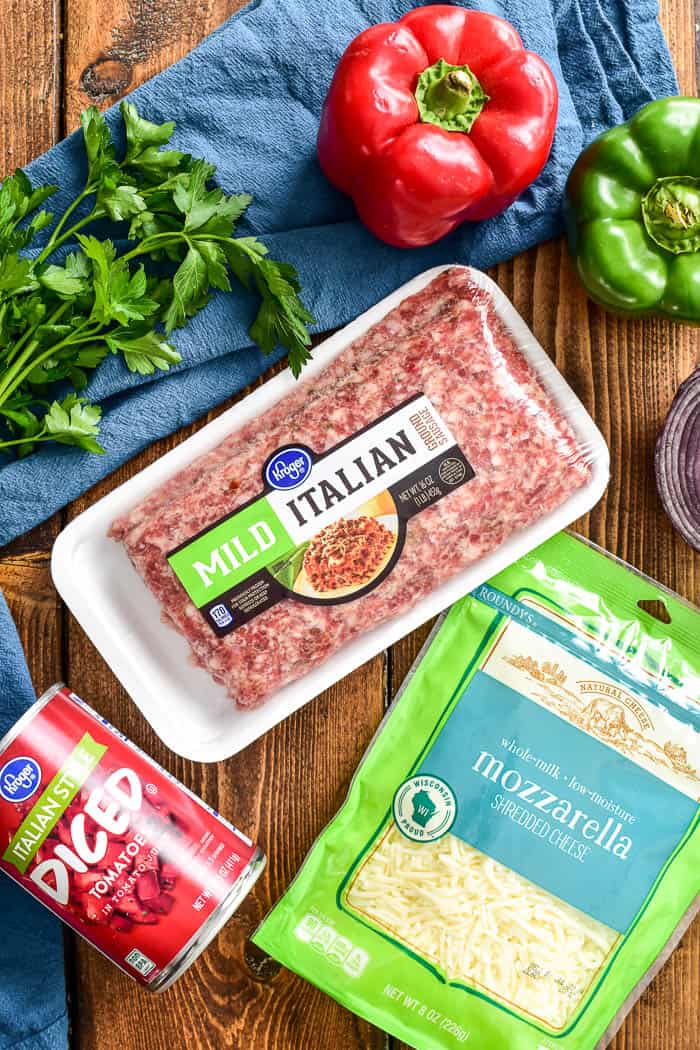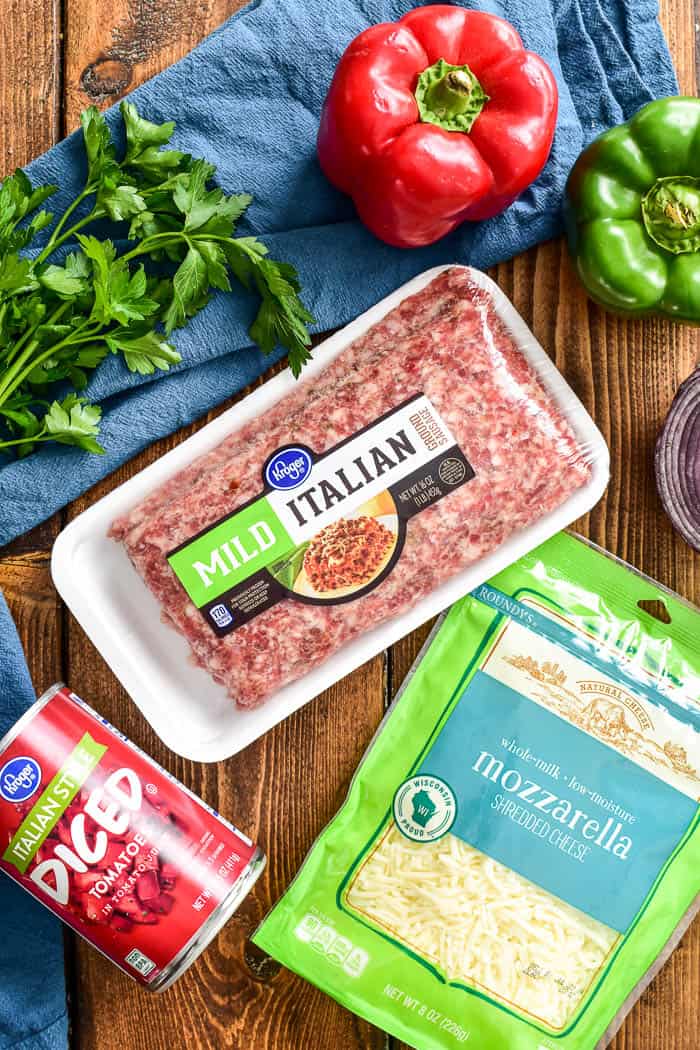 how to make italian stuffed peppers
Cut tops off peppers and remove seeds & membrane.
Prepare rice according to package instructions.
Brown Italian sausage and onion.
Combine cooked rice, Italian sausage, diced tomatoes, cheese, and parsley.
Spoon into peppers; place peppers into a baking pan and add 1/4 c. water to the bottom of the pan.
Top peppers with additional cheese.
Cover with foil; bake.
reheating leftovers
Leftovers can easily be reheated in the oven or microwave. To reheat in the oven, add a small amount of water to the bottom of a small baking pan and cover with foil.
Make Ahead Tip
This is an ideal recipe to prep in advance. You can do this in one of two ways:
Cook the rice, brown the sausage, and cut the tops off the peppers; then assemble later.
Assemble the stuffed peppers completely, cover with foil and refrigerate until ready to bake.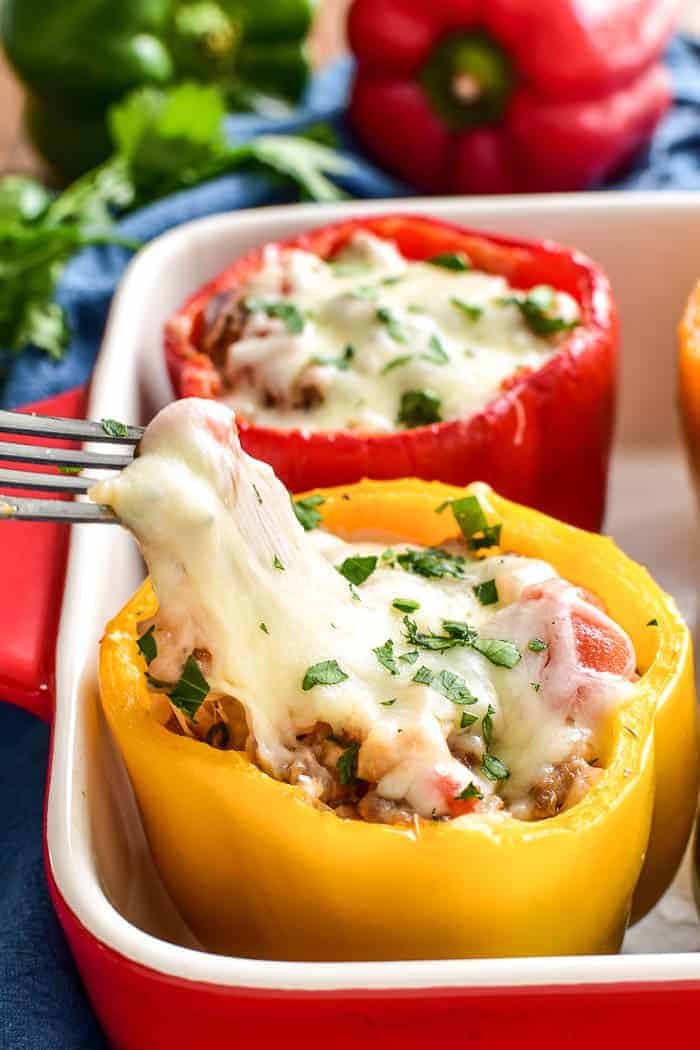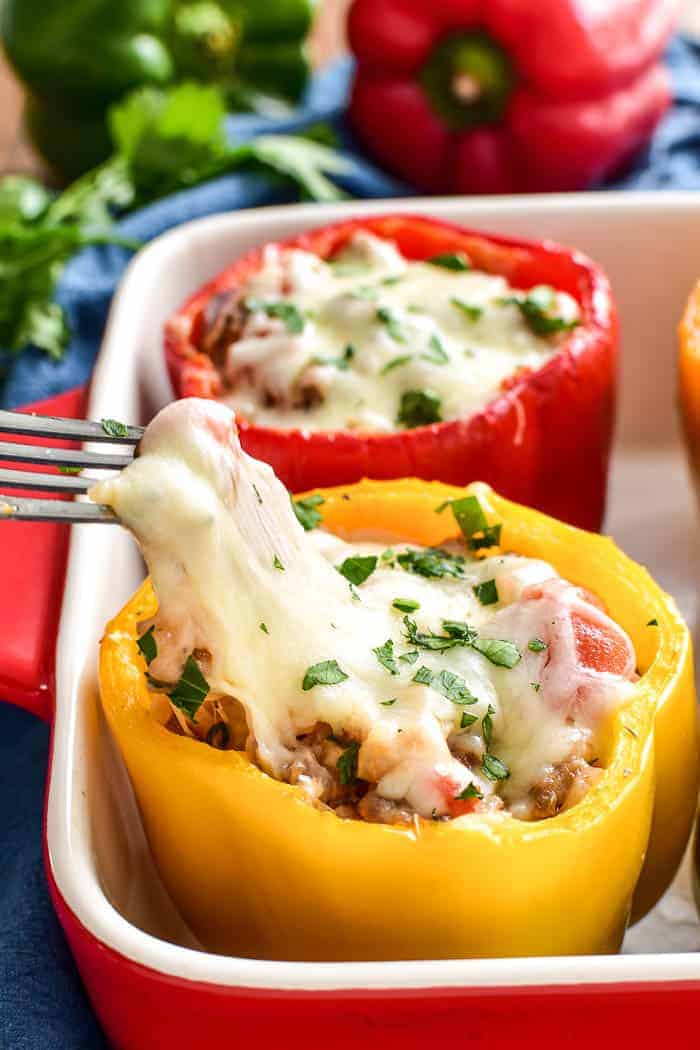 can you substitute ground beef for italian sausage?
Yes, you an absolutely substitute ground beef or ground turkey for the Italian sausage. However, you will likely want to add some salt and additional seasonings to the mixture since Italian Sausage packs so much of the flavor in this recipe.
can you use a different type of cheese in this recipe?
Mozzarella is a great choice because it melts well and pairs well with the other flavors in the stuffed peppers. If you'd like to substitute another kind of cheese, I would suggest provolone, asiago, or Parmesan.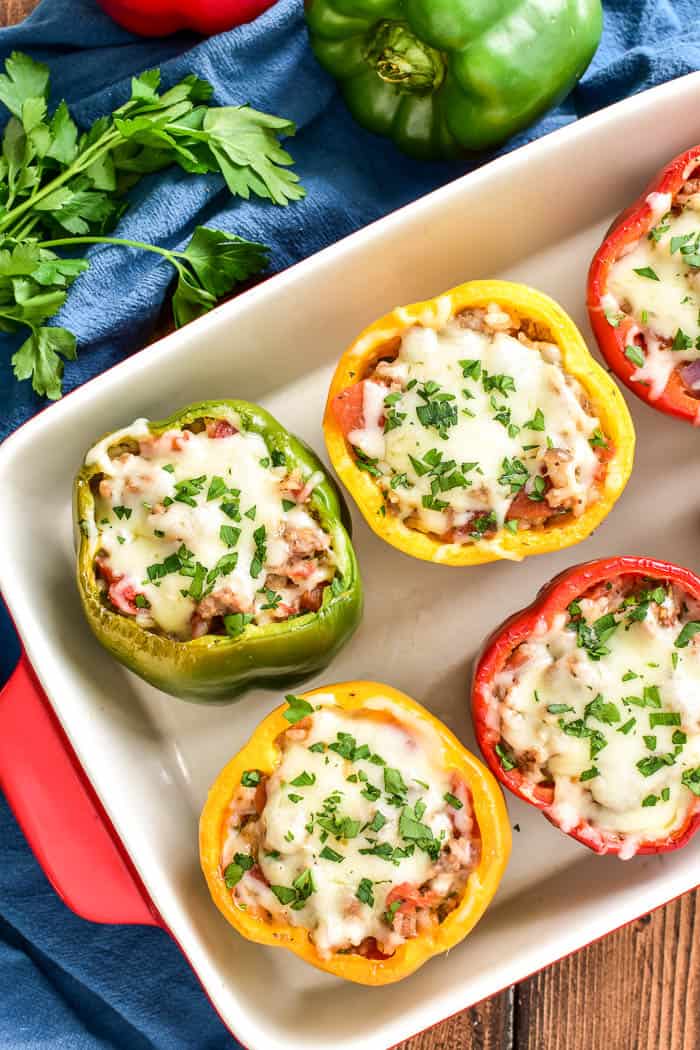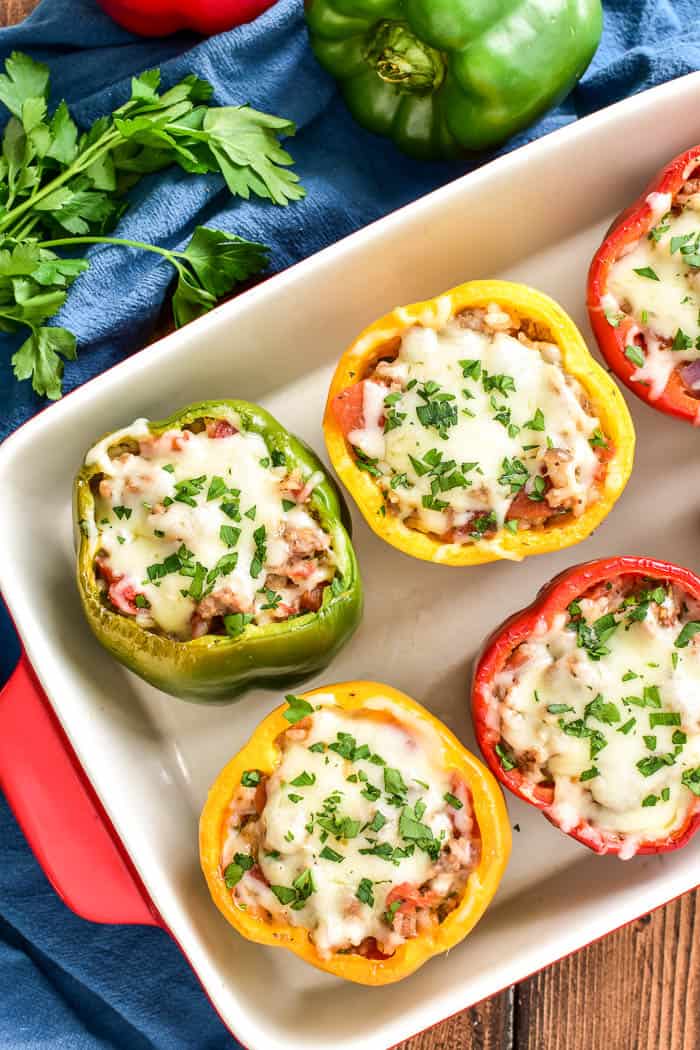 Recipe Variations
Use any color of bell pepper
Cut the peppers in half to make them smaller
Substitute hot Italian sausage for mild
Use a combination of Italian sausage and ground beef, turkey or chicken
Substitute Parmesan, Asiago or Provolone for the mozzarella
Add chopped mushrooms to the onion & garlic mixture
Add additional seasonings, such as basil, oregano, or crushed red pepper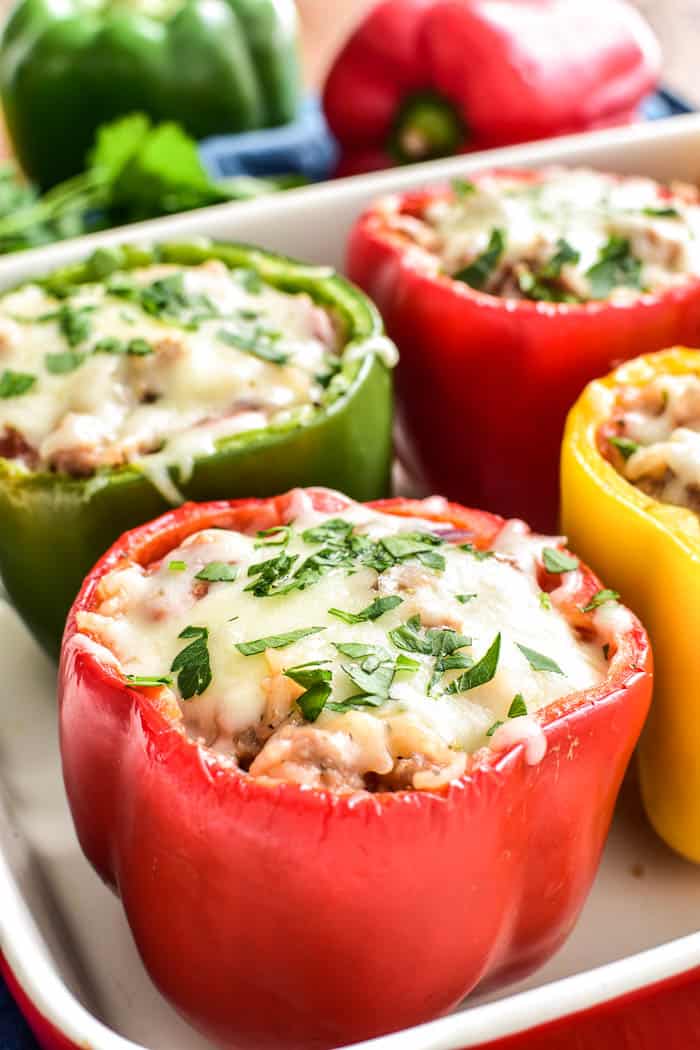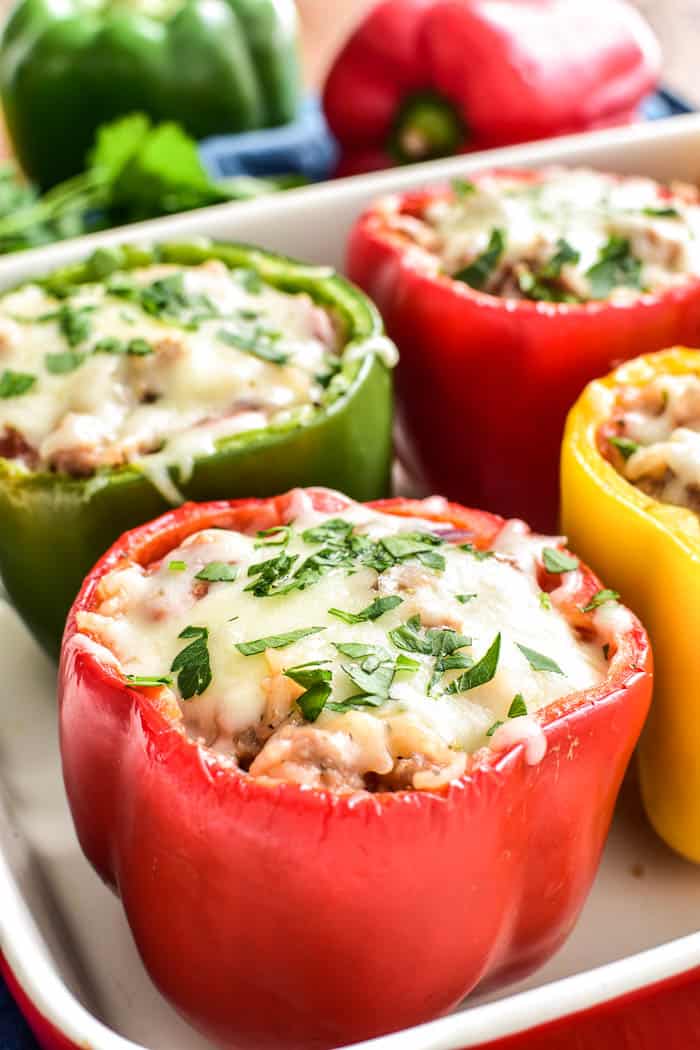 You might also enjoy these Italian-inspired recipes!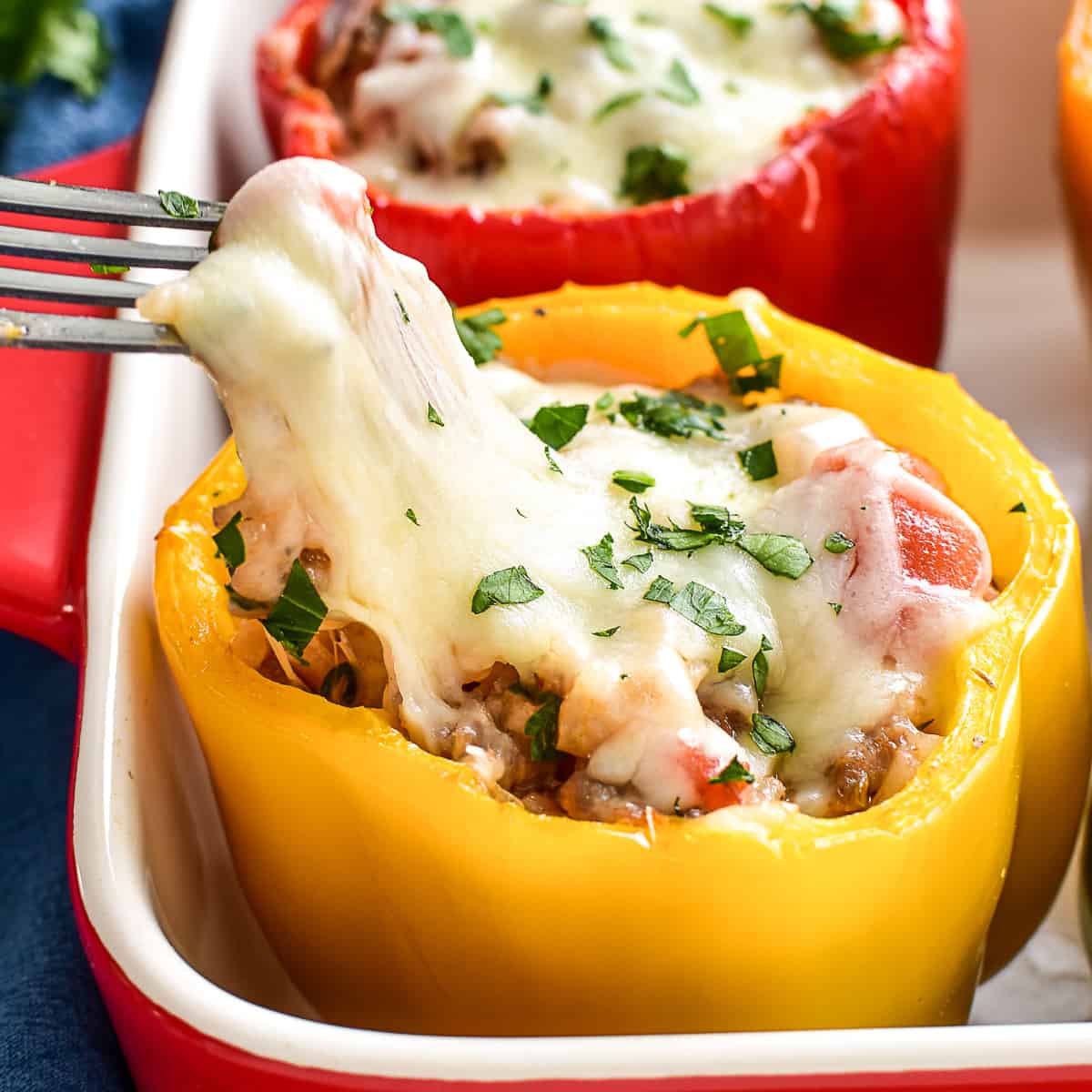 Italian Stuffed Peppers
Total Time:
1 hour
15 minutes
Italian Stuffed Peppers are a delicious new way to enjoy a classic! Fresh bell peppers stuffed with Italian sausage, white rice, diced tomatoes, and mozzarella cheese, this recipe takes stuffed peppers to a whole new level.
Ingredients
6 large bell peppers
2 cups cooked rice (I used Arborio)
1 pound Italian sausage (I used sweet)
1/2 cup diced onion
2 cloves minced garlic
14 ounce can Italian Style Diced Tomatoes, undrained
2 Tablespoons tomato paste
8 ounces shredded mozzarella cheese
2 Tablespoons fresh Italian parsley, minced
Instructions
Preheat oven to 350°F.
Cut tops off peppers and remove seeds & membrane. Set aside.
Prepare rice according to package instructions (2/3 cup uncooked rice yields about 2 cups cooked).
While rice is cooking, brown Italian sausage, onion and garlic in a large skillet until no pink remains. Drain grease.
In a medium mixing bowl, stir together cooked rice, Italian sausage, diced tomatoes, 1 ½ cups cheese, and 2 Tablespoons parsley.
Spoon mixture into peppers, filling them completely.
Place stuffed peppers into a 9x13 inch baking pan. Add 1/4 cup water to the bottom of the pan.
Top peppers with remaining 1/2 cup cheese.
Cover with foil; bake for 30 minutes. Remove foil and bake 10 minutes more. (*For softer peppers, bake for 45 minutes, then remove foil and bake for 10 minutes more.)
Notes
RECIPE VARIATIONS
Use any color of bell pepper
Cut the peppers in half to make them smaller
Substitute hot Italian sausage for mild
Use a combination of Italian sausage and ground beef, turkey or chicken
Substitute Parmesan, Asiago or Provolone for the mozzarella
Add chopped mushrooms to the onion & garlic mixture
Add additional seasonings, such as basil, oregano, or crushed red pepper
Nutrition Information:
Yield:

6
Serving Size:

1
Amount Per Serving:
Calories:

500
Total Fat:

29g
Saturated Fat:

12g
Trans Fat:

0g
Unsaturated Fat:

18g
Cholesterol:

68mg
Sodium:

903mg
Carbohydrates:

34g
Fiber:

3g
Sugar:

8g
Protein:

27g