Italian Sliders are one of our favorite sandwich recipes. They're easy to make and packed with delicious flavor!
These sandwiches combine a variety of deli meats with provolone cheese, pesto, tomatoes, and fresh basil. They can be eaten hot or cold, and are easy to make in advance.
Whether you're planning a picnic, a party, or a game day get together, these Italian Sliders are always a crowd favorite!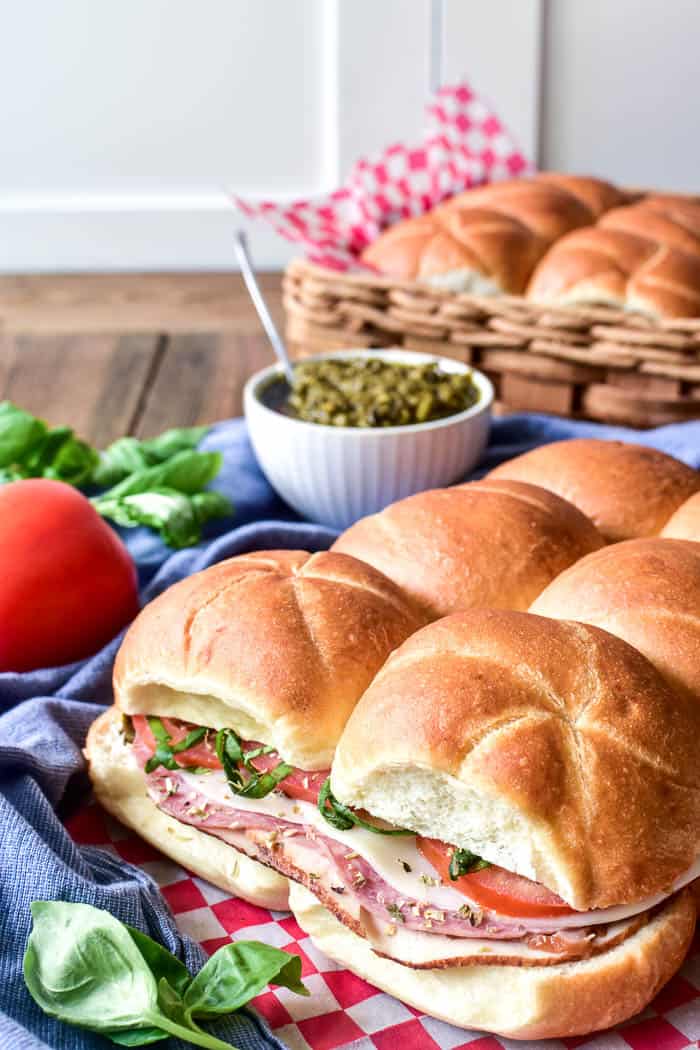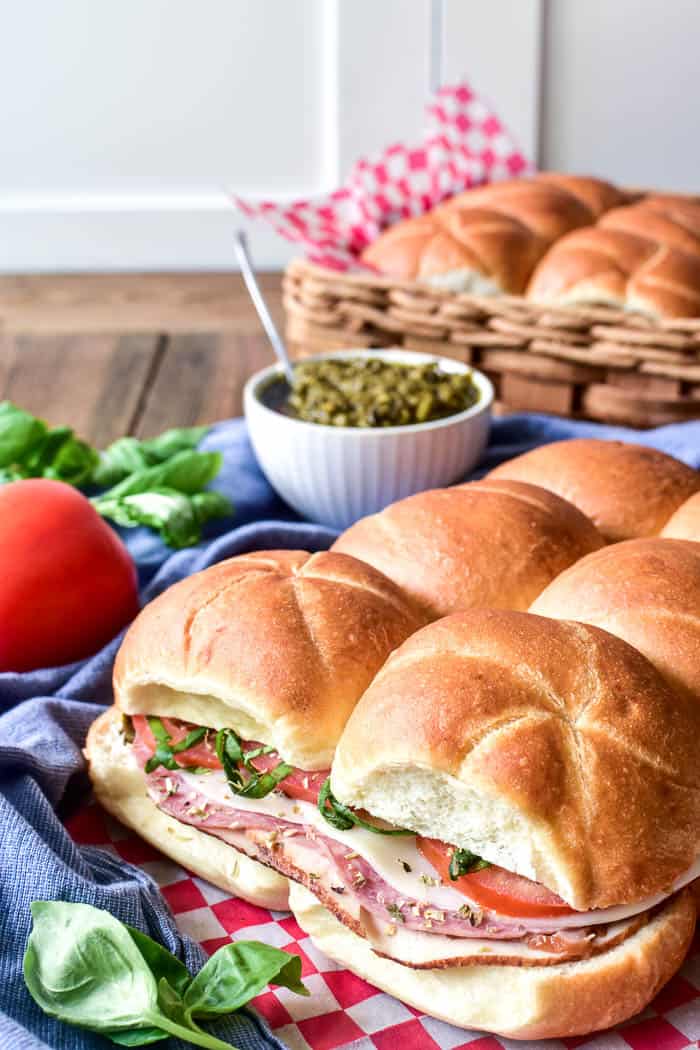 Ahhh....sandwiches. Where would we be without them? They're easy to make and take on the go, everyone loves them, and the possibilities for them are endless. Between the bread and the fillings and the option to grill or bake or make them in a panini press, they really can look any way you want them to. And of all the different ways to do sandwiches? I'm pretty sure sliders are our favorite.
Not only are sliders mini (which automatically scores them some points), but they're the perfect party food. They're easy to prep, easy to eat, and the perfect size for a party spread.
We love the fact that we can make them in advance, stick them in the fridge, and pull them out once guests arrive. And we love the fact that they make enough to feed a crowd. And when you shop at Pick 'n Save? This recipe couldn't be easier to pull off.
Because Pick 'n Save has an amazing selection of deli meats, Roundy's cheeses (made right here in Wisconsin), and bakery rolls. And when it comes to speciality ingredients like basil pesto? I always know I'll find what I'm looking for.
Whether you're planning a party, looking for an easy weeknight dinner recipe, or thinking ahead to back-to-school lunches, these Italian Sliders are sure to become a new favorite!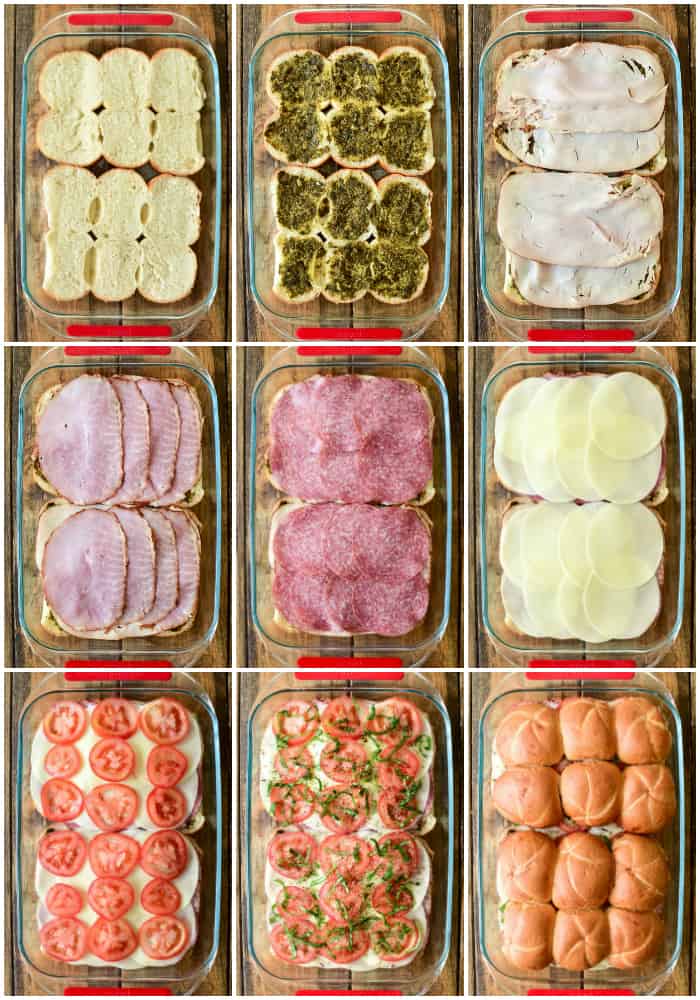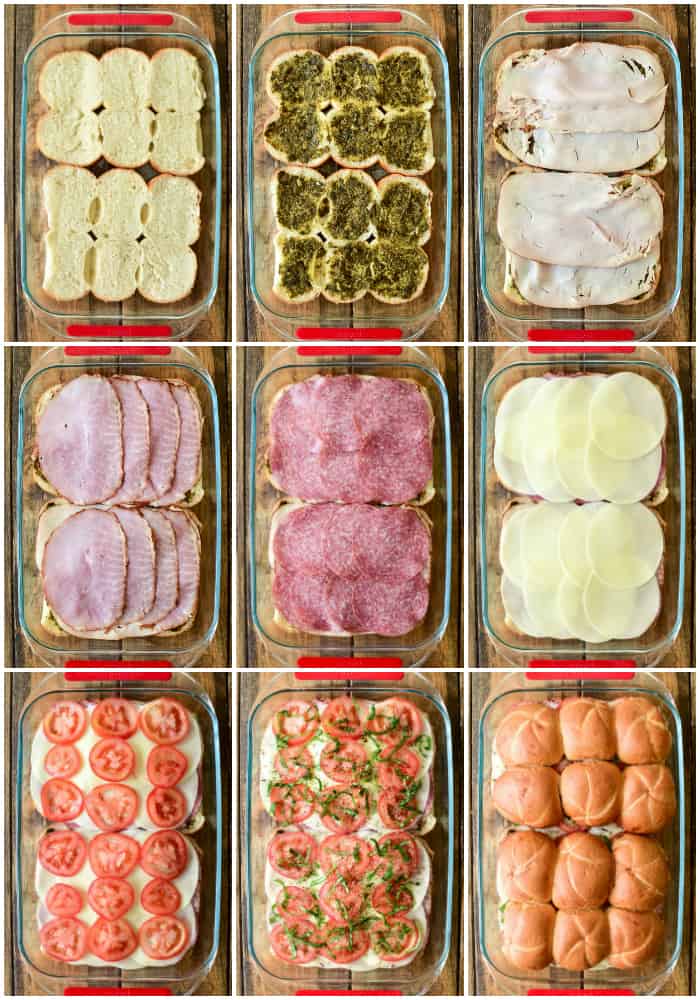 Ingredients:
Small sandwich rolls
Basil pesto
Deli meats (I used a combination of turkey, ham, and salami)
Provolone cheese
Roma tomatoes
Fresh basil
Italian seasoning
Instructions:
Start by slicing the rolls in half lengthwise. Typically sandwich rolls come attached to one another, and it's easiest to just leave them attached. (See process photos below.)
Spread pesto evenly over the bottom halves of the rolls.
Top with meats, cheese, tomatoes, basil, and seasoning.
Place the top halves of the rolls on top.
Cut to separate; serve cold OR bake at 350° for 15-20 minutes, until cheese is melted and sandwiches are heated through.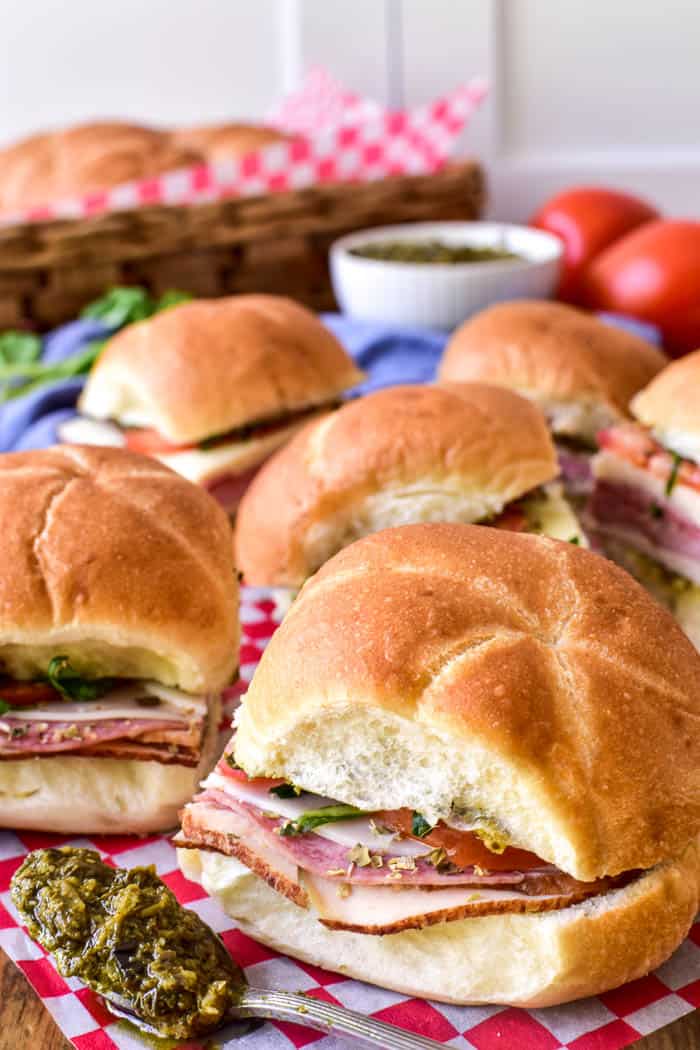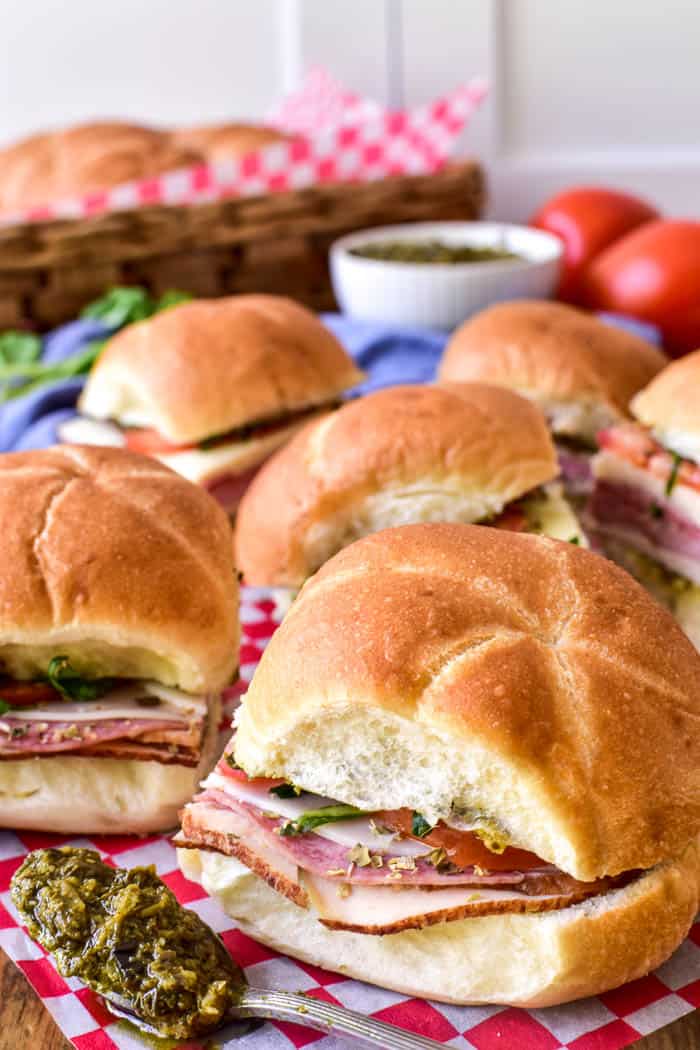 What is a slider:
A slider is a small sandwich, typically around 2 inches across, made with a bun. The word slider typically refers to small hamburgers, but can be used to describe any small sandwich made with a slider roll. Sliders are often baked; however, this recipe was made to be served cold (with the option of baking).
Where do you find pesto?
Pesto can typically be found in the Italian food aisle - near the dried noodles and pasta sauces - at your local grocery store.
Recipe variations:
Add or substitute chicken or roast beef
Use whole wheat, poppy seed, or Sweet Hawaiian Rolls in place of the mini kaiser rolls.
Make this recipe on a loaf of Italian or French bread, then cut into pieces to serve.
Substitute sun-dried tomato pesto for the basil pesto.
Use a different type of cheese, such as mozzarella, parmesan, or asiago.
Add sliced black olives and/or sliced peppers.
Bake or press in a panini maker instead of serving cold.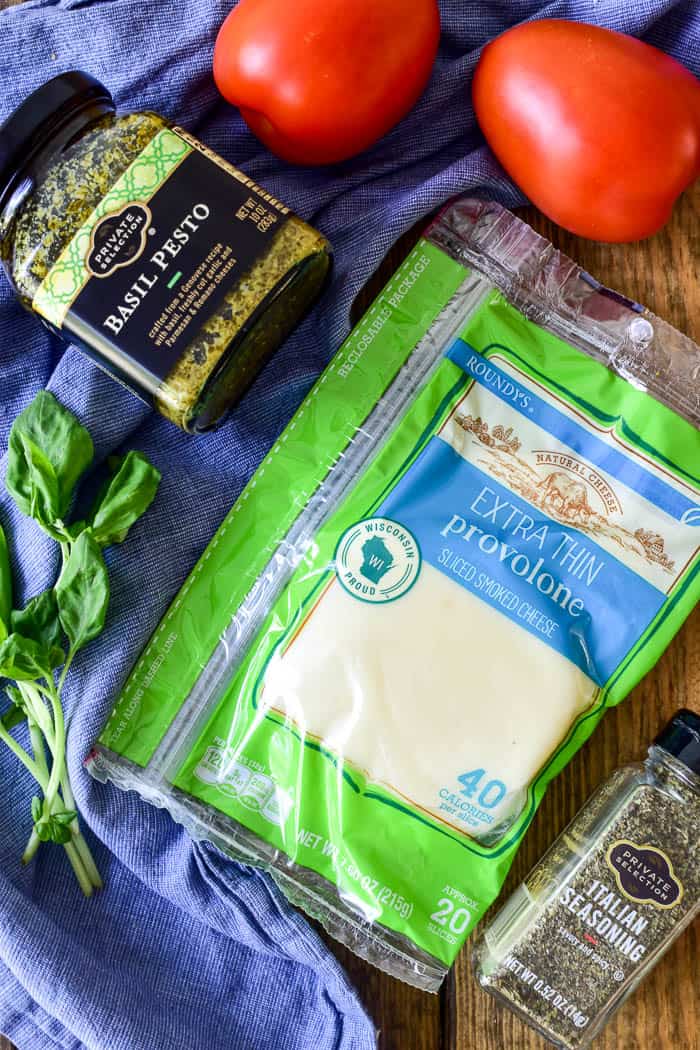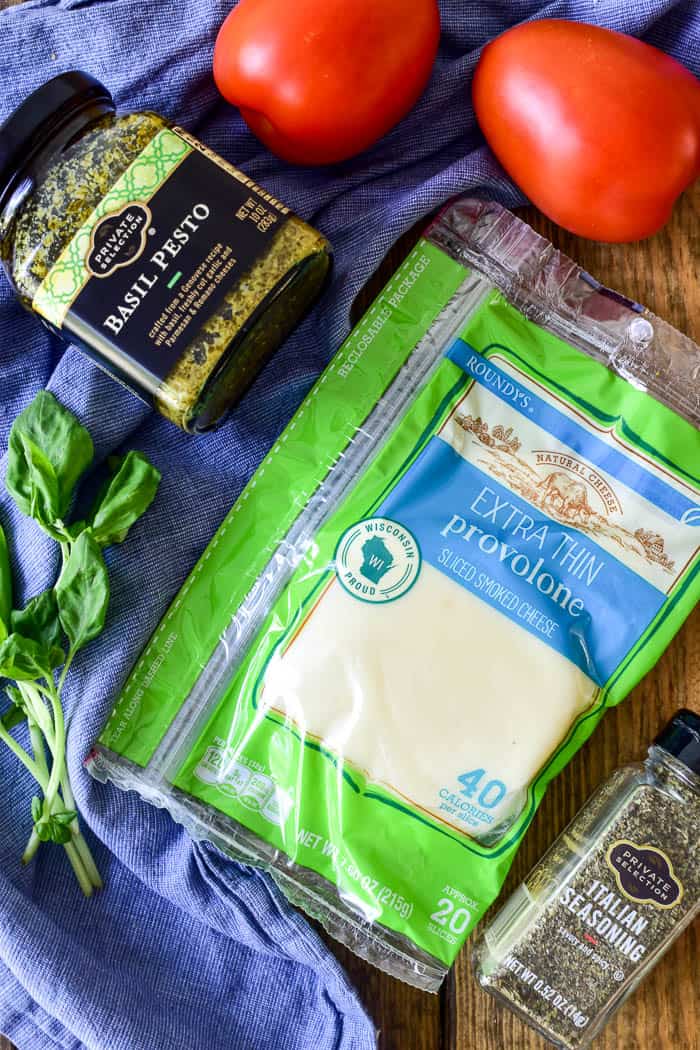 To make them in advance:
Simply prepare the sliders as described, then cover with foil and store in the refrigerator until ready to serve. For best results, serve within 24 hours. If you need to store them longer, my suggestion would be to bake them before serving.
How to store leftovers:
Leftover sliders can be stored in an airtight container in the refrigerator. They will last 2-3 days; however, the bread might get soggy from the pesto and tomatoes. If this happens, the leftovers may taste better heated.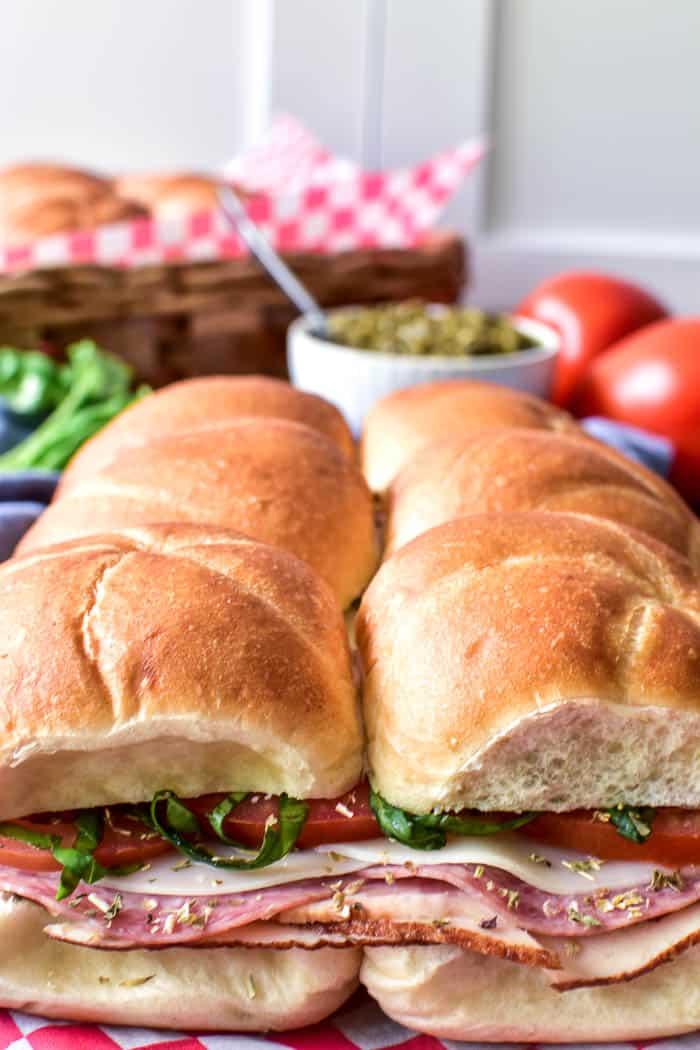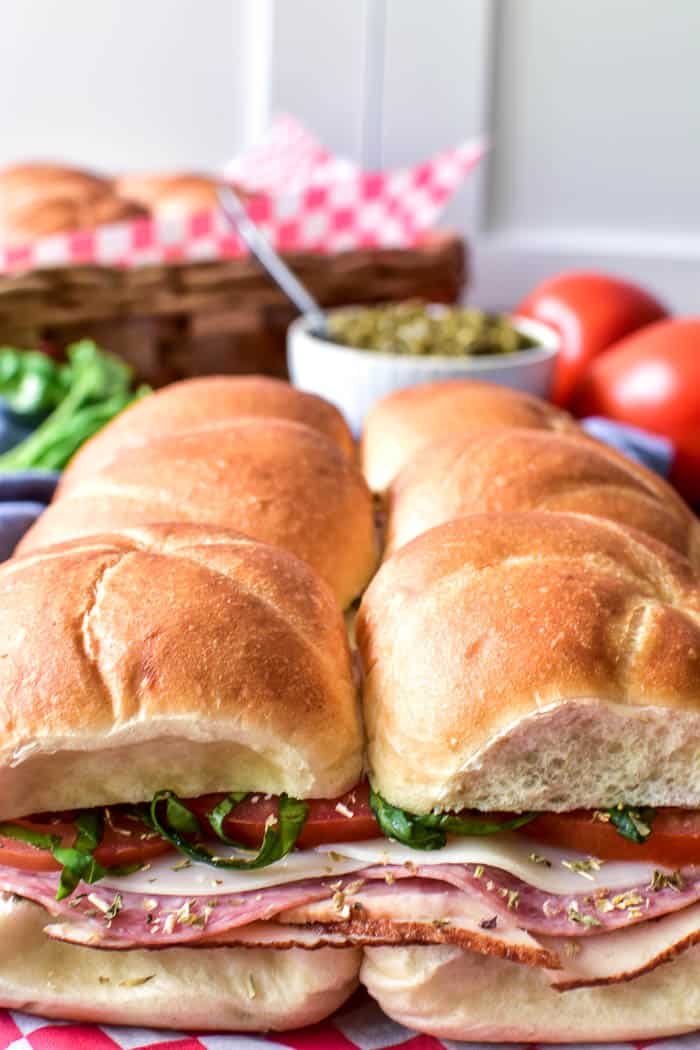 More delicious sandwich recipes: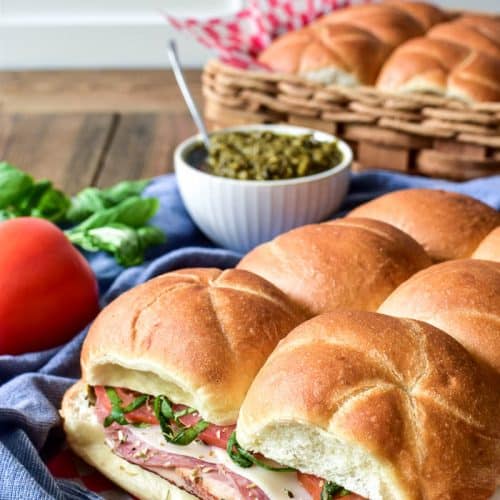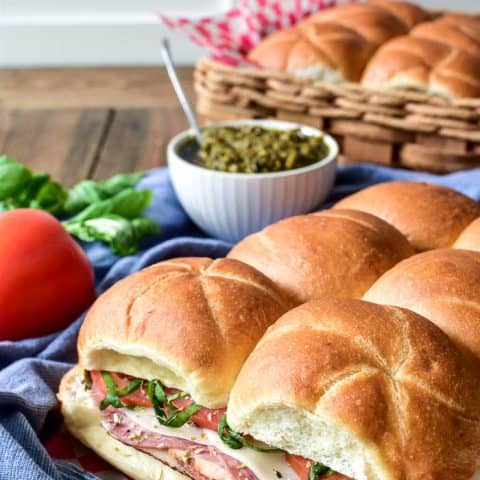 Italian Sliders
These zesty Italian Picnic Sliders make the perfect picnic food! Loaded with deli meats, cheese, tomatoes, pesto, and fresh basil, they're easy to make and take on the go....and packed with delicious flavor!
Ingredients
1 package bakery-style mini kaiser rolls
⅔ c. basil pesto
½ lb. Roundy's sliced oven-roasted turkey (from deli)
½ lb. Roundy's sliced ham off the bone (from deli)
¼ lb. thinly sliced salami (from deli)
8 oz. Roundy's sliced provolone cheese
2 Roma tomatoes, thinly sliced
12 fresh basil leaves, thinly sliced
½ tsp. dried Italian seasoning
Instructions
Slice rolls in half lengthwise.
Using ⅓ c. pesto, spread a thin layer on the bottom half of rolls.
Top with turkey, ham, salami, and cheese.
Add sliced tomatoes and basil. Sprinkle with Italian seasoning.
Spread remaining ⅓ c. pesto on the top half of rolls and place on top.
Cut rolls apart (if they are attached) and enjoy!

For more recipe inspiration, visit Pick 'n Save on
Facebook
,
Twitter
,
Pinterest
, and
YouTube
!