If you love Moscow Mules, you'll love this delicious Irish Mule twist! Made with Irish whiskey, ginger beer, lime juice, and muddled mint, this cocktail has everything you need to get you through the cold days of winter. They come together quickly, with just a few ingredients, and can be made individually or by the pitcherful. Which means they're perfect for game days, St. Patrick's Day, or weekends with friends! Any way you mix it, the Irish Mule is sure to become a new favorite for whiskey lovers everywhere!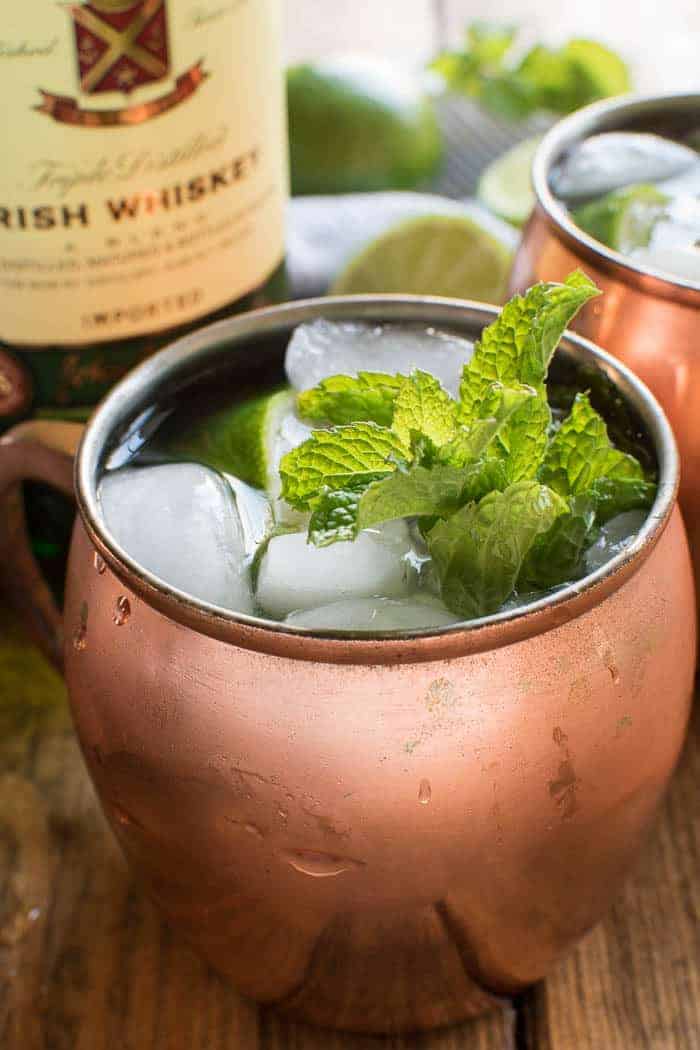 For the longest time in my life, I thought I didn't like whiskey. In fact, I would pretty much convinced I more or less hated it. Which made things interesting when, for the longest time, it was Jorden's drink of choice. So while he poured himself Whiskey & Cokes, I sat back and thought to myself, "I would never in a million years drink that."
It was something about the smell…..and the taste…..but most definitely the smell, that just got me every time.
And then I discovered Irish Whiskey.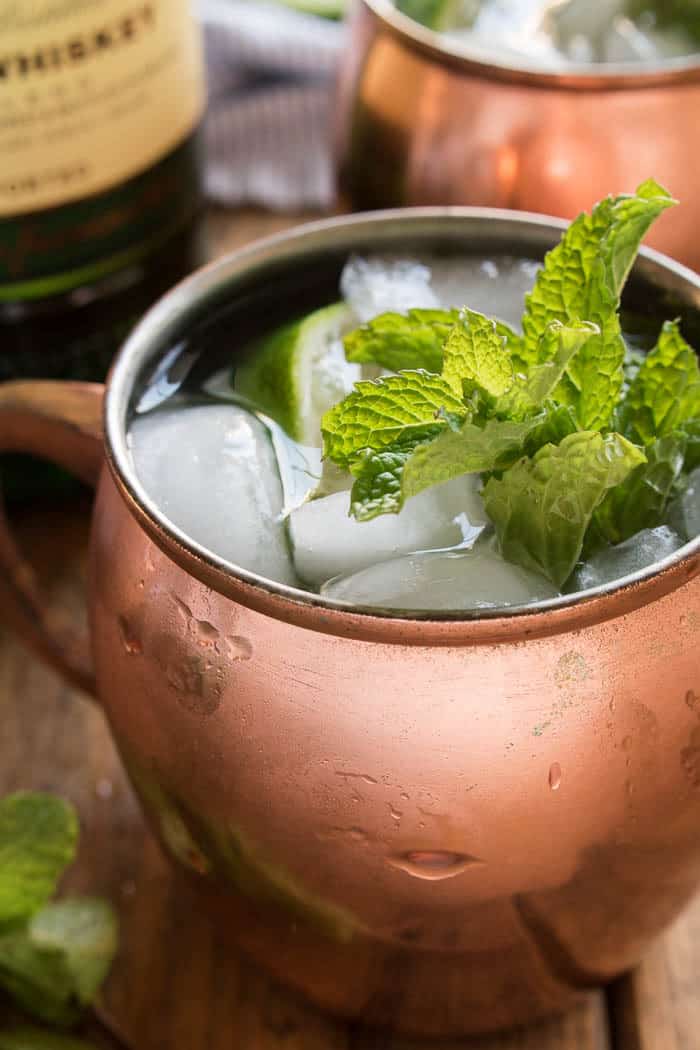 And if you've ever had Irish Whiskey, you know it's actually nothing like Jack Daniels. And if you're anything like me, you agree that there's really no comparison.
So when I was out for drinks with a friend recently, and I saw this whiskey cocktail on the menu, I didn't pass right over it like I might have done in the past. Instead….I ordered it! And I loved every last sip of it.
And I realized, as I was drinking it, that it was pretty much a mule. Only made with whiskey. And thus, the Irish Mule found a place in my heart.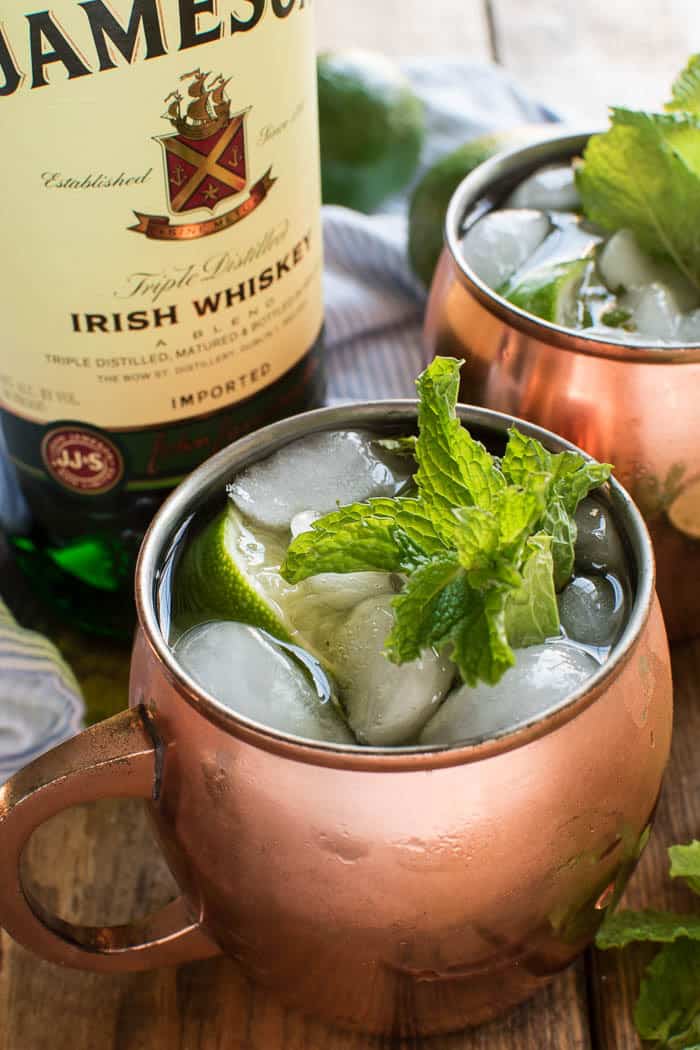 Now. If you're a fan of Moscow Mules, you know that a great Mule is all about the perfect balance of flavors. Some of my favorite combos? These Orange Moscow Mules and definitely these Pomegranate Moscow Mules.
And balance of flavors is also true in this Irish Mule. It follows the same basic recipe of a traditional Moscow Mule, but with the addition of muddled mint. Which takes it to the NEXT LEVEL.
And also makes it feel like the perfect drink for winter….although you wouldn't have to ask me twice to drink one come summer. (Just like you better believe I'll be trying these Margarita Moscow Mules come summer!)
The other thing this Irish Mule would be perfect for? St. Patrick's Day! And we have just enough time to perfect the art of making them before then.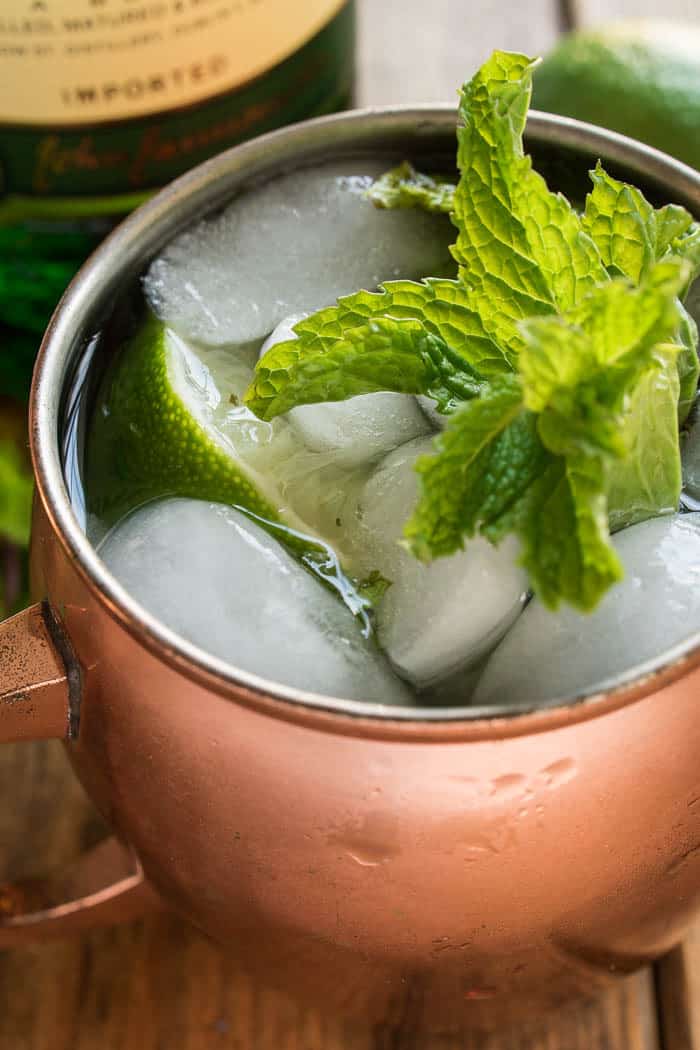 How to Make the Perfect Irish Mule:
Start with a copper mug! Traditional Moscow Mules are always served in a copper mug, not only for temperature purposes (the copper keeps the drink perfectly cold), but for taste purposes, as well. Copper is said to increase the fizziness of the ginger beer while also reducing the acidity and bringing out the best flavor in the limes. If you've tried a mule both ways, you'll agree that the copper mug really does make all the difference.
Use fresh limes! Since lime juice is a key ingredient in a Mule, freshness matters. The fresher the limes, the brighter and sweeter the juice and the better it will complement the flavor of the ginger beer.
Muddle that mint! One of my favorite parts of the Irish Mule is the mint, and you want to be sure you get enough of that delicious mint flavor. If you don't have a muddler, the end of a wooden spoon works just as well. And since the perfect amount of mint is all a matter of taste, feel free to experiment with more or less until you find the perfect balance.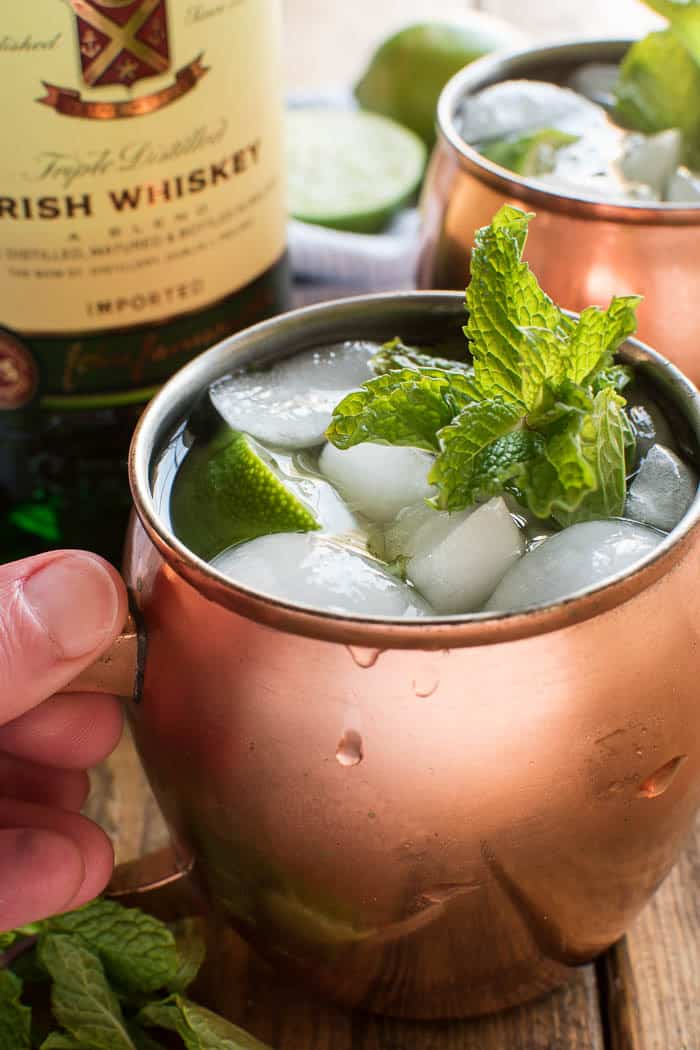 I hope you enjoy these Irish Mules as much as we do!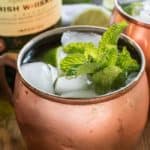 Irish Mule
Ingredients
10

mint leaves

muddled

2

shots

Jameson Irish Whiskey

3/4

cup

non-alcoholic ginger beer

1/2

lime

juiced

1

splash

lime sparkling water

(optional)
Instructions
Muddle fresh mint leaves in a copper mug.

Add whiskey, ginger beer, lime juice, and sparkling water.
Nutrition Facts
Irish Mule
Amount Per Serving
Calories 332
% Daily Value*
Sodium 22mg 1%
Potassium 56mg 2%
Total Carbohydrates 29g 10%
* Percent Daily Values are based on a 2000 calorie diet.