Savory Irish Potato Pancakes, loaded with Kerrygold Skellig cheese, fresh chives, and minced garlic for a delicious twist that's perfect for breakfast, lunch, or dinner! A quick and easy meal solution!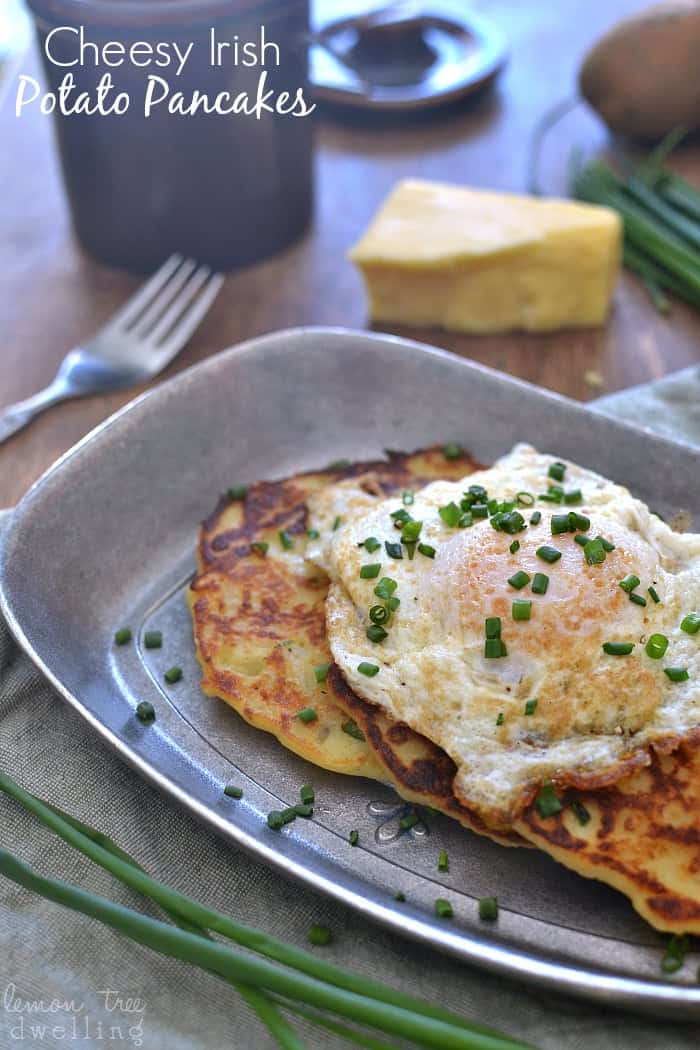 It struck me recently that Jorden and I haven't had a getaway…..of any kind…..since before we had kids. We're talking about 9 years ago! We've definitely talked about it since then – in between pregnancies and babies – but we've never made it happen. Well….now that Myla is going on a year…..I think it's time for that to change!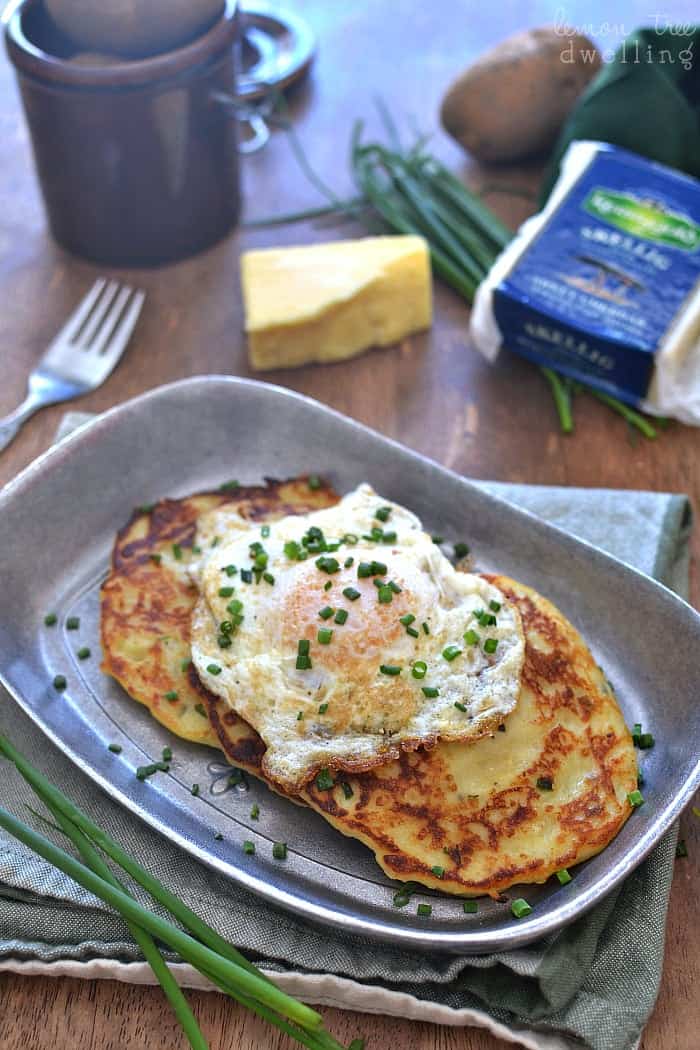 We have all kinds of ideas of where we'd like to go – somewhere warm, somewhere tropical, (anywhere but here!)….but the one place I keep coming back to is Ireland.  Jorden spent some time there when he studied abroad in college, my parents took a trip there a few years ago, and one of my good friends recently went there with her entire family. I've heard enough about how beautiful and amazing it is from other people…..it's time for me to experience it myself! Sounds realistic with four kids, right??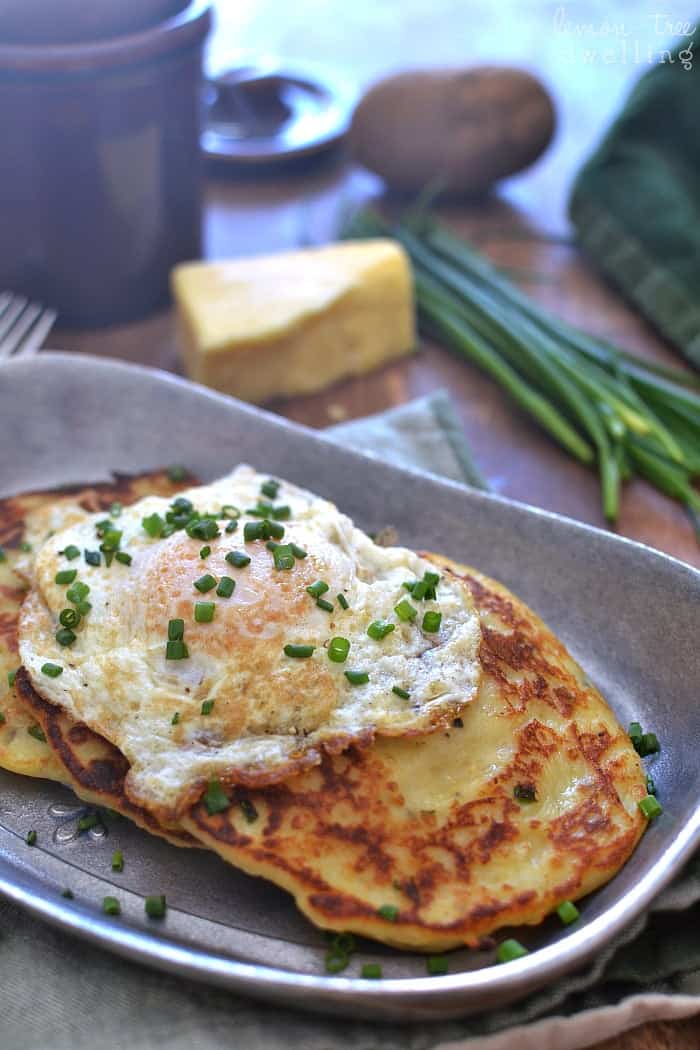 Okay, so I have no idea when we'll make it to Ireland…..but it's definitely high on my list. For now, I guess the next best thing to going there is…..the FOOD! To be honest, I haven't had a lot of traditional Irish food. Even though I have a decent amount of Irish in me, I could probably count on one hand the number of Irish dishes I've eaten. But when I ran across a recipe for Irish Boxty, I knew it was one I had to try. Boxty is a traditional Irish potato pancake made with very simple ingredients. So….of course…..I decided to jazz it up a little.
Irish Potato Pancakes for any meal
 What better way to jazz up potatoes than with cheese?? Especially Irish cheese! I loaded these babies up with Kerrygold Skellig, a sweet cheddar cheese made in Ireland. I tossed in some minced garlic, fresh chives, sea salt, and fresh ground pepper, topped it with an egg, and the result was nothing short of incredible. This dish would be perfect for breakfast, lunch, or dinner….and clearly perfect for St. Patty's Day. Sláinte!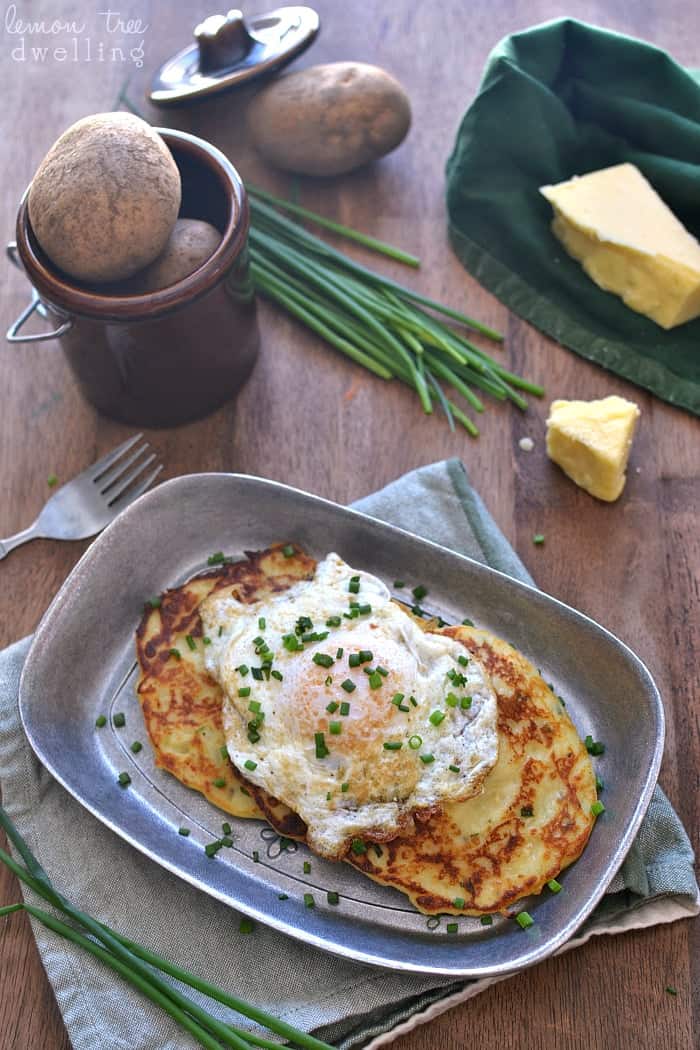 📖 Recipe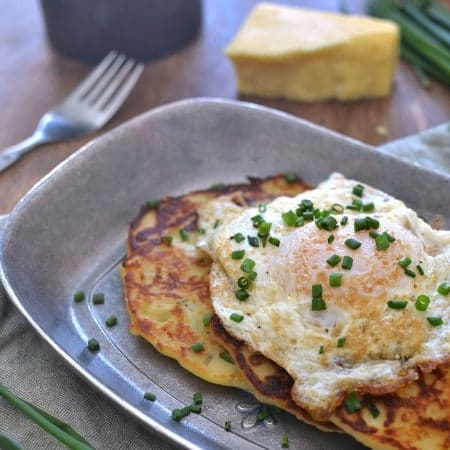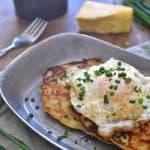 Cheesy Irish Potato Pancakes
Ingredients
1

c.

mashed potatoes

approx. 2 medium potatoes

1

c.

raw grated potatoes

approx. 2 medium potatoes

1

c.

flour

1

c.

cheddar cheese

I used Kerrygold Skellig

1/4

c.

milk

2

Tbsp.

fresh chives

2

cloves

minced garlic

1/2

tsp.

sea salt

1/4

tsp.

fresh ground pepper

eggs

prepared over easy or according to taste
Instructions
Combine all ingredients except eggs in a medium mixing bowl. Stir until well combined.

Prepare griddle or skillet by heating a small amount of oil over medium heat.

Pour patter into prepared skillet to make pancakes; cook until golden brown and flip. Cook until both sides are golden brown.

Top with eggs and additional fresh chives.
A delicious Irish Mule would go perfect with these Irish Pancakes!

Kerrygold sent me products in the hopes that I would share a recipe using them. All opinions are my own.
If you love traditional pancakes, then try these Easy Yogurt Pancakes from Wine and Glue.