This Honey Mustard Ham & Cheese Sandwich is perfect when paired with a hot soup or crisp salad. A poppyseed infused mustard will elevate this hot sandwich to new heights and fill your belly!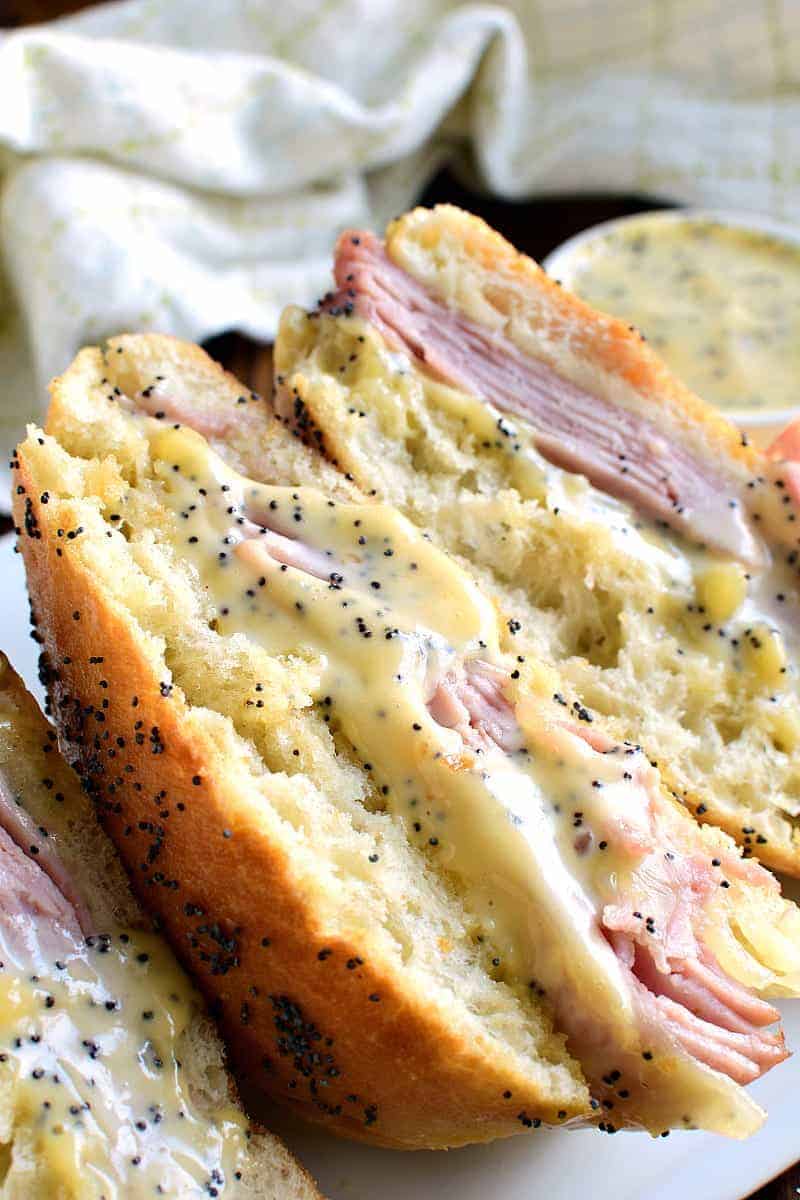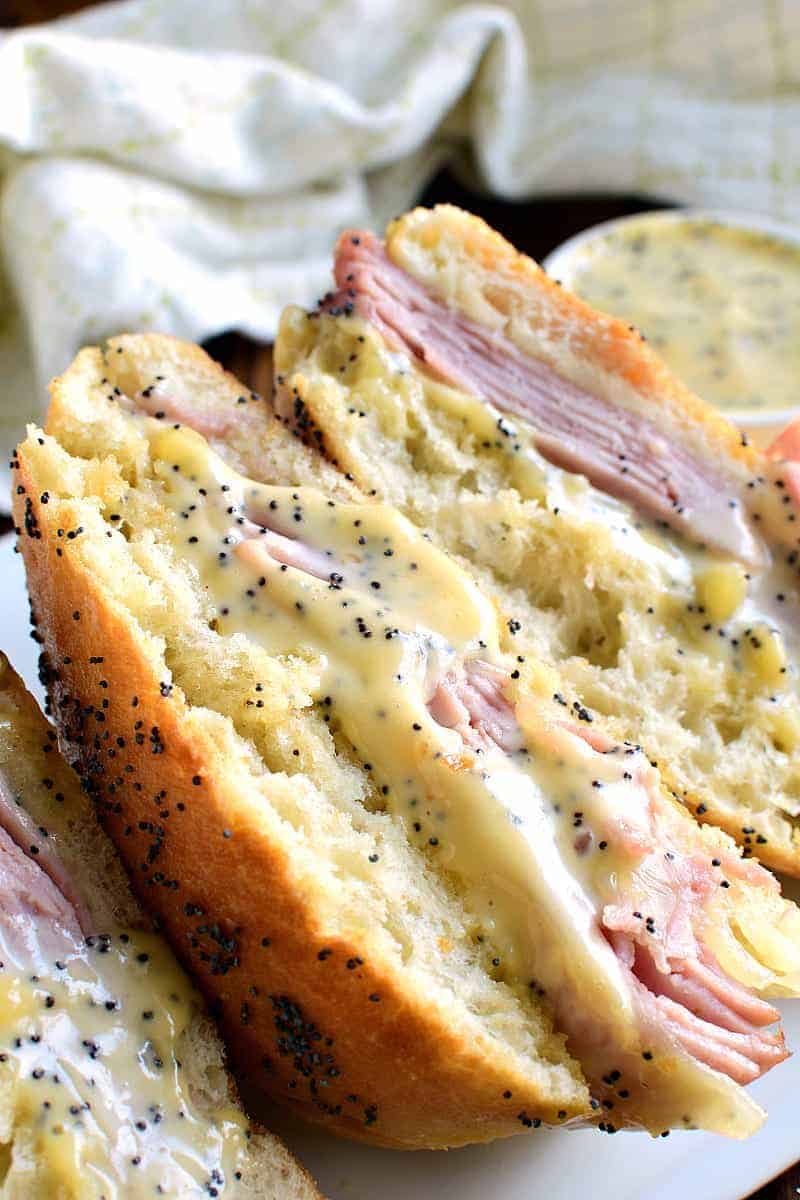 Do you ever watch any of those competition shows, like Top Chef or Project Runway or Million Dollar Decorators? I'm kind of a sucker for them…and if you've ever watched them, you know that they all have one thing in common. The WORST mistake someone can make? Not "editing" their choices.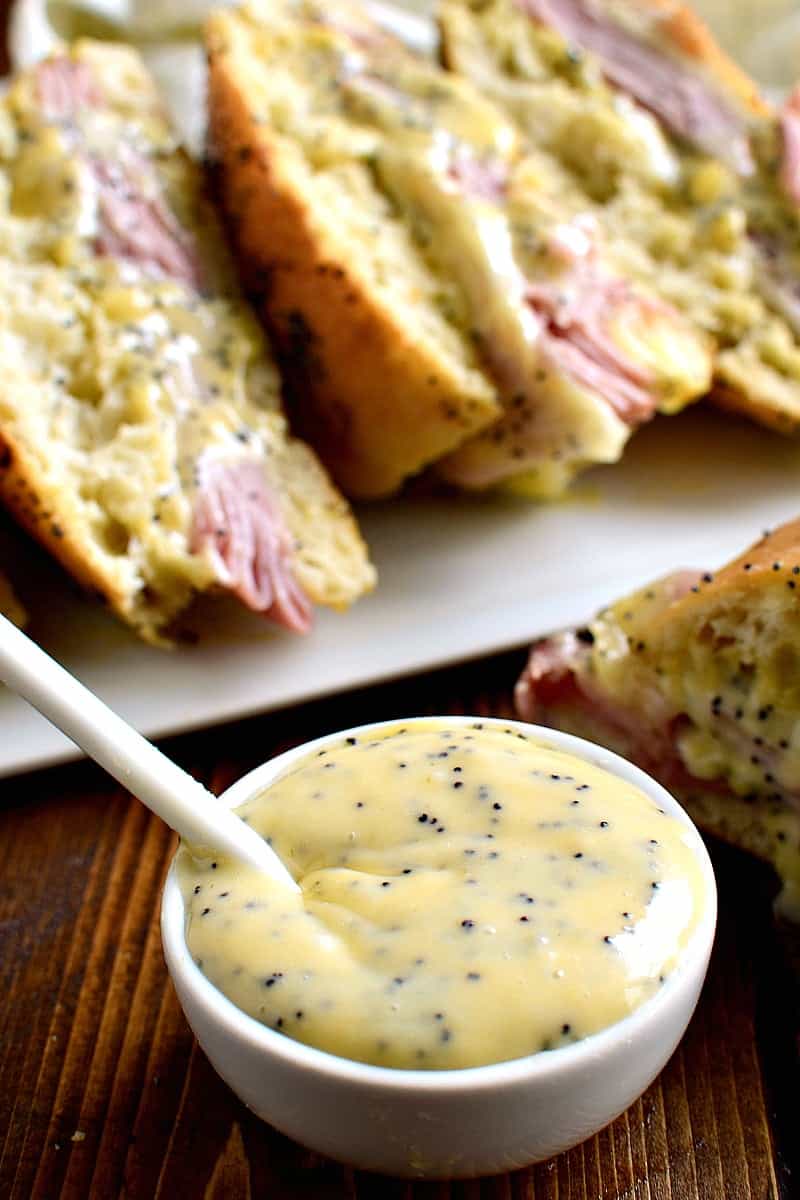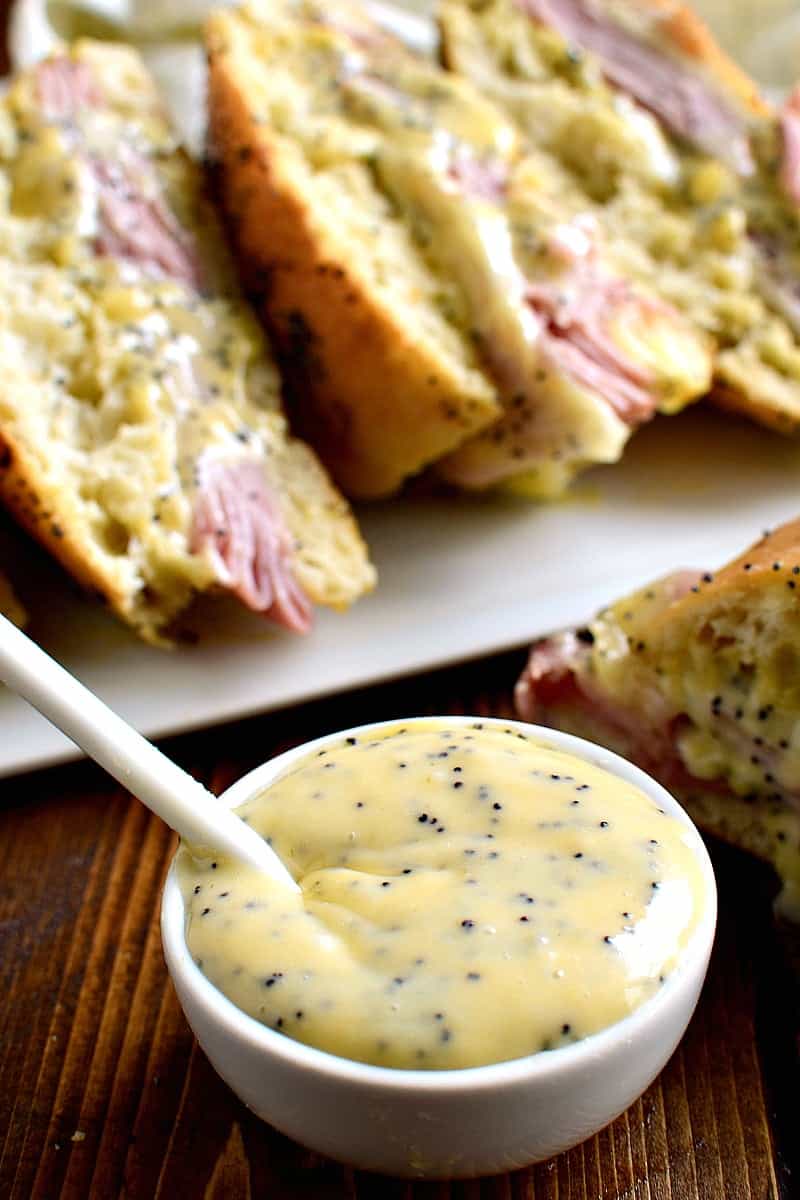 For instance, if a dress has too many embellishments or a recipe has too many flavors or a design has too many elements…it's instant death. And the judges will say, again and again, EDIT EDIT EDIT! But you know what? I get it. I get why they don't. I get how tempting it is to just keep adding! Because you want to add interest and make it unique. Because how else do you set yourself apart from every other dress or recipe or design??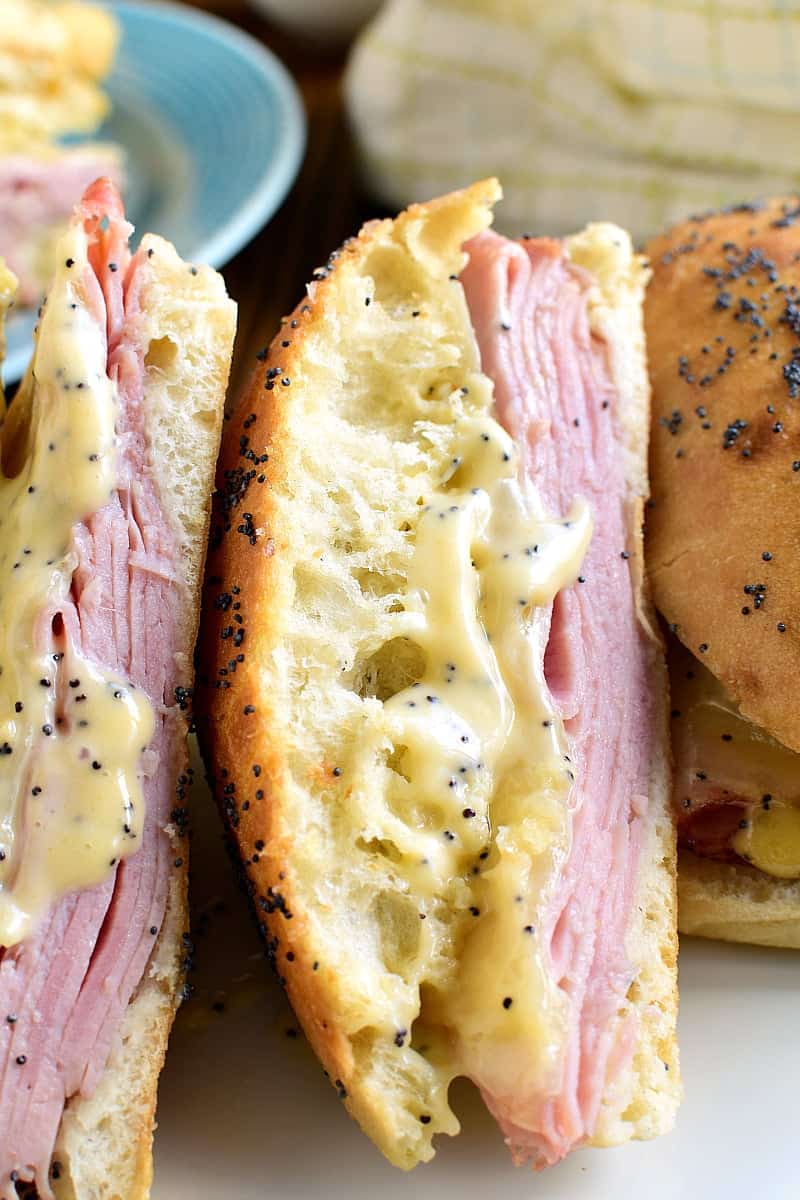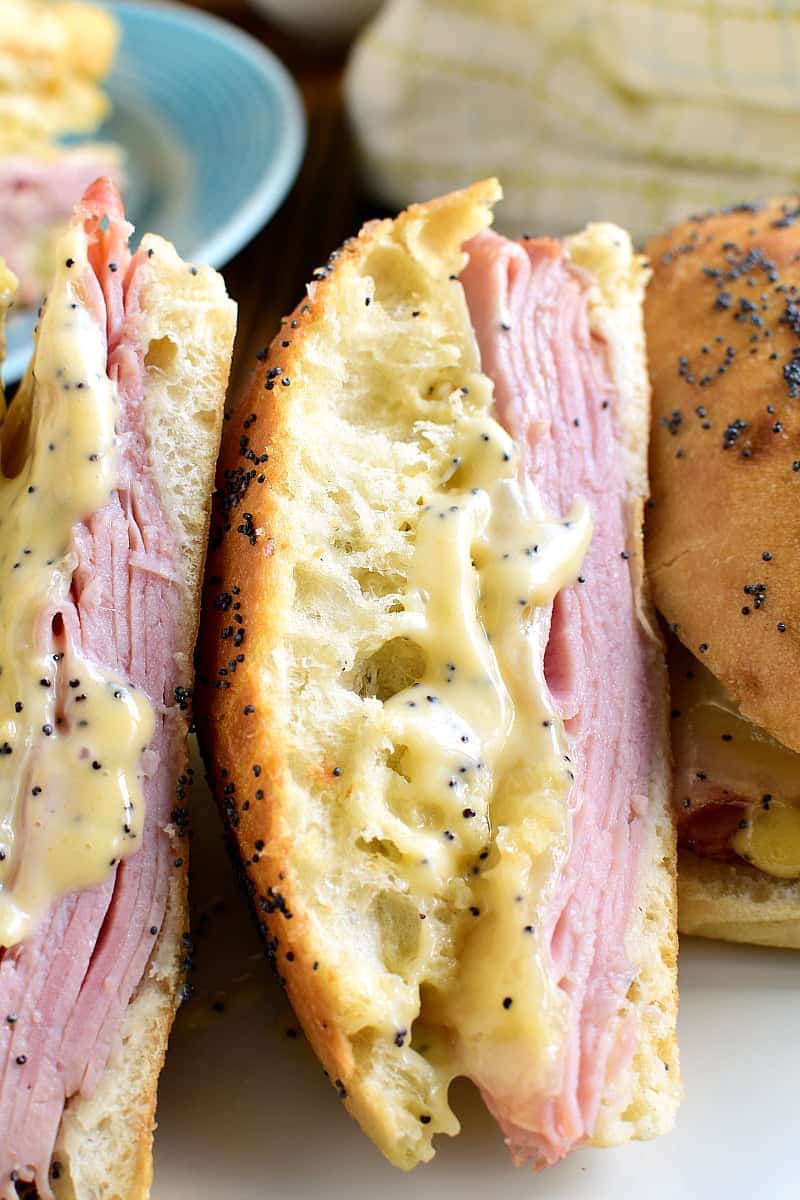 Honey Mustard Ham and Cheese Sandwich – A simple twist
I have to admit – it's an issue I face often. And with some recipes more than others. And with these Honey Mustard Ham & Cheese Sandwiches? I literally had to stop myself from adding more to them. Because ham & cheese has been done a million times. And there are a thousand different things I could have added! Lettuce, tomatoes, a fried egg….you name it. And it would have been delicious.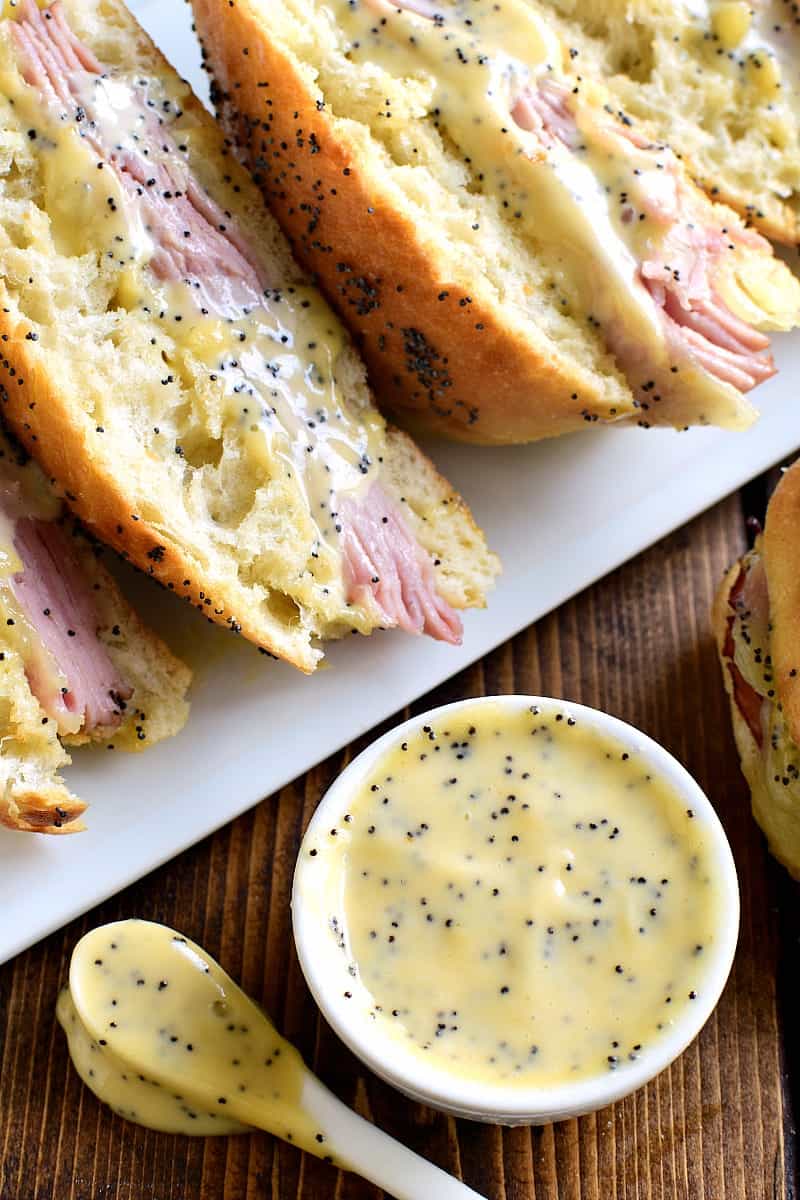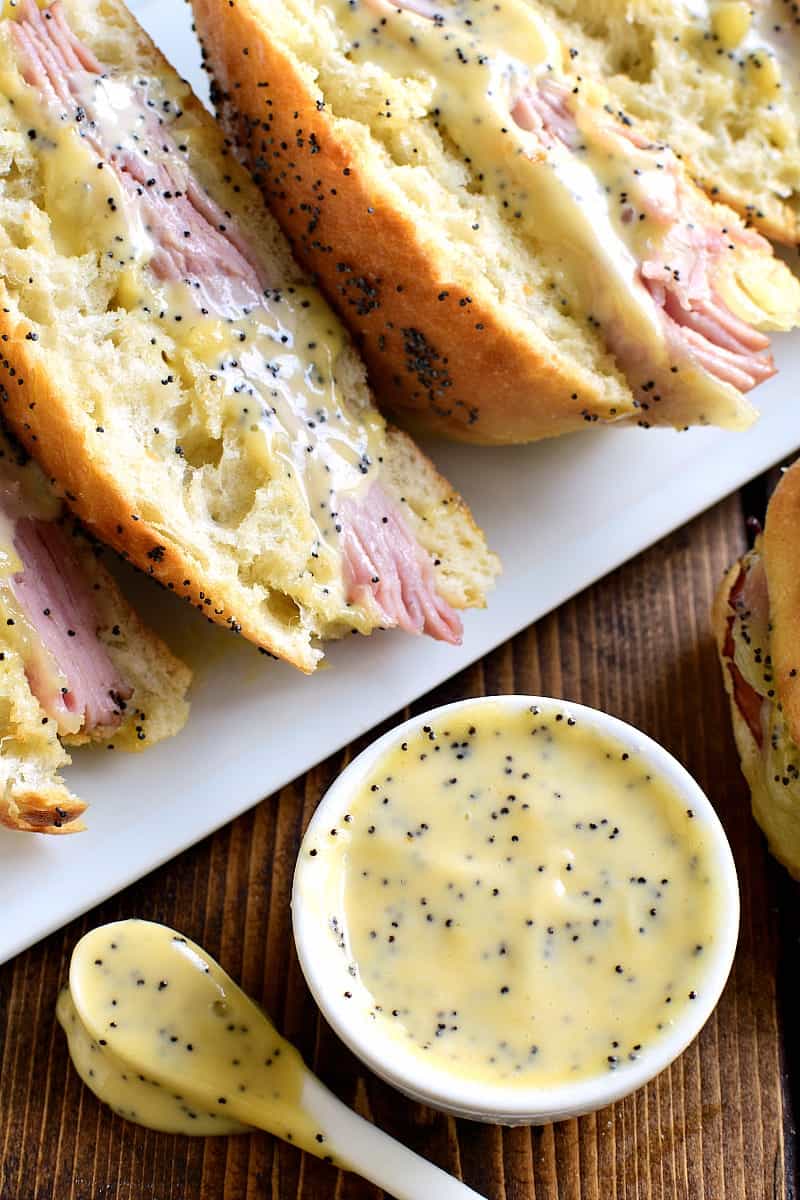 But sometimes….sometimes….adding more to something doesn't actually make it better. Sometimes it's about adding just the right amount. And these Honey Mustard Ham & Cheese Sandwiches are absolute perfection. Between the ciabatta and the ham and the melted cheese and the honey mustard….there's nothing that could make them any better. The perfectly edited Honey Mustard Ham & Cheese Sandwich. You're welcome.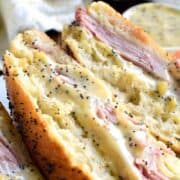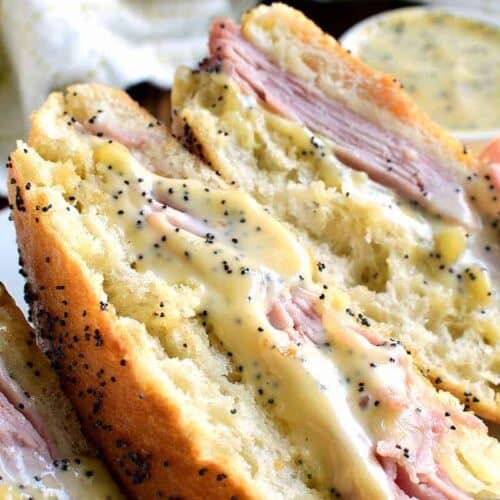 Honey Mustard Ham & Cheese Sandwich
Ingredients
4

ciabatta rolls

16

slices

ham

8

slices

swiss cheese

1/2

c.

mayo

2

Tbsp.

honey

1-2

tsp.

dried mustard

1

tsp.

poppy seeds

optional: 1 Tbsp. melted butter + 1/4 tsp. poppy seeds
Instructions
Slice ciabatta rolls lengthwise.

Divide ham & cheese evenly among rolls.

Prepare honey mustard by combining mayo, honey, dried mustard, and 1 tsp. poppy seeds.

Divide honey mustard evenly among sandwiches.

Combine 1 Tbsp. melted butter and 1/4 tsp. poppy seeds; brush on top of sandwiches.

Bake at 350 degrees for 15-20 minutes.
If you love ham sandwiches, then maybe my Hawaiian Ham and Cheese Sandwich should be your next choice!


My friend Danelle over at Let's Dish has a wonderful Slow Cooker Pineapple BBQ Pork Sandwich that looks amazing!