Oven-roasted brussels sprouts with Gorgonzola cheese, bacon, pecans, and red onion in a light lemon-sage vinaigrette.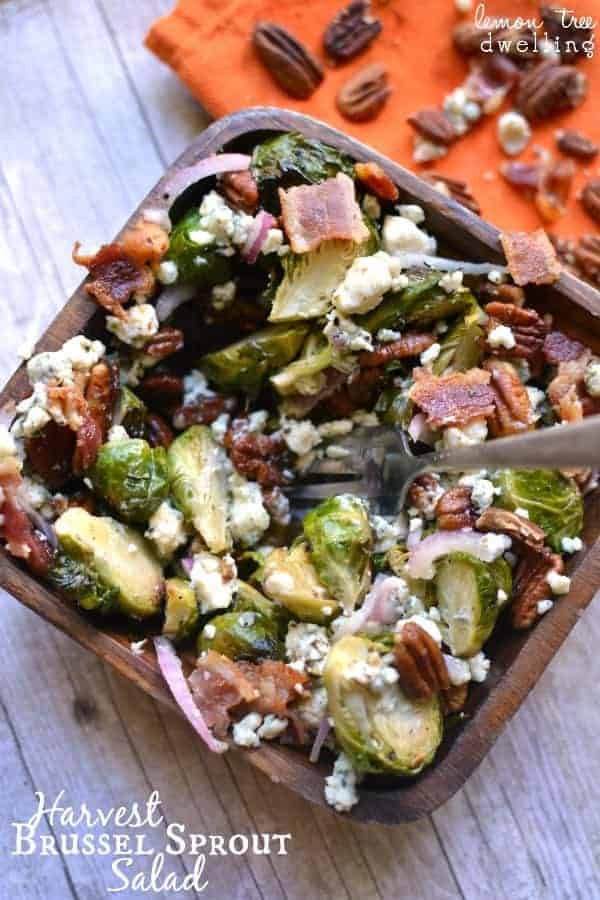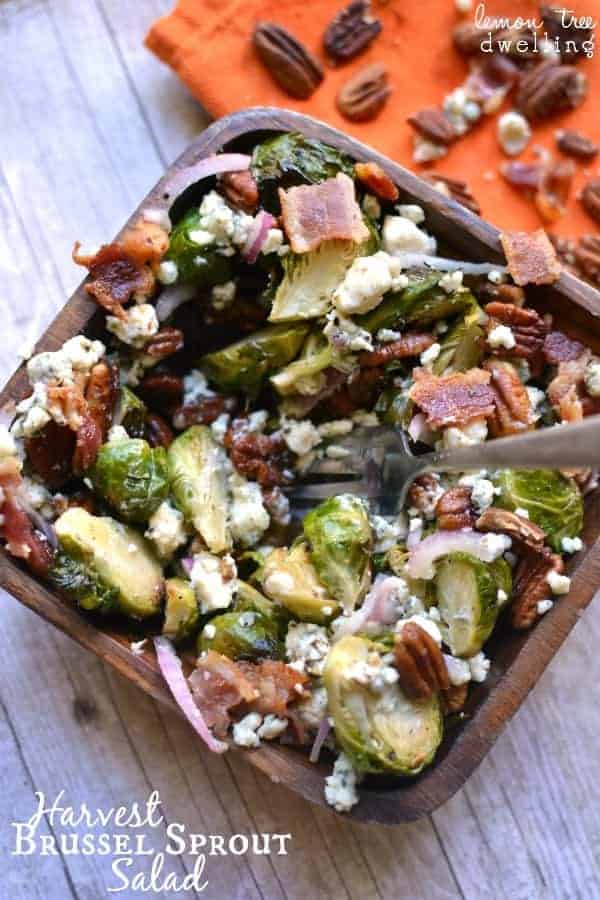 Let's talk brussels sprouts, shall we? Are you a lover or a hater?? Brussel sprouts are one of those things people are rarely neutral about. It seems you either love them any way and all ways…..or you won't touch them with a 10 foot pole! I, for one, am a lover.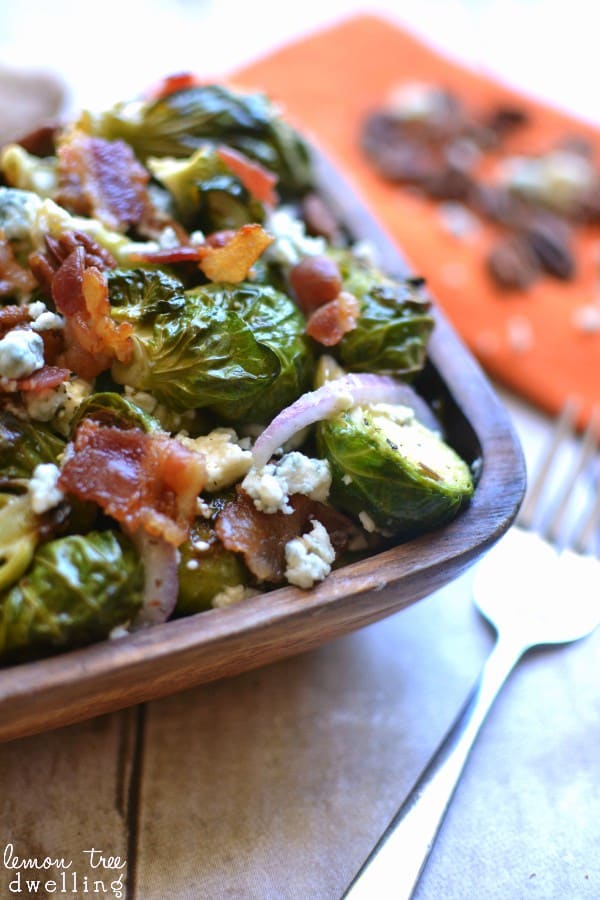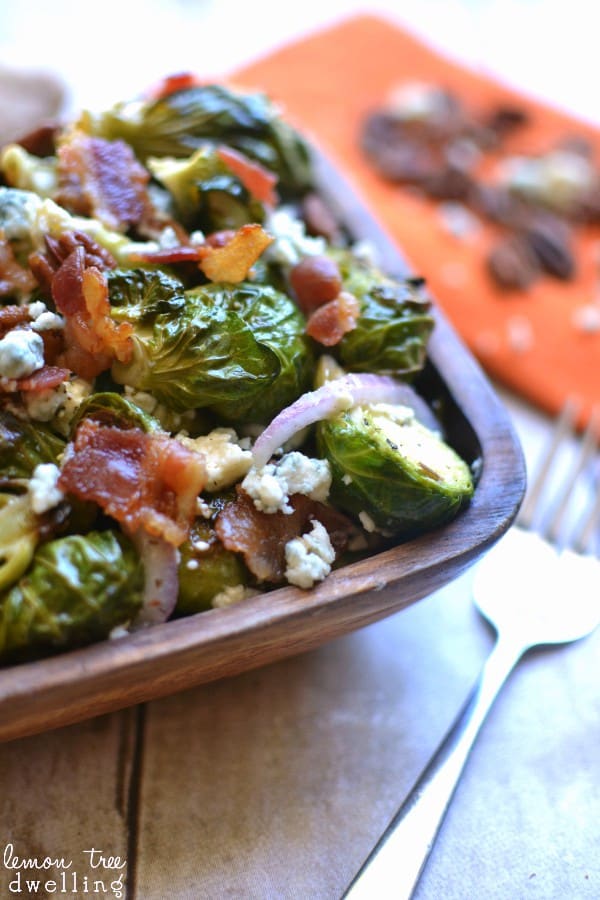 To be honest, I'm a lover of nearly all vegetables! Give me broccoli, cauliflower, mushrooms, peppers, zucchini, asparagus, green beans, carrots……and we're in business. I love them raw, steamed, sauteed, and most of all, roasted. There is something about the roasting process that brings out such delicious flavors……and the olive oil and sea salt don't hurt, either!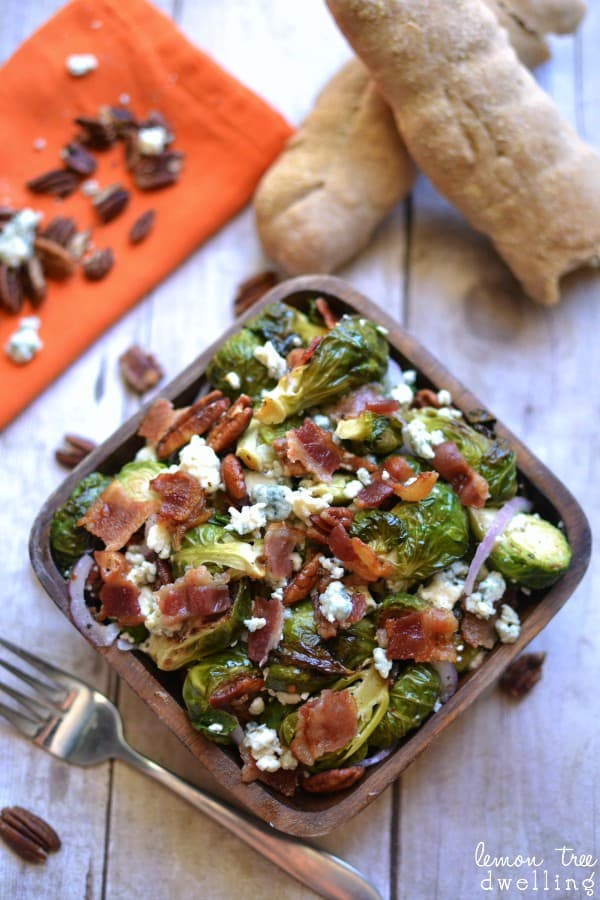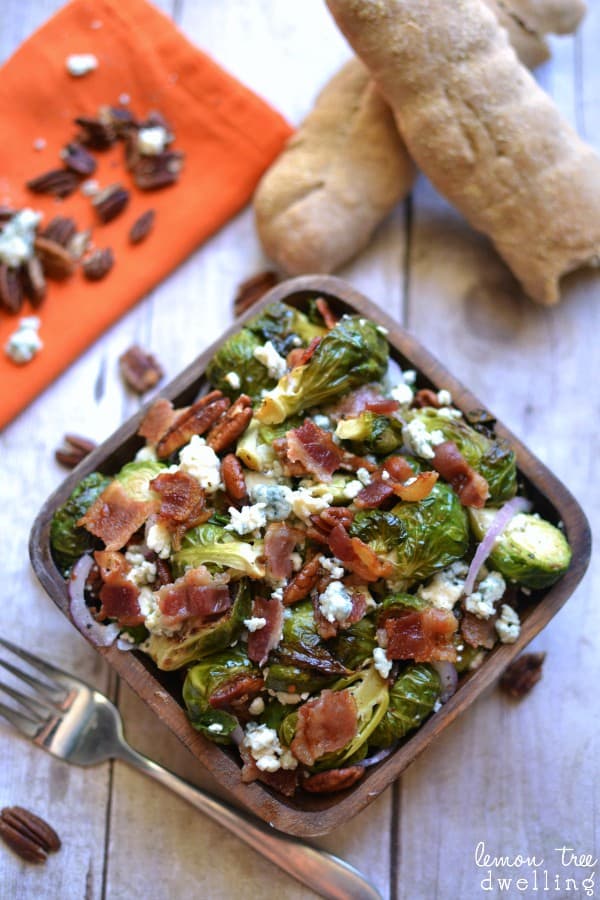 When I really think about it, there are only two vegetables I've never learned to love: lima beans and peas. Yuck to both! I'm not sure if it's a flavor thing or a texture thing….but whatever it is, I am definitely NOT a lover. And, at this point, I'm not even sure I'm willing to give them another try!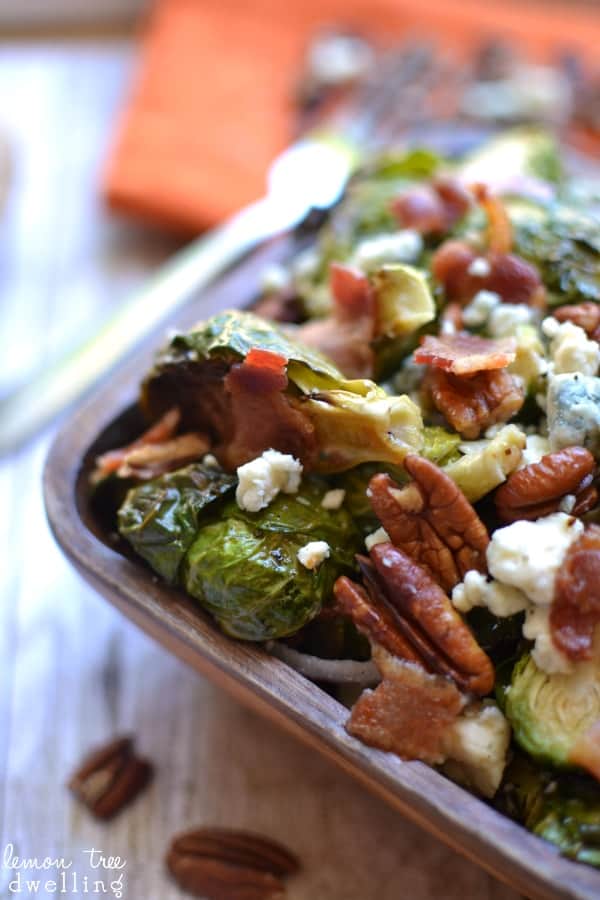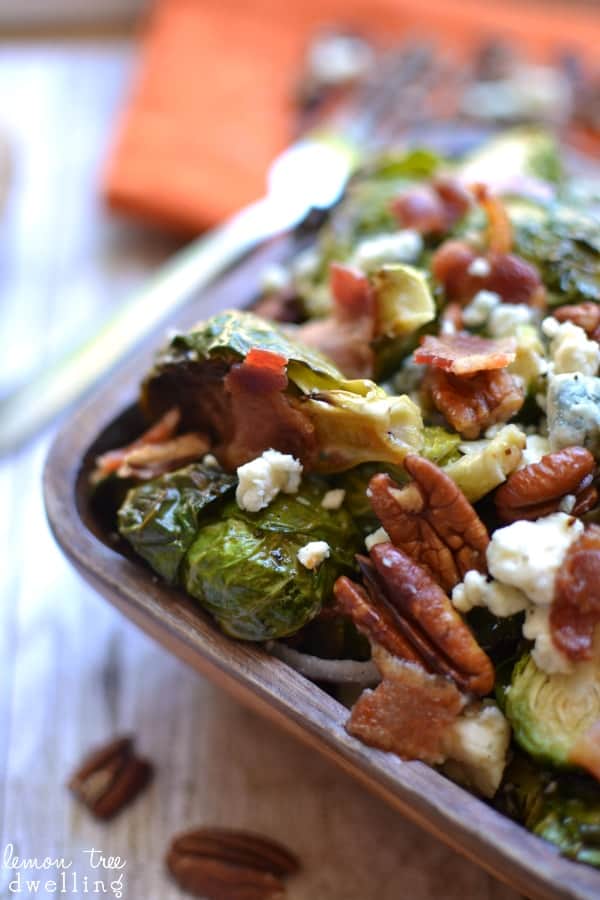 But brussels sprouts…..brussel sprouts are a different story. I've actually loved them since the first time I tried them – steamed – with a little salt and pepper. And up until now, that's the only way I've ever eaten them! I thought it might be time to freshen things up and incorporate these delicious little bundles into a fall salad. So I roasted them in olive oil, mixed them with bacon, Gorgonzola cheese, and pecans, and tossed them in a lemon-sage vinaigrette. Whether you're a brussel sprout lover or a proclaimed hater, this salad is most definitely worth a try. You can't go wrong with bacon and cheese…..am I right??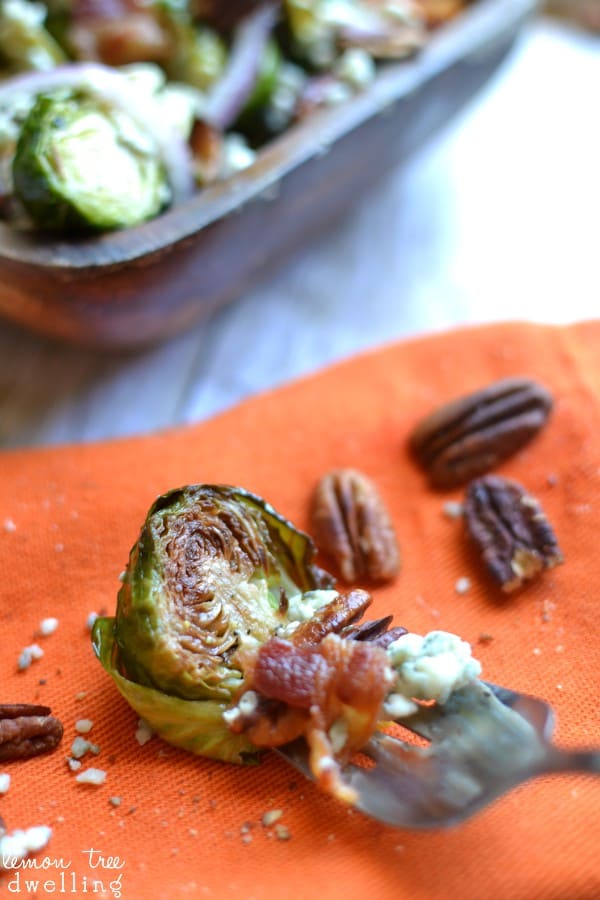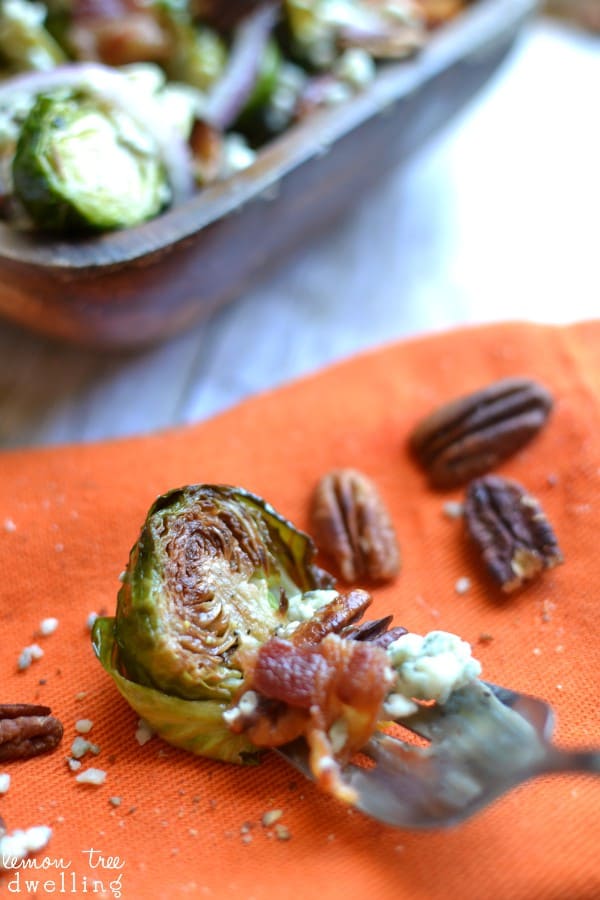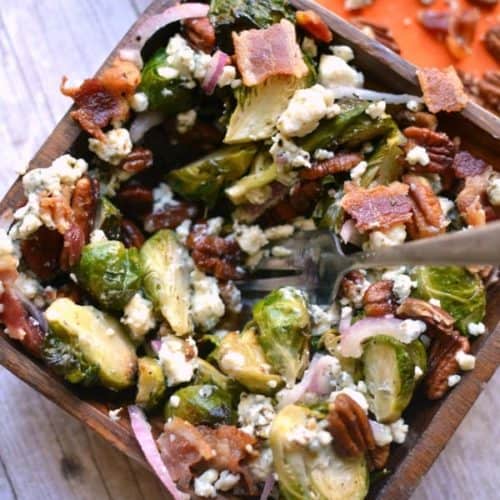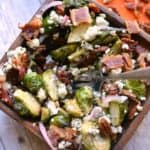 Harvest Brussels Sprout Salad
Ingredients
Salad
2

c.

brussels sprouts

washed and cut in half

2

Tbsp.

olive oil

1/2

c.

crumbled Gorgonzola cheese

1/4

c.

pecans

toasted

2

pieces

bacon

cooked and crumbled

1-2

thinly sliced onion rings

quartered
Dressing
2

Tbsp.

olive oil

2

Tbsp.

lemon juice

1

tsp.

rubbed sage

1/2

tsp.

kosher salt

1/4

tsp.

pepper
Instructions
Prepare brussels sprouts by tossing them in olive oil until completely coated. Arrange on baking sheet and roast at 400 degrees 15-20 minutes or until tender. Cool slightly.

Combine brussels sprouts, cheese, pecans, bacon, and onion in a medium bowl.

Combine dressing ingredients and drizzle over salad.