Grilled Corn Salad with avocado, blue cheese, and chili lime vinaigrette. All the good stuff…in one salad…on one plate! Lunch just got a little (or a lot) tastier!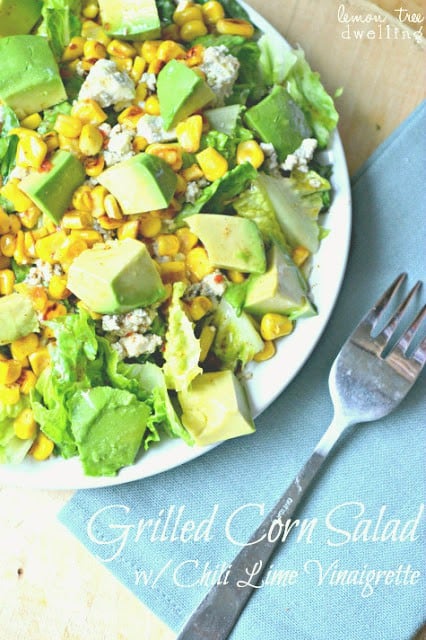 You know those people who try to fool themselves by ordering a Diet Coke with their bacon cheeseburger and fries? Maybe you are even one of them….and hey…no judgement here! I do the same exact thing!! Only with me it's not Diet Coke and cheeseburgers…no, with me, it's salads and desserts! By now you already know that I have a HUGE sweet tooth. And you may be starting to pick up on the fact that I'm a salad lover, too. And, the more I think of it, I can't help but wonder if the two are somehow related!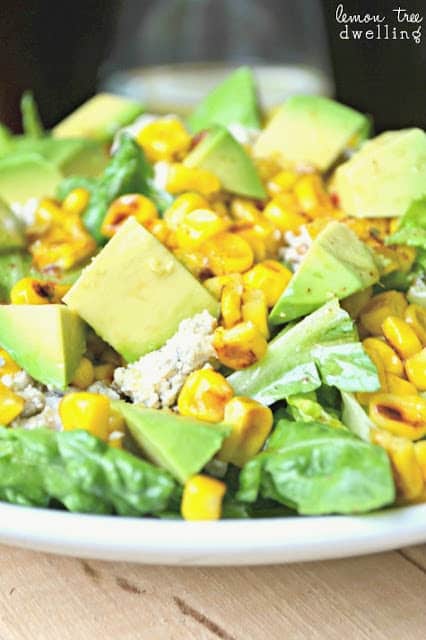 Like "Since I had a salad for dinner, of course I can have 2 desserts!" Or "I eat 3 healthy meals a day…a dessert in between each one won't hurt!" Hmmmmm. Sounds reasonable to me, don't you agree? (Don't worry – my friends have already told me that eating multiple desserts every day may not be entirely "normal." Unfortunately, despite their input, I haven't changed a thing.)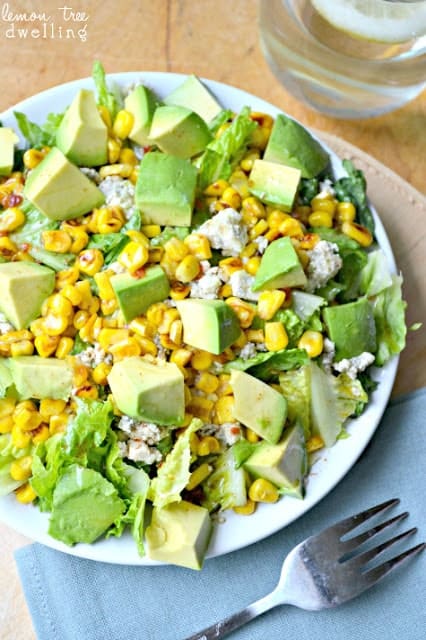 Okay. And the other piece of this you should know is that I'm not even always that great about keeping my salads "light". I do load them up with plenty of veggies and leafy greens, but….I must say….I am really drawn to the good stuff. You know – the avocados, the cheese, the dressings – all the things that make a salad what it is: delicious!!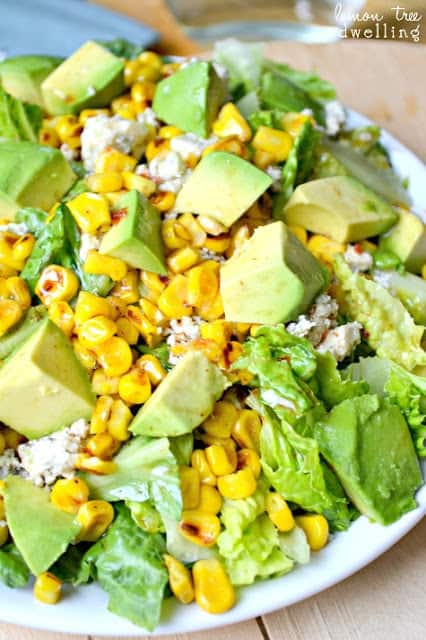 Like this Grilled Corn Salad with avocados and blue cheese – all the good stuff – on top of a bed of romaine hearts! A seriously satisfying salad. And, just for you, I decided to lighten it up with a Chili Lime Vinaigrette. Because if you want to have room for 3 desserts, you really don't need the Creamy Parmesan Peppercorn (even though it's oh-so-tempting.) Trust me. I know.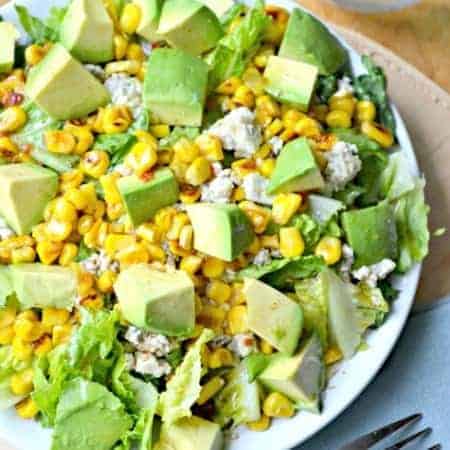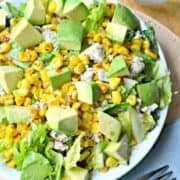 Grilled Corn Salad with Chili Lime Vinaigrette
Ingredients
Salad
1

romaine heart

torn

1/2

c.

corn kernels

grilled, roasted, or browned in a frying pan

1/2

avocado

chopped

1/4

c.

blue cheese

crumbled

chili lime vinaigrette

to taste
Chili Lime Vinaigrette
1/4

c.

olive oil

1

Tbsp.

golden balsamic vinegar

2

Tbsp.

lime juice

1

Tbsp.

honey

1

tsp.

chili garlic sauce

1/8

tsp.

chili powder

1/8

tsp.

cumin
Instructions
Layer salad ingredients; mix dressing ingredients together until well blended.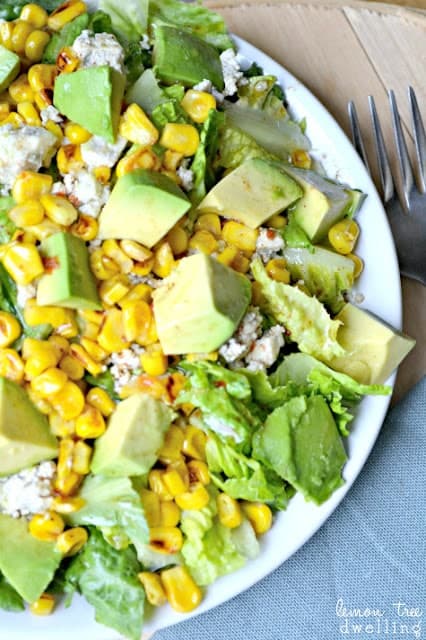 Be sure to check out my other favorite salad recipes: