These Sweet Roll Hand Pies have all the cinnamon-y goodness of your favorite breakfast food, along with a healthy dose of vanilla icing, all in one fun little hand pie! Perfect with a cup of coffee or a tall glass of milk, and easy enough to whip up any day of the week!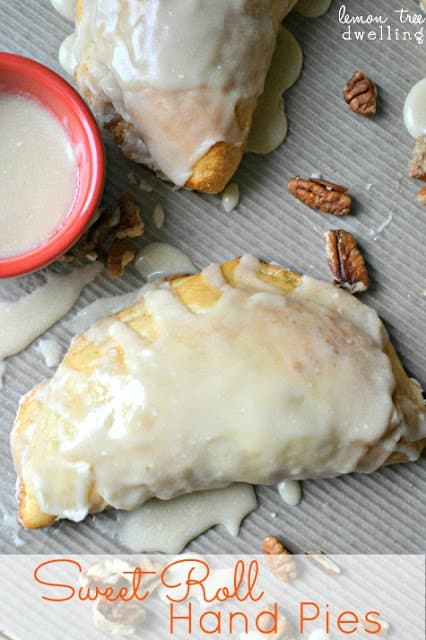 One of my favorite memories from childhood is SLEEPOVERS!! Seriously – what could be more fun for a kid than knowing that they get to be with their best friend for hours on end? That they get to stay up late, watching movies and being silly together, they get to brush their teeth together and sleep in the same room together? And then….after all that…they get to wake up and have breakfast together? What on earth could be better!?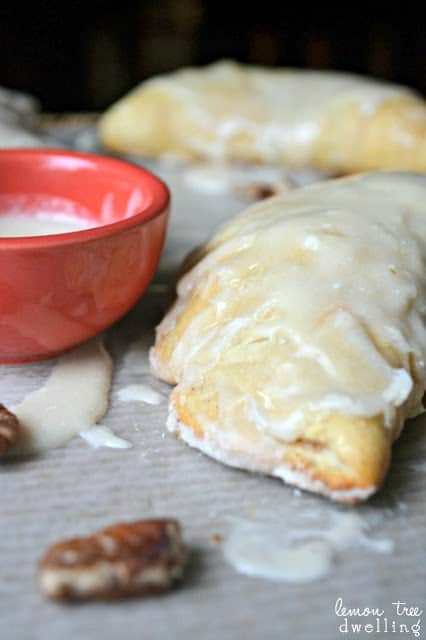 Well….if you ask my kids….NOTHING! Even though my oldest kids are just shy of 7 and 5, they are (already) officially at the age of sleepovers. To be clear, not all sleepovers (they still get nervous about going to most friends' houses), but specifically sleepovers with our next door neighbor, Taylor. Ever since the day we moved in 2 years ago, Taylor has basically been like another sister to them. She has played with them more days than not, eaten dinner with them countless times, helped them get dressed and built fairy houses with them and had lemonade stands with them and put on countless performances with them…..and……she has been one of the only friends (so far) to have sleepovers with them.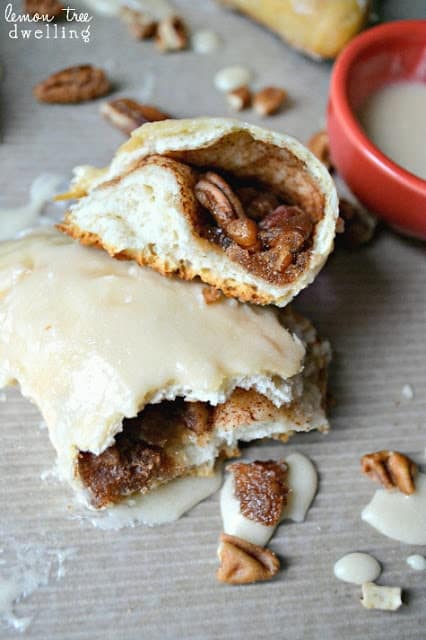 Now that summer is here, the requests for sleepovers have been plentiful (almost daily!) And, since it is summer, and summer is for having fun, I've decided that every now and then I should say yes. So the other day I did! The girls were so excited for a fun night….(especially my girls, who would do anything to spend extra time with Taylor)….and were in the process of making plans for dinner and beyond when Taylor decided that she might be too tired to spend the night. YIKES! You can imagine how well that went over….(not well at all)!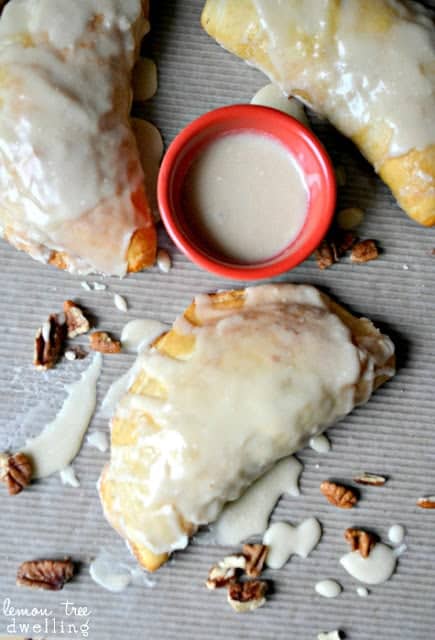 We were on the verge of total meltdown when I had the (genius) idea that Taylor could come over early in the morning for breakfast….in her pajamas….and it would be (almost) just like she had spent the night! Better yet, the girls could all help me make something yummy for breakfast! Like these Sweet Roll Hand Pies! Having a can of biscuits in the fridge has saved me more than once…..and this time was no exception. They were fun to make, easy enough for the kids to help me with, and oh so delicious to eat. Sweet Roll Hand Pies saved the day! At least this day…..(tomorrow is another story!)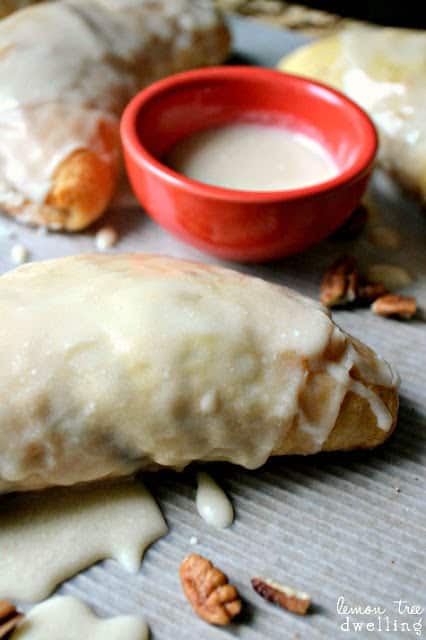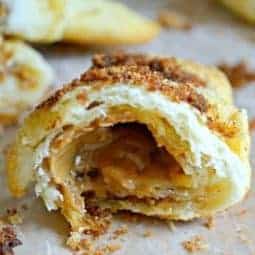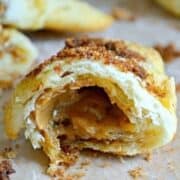 Sweet Roll Hand Pies
Ingredients
1

can Pillsbury Grands biscuits

1/2

c.

sugar

1

tsp.

cinnamon

1/2

c.

chopped pecans

1

c.

powdered sugar

2

Tbsp.

butter

softened

pinch

of salt

1

tsp.

vanilla extract

1-2

Tbsp.

milk or half & half
Instructions
Flatten biscuits onto 2 baking sheets until they are approx. 5 inches in diameter.

Mix sugar, cinnamon, and pecans in a small bowl. Divide evenly among biscuits, sprinkling mixture over half of each flattened biscuit.

Fold biscuits in half and pinch edges to seal.

Bake according to package instructions, until golden brown.

In a separate bowl, combine powdered sugar, butter, vanilla, and milk. Stir until smooth.

Drizzle hand pies generously with icing while warm.

*Filling & Icing recipes adapted from An Occasion to Gather
Be sure to check out some of my other favorite breakfast recipes!