Chocolate popcorn loaded with chocolate chips, mini marshmallows, graham cracker pieces, and graham cracker crumbs. A s'mores treat you can eat by the handful!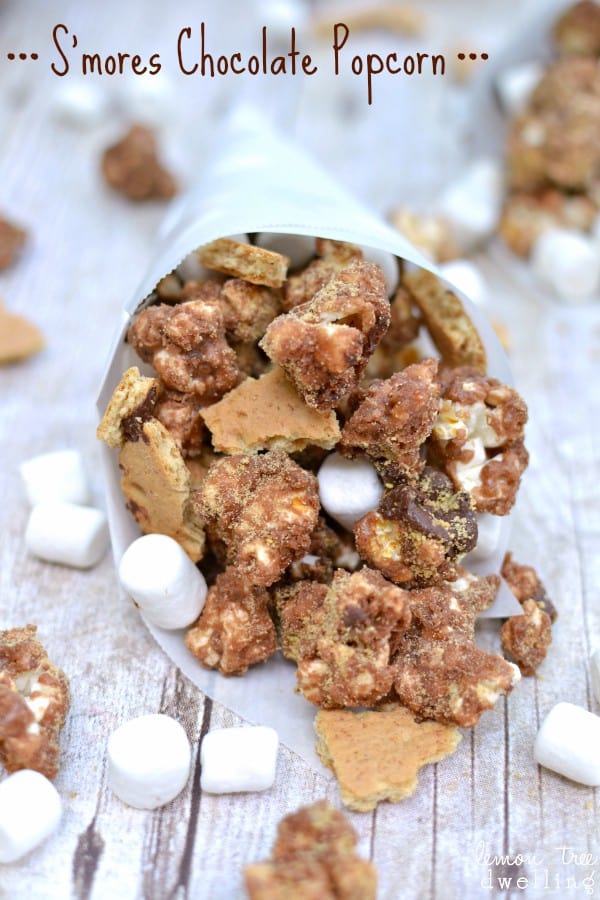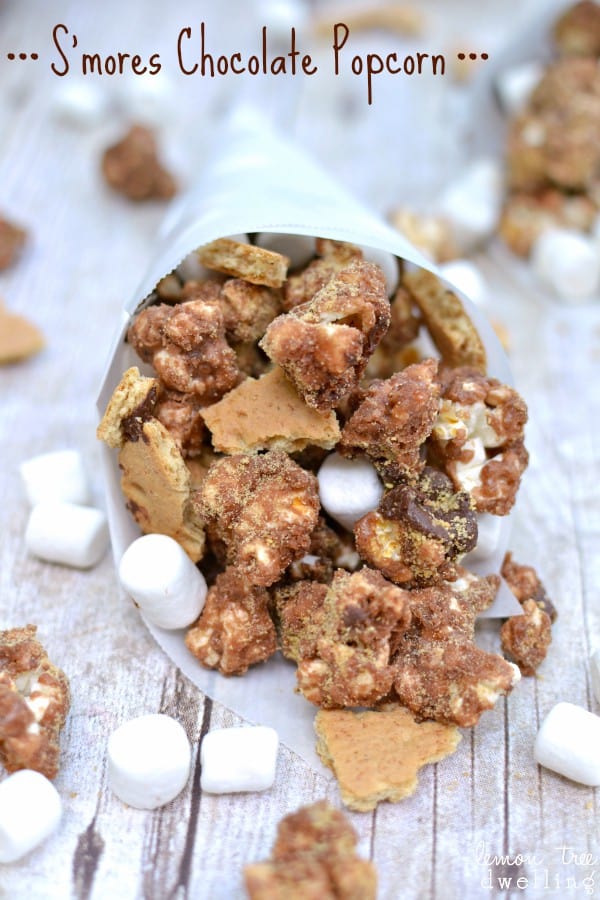 Back when I was a kid, the county my dad worked for used to have an awesome summer picnic for all the employees and their families. And when I say picnic, I mean it was WAY more than a picnic! There were clowns and face painting and games and prizes and, in the later years, even a bounce house! It was really more of a carnival than a picnic. And, like every good carnival, there was plenty of food!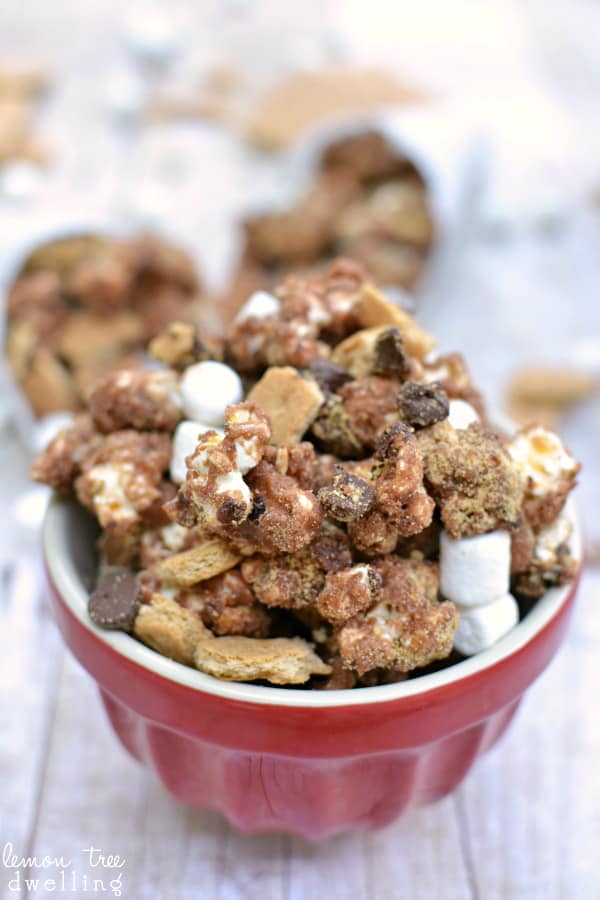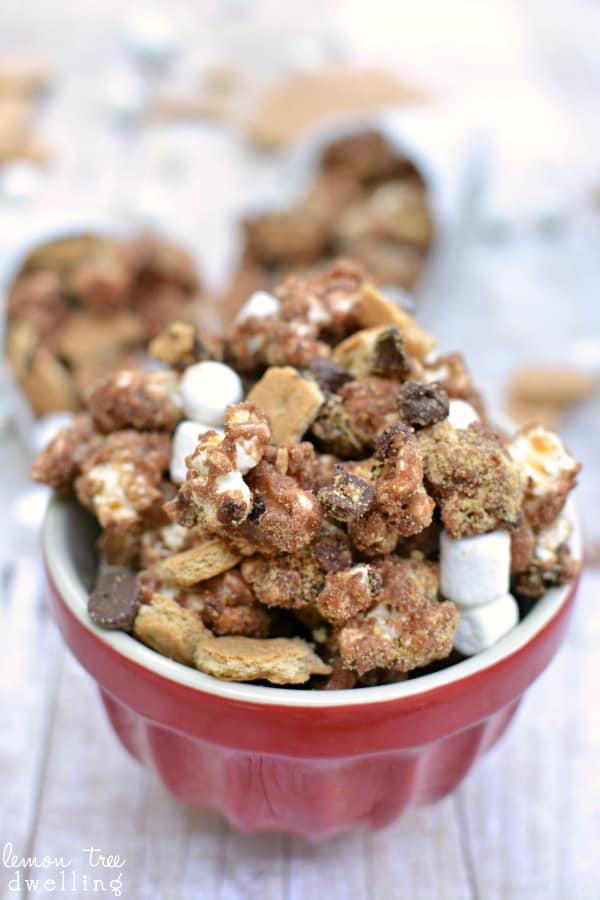 There were hamburgers and hot dogs and brats and chips. There was potato salad and cole slaw and fresh, juicy corn on the cob. And there was all the soda you could drink….which, to a kid, was like a dream come true! But when it comes to food, nothing compared to the food truck.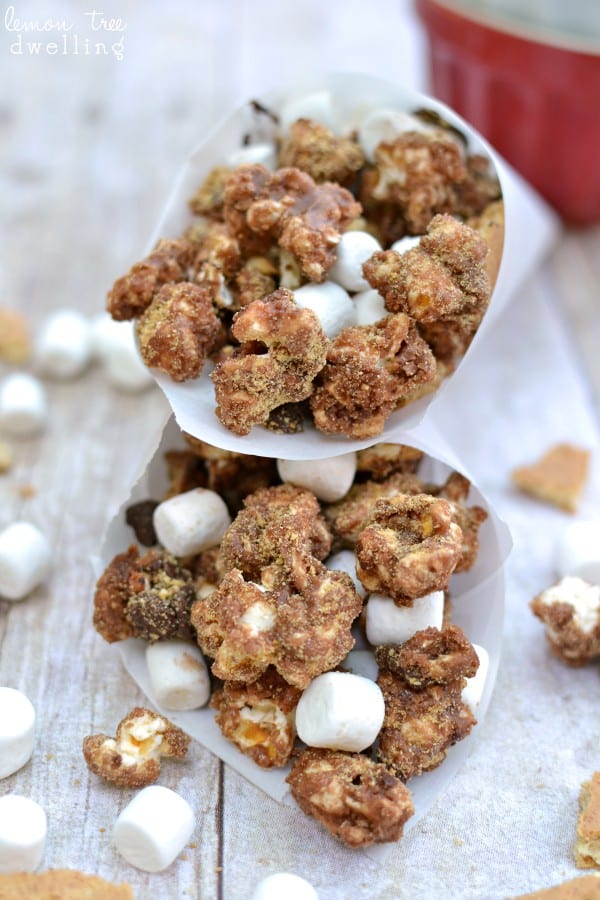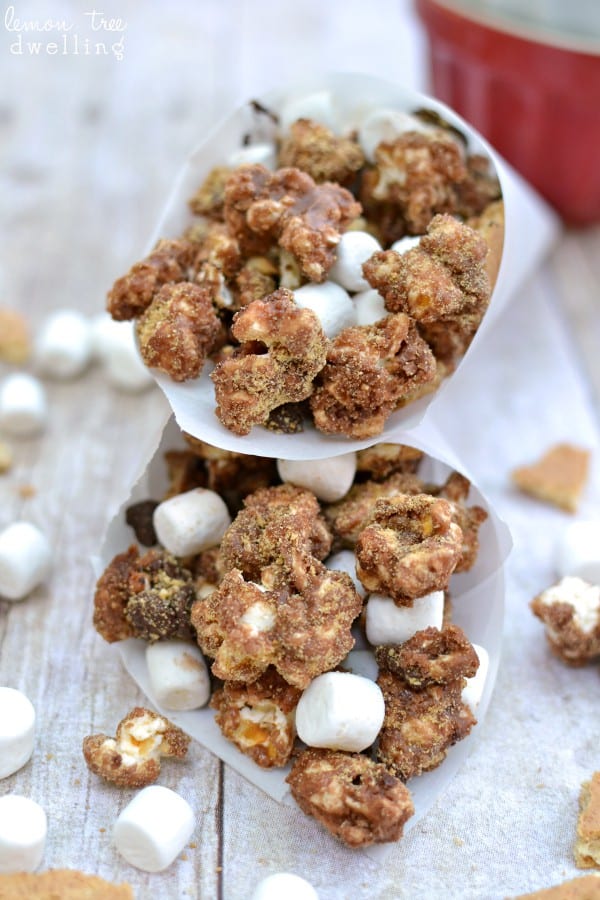 That's right – a food truck! Just like you'd find at a real carnival! Every person was given 2 food tickets at the beginning of the day, and we could use them on whatever we wanted. Licorice ropes, Sno Cones, ice cream, cotton candy, popcorn, you name it! And when I say it was like a dream come true, this was like the part of the dream where money starts raining down from the sky! We felt like we had hit the jackpot!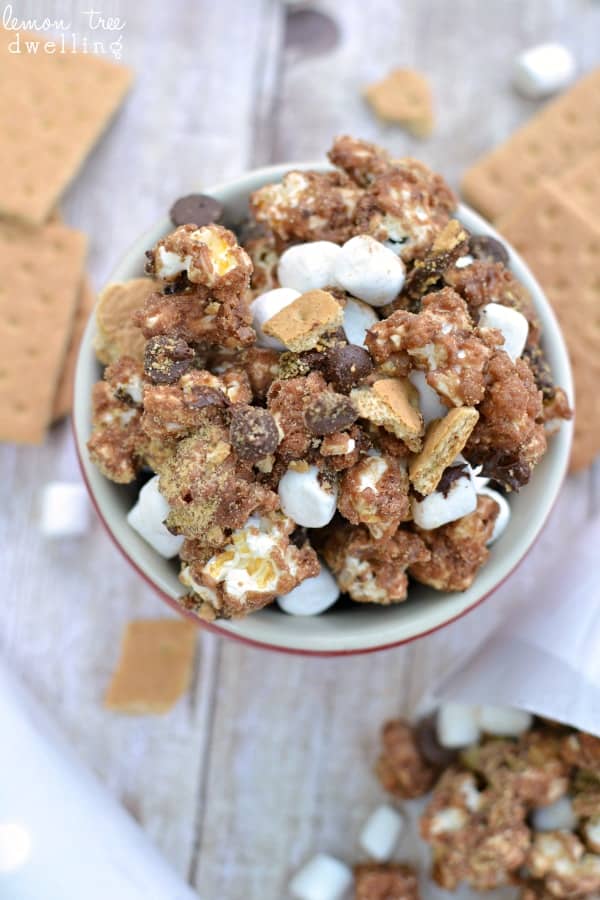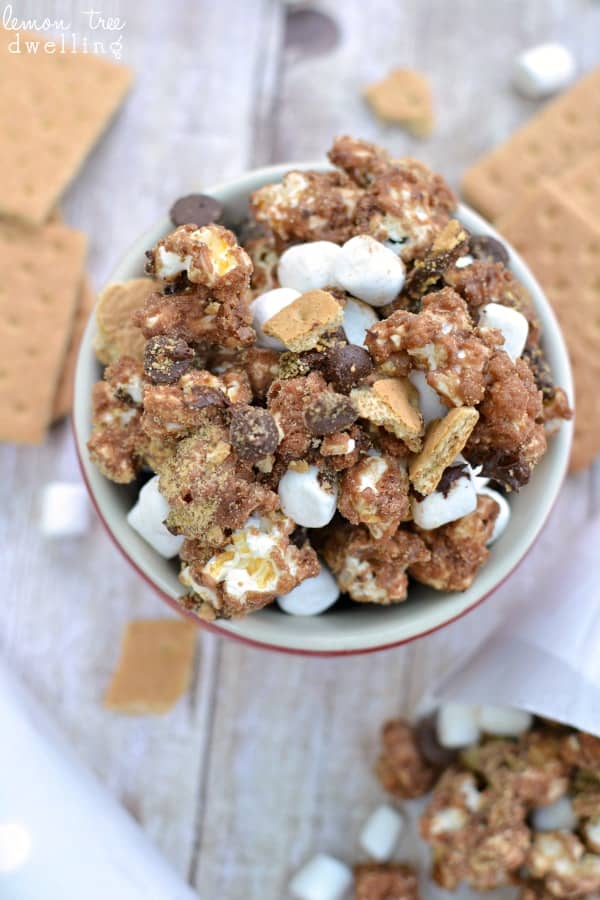 It's funny how certain things are forever ingrained in your memory….and for me, the county picnic is one of them! It's been a LONG time since I've been to it, and since my dad retired a few years ago, I'm pretty sure it's something I'll never get to experience again. But in honor of the picnic (carnival) and all the fun memories it holds, I decided to make some fancy popcorn. The kind you might find at a carnival today! The kind that makes you feel like you definitely won the jackpot. And the kind that would surely become ingrained in your memory.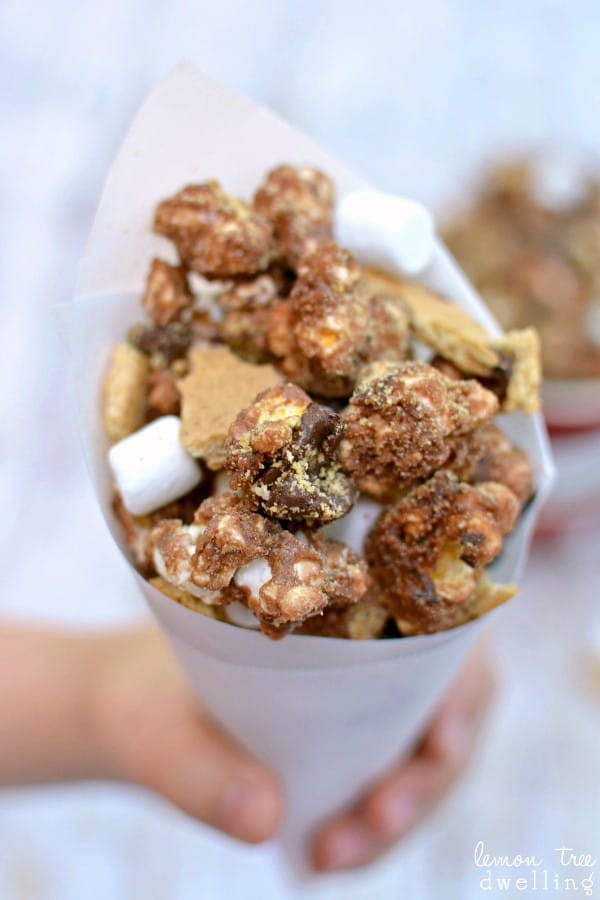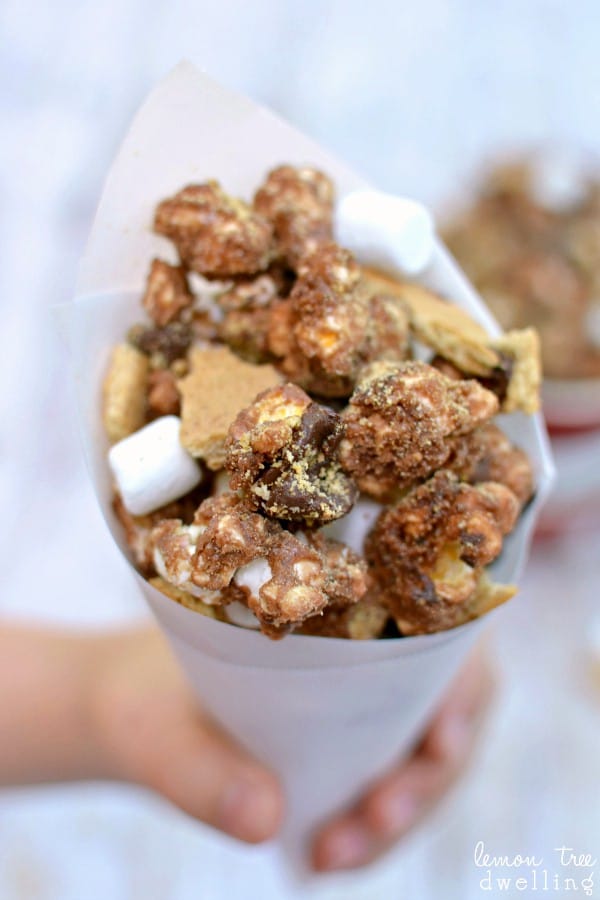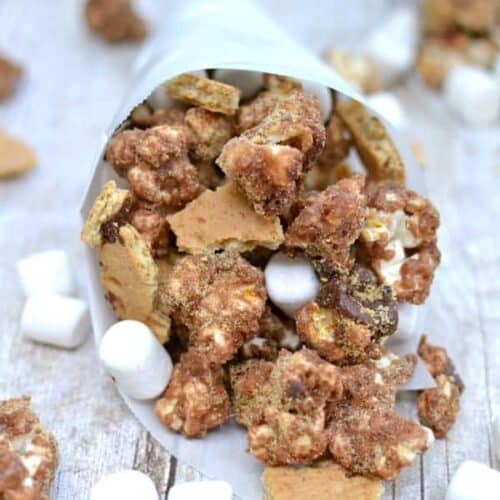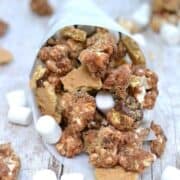 S'mores Chocolate Popcorn
Ingredients
10

c

popped popcorn

1 1/2

c.

granulated sugar

1 1/2

sticks salted butter

6

Tbsp.

light corn syrup

1/4

c.

cocoa powder

1/2

tsp.

baking powder

2

c.

mini marshmallows

1

c.

chocolate chips

1

c.

graham cracker pieces

1/2

c.

graham cracker crumbs
Instructions
Spread popcorn on large rimmed baking sheet.

In a medium saucepan, combine butter, sugar, and corn syrup.

Bring to a boil, stirring constantly, and boil moderately for 4 1/2 minutes without stirring.

Remove from heat and stir in cocoa powder and baking powder.

Pour over popcorn and stir to coat.

Bake popcorn at 300 degrees for 15 minutes.

Remove from oven, stir, and bake 5 minutes more.

Cool 5-10 minutes, then add marshmallows, chocolate chips, graham cracker pieces, and graham cracker crumbs.

Store in an airtight container at room temperature.