A classic BLT topped with pesto mayo and a fried egg. Delicious for breakfast, lunch, or dinner!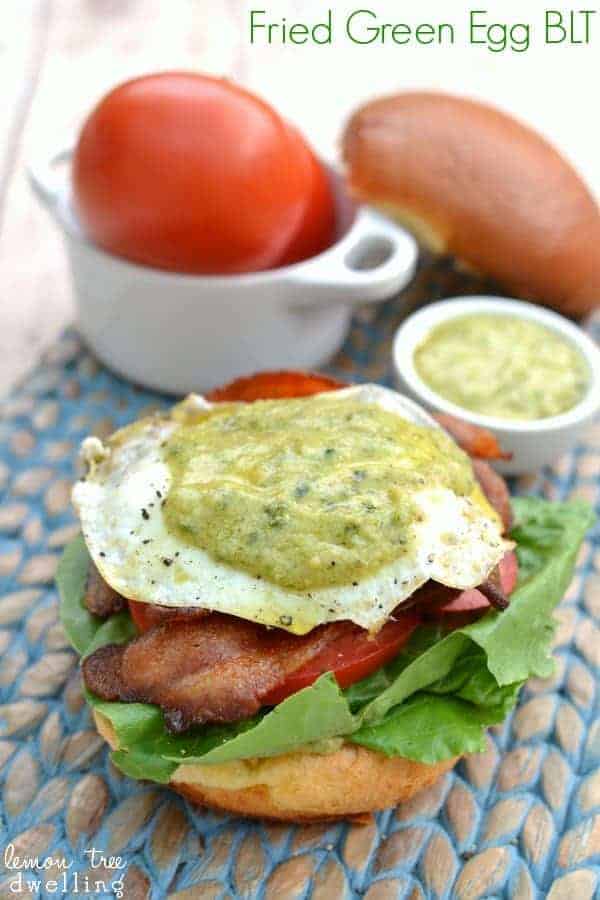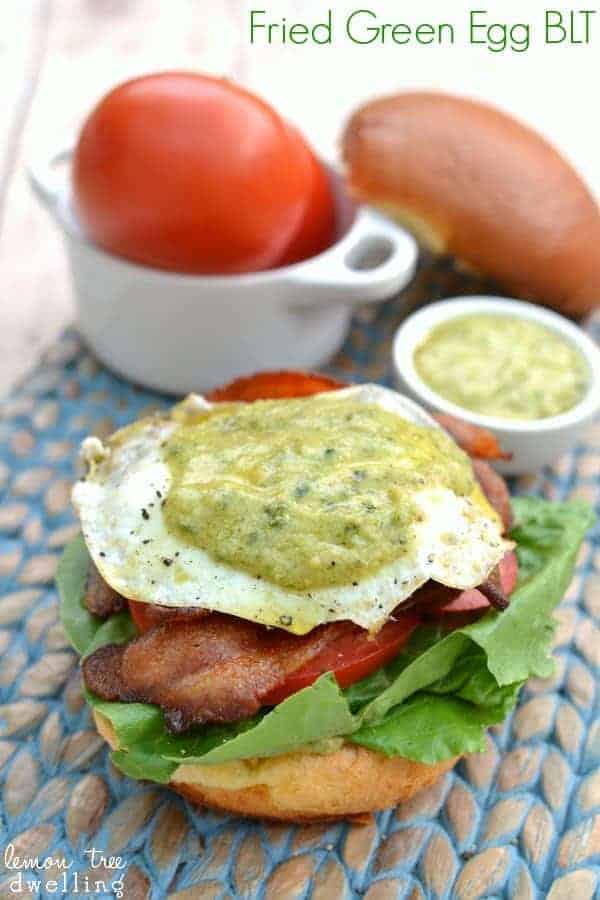 Happy Monday, everyone! How was your weekend? Here at our Lemon Tree Dwelling things were BUSY! Not only did we have a good friend visiting from Chicago….which meant a Friday night out for me and some friends…..but it was Jorden's birthday weekend! Which meant a date night out for the two of us, golfing and brunch for Jorden and the brothers-in-law, and dinner at his parents' on Sunday. Definitely busy…..but so much fun!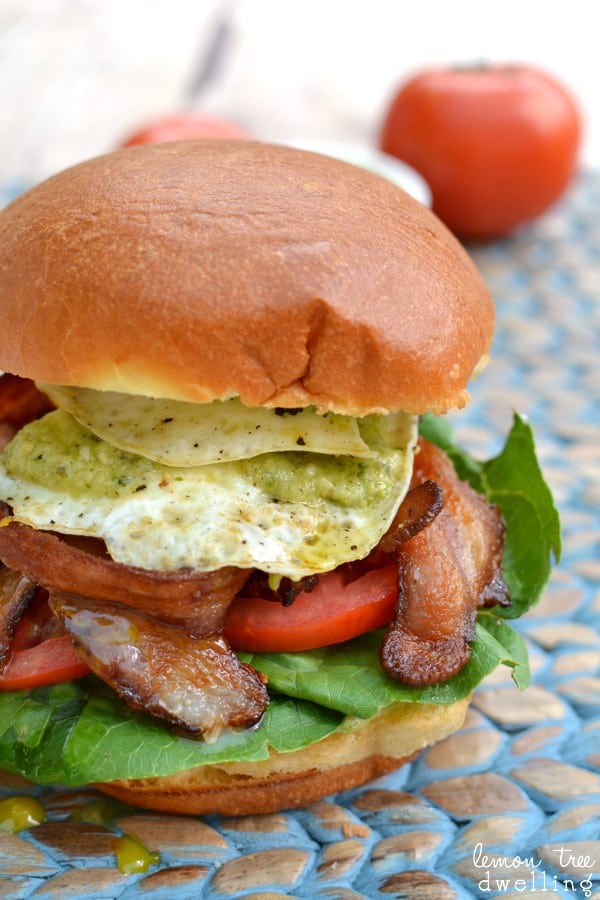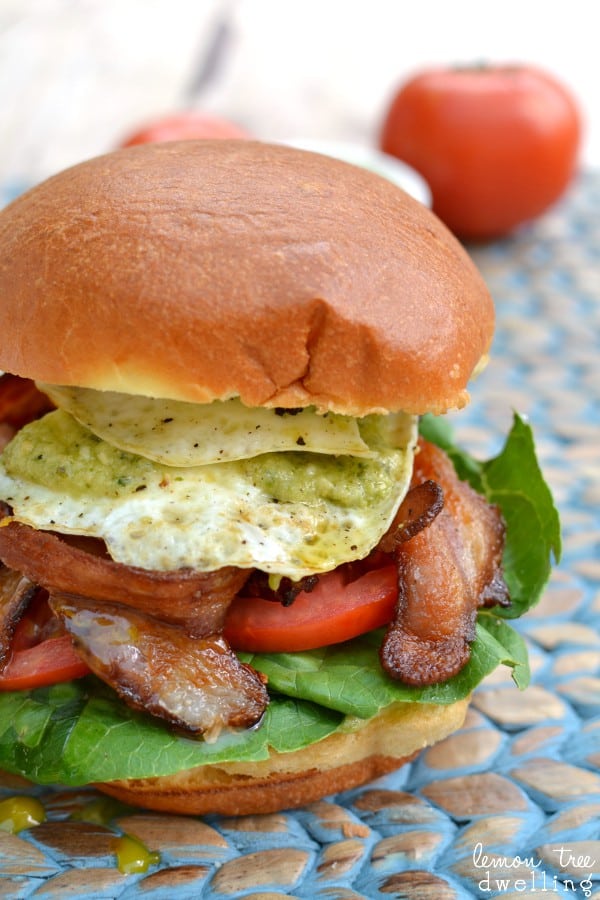 As we tend to do with birthday celebrations around here…..we definitely ate our way through the weekend. Italian on Friday night, homemade egg sandwiches Saturday morning, tapas Saturday night, a birthday breakfast burrito Sunday morning, Thai for Sunday dinner……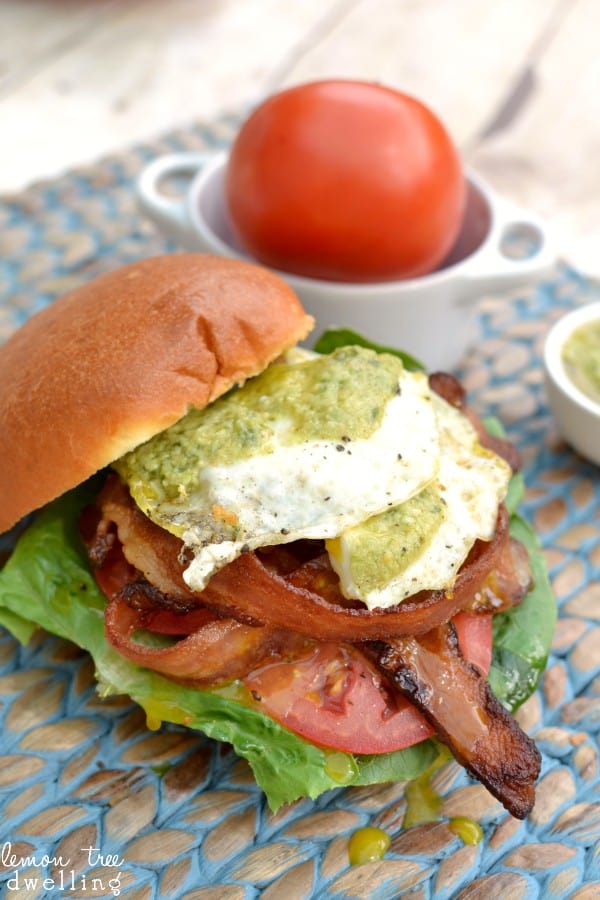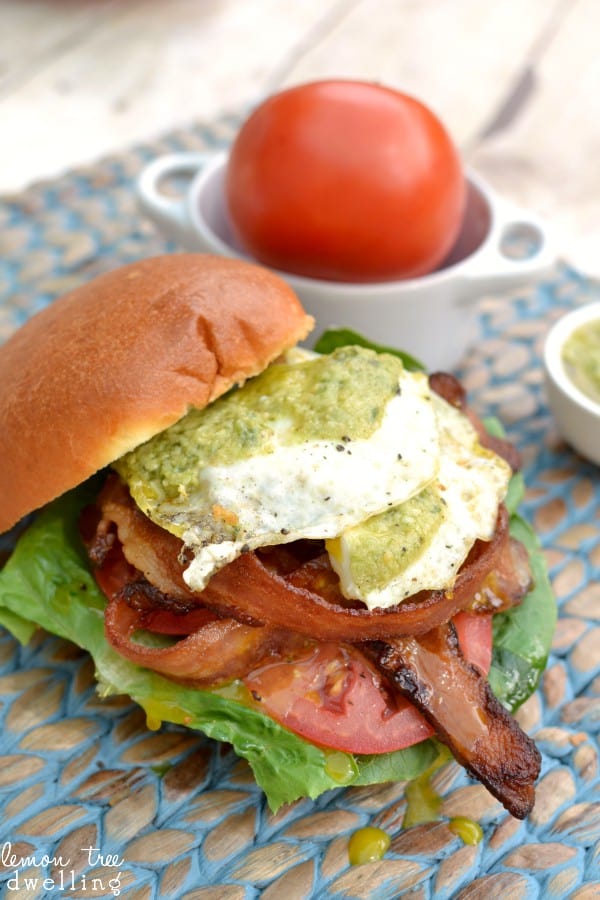 All in all, a success! To be honest, I hardly had the chance to feel hungry between all the deliciousness…..and the last thing I was thinking about was any type of snack between meals! But guys are different, and their hunger levels are different. And, after all, it was HIS birthday weekend…..! So it didn't surprise me when Jorden saw this bad boy BLT in the fridge and asked about it. Despite the fact that he had just downed pizza and cheese bread.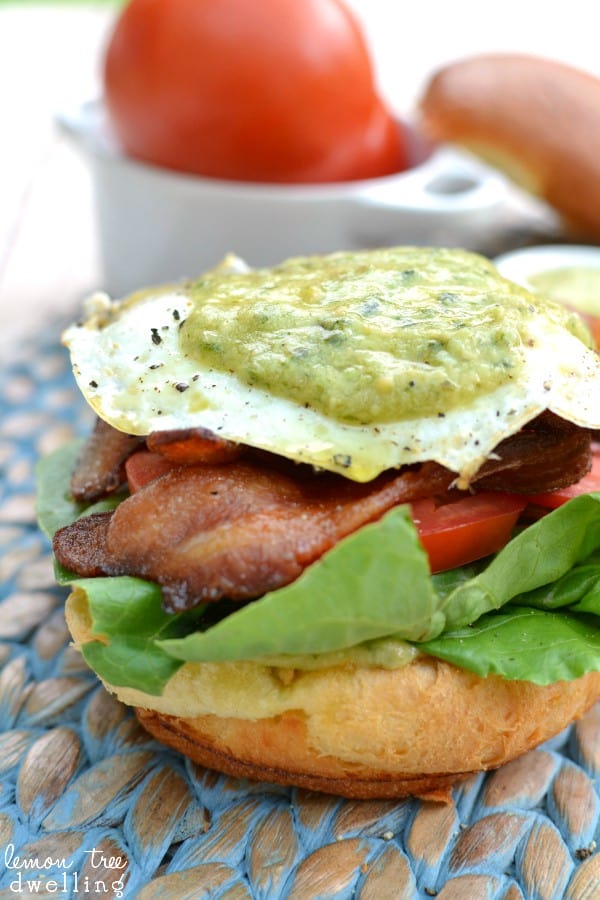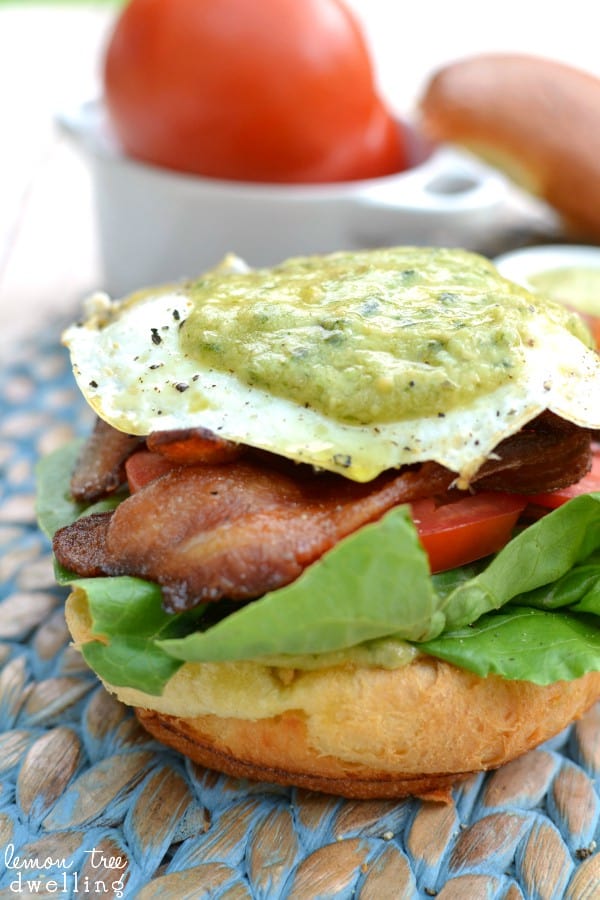 To be fair, he didn't end up eating it. Instead, I made us egg sandwiches for breakfast on Saturday. And although the rest of the weekend was spent devouring delicious food, something tells me a Fried Green Egg BLT is all he really would have needed to feel happy, content, and celebrated. Because guys are like that. Which is one of the reasons we love them so much! It doesn't take much to make them happy….especially when bacon and eggs are involved.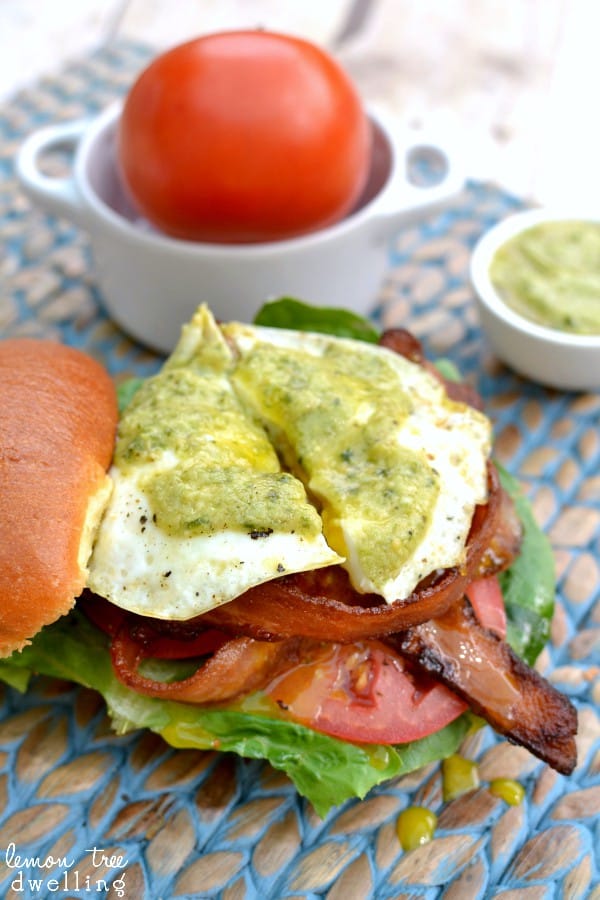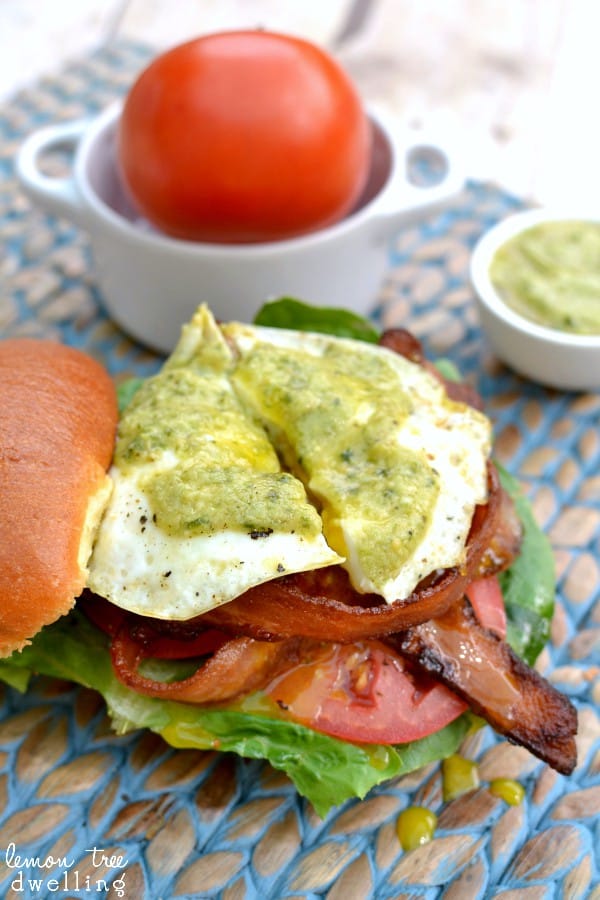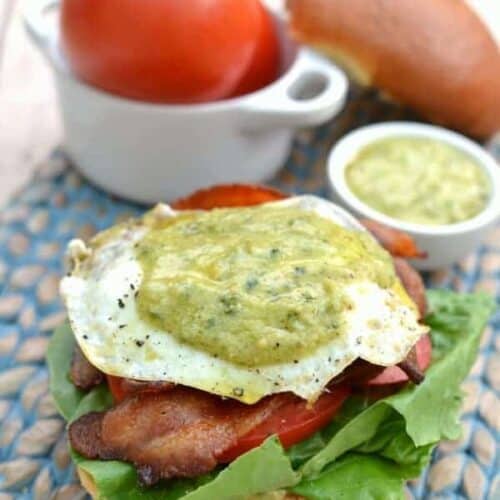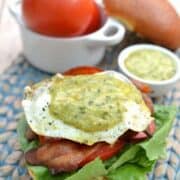 Fried Green Egg BLT
Ingredients
1

sandwich roll

2

large romaine lettuce leaves

3

slices

tomato

4

pcs. cooked bacon

1

egg

cooked over easy, seasoned with salt and pepper

pesto mayo

to taste (2 parts mayo to 1 part pesto)
Instructions
Spread pesto mayo on bottom half of sandwich roll.

Assemble BLT.

Top with fried egg and additional pesto mayo.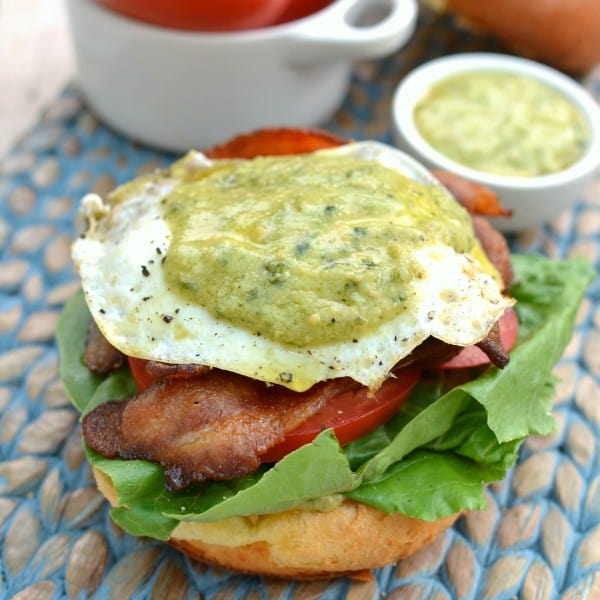 Looking for more delicious sandwich ideas?