Monkey Bread is a perfect breakfast edition for Christmas morning. My eggnog monkey bread is nutmeg-spiced with a rich and creamy eggnog drizzle and is delicious while you are opening your gifts!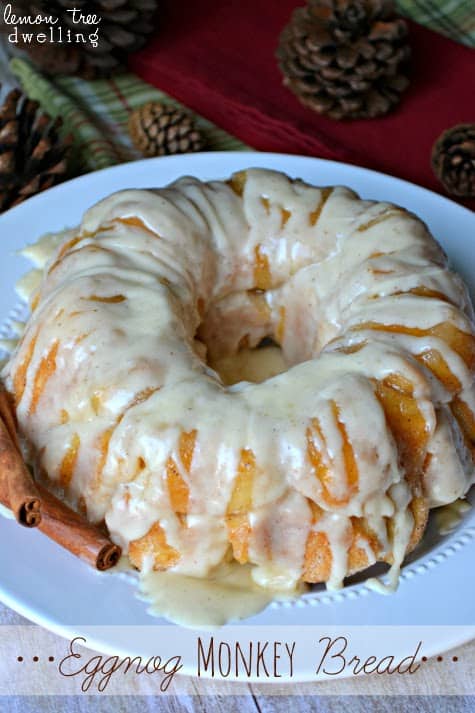 I don't know about you….but for me, eggnog is an essential part of the Christmas season. I love having a glass while I'm decorating the tree….or making cookies….or watching Christmas movies. And usually one glass turns into more than one, because I keep going back for little sips and half-pours until I've definitely had two full glasses. Or maybe (definitely) more. It's just so good! And creamy! And addictive! So when we put our tree up this past weekend, I knew that some eggnog would be in order. And along with eggnog, I knew that some eggnog treats would be in order. After all, what's Christmas without eggnog??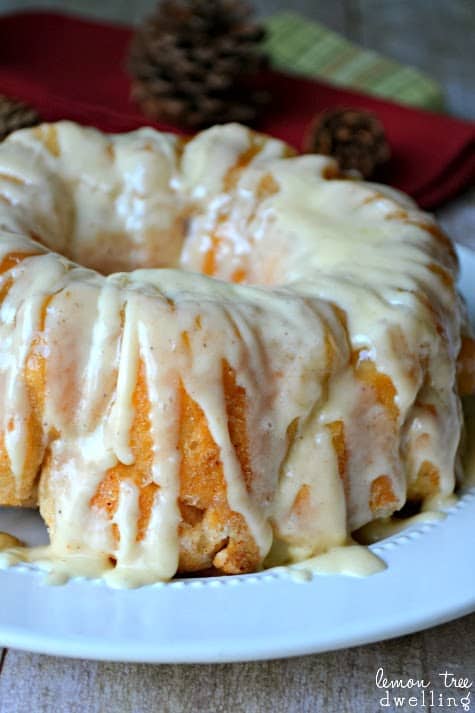 So last night, after dinner (Rocky Rococo's pizza – yummm), the kids finished pulling every last ornament out of its box and we hooked and hung them. And finished nearly all of them! Which is no small feat when you have as many ornaments as we do….! We turned on Christmas music and Christmas lights and I poured myself a glass of…..nope, I didn't. No eggnog for me! Because the truth is I had eaten so many eggnog treats throughout the day that I just didn't have it in me last night.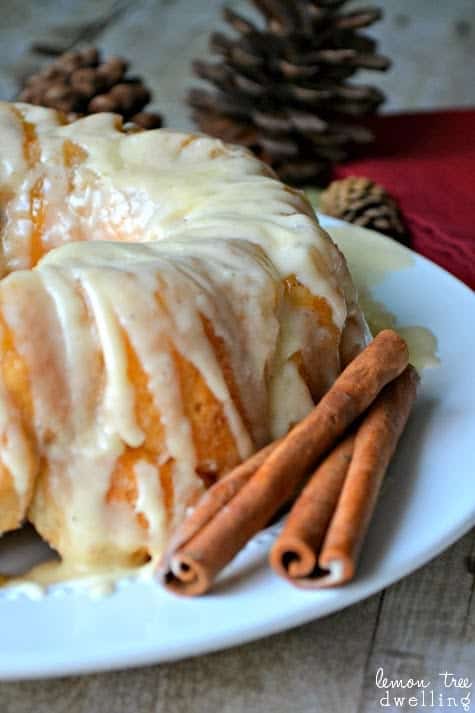 I'm tempted to be sad…..until I remember how AMAZING the treats tasted! Just like real eggnog! So even though I didn't have a glass of eggnog last night, I definitely had eggnog in monkey bread form earlier in the day. It's amazing how combining a few of the right ingredients can transform something delicious (monkey bread) into something INCREDIBLE…..like this Eggnog Monkey Bread! It will HAVE to happen for Christmas breakfast this year, maybe with a glass of eggnog on the side. 🙂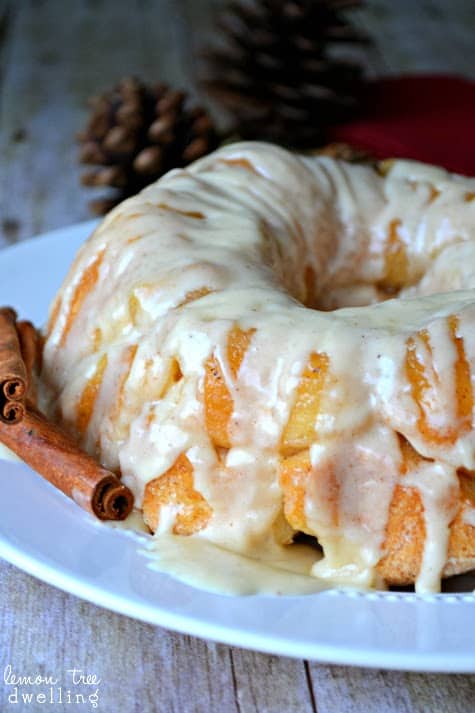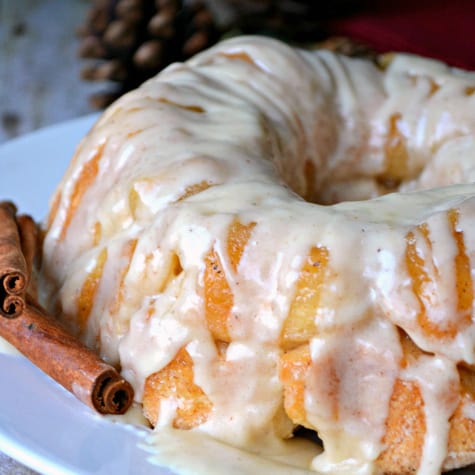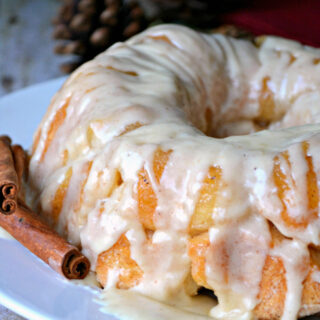 Eggnog Monkey Bread
Ingredients
Monkey Bread
1 can (16.3 oz.) Pillsbury Grands Homestyle Biscuits
3/4 cup sugar
1/2 teaspoon nutmeg
6 Tablespoons butter, melted
Eggnog Drizzle
1 cup powdered sugar
1 Tablespoon butter, softened
1/2 teaspoon rum extract
3 Tablespoons eggnog
1/8 teaspoon nutmeg
Instructions
Mix 1/4 cup sugar and 1/2 teaspoon nutmeg.
Separate biscuits, cut into fourths and place in a large food storage bag.
Add sugar mixture to biscuits; shake well to coat.
Transfer biscuits to a greased 6 cup bundt pan (double recipe for a 12 cup pan).
Mix melted butter and 1/2 cup sugar; pour over biscuits in pan.
Bake at 350 degrees for 28 minutes or until golden brown.
Cool in pan 10 minutes; tip upside down onto a serving plate and top with eggnog glaze.
For the glaze: mix all ingredients; add eggnog until you reach desired consistency. Drizzle over monkey bread.
Nutrition Information:
Yield:

12
Serving Size:

1
Amount Per Serving:
Calories:

180
Total Fat:

8g
Saturated Fat:

5g
Trans Fat:

0g
Unsaturated Fat:

3g
Cholesterol:

20mg
Sodium:

132mg
Carbohydrates:

27g
Fiber:

0g
Sugar:

22g
Protein:

1g