These Easter Cinnamon Rolls are the PERFECT breakfast for Easter morning! They start with refrigerated cinnamon rolls, topped with the best cream cheese frosting, chocolate coconut, and Jordan almonds for a super cute, sweet breakfast treat!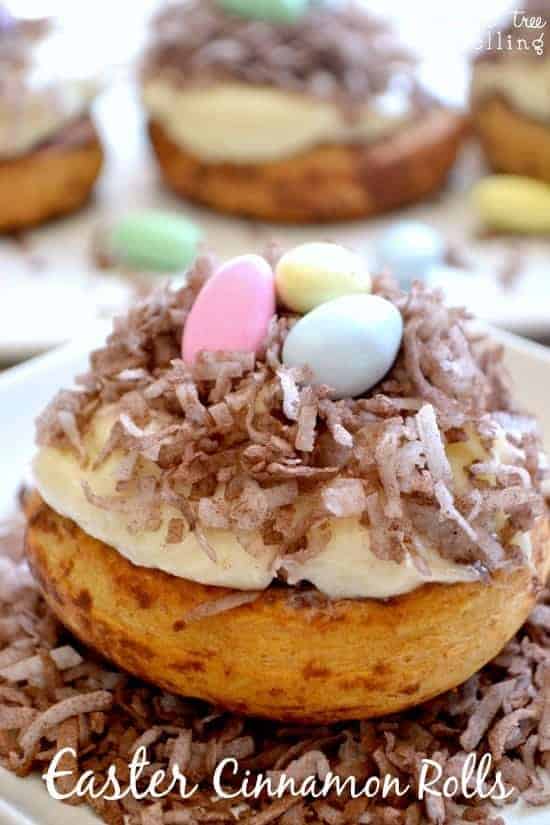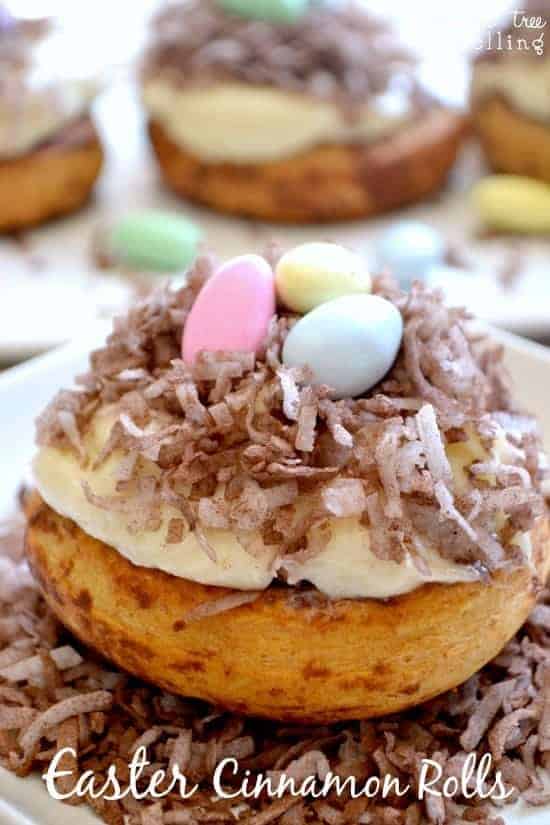 As a kid, I'm pretty sure I never realized just how many holidays there really are! I remember focusing on just three: Halloween, Christmas, and Easter. Probably the three where I was most likely to get candy or treats, right?? Or, even better, presents! But now that I'm an adult, with kids of my own, I feel like there's almost never a time when we're not getting ready for or celebrating a holiday. Between Halloween, Christmas, Easter, Thanksgiving, New Year's Eve, Valentine's Day, St. Patrick's Day, Mother's Day, Father's Day, 4th of July…..our holiday calendar is jam packed!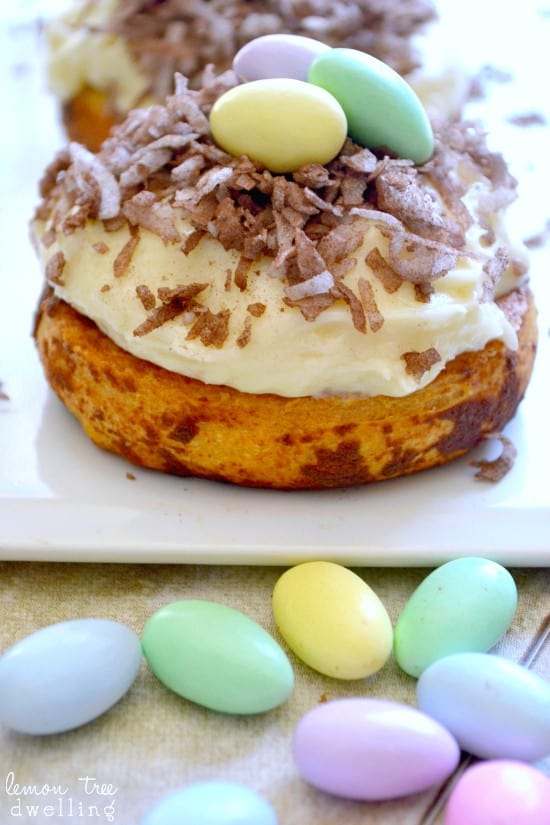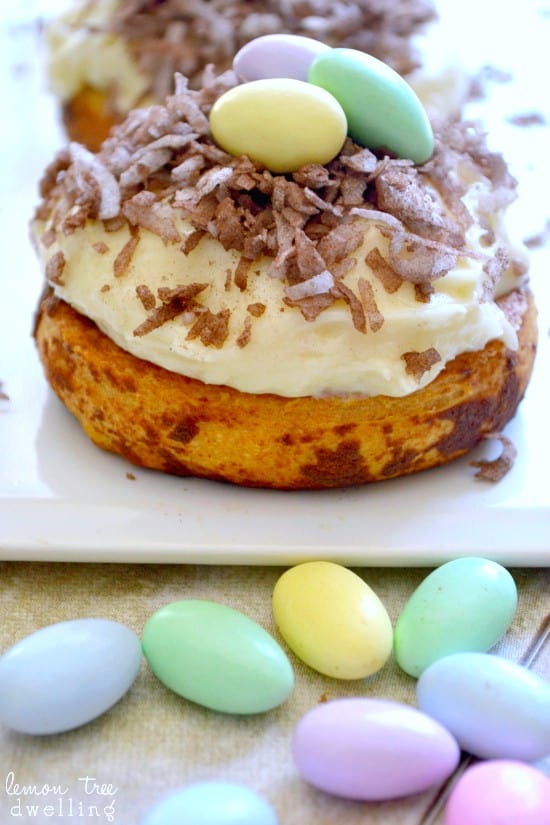 And, if you ask me, it's FUN! I love the fact that we find ways and reasons to celebrate all year round….because, let's face it, life can get boring! Especially for those of us who live in places where it's freezing cold for 5 months out of the year and going outside is completely out of the question. We need things to get excited about, and holidays are just that. I love to do them up with decorations and crafts and little presents and treats…..and I especially love to get the kids excited about them, too!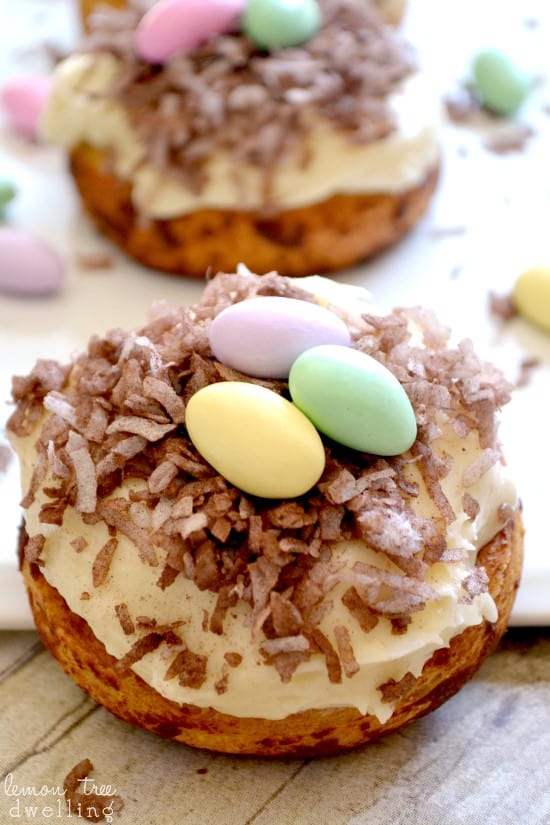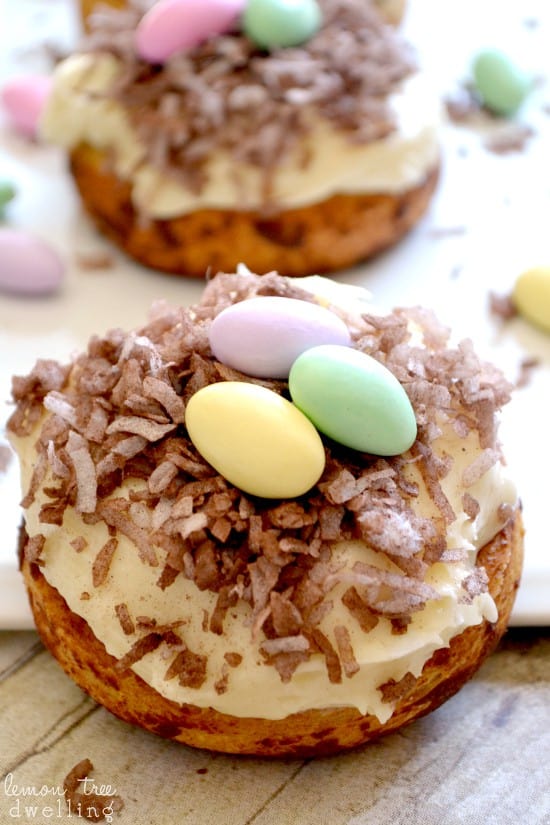 BUT. As fun as holidays are, they can also be exhausting! As much as I enjoy putting up decorations and making little projects with the girls and baking treats to give to family, neighbors, and friends….I love it just as much (even more?) when the holiday is done and over with. Is that terrible to say?? It actually makes me wonder if we need to simplify. If maybe, just maybe, we are doing TOO much!?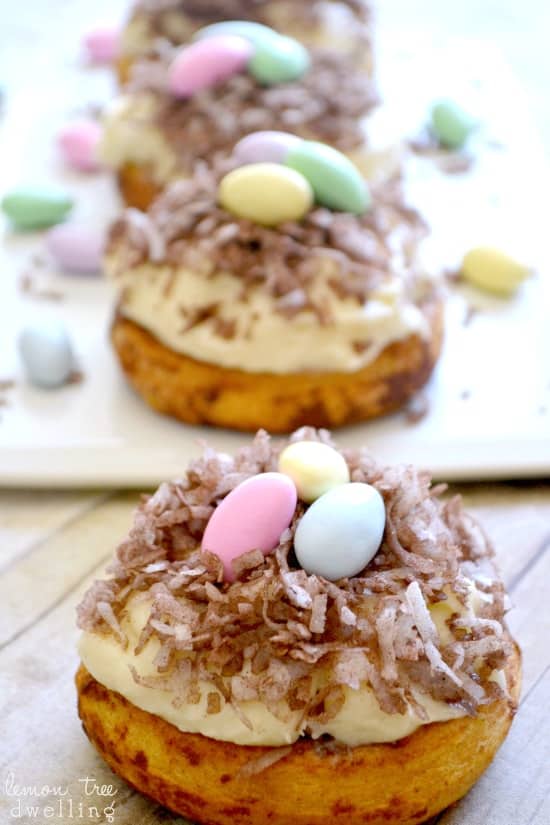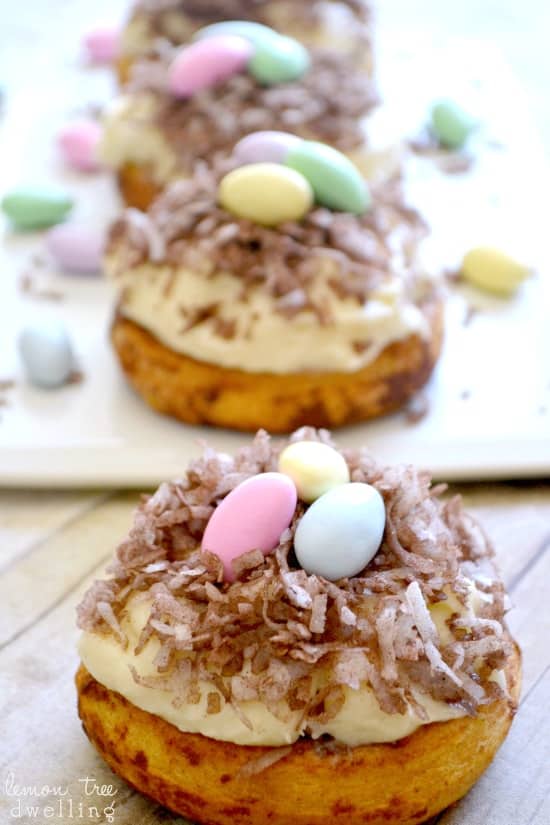 Knowing myself, I probably wouldn't be able to simplify very much….there are always too many things I want to try! But that doesn't mean I couldn't make things easier on myself….and these Easter Cinnamon Rolls are a perfect example. Sure, I could have made homemade cinnamon rolls, but who has time for that?? Refrigerated cinnamon rolls are just as delicious, especially when they're topped with homemade cream cheese frosting! (Let's face it – the frosting is the best part, anyway!!) Add some cocoa-dusted coconut and crunchy Jordan almonds, and you have a cinnamon roll that is perfect for Easter….(and won't make you excited for Easter to be over!)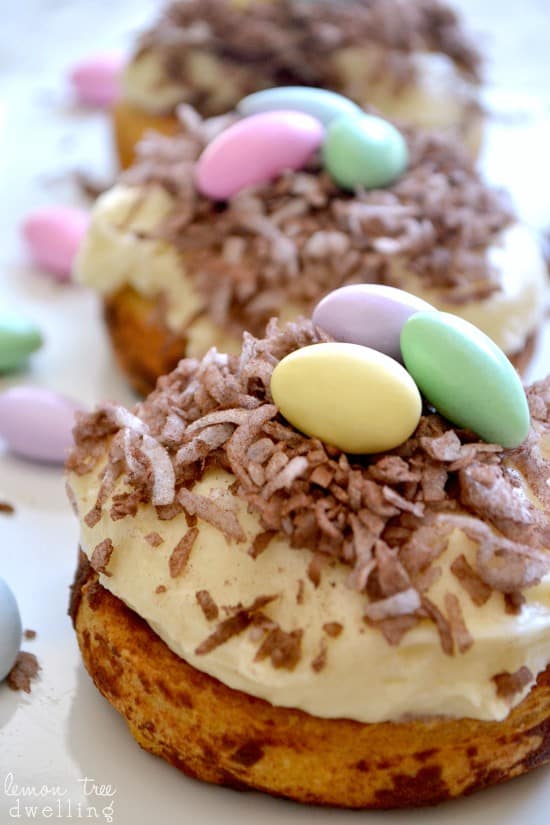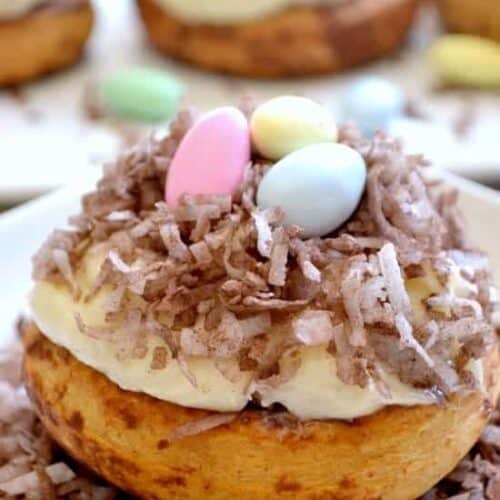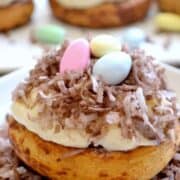 Easter Cinnamon Rolls
Ingredients
1

package refrigerated cinnamon rolls

6

oz.

cream cheese

softened

1

stick unsalted butter

softened

1

tsp.

vanilla extract

2

c.

powdered sugar

1/2

c.

sweetened shredded coconut

1/2

tsp.

cocoa powder

Jordan almonds

3 per roll
Instructions
Icing
Combine cream cheese, butter, and vanilla extract in a large mixing bowl. Mix on low speed 1 minute.

Add powdered sugar and beat on medium speed 2 minutes.
Cinnamon Rolls
Bake cinnamon rolls according to package instructions.

While warm, top with a generous amount of cream cheese icing.

Stir cocoa powder into shredded coconut and divide mixture evenly among rolls.

Top each with 3 Jordan almonds.