Creamy risotto with shitake and cremini mushrooms, Vidalia onions, Fontina cheese, and dried sage…..a huge explosion of flavor, and ready in just 30 minutes!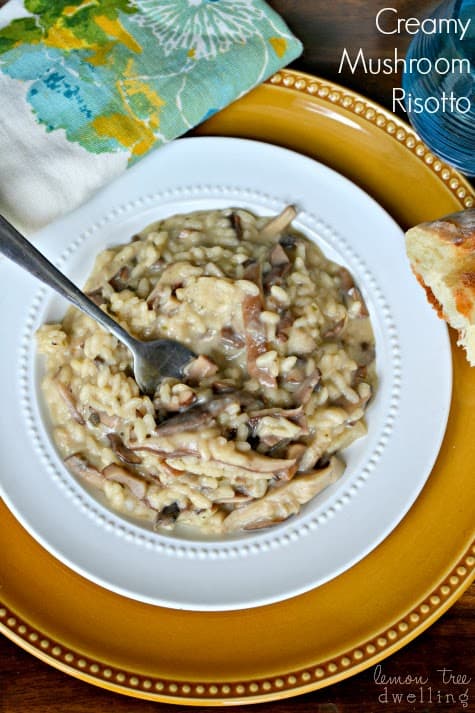 Have you ever been to one of those restaurants where everything you taste is over the top incredible? Where one dish is better than the next…and there's nothing you wouldn't order over and over again? They're not easy to find, but when you find one, you know it. And it's the ONLY place you want to go…especially when you're going out to celebrate! Well…this past weekend was my birthday weekend, and we went to our favorite restaurant ever. It's a tapas place called La Merenda…..and it's to die for.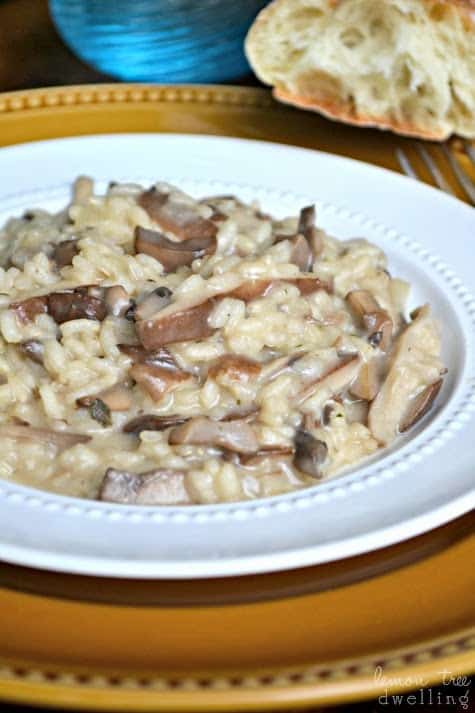 At this point in the game, we definitely have the typical things we order. The La Merenda salad, the goat cheese curds, the truffled potato skins, the butter chicken, the butternut squash ravioli, the mushroom soft tacos….I can't do the food justice in words, but what I can say is that every dish is distinct and flavor-filled. And every flavor is delicious! They use seasonal vegetables, cheeses, nuts, and herbs & seasonings to make every dish memorable and absolutely fabulous. I can't get enough of it!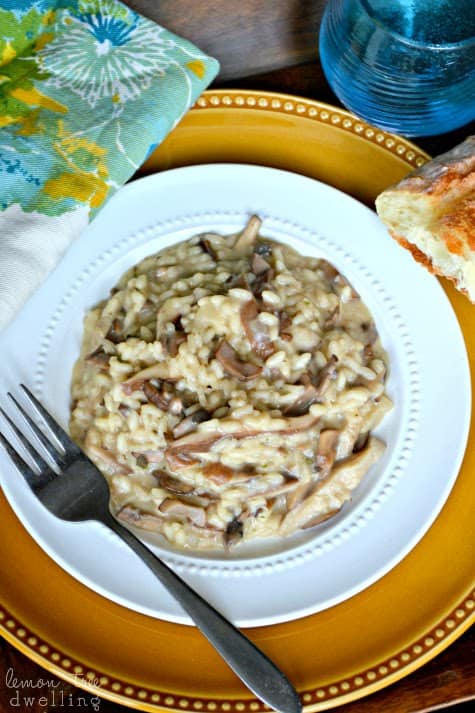 I'd like to say that the dinners I make for my family are always equally flavor-filled and delicious….that no one (including myself) can get enough of them! Unfortunately, that just wouldn't be true. I have hits and I have misses, just like everyone else. But every now and then, I come up with a new favorite….a recipe that rivals La Merenda's menu. And this Creamy Mushroom Risotto is one of them. It's packed with flavor and texture and aroma, and it's one of those things I just can't seem to get enough of. So for all the times when La Merenda just isn't an option, I can make this. And feel (almost) like I'm actually there.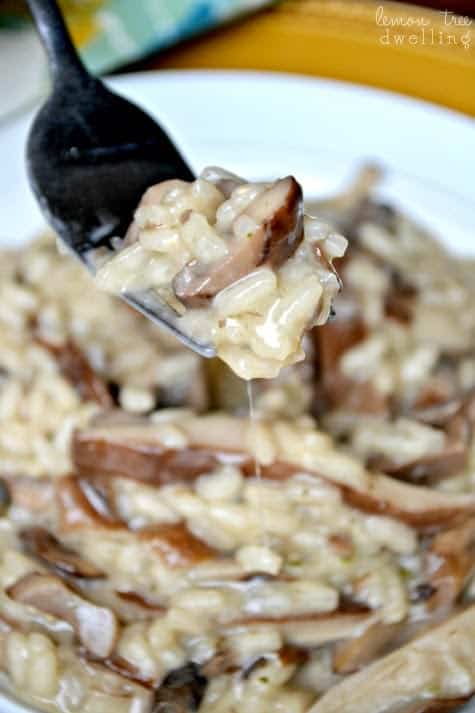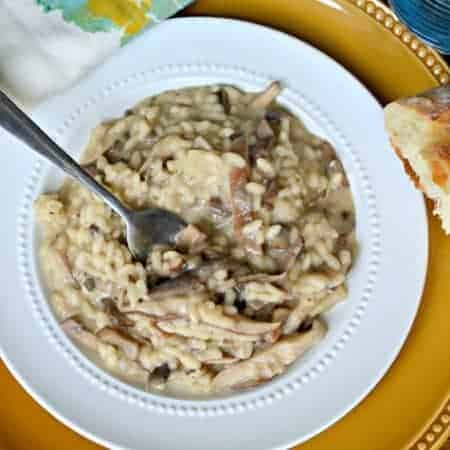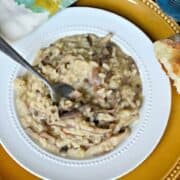 Creamy Mushroom Risotto
Ingredients
8

oz.

cremini mushrooms

chopped

4

oz.

shitake mushrooms

chopped

1

small Vidalia onion

chopped

2

minced garlic cloves

1

Tbsp.

olive oil

1

c.

arborio rice

1/2

c.

dry white wine

4

c.

chicken broth

1

c.

shredded Fontina cheese

1

tsp.

dry sage

1/4

tsp.

truffle oil

optional
Instructions
Heat 1 Tbsp. olive oil in a large stock pot. Stir in mushrooms, onion, and garlic and cook over medium heat 3 minutes or until mushrooms are tender.

Add arborio rice and cook 1 minute, stirring constantly.

Add wine and cook, stirring, until wine is absorbed.

Add 2 c. chicken broth and cook, stirring, until liquid is incorporated and no more liquid remains in pot.

Continue adding chicken broth, 1/2 c. at a time, stirring after each addition until no liquid remains.

Once all liquid has been added and incorporated, remove risotto from heat. Stir in sage, Fontina cheese, and truffle oil (optional).

Serve hot with bread, salad, or on its own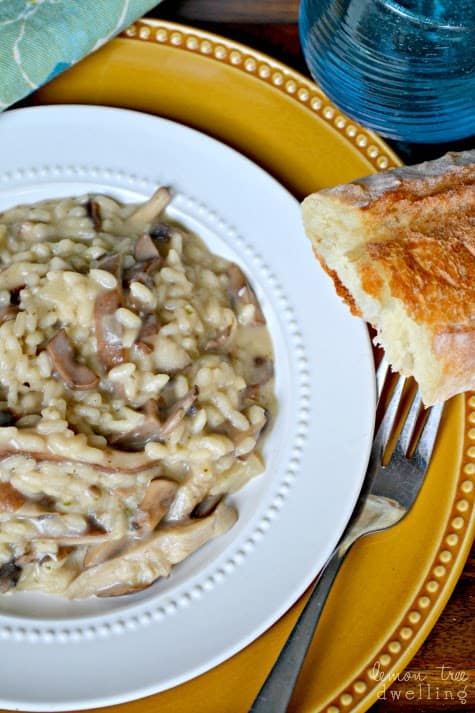 Looking for more flavor-packed dinner recipes? You'll love these ones!