Cranberry Walnut Knots made with Rhodes Dinner Rolls are easy to make and are sure to please everyone. These delicious little rolls are stuffed with dried cranberries and walnuts and topped with a brown sugar streusel to add a little sweetness to your Thanksgiving table!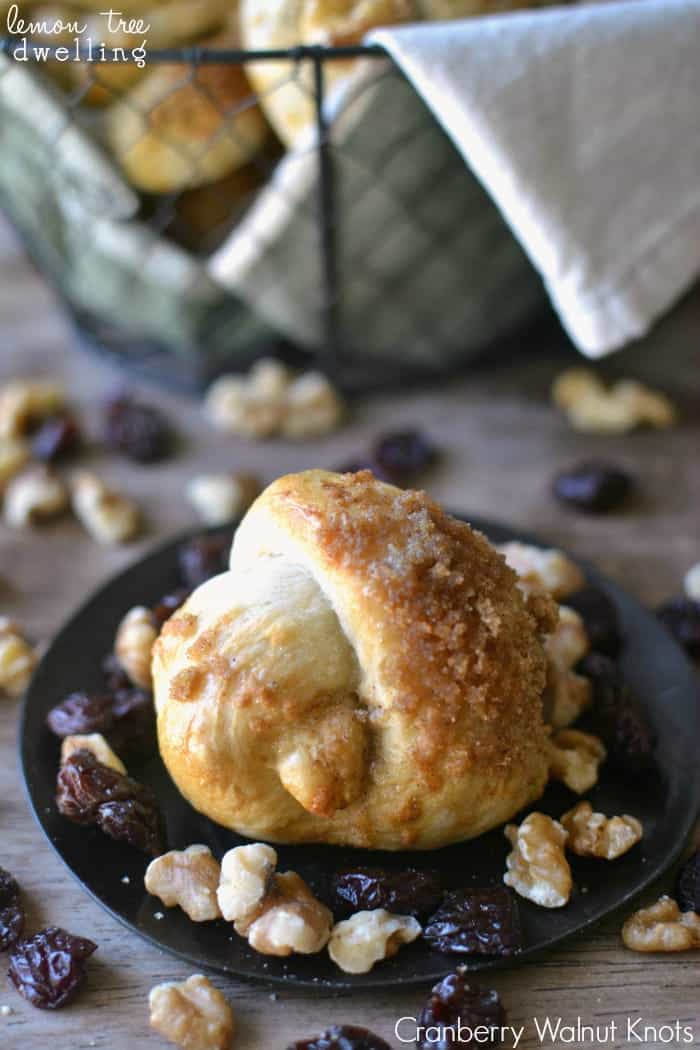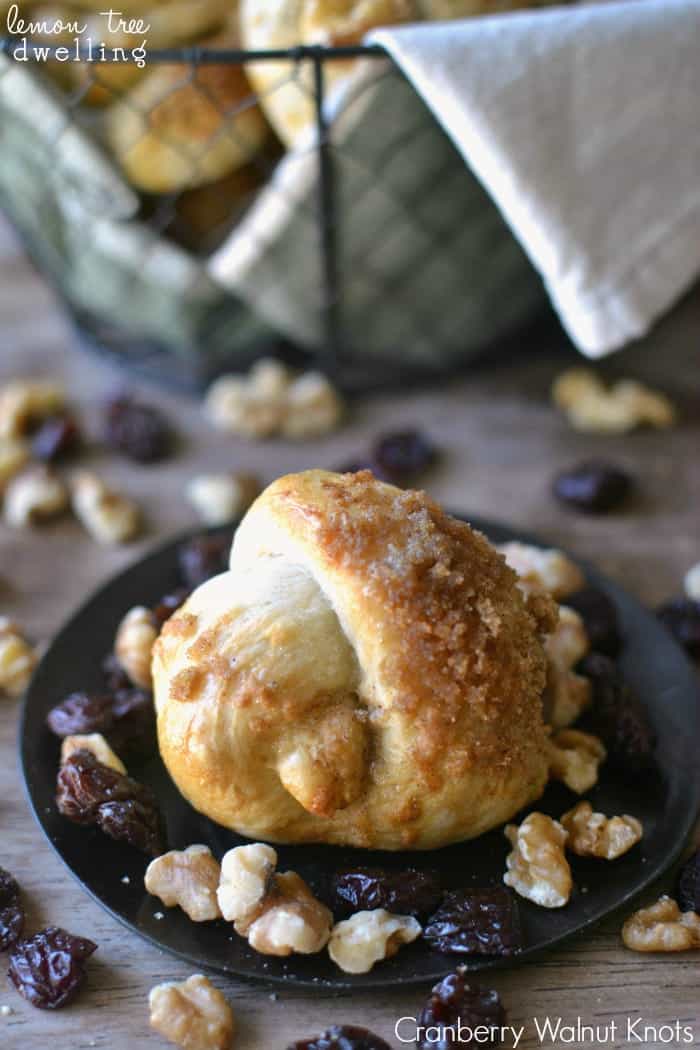 I partnered with Rhodes to bring you this recipe. Thank you for supporting the brands that make Lemon Tree Dwelling possible!
And just like that……Thanksgiving is here! Are you ready? I must say – I went from feeling completely unprepared to feeling more or less ready, all in the course of a week. Which is great! So now it's on to list making and grocery shopping and food prep….which is all a small price to pay for the feasting we'll be doing come Thursday!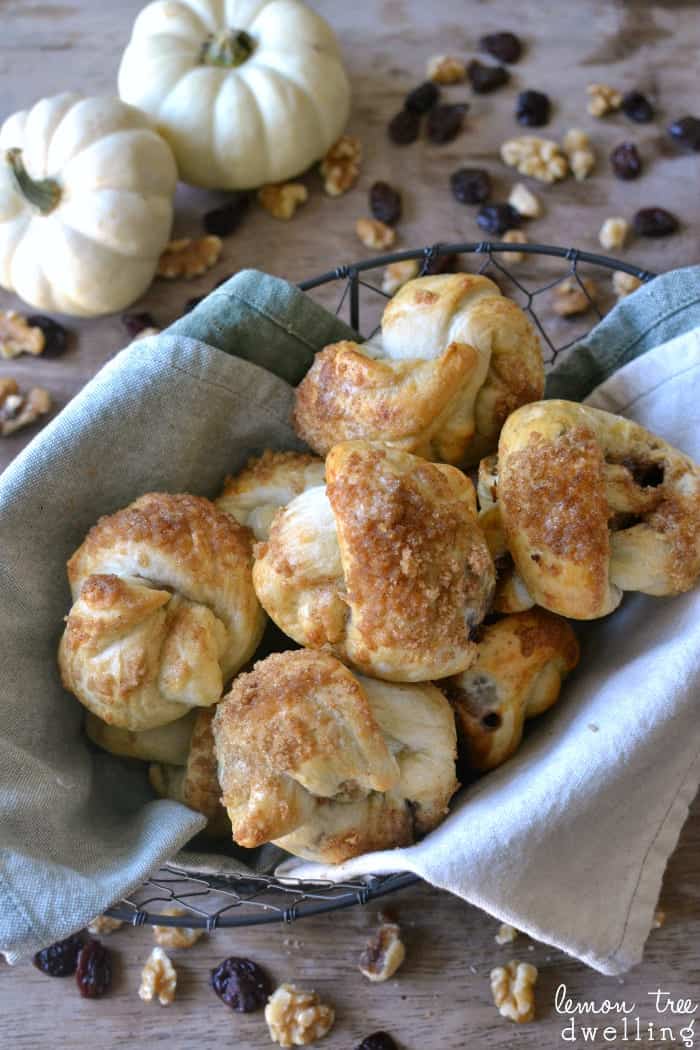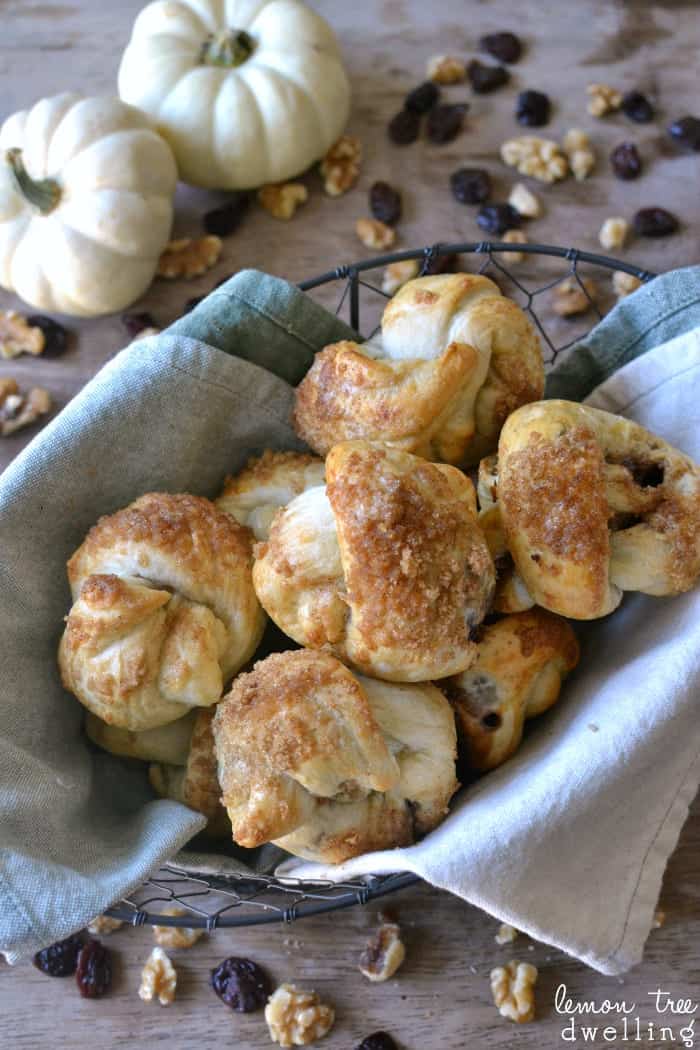 As usual, we'll be going directly from my parents' to Jorden's parents'…..so when I say feasting, I mean it! And the amount we're responsible is so little, it's almost crazy! Creamed corn and salad at one; spiced cranberry apple cider at the other. Like I said, a small price to pay for the feast that undoubtedly awaits us!

Cranberry Walnut Knots are quick and easy to make!
I've already decided I'm going to bring a little something extra to each meal. Something I know everyone will love, but no one will expect. Like these delicious little Cranberry Walnut Knots! Made with Rhodes Dinner Rolls, they literally couldn't be easier. Just let 'em rise, fill 'em, roll 'em, tie 'em, and bake 'em…..and you have a sweet little roll with a surprise inside!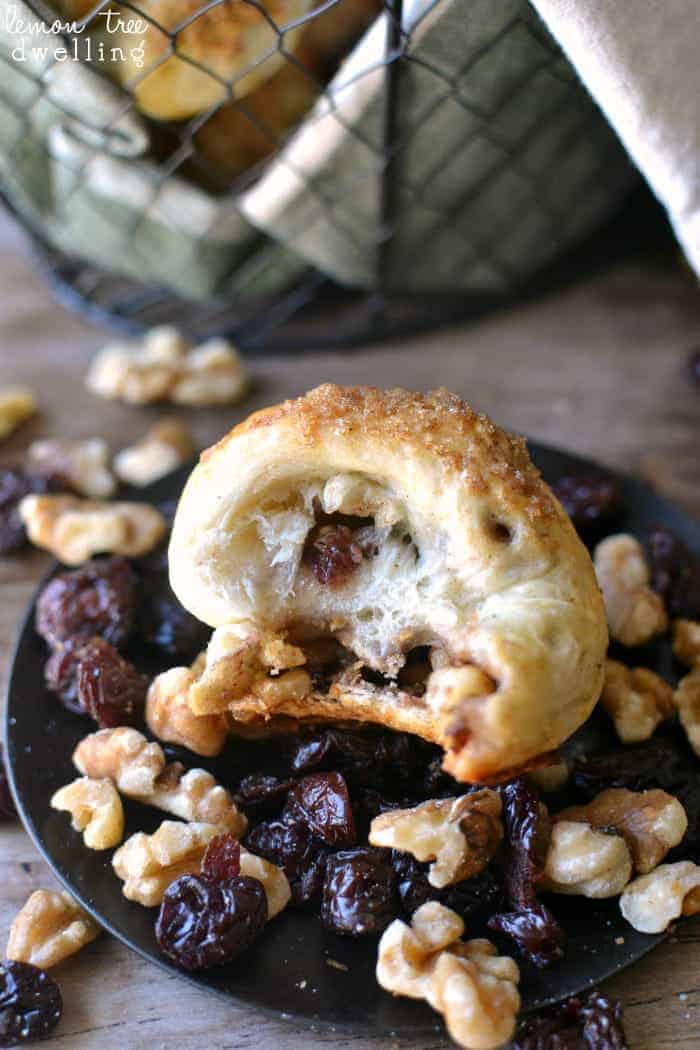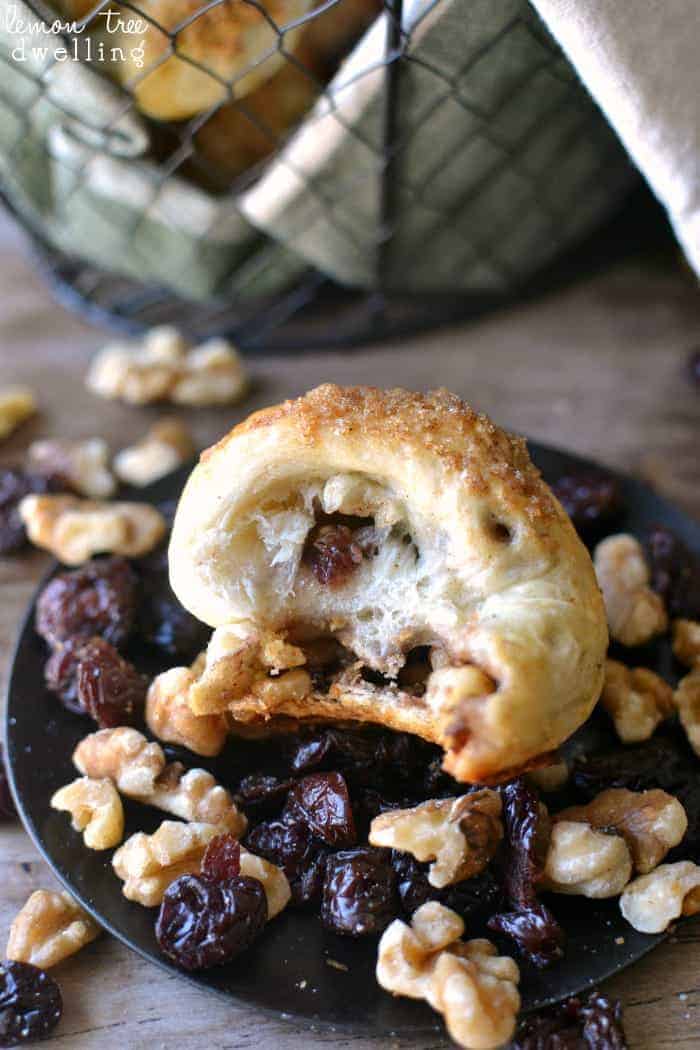 I recently discovered that Rhodes products are made right here in Wisconsin! Which is great, not only because I love supporting local brands, but also because they're available at nearly any grocery store in the state. Less running around makes me happy….especially the week of Thanksgiving! (For those of you not in Wisconsin, not to worry! Rhodes products are also available nationwide.)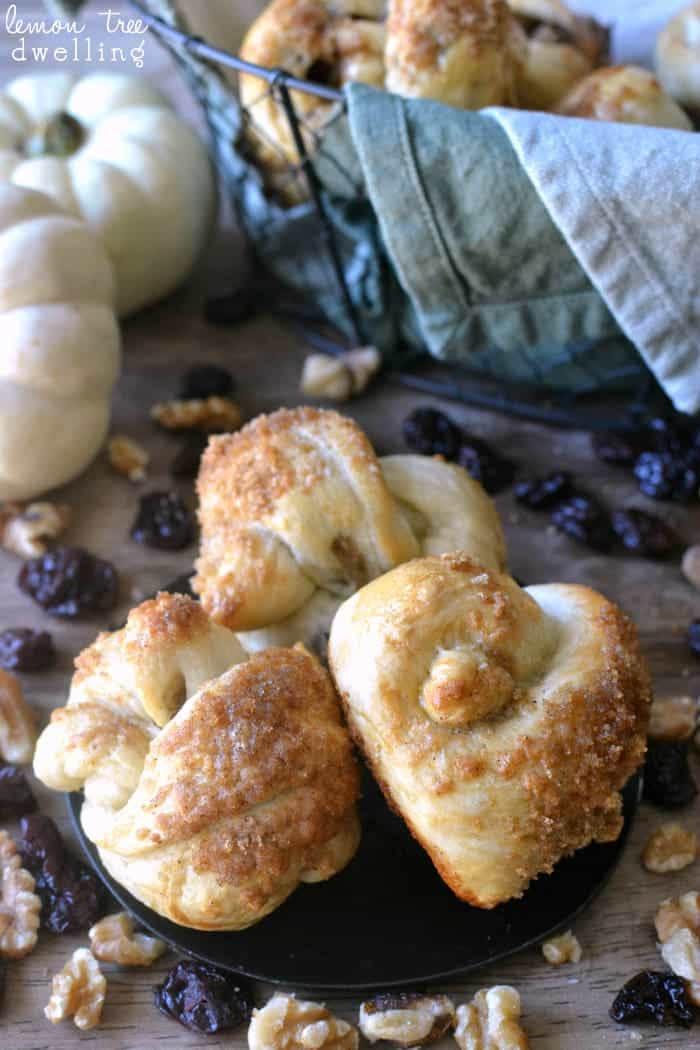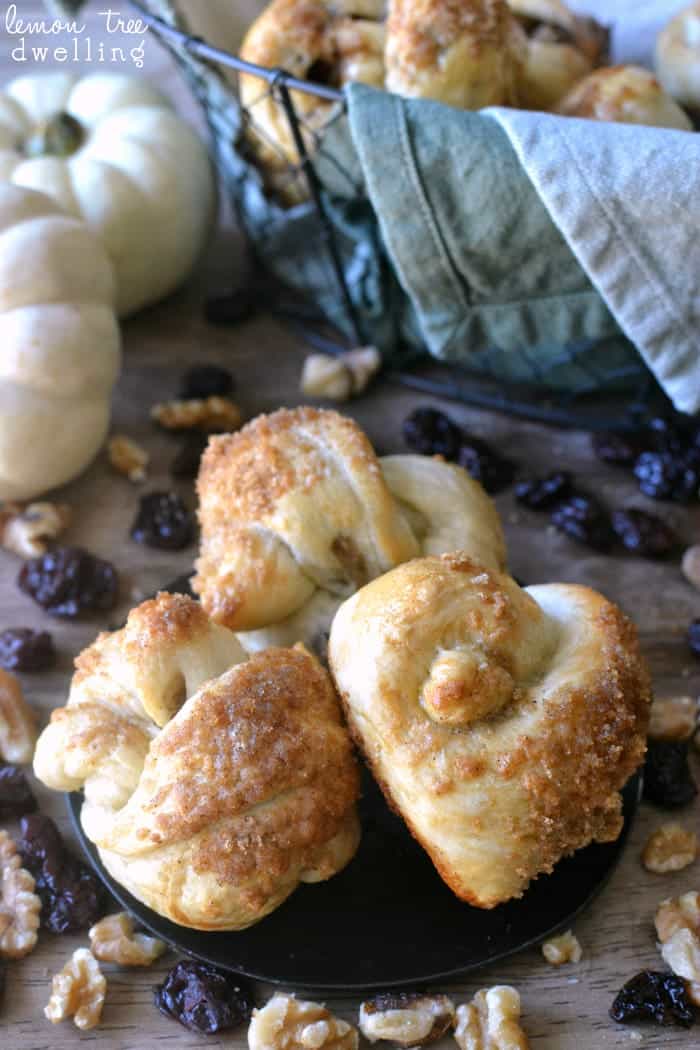 These cranberry walnut rolls are stuffed with dried cranberries, walnuts, brown sugar, cinnamon, and nutmeg, then topped with a simple streusel that crunches up when you bake it. Best of all, you don't have to wait for dessert to eat them! They're made for the meal! So along with all the savory goodness like turkey and stuffing and green beans and creamed corn, you can enjoy a little bite of sweetness. What's not to love? Just be sure you make enough for leftovers…..because these little rolls are perfect for any time of day. (Black Friday breakfast, anyone??)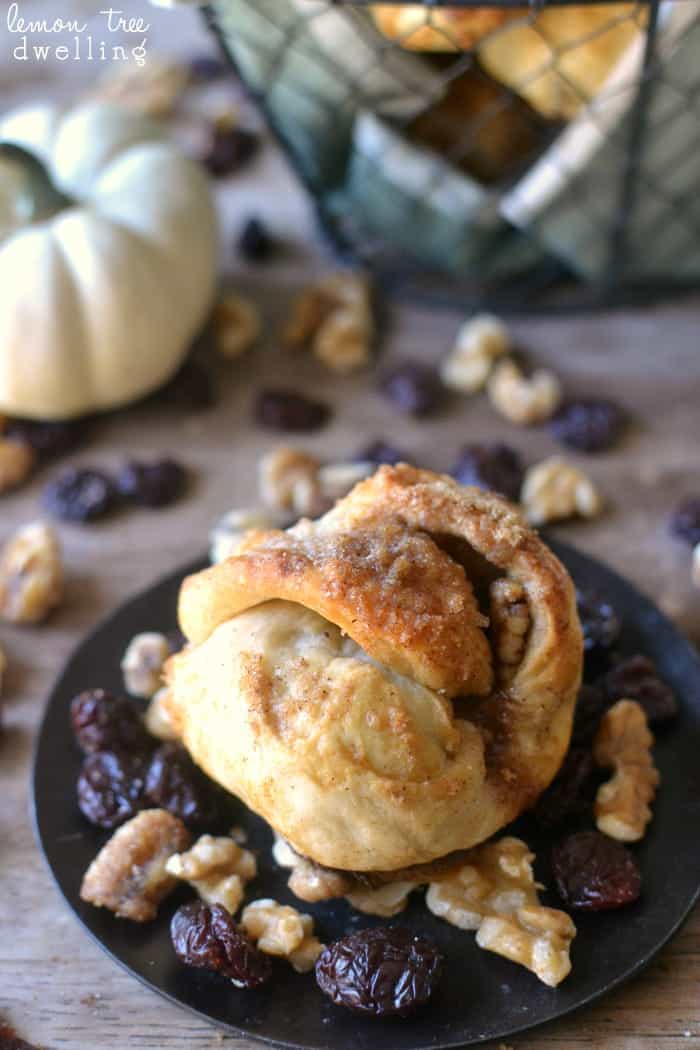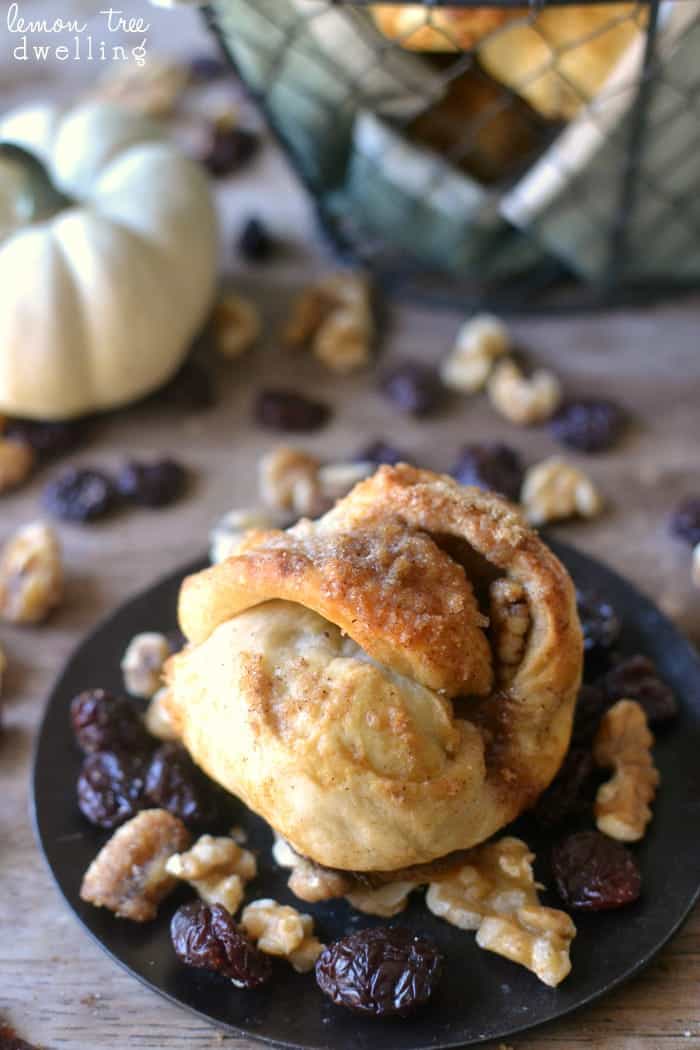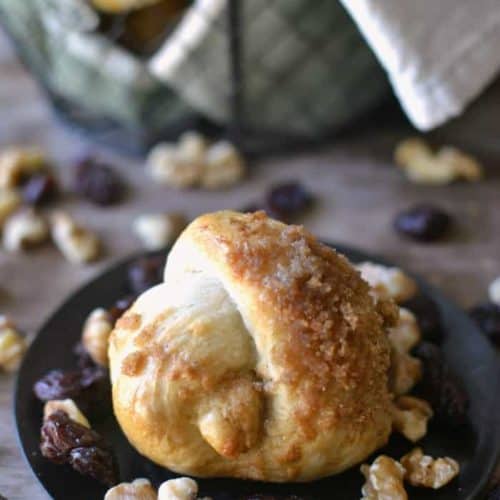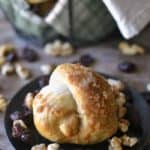 Cranberry Walnut Knots
Ingredients
10

Rhodes dinner rolls

1/2

c.

coarsely chopped walnuts

1/2

c.

dried cranberries

1/4

c.

melted butter

1/4

c.

brown sugar

1/2

tsp.

cinnamon

1/4

tsp.

nutmeg

1

egg

beaten

For streusel topping:

2

Tbsp.

brown sugar

1/4

tsp.

cinnamon
Instructions
Remove 10 dinner rolls from package and allow them to rise according to package instructions.

Once rolls are ready to use, prepare filling in a small bowl by combining walnuts, dried cranberries, melted butter, brown sugar, cinnamon,and nutmeg.

Stretch dough into a flat 4-inch round and fill with approximately 4 tsp. prepared filling.

Roll edges of dough around filling, overlapping to seal.

Carefully squeeze dough to stretch into an 8 inch rope.

Tie ends of dough together to form a knot.

Place on lightly greased baking sheet.

Tuck ends; brush rolls with beaten egg.

Sprinkle generously with brown sugar and cinnamon streusel topping.

Bake at 350 degrees 20-25 minutes or until golden brown.
Want another roll to make? Try my S'mores crescent rolls. They are quick and easy to make and great for dessert!