Crab cakes, deconstructed and stuffed inside a quesadilla, topped with red pepper aioli dipping sauce. Quite possibly the best quesadilla you'll ever eat.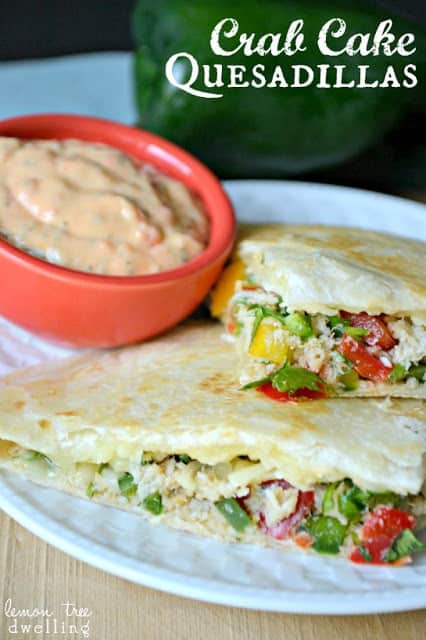 If it were up to me, I'd probably eat crab cakes every day. Or at least every week….! I'm a HUGE crab fan….and, come to think of it, I've loved it ever since I was a kid! When most kids were probably asking for lasagna or cheeseburgers for their special birthday meal, my request was for steak and crab legs (or, to be clear, imitation crab sticks…..which, by the way, I still love 🙂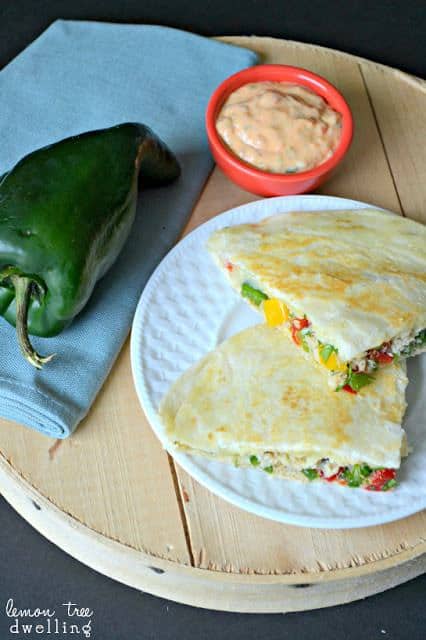 My love affair with crab reached an all-new high when Jorden and I honeymooned in Florida and were surrounded by all-you-can-eat crab leg specials. We definitely indulged daily…to the point where I was actually starting to get sick of all things crab. Of course, that didn't stop me from ordering up another round of crab legs….(just like nothing was ever able to stop me from ordering yet another piece of key lime pie….my other Florida weakness!)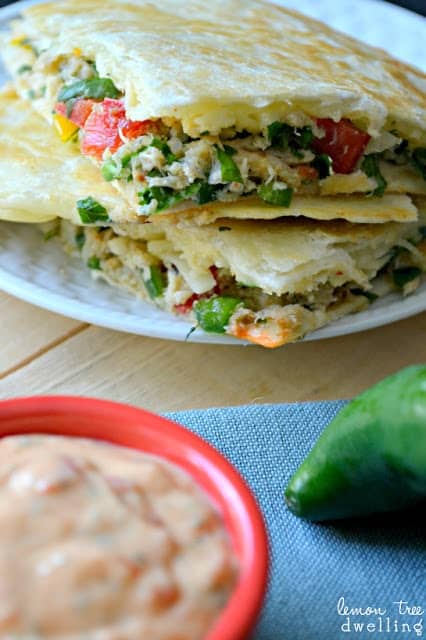 And then….when our honeymoon was over, suddenly the crab-loving side of me was left behind. NOT because I had eaten too much and was sick of it, but because it was too expensive anywhere we went and I was too afraid to make it on my own! So for years I resorted to imitation crab to get my fix (which, by the way, is still delicious in my book). But I thought it might finally be time for me to pull out the stops and make myself some REAL crab…..(and by real, I mean from a can). Ha!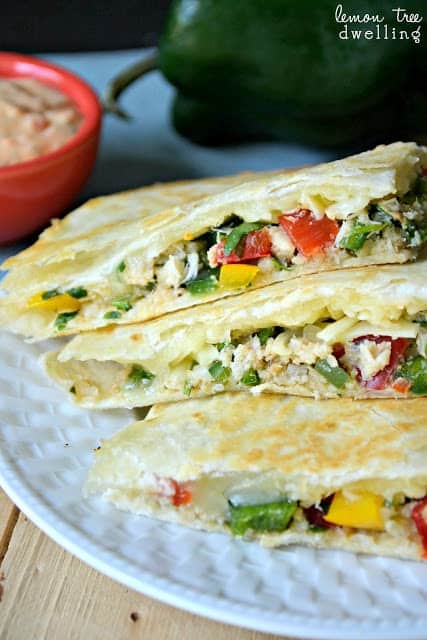 These crab cake quesadillas have all the flavors of crab cakes….but for some reason, not having to form them and fry them feels like a lot less work! So in the time and effort you save, you can…..make yourself a key lime pie!? Or maybe just have a strawberry colada….yes, I had a lot of weaknesses in Florida 🙂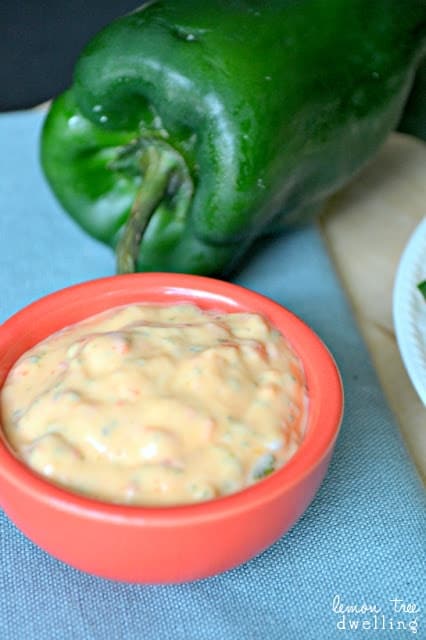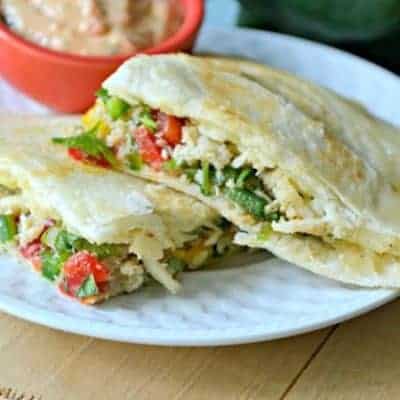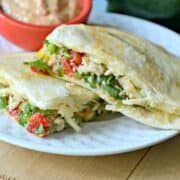 Crab Cake Quesadillas
Ingredients
6

8 in. flour tortillas

2

6 oz. cans crab meat

1/2

yellow pepper

chopped

1/2

red pepper

chopped

1/2

poblano pepper

chopped

1

jalapeno

minced (seeds removed for less heat)

1/2

c.

cilantro

chopped

1

tsp.

Old Bay seafood seasoning

2-3

c.

shredded monterey jack cheese

depending on desired level of cheesiness

olive oil
Red Pepper Aioli
1/2

c.

mayonnaise

2

Tbsp.

cilantro

chopped

1/4

c.

jarred roasted bell peppers

1

garlic clove

minced

squirt lemon juice

to taste

*Blend all ingredients in a food processor until smooth.
Instructions
Mix crab, peppers, cilantro, and seasoning together in a small bowl.

Heat a small amount of olive oil in a medium frying pan over medium heat. Place one tortilla in heated oil, top with 1/3 of cheese and approx. 1 cup of seafood mixture.

Once cheese is melted and tortilla is golden brown, place another tortilla on top and flip the quesadilla to brown the other side.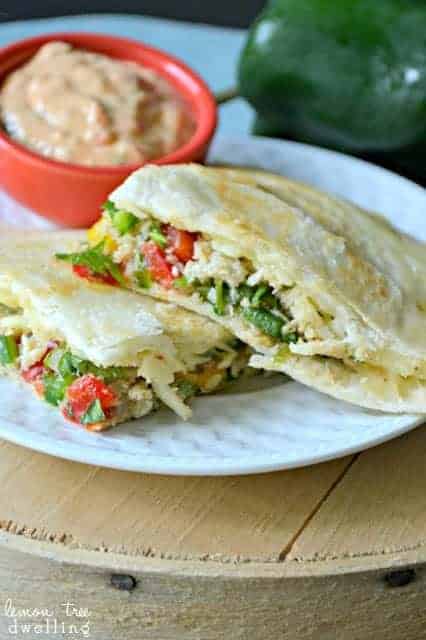 Enjoy!
Looking for another fun quesadilla option? Check out my Cheesecake Sopadillas!