Veggie Pizza meets Cobb Salad in a delicious Cobb Crescent Roll Pizza appetizer that's light, fresh, and packed with flavor!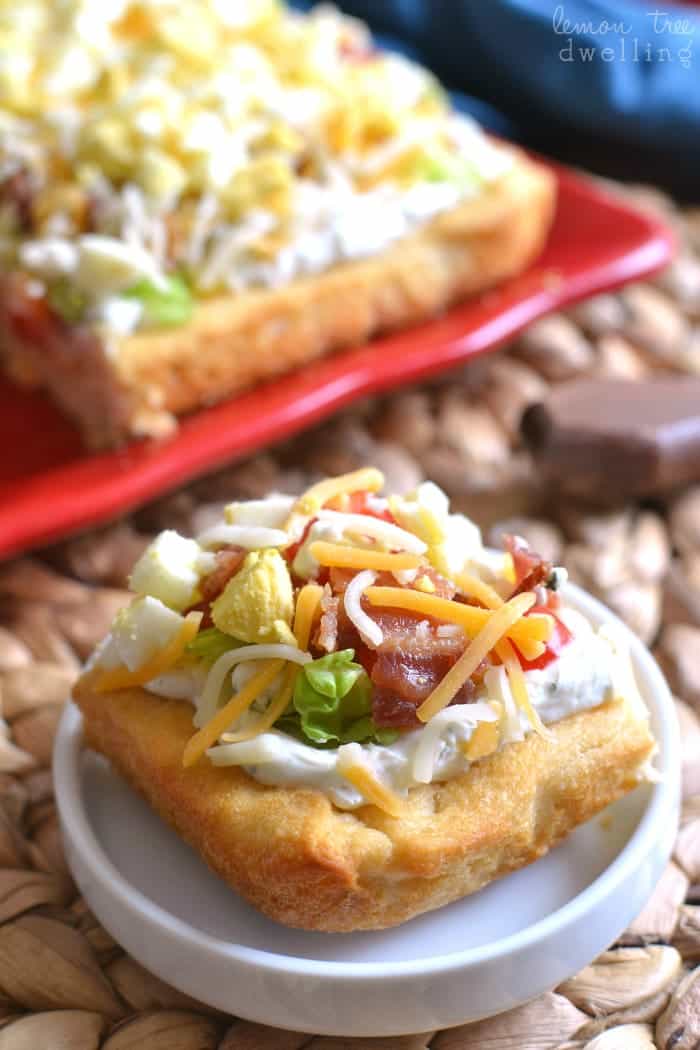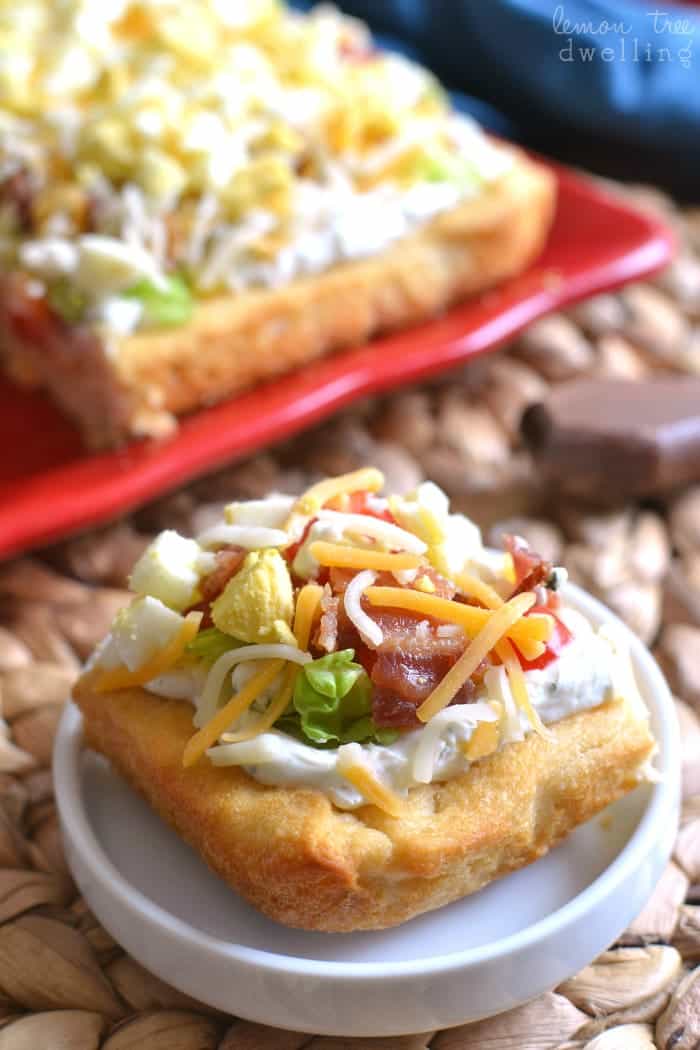 There is nothing more exciting for me as a food blogger than seeing one of my recipes go CRAZY on the Internet. It's like this awesome sense of validation that makes all the time and energy that goes into blogging totally worth it. The funny thing about it, though, is that you never really know which recipes are going to take off….and which are going to go absolutely nowhere. Sure, you might have an idea (e.g. desserts do better than vegetables and people like monkey bread) but it still always feels like a little bit of a crapshoot.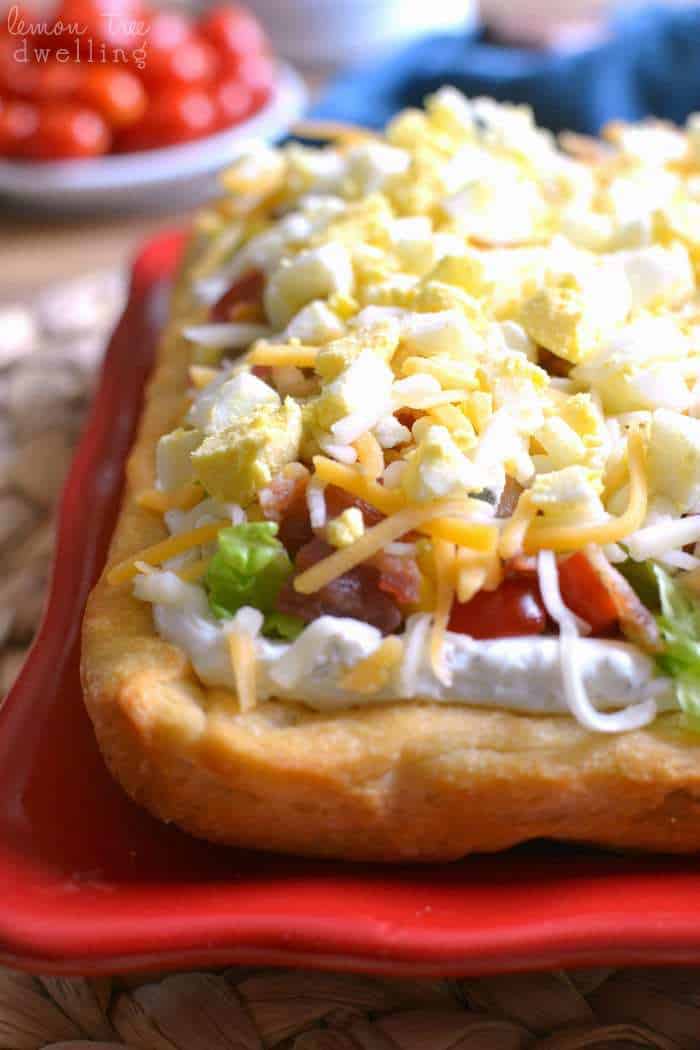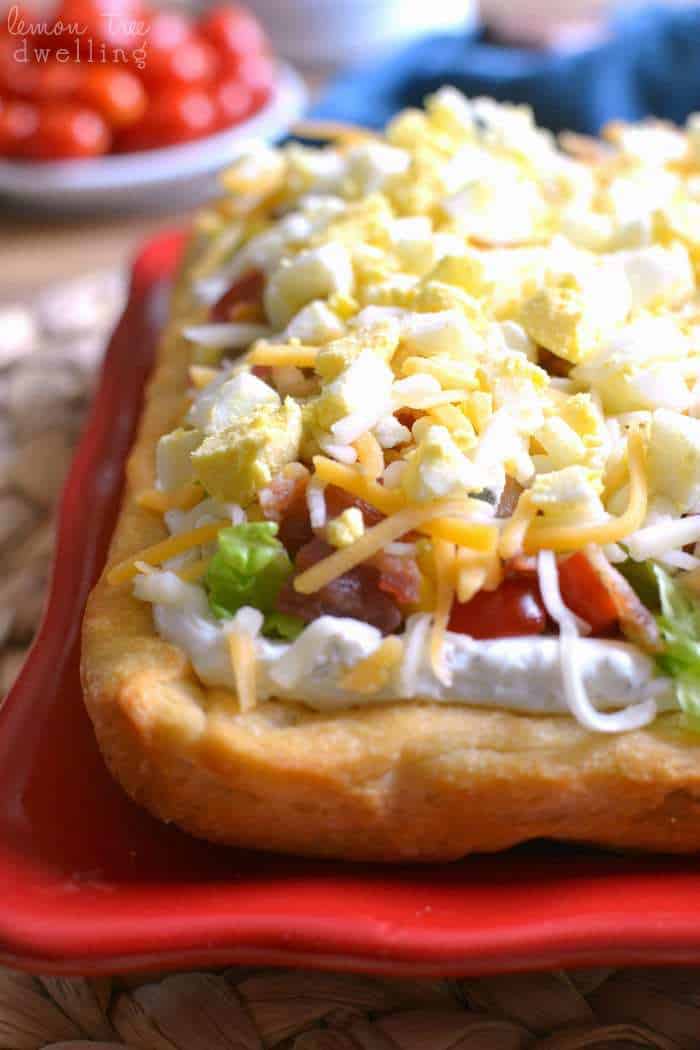 A perfect example? My Cobb Dip. When I first posted it last summer, I had no idea that it would be my #1 recipe for the year, or that it would be pinned over 259,000 times. How could I have guessed!? I mean, clearly I thought it was a good idea, and I still remember whipping it up and shooting some photos before serving it to friends who were coming over that day. But never in a million years did I think it would surpass my Strawberry Pie and nearly catch up to my Lemon Bar Muddy Buddies. Who would've thought!? Not me.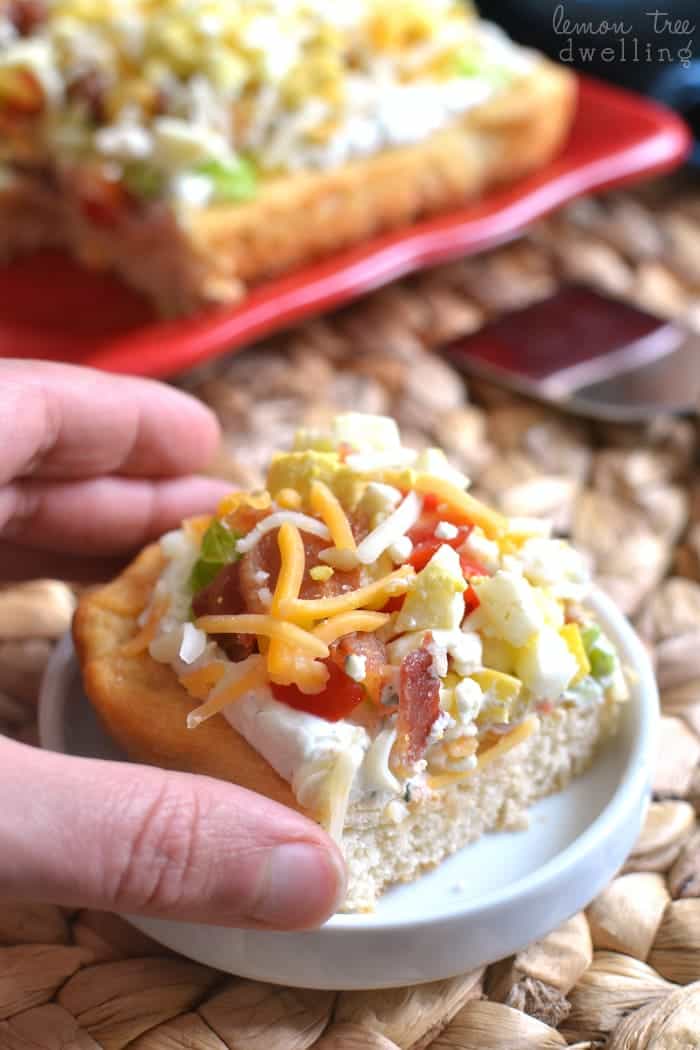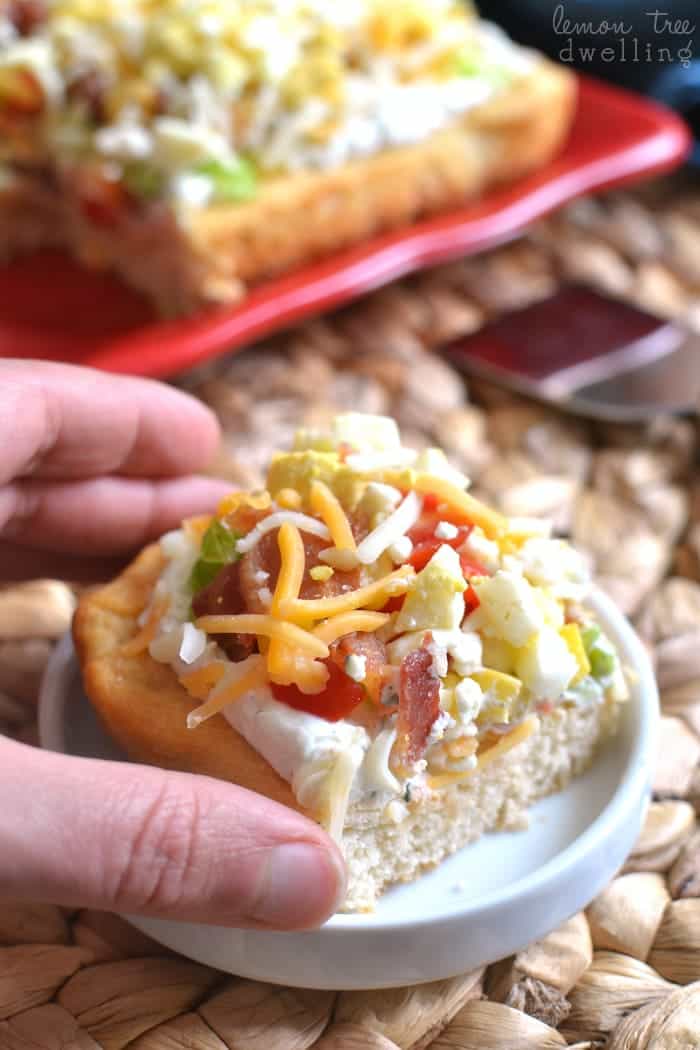 But. I'm so happy it surprised me. Because it was kind of a genius recipe….a fun twist on Taco Dip….with all the flavors of Cobb Salad! My favorite! And, as you can imagine, ever since then, Cobb Salad has been on somewhat of a pedestal for me. Not just because I think it's delicious, but because clearly you all agree! But here's the thing. The only way to make people fall in love with it all over again is to have just the right recipe. I gave it a shot with Loaded Cobb Potato Skins and Peachy Cobb Salad, and even though those recipes were awesome, they weren't just right. But this Cobb Crescent Roll Pizza? It's a different story entirely.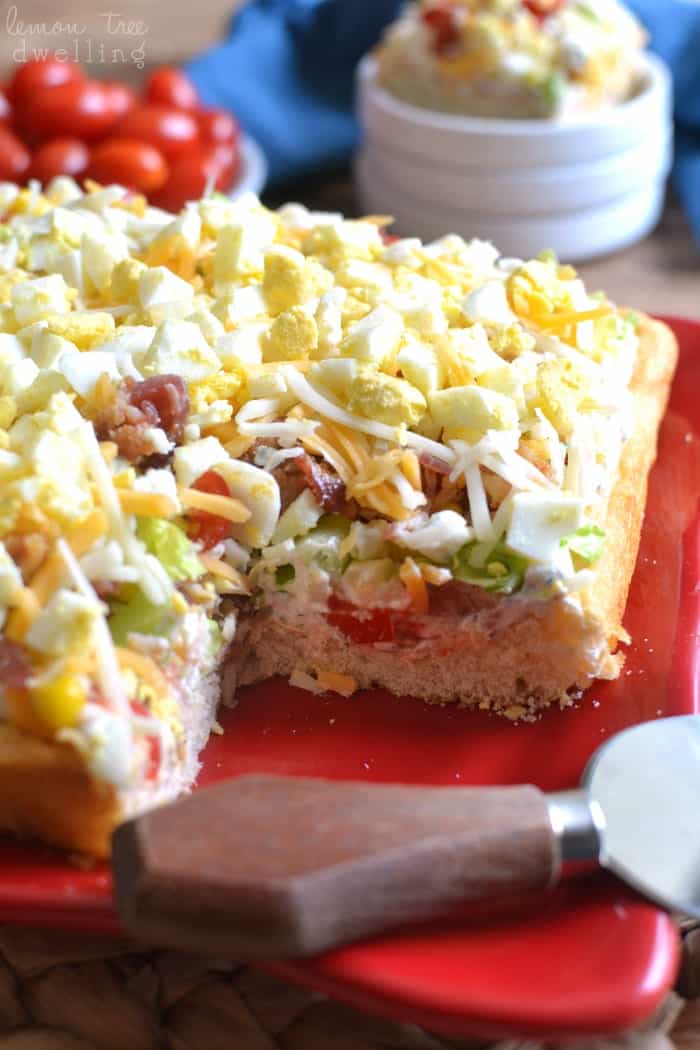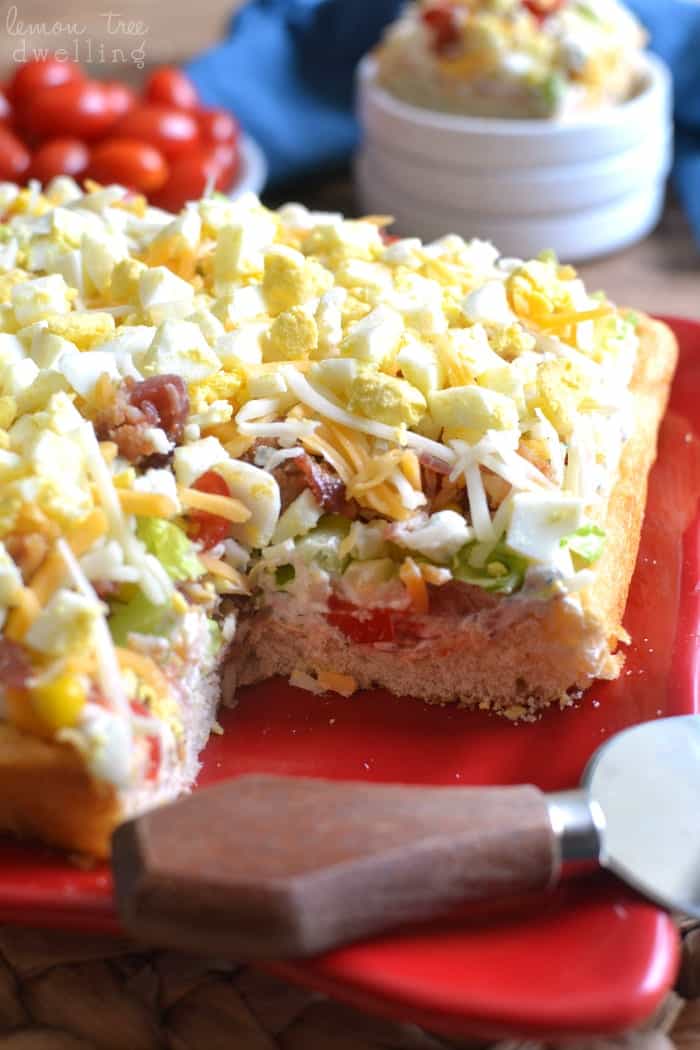 It starts with a thick layer of buttery crescent rolls, followed by a creamy ranch flavored spread and ALL the Cobb fixings. I've been dreaming it up for the past week and finally got around to making it yesterday….just in time for a post-4th of July family get together. I always love when I can take a new recipe to a group of people, and I especially love when the recipe is a hit! Let me tell you, this one was!! It got rave reviews from everyone who tried it….which is how I know it would get rave reviews anywhere it went! It's the perfect twist on Veggie Crescent Roll Pizza, because let's face it, as much as people like trying new things, they also love the comfort of the old. Cobb Crescent Roll Pizza is the best of both worlds. I guarantee.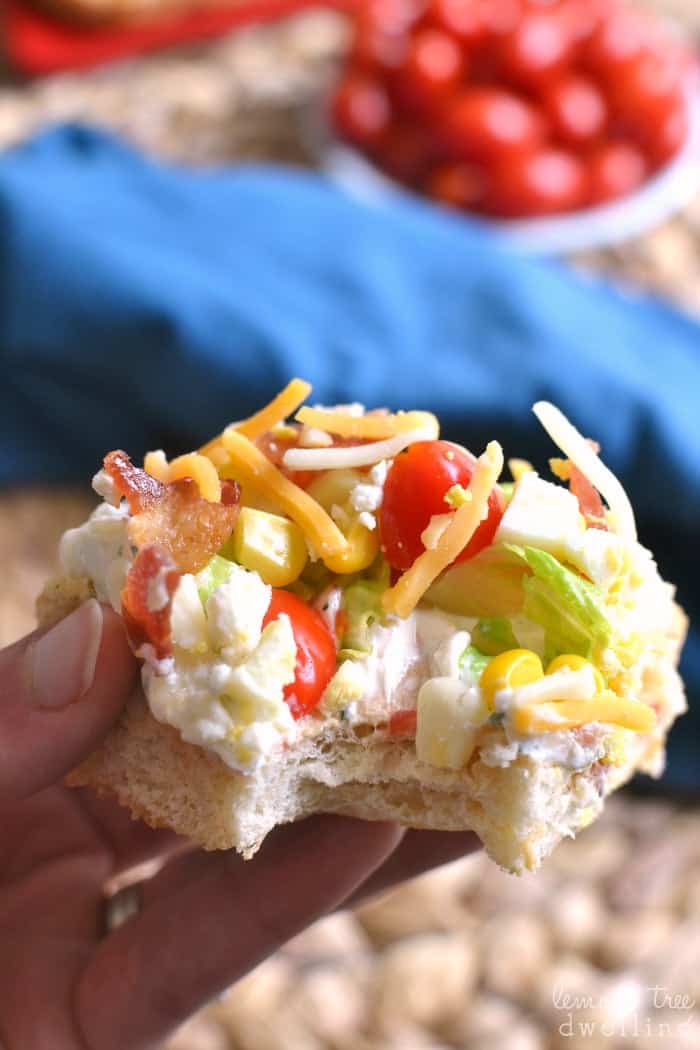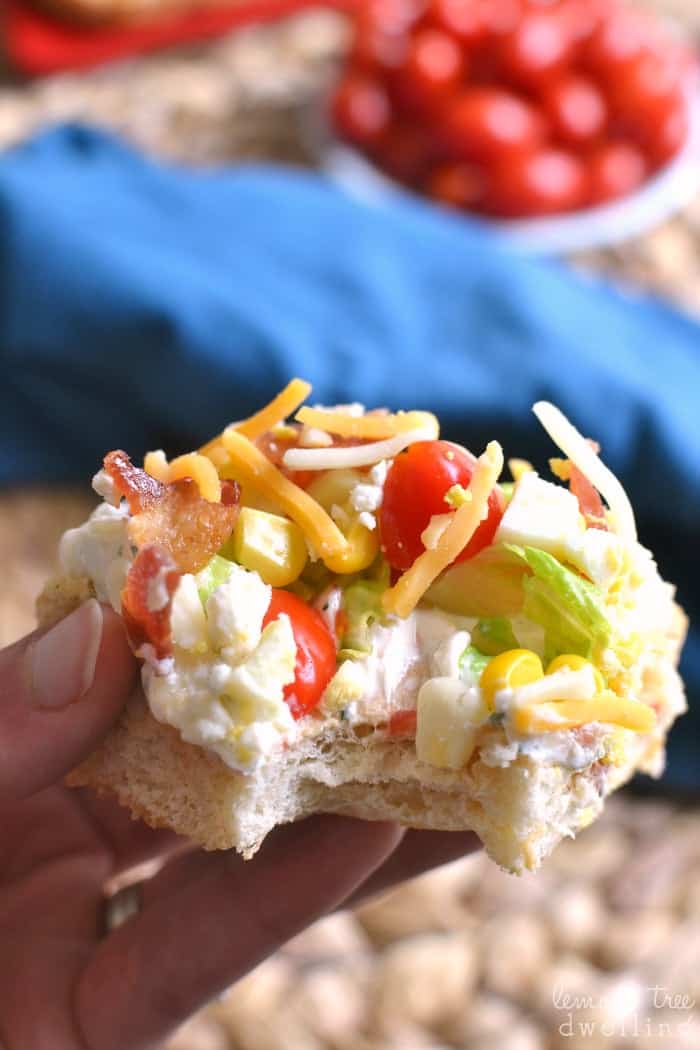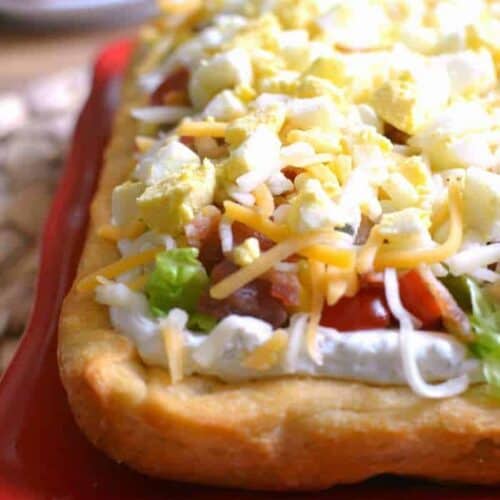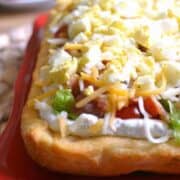 Cobb Crescent Roll Pizza
Ingredients
1

tube refrigerated crescent rolls

6

oz.

cream cheese

softened

1/4

c.

sour cream

1

Tbsp.

dry Hidden Valley Ranch dressing mix

1/2

c.

chopped romaine lettuce

1/3

c.

chopped grape tomatoes

1/3

c.

cooked corn

1/2

c.

shredded cheddar cheese

1/4

c.

crumbled blue cheese

4

pieces

cooked

crumbled bacon

1

or 2 hard boiled eggs

to taste, chopped
Instructions
Spray an 8x8 inch baking pan with cooking spray.

Press crescent roll dough into the bottom and partially up the sides of the pan.

Bake at 375 degrees for 12-14 minutes or until crust is golden brown.

In a separate bowl, combine cream cheese, sour cream, and ranch dressing mix.

Spread over cooled crescent roll crust.

Top with additional ingredients.

Refrigerate until ready to serve.

Cut into squares and enjoy!