Skinny S'mores Macarons made with Truvia! These macarons are stuffed with marshmallow fluff, mini chocolate chips, and graham cracker crumbs, for a delicious, bite-sized, skinny treat!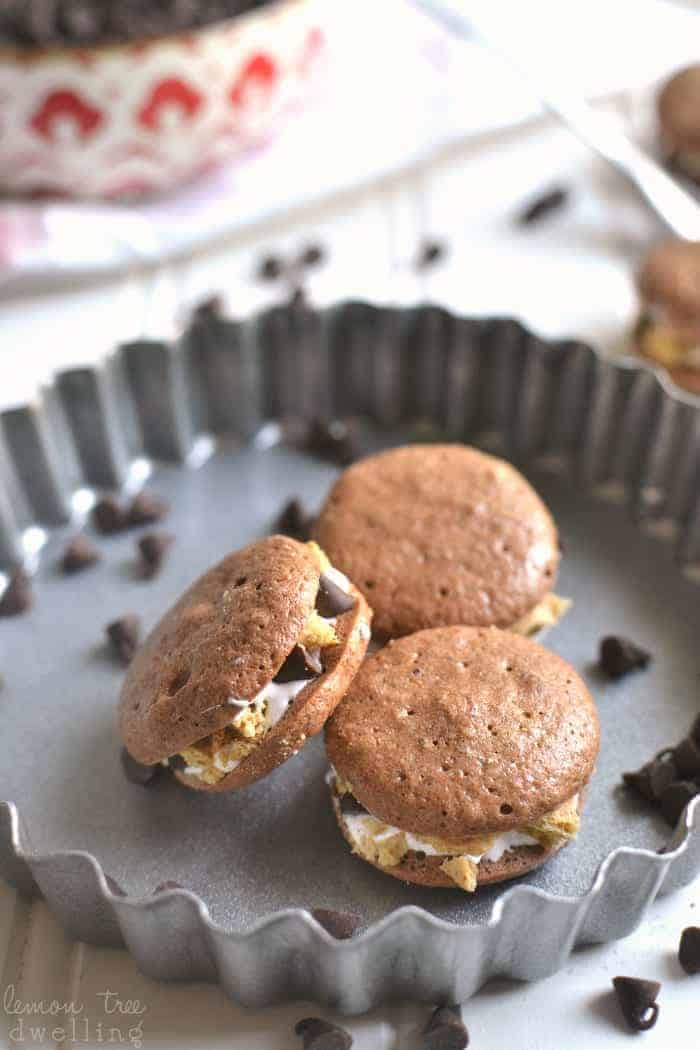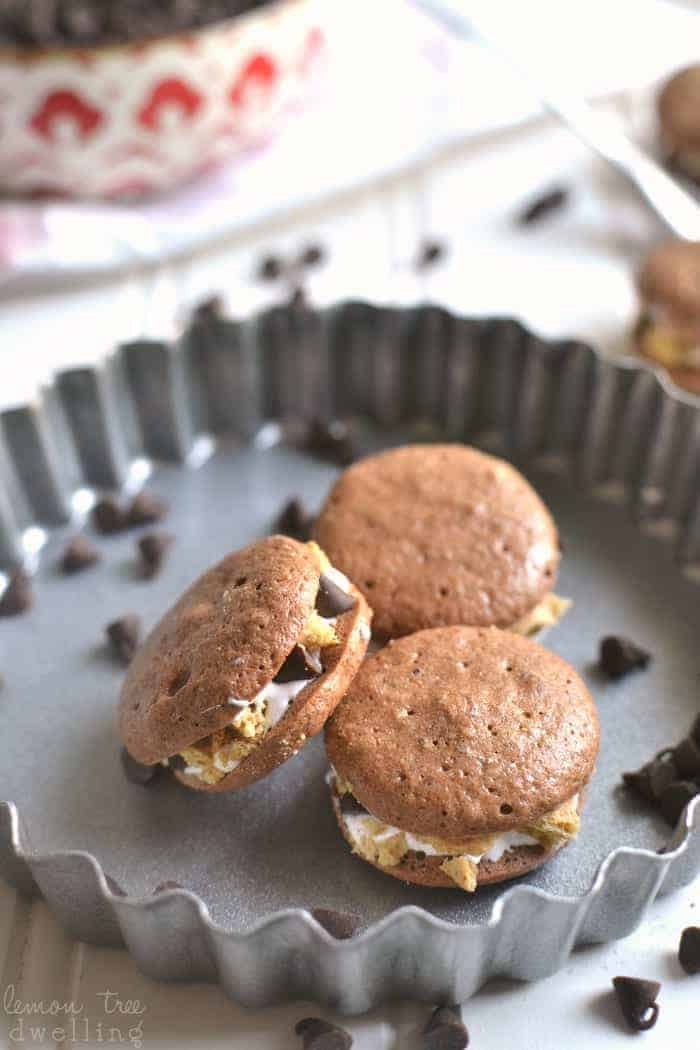 Once upon a time, when I was a kid, I was what you might refer to as "awkward". I was tall for my age, always chubby, wore glasses, wore braces, played the cello, and the french horn, and the piano, loved to read and write, and was the spelling bee champ four years in a row. Needless to say, I wasn't exactly "popular".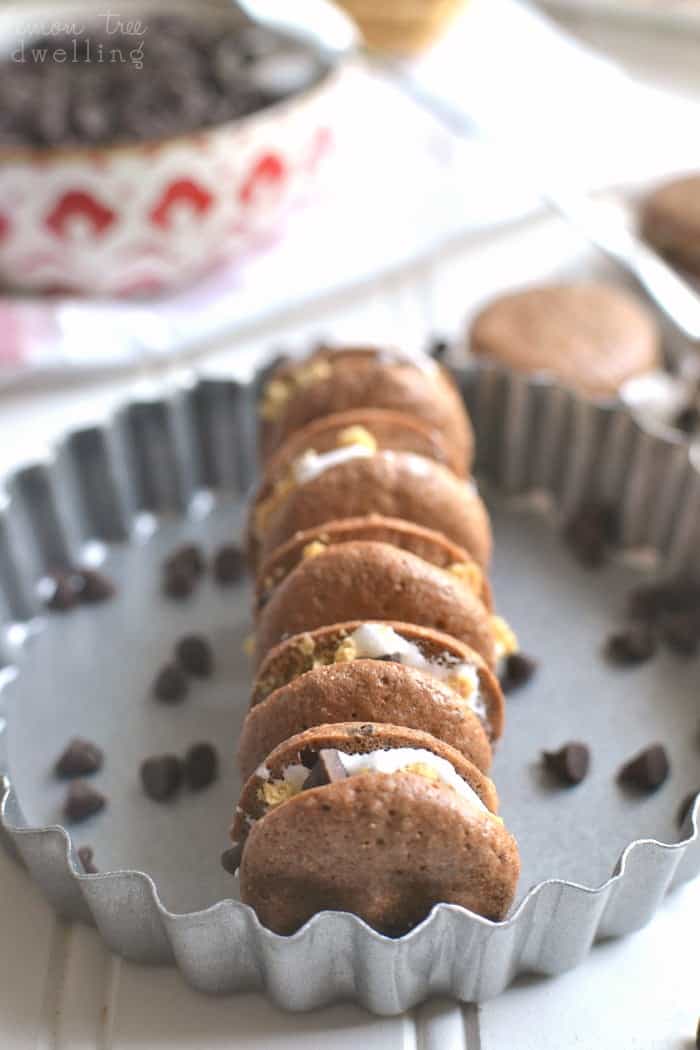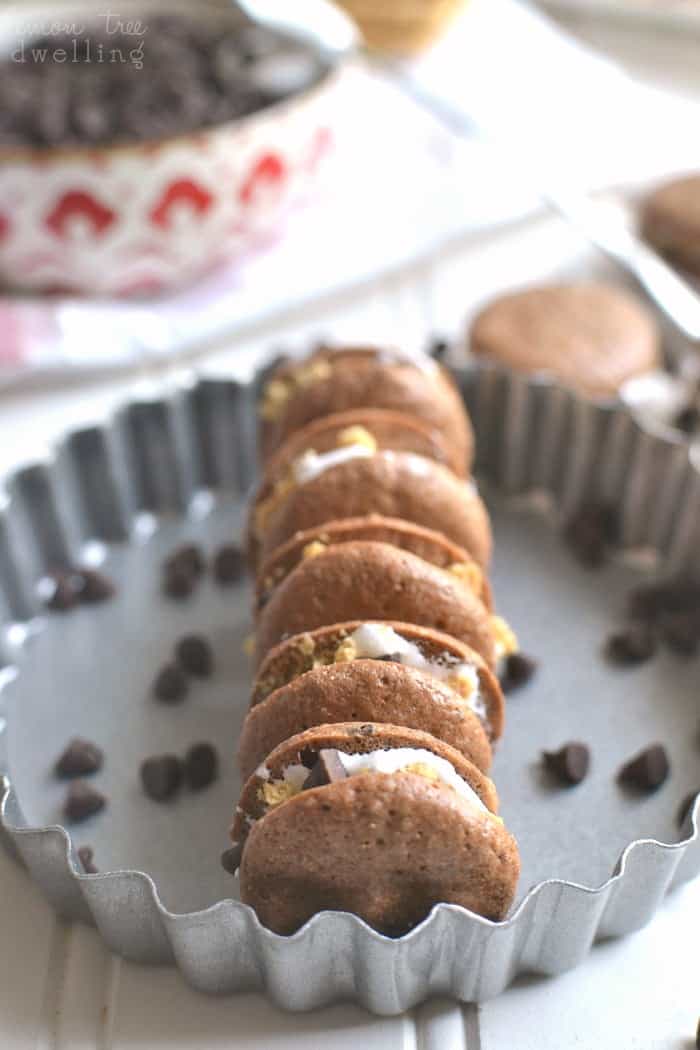 Luckily, for the first half of grade school, I really didn't care. I had a best friend who was basically the same person as I was, minus tall and chubby. Her name was Laura Love, and she was just like me. Only tiny. And I loved her. The two of us were inseparable, both inside and outside of school. We wrote stories together and volunteered in the early childhood classroom during recess; we made up our own poems and songs and silly voices; we had sleepovers and play dates and the grade school version of study sessions. And because of her, I felt totally comfortable in all my awkwardness.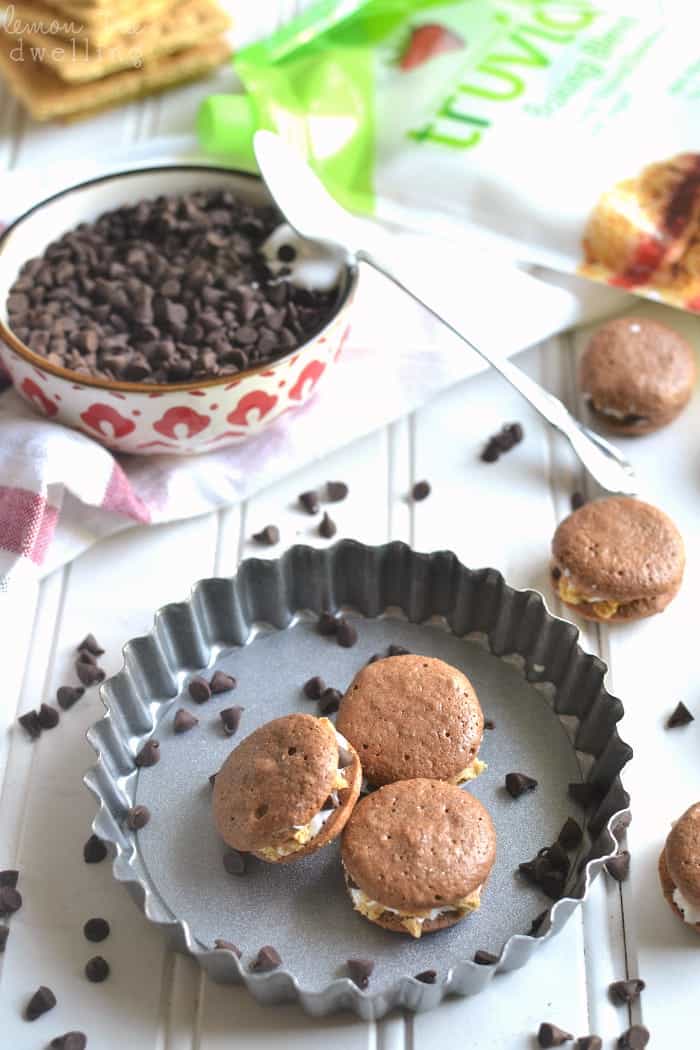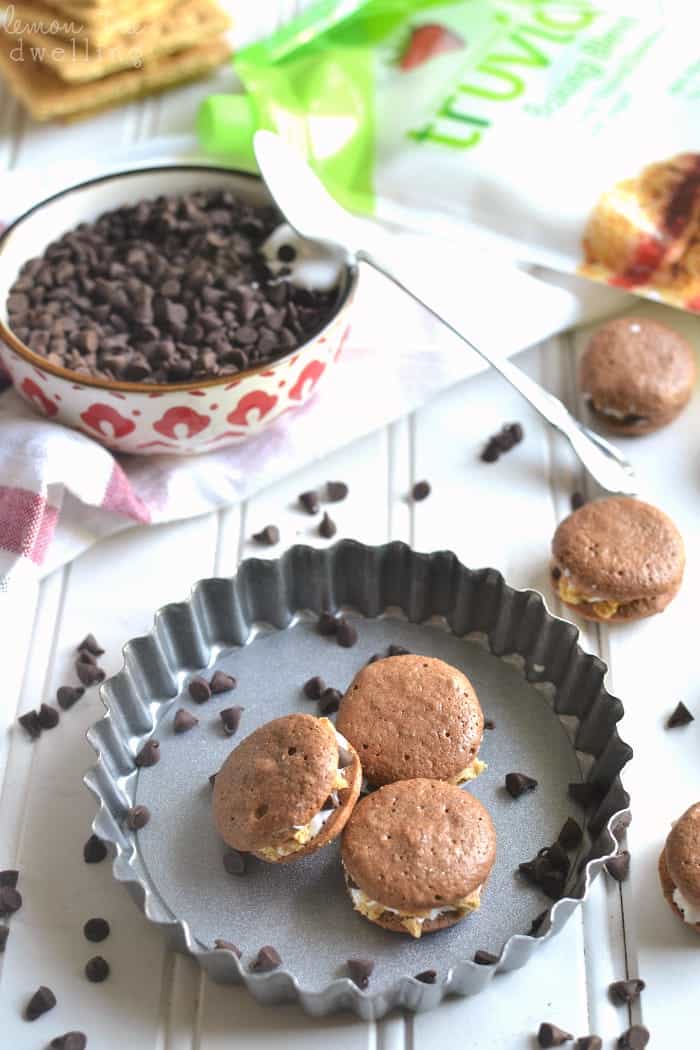 And then, in 4th grade, Laura Love moved away. She moved far away – to France, actually – and my little grade school world was rocked. Don't get me wrong – I had other friends. But nothing can replace a BFF, and I was left floundering. So I did what any awkward tween girl would do: I made every attempt to work my way into the popular crowd! And it worked, to some extent. To the point where, when Laura came back to our school in 6th grade, I asked her if she wanted any tips on being popular. From me, the last person who should have been giving anyone tips on popularity. SO awkward!!!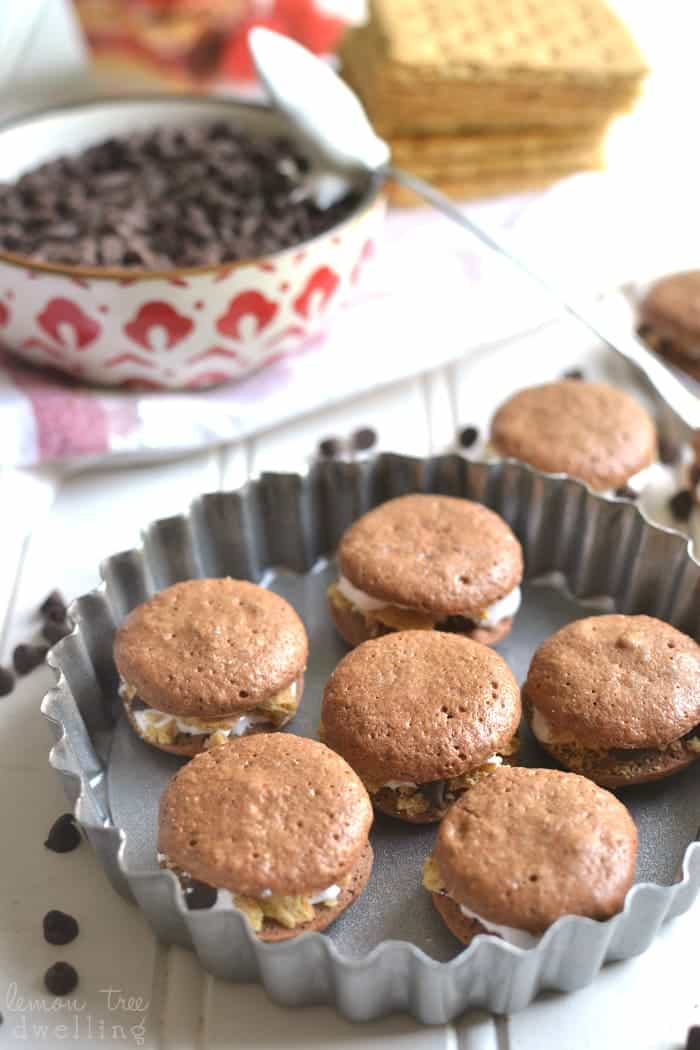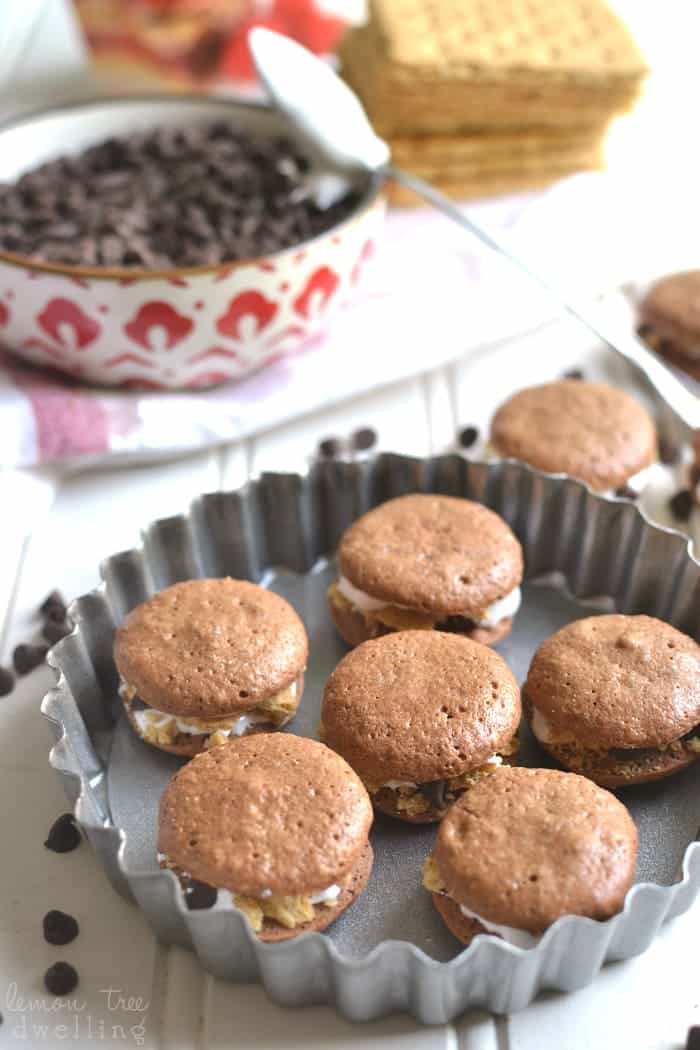 If I could go back in time, I would tell my grade school self to wise up. The girl had just come back from FRANCE, for goodness sake! If anyone had anything to teach the other, it was most definitely not me. Not only was she now speaking French and sharing souvenirs from the Eiffel Tower and Arc de Triomphe, but I'm sure she had at least tasted a French macaron. Something that I didn't do until adulthood! I should have been asking her for tips….!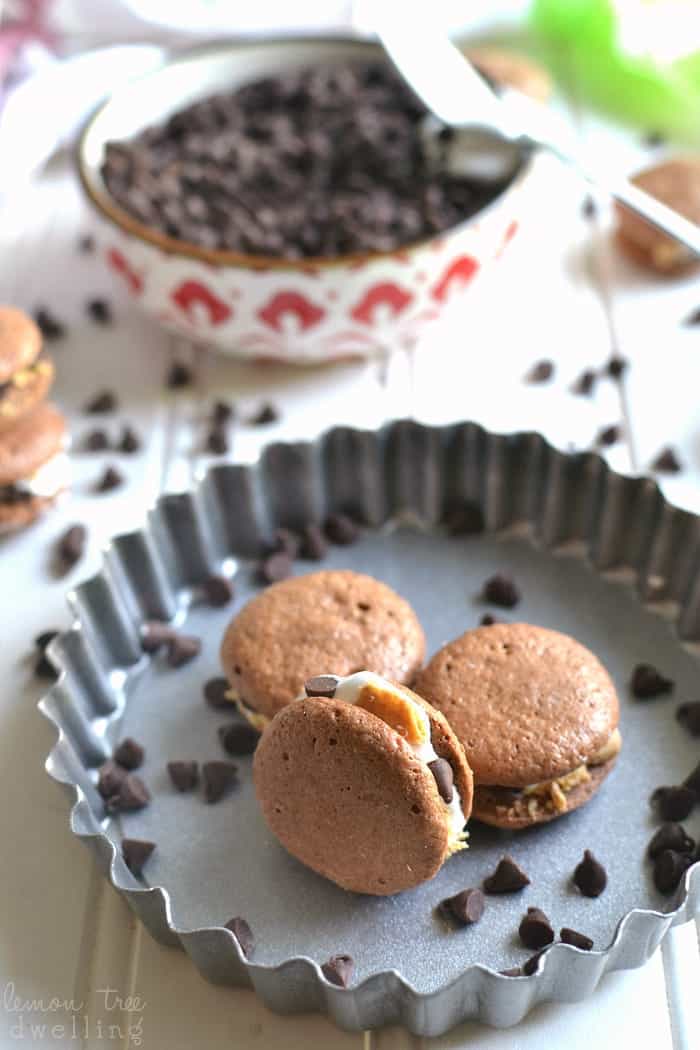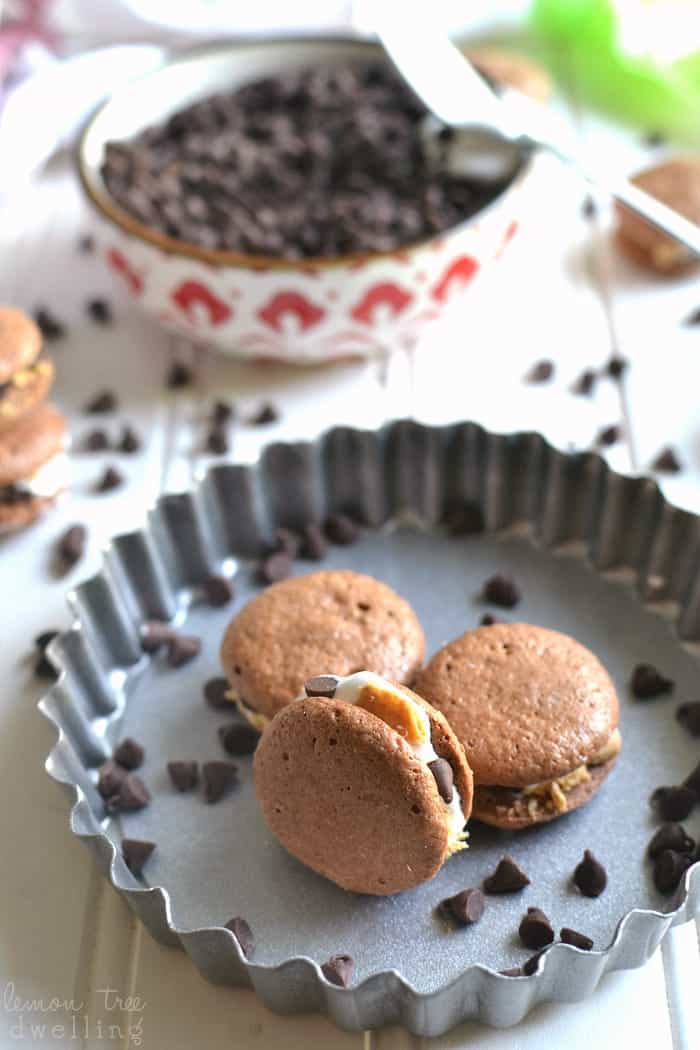 Oh well….we live and learn, I guess. The good news is those days have passed. I'm no longer trying to fit into the popular crowd, or giving unsolicited popularity tips, and I'd like to think I've embraced whatever awkwardness still exists. Best of all, thought, is the fact that I can now say I've tried a macaron. And ohmygosh are they delicious! And…..they'll totally make you popular. Just sayin'.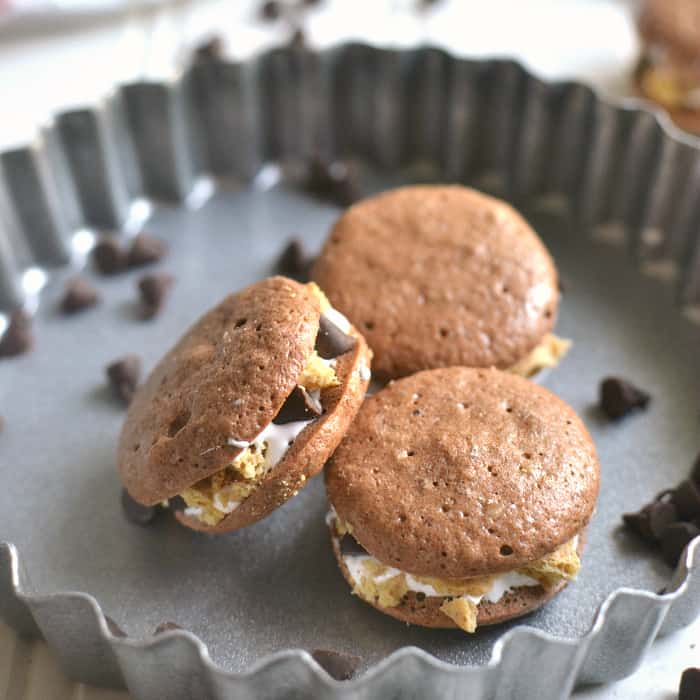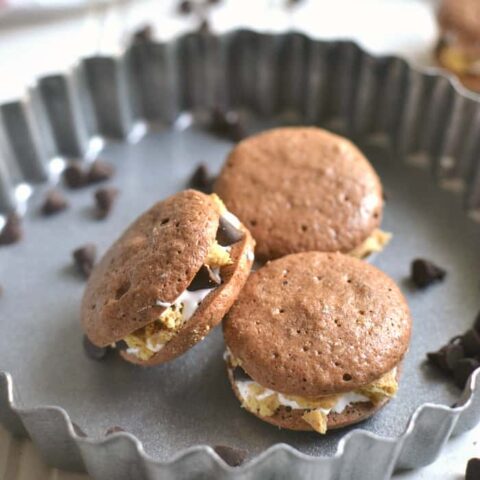 Skinny S'mores Macarons
Prep Time:
1 hour
30 minutes
Total Time:
1 hour
50 minutes
Skinny S'mores Macarons made with Truvia! These macarons are stuffed with marshmallow fluff, mini chocolate chips, and graham cracker crumbs, for a delicious, bite-sized, skinny treat!
Ingredients
1 cup sifted almond flour, discard coarse flour that remains
1 cup Truvia Baking Blend
1 teaspoon cornstarch
3 Tablespoons cocoa powder
4 egg whites, at room temperature
1/8 teaspoon cream of tartar
pinch of salt
1/2 cup marshmallow fluff
2 graham crackers, crumbled
2 Tablespoons mini chocolate chips
Instructions
Reserve 2 Tablespoons Truvia Baking Blend.
Combine remaining Truvia with cornstarch and grind in a food processor, blender, or coffee grinder until mixture resembles powdered sugar.
Pour sifted almond flour, Truvia mixture, and cocoa powder in a medium bowl. Set aside.
In a separate mixing bowl, combine egg whites, cream of tartar, and a pinch of salt. Beat at medium speed until egg whites become frothy.
Increase speed to high; begin gradually adding remaining 2 Tablespoons Truvia.
Beat constantly, moving beaters in a circular motion, until mixture is glossy and stiff peaks form.
Gently fold almond flour mixture into egg whites and stir carefully until mixture resembles pudding. *It's better to under-mix slightly than over-mix.
Spoon half of batter into a pastry bag fitted with a tip or a plastic sandwich bag with a 1/4 inch corner cut.
Pipe batter into 1 1/4 inch rounds on parchment paper-lined baking sheets, leaving 2 inches between each.
Batter should spread slightly and peak should disappear. If it doesn't, wet your finger and press it down gently.
Let cookies sit at room temperature at least 1 hour to allow it to dry.
Bake at 300 degrees for 15-20 minutes, or until tops are firm.
Cool completely on wire racks and remove from parchment paper.
To assemble, top one cookie with approximately 1/2 teaspoon marshmallow fluff, 1/4 teaspoon graham cracker crumbs, and 5-6 mini chocolate chips. Press second cookie on top to form a sandwich. (If necessary, use a lit extra marshmallow fluff on top cookie to stick.
Nutrition Information:
Yield:

15
Serving Size:

1 grams
Amount Per Serving:
Calories:

109
Total Fat:

5g
Saturated Fat:

1g
Trans Fat:

0g
Unsaturated Fat:

4g
Cholesterol:

0mg
Sodium:

36mg
Carbohydrates:

29g
Fiber:

2g
Sugar:

4g
Protein:

4g