These Chocolate Covered Strawberry Pancakes are light and fluffy, topped with fresh strawberries and rich chocolate ganache. Perfect for Valentine's Day or any special occasion!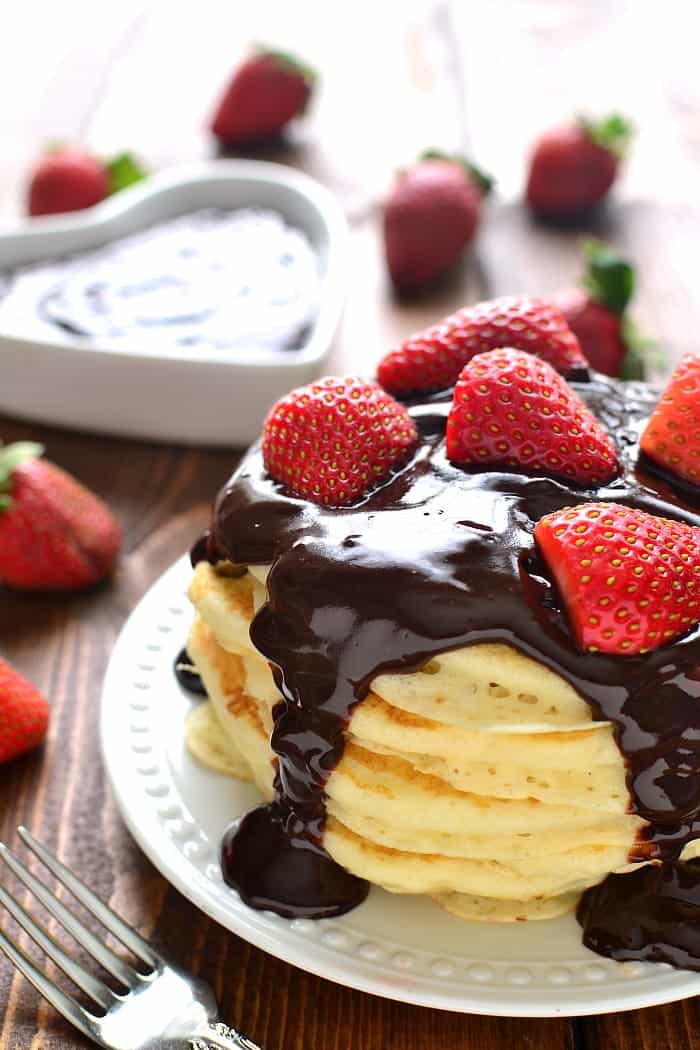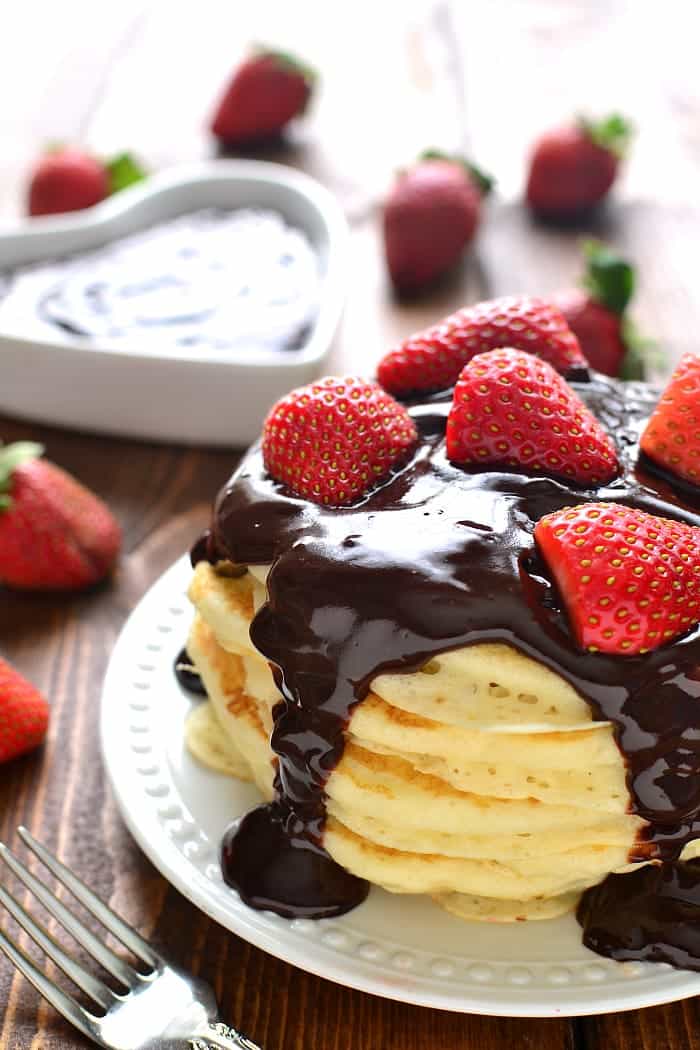 As a mom of four, it's no surprise that I do my fair share of things that are annoying to do with kids. Like grocery shopping, going to the dentist, standing in line at the post office, taking them to get haircuts…. Pretty much anything that involves me taking all four of them out in public is iffy. And at least slightly annoying.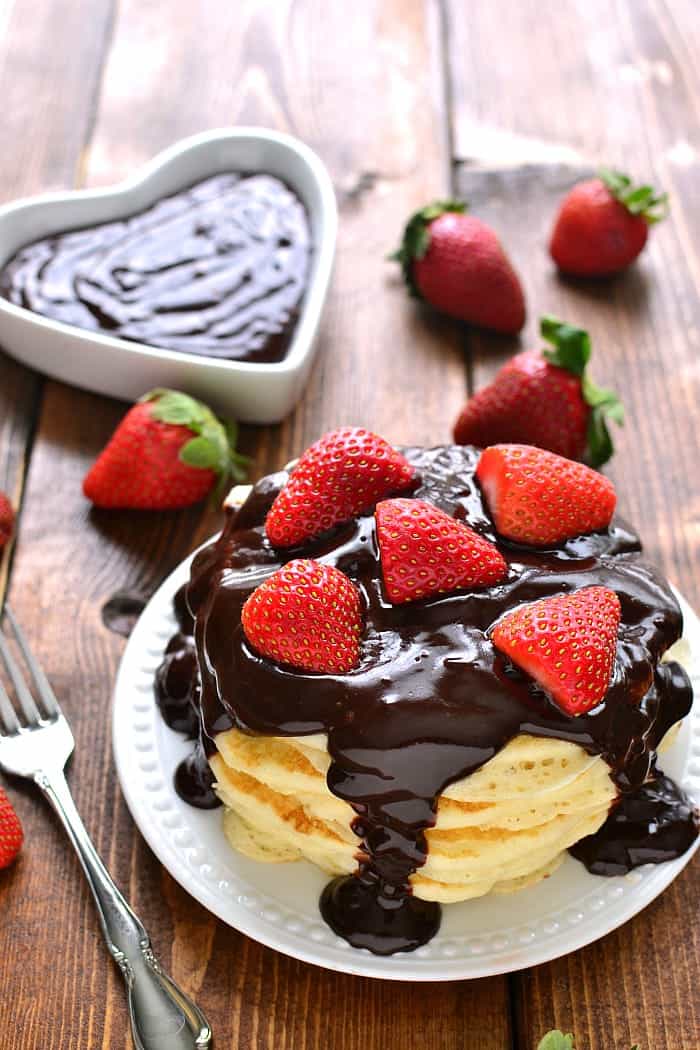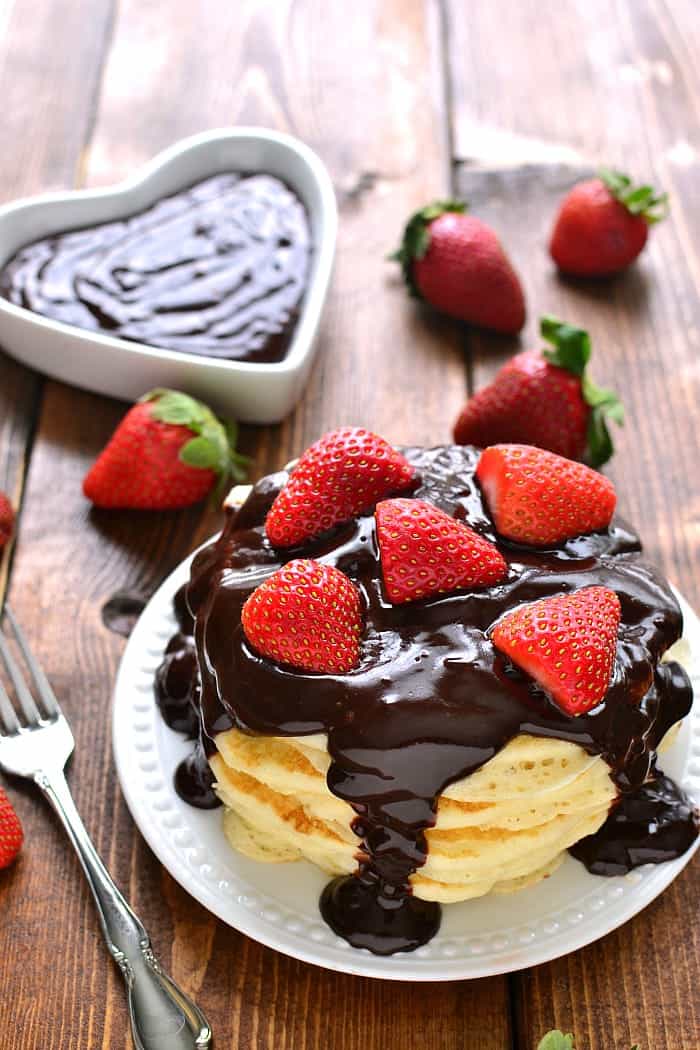 But nothing can beat the experience I had yesterday, when, against my better judgement, I brought Nora and Myla with me to the OB/GYN. Can you even….?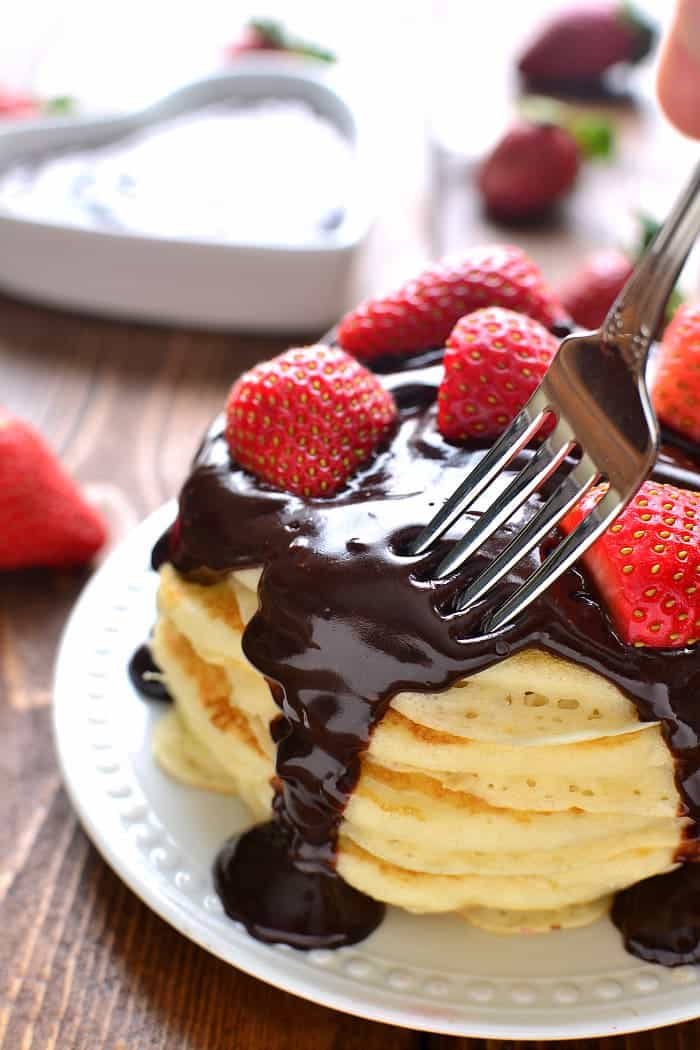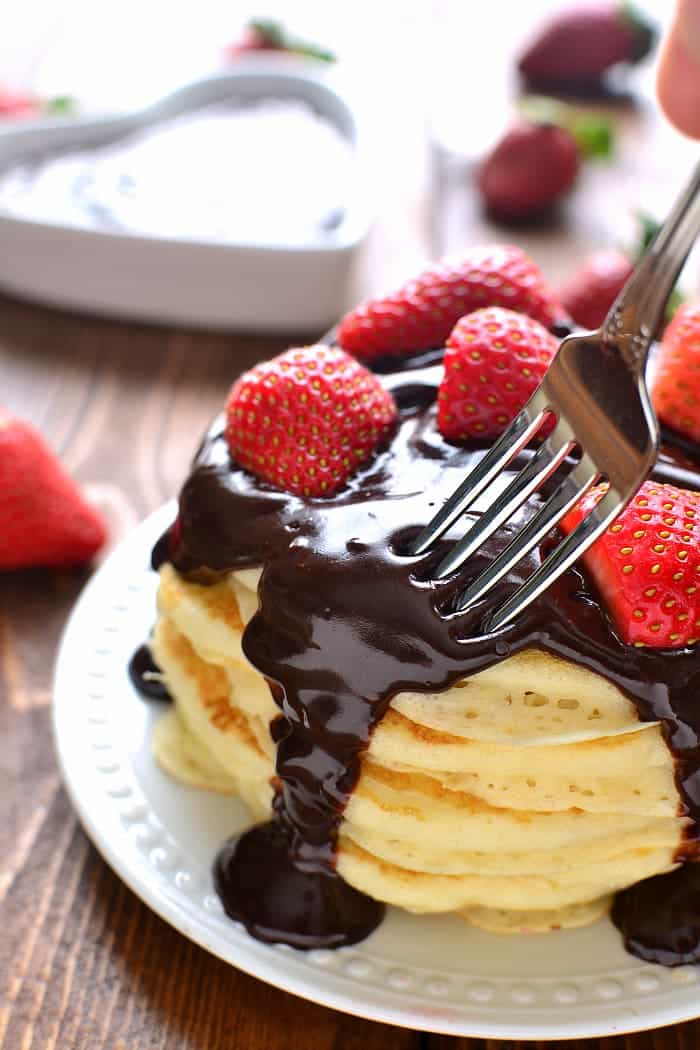 Looking back, I should've known I was doomed from the moment we got there, and the valet parking was so backed up we couldn't even turn in. So instead, we ended up parking across the street on the 3rd floor and running, in the freezing cold, to the appointment we were now late for. It would have been annoying enough for me on my own, but add Nora and Myla to the mix….and let's just way I was ready to turn around and go right back home.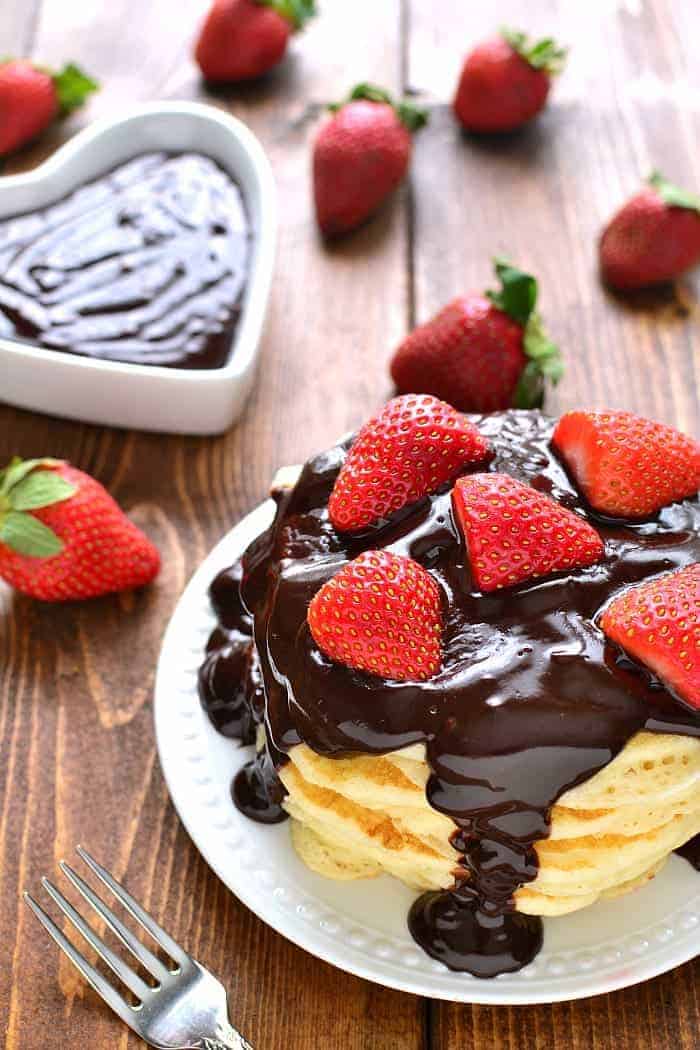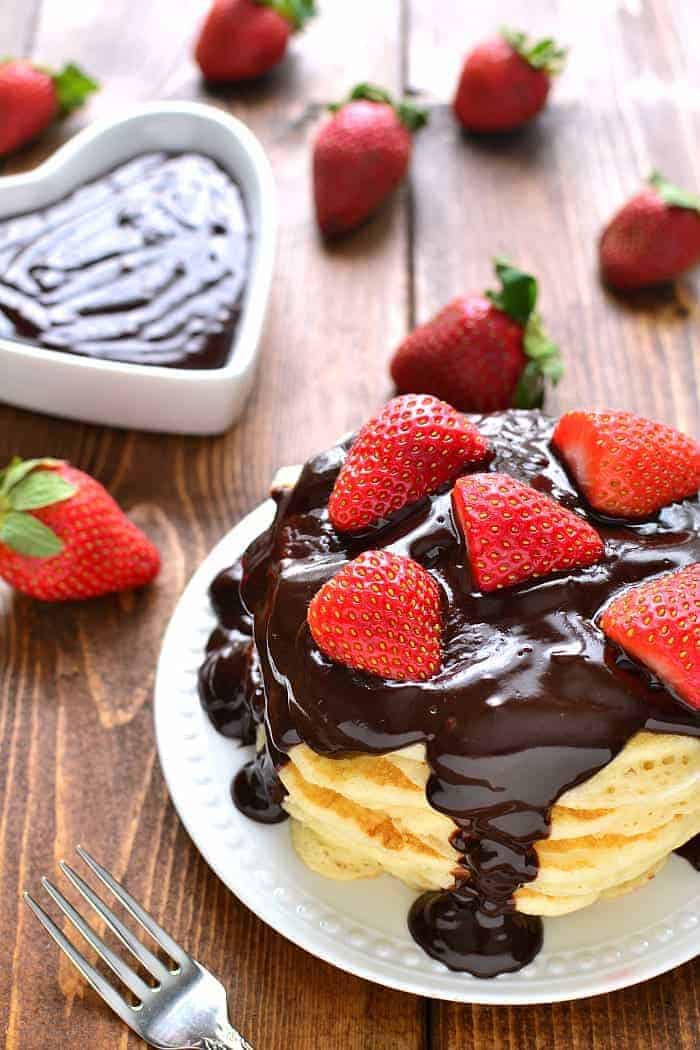 Even worse? That was only the tip of the iceberg! Because despite the backpack full of books and toys and snacks I had diligently packed before we left home, when it came time for my appointment, my kids were interested in one thing and one thing only: ME!!!! Especially from the second the nurse told me to strip down to nothing but the gown.
Chocolate Covered Strawberry Pancakes – A perfect chocolate breakfast
Seriously. SO awkward….as if going to the OB/GYN isn't awkward enough on its own!? Not to mention potentially scarring for LIFE!!! But we got through it, and you better believe that this morning we are treating ourselves to some Chocolate Covered Strawberry Pancakes. Thick, fluffy buttermilk pancakes covered in rich chocolate ganache and fresh sliced strawberries. Because after yesterday, we all deserve them. And you know what? So do you!!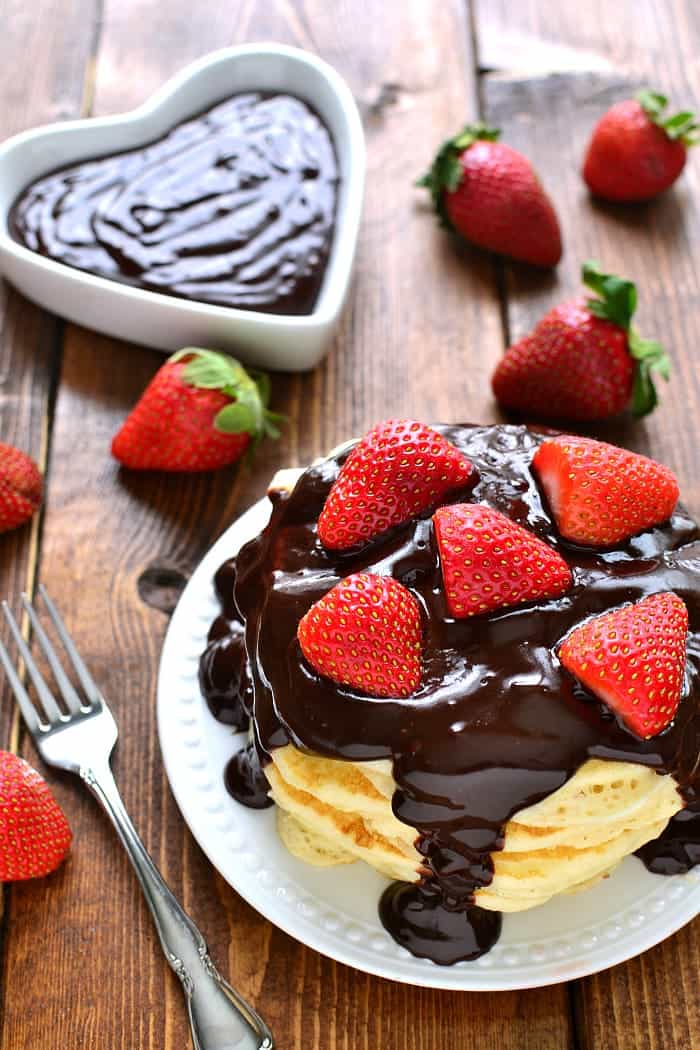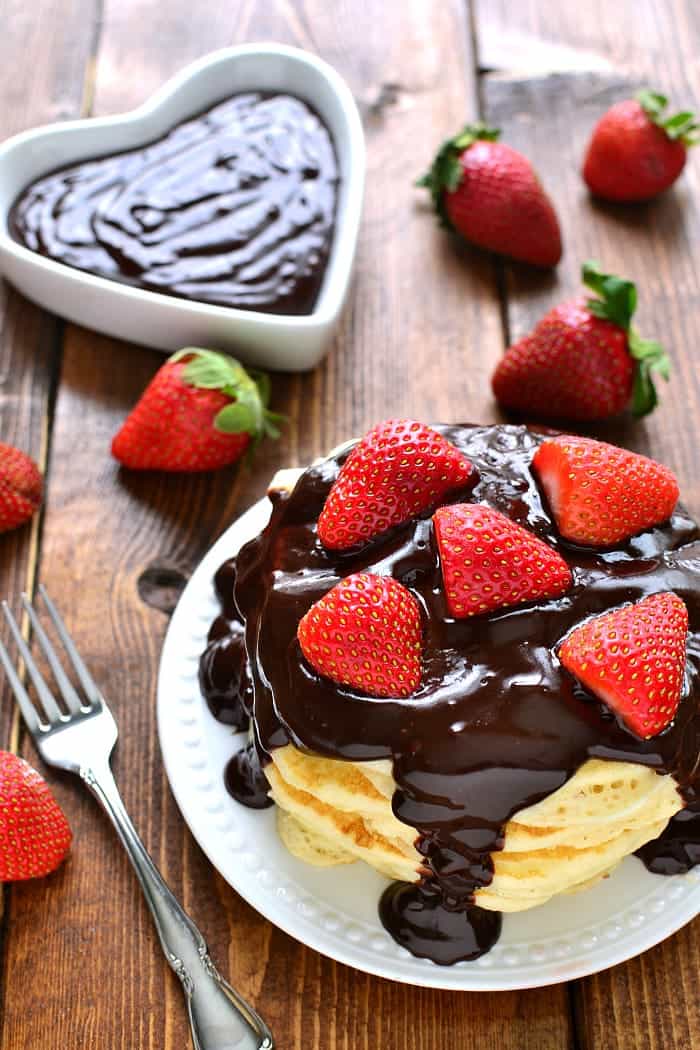 What makes these pancakes SO delicious (aside from the chocolate and strawberries they're swimming in) is the fact that they're super light and fluffy. The key to super light and fluffy pancakes? DO NOT overmix!!! Mix just until the dry ingredients are moistened. The batter will be lumpy…and in this case, lumpy = perfect!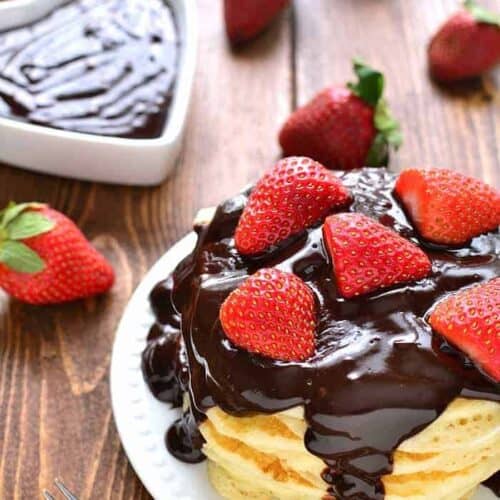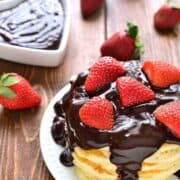 Chocolate Covered Strawberry Pancakes
Ingredients
1

c.

flour

I used cake flour, but you can substitute all purpose flour

1

Tbsp.

sugar

2

tsp.

baking powder

1

beaten egg

1

c.

buttermilk

2

Tbsp.

cooking oil

1/2

tsp.

vanilla

For chocolate ganache:

12

oz.

semisweet chocolate

1¾

c.

heavy cream

Fresh strawberries
Instructions
In a medium mixing bowl, combine flour, sugar, and baking powder. Set aside.

In a separate bowl, combine egg, milk, oil, and vanilla.

Add egg mixture to dry mixture; stir just until moistened.

Pour 1/3 cup batter onto a hot, lightly greased skillet.

Cook until small bubbles form; flip and cook until lightly golden brown on both sides.

For chocolate ganache:

Heat ¾ c. heavy cream to a boil.

Pour over chocolate in heatproof bowl; stir until smooth.

Spoon chocolate ganache over pancakes; top with fresh strawberries.
Be sure to try my deliciously easy Lemon Poppy Seed Pancakes on your next brunch!


For a delicious indulgence of chocolate in a drink form, try this Dairy-Free S'mores Cocktail