Cheesy Chicken Alfredo Dip made with Shredded Italian Chicken, Alfredo Sauce, and three types of cheese for an ooey gooey dip that's perfect for game day!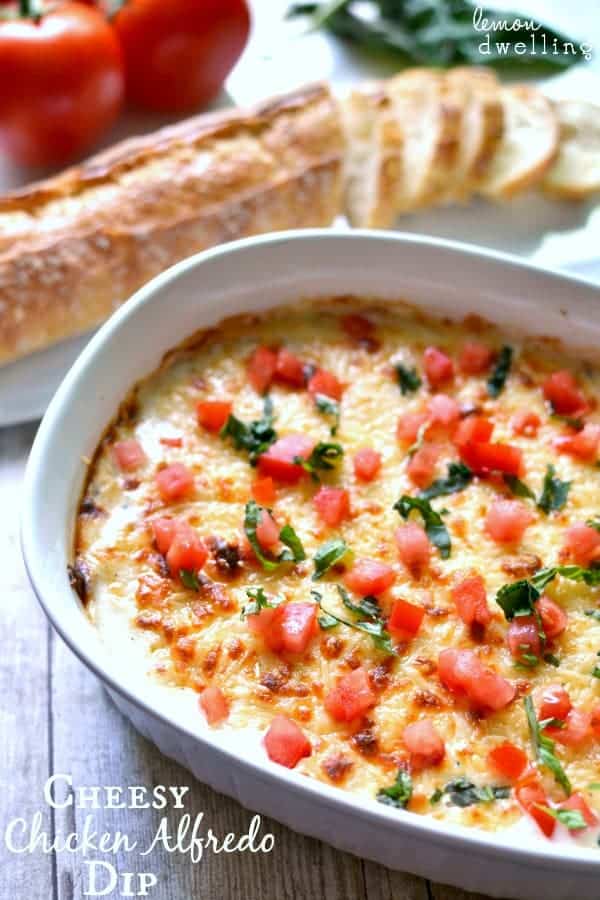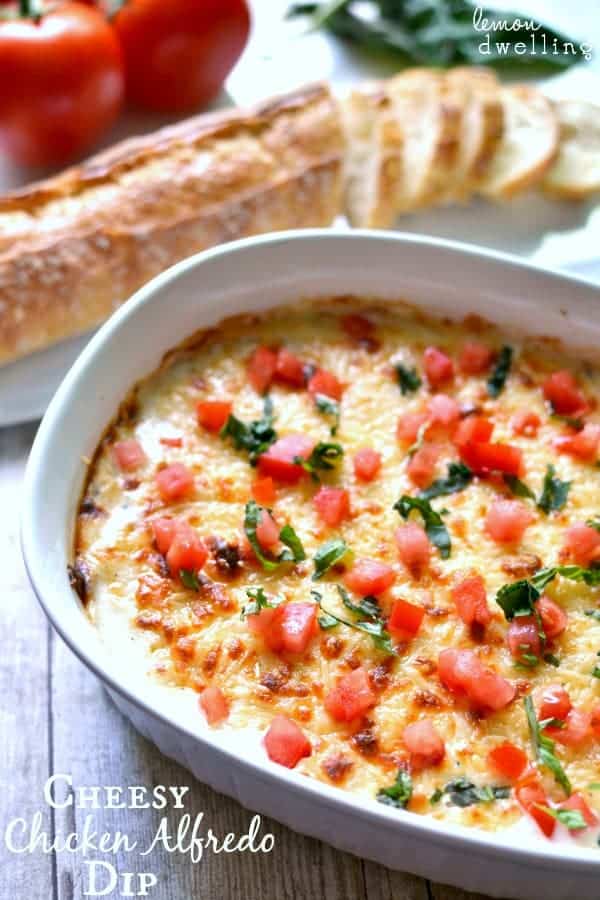 Happy first day of fall! Is it feeling like fall where you are? Here in Wisconsin our weather is absolutely gorgeous – mid-70's and sunny all week – and it actually feels nothing like fall at all! But I'm not complaining…..I'm sure there will be a chill in the air soon, and in no time at all we'll be having our first frost. Yikes! Let's not rush it…..!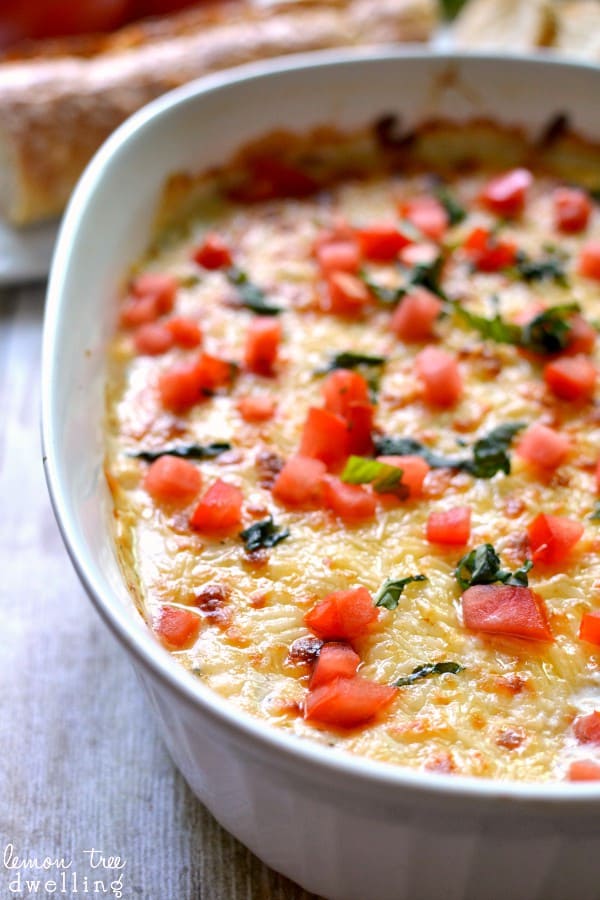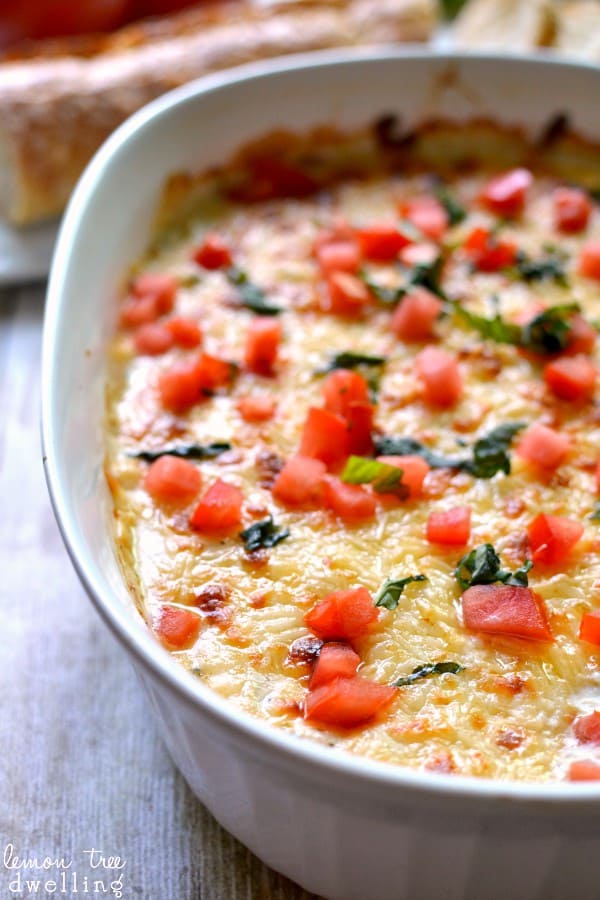 I absolutely love fall….and not just because of all the fall fun (apple picking, pumpkin patches, hayrides, leaf piles) but because it's when Jorden and I both celebrate our birthdays! And our anniversary! Okay….to be fair…Jorden's birthday is in early September, but it's after school starts, which I say counts as fall. Close enough!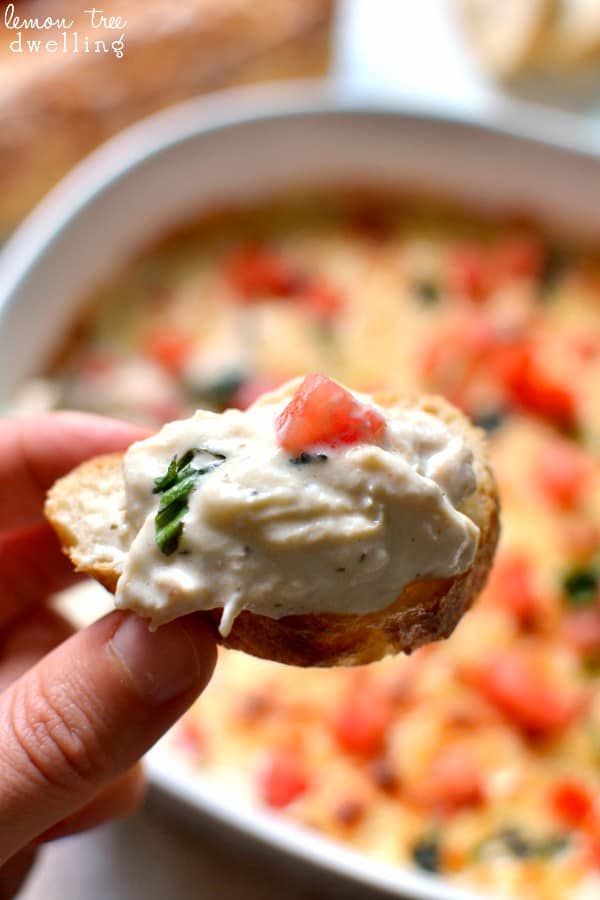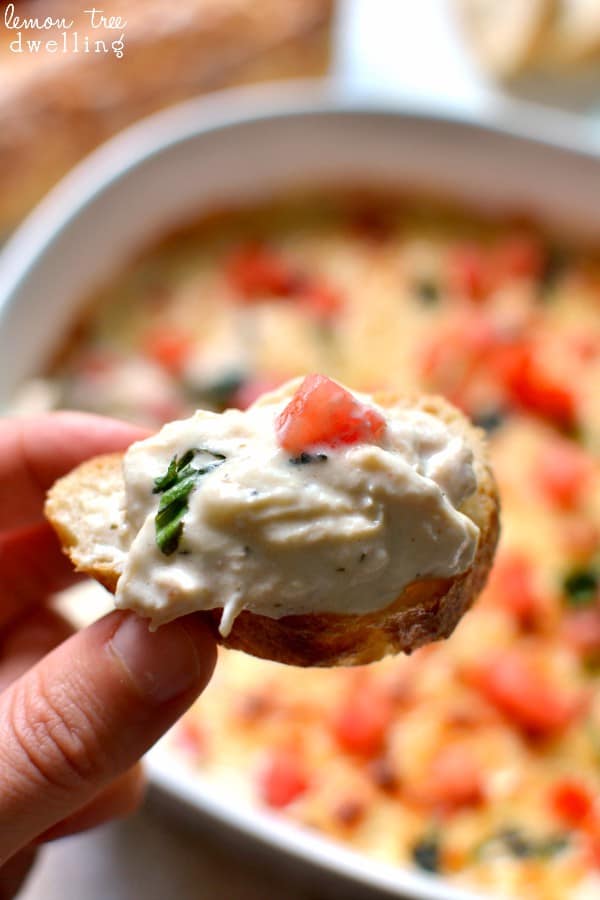 This year Jorden celebrated his 35th birthday and we will be celebrating our 10 year anniversary. It's a big one for sure…..and I've definitely been feeling the pressure when it comes to gifts! We agreed on no gifts for our anniversary (we'll be staying overnight in a hotel – without kids – for the first time since having them!) but Jorden's birthday was a different story. I racked my brain and consulted my friends and eventually ended up with a gift I knew he would love: Packers tickets vs. Vikings on October 2 – our anniversary!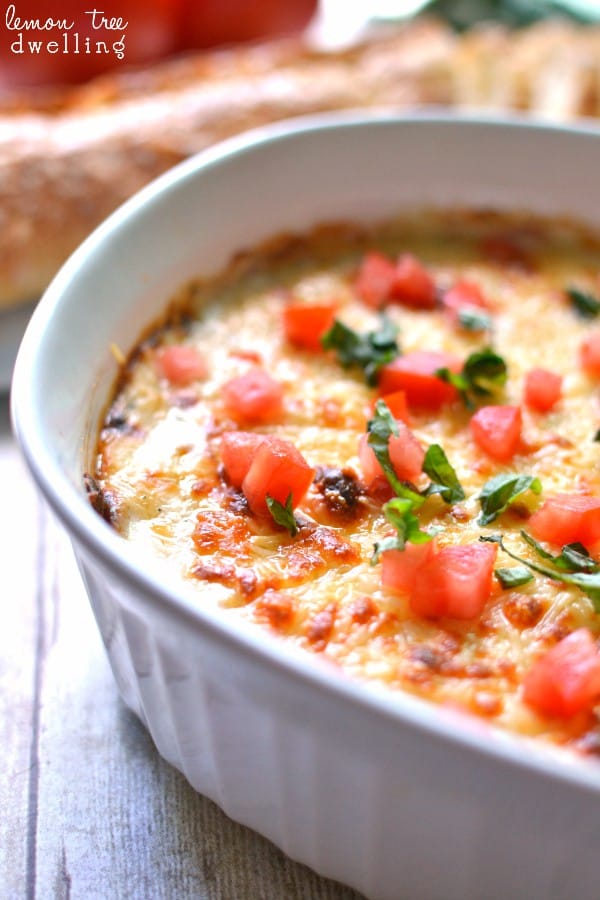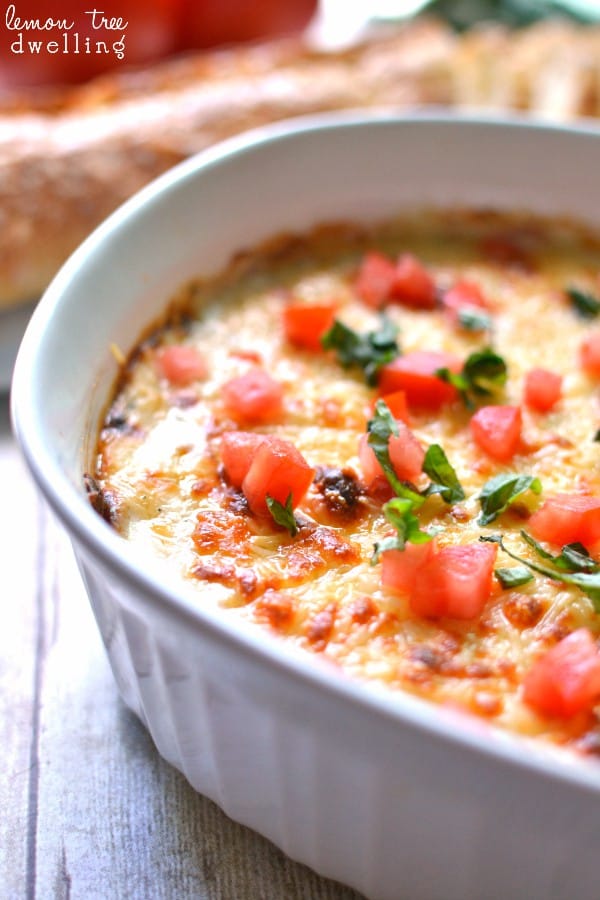 It's a Thursday night game, which means sheer chaos getting there and home, not to mention leaving our kids….but we're convinced it will be worth it! We have no doubt! Is it crazy, though, that there's a tiny part of me that's sad we can't enjoy this dip during the game? It's just that it's a new recipe….and it's so delicious….and we would both literally devour it….and love it….and it would be a happy anniversary celebration, indeed! Okay, not quite as happy as actually being at the game. But definitely more delicious! Good thing there's always next time……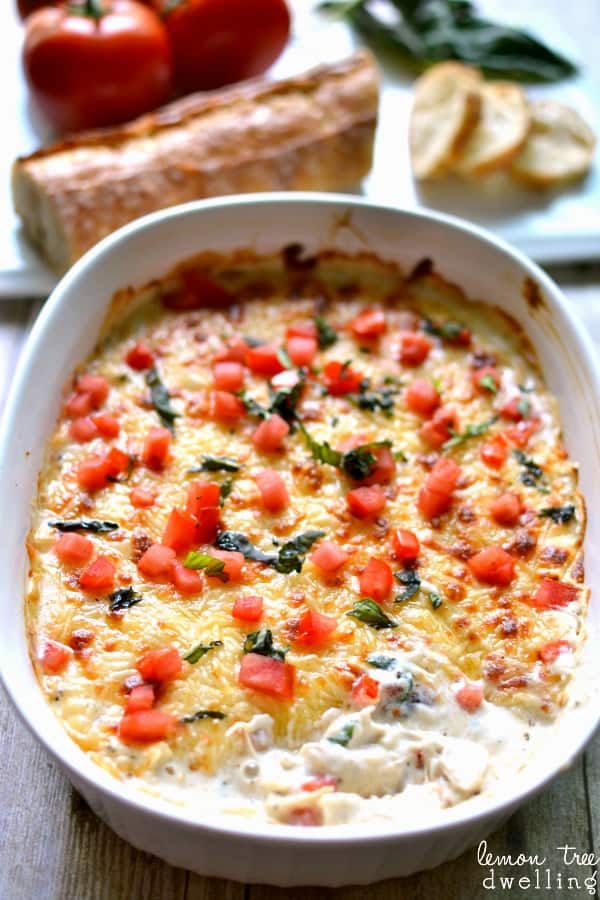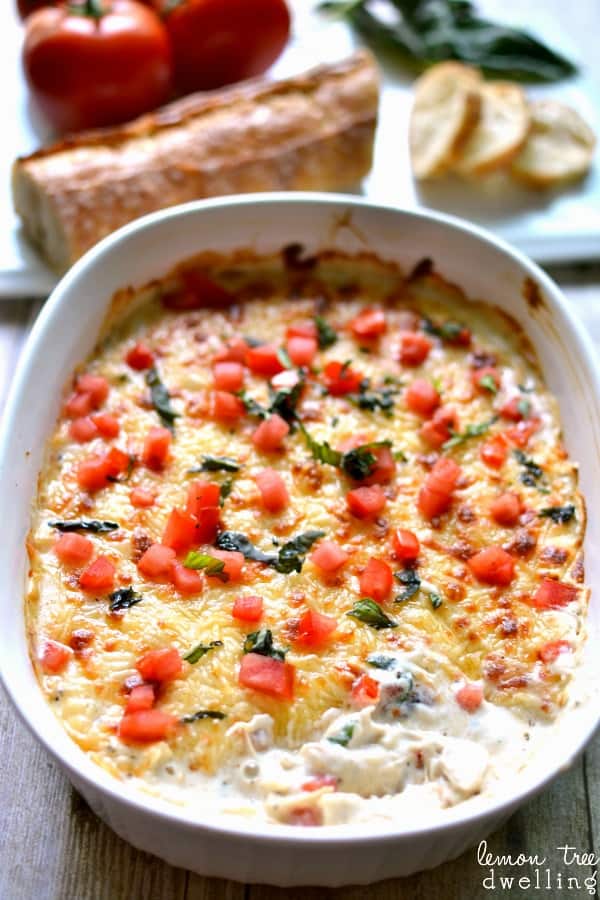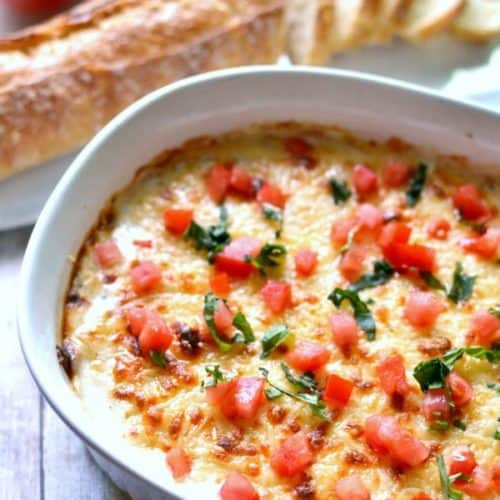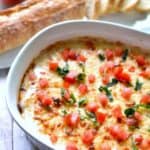 Cheesy Chicken Alfredo Dip
Ingredients
1

8 oz. package cream cheese, softened

1/2

c.

Alfredo sauce

1

c.

mozzarella cheese

2

c.

shredded chicken

I used my Crock Pot Italian Chicken recipe

1/2

c.

grated Parmesan cheese

1 to

mato

diced

fresh basil
Instructions
In a medium mixing bowl combine cream cheese, Alfredo sauce, and 1/2 c. mozzarella cheese; stir in chicken until all ingredients are thoroughly combined.

Spoon into oven-safe casserole dish or baking pan.

Top with remaining 1/2 c. mozzarella cheese and 1/2 c. Parmesan cheese.

Bake at 350 degrees 25 minutes; then broil 3-5 minutes until cheese is golden brown and bubbly.

Remove from oven; top with chopped tomatoes and fresh basil.
For the most delicious results, use my Crock Pot Italian Chicken recipe!