Moist, chewy Butterscotch Zucchini Blondies with Brown Sugar Buttercream Frosting. One bite and you'll never wonder what to do with your zucchini again!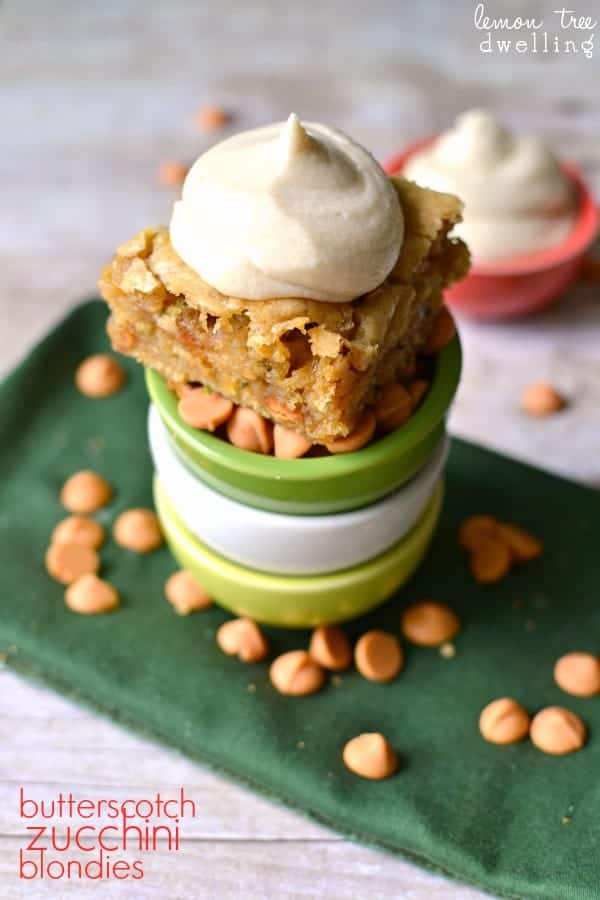 Let me just put this out there. I really hope that NONE of you show up at my house right now. Seriously! As much as I love entertaining, I am in no state to be entertaining anyone. And even if I might happen to pull it together momentarily, the fact still remains that my house is in shambles! Both inside and out.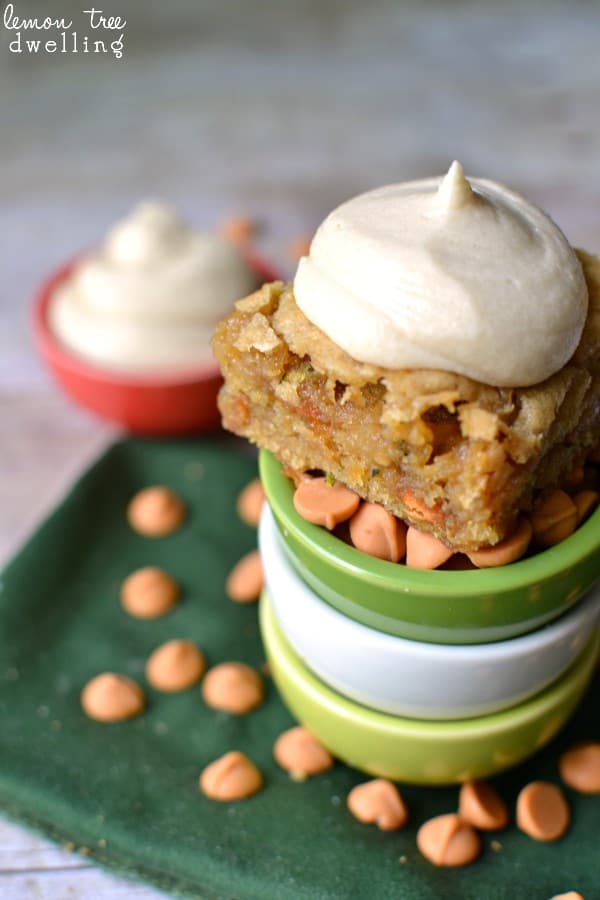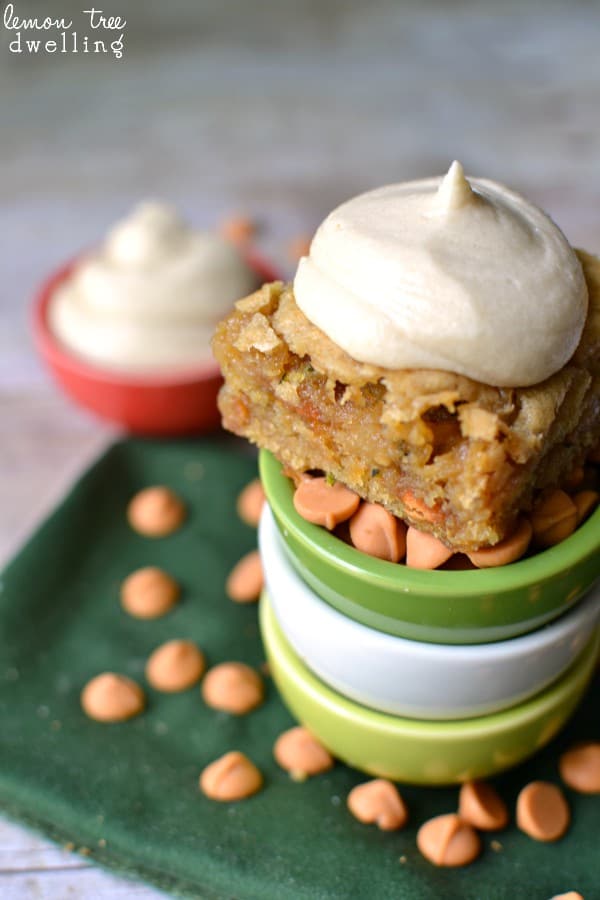 I'm pretty much reminded of the inside disaster on a VERY regular basis. But the outside disaster I tend to do a good job avoiding by spending as little time as possible outside. I'm only sort of kidding….but I do find myself wanting to stay as far as possible from the browning plants, overgrown lawn, and weed fest that has become our existence!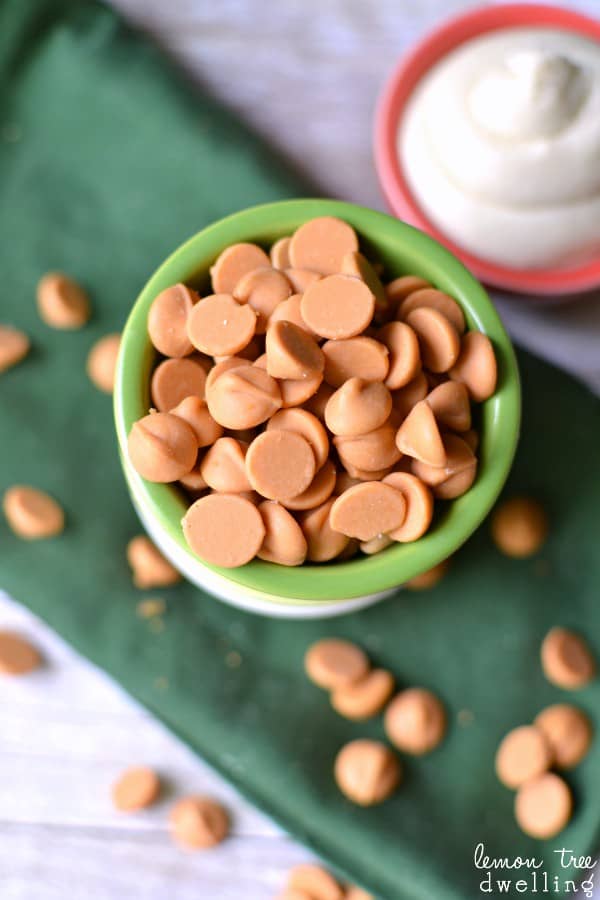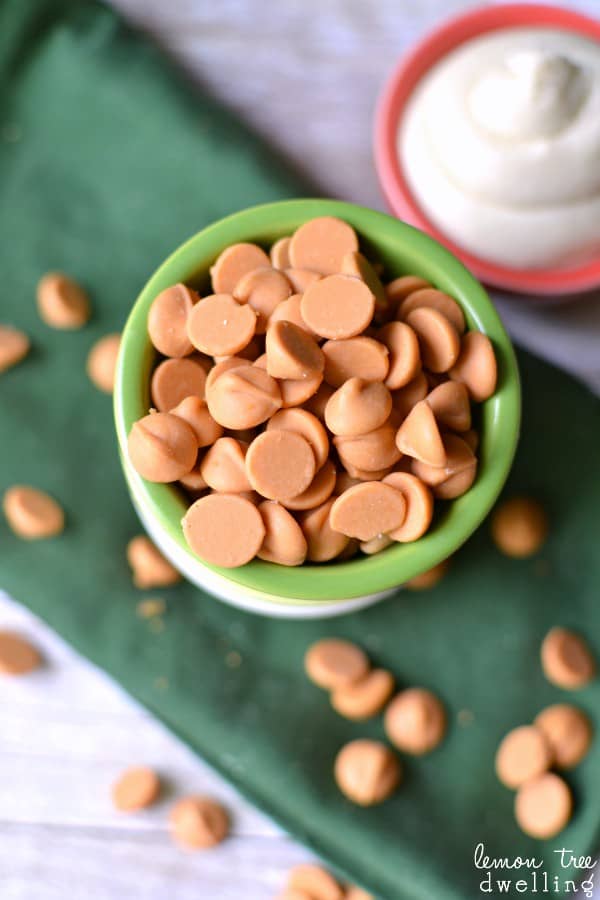 One of the very worst spots of all? The "garden"……which not only never got planted this year, but also never even got weeded in spring. What can I say? I was 8 months pregnant and it just didn't happen. But man oh man is it an eyesore! To be honest, I've been wondering lately if we should ever even bother planting again….because we're SO bad at taking care of it!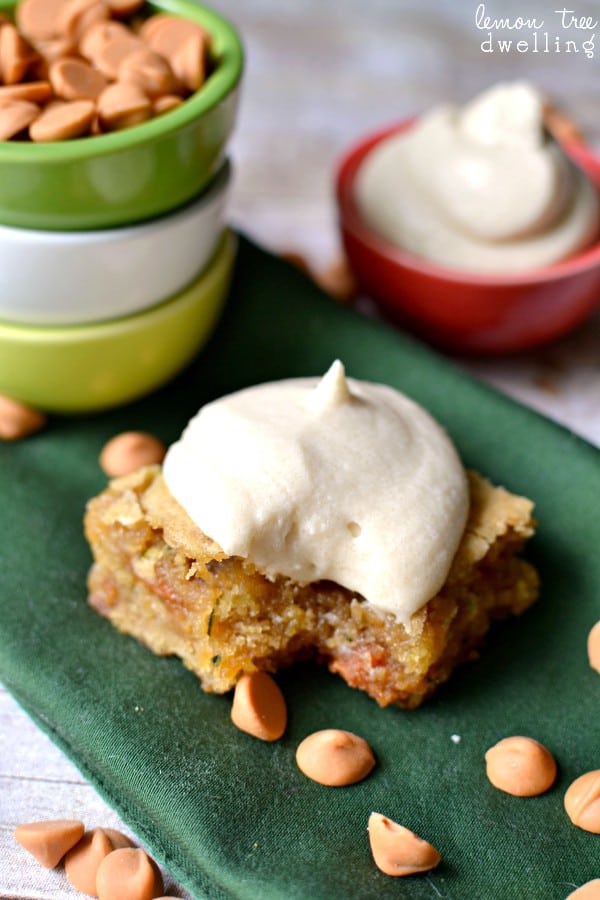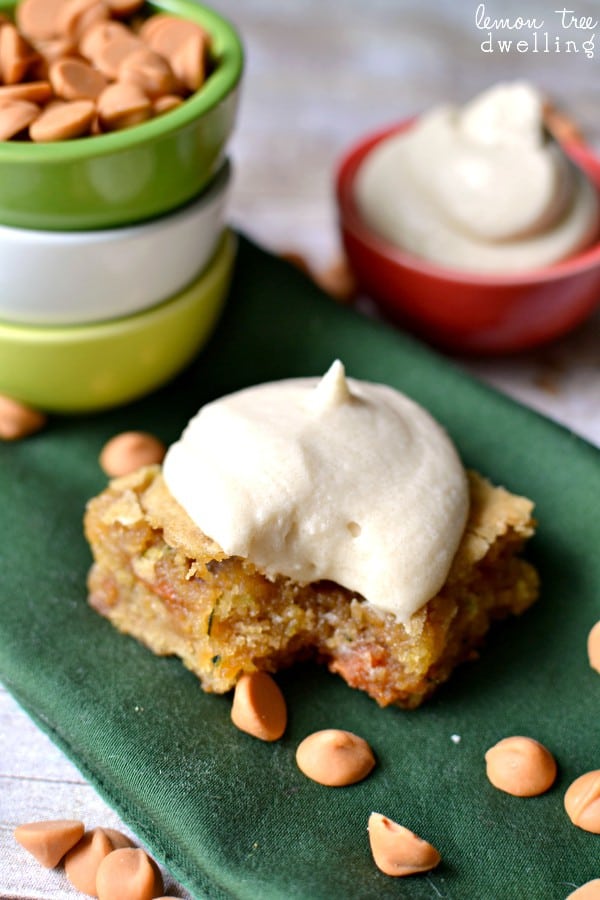 But then something happened yesterday that restored my faith in our ability to grow a garden. The kids were playing in it and Greta suddenly ran into the house with three little tomatoes in her hand! Tomatoes that weren't planted and definitely weren't planned on….but nonetheless grew! And I immediately started having visions of baskets full of them, growing next to peppers and green beans and fresh basil and zucchini. Lots and lots of zucchini.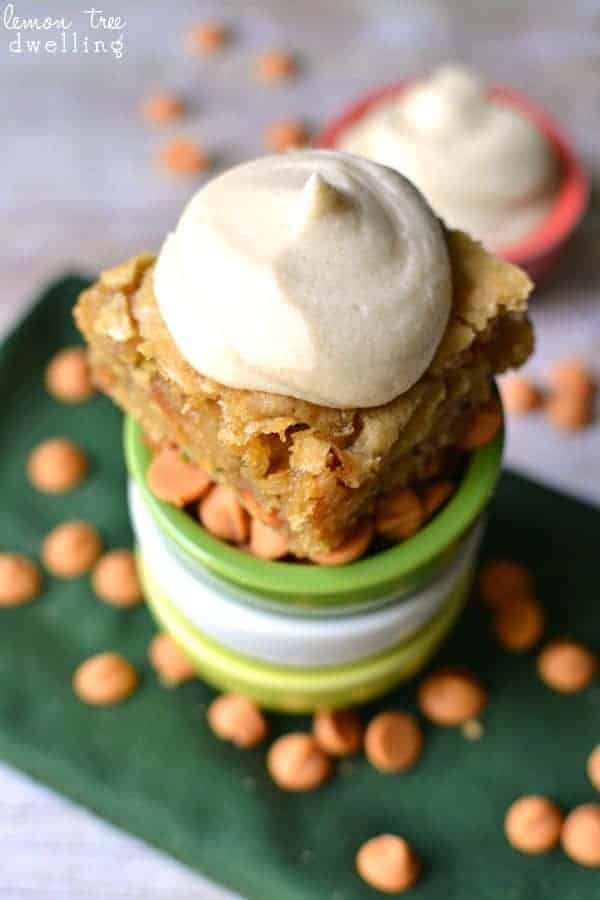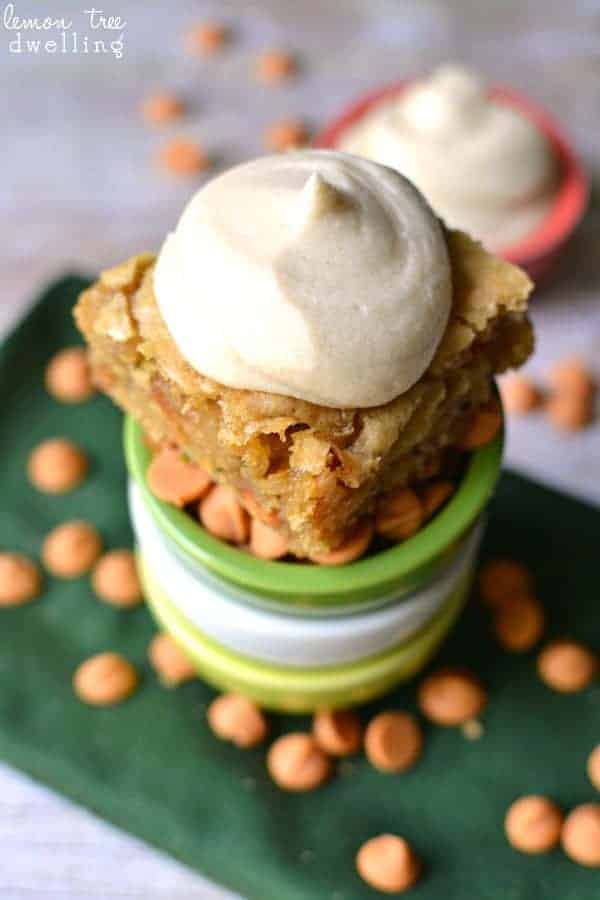 Which would be AMAZING….because it would mean I could make these blondies all summer long. They're definitely one of the best bars I've ever had – moist, sweet, chewy, and loaded with fresh zucchini and butterscotch chips. And that frosting…..brown sugar buttercream…..it's to die for!!! I guess it's time to get planting, huh??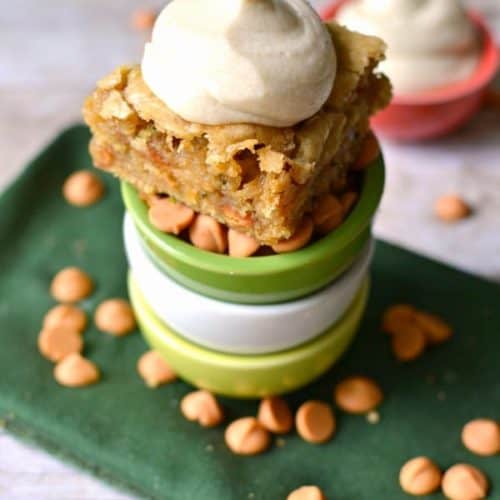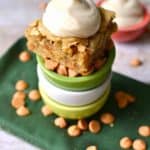 Butterscotch Zucchini Blondies
Ingredients
Bars
2

c.

packed brown sugar

2/3

c.

butter

1

egg

2

tsp.

vanilla

2

c.

all-purpose flour

1

tsp.

baking powder

1/4

tsp.

baking soda

1

c.

finely grated zucchini

1/2

c.

butterscotch chips
Frosting
1/3

c.

butter

at room temperature

4

c.

powdered sugar

1/2

c.

packed brown sugar

1/4

c.

milk

1

tsp.

vanilla
Instructions
Bars
In a medium saucepan heat brown sugar and butter over medium heat until sugar dissolves, stirring constantly. Cool slightly.

Stir in egg and vanilla.

Stir in flour, baking powder, and baking soda.

Add zucchini and butterscotch chips and stir until evenly incorporated.

Spread batter into greased 9x13 inch pan.

Bake at 350 degrees for 30 - 35 minutes or until toothpick inserted in center comes out (mostly) clean.
Frosting
In a medium mixing bowl beat butter until fluffy.

Gradually add 2 c. powdered sugar and beat well.

Slowly beat in milk and vanilla.

Slowly add remaining powdered sugar and brown sugar and beat until smooth.

*Frosting may retain a bit of grittiness from brown sugar.

**Blondie recipe adapted from BHG New Cook Book
Looking for more delicious fall dessert recipes?