Quinoa flavored with ranch seasoning and topped with shredded buffalo chicken, lettuce, tomatoes, blue cheese, cheddar cheese, and green onions.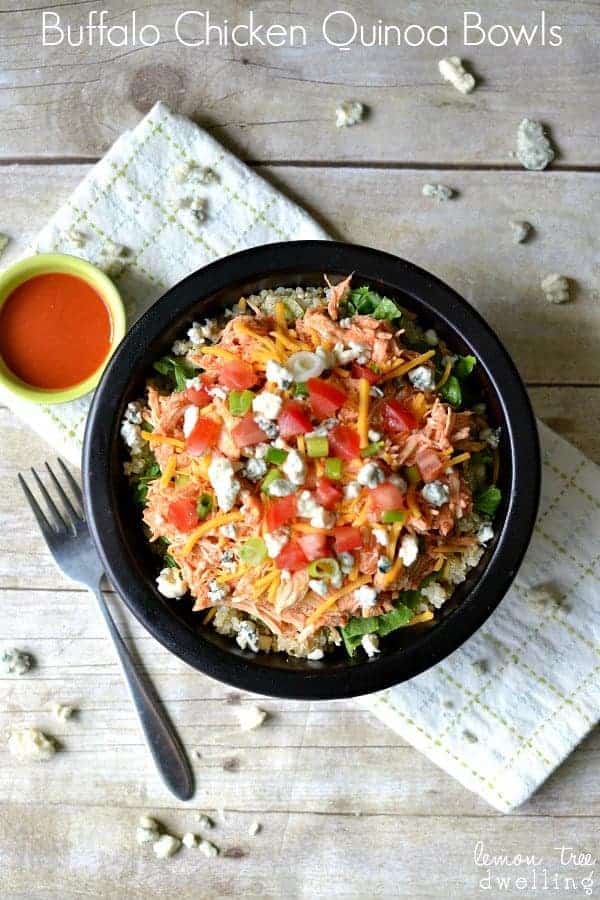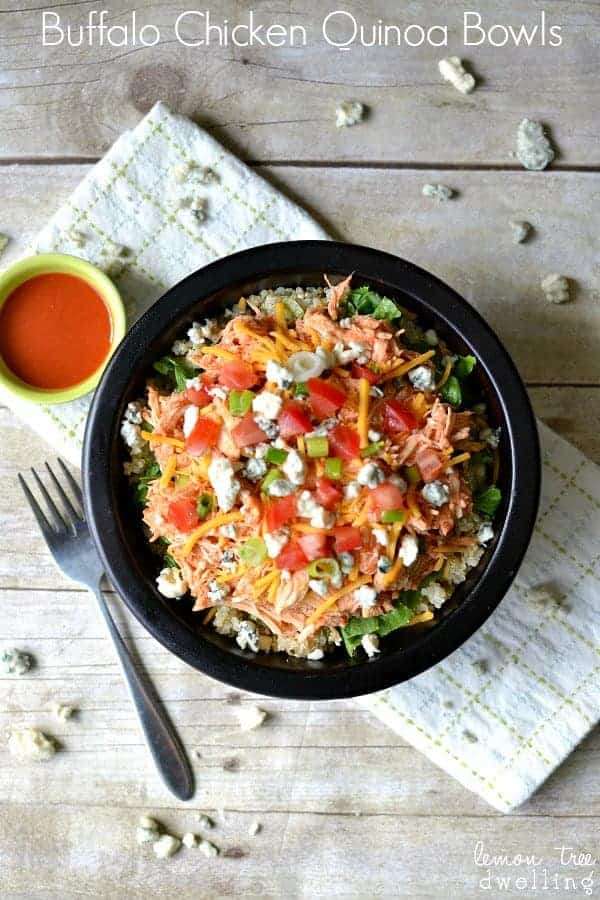 Hey, friends! Welcome back to another week here at Lemon Tree Dwelling. How was your weekend? Mine was a good mix of busyness and relaxation…..and it was definitely a weekend that made me think. Between Al's Run to support our good friends Lisa and Nathan on Saturday and a visit to a rehab facility to see my 95 year old grandpa on Sunday…..I did my fair share of thinking about some pretty big things.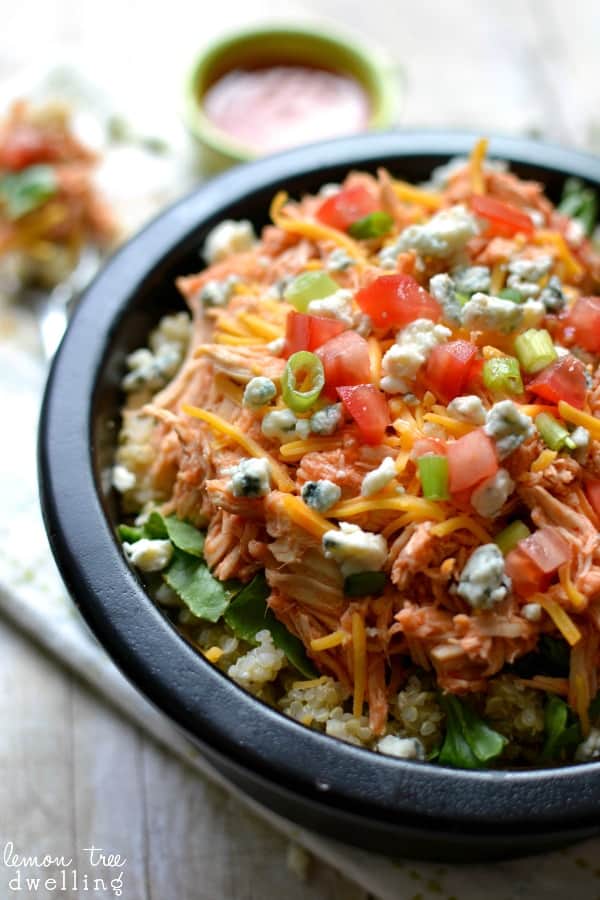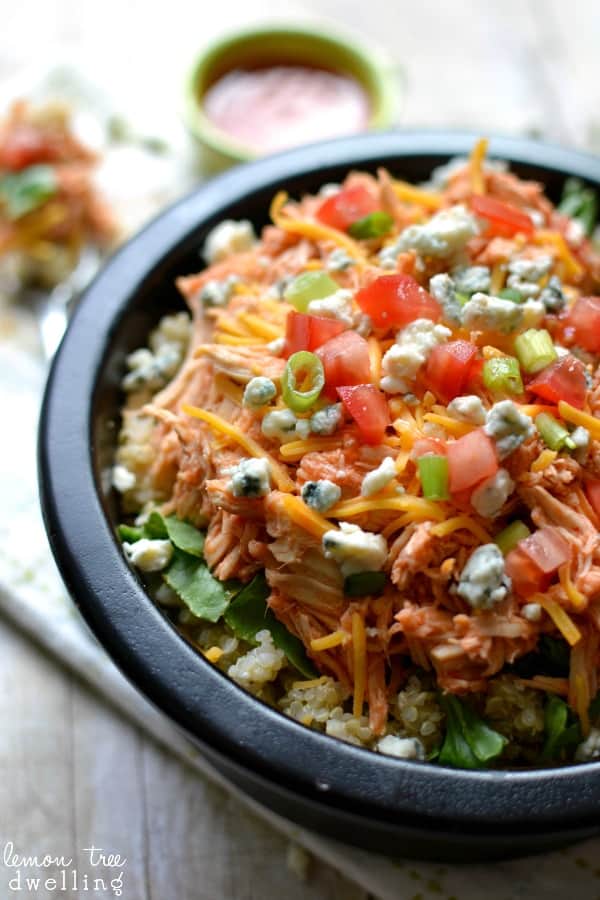 To be fair, I also spent a decent amount of time thinking about not-so-big things…..like what to make for dinner and what type of baking would be fun and whether I wanted a whole wheat or sesame bagel with my breakfast sandwich (are you noticing a theme here??) Not to mention pondering the complex art of gift giving…..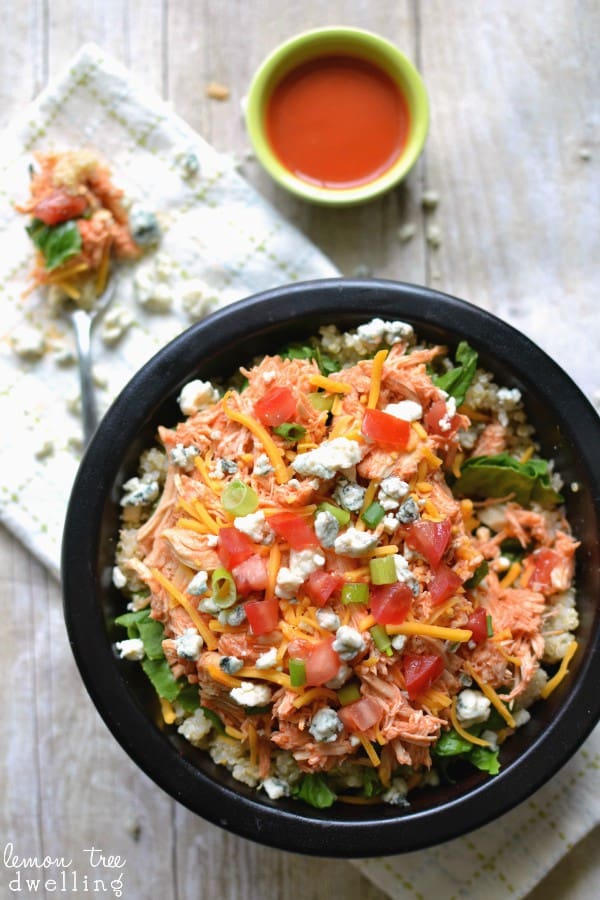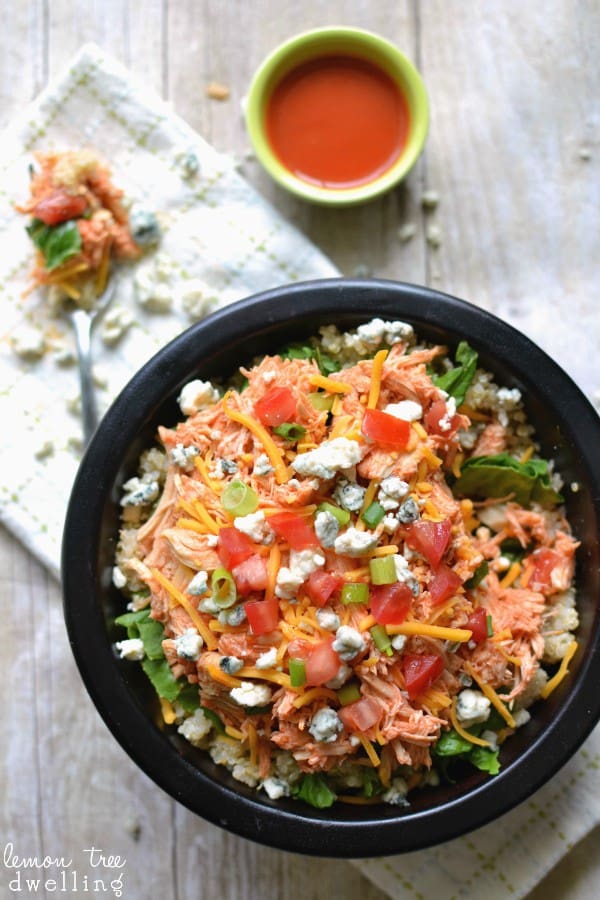 It all started when Jorden mentioned to some friends that we had gotten a new Dyson vacuum, and they asked if it was a birthday gift for me. What!? A birthday gift for me?? Not a chance! No way would I want a vacuum cleaner as a birthday present! My reaction, though, led to a barrage of questions – Don't I like having a clean house? Won't a new vacuum make vacuuming more enjoyable? How is Jorden supposed to know what to get me if a Dyson vacuum isn't good enough??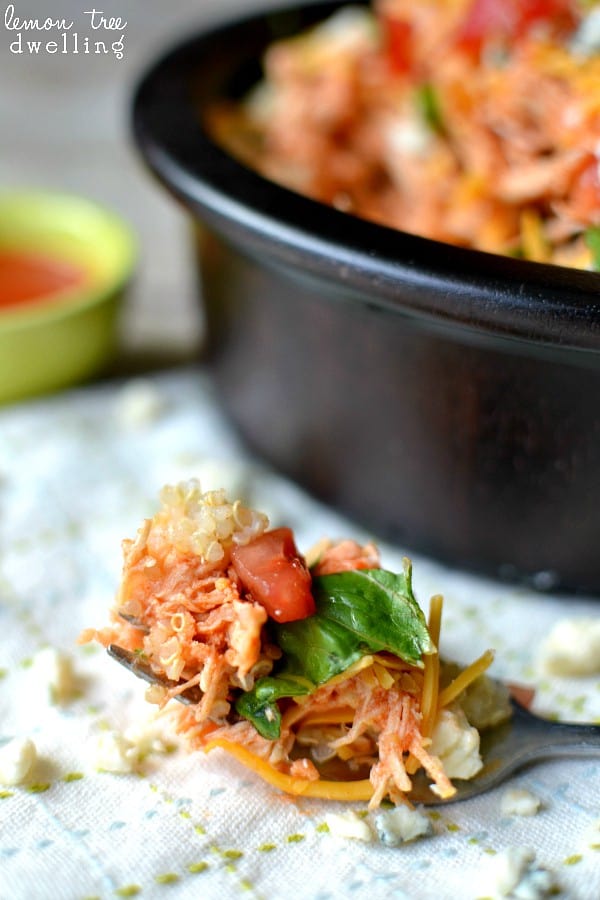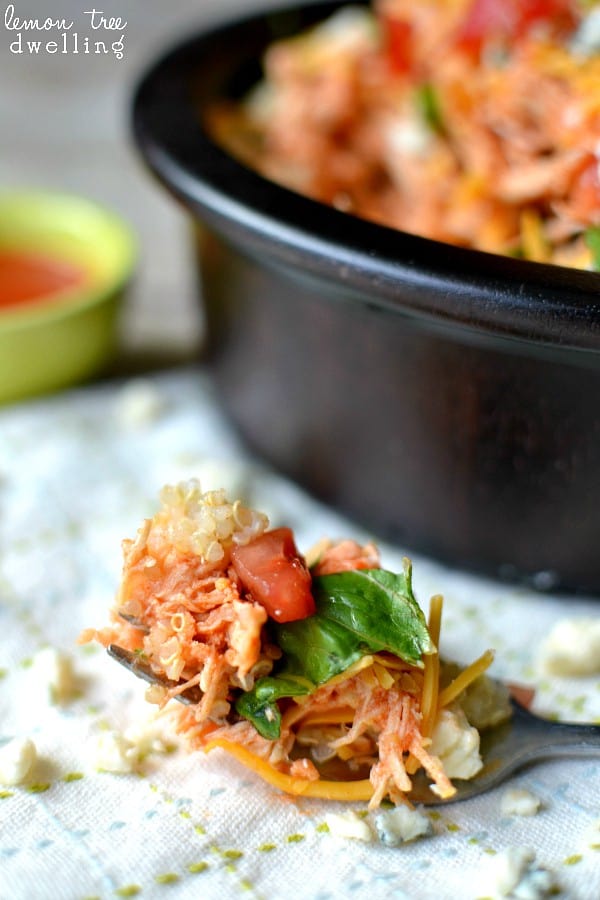 Okay. Stop the nonsense, people! It has nothing to do with a Dyson not being good enough. It's just that, to me, a Dyson is not a present! Because it implies I should be doing something differently. And it's attached to a chore. And, no matter how you slice it, it's not something I'm going to enjoy. Ever!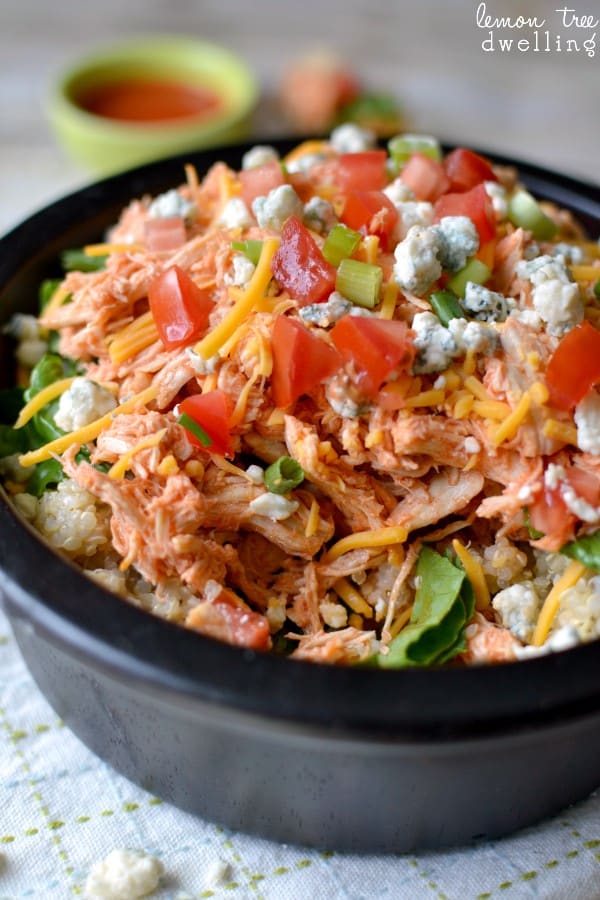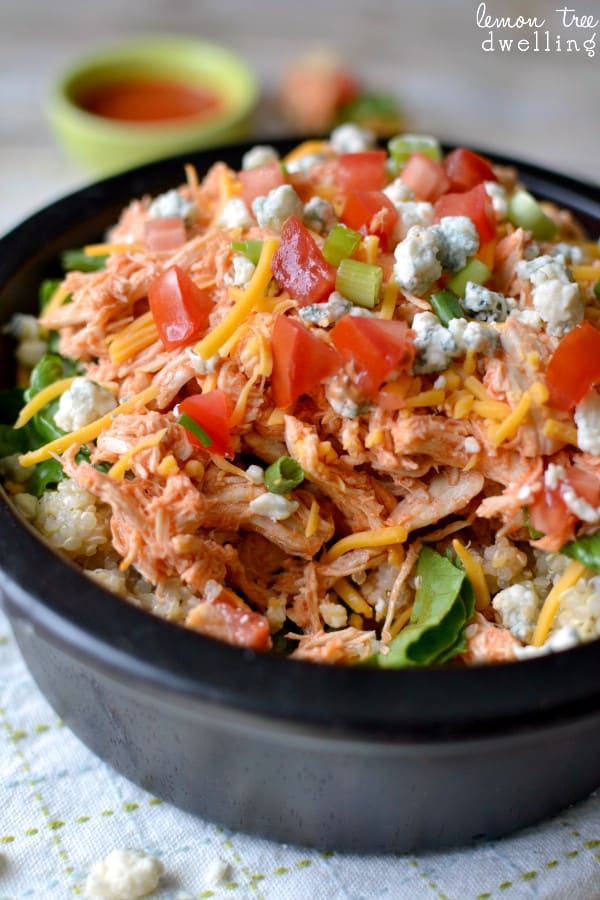 It's kind of how Jorden feels about quinoa. Nice idea, great for some people, even fine to have for dinner every now and then…..but not something he particularly enjoys. Or ever will! So when I made this Buffalo Chicken Quinoa Bowl for him…….it was a little bit like if he had gotten the vacuum for me. That said, he really did enjoy it…..(how could you not, when it's ranch and buffalo flavored, right?) Just like I really am enjoying the Dyson….(how could I not when it leads to a cleaner house, right??) I think next time I'll just leave out the fact that I made it "for him". Because let's be honest….quinoa will always be just a little more "for me".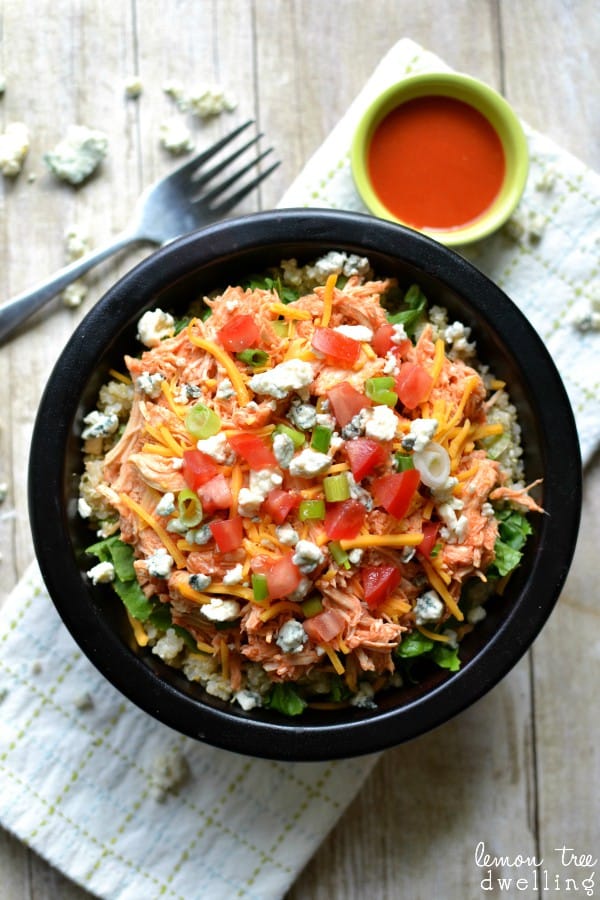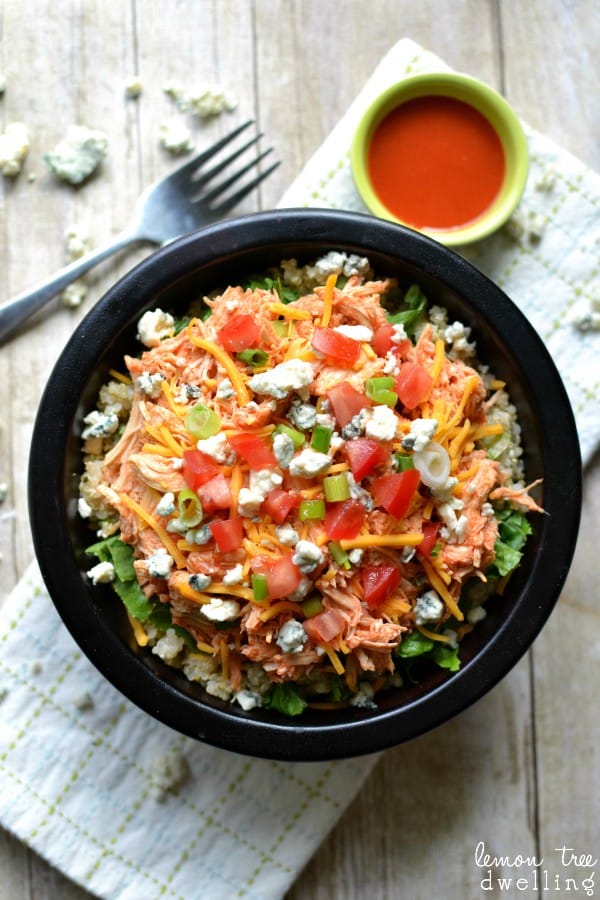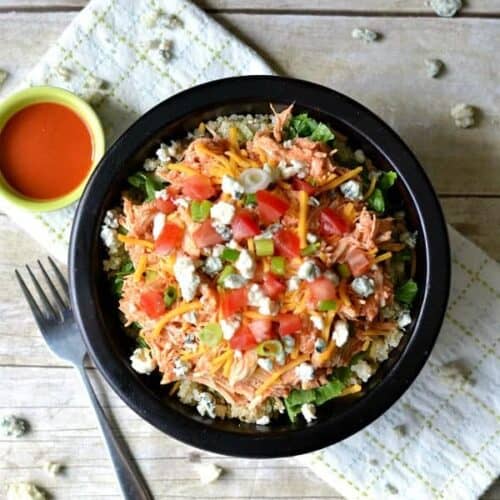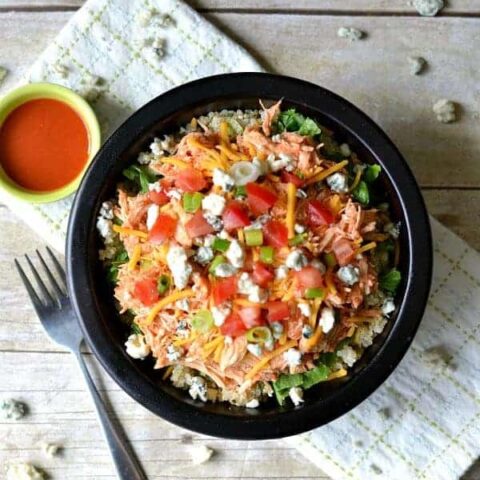 Buffalo Chicken Quinoa Bowls
Total Time:
6 hours
30 minutes
Ingredients
2 cups uncooked quinoa
2 dry ranch seasoning packets
2 pounds boneless, skinless chicken breasts
2 cups chicken broth
1 cup buffalo sauce
2 cups chopped lettuce
2 cups chopped tomatoes
1 cup shredded cheddar cheese
1/2 cup crumbled blue cheese
1/2 cup chopped green onions
Instructions
Combine chicken, 2 cups water and 2 cups chicken broth in a slow cooker.
Cook over low heat 6-8 hours or high heat 4-6 hours, until chicken is cooked through and shreds easily.
Drain liquid from chicken and toss in buffalo sauce.
In a separate saucepan, combine uncooked quinoa, 4 cups water, and 2 ranch dressing packets.
Cook quinoa according to package instructions.
Divide quinoa among bowls (recipe makes 8 cups).
Add buffalo chicken; top with lettuce, tomatoes, cheddar cheese, blue cheese, and green onions.
Nutrition Information:
Yield:

6
Serving Size:

1 grams
Amount Per Serving:
Calories:

625
Total Fat:

19g
Saturated Fat:

8g
Trans Fat:

0g
Unsaturated Fat:

9g
Cholesterol:

158mg
Sodium:

2427mg
Carbohydrates:

47g
Fiber:

6g
Sugar:

4g
Protein:

65g