Buffalo Chicken Cheesesteaks combines two delicious flavors into this game day sandwich. Enjoy this spicy meal with a nice cold beer while enjoying the game!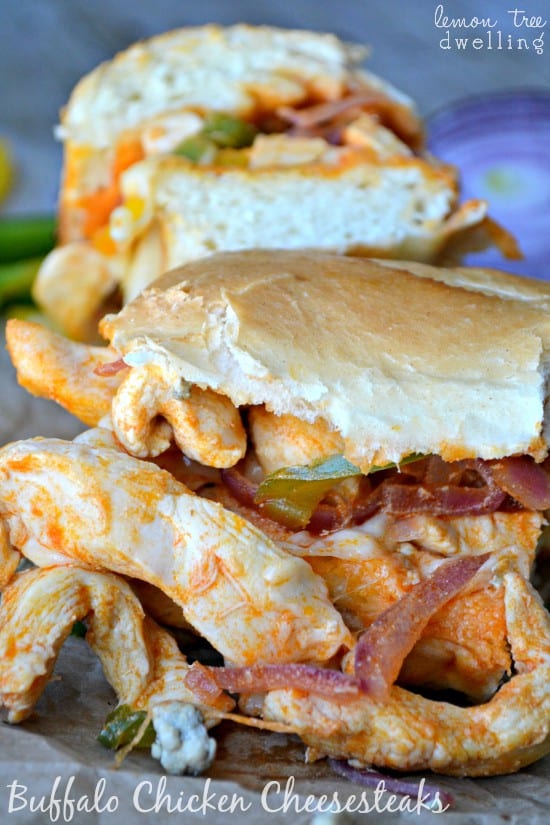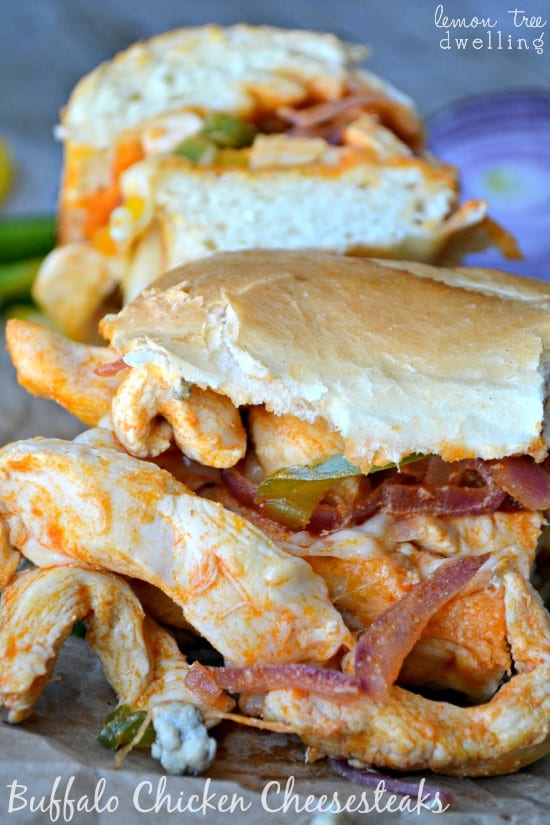 If your life is anything like mine, you are on a serious spending freeze right now! I definitely saw it coming….we spent way too much on Christmas and our New Year's Eve bash….and I even tried to prevent it by having a preemptive talk with Jorden about just how much it was all going to cost us. But at the end of the day, the talk didn't matter. We are on a spending freeze. Enough said.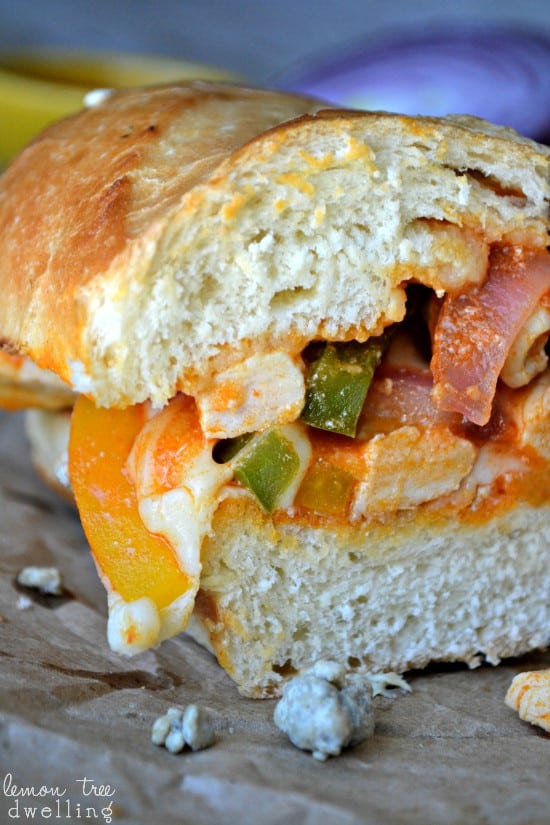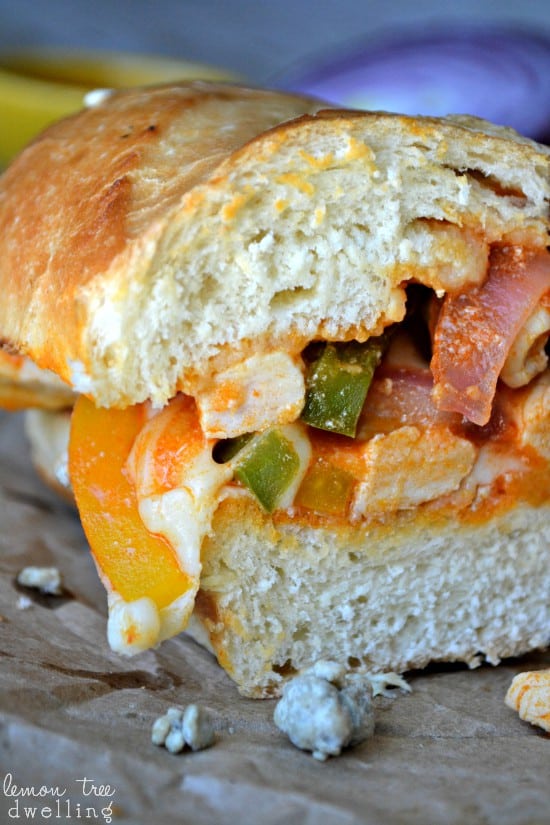 For me, that means a LOT of days of not leaving the house. Because every time I leave the house, I spend money! It's been a good thing, for the most part…..Nora and I are finding more time for reading and arts and crafts and puzzle making. LOTS of puzzle making. And I am finding more time for cooking! Not just making treats (there is ALWAYS time for that), but cooking delicious dinners for the family!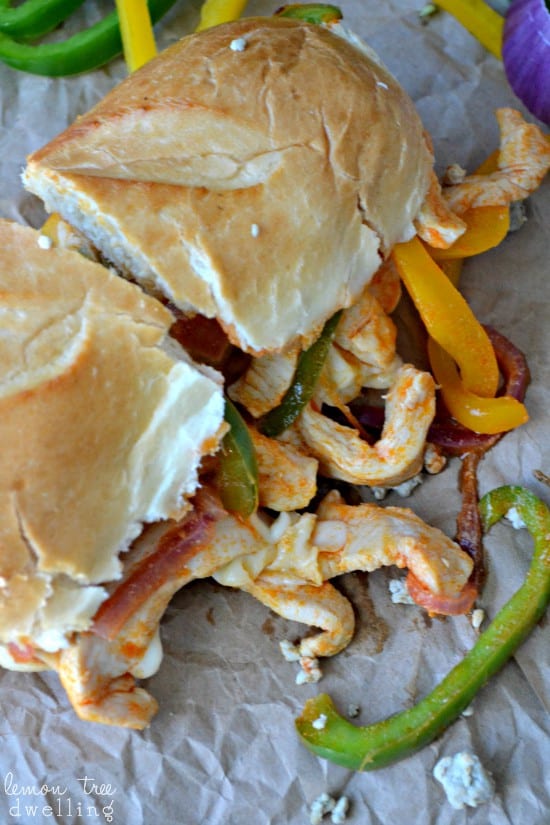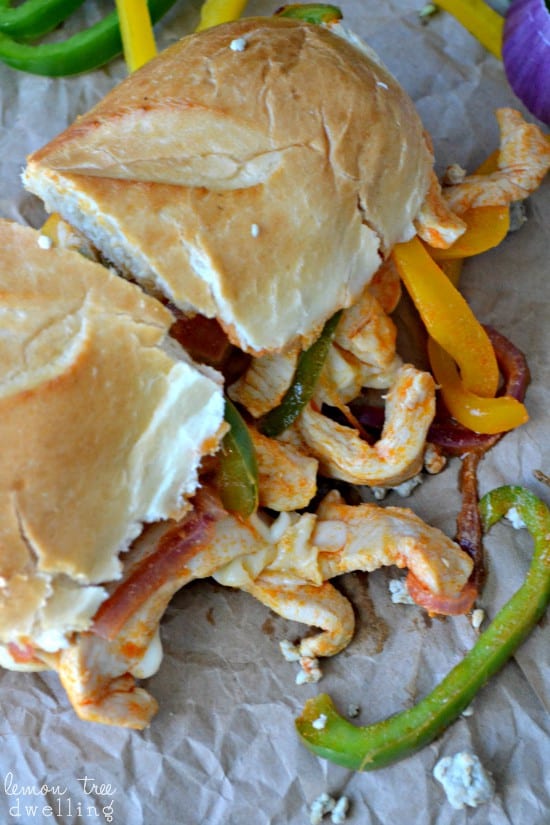 Now…..since we're not leaving the house…..I have to say, I am attempting more and more for my dinners to resemble something I might order at a restaurant. Can you blame me?? Going out to eat is one of my favorite things in the world! No restaurant food means I have very little to look forward to. (Okay, that's a slight exaggeration. But I do really love eating out!) With the Superbowl just around the corner and the spending freeze well underway, I decided to try my hand at cheesesteaks. Something I'd order at a restaurant…..on a throw caution to the wind kind of day…..and something that would be perfect for game day!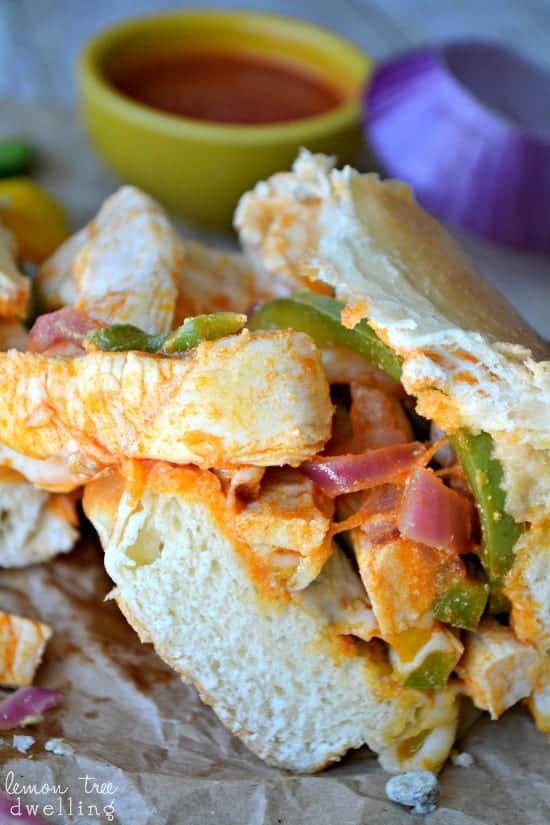 Buffalo Chicken Cheesesteaks – A non-traditional Cheesesteak
Instead of just going the traditional route, I wanted to mix it up a little. And, since Jorden loves buffalo flavor….and since he loves eating out just as much as I do….I decided that Buffalo Chicken Cheesesteaks would be good for both of us. As for the kids? They're another story, altogether. I'm pretty sure we could make them a box of mac & cheese every single night and they'd be perfectly happy….and the restaurant thing? It doesn't matter to them! They would just order mac & cheese anyway!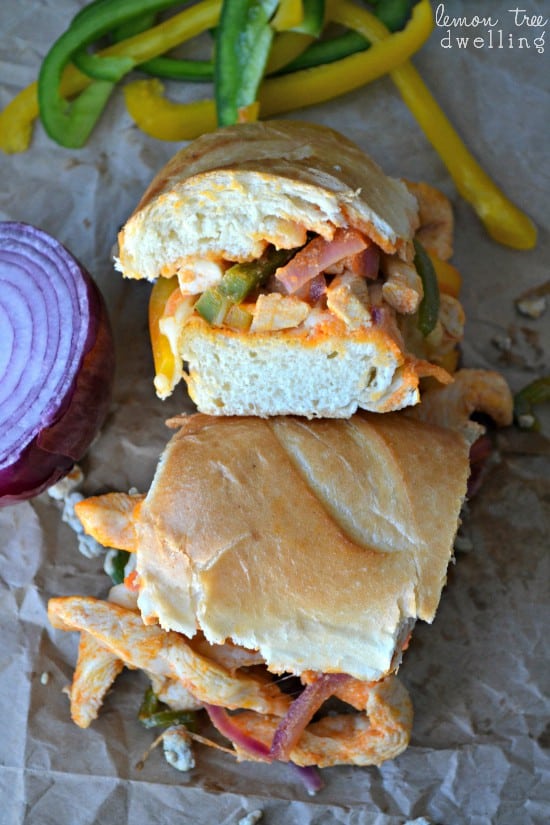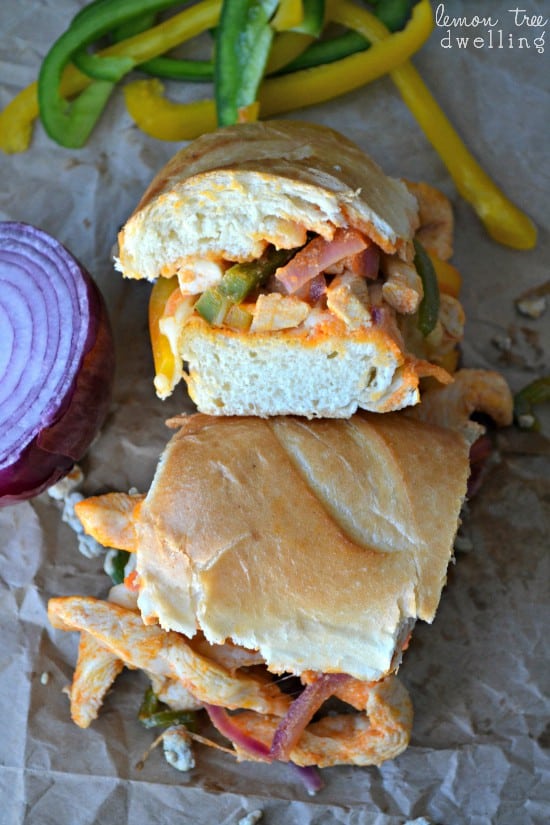 Buffalo Chicken Cheesesteak Recipe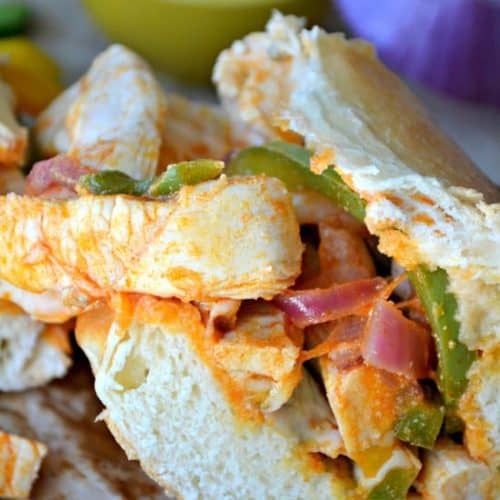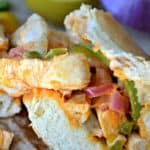 Buffalo Chicken Cheesesteaks
Ingredients
1

lb.

boneless

skinless chicken breasts, cut in strips

4

large brat buns or sandwich rolls

1/2

large green pepper

thinly sliced

1/2

large yellow pepper

thinly sliced

1/2

medium red onion

thinly sliced

1/2

c.

buffalo sauce

plus more for topping

8

slices

provolone cheese

blue cheese

optional

ranch dressing
Instructions
Heat a small amount of oil in a large frying pan. Add chicken, peppers, and onions and cook over medium heat until chicken is cooked through.

Add 1/2 c. buffalo sauce and continue cooking 1-2 minutes, stirring to combine.

Spoon mixture into buns.

Top each with 2 slices provolone cheese and place under broiler for 2 minutes to melt cheese.

Remove from oven; sprinkle with blue cheese (optional) and top with additional buffalo sauce and/or ranch dressing.
Enjoy!
Looking for more delicious sandwich recipes??