Egg Muffins are the perfect breakfast option for busy mornings. Loaded with all your breakfast favorites, like bacon, eggs, milk, and cheese, these muffins are simple, savory, and delicious.
They come together quickly with a handful of fresh ingredients and bake up in just 20 minutes. Our family enjoys them as is….but you can also feel free to personalize them by adding your favorite meats, veggies, or cheeses.
Make a big batch that will last all week or make them as a special addition to your weekend brunch menu. Either way, these egg muffins are sure to become a new favorite!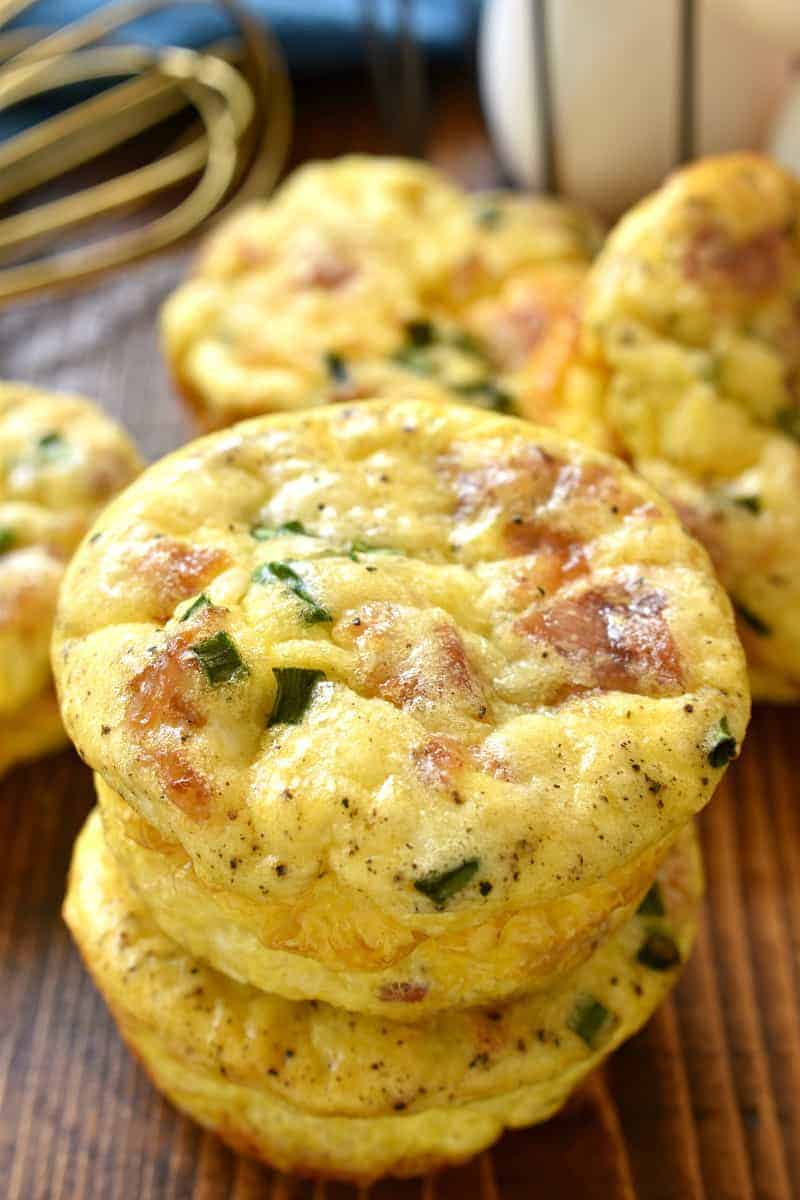 I've never really been much of a morning person. Which, as a mom, is an interesting place to be. Because my kids, like most kids, are early risers. Meaning I'm regularly trying to convince them to give me just a little more time in bed.
And believe it or not, up to this point my convincing has actually worked. But this year? It's all different. Because this year I have a middle schooler, who's up every morning before 6 am. And even though she's fairly self sufficient, she is only eleven. And so she's been waking me up….daily….to help her pack a lunch.
The good news? Ever since I started making these Breakfast Egg Muffins, she's been taking care of everything besides her lunch….including breakfast. Clearly these muffins are the BEST decision I've made in a long time. I can make a batch or two on Sunday night and they'll last us the whole week. They're the perfect grab & go breakfast….and a breakfast I feel GREAT about feeding my kids.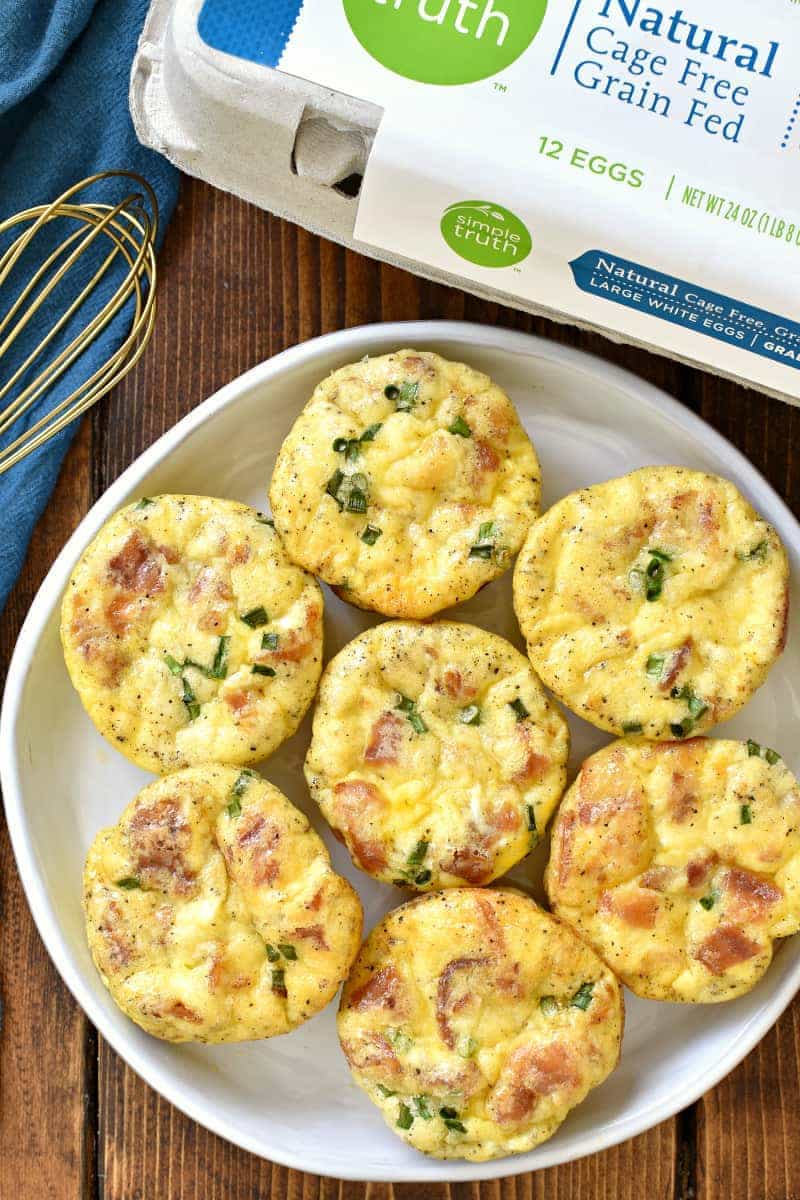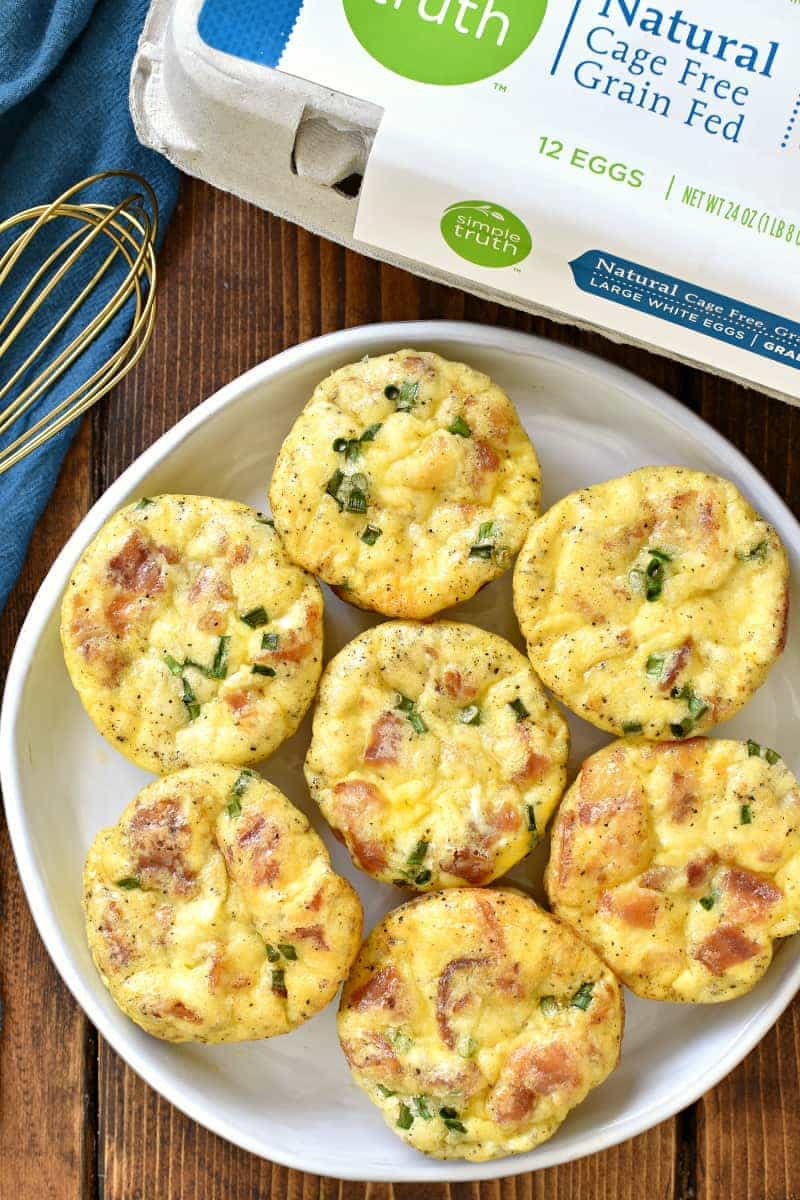 WHAT INGREDIENTS ARE IN THIS RECIPE?
Eggs
Milk
Shredded cheese
Bacon
Chives
Salt
Pepper
HOW DO YOU MAKE EGG MUFFINS?
Combine eggs and milk; whisk well.
Stir in cooked bacon, shredded cheese, salt, and pepper.
Divide evenly among greased muffin cups.
Sprinkle with additional cheese and chives.
Bake and enjoy!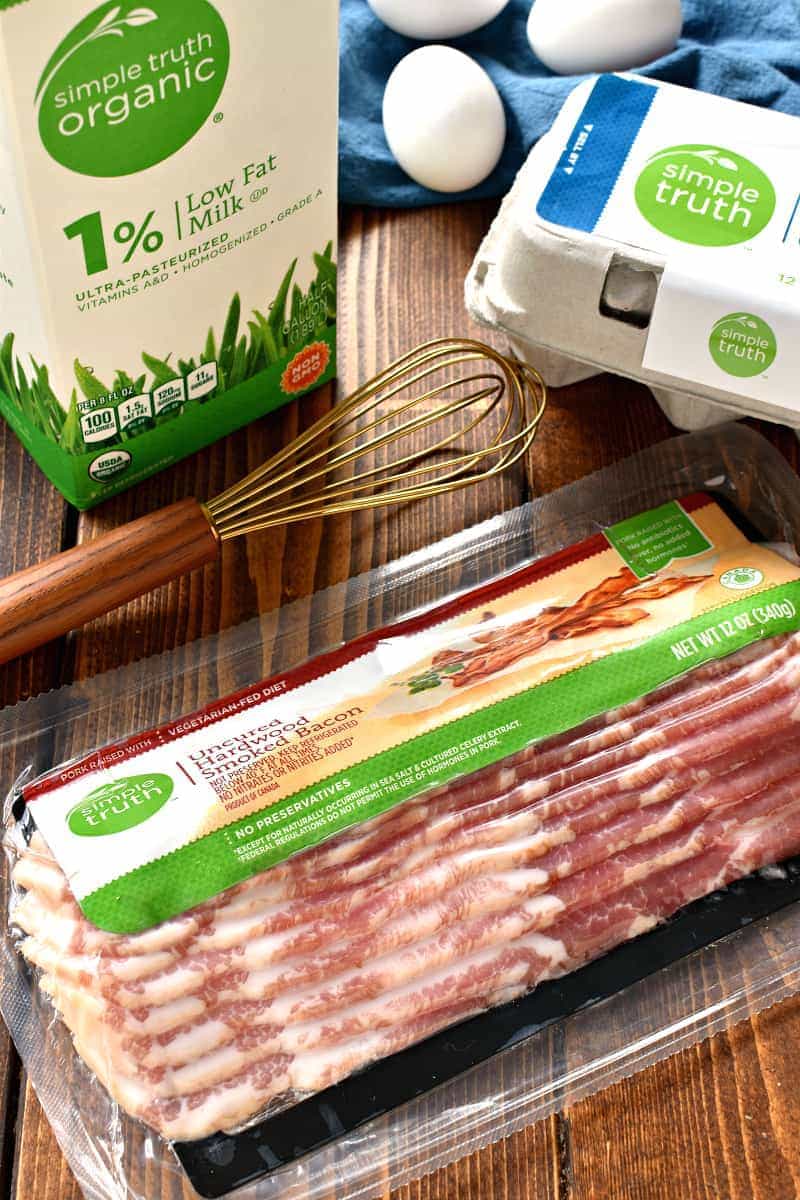 CAN YOU MAKE THEM IN ADVANCE?
Yes. Egg Muffins are easy to make in advance and store well in the refrigerator. Just bake them according to recipe instructions, store them in an airtight container in the refrigerator, then reheat them in the microwave or oven just before serving. They're the perfect grab 'n go breakfast for busy back-to-school mornings!
HOW TO MAKE EGG MUFFINS WITH EGG WHITES:
To make this recipe with egg whites only, you will need to use two egg whites for every whole egg the recipe calls for. Eliminating the yolk will change the flavor a bit, and you may find you need to increase the amount of salt and pepper you use.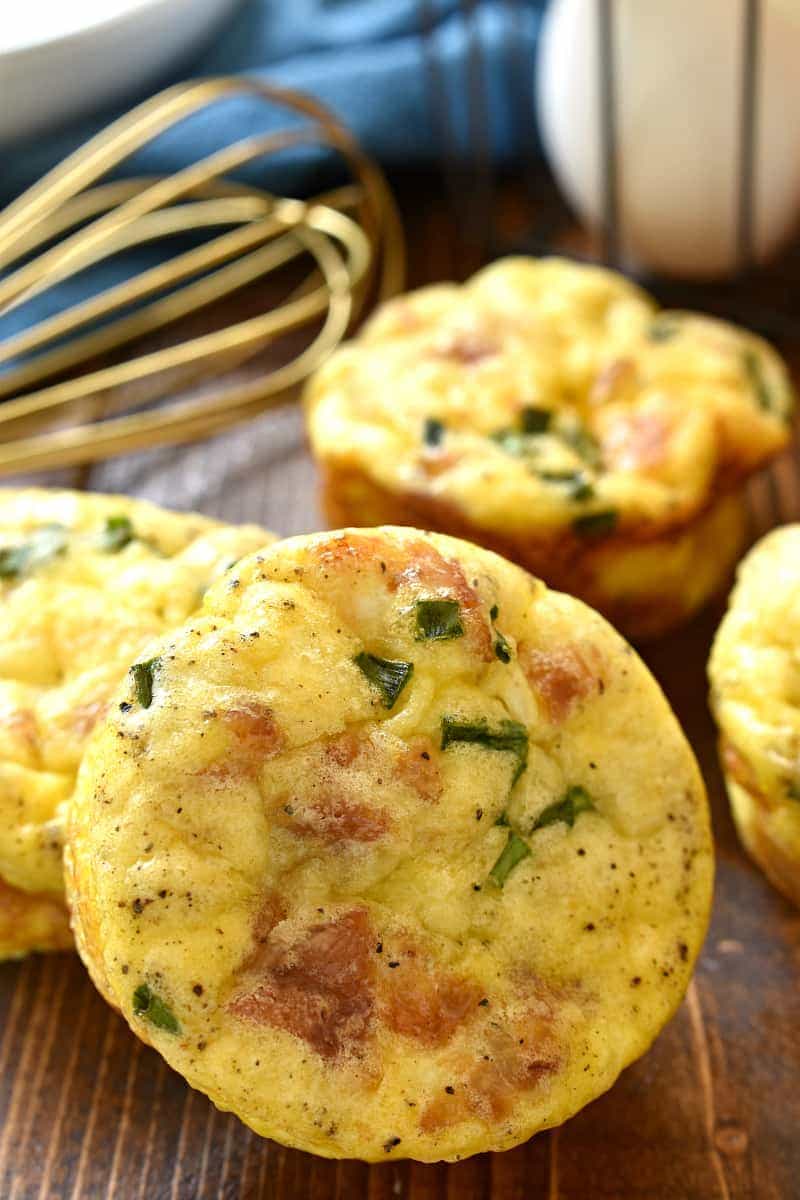 WHAT ARE SOME OTHER VARIATIONS ON THIS RECIPE?
Use Canadian bacon, ham, turkey, or grilled chicken in place of the bacon
Substitute any kind of cheese for the shredded cheddar
Add red peppers, mushrooms, spinach, tomatoes, or any of your favorite veggies
Add fresh herbs or an extra punch of flavor
Make mini muffins (you will need to adjust the baking time accordingly)
HOW DO YOU SERVE EGG MUFFINS?
We especially love making them as part of a special brunch. Here are some of our other favorite brunch recipes to round out your menu: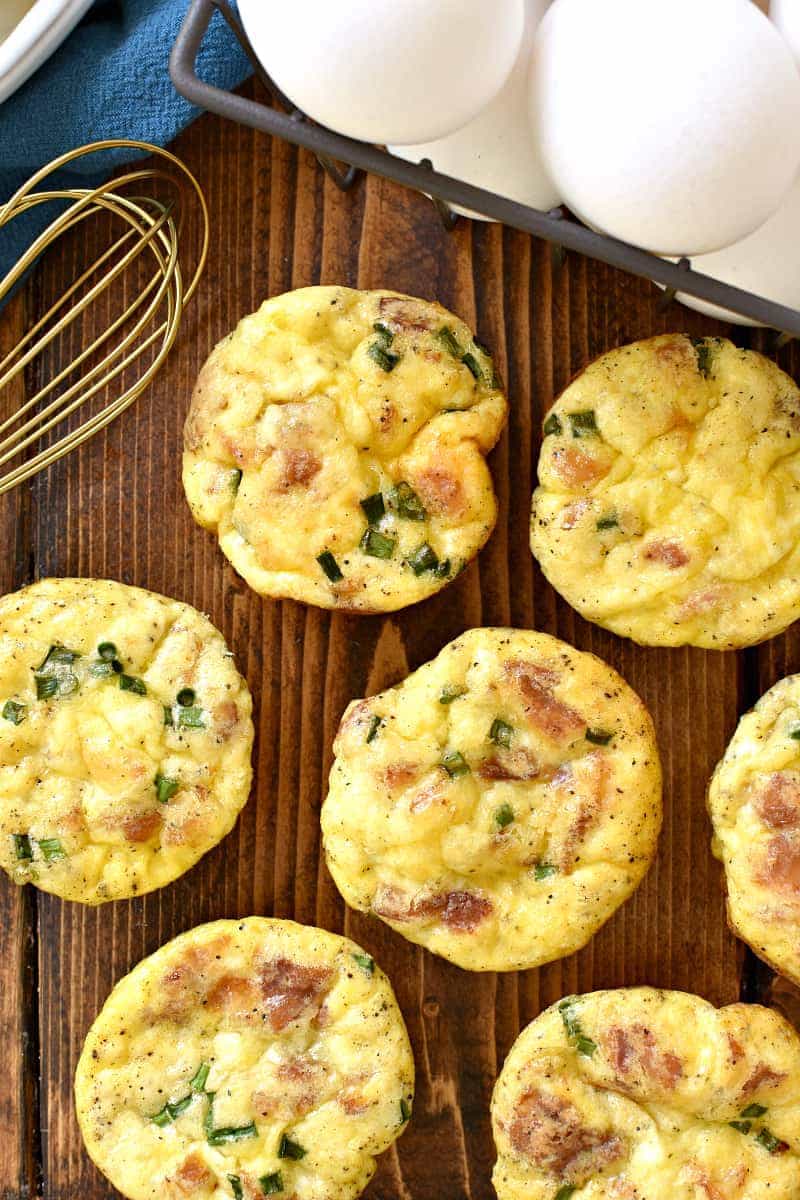 Looking for more delicious egg recipes? Here are some of our favorites: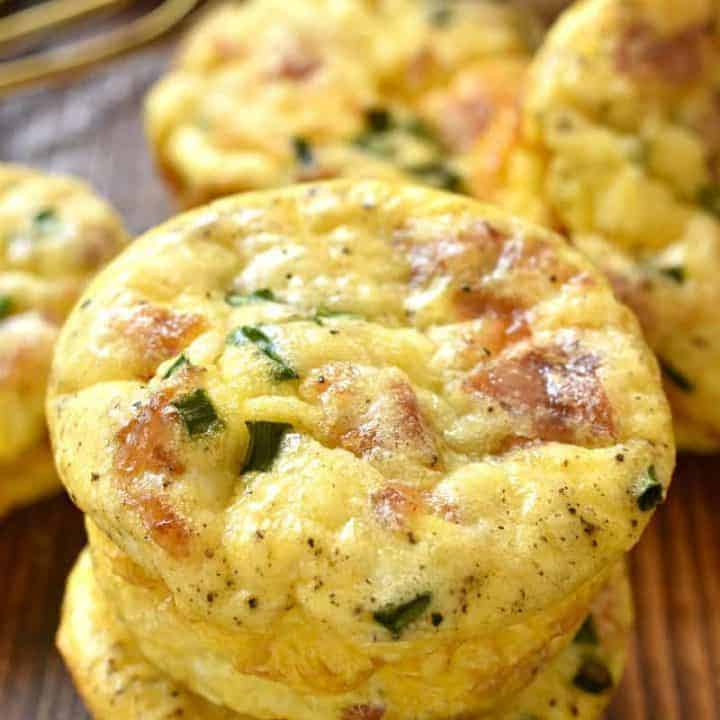 Breakfast Egg Muffins
These Breakfast Egg Muffins are loaded with all your breakfast favorites! Perfect for busy mornings, weekend brunch, or even holidays....these egg muffins come together quickly and are sure to be a hit!
Ingredients
10 large eggs
1/3 cup milk
1 cup cheddar cheese
6 ounces cooked bacon
1/4 teaspoon salt
1/4 teaspoon pepper
1 Tablespoon fresh minced chives
Instructions
Preheat oven to 375 degrees.
In a large glass mixing bowl, combine eggs and milk and whisk well.
Stir in 3/4 cup cheese, cooked bacon, salt, and pepper.
Divide mixture evenly among 12 greased muffin cups.
Sprinkle with remaining 1/4 cup cheese and fresh chives.
Bake at 375 degrees for 20 minutes or until centers are set and muffins are beginning to brown.
Nutrition Information:
Yield:

12
Serving Size:

1
Amount Per Serving:
Calories:

171
Total Fat:

12g
Saturated Fat:

5g
Trans Fat:

0g
Unsaturated Fat:

7g
Cholesterol:

180mg
Sodium:

417mg
Carbohydrates:

1g
Fiber:

0g
Sugar:

0g
Protein:

13g