Fresh peaches & blueberries on a shortbread crust, layered with a sweet cream cheese filling and topped with a citrus glaze.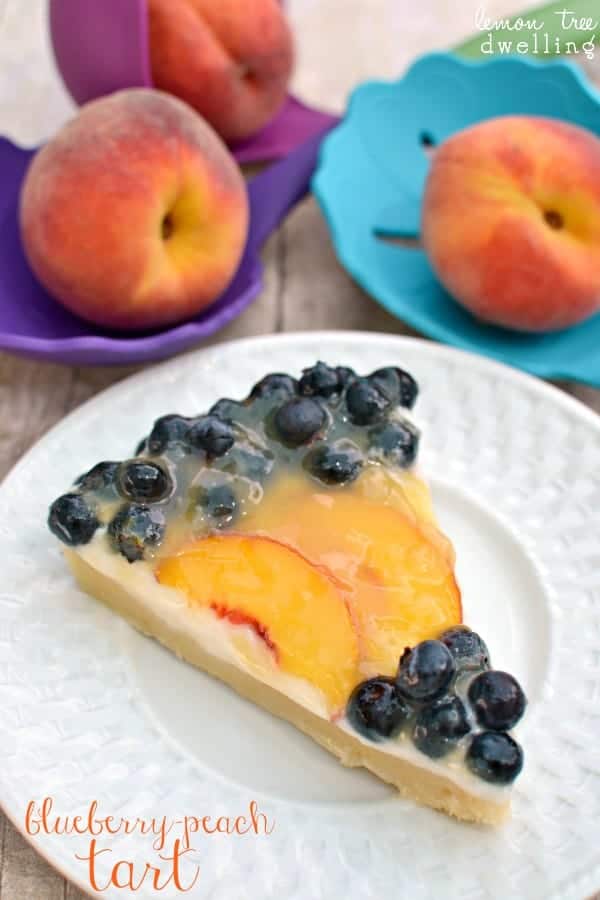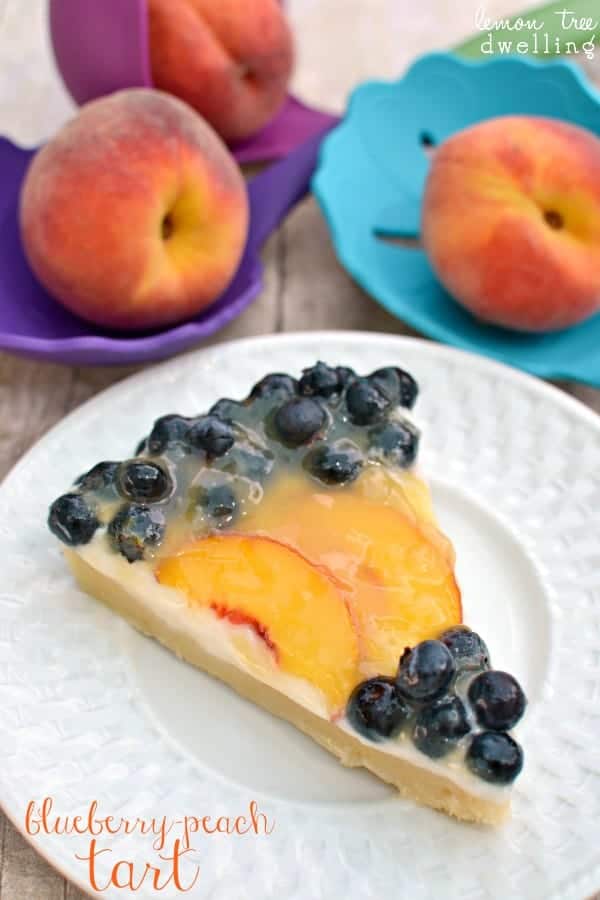 Here it is, my friends…..the last peach recipe of the season! Here at our Lemon Tree Dwelling, we've been eating all the peaches we can handle…..and (other than the HUGE peach recall right in the middle of it) we've been loving them!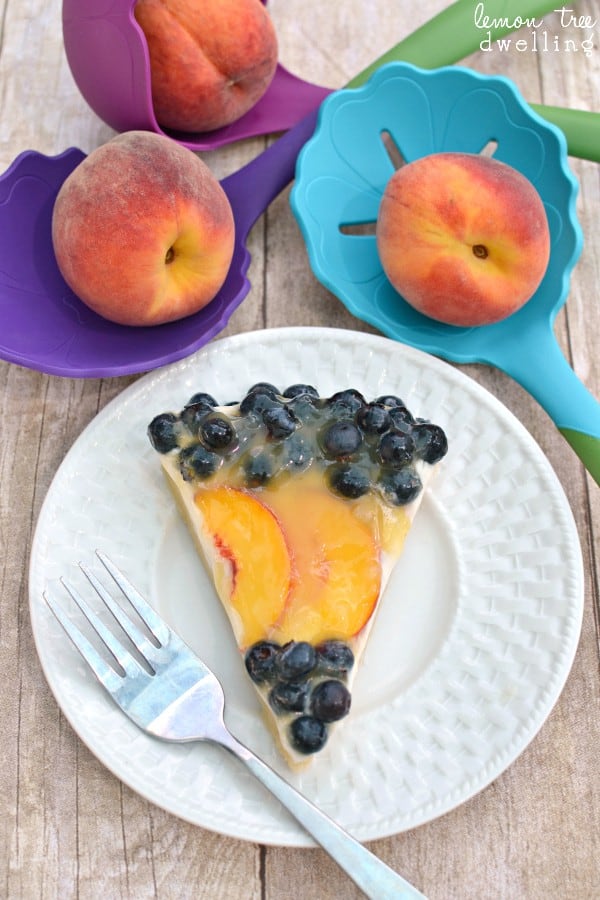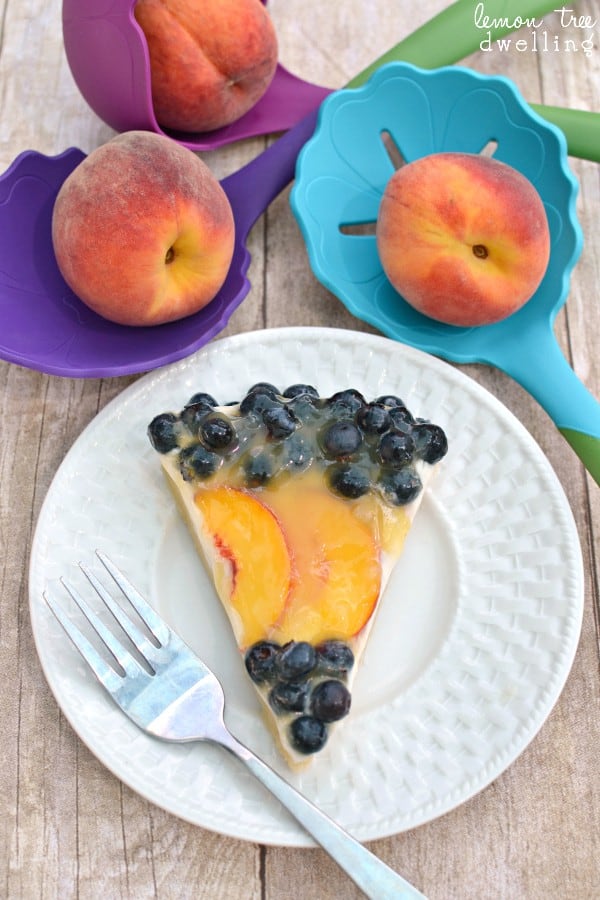 We've made peach salsa and peachy cobb salad and strawberry-peach sangria and turkey-brie sandwiches with peaches & arugula…..and I thought it might be nice to round out the collection with a dessert!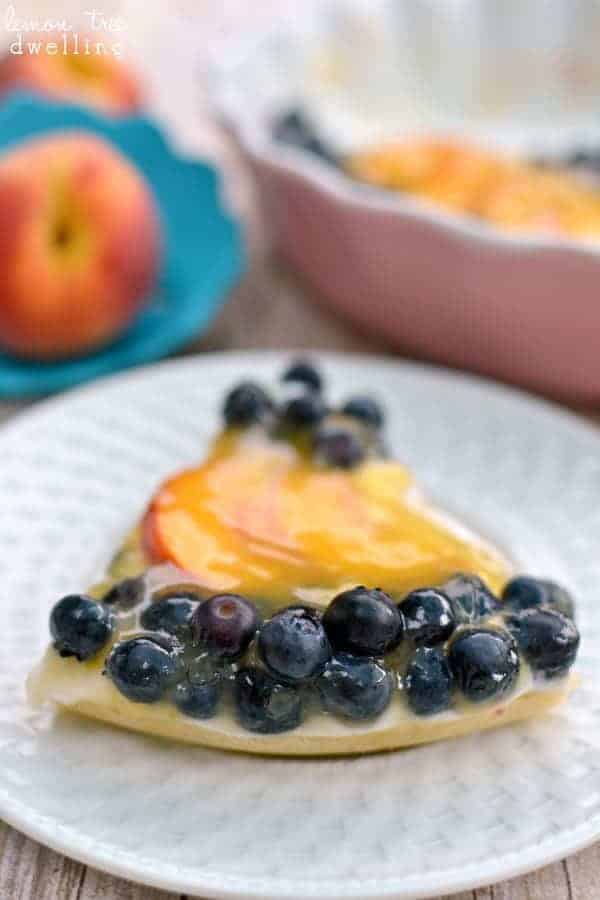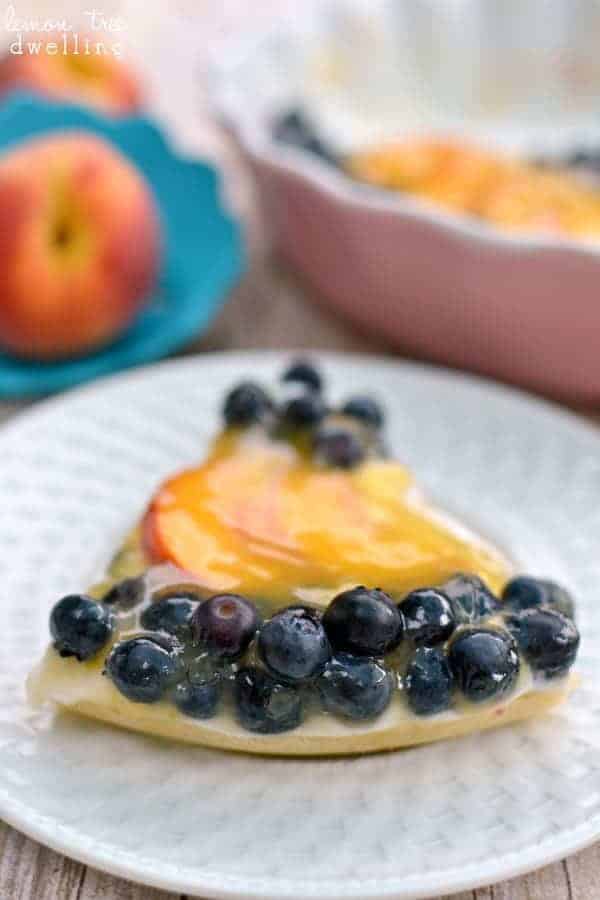 For me, summer desserts should (almost) ALWAYS include fresh fruit…..and I couldn't resist the delicious combination of peaches and blueberries. Add in homemade shortbread, sweetened cream cheese, and a light citrus glaze, and you have the perfect dessert for summer!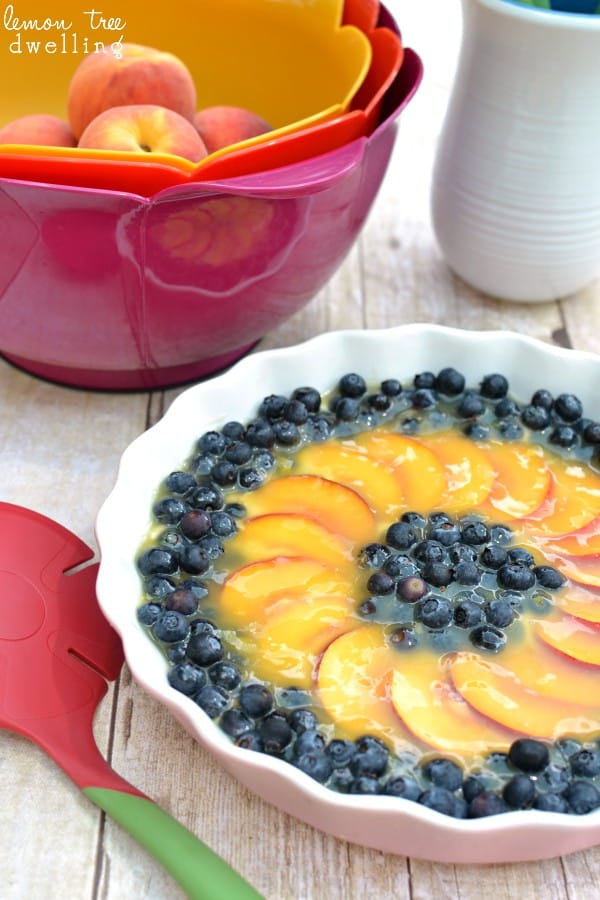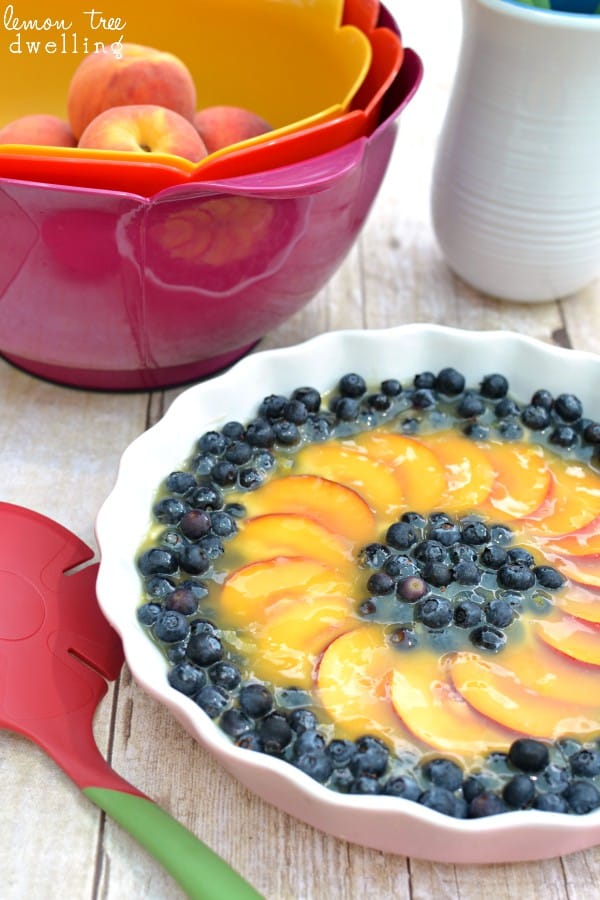 You know what else is perfect for summer? These ADORABLE kitchen gadgets from the Kizmos Flora Collection!! It seriously could not be cuter….between the bright colors and the flower motif (the utensil crock is a flower pot and the kitchen timer is a flower!)….it makes being in the kitchen FUN!! Which is something I'm always up for. Not to mention, it looks great (also something I'm always up for!)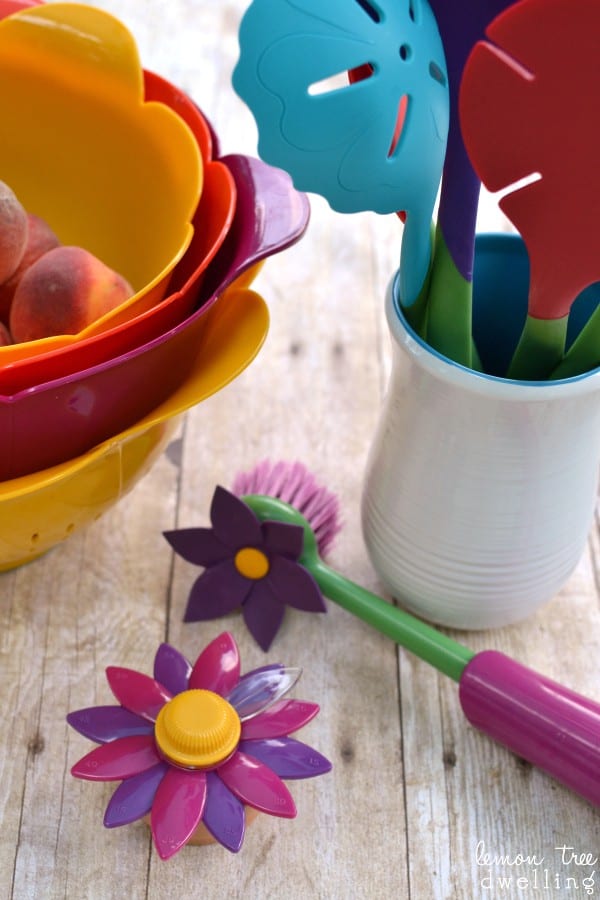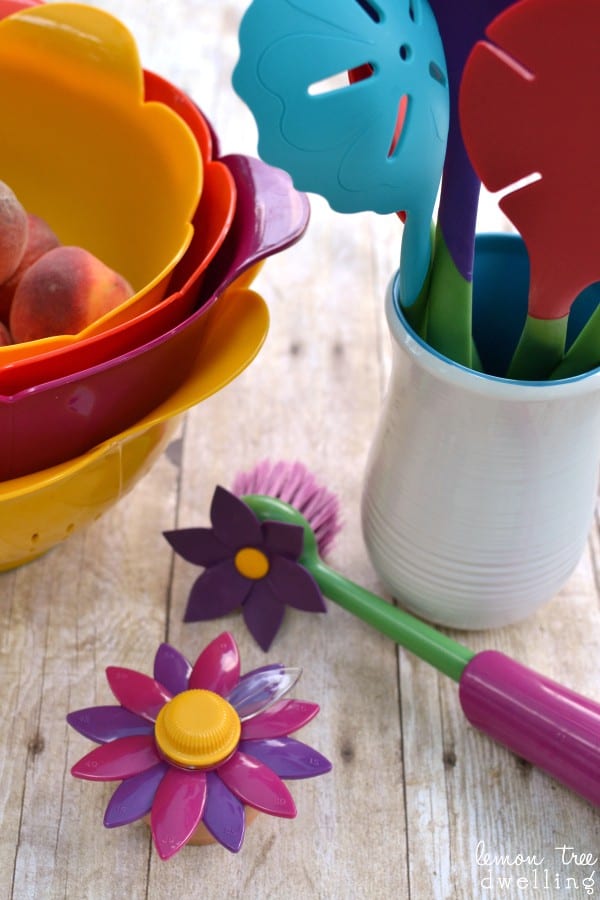 So before you go out and get the ingredients for this Blueberry Peach Tart (which you're going to want to do), enter below to WIN YOUR OWN Kizmos Flora Kitchen Set! And then go make the tart. You won't regret it! See….aren't you glad you stopped by today??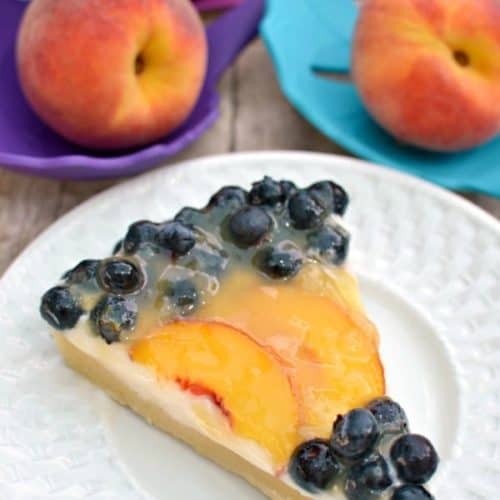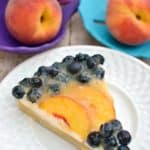 Blueberry Peach Tart
Ingredients
1/2

c.

1 stick butter, softened

1

c.

flour

3

Tbsp.

sugar

8

oz.

cream cheese

softened

1/4

c.

sugar

1/2

tsp.

vanilla

1 1/2

c.

blueberries

1

peach

sliced

For glaze:

3/8

c.

water

1/2

c.

orange juice

1/2

c.

sugar

1/8

c.

lemon juice

1 1/2

Tbsp.

cornstarch

dash salt
Instructions
Spray large pie plate with non-stick cooking spray.

Combine butter, flour, and 3 Tbsp. sugar and press into bottom of pie plate to form crust.

Bake at 375 degrees12 -15 minutes. Cool.

Combine cream cheese, 1/4 c. sugar, and 1/2 tsp. vanilla until smooth.

Spread on top of cooled crust.

Arrange peaches and blueberries as desired.

For glaze (optional):

Bring ingredients to a boil and cook, stirring, 1 minute.

Cool completely.

Top tart with glaze and cool in refrigerator until set.