These Blueberry Lemon Bars take the classic bars to the next level with the addition of fresh blueberries! Deliciously sweet and perfect for summer!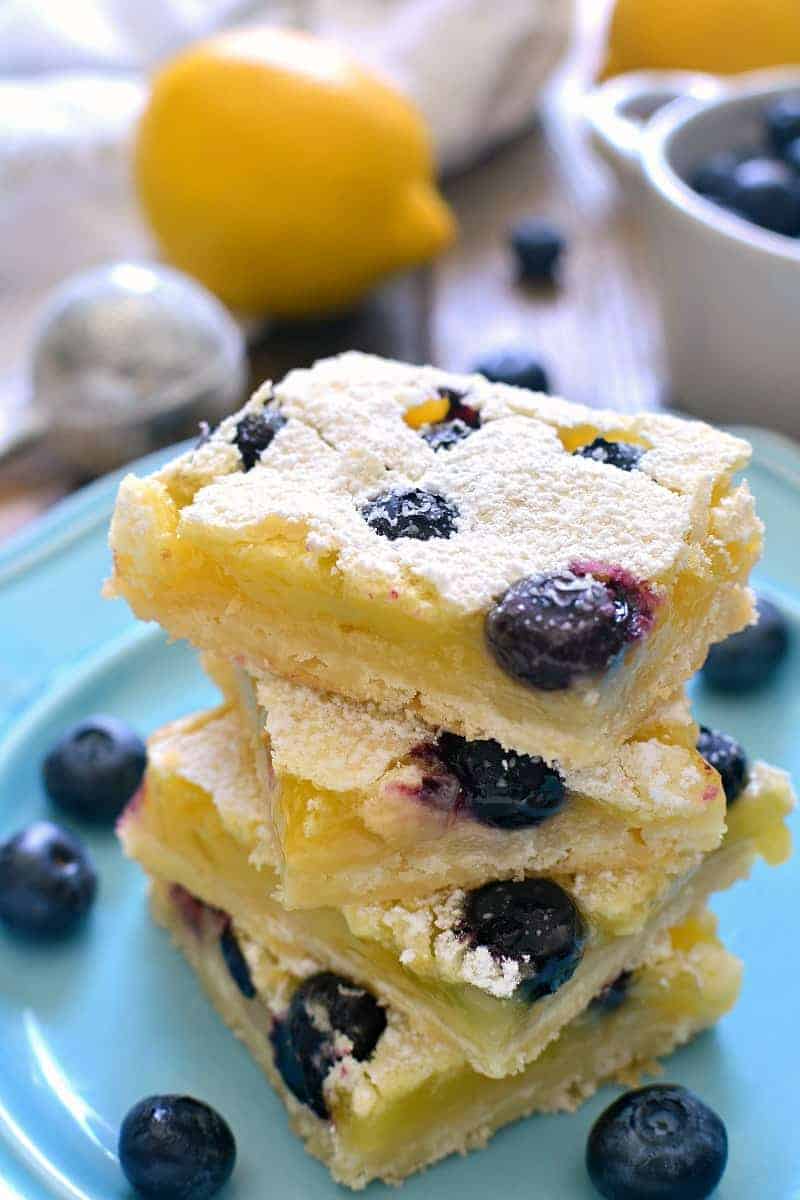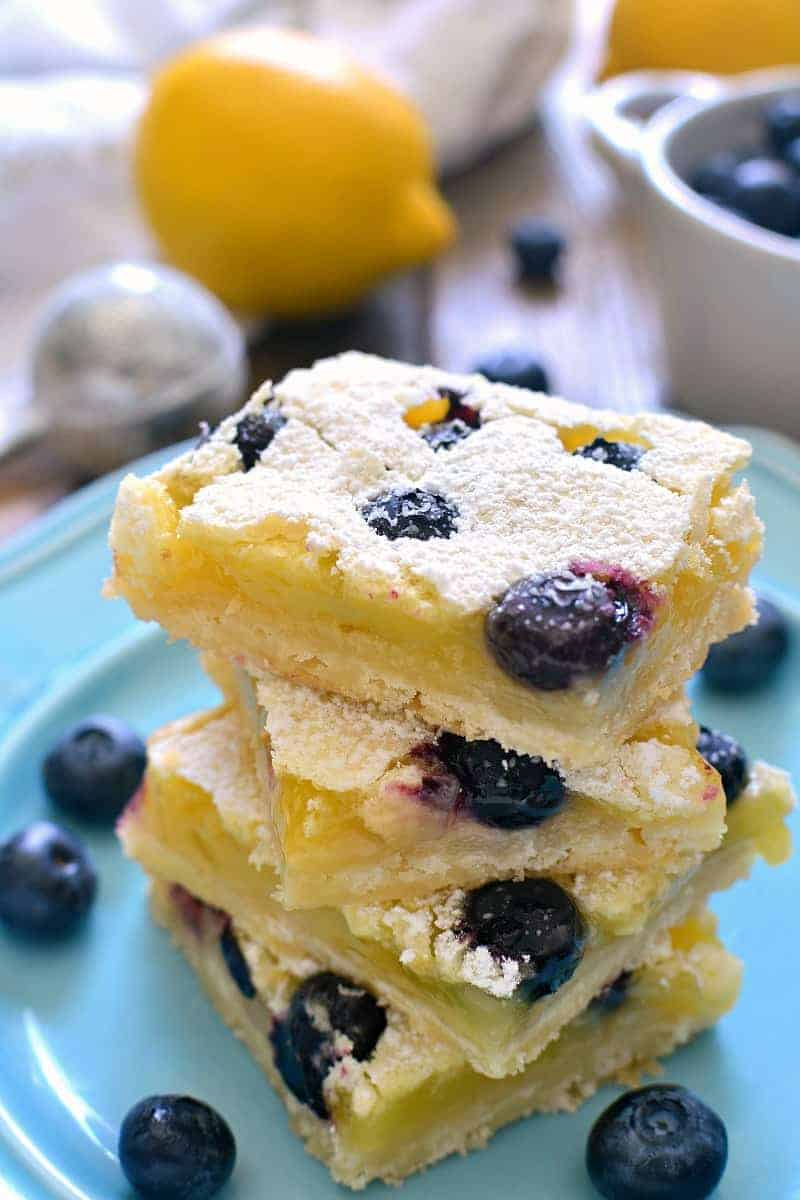 So we finally got our kids enrolled in swimming lessons, which is turning out to be a very good thing. Not only because they NEED to learn how to swim if I'm ever going to take them all to the pool, but because it's such an important life skill and I can finally check it off the list! At least in pencil.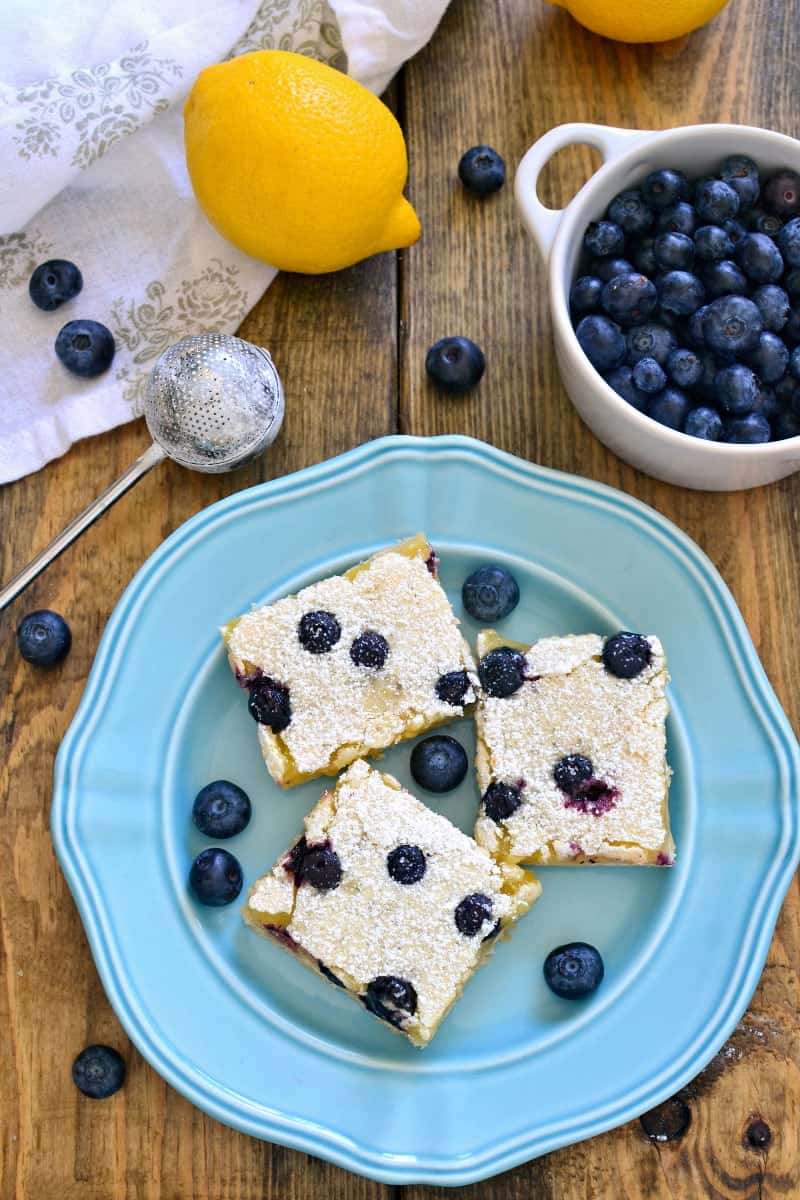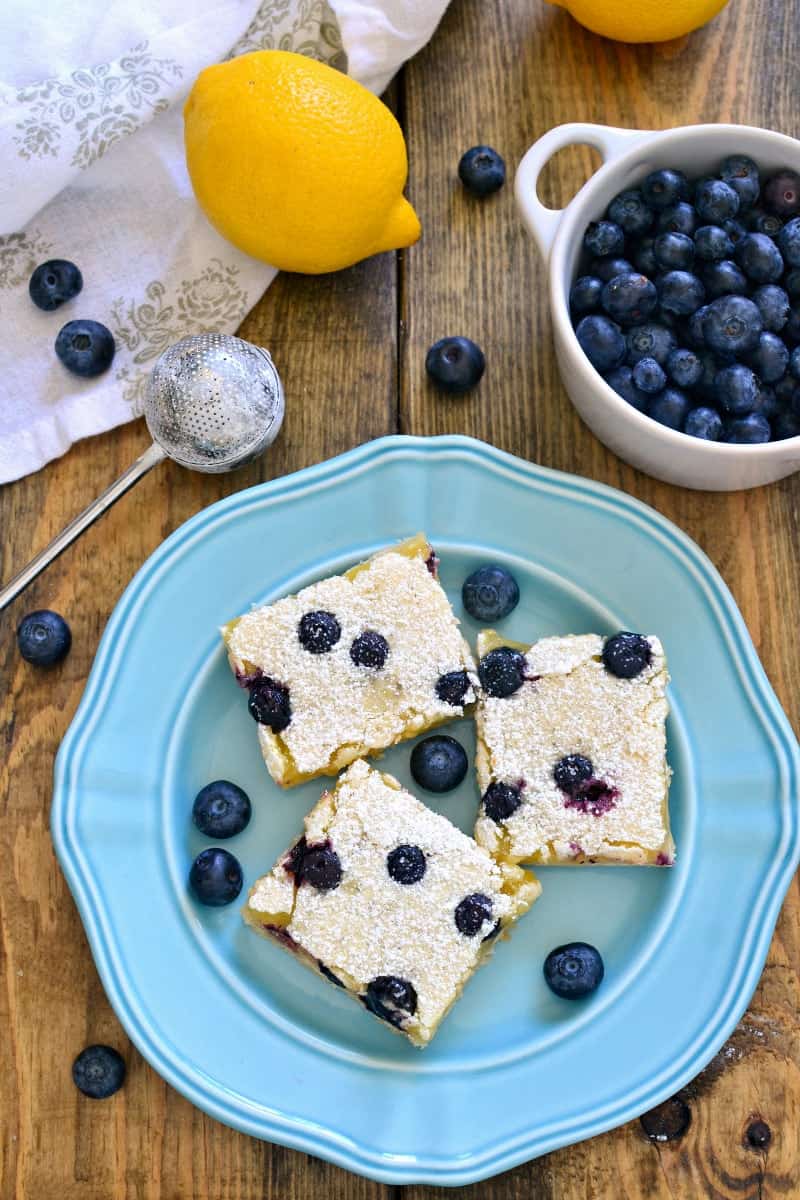 We're just 7 weeks in, which means we have at least 177 more to go before they can *actually* swim. But I love the fact that we're starting….and most of all, I love the fact that they are LOVING it! Such a very different experience than I had growing up…..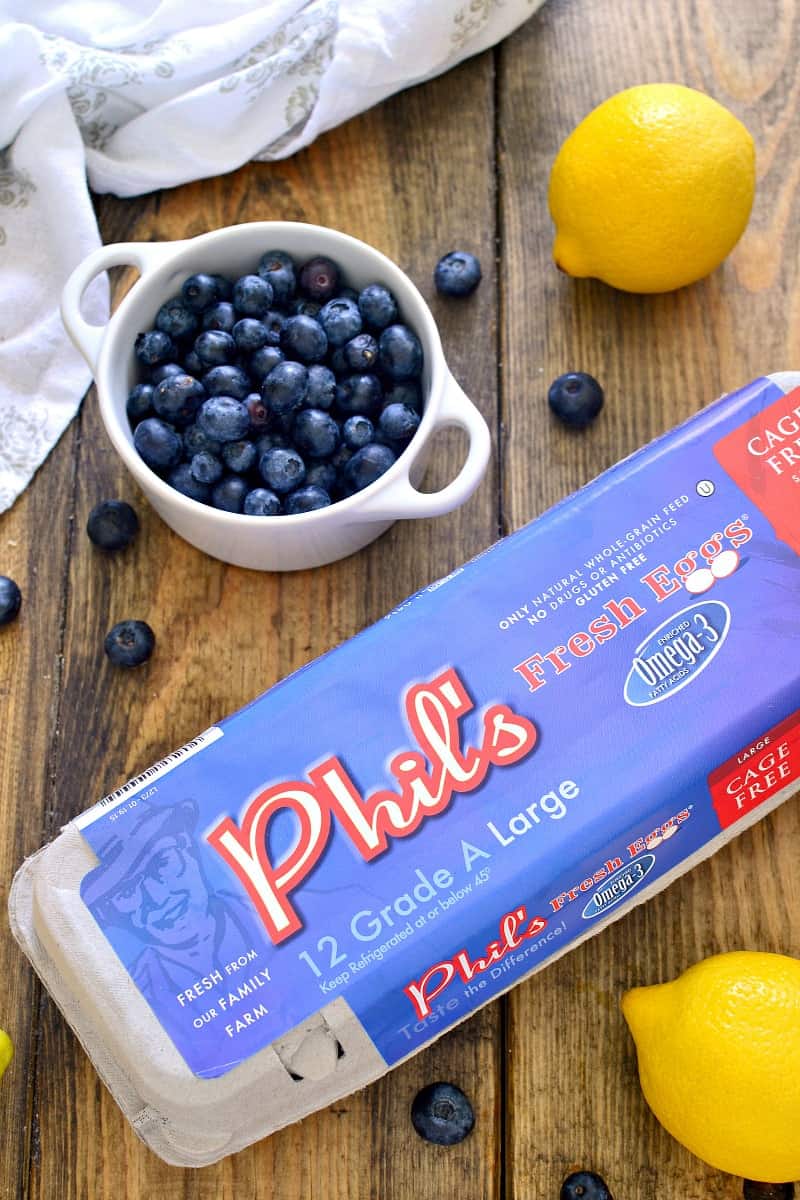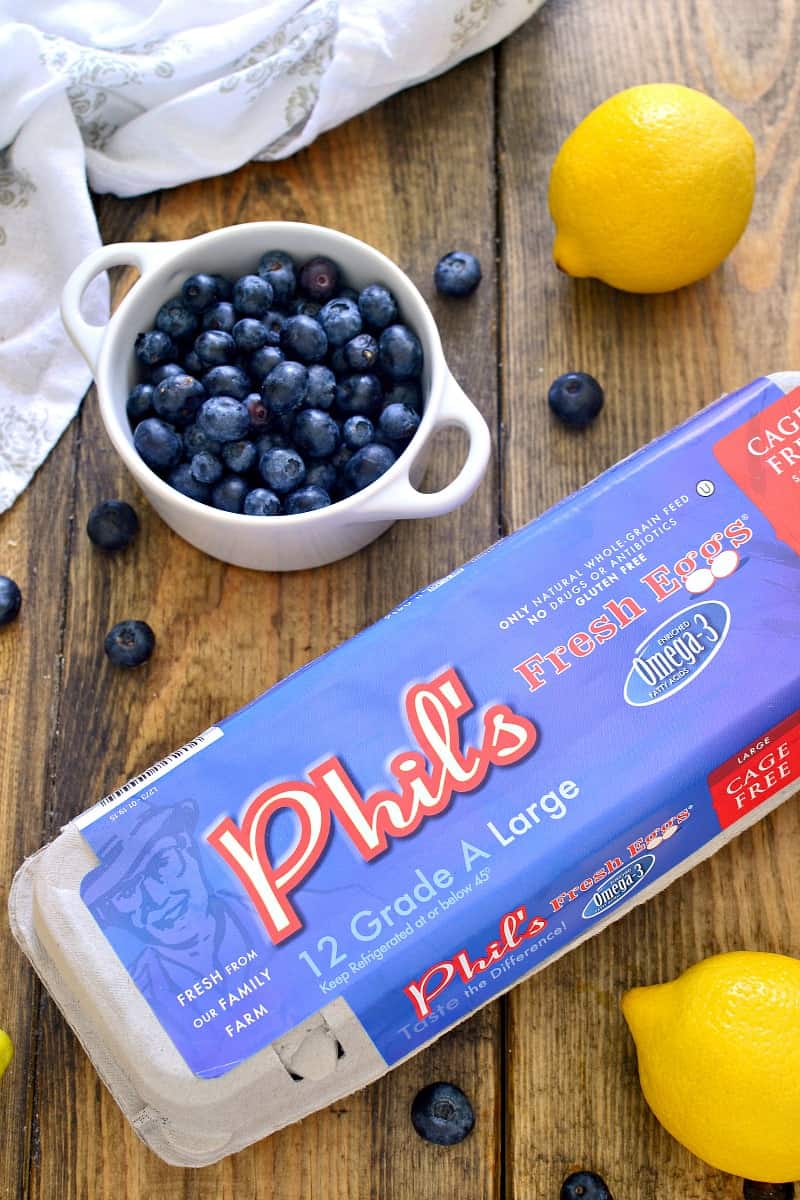 To say I didn't love swimming lessons would be an understatement. There was actually very little I even tolerated about them, unless you count the big picnic lunch my mom always made for us when we were all done. But the fact that the lessons were in a lake, with algae getting tangled in our hair and minnows biting at our toes….well, let's just say that didn't help. No, swimming lessons were not my favorite.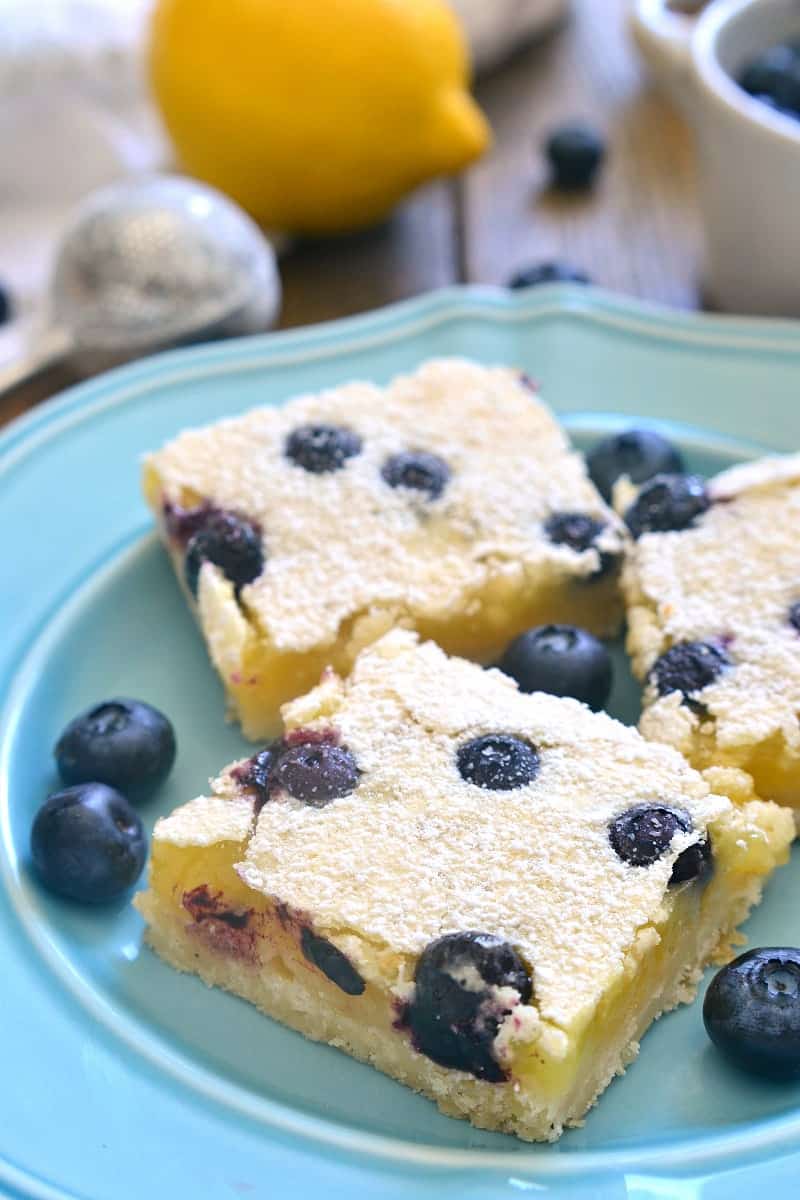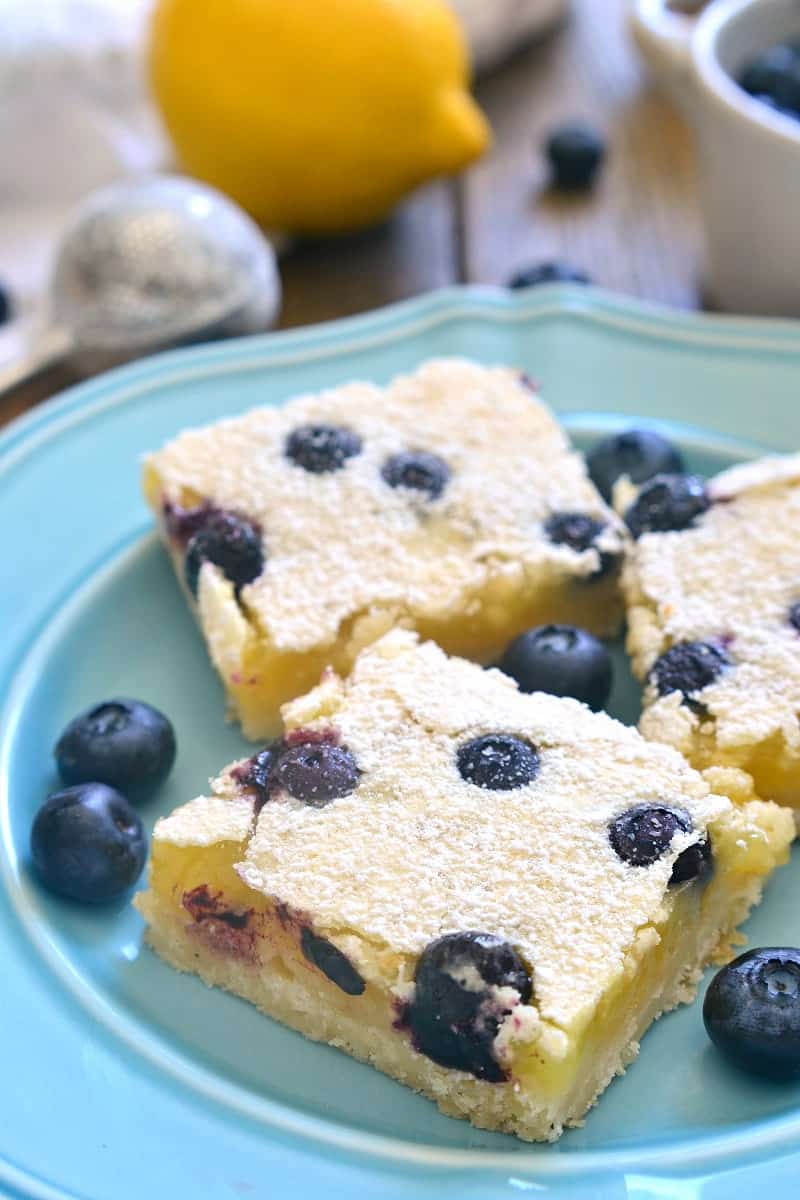 BUT. I did learn to swim, which was obviously the goal. And it feels good to know that my kids are finally learning to swim, too! Even if it looks a little different than it did when I was a kid.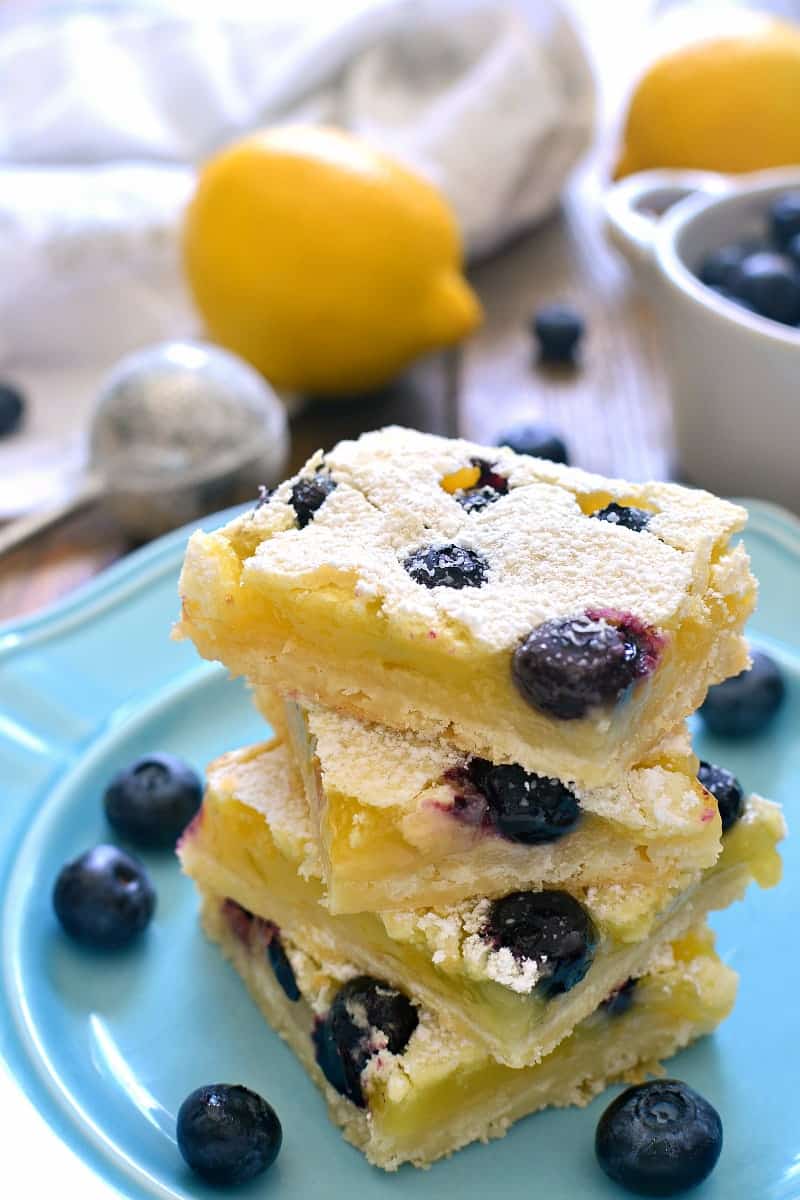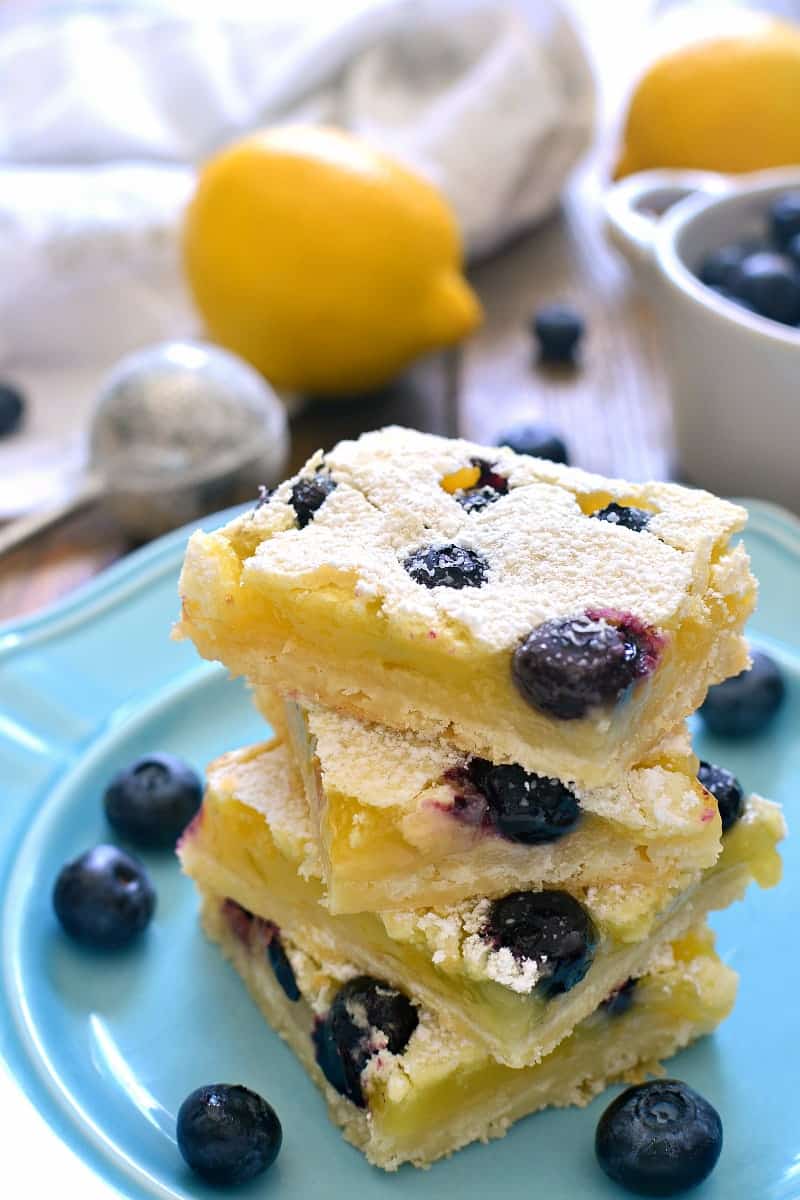 It's funny – a lot of things look different now than they did when I was a kid. But one thing that doesn't look different? These LEMON BARS!!! Unless you count the blueberries.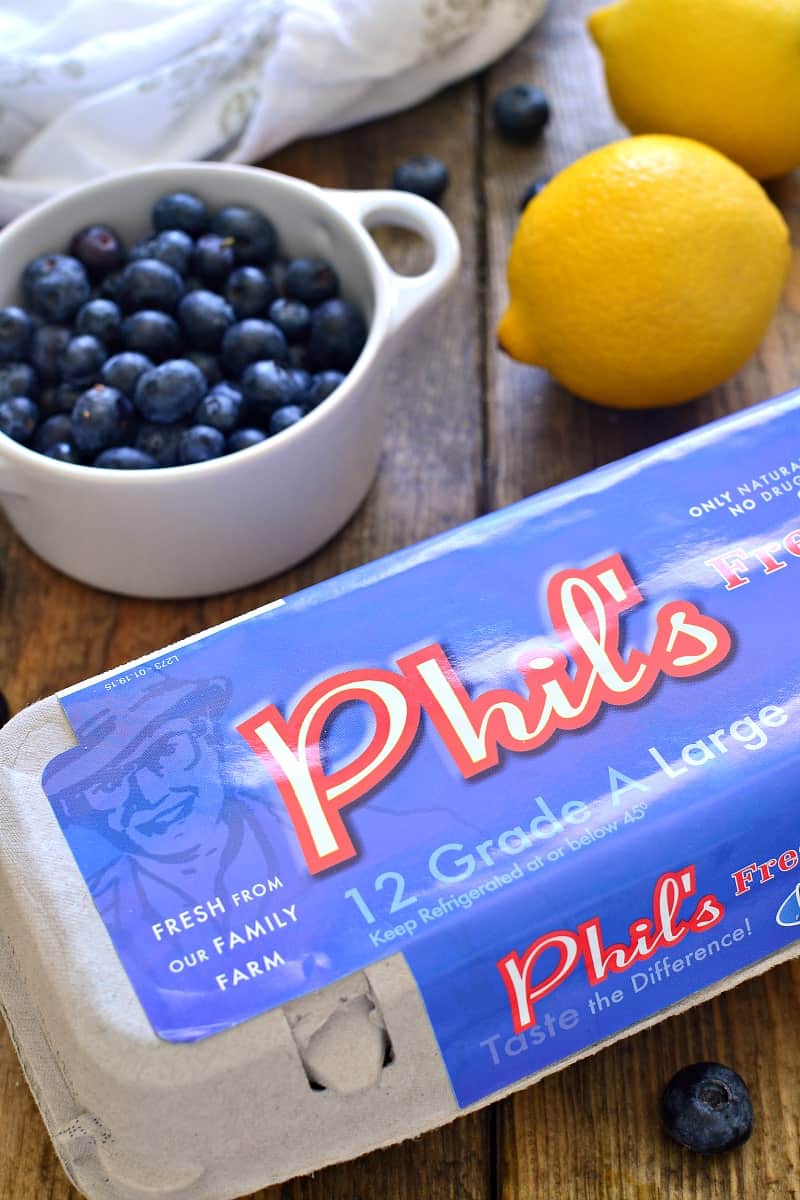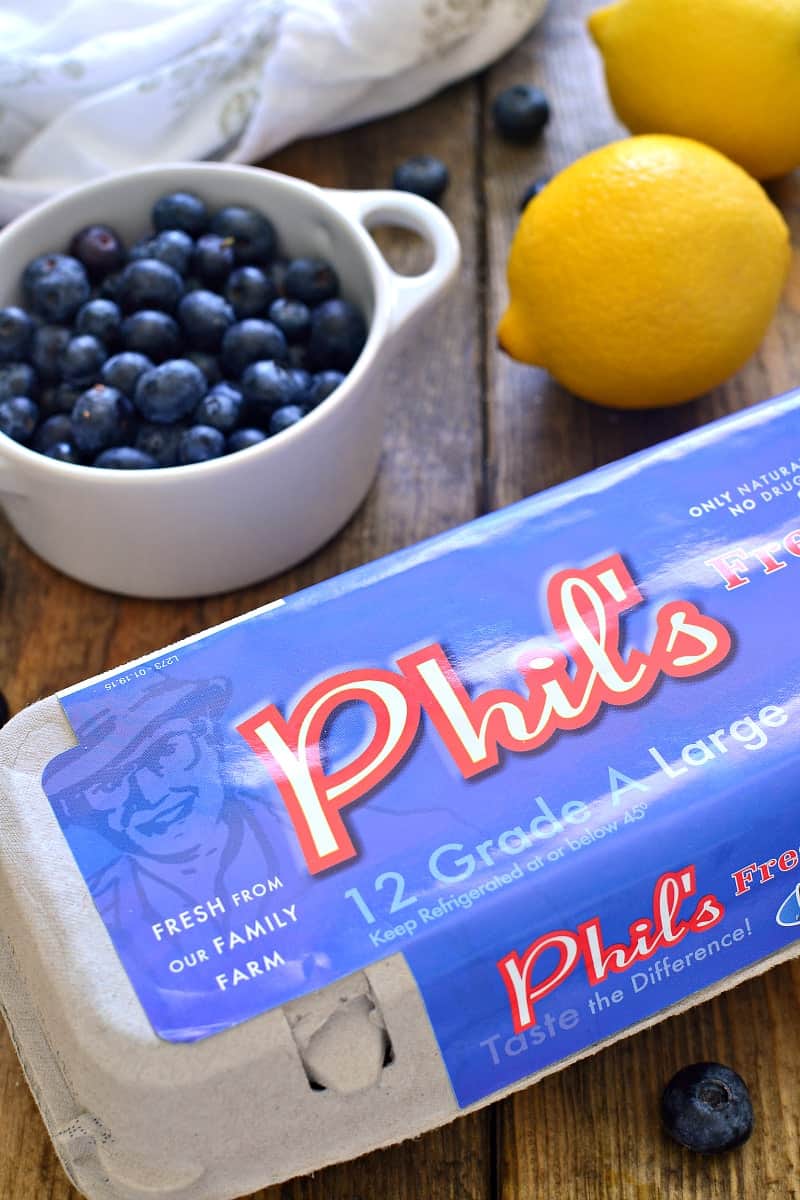 But other than that, this is the same recipe I grew up with. And the same recipe my mom grew up with. Which means these lemon bars have been around a long time. I love the fact that I can take things from my childhood and make them fresh and new and (dare I say?) even BETTER. Kinda like swimming lessons….or maybe more like the picnic lunch that followed.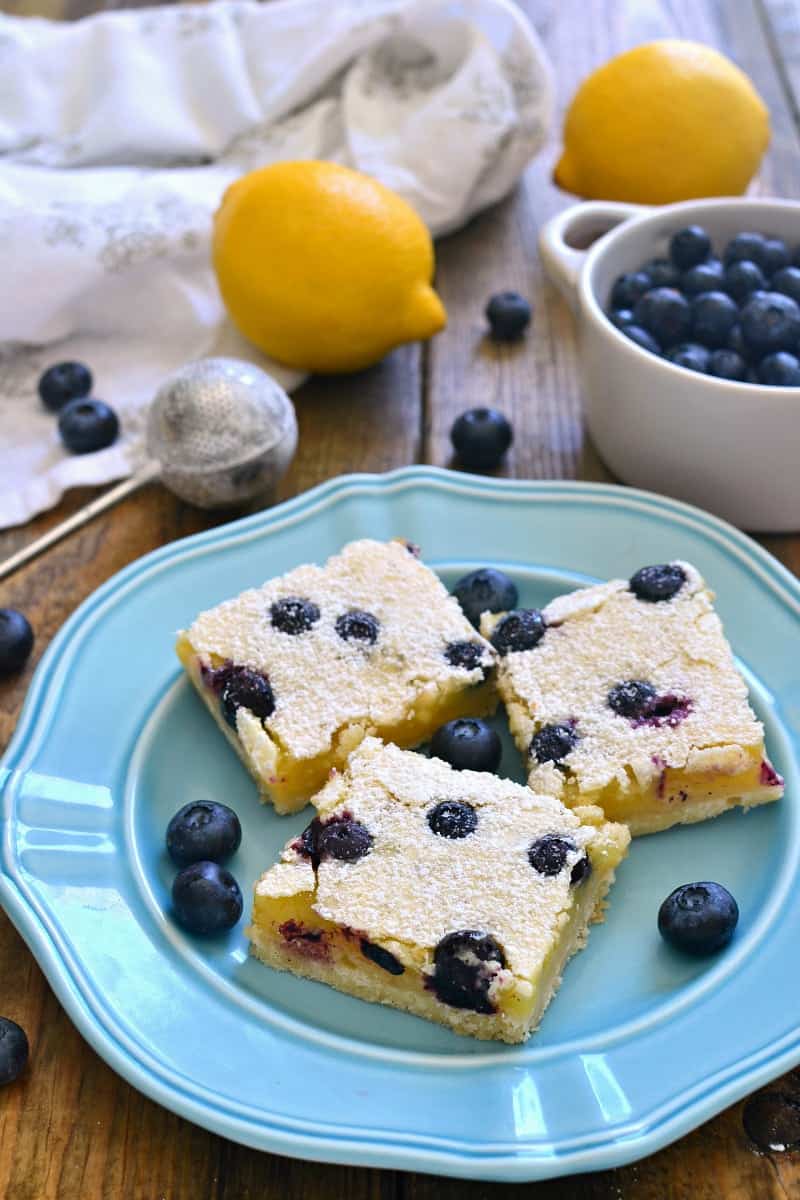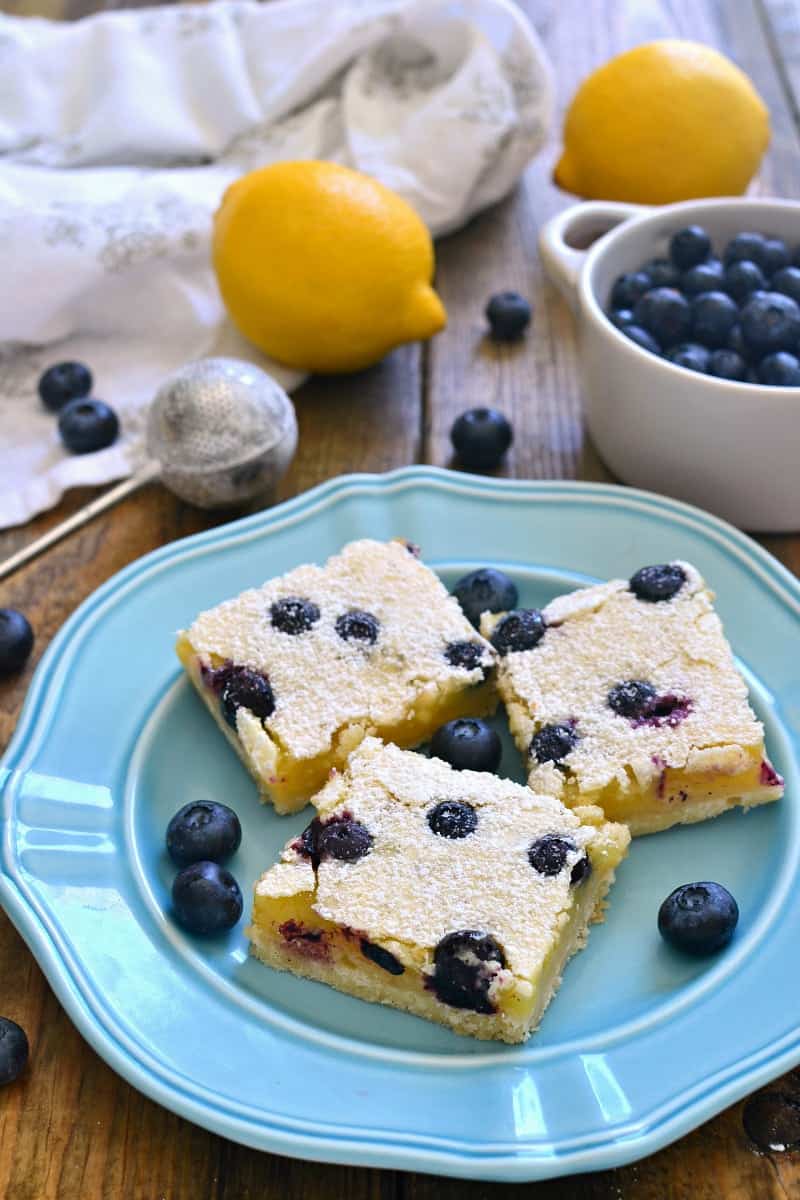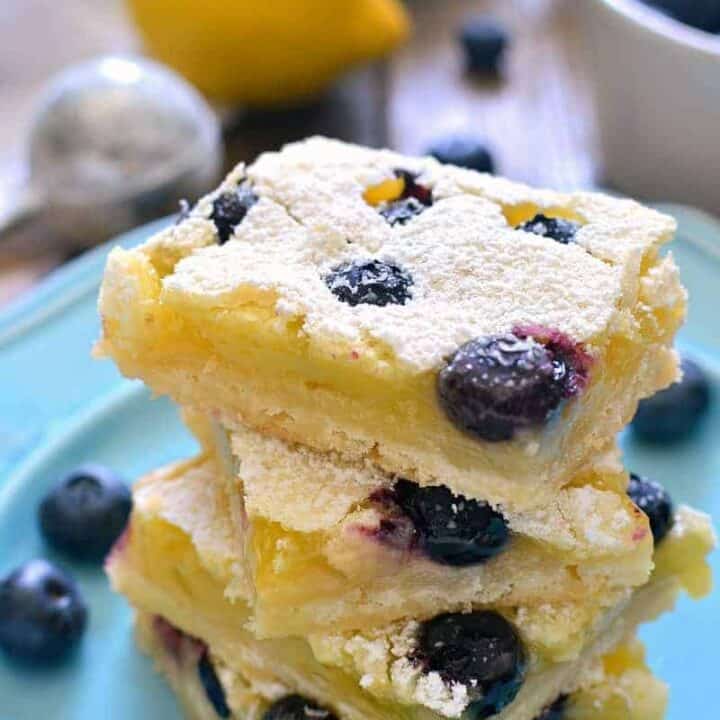 Blueberry Lemon Bars
Ingredients
Crust
1 1/2 cups flour
3/4 cup cold butter, unsalted
3/4 teaspoon salt
1/3 cup powdered sugar
Filling
4 eggs
2 cups granulated sugar
1/4 cup flour
1/4 cup lemon juice
1 cupblueberries
Instructions
Combine flour, salt & powdered sugar in a medium mixing bowl. Cut in butter with a fork or pastry blender until butter is incorporated and mixture is crumbly.
Press firmly into greased 9x13 inch pan.
Bake at 350 degrees for 18-20 minutes or until light golden brown. Remove from oven.
In a separate bowl, whisk eggs.
Add sugar/flour mixture and continue whisking.
Add lemon juice and mix well.
Pour over crust, then sprinkle blueberries evenly over lemon mixture.
Bake for an additional 20-25 minutes or until top is just beginning to turn golden brown.
Cool slightly and sprinkle with powdered sugar.
Nutrition Information:
Yield:

16
Serving Size:

1 grams
Amount Per Serving:
Calories:

250
Total Fat:

10g
Saturated Fat:

6g
Trans Fat:

0g
Unsaturated Fat:

4g
Cholesterol:

69mg
Sodium:

120mg
Carbohydrates:

38g
Fiber:

0g
Sugar:

27g
Protein:

3g