White caramel corn with rainbow sprinkles – a fun, delicious birthday treat, and a great alternative to birthday cake!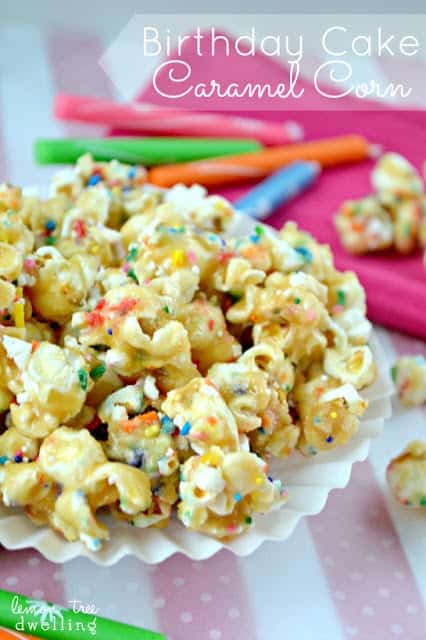 It's that time of year again….BIRTHDAY SEASON!! Around here, we spend most of the summer celebrating our kids' birthdays (I used to work in a school, so summer birthdays were a must….) Starting next weekend, we celebrate Nora's birthday on the 8th, Ellia's birthday on the 30th, and Greta's birthday on August 14th! Which means lots of presents, lots of balloons, and lots and lots of treats!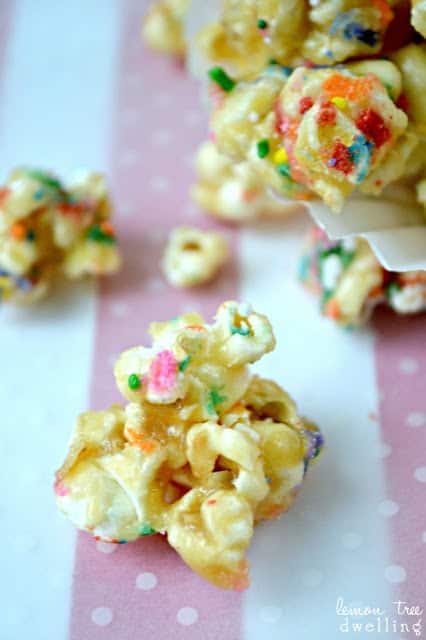 Don't get me wrong….there is never a shortage of treats around here… But I always feel like birthday treats should be extra special. Like homemade cupcakes with lots of sprinkles, ice cream sundaes with whipped cream and cherries, ooey gooey rice krispie treats with chocolate on top….you get the picture. Birthdays are supposed to be extravagant!!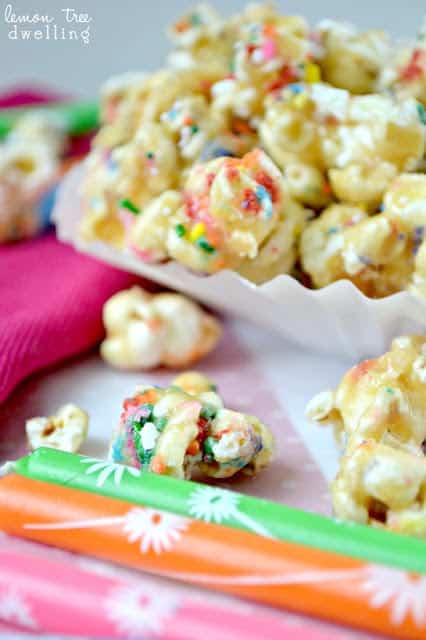 So with "birthday season" just around the corner, I've been busy coming up with some EXTRAVAGANT new birthday desserts. Like Birthday Cake Oreo Blondies…and now this fun Birthday Cake Caramel Corn! I actually made it just this week for Ellia to take as her birthday treat. I would have sent cupcakes (every kid's favorite) but her teacher doesn't like crumbs or mess. Ha! Pretty hard to avoid in a first grade classroom……but I wasn't about to be the one to make the mess!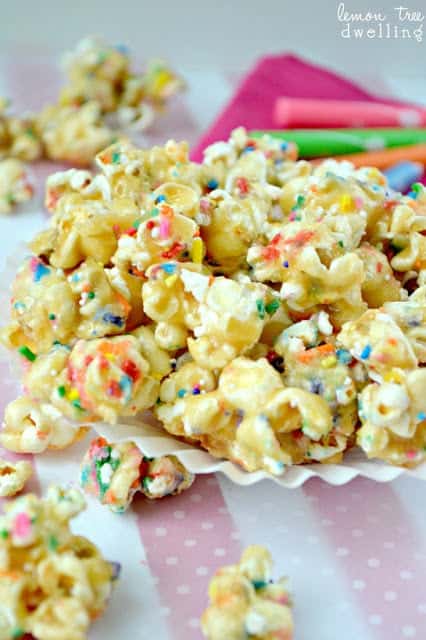 My original plan was to let Ellia decide….(after all, it was her treat, right?) and she decided on a Rainbow Candy Cookie Mix, I couldn't have been more thrilled! All I had to do was add butter and an egg…and she would be happy!? Perfect. But when I proceeded to burn the Rainbow Candy cookies because I was trying to do a thousand things at once (sound familiar?) I had to come up with a new plan.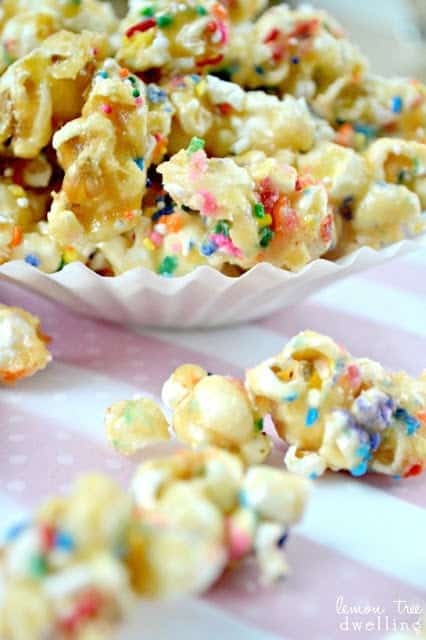 So around 10:00 pm the night before treat day, I decided to give this a whirl. And, of course, I burned the first batch of popcorn. Because it was just that kind of day. (At this point, Jorden suggested I might just want to buy something the next morning….and although he may have been on to something, I'm way too stubborn for that!) So I pushed on, and by the time 11:30 rolled around, Ellia's birthday treat was (finally) ready.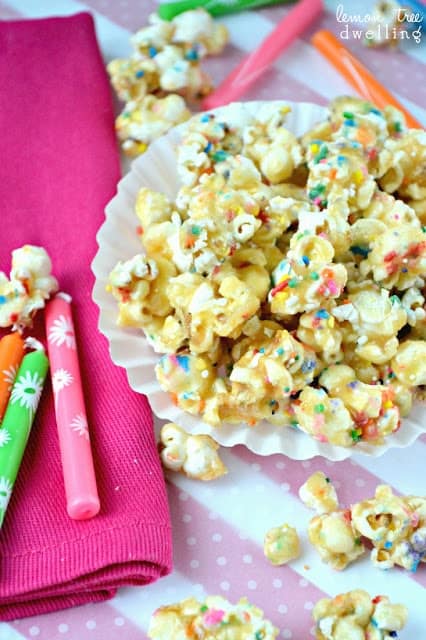 When she woke up the next morning, she couldn't have been LESS excited to discover popcorn in place of the cookies she had decided on. But that all changed when she tasted it….and by the time she left for school she was bubbling with excitement over the fact that she was taking 20 cups of extra special caramel corn with her! Sometimes it really IS worth the effort – burned cookies, burned popcorn, and all.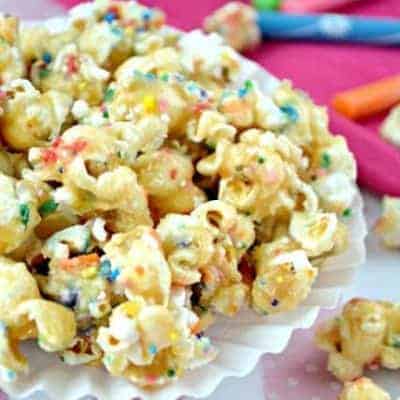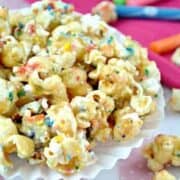 Birthday Cake Caramel Corn
Ingredients
16

c.

popcorn

1/2 c.kernels, popped

2

c.

white sugar

1/2

c.

butter

1/2

c.

light karo syrup

1/4

tsp.

baking soda

1/2

c.

rainbow sprinkles
Instructions
Bring sugar, butter, and karo syrup to a rolling boil; boil 5 min, stirring often.

Add 1/4 tsp. baking soda and stir.

Pour mixture all at once over popcorn. Top with sprinkles.

Bake 1 hour at 200 degrees. Stir several times while in oven.

Let cool.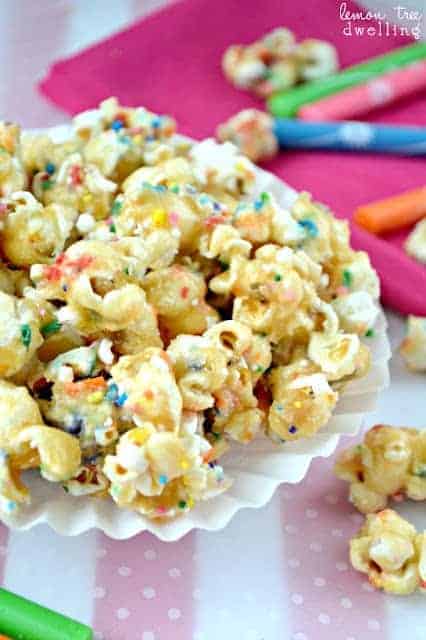 Thanks for taking a peek inside my Lemon Tree Dwelling…
I hope you feel right at home!
-Cathy