Homemade granola with all the flavors of banana bread. Delicious with milk, yogurt, or by the handful!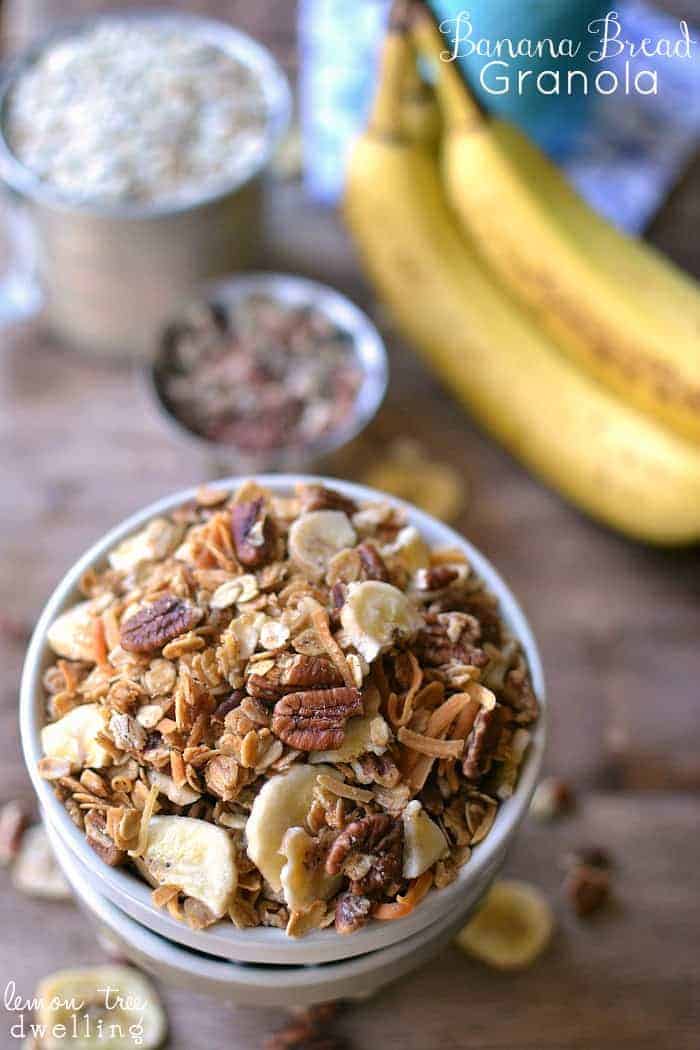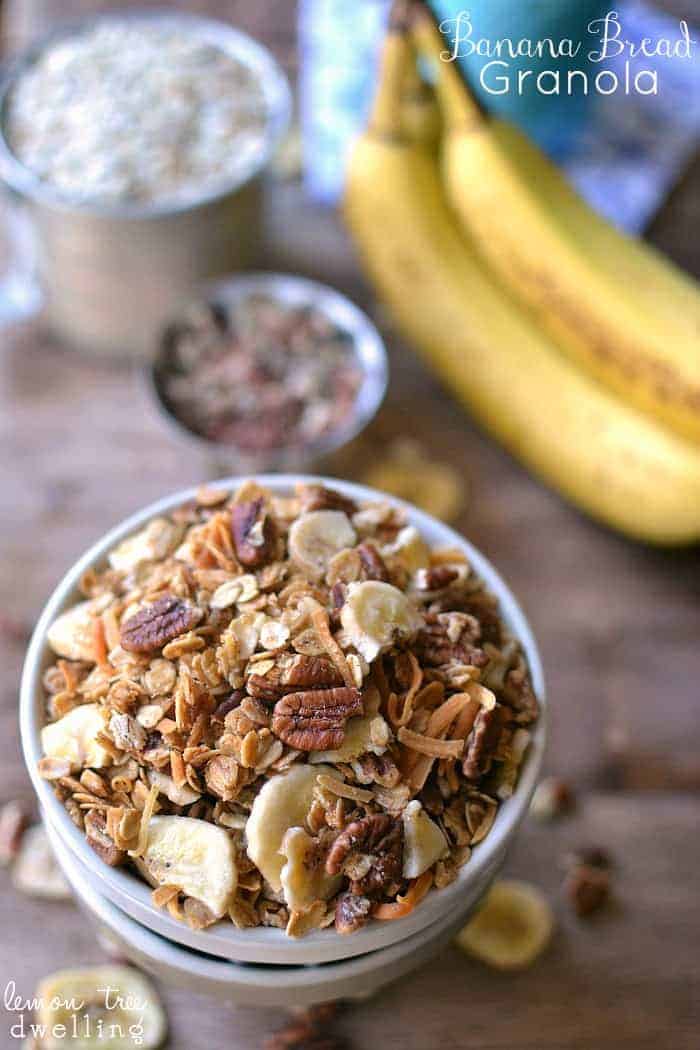 I love banana bread. I could eat it every morning and be perfectly happy. I love it plain – no nuts or chocolate chips necessary – sliced thick, with a strong cup of coffee. It's my happy place. And since we have a freezer full of over-ripe bananas, I make it often! (If you ask my family, maybe a little too often. Yep, they're spoiled!!)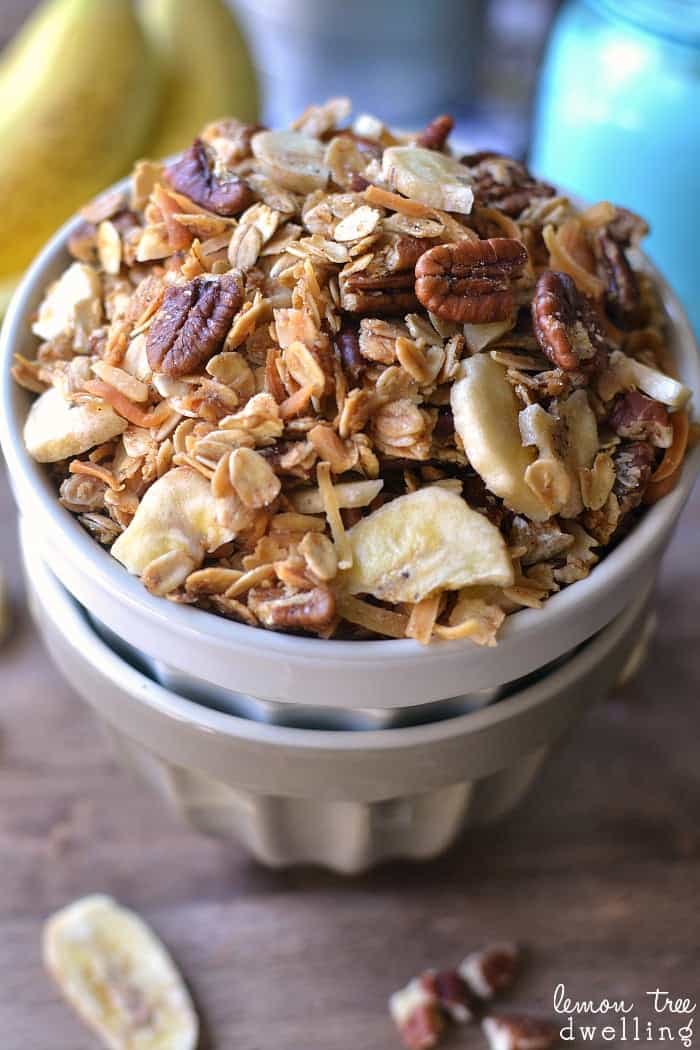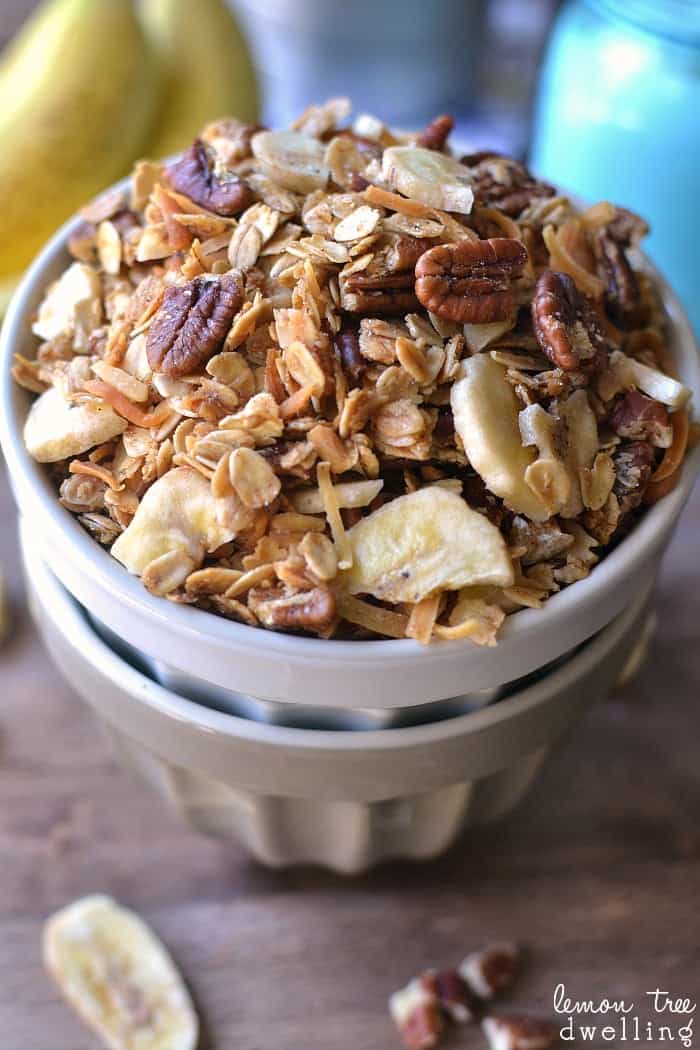 But since it's a new year and all, I thought I should probably get on the resolution bandwagon and at least pretend that I won't be eating ALL carbs every morning for breakfast. Do you make a New Year's resolution? I rarely do…..although I'm starting to think maybe I should. Especially if my resolution can involve this Banana Bread Granola!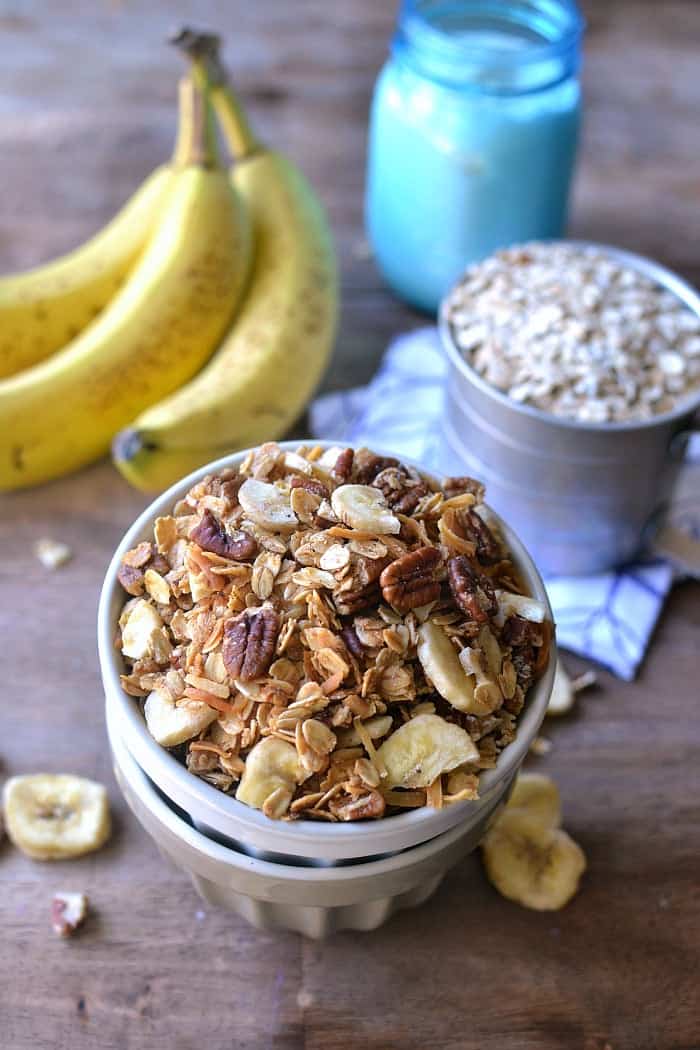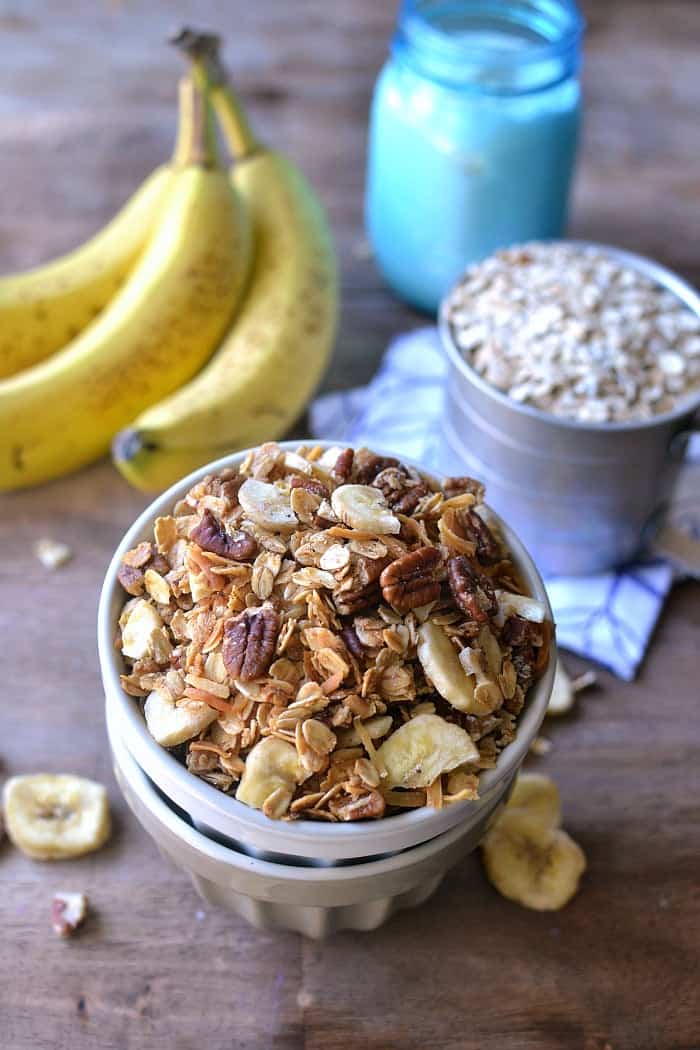 Okay, I'm kidding. There will be no resolutions involving granola…..but I am looking forward to mixing things up a little bit in the new year. To not eating carbs every morning for breakfast (at least not ONLY carbs). To protecting our family time by saying no to too many plans. To practicing patience with my kids (they don't have to know how annoying I find them! Ha!) To focusing more on the good and less on the bad. To being better than I was in 2014.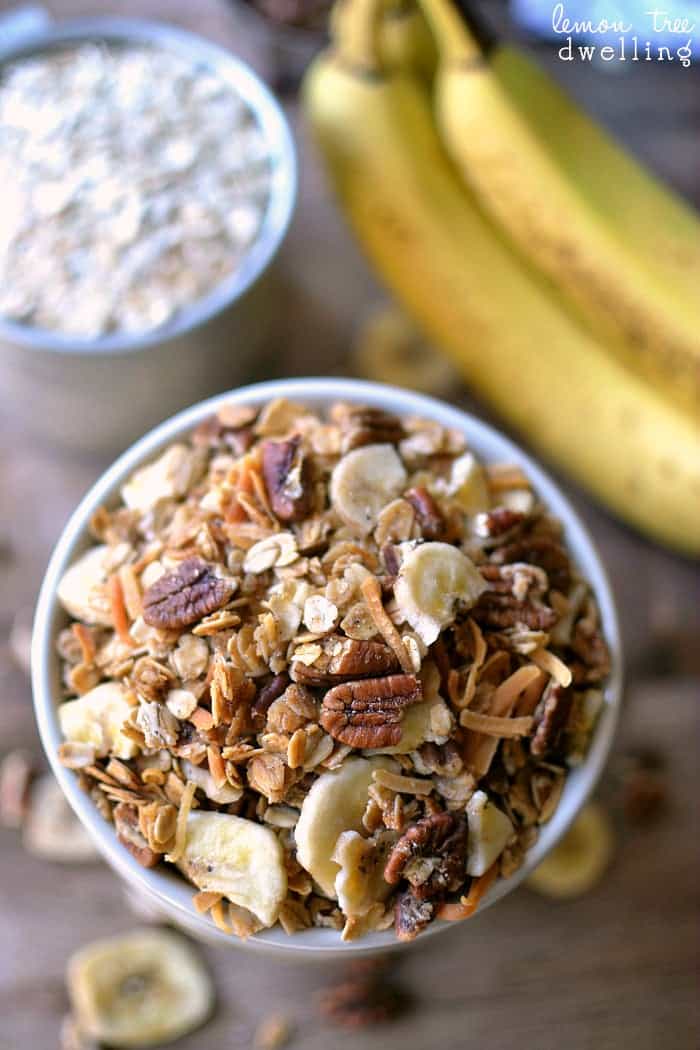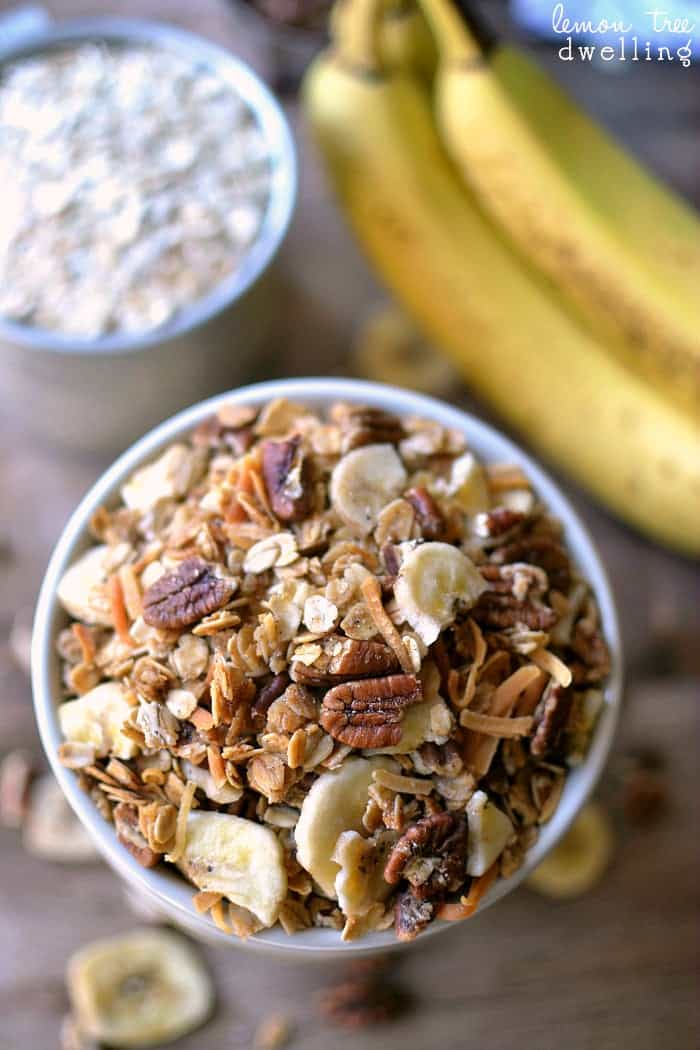 If you're looking to mix things up too, this granola is exactly what you need! It's a little something different, but still just what you're looking for in a granola. It's crunchy, sweet, and delicious with yogurt. Or milk. Or all on its own. And it will definitely remind you of banana bread, without the daily carb overdose. Which should make you VERY happy. Especially in the new year!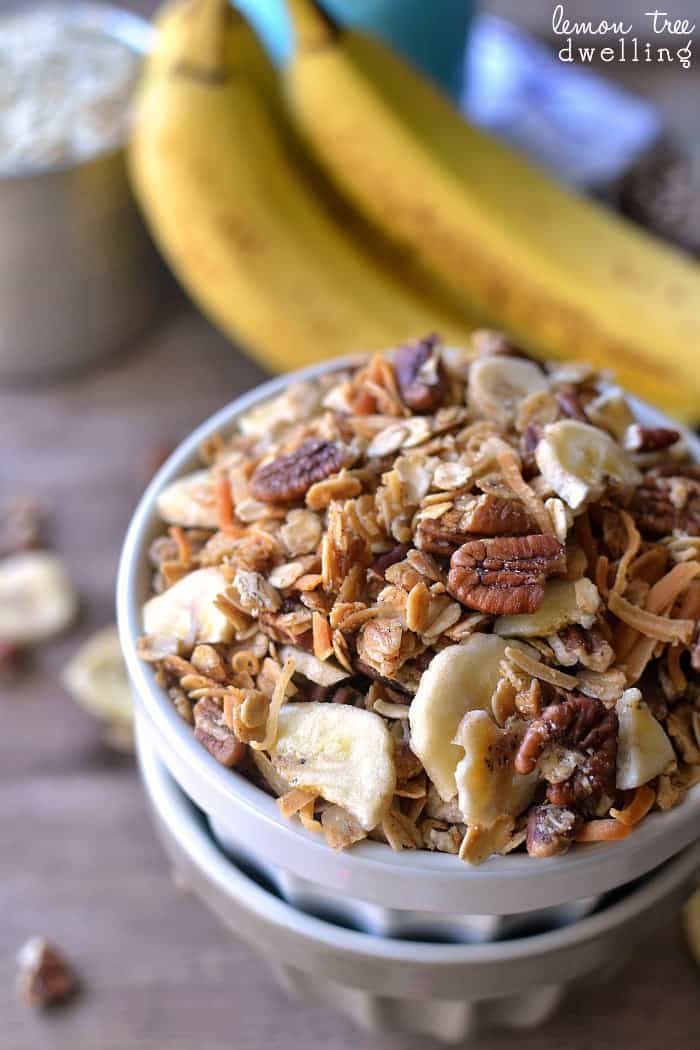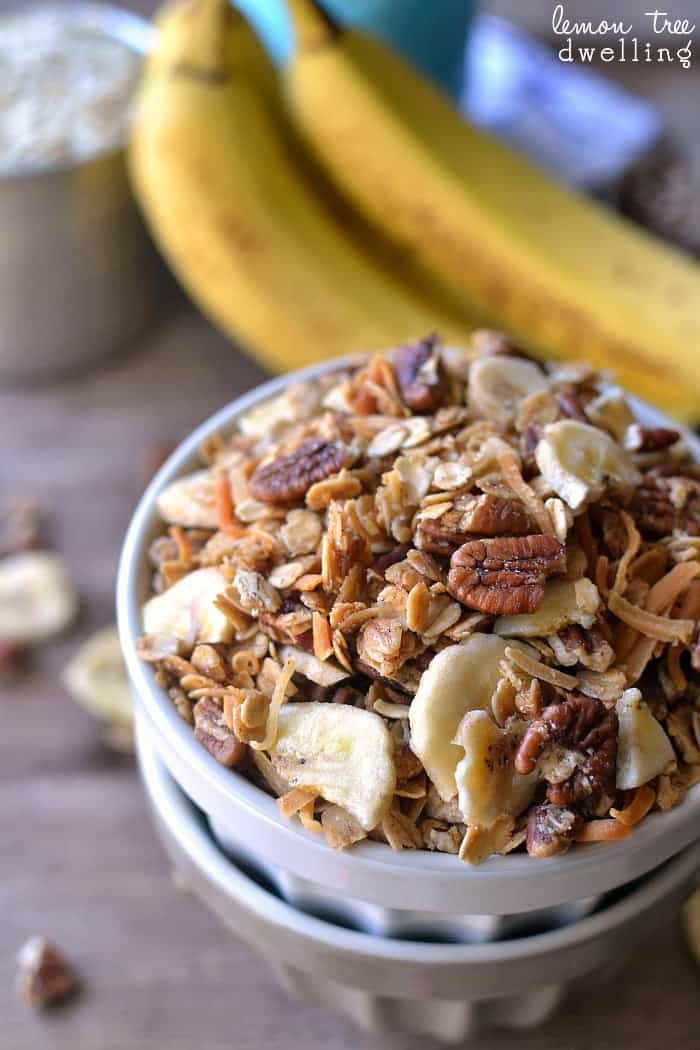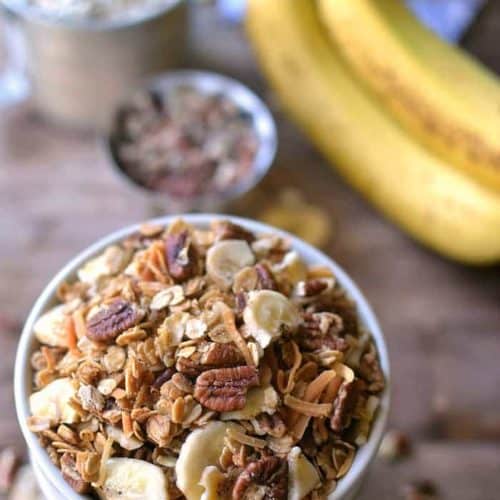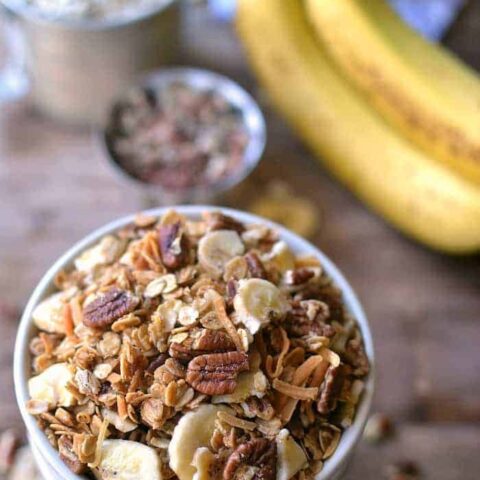 Banana Bread Granola
Cook Time:
1 hour
20 minutes
Total Time:
1 hour
30 minutes
Homemade granola with all the flavors of banana bread. Delicious with milk, yogurt, or by the handful!
Ingredients
3 cups old fashioned oats
1 cup chopped pecans
1/4 cup butter, melted
1/4 cup brown sugar
1/4 cup honey
1/2 teaspoon cinnamon
1 cup flaked sweetened coconut
1 cup banana chips
Instructions
Combine oats and pecans in a medium mixing bowl.
Combine butter, brown sugar, honey and cinnamon in a small bowl and mix well.
Drizzle butter mixture over oats mixture and mix until coated.
Spread the mixture in a 10x15 inch baking sheet with sides.
Bake at 250 degrees 35-40 minutes or until light brown.
Stir in the coconut.
Bake 45 minutes longer or until golden brown, stirring every 15 minutes.
Remove from oven and stir in banana chips.
Let stand until cool. Store in airtight container at room temperature.
Nutrition Information:
Yield:

12
Serving Size:

1 grams
Amount Per Serving:
Calories:

273
Total Fat:

16g
Saturated Fat:

7g
Trans Fat:

0g
Unsaturated Fat:

8g
Cholesterol:

10mg
Sodium:

54mg
Carbohydrates:

32g
Fiber:

4g
Sugar:

15g
Protein:

4g
Also be sure to check out my Harvest Granola!