Warm roasted vegetables on top of mixed greens with feta cheese and balsamic vinaigrette dressing.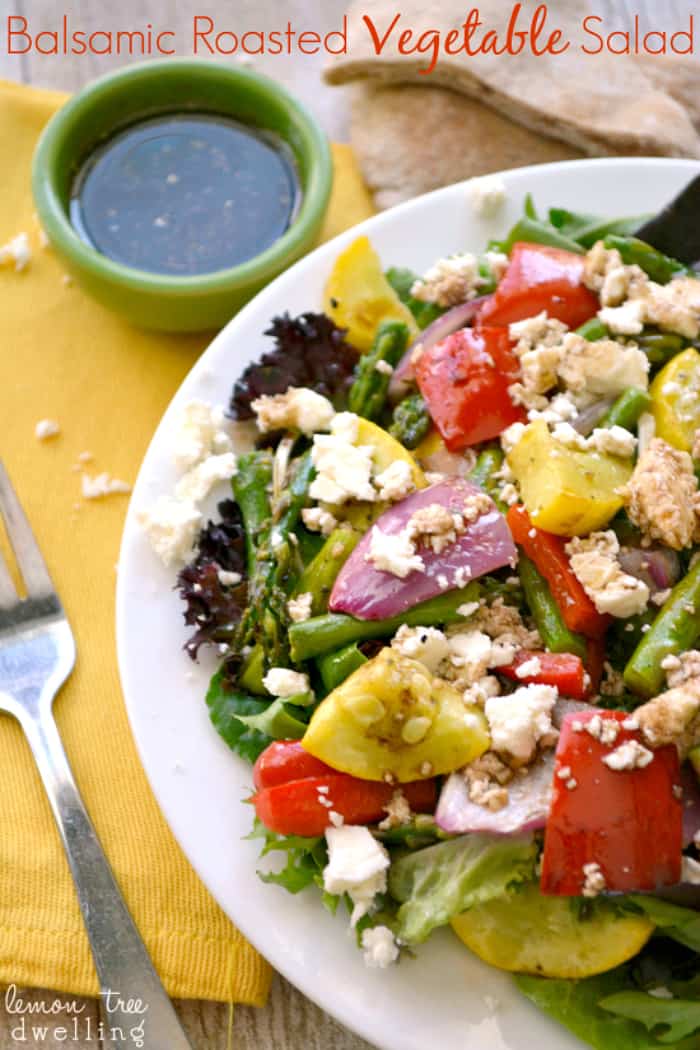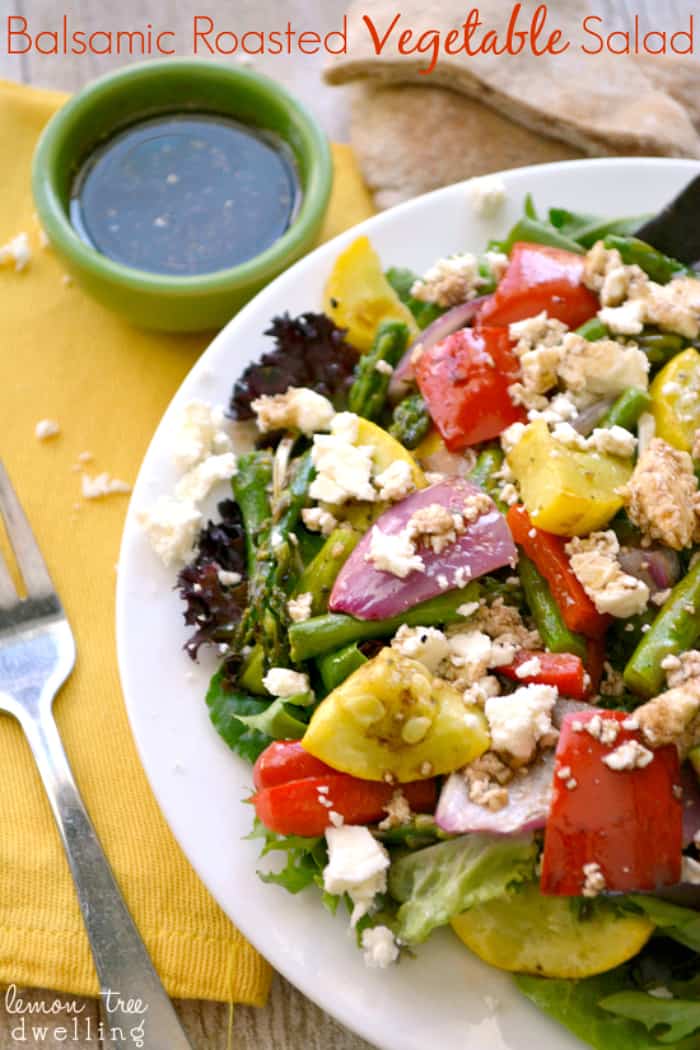 Being a parent is hard. For a lot of reasons….one of which is the sheer number of decisions you have to make every day. From the time your kids wake up to the time they go to bed (and even after), you are a decision making machine! What's for breakfast? What's for lunch? Can they wear flip flops to school? Do they need a jacket? Can they bring their Rainbow Loom in case there's indoor recess? Can today be a parent pick-up day? Can they have a play date since it's early release? Can they play on the iPad and for how long? How late can they stay up? Can they have a treat? Can you do something special as a family after dinner? And oh – by the way – what's for dinner?????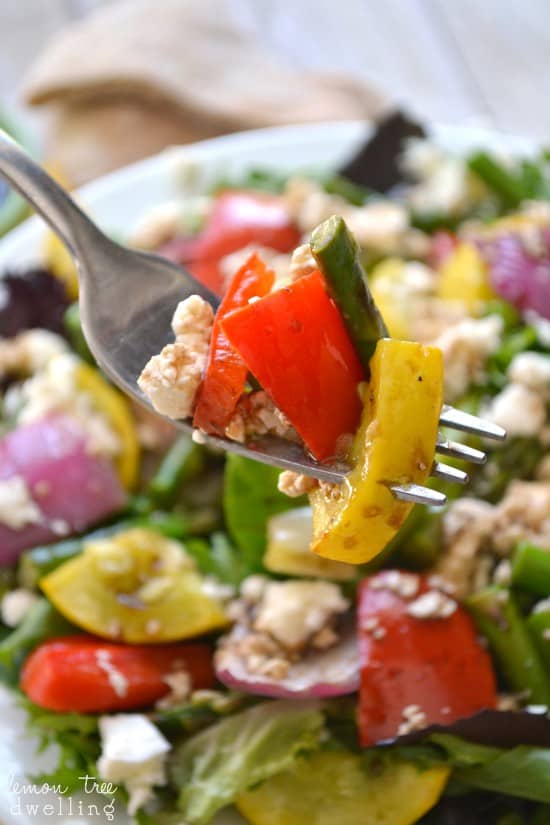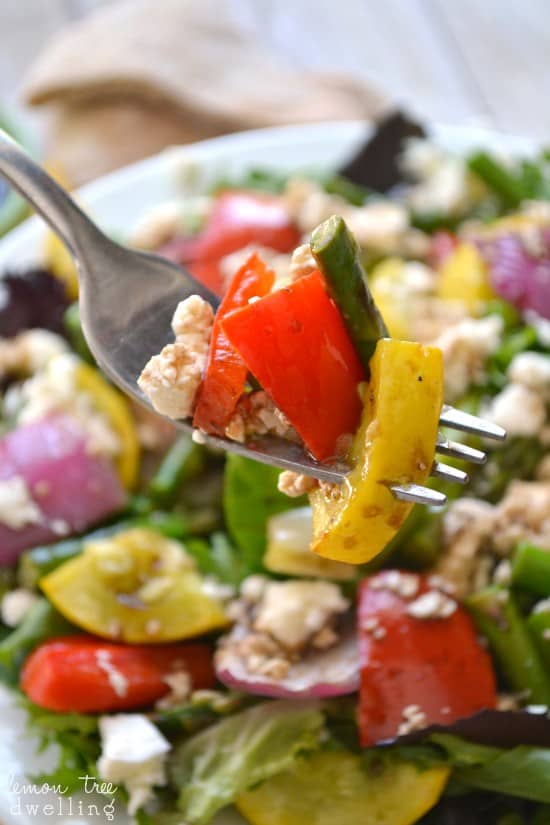 I'm exhausted just thinking about it!! And, if your kids are anything like mine, they push the limits every step of the way. No answer is taken at face value…..it's met with another question, and sometimes several other questions, until we reach our boiling point and seriously lay down the law.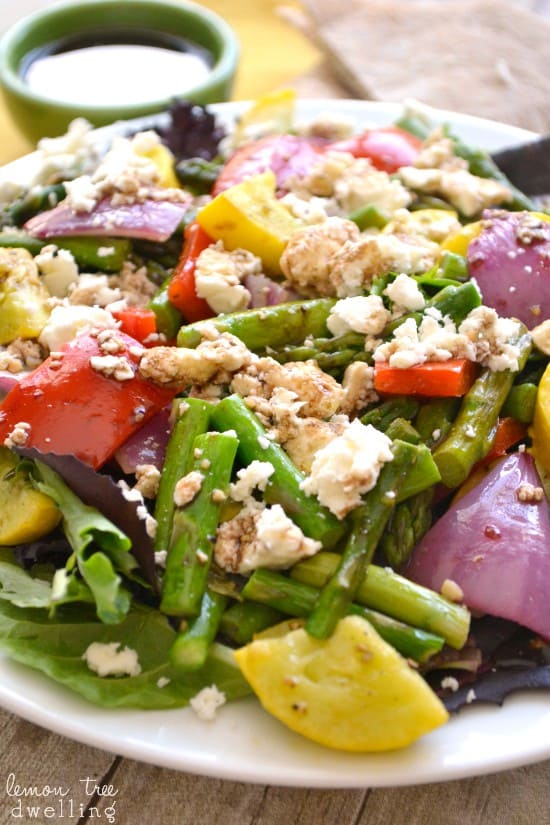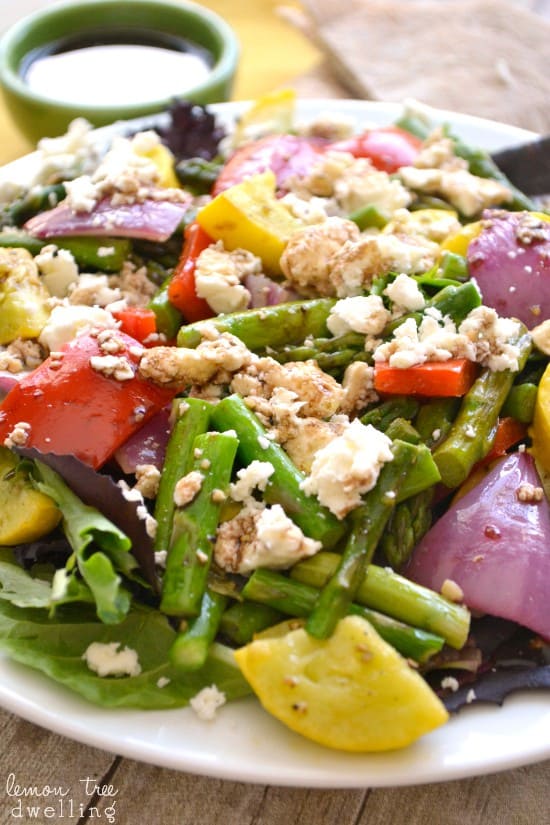 This weekend was a prime example. Jorden and I thought it would be fun to let the kids kick off spring break with a sleepover….so we let Ellia and Greta both choose a friend to have over. Fun idea, right??? WRONG! And not because of anything, in particular……except that the number of meltdowns we were faced with (from our own kids) the morning after was outrageous! Which made us question everything! Did they eat too much sugar? Did they stay up too late? Should we have had them sleep in the basement, where it's darker and the morning light wouldn't have woken them up? Was a sleepover a bad idea in the first place??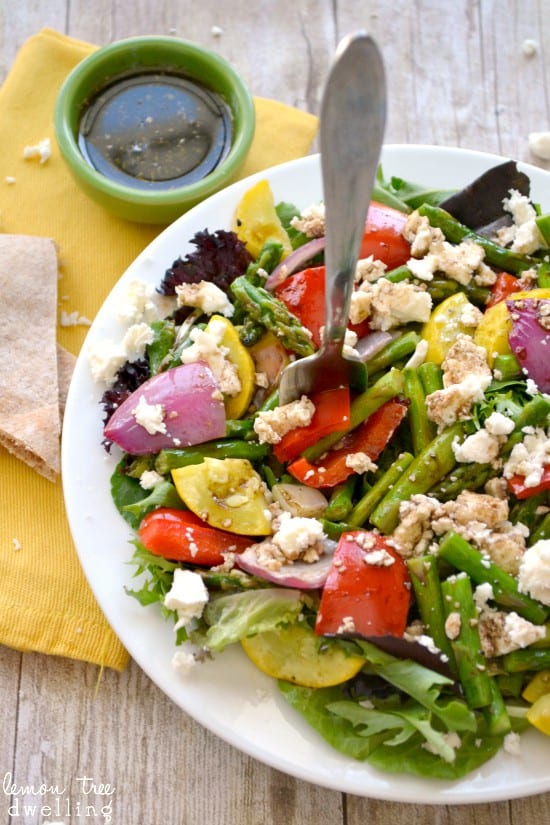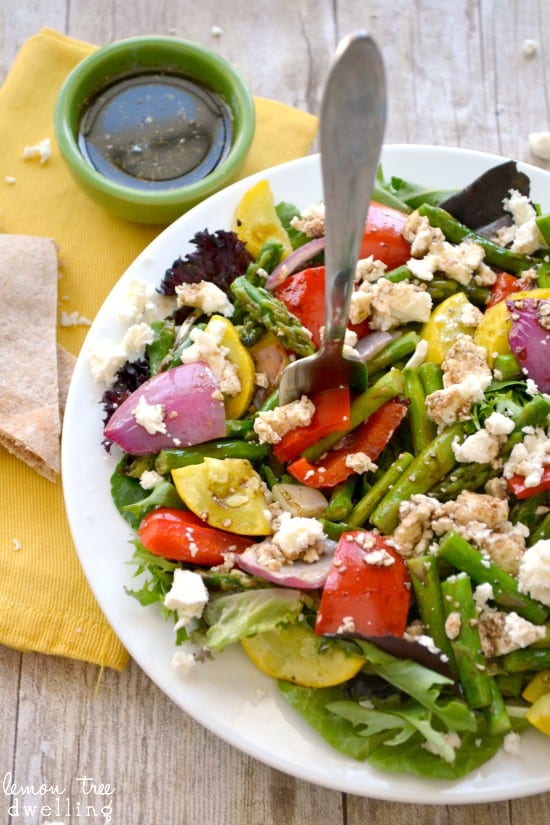 And….how hard do you come down on them when you feel like you are somehow responsible for their meltdowns? Well, we decided to come down hard. By cancelling the next day's plans and making it a no-friend, no-neighbor (no FUN) day. And we felt fine about it. In fact, we felt great about it! And I guess that's what parenting and decision making comes down to…..trying to make decisions you will feel good about in the end. Like this salad! It's loaded with fresh, delicious vegetables, fresh feta cheese, and a light balsamic vinaigrette dressing. It's a salad that is not only delicious, but SO good for you! So you can feel good about it the whole way through.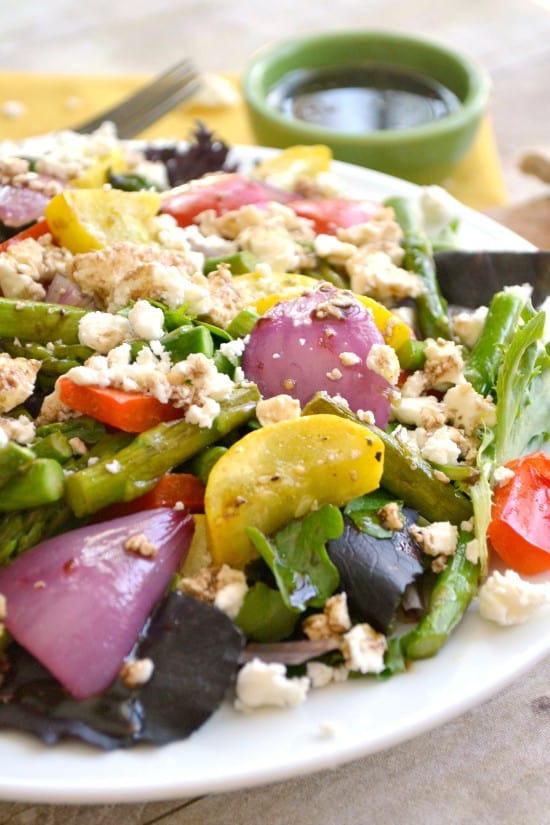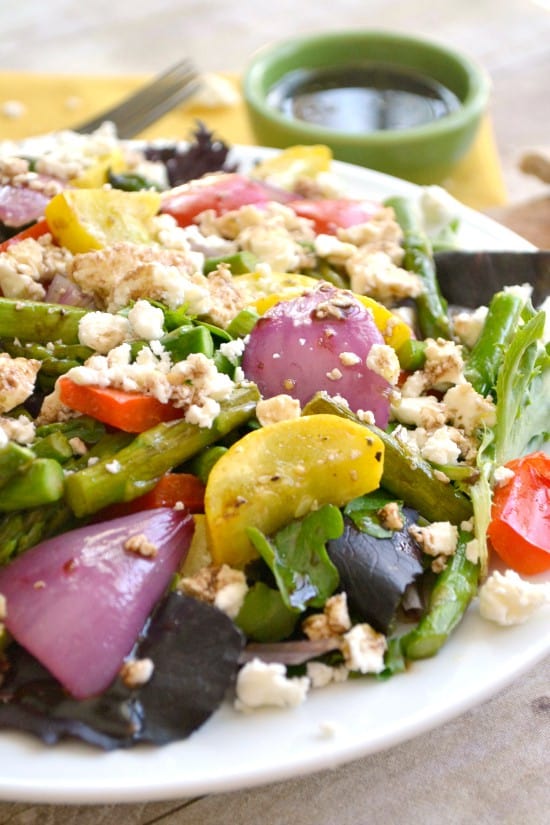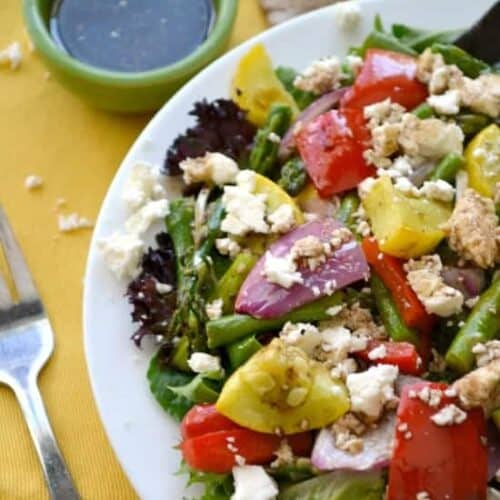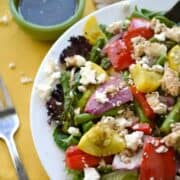 Balsamic Roasted Vegetable Salad
Ingredients
Salad
1

5 oz bag baby spring mix

1

medium yellow squash

sliced and halved or quartered

1

red bell pepper

cut into 1 inch pieces

1

bunch asparagus

ends removed and cut into 2 inch pieces

1/2

red onion

cut into 1 inch pieces

2

Tbsp.

olive oil

sea salt

fresh ground pepper

4

oz.

feta cheese

balsamic vinaigrette
Balsamic Vinaigrette
1/3

c.

olive oil

1/3

c.

balsamic vinegar

2

tsp.

minced red onion

1/2

tsp.

dried oregano

1

garlic clove

minced

1/2

tsp.

salt

1/2

tsp.

sugar

1/4

tsp.

pepper

*Adapted from The America's Test kitchen Family Cookbook: Basic Vinaigrette recipe
Instructions
Salad
Toss yellow squash, red pepper, asparagus, onion (and any other vegetables you'd like to add) in olive oil. Top with sea salt and fresh ground pepper, to taste.

Spread on roasting pan; roast at 400 degrees for 15 minutes.

Divide spring mix between two large plates.

Top each with half of roasted vegetables and 2 oz. feta cheese.

Drizzle with balsamic vinaigrette.
Balsamic Vinaigrette
Combine all ingredients in a small jar and shake well to combine.
Looking for more delicious salad ideas??