This Baileys Mint Martini is the ultimate combo! Creme de Menthe combined with Baileys Irish Cream in one delicious cocktail that's perfect for St. Patrick's Day, Christmas, or any special occasion. This minty martini not only tastes amazing, but also has the most vibrant green color, making it a fun and festive cocktail for all your holiday celebrations! If you love Baileys, you can't go wrong with this delicious Baileys Mint Martini….made with just 4 ingredients!
And if you REALLY love Baileys, you might also want to check out a few of our other favorite Baileys recipes, like our Baileys Chocolate Mousse and our Baileys Shamrock Shake!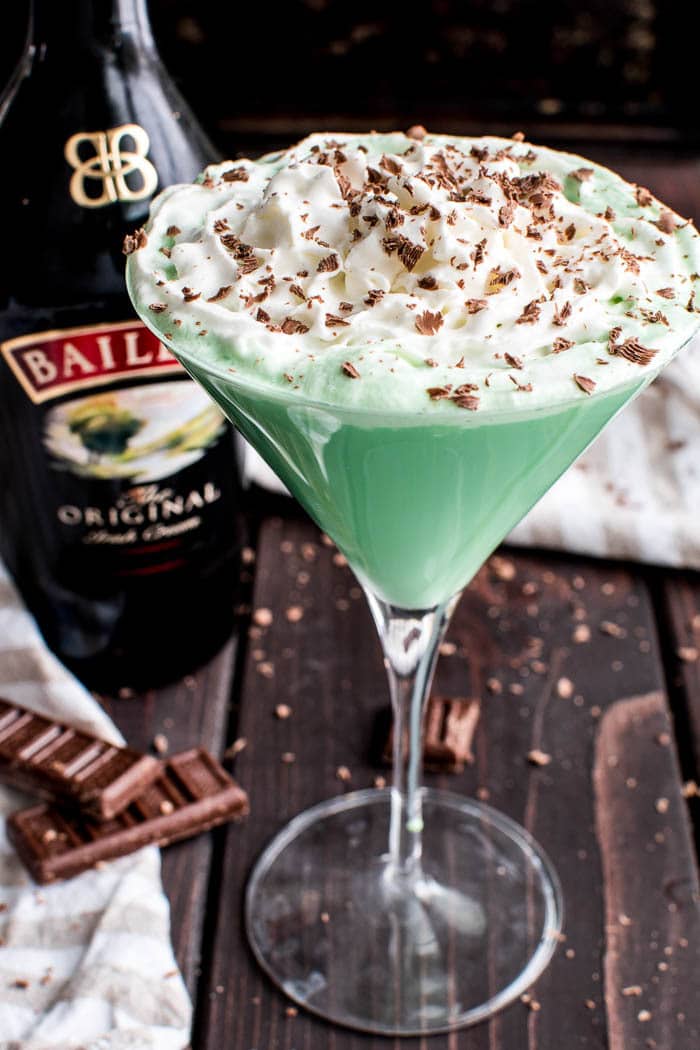 You know how there are some things you either love or hate? Like cilantro? Or avocados? Or Nutella? Well, I feel like martinis are one of those things. You either LOVE them…or you don't. And if you don't, you probably have some pretty strong feelings about them.
One of my good friends has a real issue with martinis. Not because of the taste, or the cost….but because of the sheer design of them. She finds them sticky. And messy. And hard to drink. All in all, she finds martinis to be completely impractical.
And at one point, I might have agreed. But one of the last times I was out, I ordered a martini. For the first time in years. And not only was it not sticky, or messy, or hard to drink….but it was completely delicious! And it got me thinking. With St. Patrick's Day right around the corner, why not share a fun martini recipe that would be perfect for celebrating!?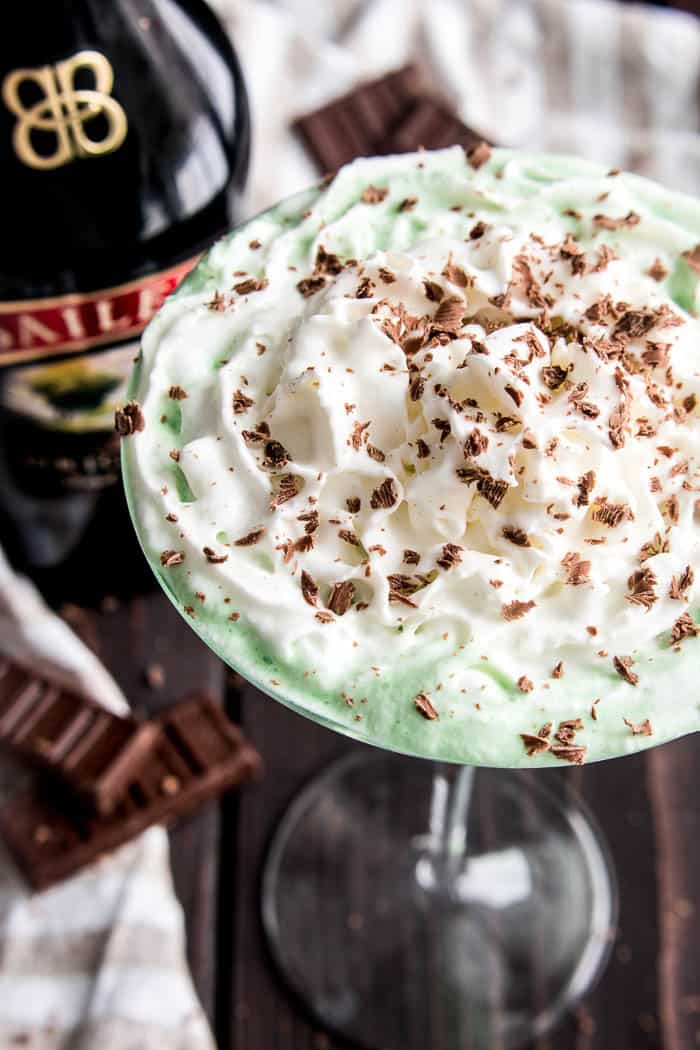 So I took the two flavors I associate most with St. Patrick's Day – Baileys Irish Cream and green Creme de Menthe – and got to work. And when I say work, I mean I spent my day sipping on martinis until I found the perfect combo. And let me tell you…you're gonna love it.
Because unlike martinis, which are more of a love or hate type of thing, Baileys is just one of those things that everyone seems to LOVE. People go crazy for my Baileys Chocolate Chip Dip and Baileys Chocolate Sheet Cake, and EVERY time I share this Baileys Fudge….same thing.
And when you combine Baileys with mint, well, you pretty much have the ultimate St. Patrick's Day treat. And when you make it into a Baileys Mint Martini….you pretty much have the makings of the BEST St. Patrick's Day party.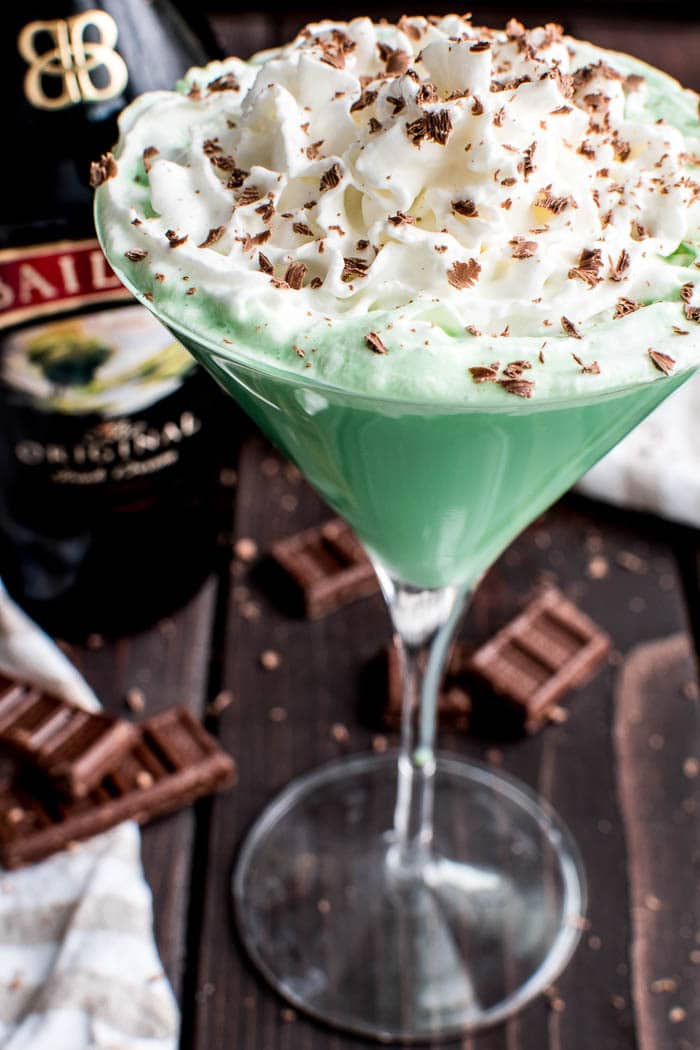 What is Baileys Irish Cream?
Baileys is an Irish whiskey and cream based liqueur.
It contains a cocoa extract, which gives it its distinct chocolatey flavor and essence.
It has an alcohol content of 17%.
It is often served on the rocks, with coffee, or as a key ingredient in the ever-popular Mudslide.
How Do You Make a Martini?
Fill a cocktail shaker with ice (crushed is best!)
Add your ingredients.
Stir or shake to chill the drink, blend the flavors, and let the ice dilute the alcohol.
Place the strainer over the top of the shaker and pour into martini glasses.
Garnish as desired.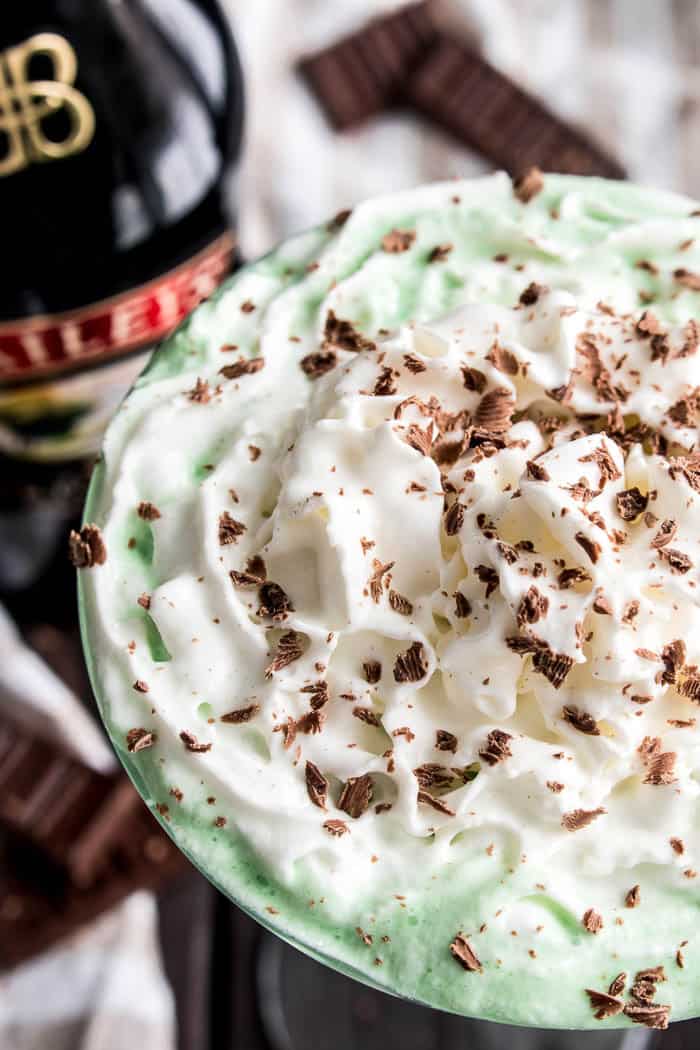 So what were the results of my cocktail-sipping work day? Well, I found that my favorite version of this Baileys Mint Martini contained an equal ratio of Baileys Irish Cream, Creme de Menthe, vodka, and half & half. Of course, you can always adjust the ingredients according to your specific tastes.
I also found that I really loved the green color produced by using green creme de menthe, but again, it might be a love or hate kind of thing. So if the color is a turn off to you? Feel free to use clear creme de menthe and your drink will be more the color of Baileys.
Finally, I love the fun whipped cream and chocolate garnishes, but if you're not a garnish kind of person? Feel free to serve your martini garnish-free. Whether you're hosting a St. Patrick's Day party or just staying home, this Baileys Mint cocktail is guaranteed to make your holiday more festive, fun, and definitely delicious.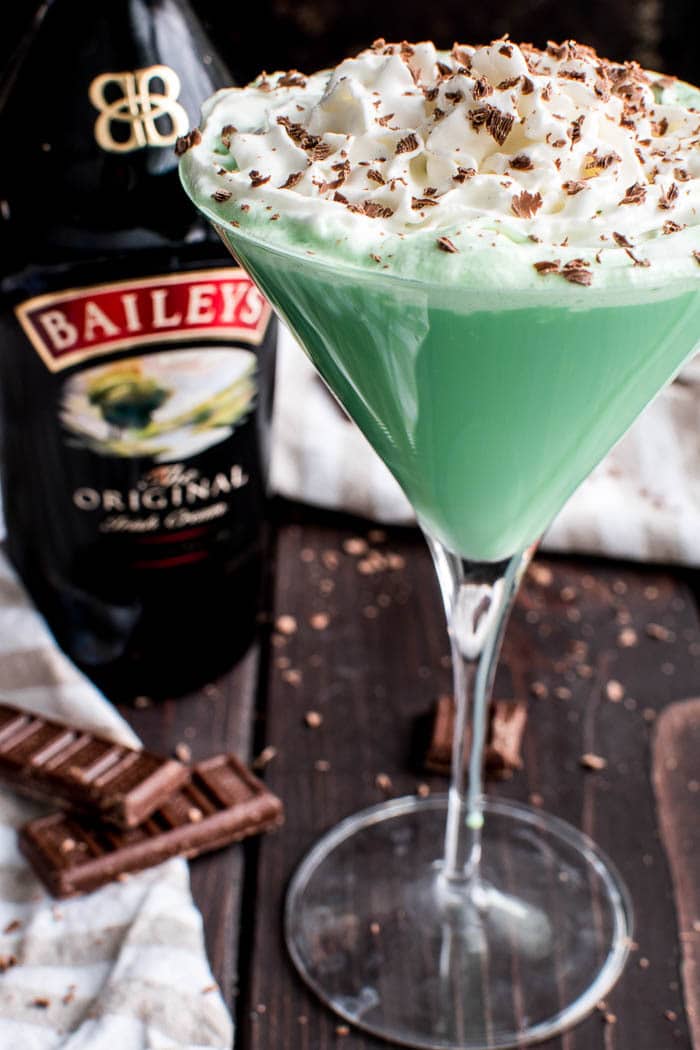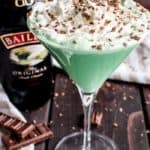 Baileys Mint Martini
Ingredients
1

oz.

Baileys Irish Cream

1

oz.

Creme de Menthe liqueur

1

oz.

vodka

1

oz.

half & half

ice
Instructions
Fill cocktail shaker with ice.

Add ingredients; cover and shake well.

Strain into a martini glass.

Garnish with whipped cream and chocolate shavings as desired.
Nutrition Facts
Baileys Mint Martini
Amount Per Serving
Calories 300
Calories from Fat 63
% Daily Value*
Total Fat 7g 11%
Cholesterol 10mg 3%
Sodium 13mg 1%
Potassium 36mg 1%
Total Carbohydrates 20g 7%
Protein 1g 2%
* Percent Daily Values are based on a 2000 calorie diet.