Almond Joy Potato Chips are a quick and tasty treat for any occasion! A perfect crunchy snack. Made with crinkle cut potato chips dipped in sweet milk chocolate and sprinkled with chopped almonds and toasted coconut. These are highly addictive! A crunchy, salty, sweet, delicious treat!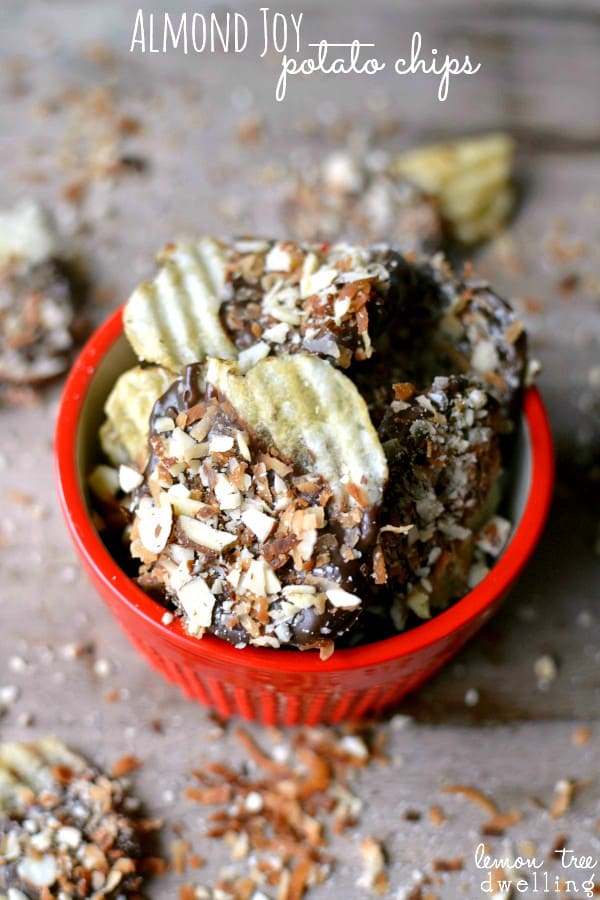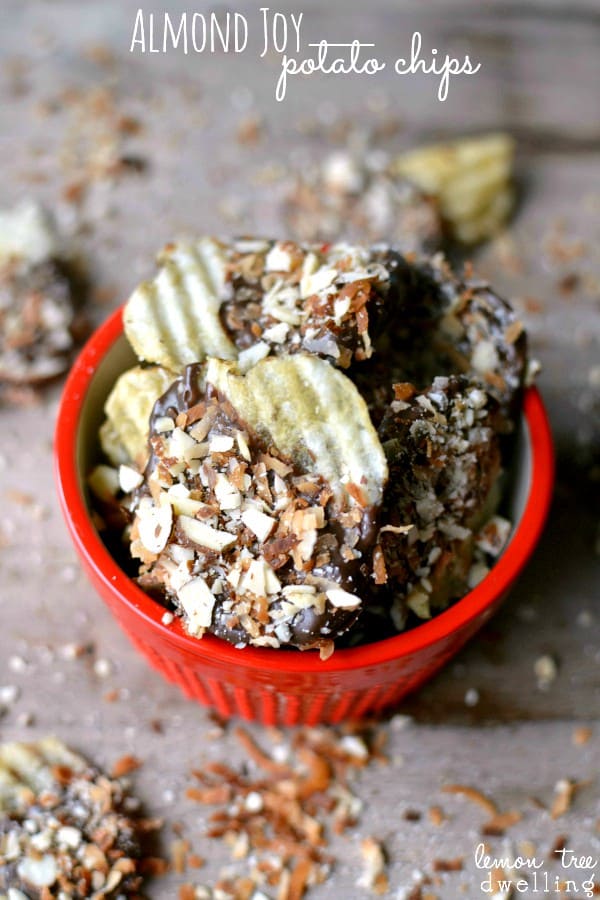 Almond Joy Potato Chips - To die for!
I blame my sister for these Almond Joy Potato Chips. They are completely, utterly, totally her fault. Okay, and my mom. They are both responsible for these sweet & salty little treats.....although they might not know it! It all started when my sister stopped by for a surprise visit on my birthday, and along with her, she brought TREATS!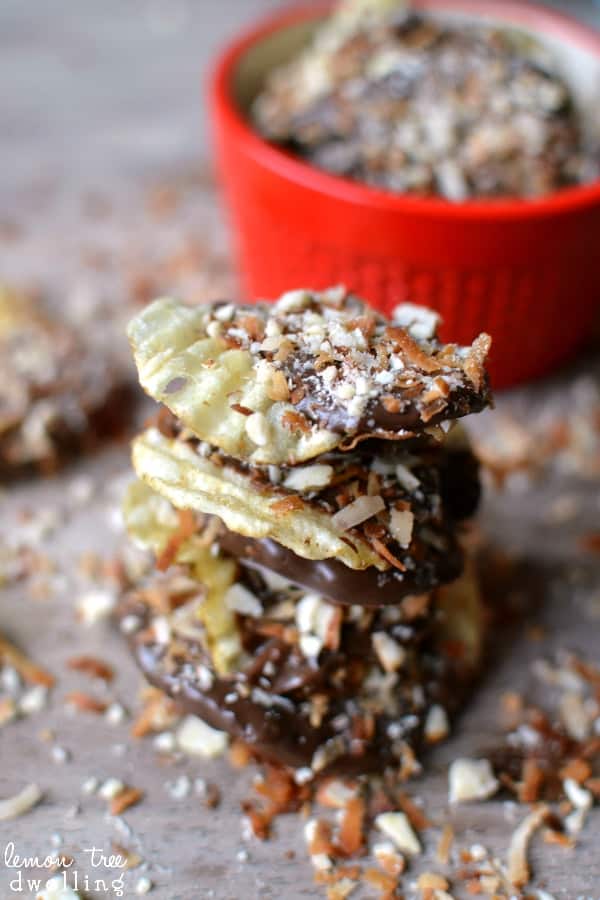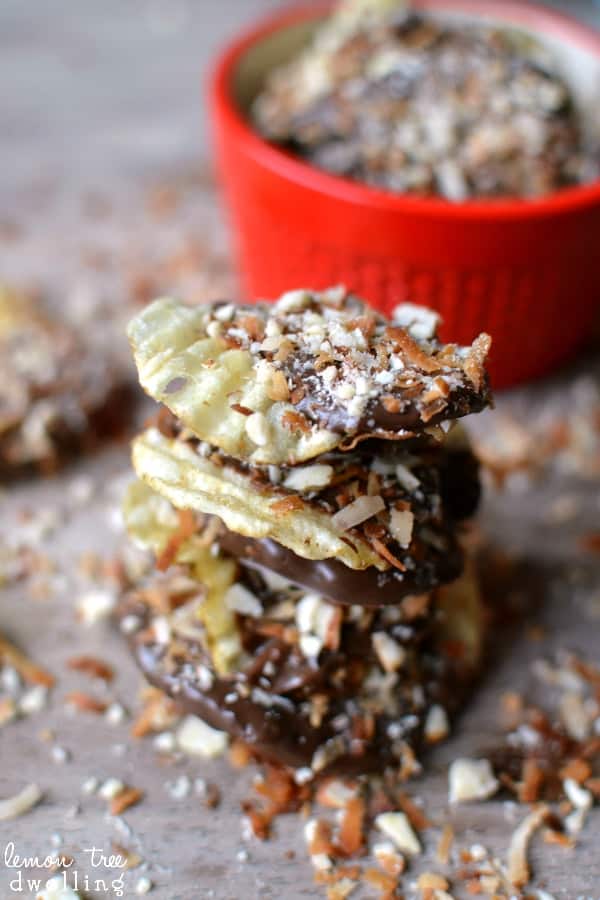 And not just any treats, but treats she knew I would love.....Chicago Mix Popcorn, a bottle of wine, chocolate covered almonds, mint chocolates, and something I've never tried before: Chocolate Covered Potato Chips!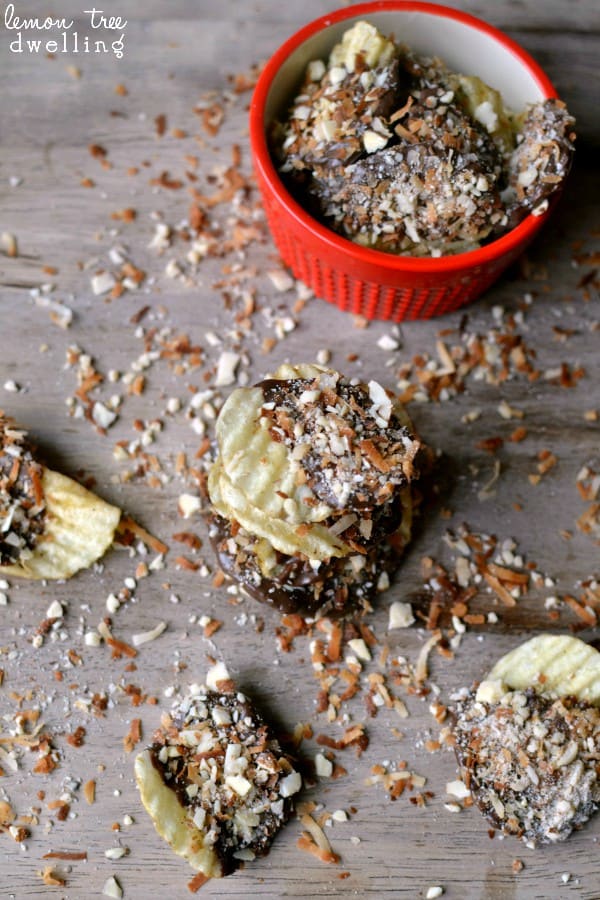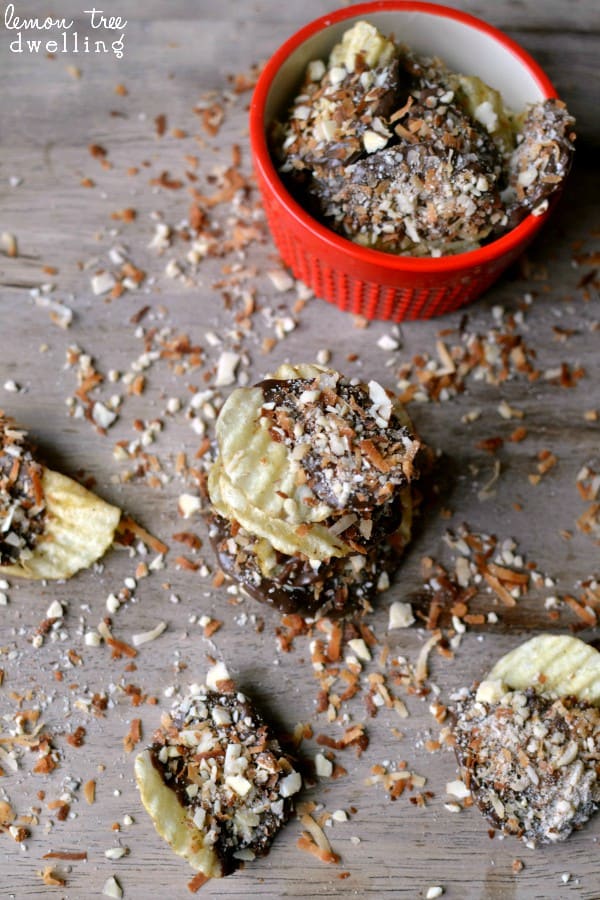 She wanted to get me things she knew I would love, but wouldn't buy for myself.....and the chips were a perfect example. We decided to open them up right away, and let's just say it was love at first bite. They were amazing. Decadent. Heavenly. Dangerous.......!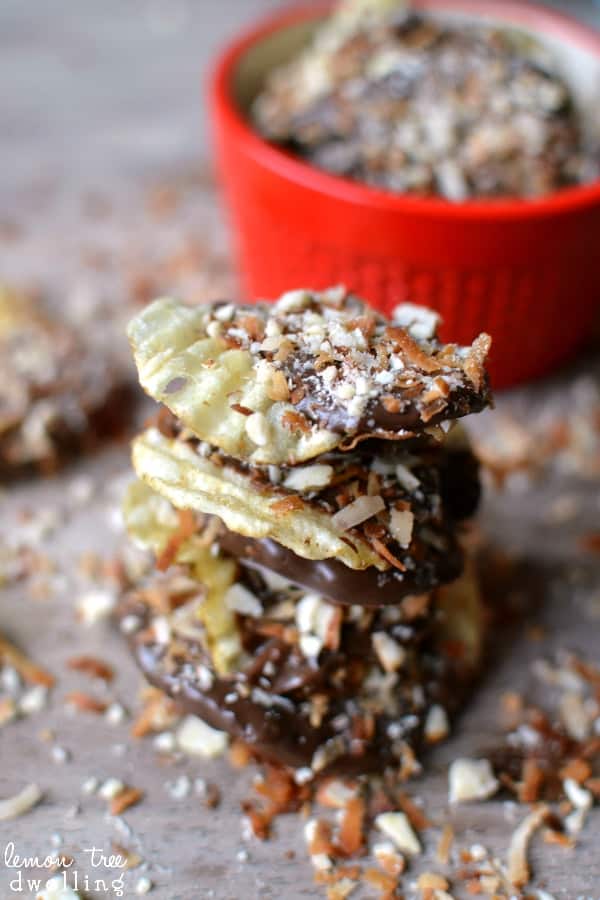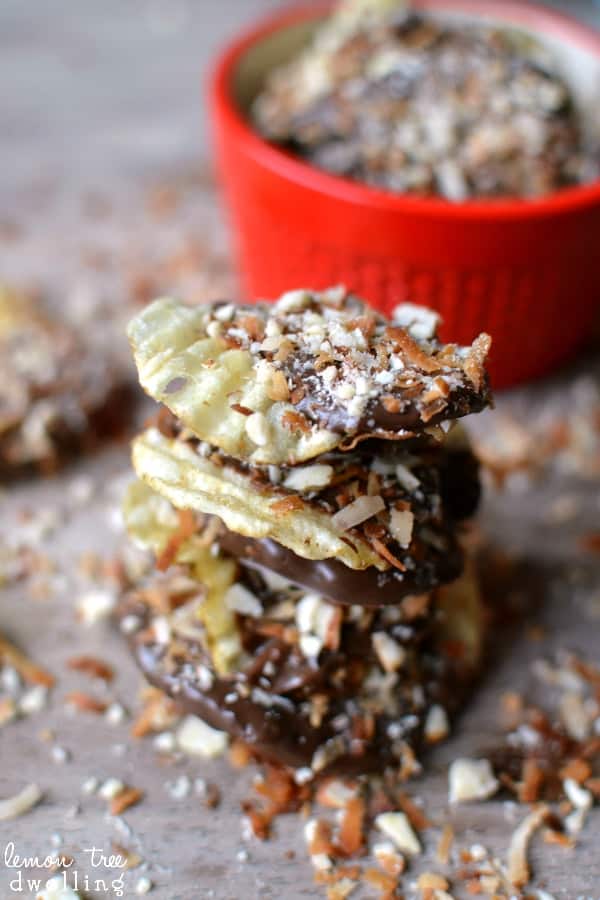 I'm pretty sure the bag lasted all of two days. By the next night, I was scraping the crumbs out of the bottom of the bag and wishing there was just one. more. chip. Well, there wasn't.....and I resisted the urge to go buy another bag. Instead, I decided to make my own. I tried a few different versions and, sad to say, once taste testing came along I just couldn't get the store bought ones out of my mind. Not a good sign!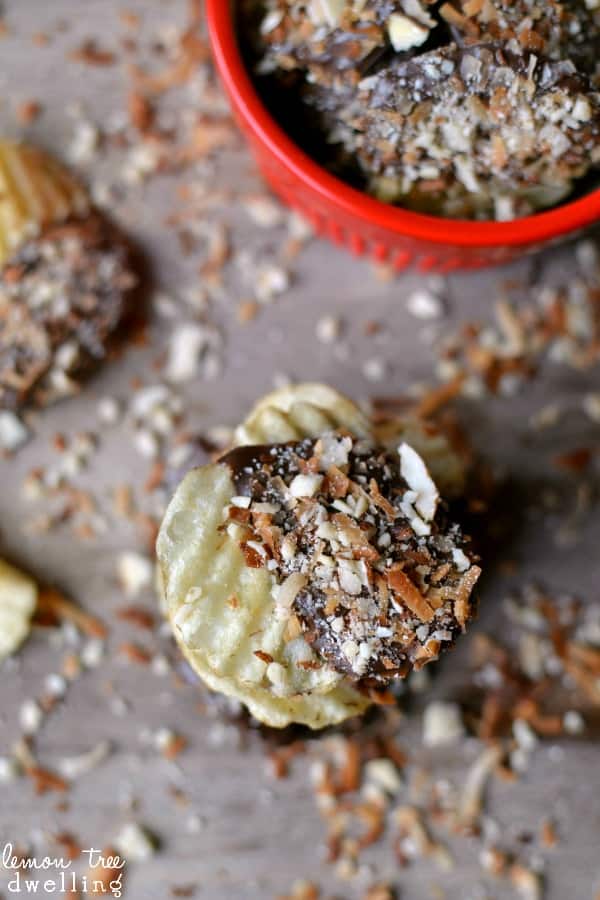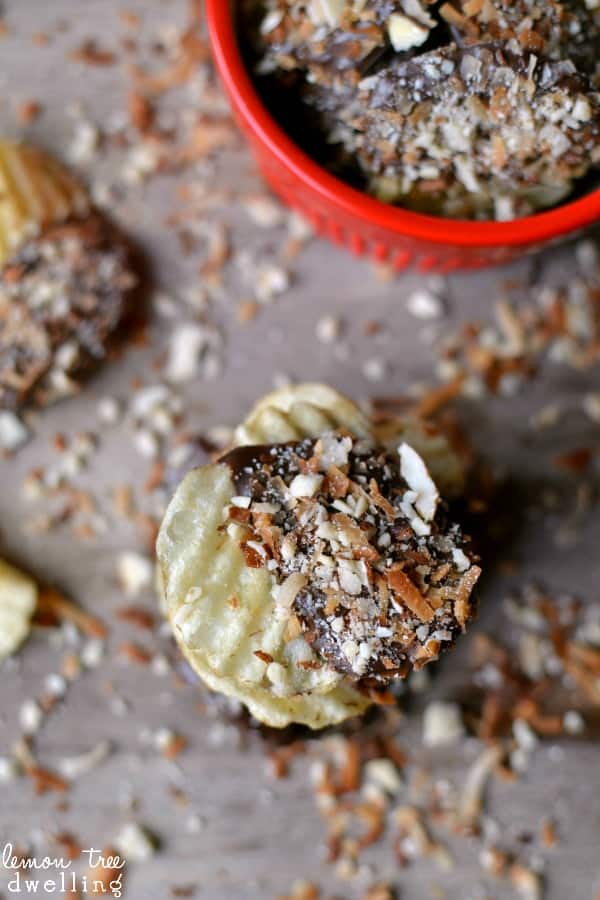 I was about to give up......and then something awesome happened. I channeled my mom's wisdom and love of all things chocolate - especially Almond Joys! So I decided to combine my mom's favorite chocolate and created Almond Joy Potato Chips! And the rest, as they say, is history. Literally.....because these babies did NOT last long!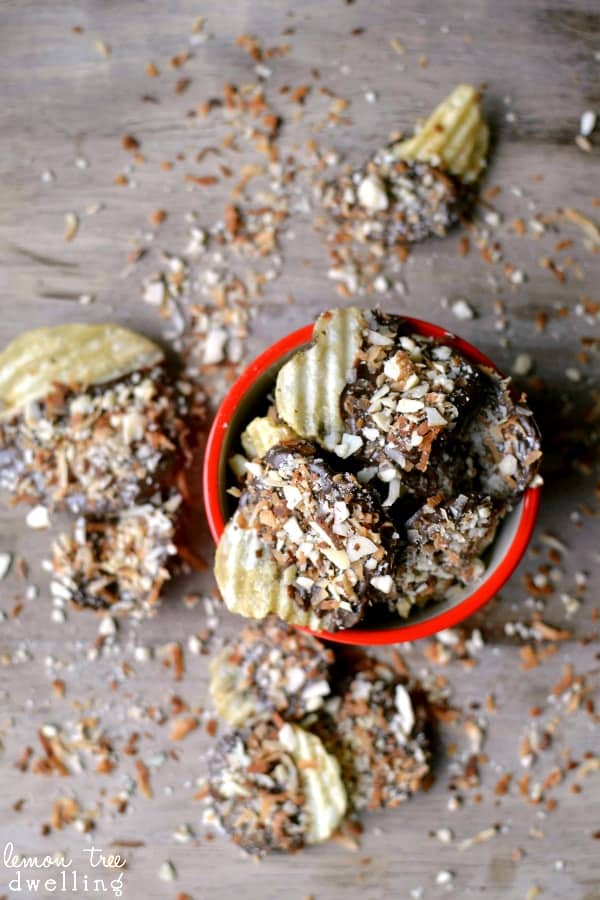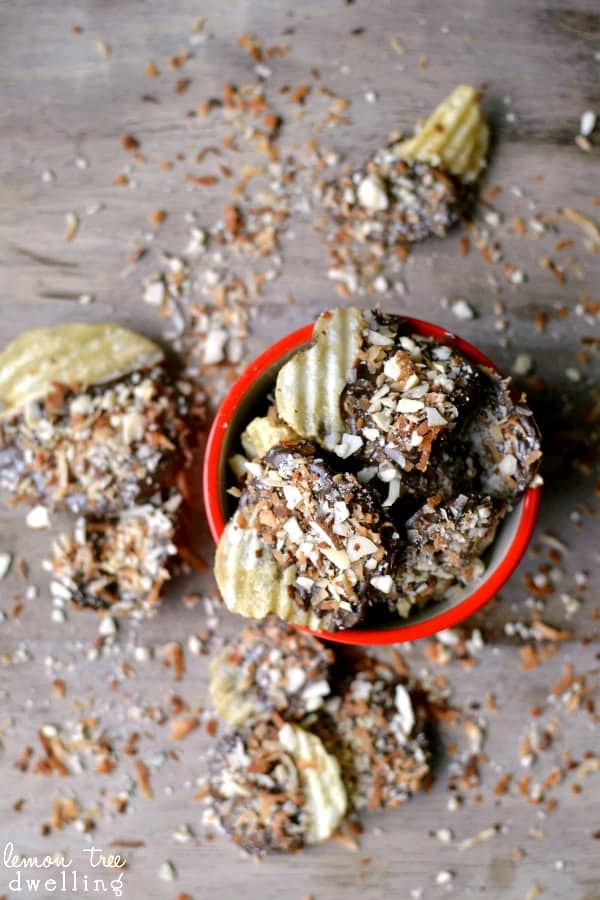 Everyone who tried them LOVED them, including my dad, who originally turned his nose up at the thought of chocolate covered potato chips. You know the saying "you can't eat just one?" Well.....it turns out that's even MORE true of potato chips covered in chocolate! No surprise there.....am I right???
Almond Joy Potato Chips may be the perfect food gift for Christmas!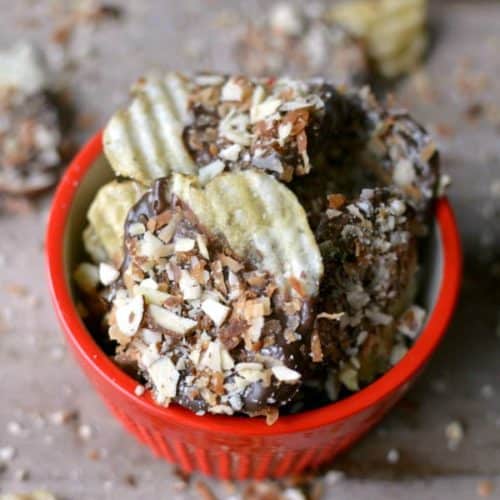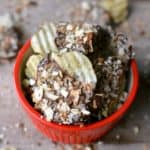 Almond Joy Potato Chips
Ingredients
8

c.

crinkle cut potato chips

16

oz.

milk chocolate

I used Candiquik

½

c.

chopped almonds

½

c.

toasted coconut
Instructions
Prepare coconut by toasting it on a baking sheet for 10-15 minutes at 350 degrees.

Melt milk chocolate in a small saucepan or microwave. Stir until smooth.

Dip potato chips in chocolate and sprinkle with chopped almonds and coconut.

Place on wax paper or parchment paper to dry.


Check out my other delicious Almond Joy treats, too!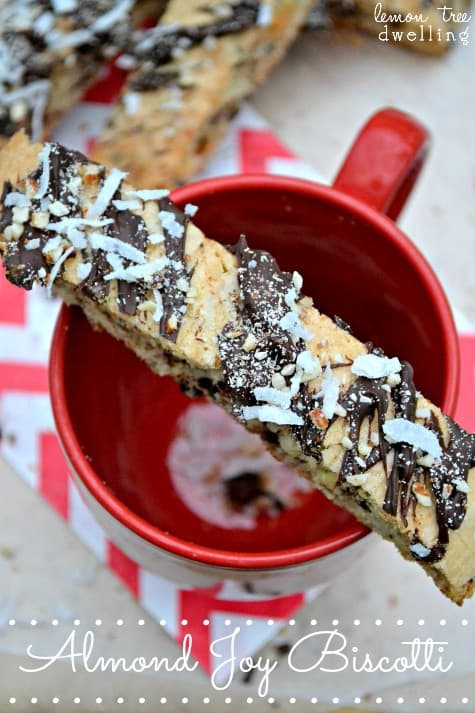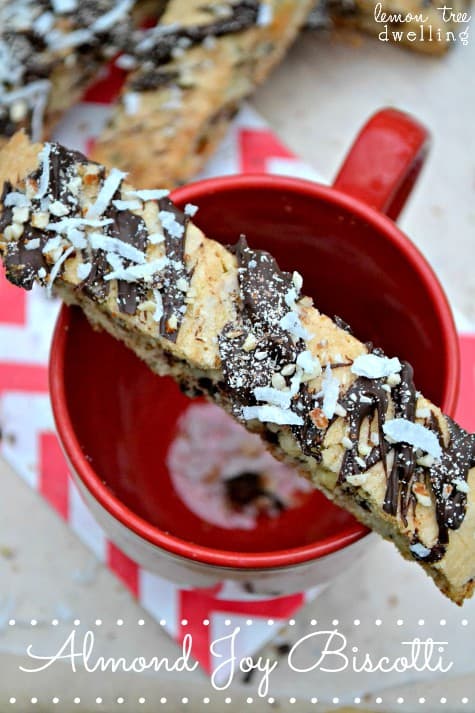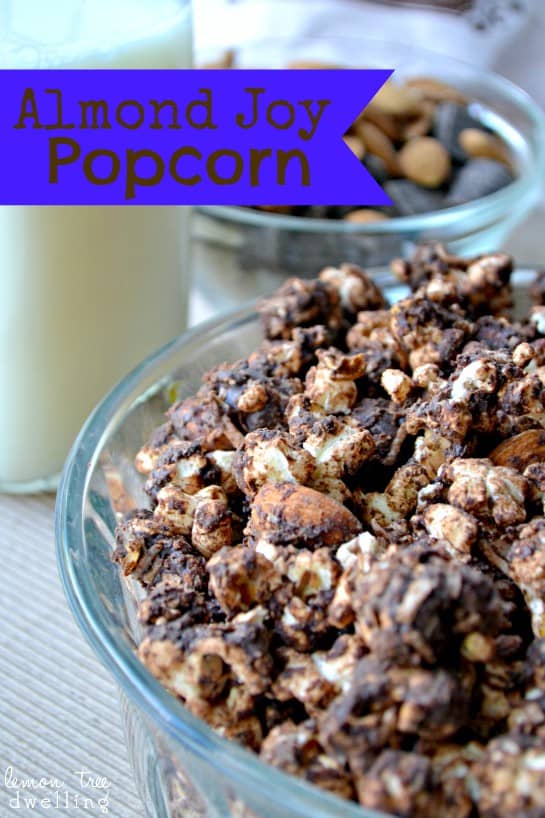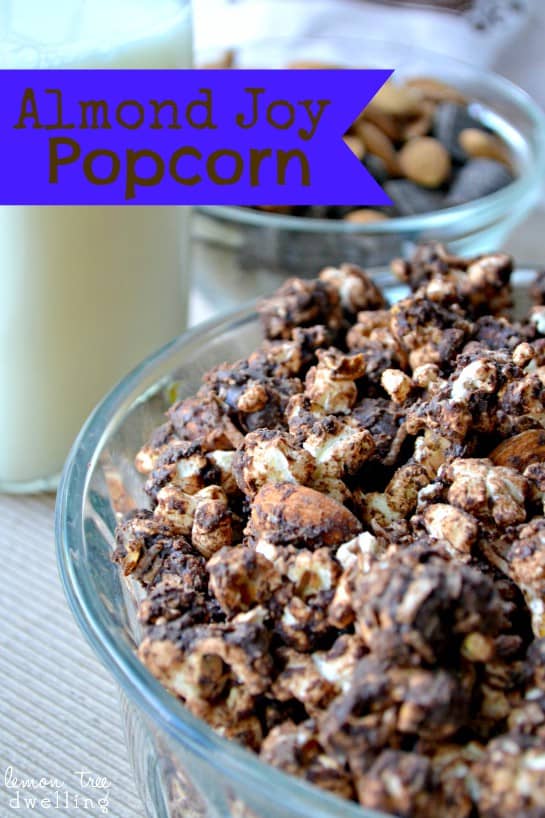 If you love all things almonds, then check out this recipe for Almond Cookies from The Girl Who Ate Everything