Chocolate mocha mug cake is a super quick dessert, made in a microwave! This 5 minute mug cake recipe combines chocolate and coffee for a rich, delicious mug of cake that can be enjoyed any time!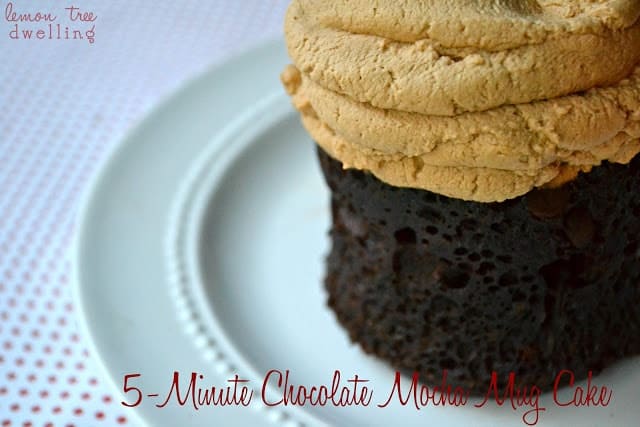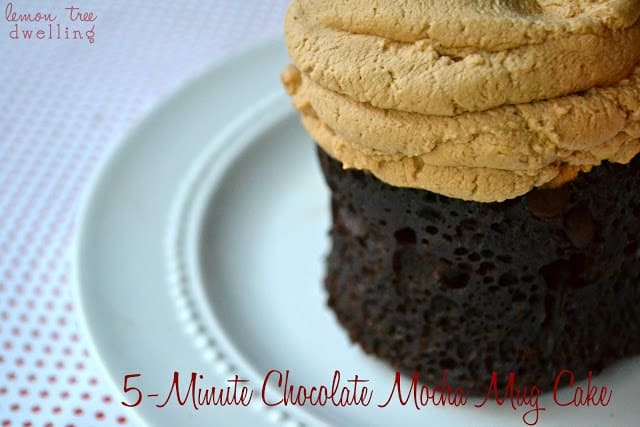 Let me just start by saying the mocha is optional…for those of you (crazy) people who don't like coffee… 🙂 What's not optional is falling for these gooey, delicious, single-serving triple chocolate cakes – made in a mug, and ready in just 5 minutes! Let me tell you all about it.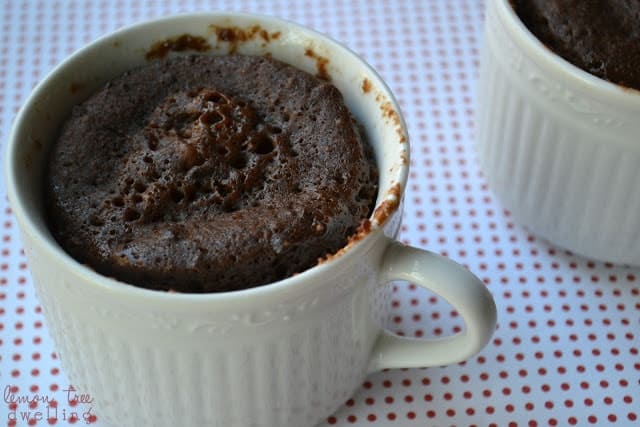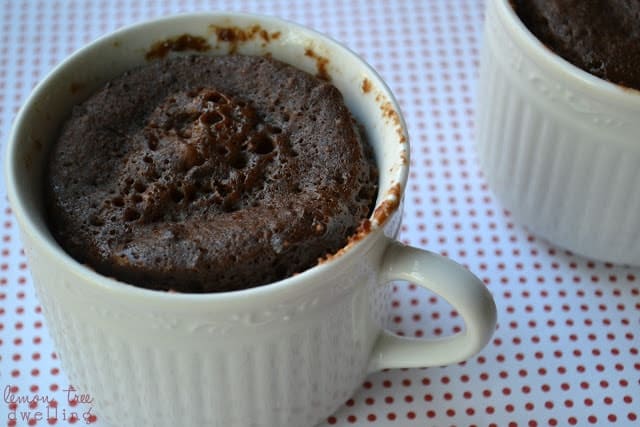 With Valentine's Day fast approaching, I've had Valentine's Day desserts on my mind. (Ok…who am I kidding? When do I NOT have desserts on my mind??) But, unlike me, Jorden doesn't have much of a sweet tooth. He'll have an occasional bite of whatever I'm having, but for the most part, I'm on my own. As much as I LOVE all things sweet, the last thing I need is an entire chocolate cake sitting on my kitchen counter. I will literally eat it, piece by piece, until it is all. gone. (Yikes)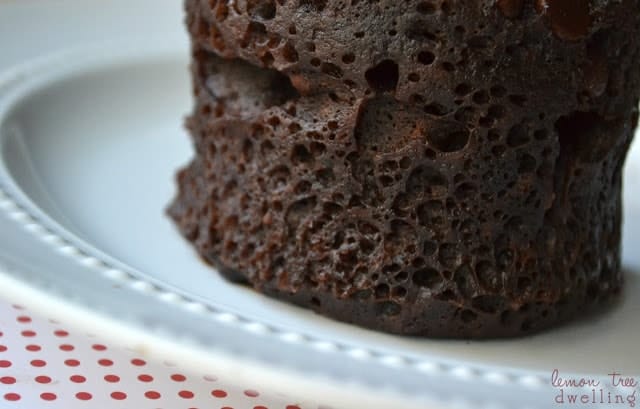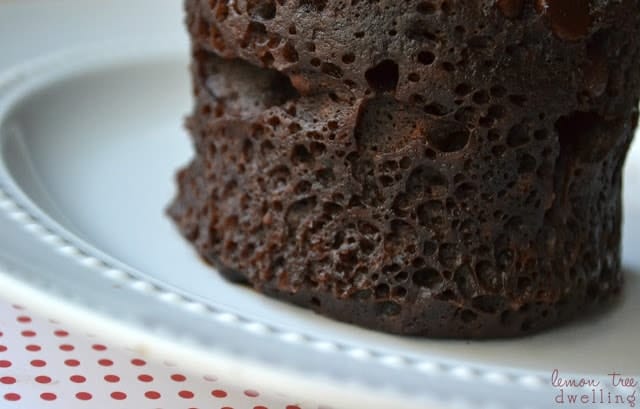 Enter: single serving cake for dessert. Perfect for a gal like me, who needs her sweets but also needs to not eat an entire chocolate cake! I ran across a version of this recipe as I was paging through my recipe binder recently. I love the idea of personal cakes for Valentine's Day, Girls' Night, Kids' Birthday Parties, or pretty much anytime the urge strikes!
Oh, and if you're having a Harry Potter themed kid's birthday party, consider making Butterbeer mug cakes!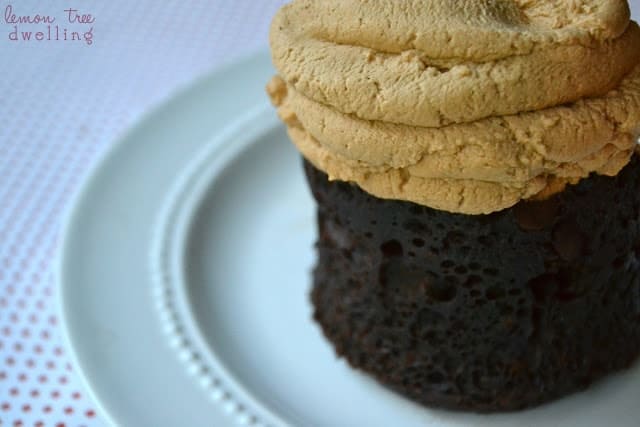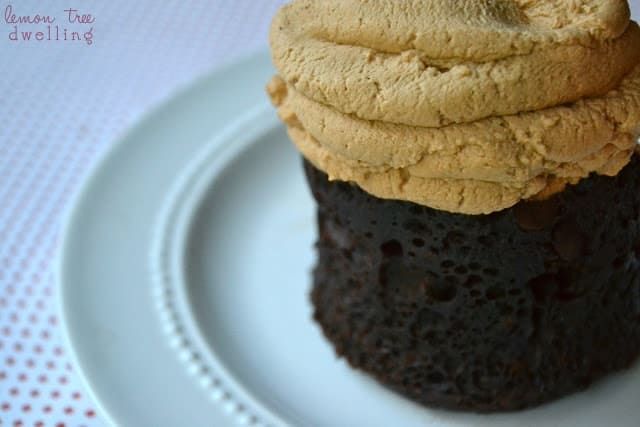 Okay…enough about my sweet tooth…on to the chocolate mug cake recipe!
Chocolate Mocha Mug Cake Recipe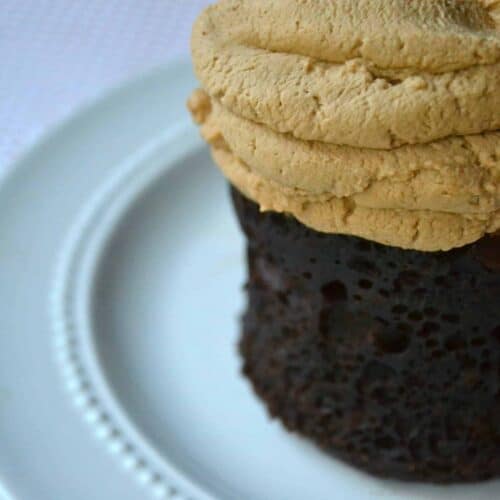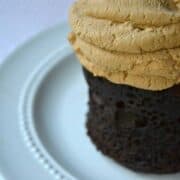 5-Minute Chocolate Mocha Mug Cake
Ingredients
4

Tbsp

flour

4

Tbsp

sugar

2

Tbsp

cocoa

1

egg

3

Tbsp

milk

3

Tbsp

oil

3

Tbsp

chocolate chips

3

Tbsp

chocolate syrup

A small splash of vanilla extract

1

large

or 2 smaller coffee mugs

For Whipped Cream:

1

cup

whipping cream

2

Tbsp

instant coffee granules

or less for a milder flavor

4

Tbsp

powdered sugar

Pour ingredients into mixing bowl and beat at high speed until soft peaks form.
Instructions
Mix dry ingredients together in mug or small bowl.

Add the egg and mix thoroughly. Pour in the milk and oil and mix well.

Add the chocolate chips, chocolate syrup, and vanilla.

(Pour into mug) and cook in microwave for 3 minutes on high power.

*The cake will rise over the top of the mug while cooking.

Allow to cool slightly, and tip out onto plate if desired.

For Whipped Cream:

Pour ingredients into mixing bowl and beat at high speed until soft peaks form.