This 5 Bean Turkey Chili is loaded with fresh ingredients and packed with flavor. This one pot meal is a deliciously satisfying dish that's also quick & easy to whip up!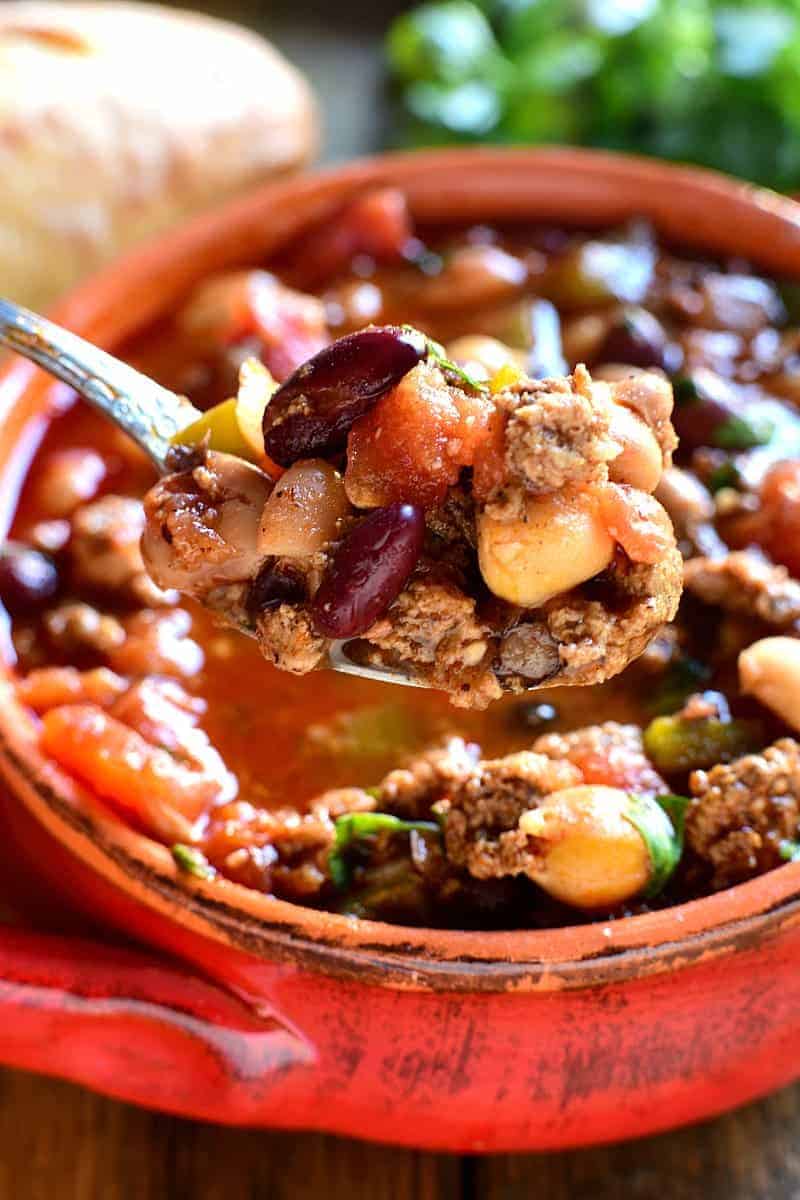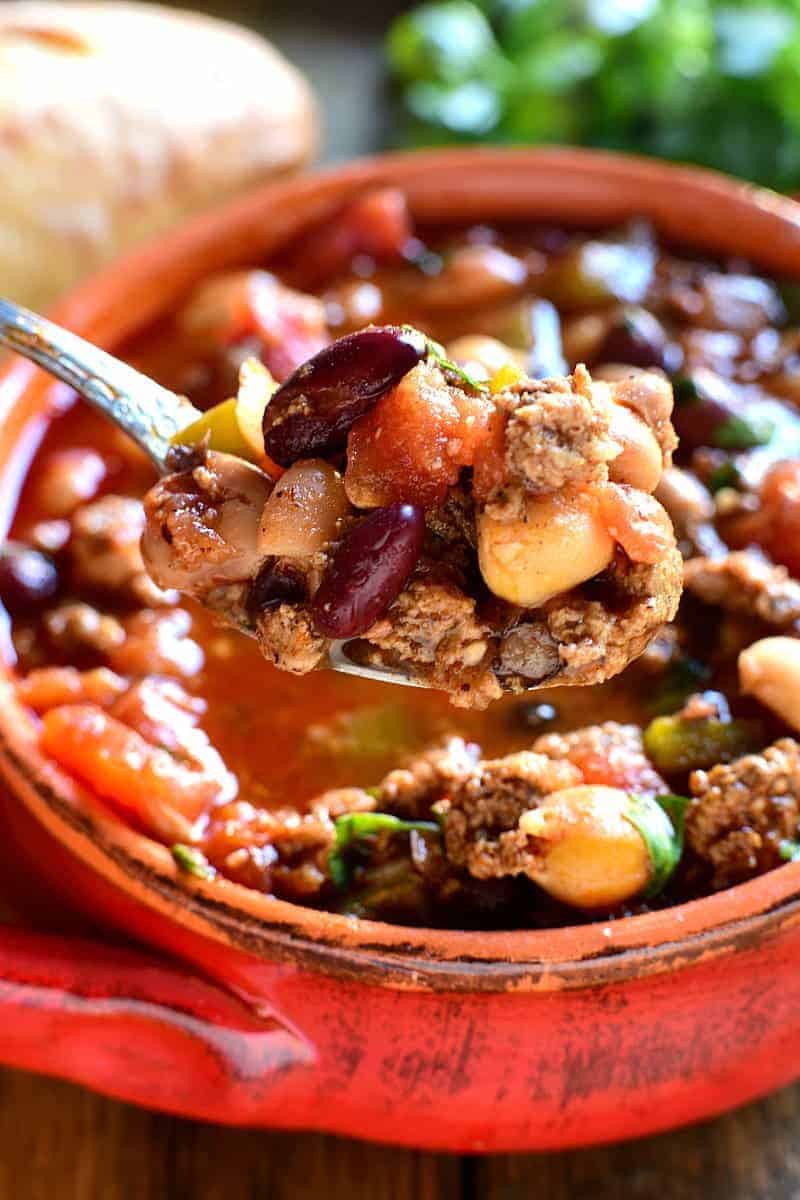 I always say, when it comes to Jorden, that I feel like I was duped. I know that doesn't sound like the nicest thing I could say…..especially 2 days before Valentine's Day….but it's true! Somewhere along the line of us dating, I got a warped idea of a few things…..and by the time I figured it out, it was too late! I was in love!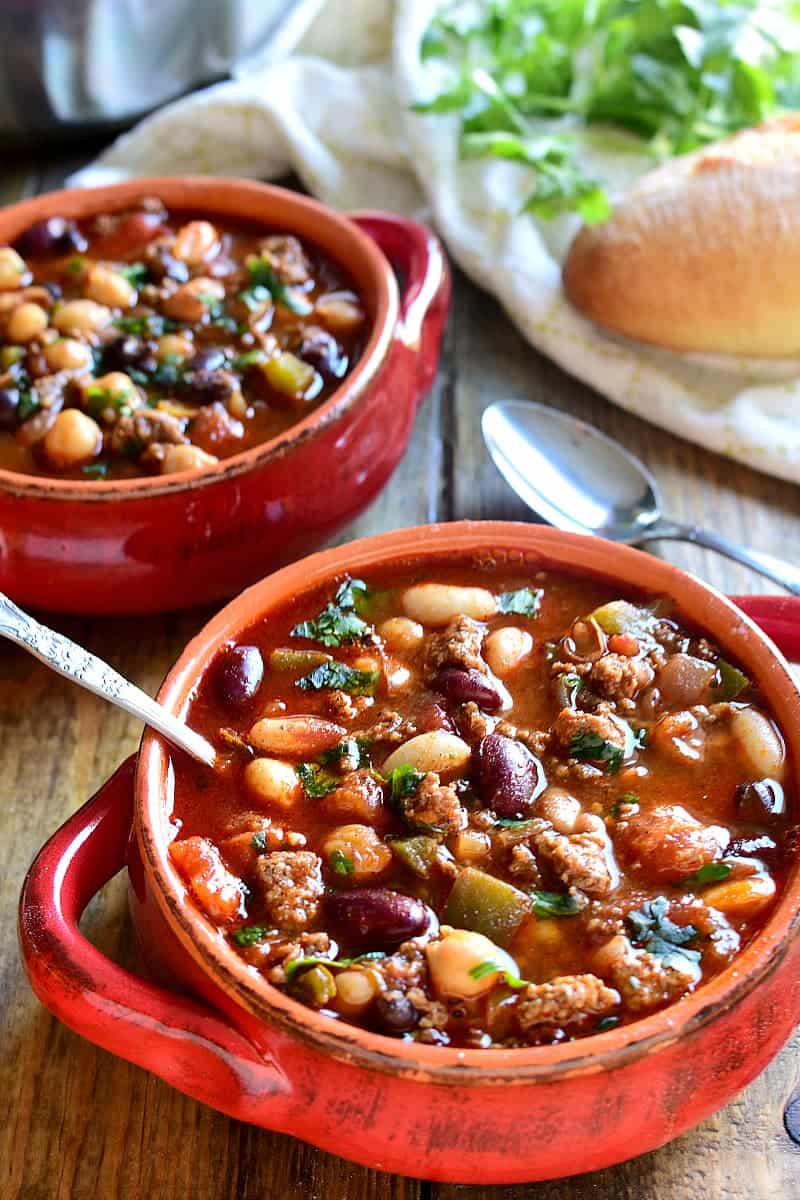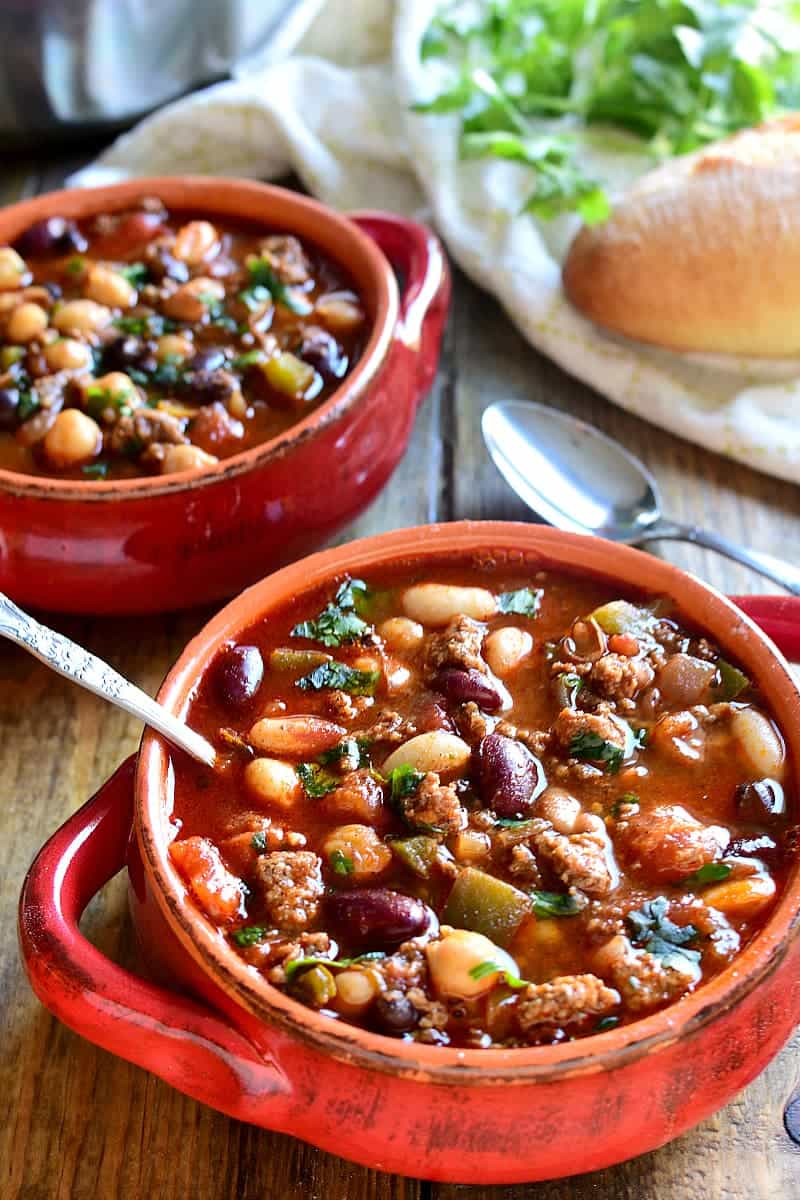 The good news, I guess, is that my warped ideas weren't actually about anything that matters. At least not in the grand scheme of things…….! They're more about likes and dislikes, how he would prefer to spend his time, what he really thinks about philosophical conversations, what he actually likes to eat and drink. Like I said, nothing that matters in the grand scheme of things.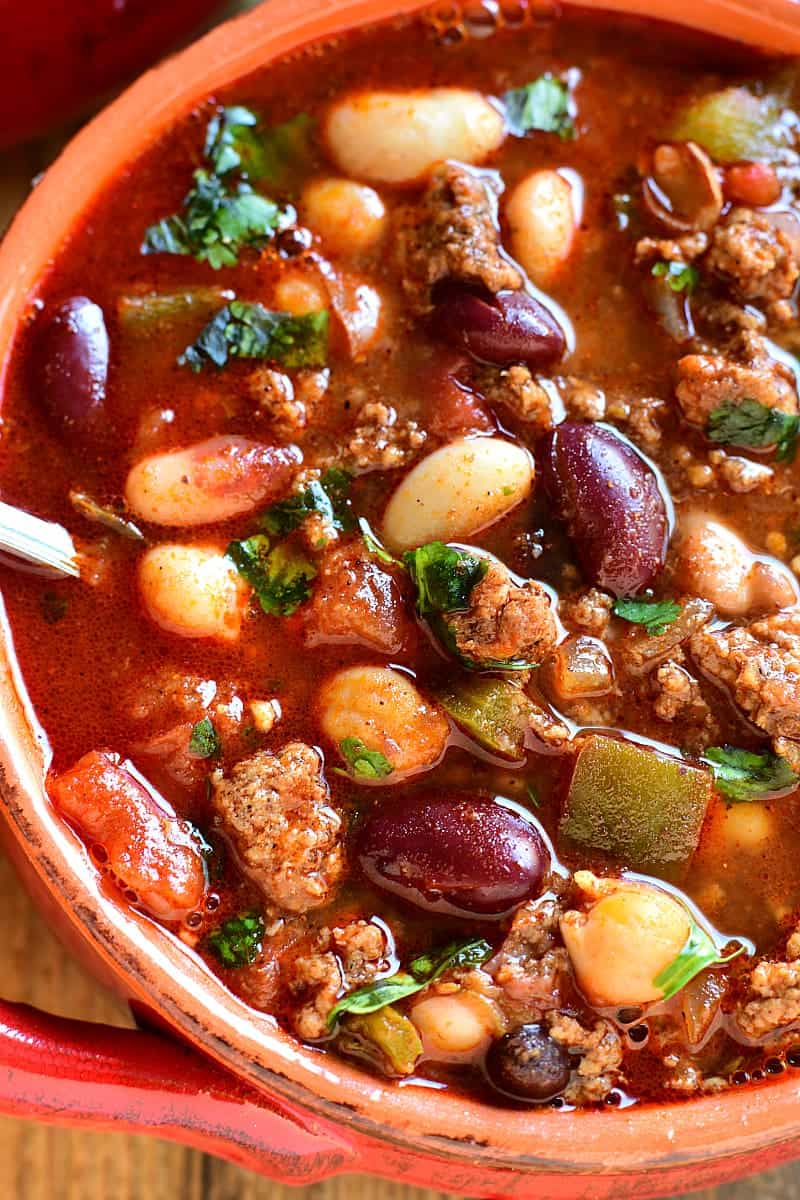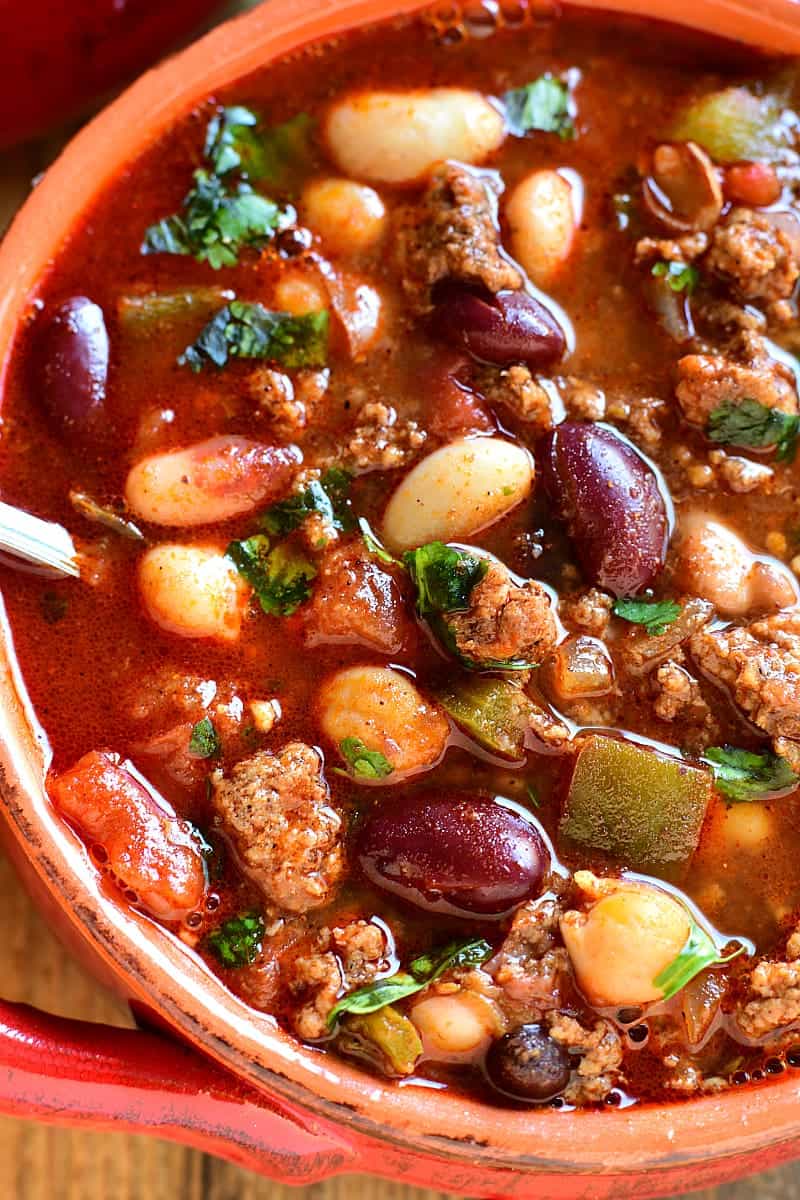 But, as you can imagine, there are times when I've wanted to say, "REALLY!? Are you serious here? You don't like wine or plays or deep conversations……and you'd rather have chicken wings than SUSHI???" Because he would. And he does! Because when you've been married 10+ years, you just do that. In his words, he's a simple man. He likes simple things. And that's okay.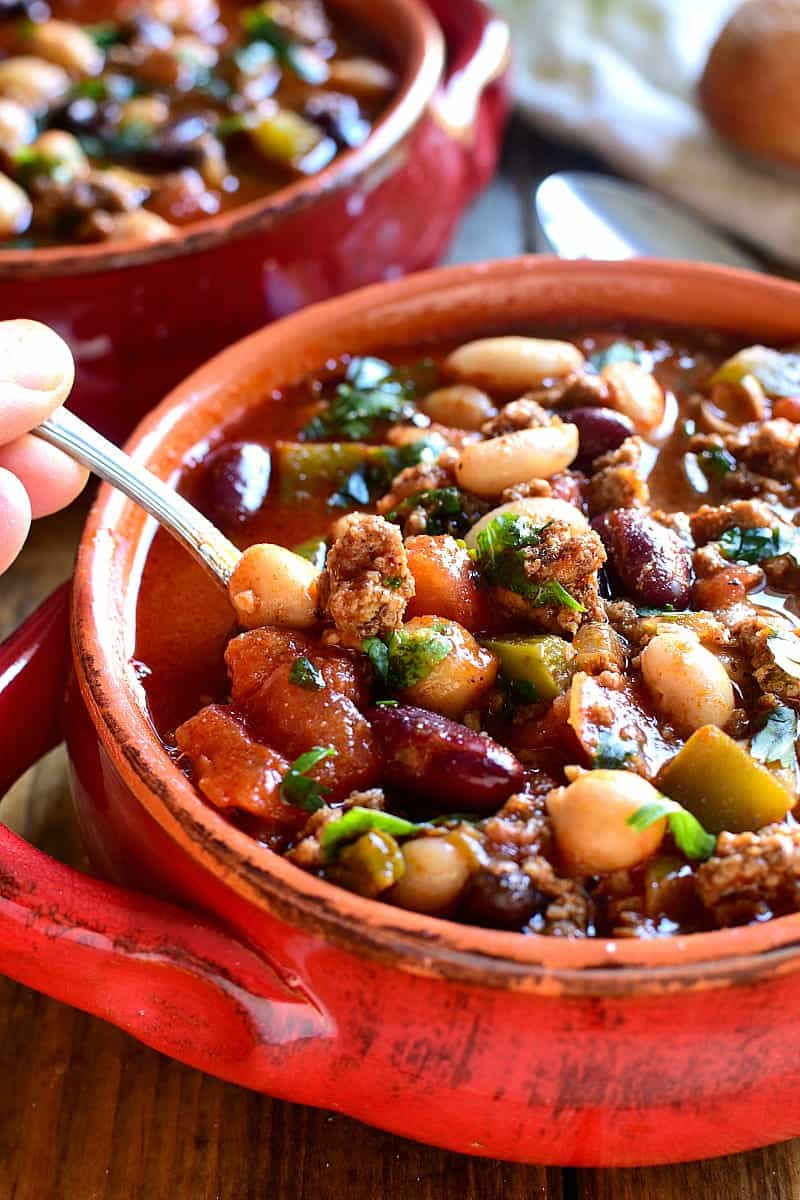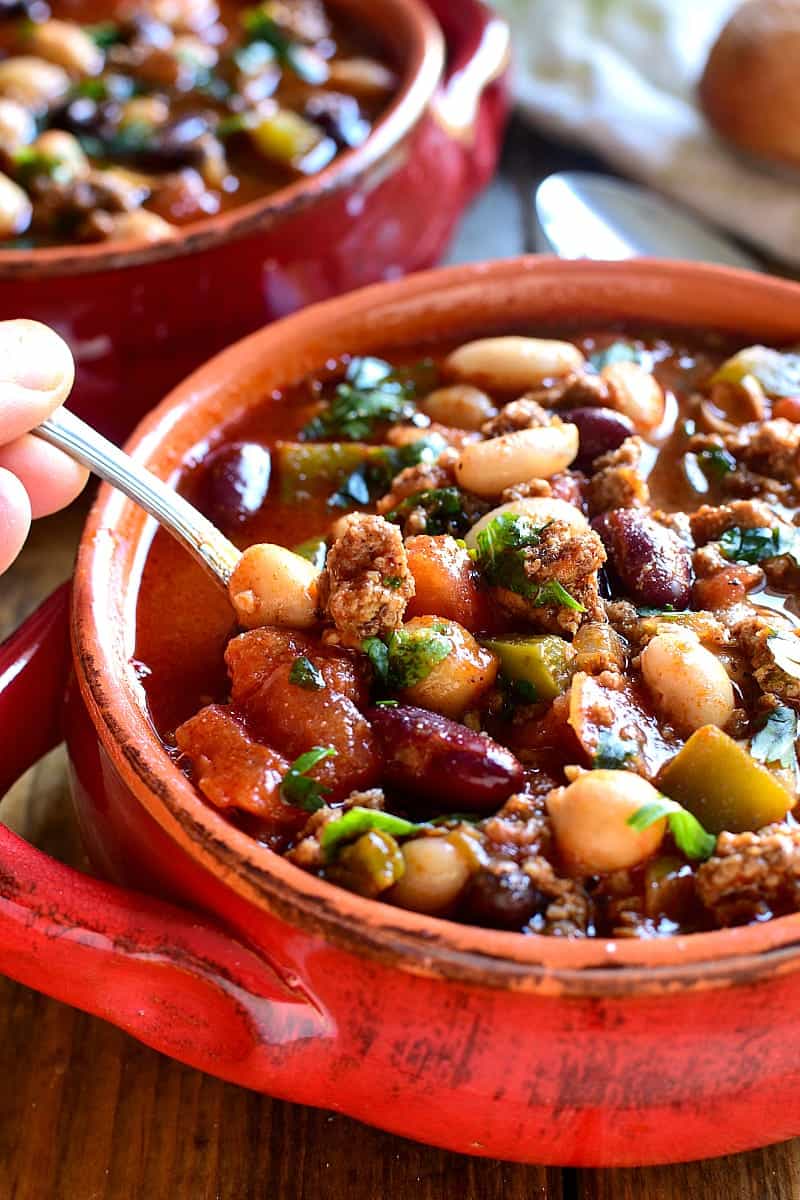 It does make me laugh, though, when I think about my ideas for Valentine's Day. Crab legs? Scallops? Fondue? Those are probably his worst nightmare! What I should really make him, if I want to show him how much I love him, is a big pot of chili. Jorden LOVES chili. It's one of his favorite meals of all time…..as in *eat 3 bowls of it in one sitting* favorite.
5 Bean Turkey Chili – A one pot meal
So when I was at Pick 'n Save last week, I decided to pick up the ingredients I would need to make the BEST chili ever: This 5 Bean Turkey Chili! 5 kinds of beans. Ground turkey. Fresh vegetables. Delicious seasonings. Lots of garlic. And I decided to do a test run….because if I'm going to make chili instead of crab legs, it better be some darn good chili. And it was! It was the best darn chili I've ever had. And yes, Jorden ate 3 bowls of it. 3 bowls of 5 Bean Turkey Chili! SCORE! And you know what? He's already asking for more. Good thing Valentine's Day is just 2 days away! I know *just* what to make.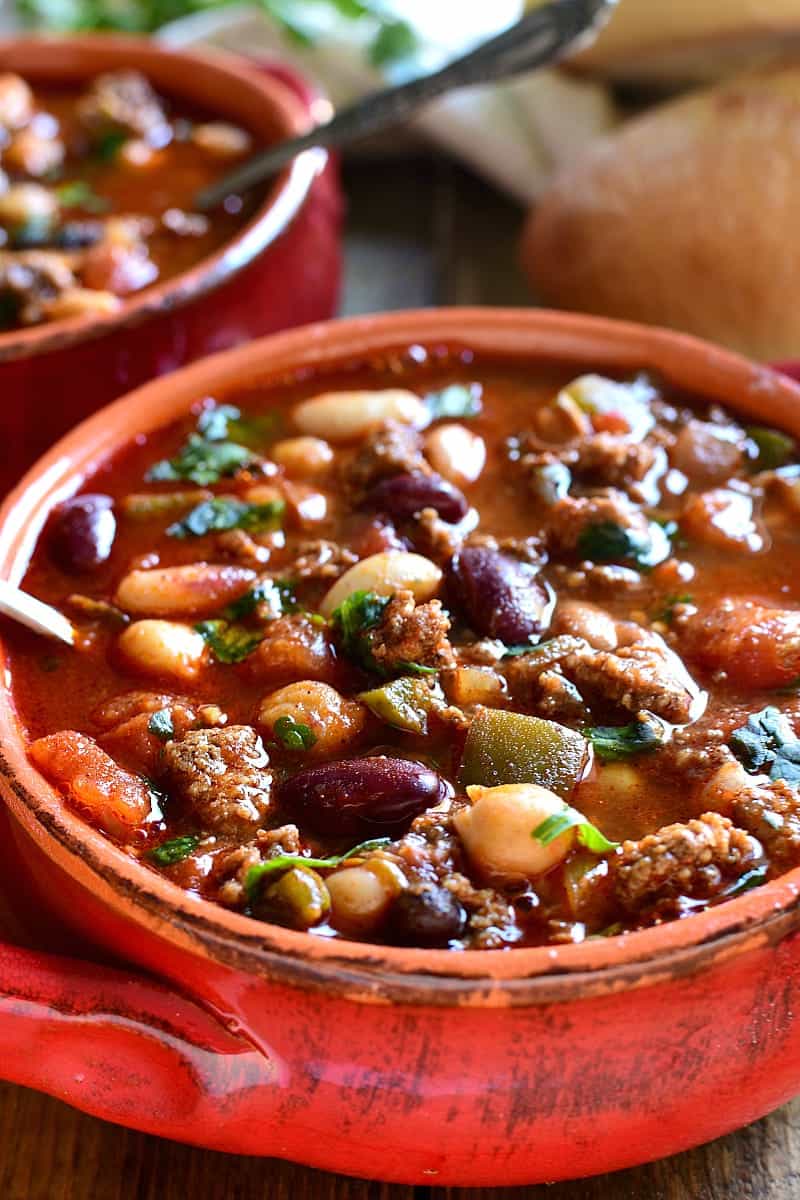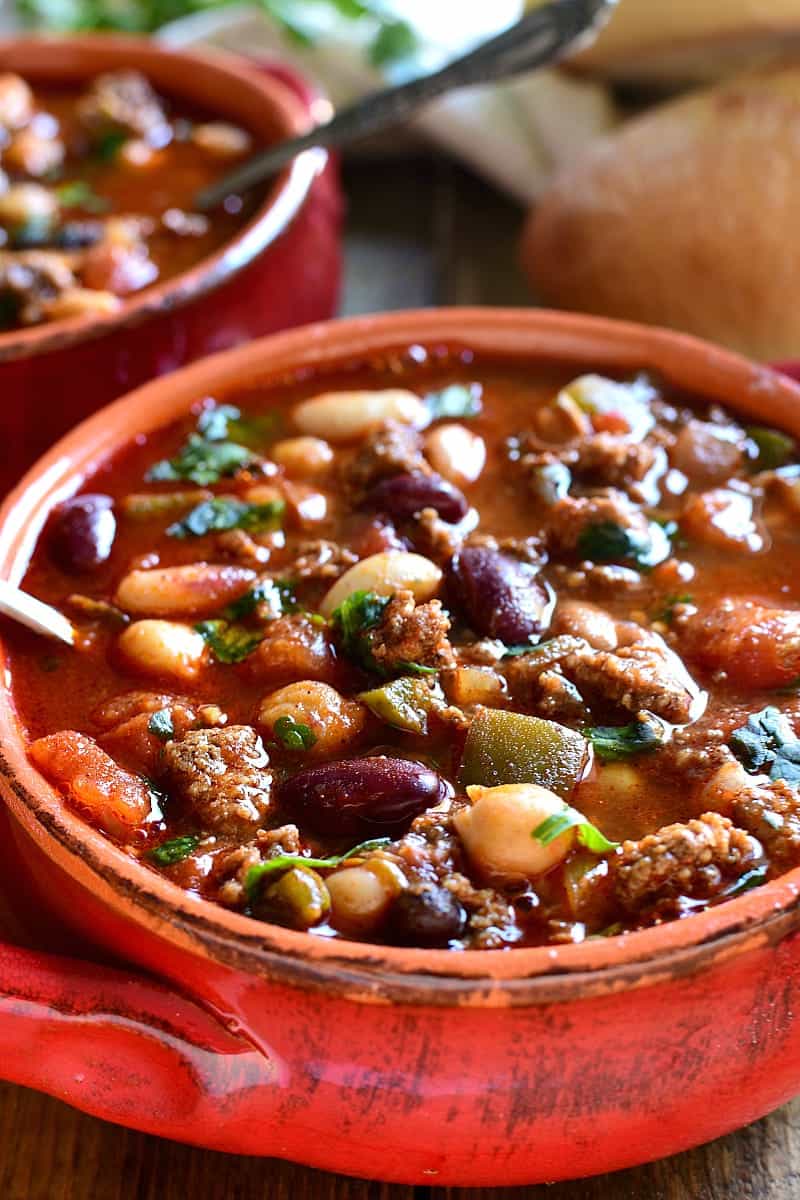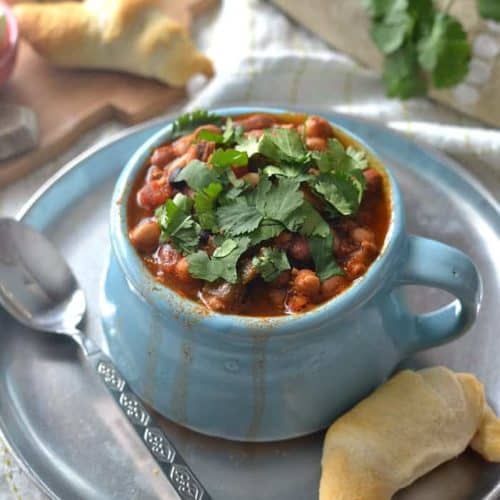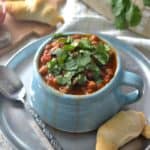 Best 5-Bean Chili
Ingredients
2

Tbsp.

olive oil

1

green pepper

diced

1

medium onion

diced

2

jalapeno peppers

seeded & diced

8

cloves

garlic

minced

5

Tbsp.

chili powder

2

Tbsp.

cumin

2

tsp.

Old Bay Seasoning

1 1/2

tsp.

kosher salt

1

tsp.

dried oregano

1/4

tsp.

ground pepper

1 1/2

lbs.

ground turkey

2

14 oz. cans diced tomatoes, not drained

1

can black beans

drained & rinsed

1

can kidney beans

drained & rinsed

1

can great northern beans

drained & rinsed

1

can pinto beans

drained & rinsed

1

can garbanzo beans

drained & rinsed

2 1/2

c.

water

fresh cilantro
Instructions
Heat olive oil in a large soup pot over medium heat.

Add green pepper, onion, jalapeno, garlic, and seasonings. Cook until vegetables have softened.

Add ground turkey and cook over medium-high heat until turkey is cooked through.

Stir in tomatoes, beans, and water and simmer until heated through.

Garnish with cilantro.
For another great turkey chili recipe, try my Chili Cheese Turkey Sliders!


This shop has been compensated by Collective Bias, Inc. and its advertiser. All opinions are mine alone.
Photos updated 3/6/17