Fresh spinach, tropical fruits, chopped pecans, and homemade sweet lime vinaigrette –
SUMMER…. in a salad!!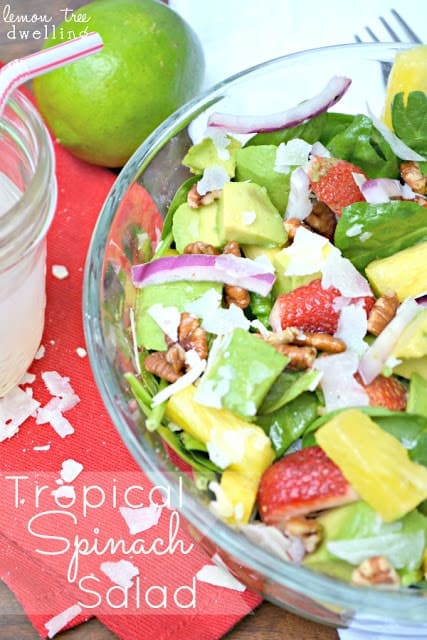 As you probably know by now, one of my favorite summer foods is SALAD!! Not only is it deliciously light and refreshing, but I love the variety of fresh produce that is available in the summertime. It's like a whole new ballgame! I don't know about you, but I am a HUGE fan of combining fruits and vegetables in salads….and I love using different nuts and cheeses as toppings. The more different flavors and textures I can pack in, the better! (Can you hear how excited I'm getting just thinking about it?)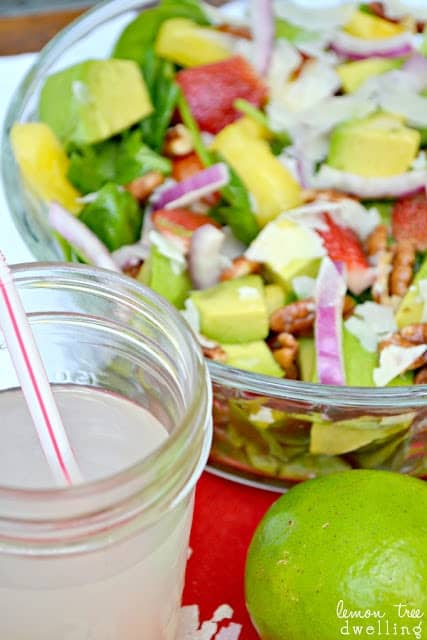 The funny thing is Jorden can't stand salads with fruit in them! In his opinion, fruits and vegetables should remain separate….and although I don't agree, I do understand where he's coming from. I distinctly remember, as a child, when I found out that tomatoes are not actually vegetables, but fruits! WHAT!? Who knew? At the time, of course, I found it both intriguing and a little disturbing (how had I been wrong for so long… and why was I eating fruit on my pizza?) But, unlike Jorden, I got over it.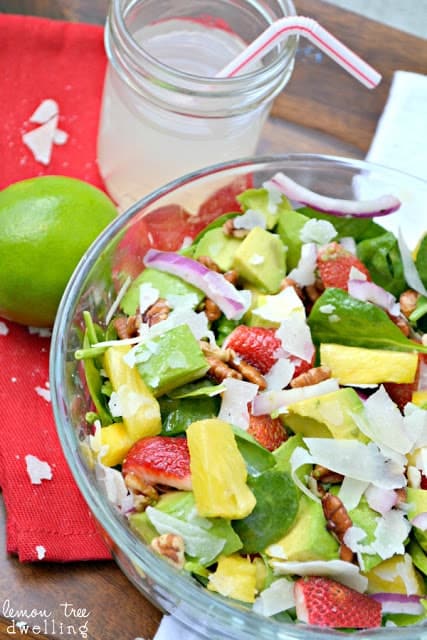 Jorden is just that way, though. He's not a fan of his "worlds colliding"….(to use one of his favorite Seinfeld quotes)…..in food, or in life! Me, on the other hand? My feeling is the more, the merrier! Why keep things separate if you can enjoy them together? I feel that way in friendships (why get together with two friends separately if they might enjoy one another's company)……and in food (why keep fruits separate from vegetables when, so often, they go so well together!?) This salad is a perfect example of worlds colliding….and proof that it can go well! The combination of sweet and savory fruits and vegetables is perfect for summer….and with pecans, fresh-shaved parmesan, and avocado (which, by the way, is also a fruit!) it's surprisingly satisfying.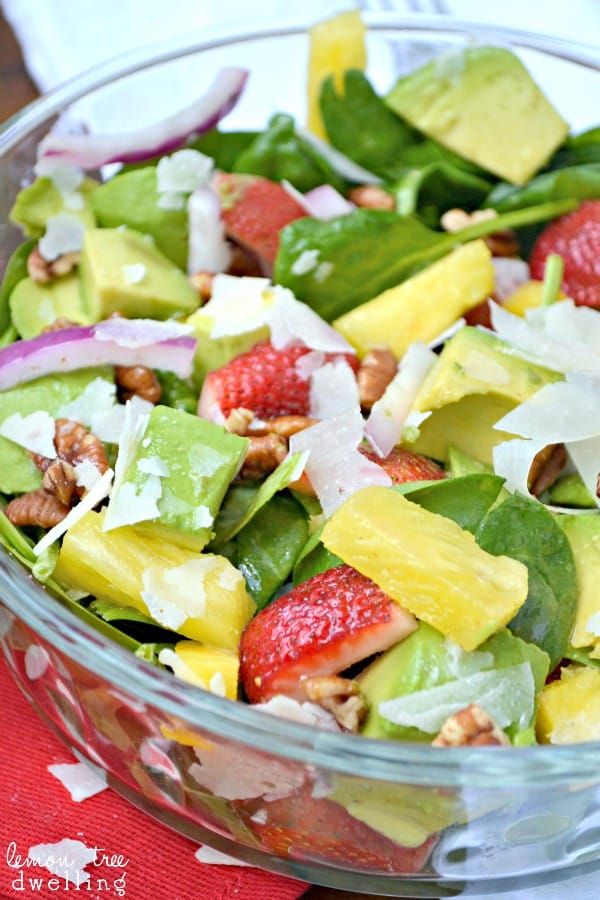 What about you? Are you a "keep things separate" kind of person….or do agree that more is merrier? If you've never let your worlds collide, why not give it a try? You might be surprised at just how well it goes!
Tropical Spinach Salad
3 c. fresh baby spinach
1/3 c. strawberries, chopped
1/3 c. pineapple, chopped
1/2 avocado, cubed
1 slice red onion, quartered
1/8 c. chopped pecans
fresh-shaved parmesan cheese, to taste

Layer ingredients in medium salad bowl and top with Sweet Lime Vinaigrette.

Sweet Lime Vinaigrette
1/8 c. olive oil
1/8 c. vinegar
1 Tbsp. lime juice
1 Tbsp. agave nectar
Combine ingredients in a small container with a lid; shake well.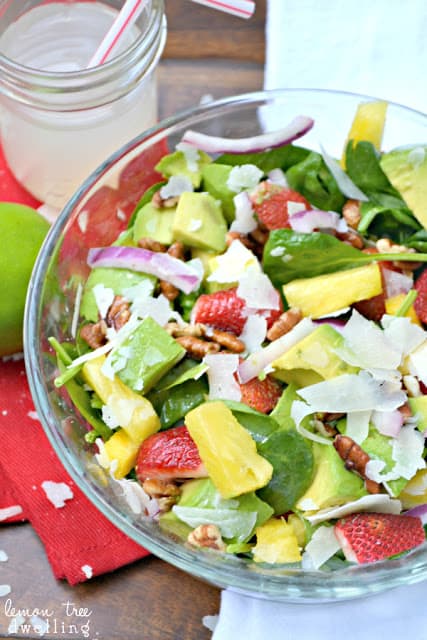 Be sure to check out my other summer salad recipes!
Grilled Corn Salad with Chili Lime Vinaigrette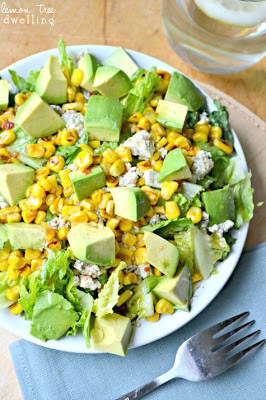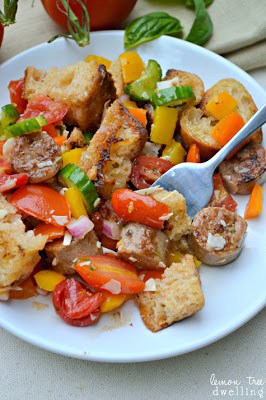 I originally shared this post at The 36th Avenue!
Thanks for taking a peek inside my Lemon Tree Dwelling….
I hope you feel right at home!
-Cathy