Sweet 'n Salty Double Chocolate Peanut Butter Bark is a decadent dessert or easy snack for all the chocolate lovers in your family. So easy to make and delicious!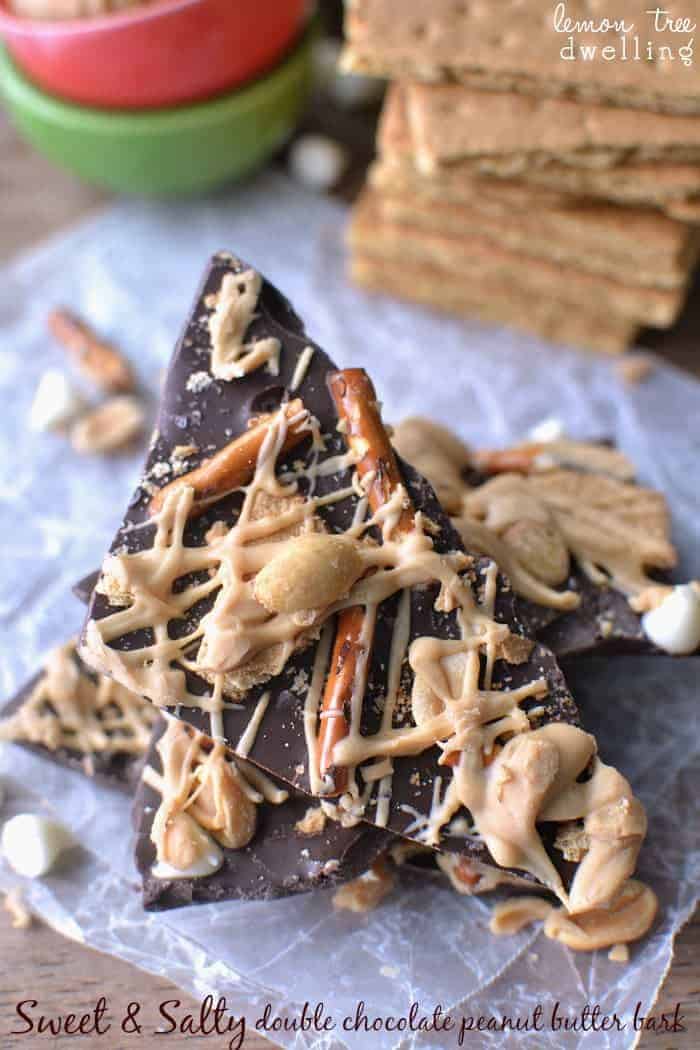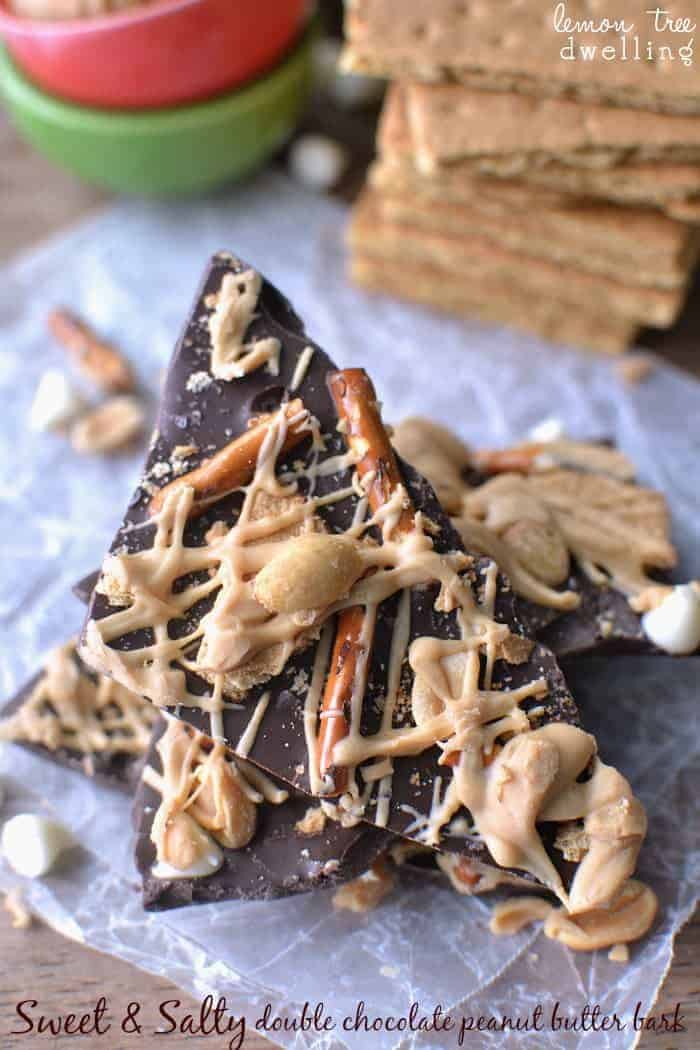 Happy Sunday, Friends! I told you I was jumping right into holiday baking (er….ummmm….no-baking). Today I'm sharing two simple ideas that are easy, fun, and perfect for kids.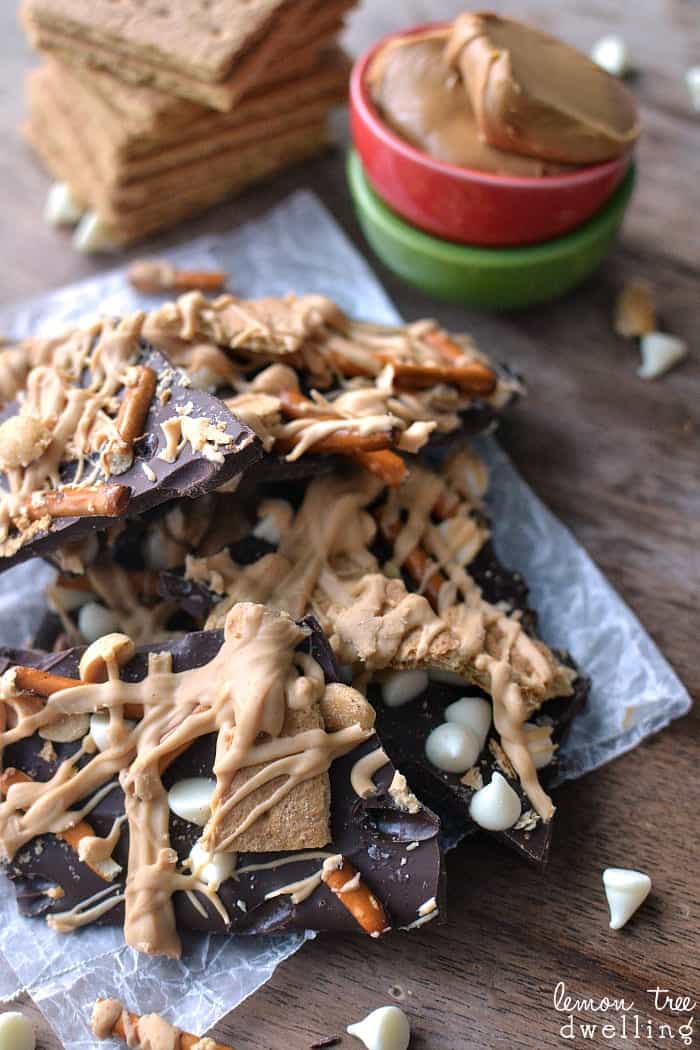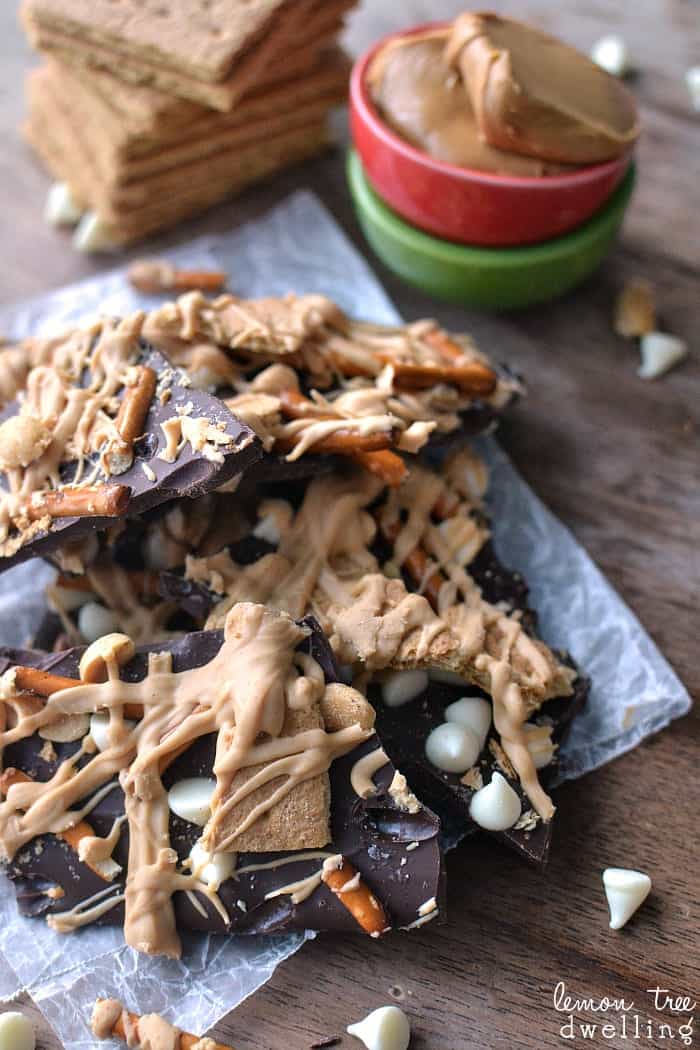 The older my kids get, the more they want to get involved in the kitchen….especially when it comes to making treats! And as much as they love helping me measure and pour and stir, they're getting to the point where they want to be let loose. To think up their own ideas. To make their own creations. (I wonder where they get that from….!)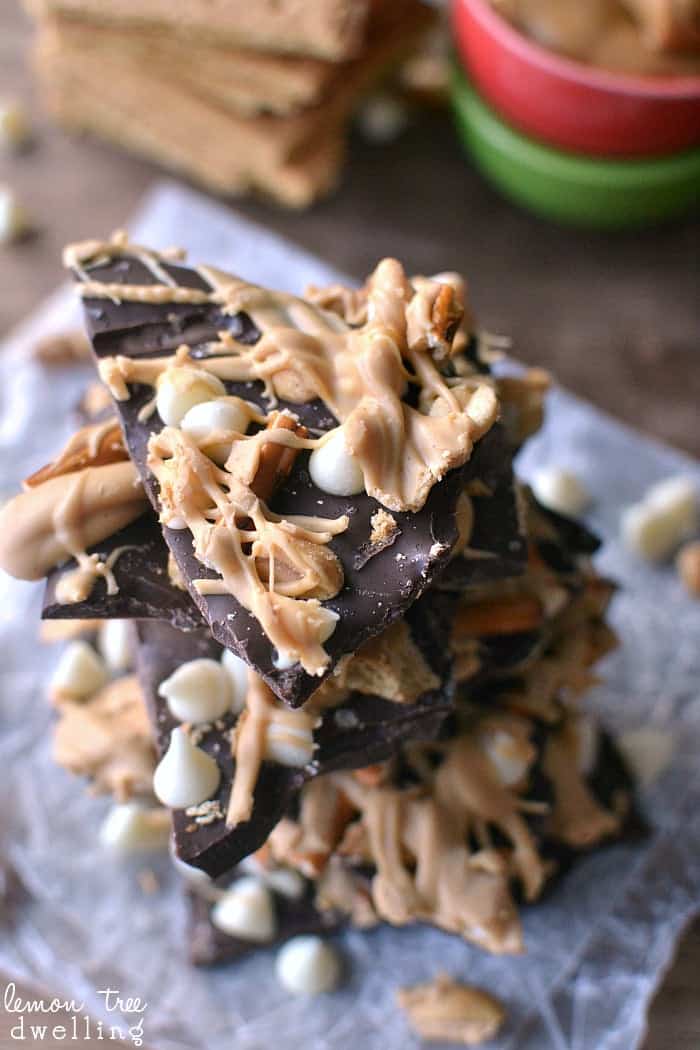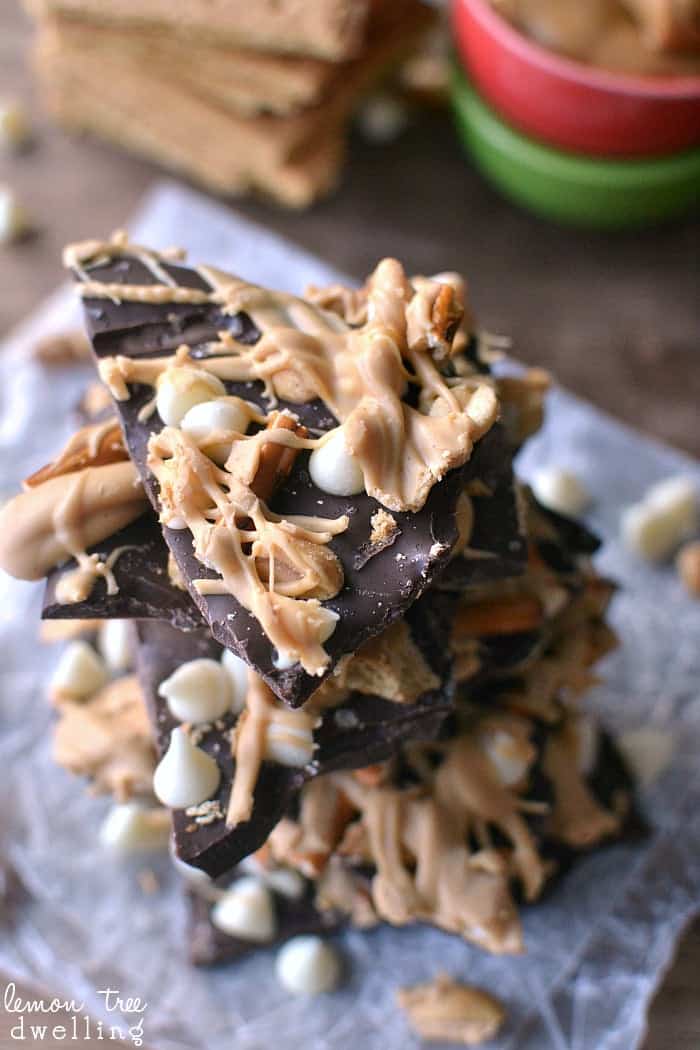 A couple weeks ago we had a double play date for the older girls and, for better or worse, at some point they all ended up in the kitchen…..creating! We had banana smoothies and super sweet juice concoctions and a soupy peanut butter chocolate mess…..(not to mention a major mess in the kitchen)…..but four happy kids who were having tons of fun!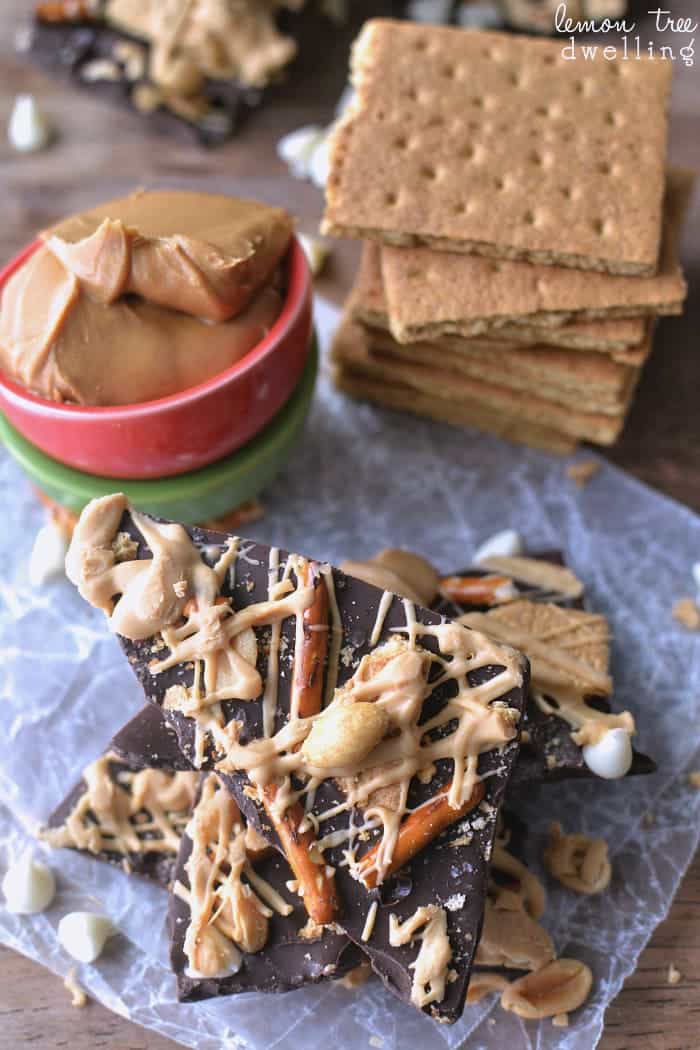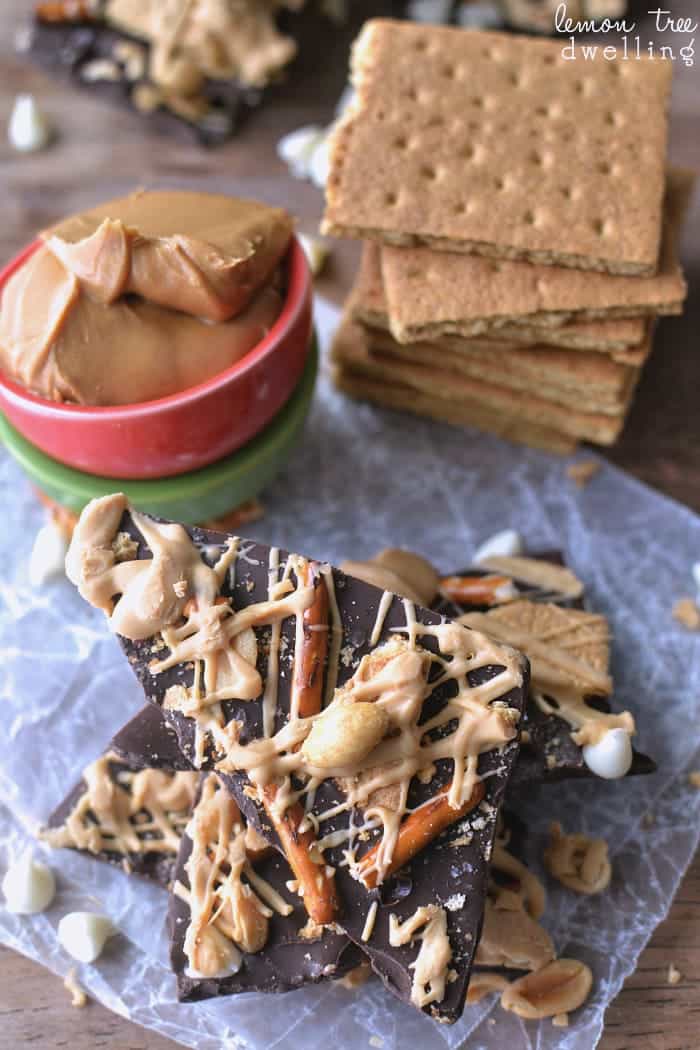 Of course, there's only so much kitchen fun one mom can handle….at least the kind that's completely kid-driven….which is why I love having simple, kid-friendly recipes they can help me with! I headed to Walmart for some sweet & salty ingredients to make not one, but two different recipes.
We decided to load up the bark with all the sweet and salty we could handle – milk chocolate, white chocolate, graham crackers, pretzels, peanuts, sea salt, and peanut butter white chocolate drizzle. The kids loved it because they could help with everything – from melting the chocolate to spreading it out on the pan to loading it up with goodness! And I loved it because…..sweet & salty! Mmmmmmmm!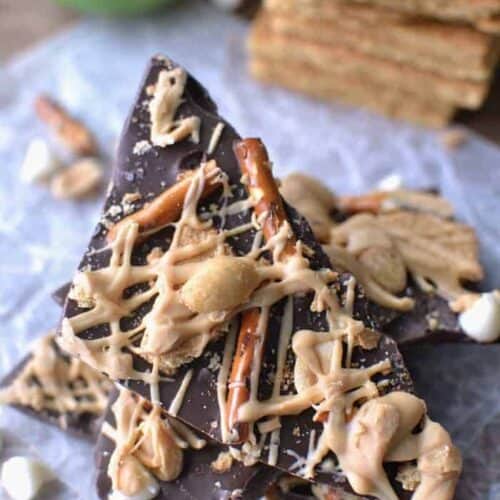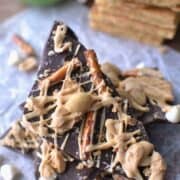 Sweet 'n Salty Double Chocolate Peanut Butter Bark
Ingredients
16

oz.

milk chocolate

2

graham crackers

1/3

c.

pretzel sticks

broken

1/4

c.

salted peanuts

1/4

c.

white chocolate chips

1/2

tsp.

sea salt

For drizzle:

4

oz.

white chocolate

4

Tbsp.

peanut butter
Instructions
Melt milk chocolate in a small saucepan over low heat, stirring frequently.

Pour melted chocolate onto baking sheet lined with parchment paper and spread to desired thickness.

Top with graham crackers, pretzels, peanuts, white chocolate chips, and sea salt.

Let cool until hardened.

Prepare drizzle and drizzle generously over bark.
For more bark ideas check out my list of recipes HERE.