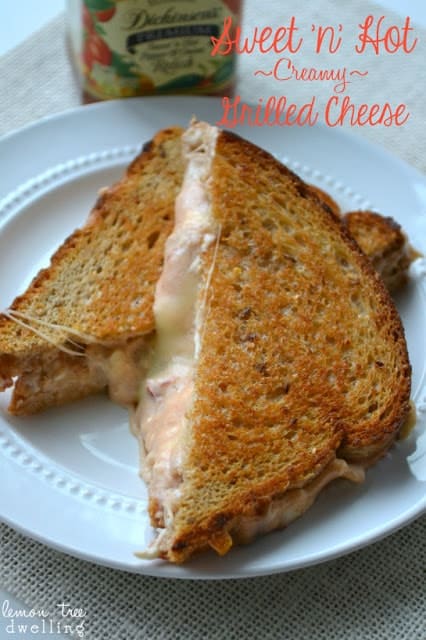 Did you know that today is National Grilled Cheese Day? Funny…..I wonder who comes up with such a day!? I actually didn't know about it until yesterday afternoon, when I checked my email and saw that a local sandwich shop is offering free grilled cheese sandwiches today….! If it weren't for the long lines and ungodly wait time, I just might consider taking advantage of such a fun offer! But, instead, I think I'll make myself one of these…..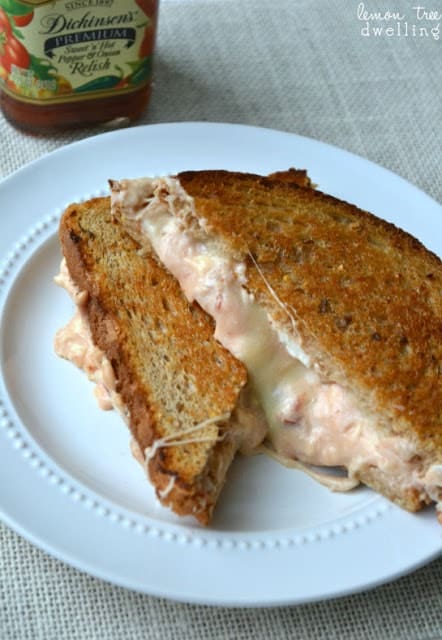 Yes, that really is ooey gooey cheesy goodness spilling out of the sandwich….just perfect, if you ask me! I was excited to have a chance to use this sweet 'n' hot pepper and onion relish I bought a while ago……have you tried it? I first fell in love with it when it was given to me as part of a gift basket from a friend. Mixed with cream cheese, it is a delicious dip for crackers or pretzels…..and mixed with cream cheese and provolone cheese, it is a delicious filling for this sandwich!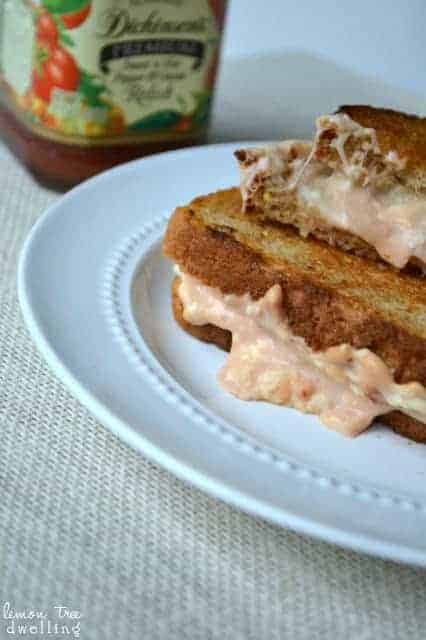 The flavor of the relish is a balance between sweet and savory, with a bit of tanginess and a bit of spice. When it's mixed with cream cheese, it becomes a more mild, creamy version of that. Okay….so it's hard to describe….but if you like a touch of sweetness in your savory, you will love this sandwich! It's great for a meal, an appetizer (cut in pieces), or an after-school snack….and the sweet & spicy combo is just tantalizing enough to keep you wanting more!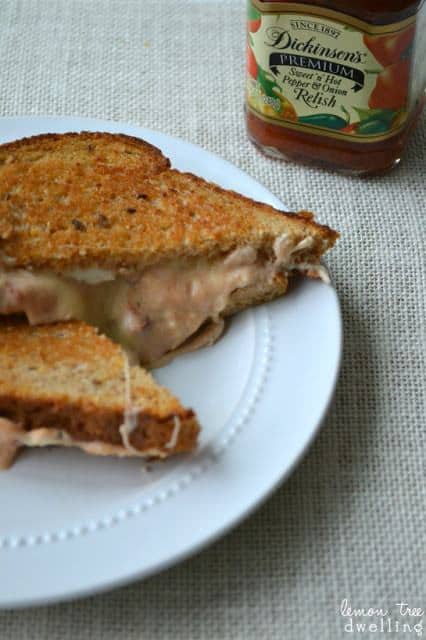 …..As if I need another excuse to eat more cheese…..!
Sweet 'n' Hot Creamy Grilled Cheese
2 pieces bread
2 pieces deli-sliced provolone cheese
2 oz. cream cheese
2 Tbsp sweet 'n' hot pepper & onion relish
1. Stir cream cheese and relish in small bowl.
2. Assemble sandwich with cream cheese mixture in the middle, between pieces of provolone cheese.
3. Grill on a griddle or a small frying pan.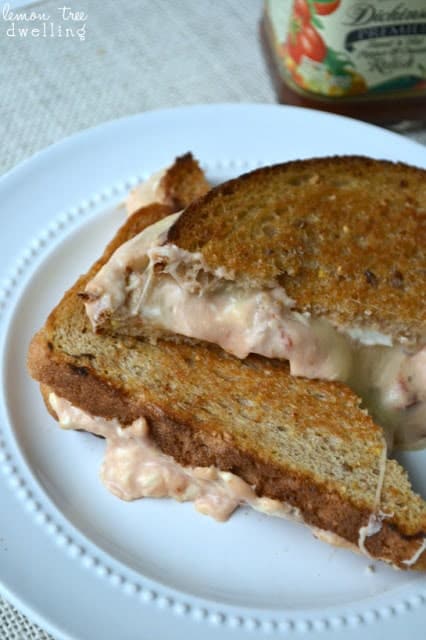 What about you…? What is your favorite kind of grilled cheese?
Thanks for taking a peek inside my Lemon Tree Dwelling…
I hope you feel right at home!
-Cathy