Snickerdoodle Fudge that tastes just like REAL snickerdoodle cookies! So rich and full of cinnamon, this quick and easy fudge recipe is a delicious treat!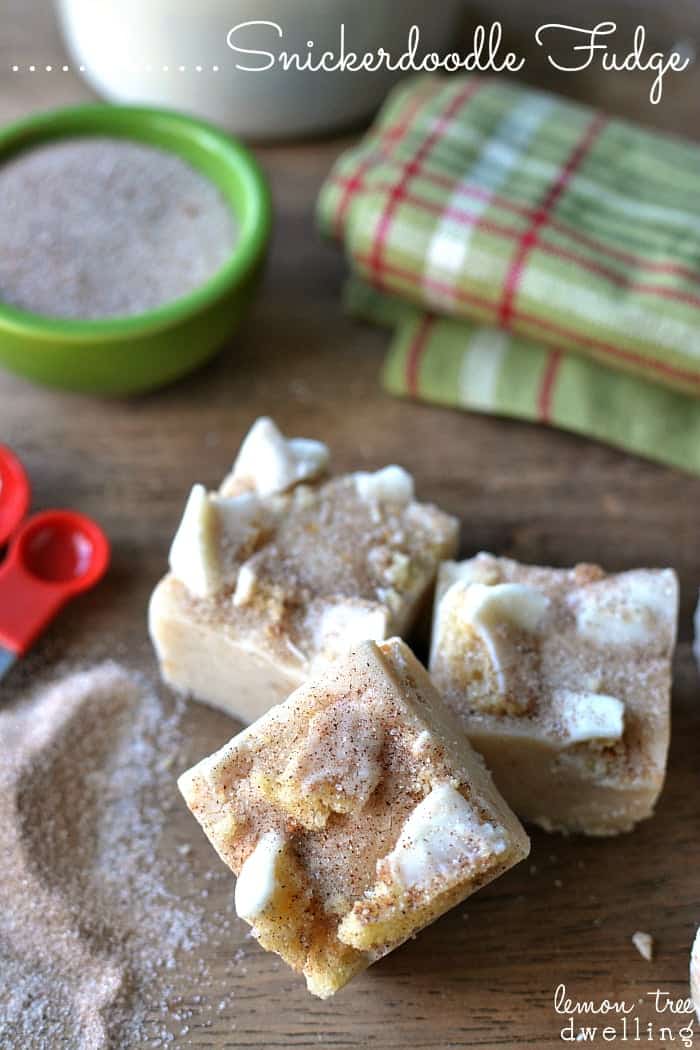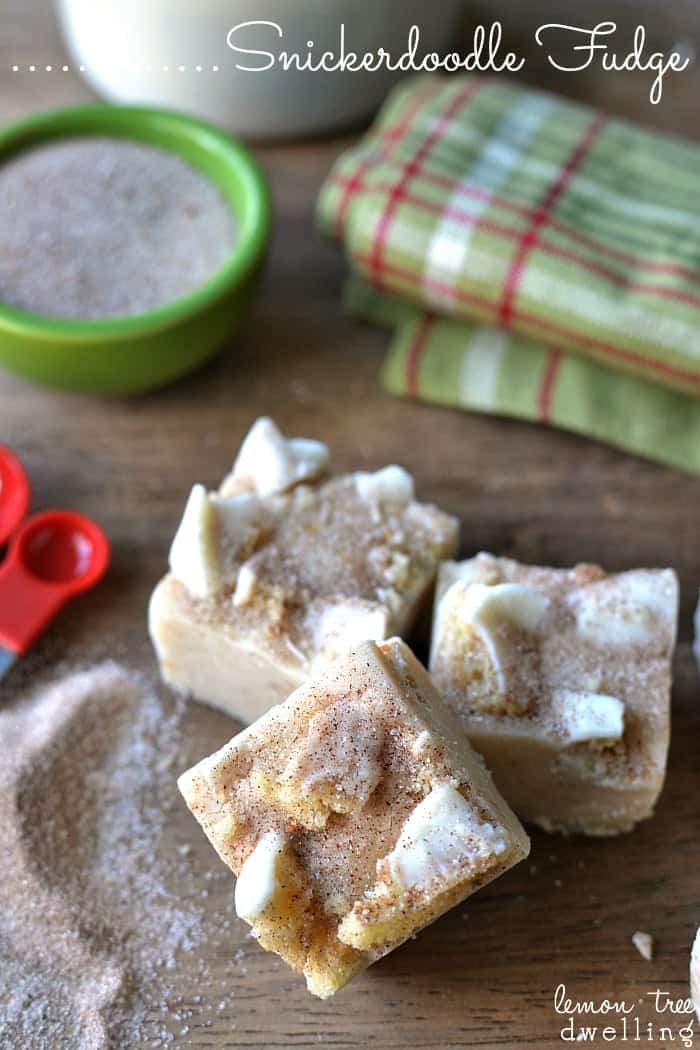 Happy Monday, Friends! Just 10 days until Christmas! Have you been busy making treats?? I spent yesterday in the kitchen with friends…..and between the 4 of us, we made nearly 20 different things! (Treats, anyone??)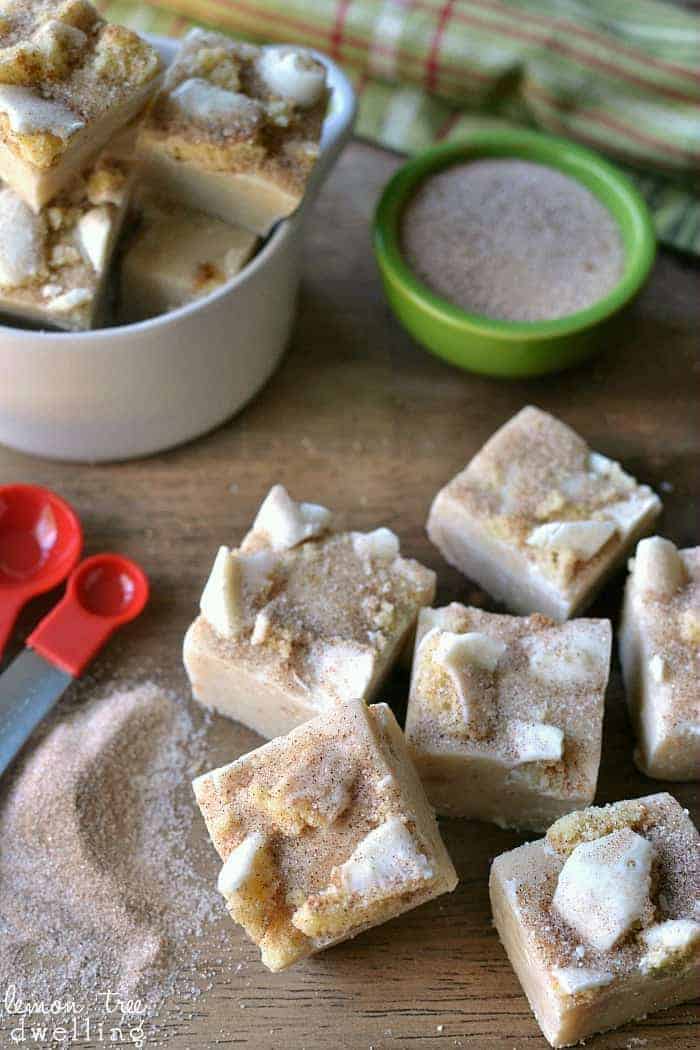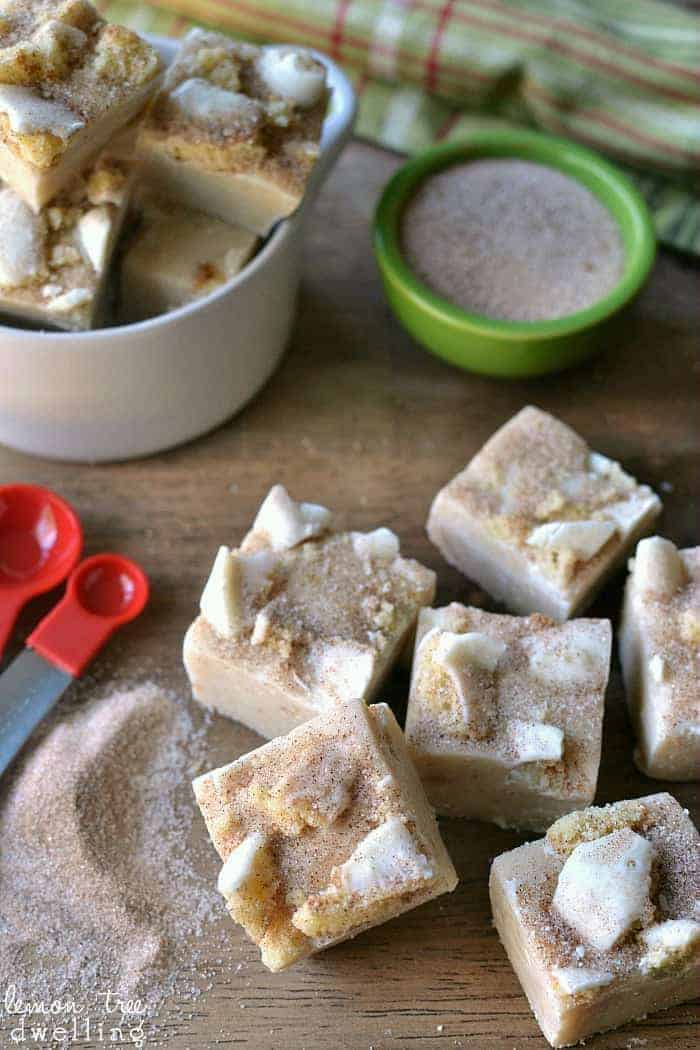 I must say – it was not my best day ever. At the end of the day, I contributed 6 things to the mix…..but the day started with me forgetting all my recipes at home. So I was working on the fly!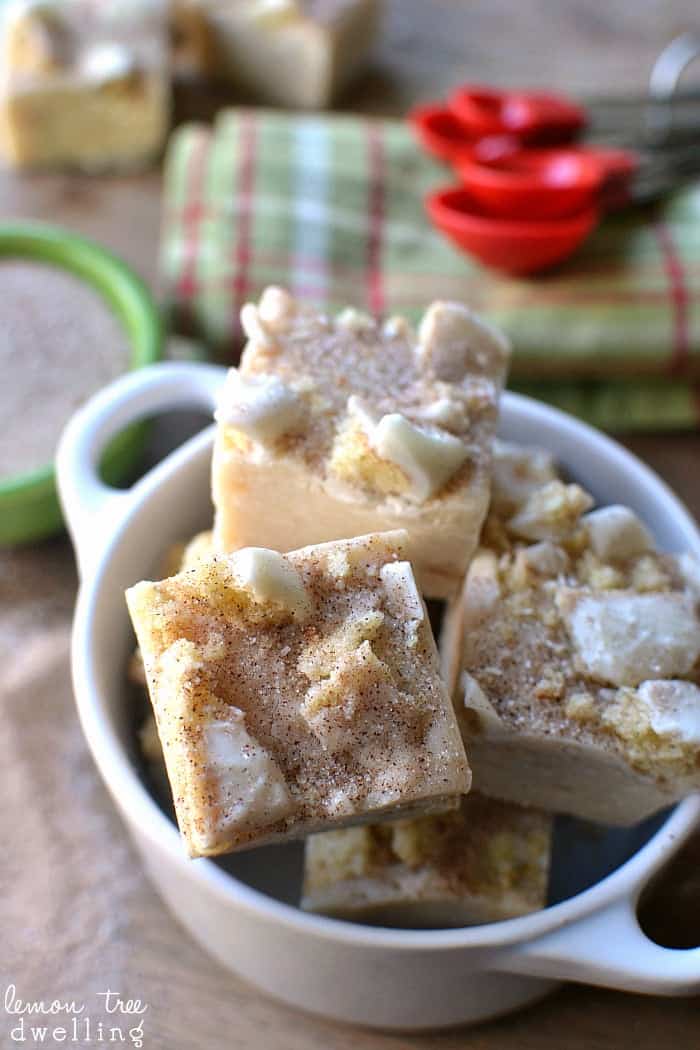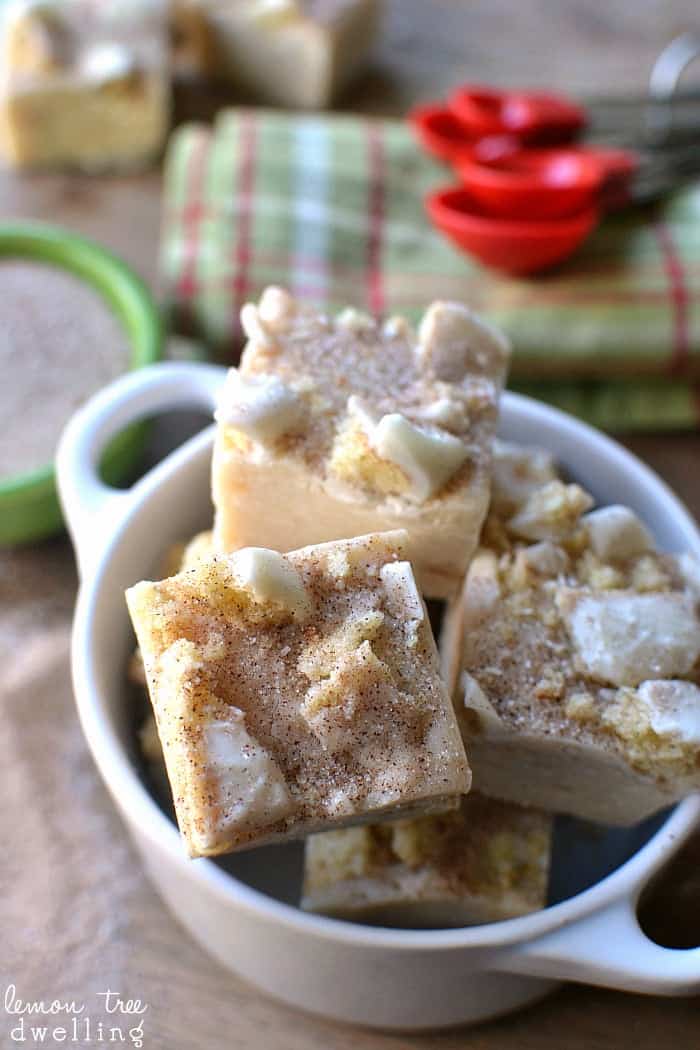 There are times when that goes well…..and then there are times when you really just need to use a recipe. Judging by how my scotcheroos, buckeyes, brittles, bark, and cookie cups turned out….yesterday might have been a good day for recipes.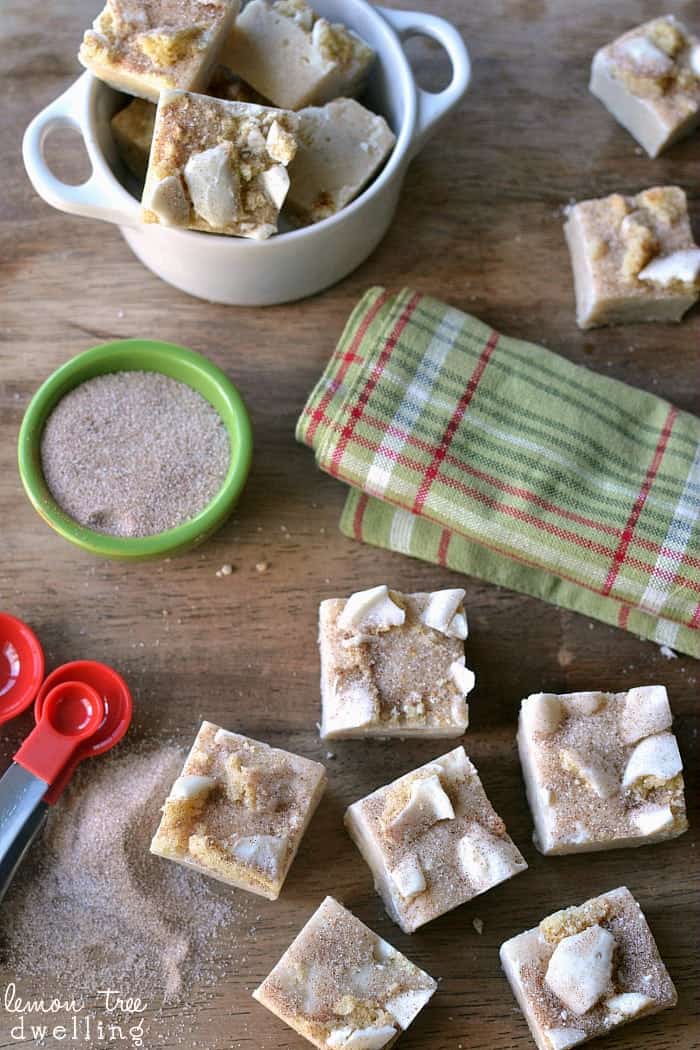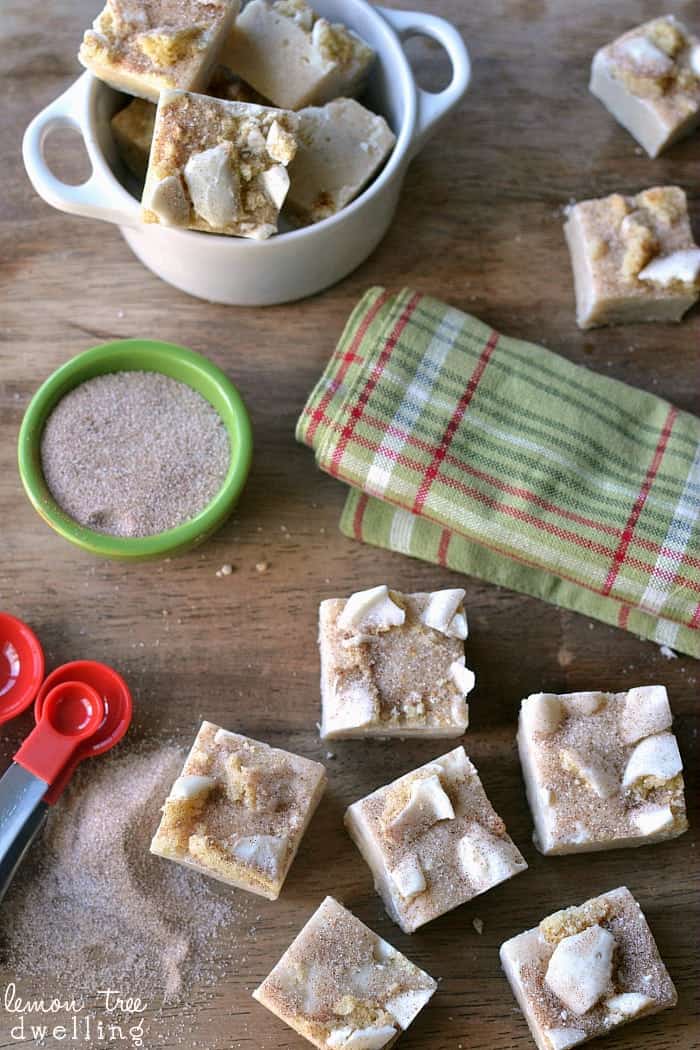 The buckeyes were too soft, the cookie cups were too hard, the cashew brittle was too sticky, the scotcheroos got stuck to the wax paper (when will I remember that parchment paper is always a better option!?) Like I said…..NOT my best day ever!
Snickerdoodle Fudge – a great gift
The good news? The day is really more about spending time with friends than it is about making delicious treats. Of course….the treats are a nice bonus. And you better believe next year I'll be bringing my recipes. And making this Snickerdoodle Fudge. Because not only is it AMAZING….it's really hard to mess up. Even on your worst days in the kitchen.
**Note: I used my White Chocolate Dipped Snickerdoodles in this recipe.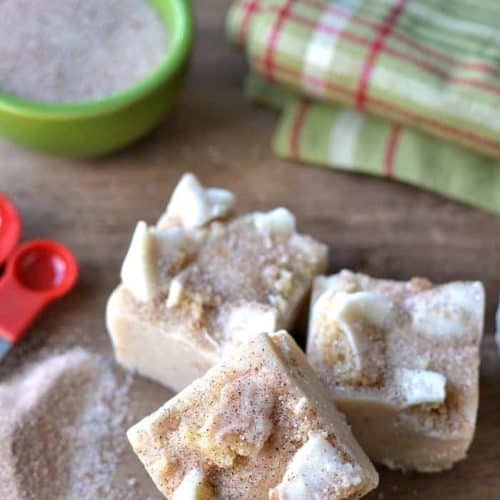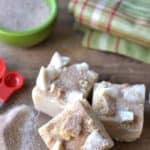 Snickerdoodle Fudge
Ingredients
24

oz.

white chocolate

I used Vanilla Candiquik

14

oz.

sweetened condensed milk

2

c.

chopped Snickerdoodle cookies

1/2

tsp.

cinnamon

1

tsp.

cinnamon

1/2

tsp.

nutmeg

1

tsp.

cinnamon/sugar mixture
Instructions
Heat sweetened condensed milk slightly in a medium saucepan.

Add white chocolate and heat over low heat, stirring constantly, until melted

Add 1 c. chopped cookies, cinnamon, and nutmeg and stir to combine.

Pour mixture into 8x8 inch pan lined with wax paper that hangs over sides to allow easy removal.

Top with 1 c. chopped cookies (I used white chocolate coated snickerdoodles on top).

Sprinkle with 1 tsp. cinnamon/sugar mixture.

Refrigerate until firm.

Remove fudge from pan and cut into small squares.

Enjoy!
Here are a few of my other favorite holiday recipes – I'd love for you to check them out!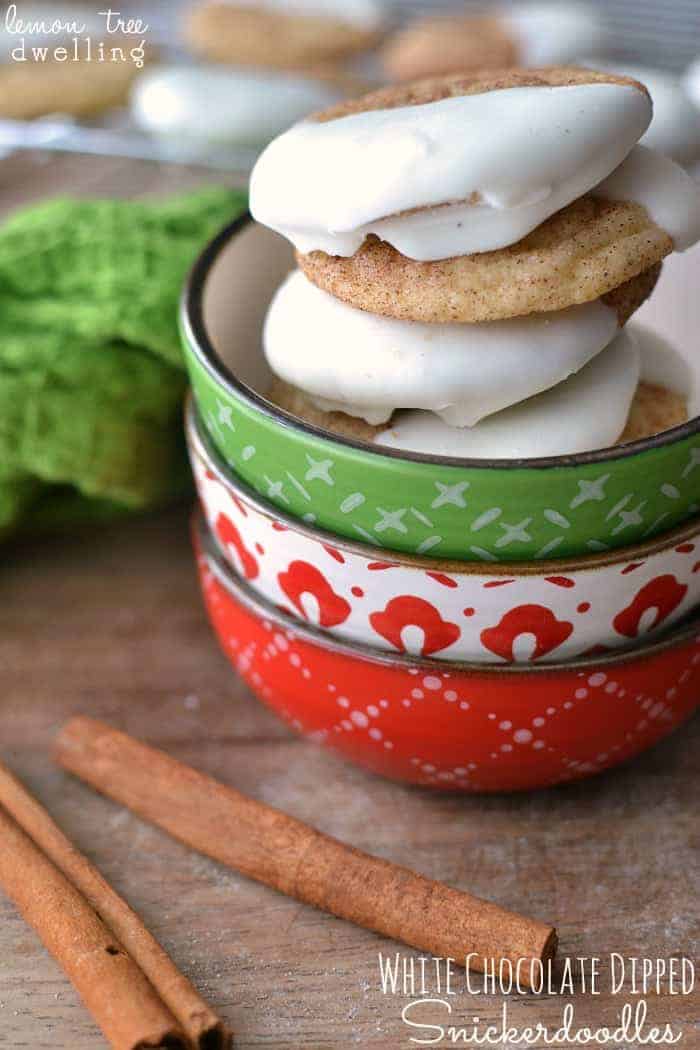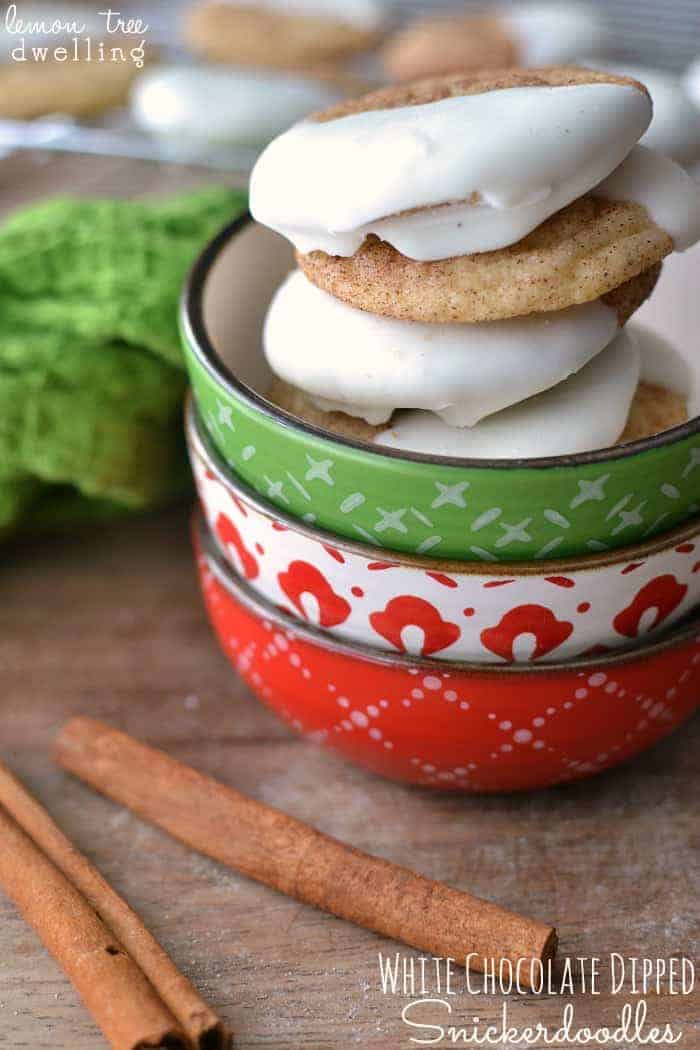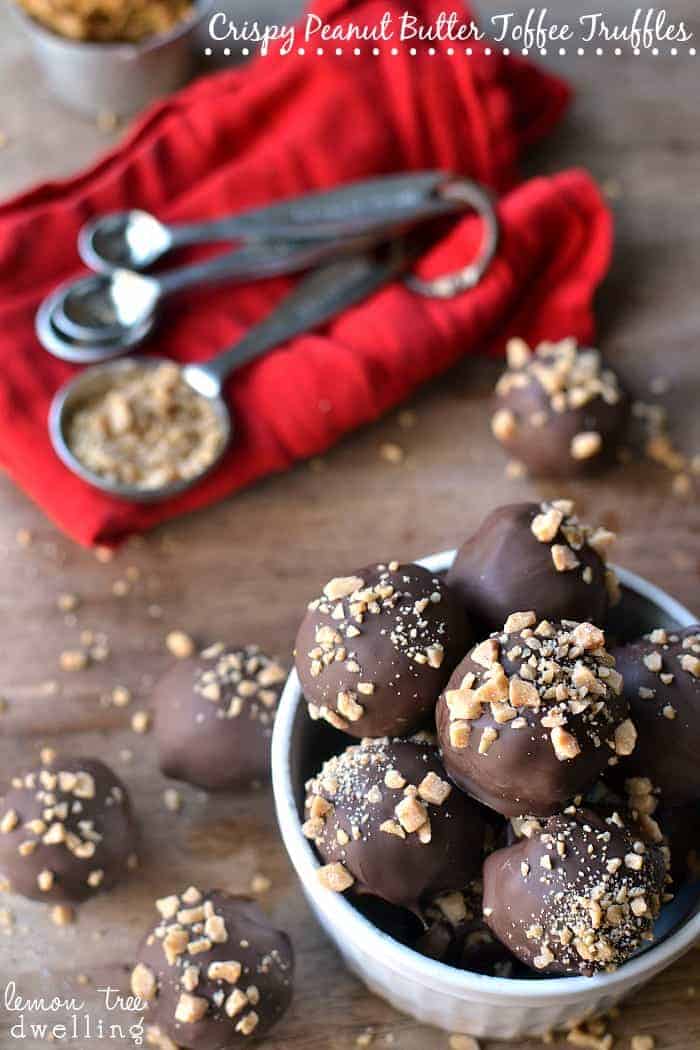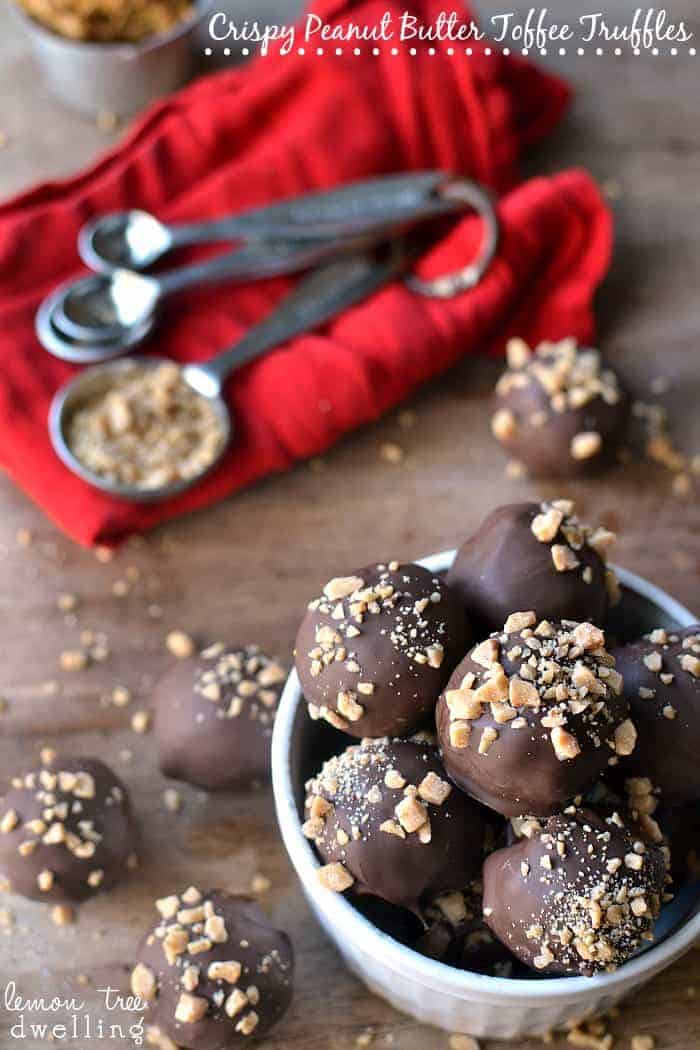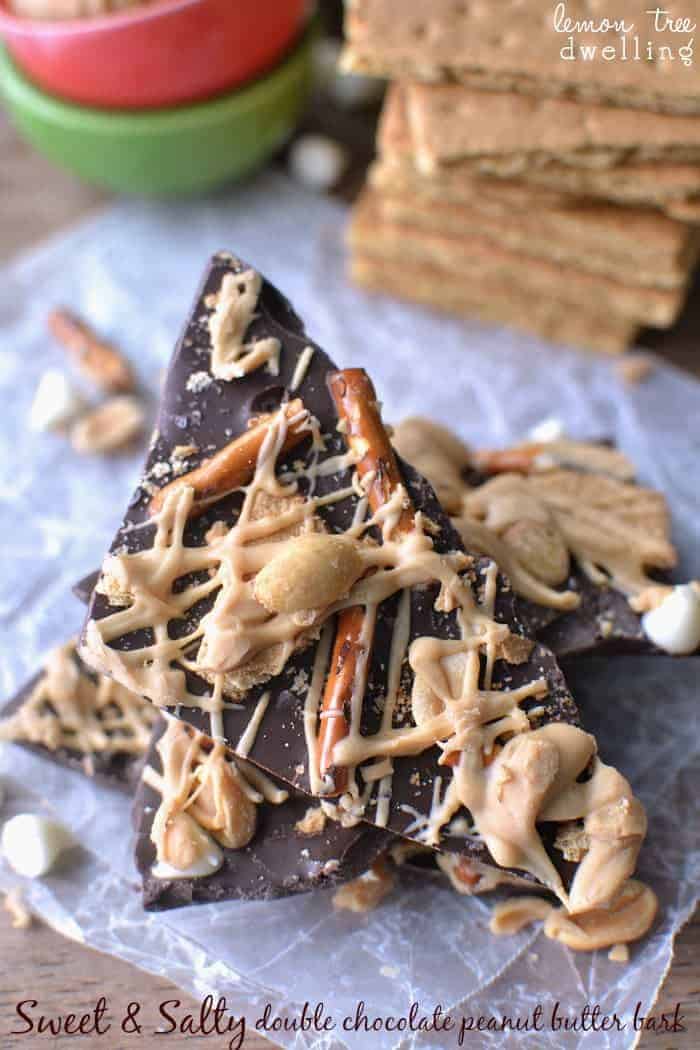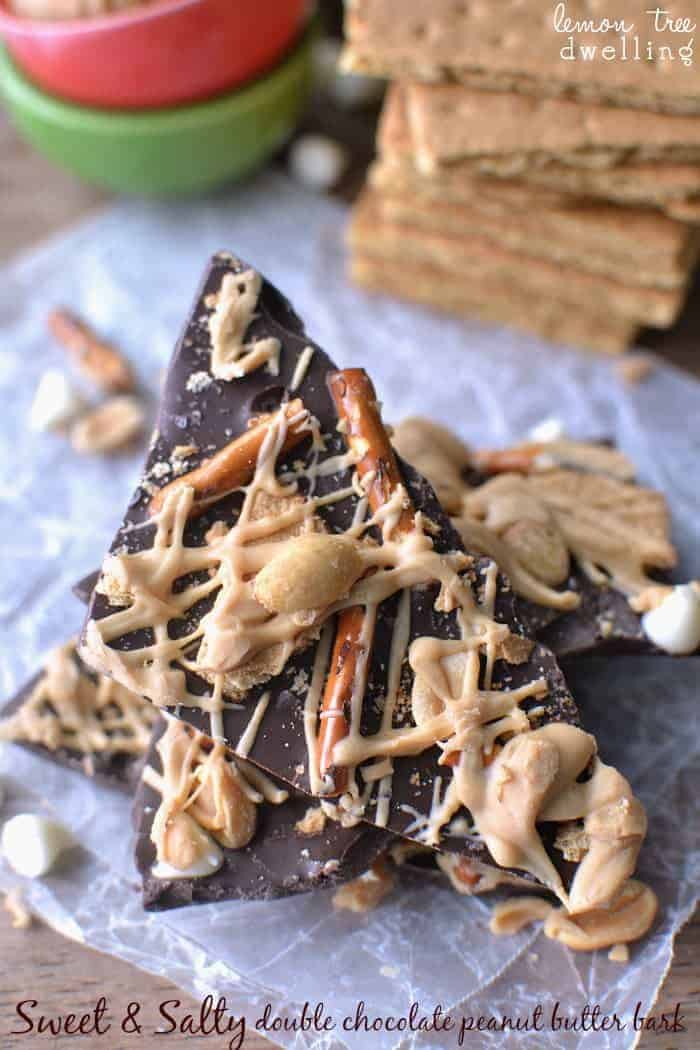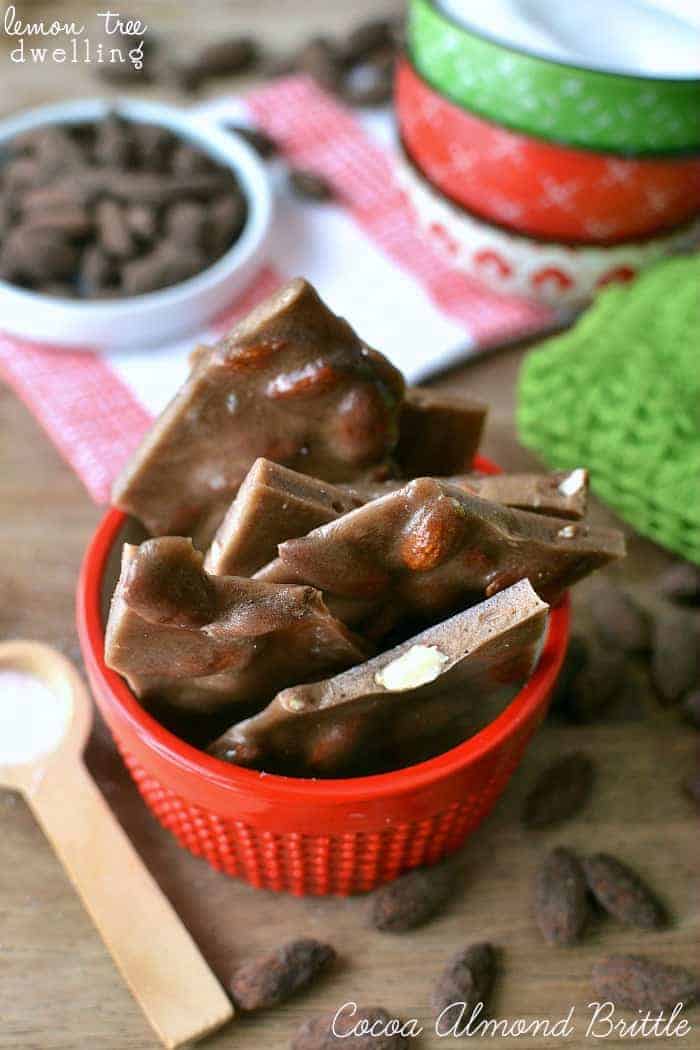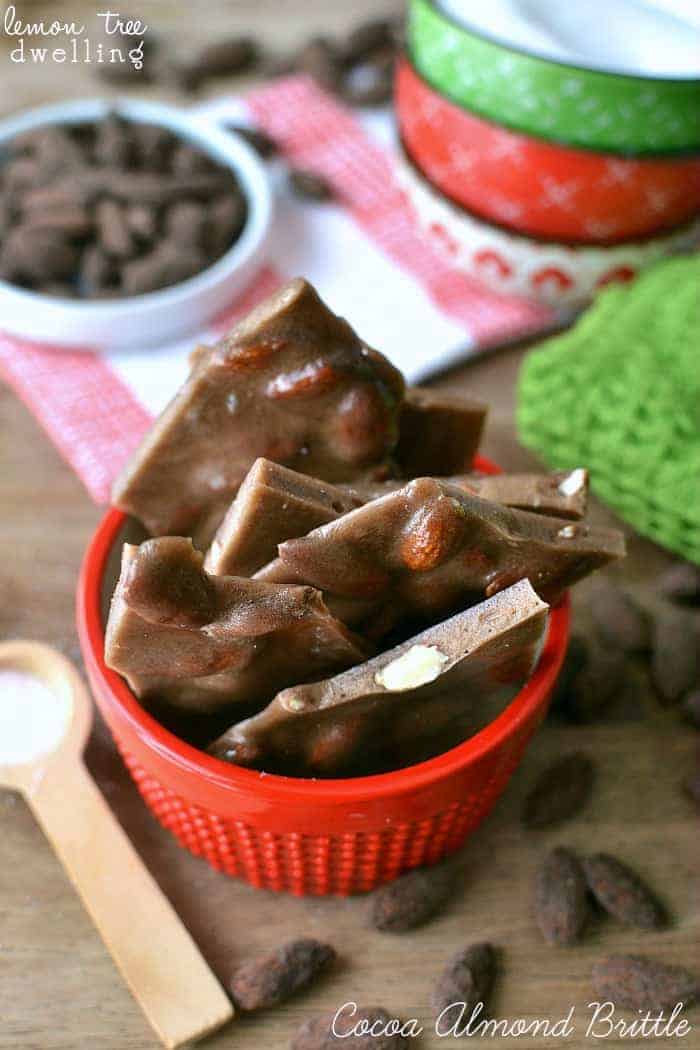 Have you followed me on Facebook yet?