Pumpkin Chocolate Chip Mug Cake – made with just 6 ingredients and ready in 2 minutes flat!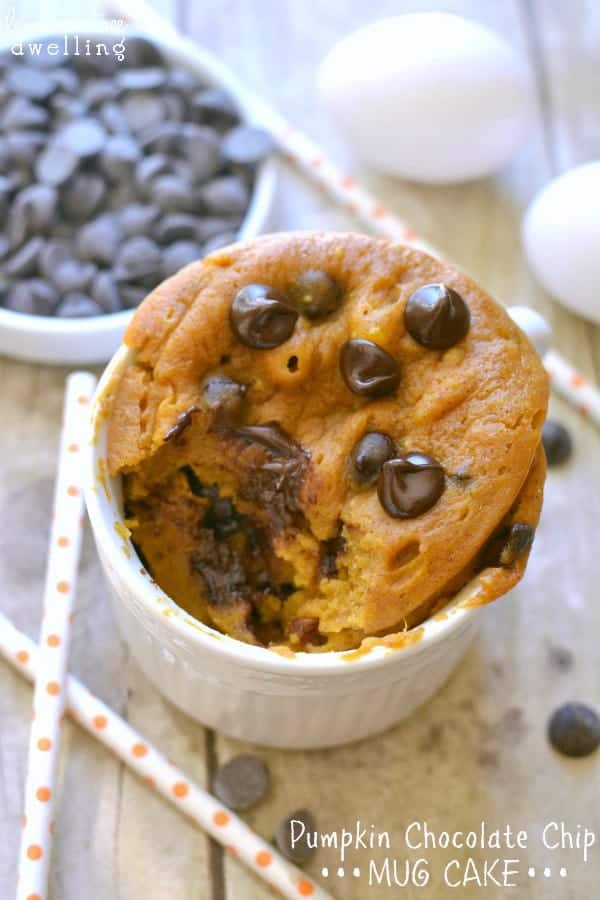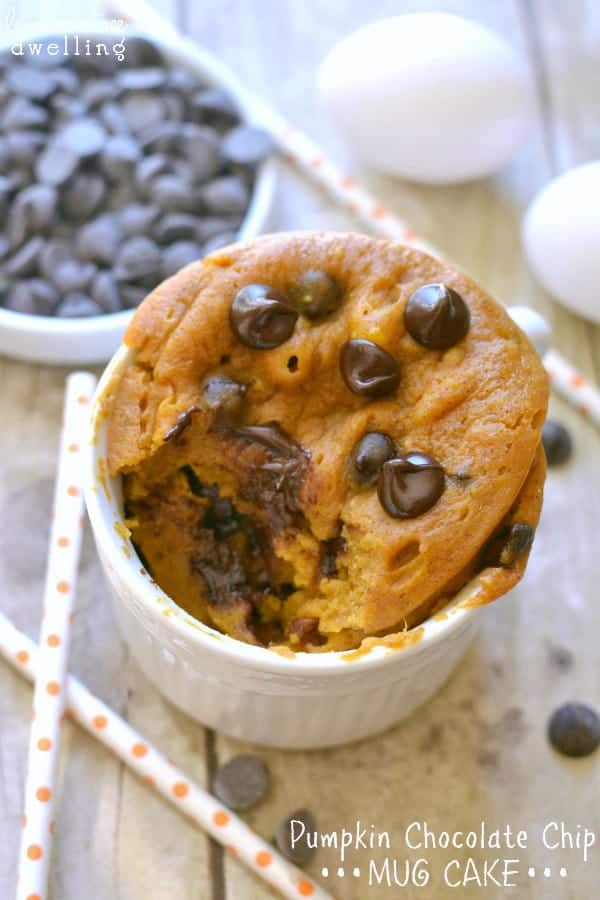 Well, I did it again. I missed my blogiversary…..for the second year in a row! And when you've only been blogging two years…..well…..let's just say your average is not so good! Ha! To be fair, my blogiversary does fall just one day after my wedding anniversary, so it's not like the blog thing just slips my mind. I just have more important things on my mind……especially this year! This year Jorden and I celebrated our 10 year anniversary. (Where does time go??)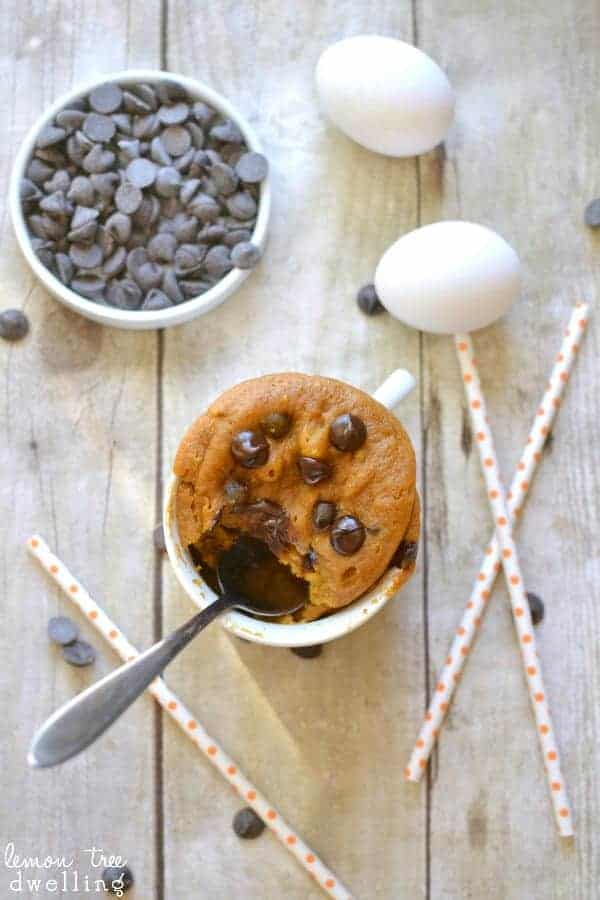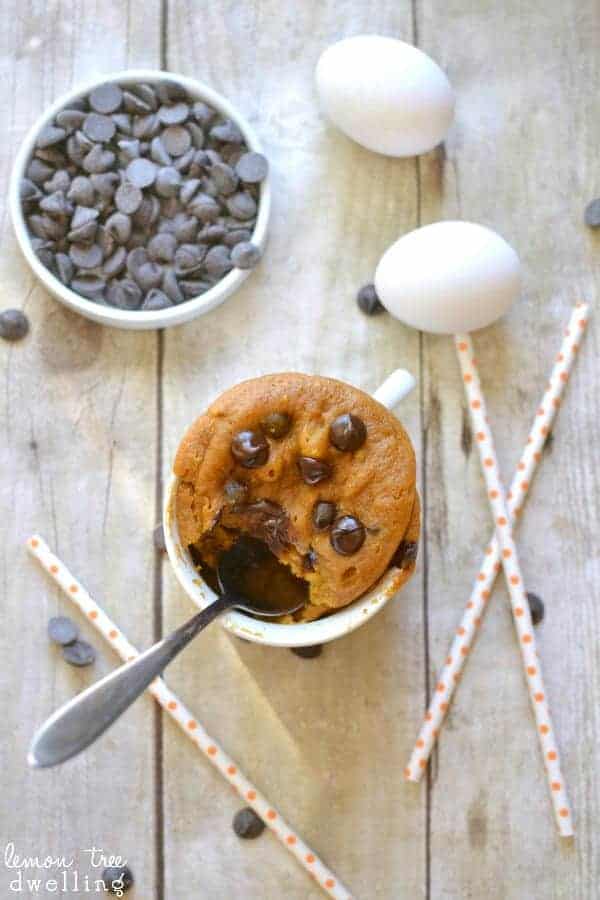 It's crazy to think of how much has changed in the 10 years since we've been married……2 houses and 3 pets and 4 kids and a minivan…..and that's just for starters! The good news is we still really enjoy one another's company (and since we rarely have a moment to see anyone else, enjoying one another's company is key!!)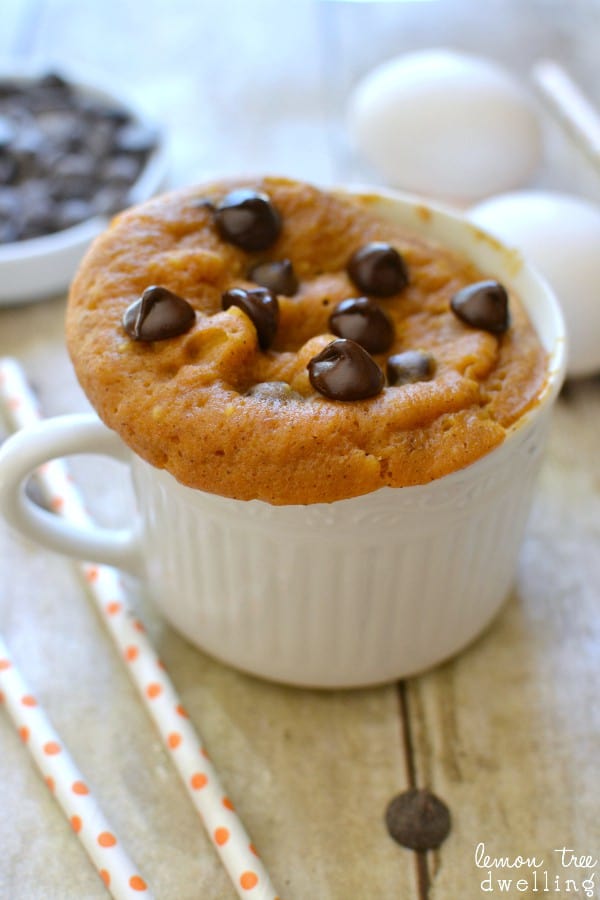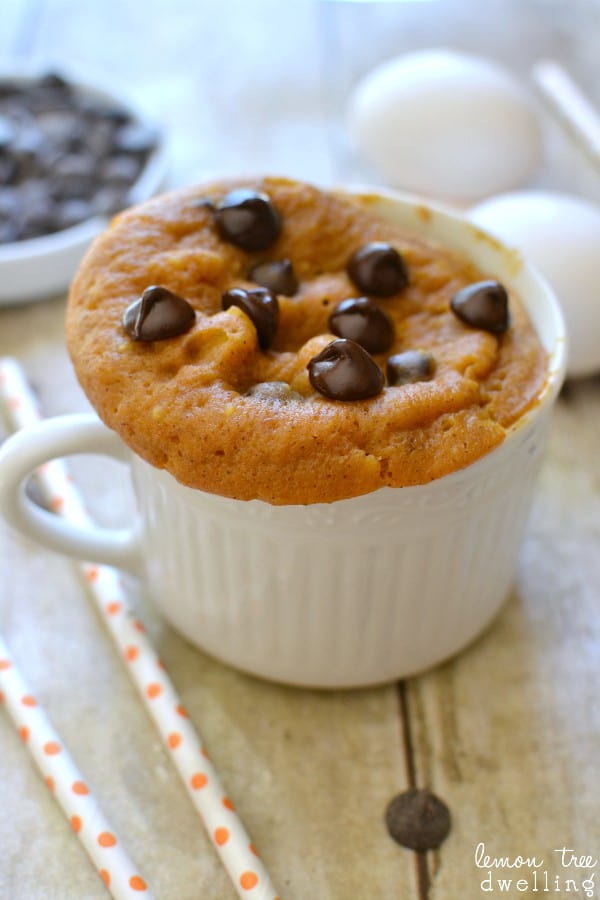 It's similar with blogging. A lot has changed in the two years since I hit publish on my first post. Like the look of Lemon Tree Dwelling (I started with a dark wood background – yikes!), the amount of time I thought I'd spend on it (blogging as a hobby??), my photography skills (thank goodness), and even the types of things I blog about. When I first started blogging, I planned to do a little bit of everything. Home decor, DIY, holidays, kid stuff, and a few recipes thrown in for fun. Well…..I guess all I can say is that things change!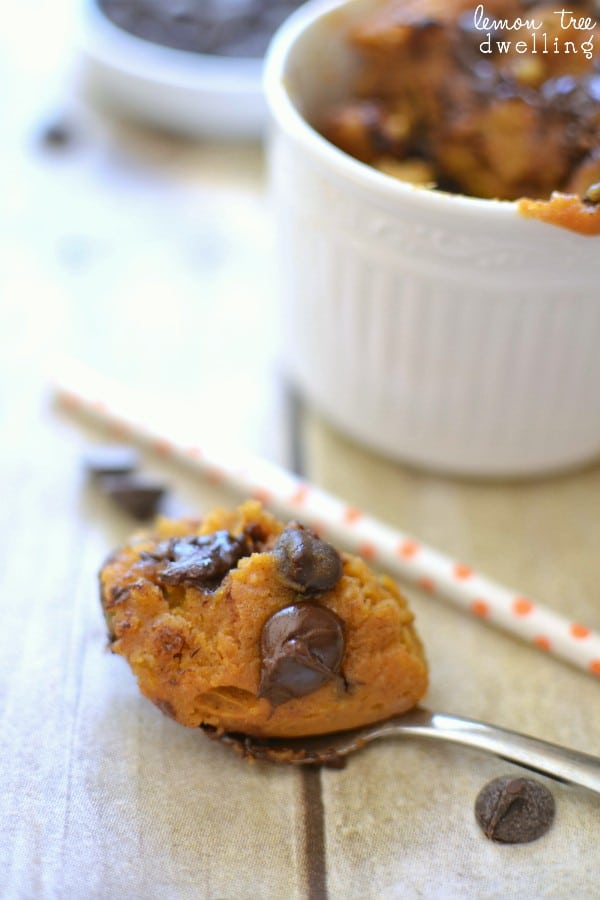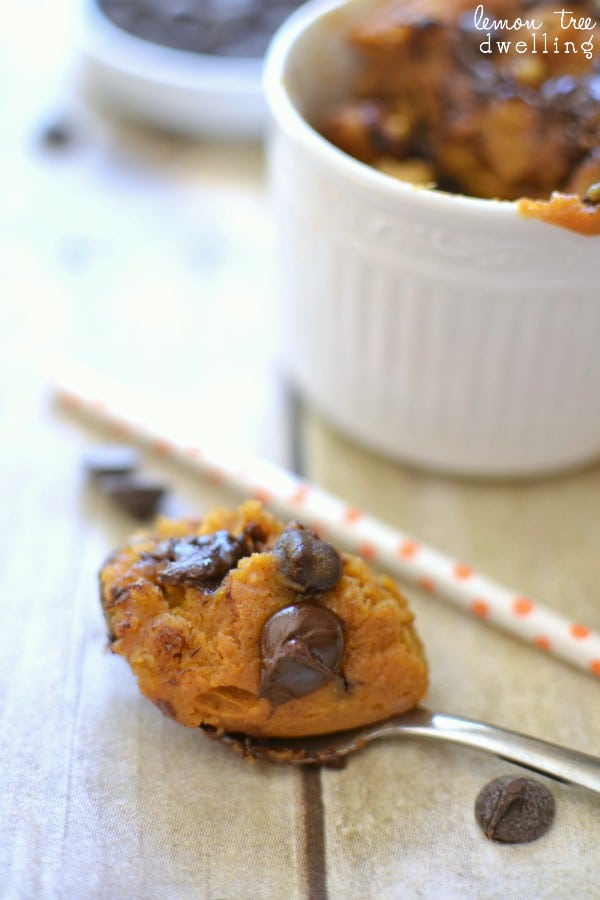 The good news? I'm still enjoying it! Sure, it takes up more time than I thought it would. And sometimes my kids think I'm nuts for photographing everything before they're allowed to eat it. There are times I wonder how I can possibly keep up with blogging in the midst of a busy "real" life…..but at the end of the day, Lemon Tree Dwelling is so much more than "just a blog". It's a place for me to be creative and learn new things and challenge myself to keep growing. It's a place for me to be reflective and tell my stories and work through the events of our lives. And it's a place for me to meet new people – bloggers and readers and moms and friends and so many people who have supported me on this journey. And that is something to celebrate!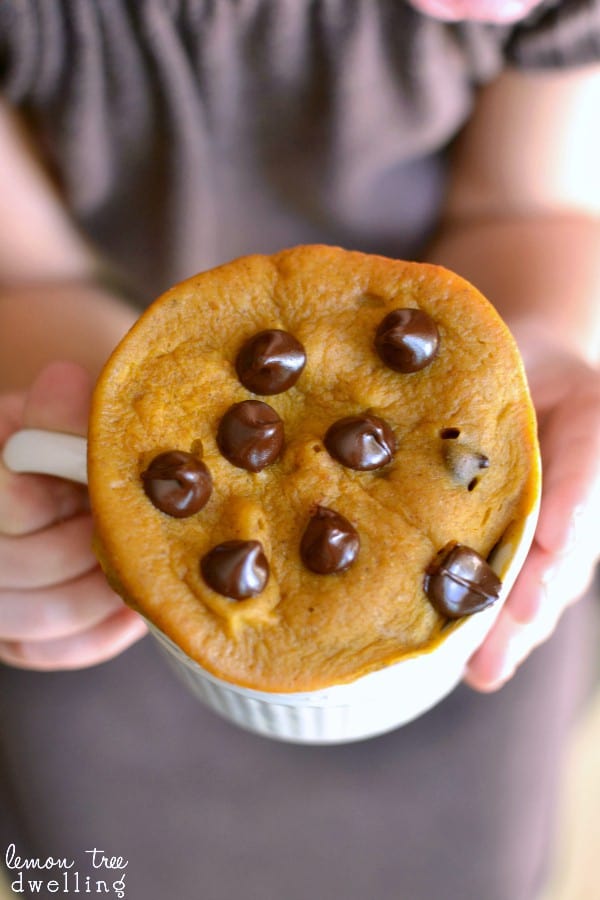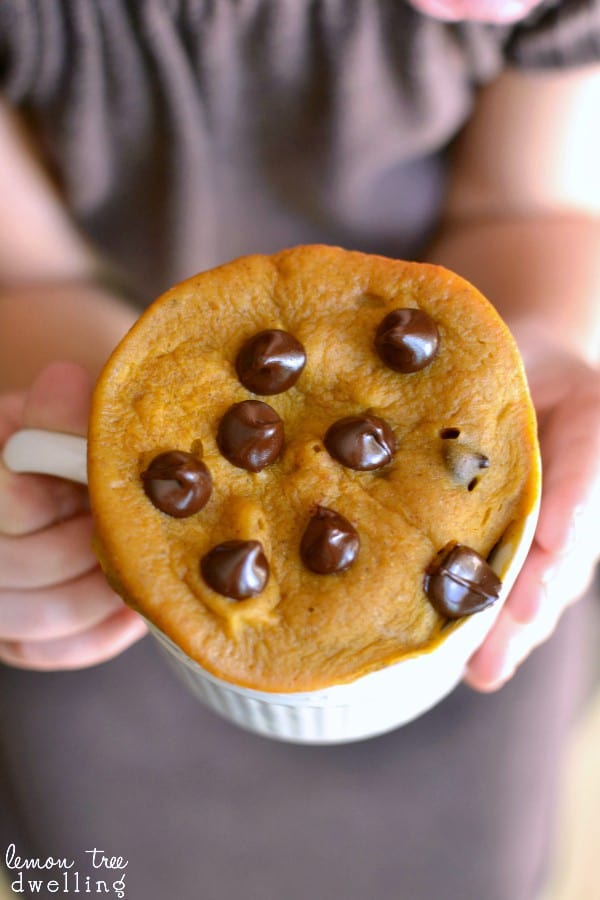 This Pumpkin Chocolate Chip Mug Cake is the PERFECT way to celebrate, don't you think? The perfect flavor combination, the perfect portion, and the perfect amount of time (Cake in 2 minutes?? Sign me up!) So, to all of you, THANK YOU for following along! Whether you've been following me for 2 years or 2 days, I appreciate it….more than you will ever know!
Now go make yourself a cake….you deserve it!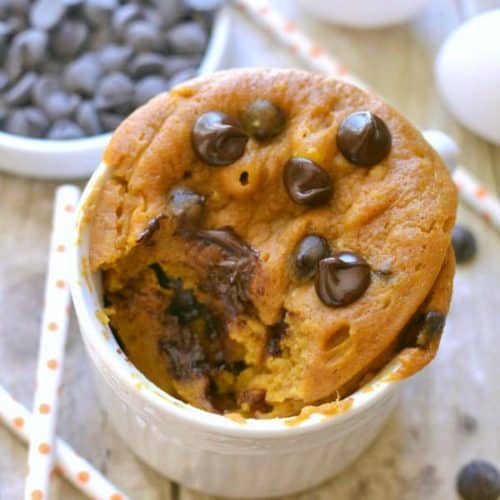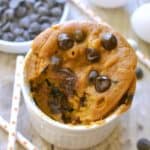 Pumpkin Chocolate Chip Mug Cake
Ingredients
1/4

c.

flour

1/4

c.

sugar

1

egg

3

Tbsp.

canned pumpkin pie filling

1/2

tsp.

pumpkin pie spice

2

Tbsp.

chocolate chips
Instructions
Combine all ingredients in a medium sized mug, reserving a few chocolate chips.

Stir until thoroughly combined.

Microwave on high power 2 minutes.

Top with remaining chocolate chips and enjoy!